Two Canadian startups just received millions in funding from the Canadian government to help them further develop technology to produce the next generation of vegan seafood.
Toronto, ON-based startup New School Foods has received an undisclosed amount in grant funding from multiple government agencies, including Protein Industries Canada, for its whole-cut vegan seafood products that aim to emulate the texture, taste, nutritional benefits, and cooking experience of conventional seafood.
New School Foods founder and CEO Chris Bryson is passionate about creating a more sustainable world. A successful entrepreneur, he sold his first company, Unata, to Instacart before becoming an investor and entrepreneur in the alternative protein industry.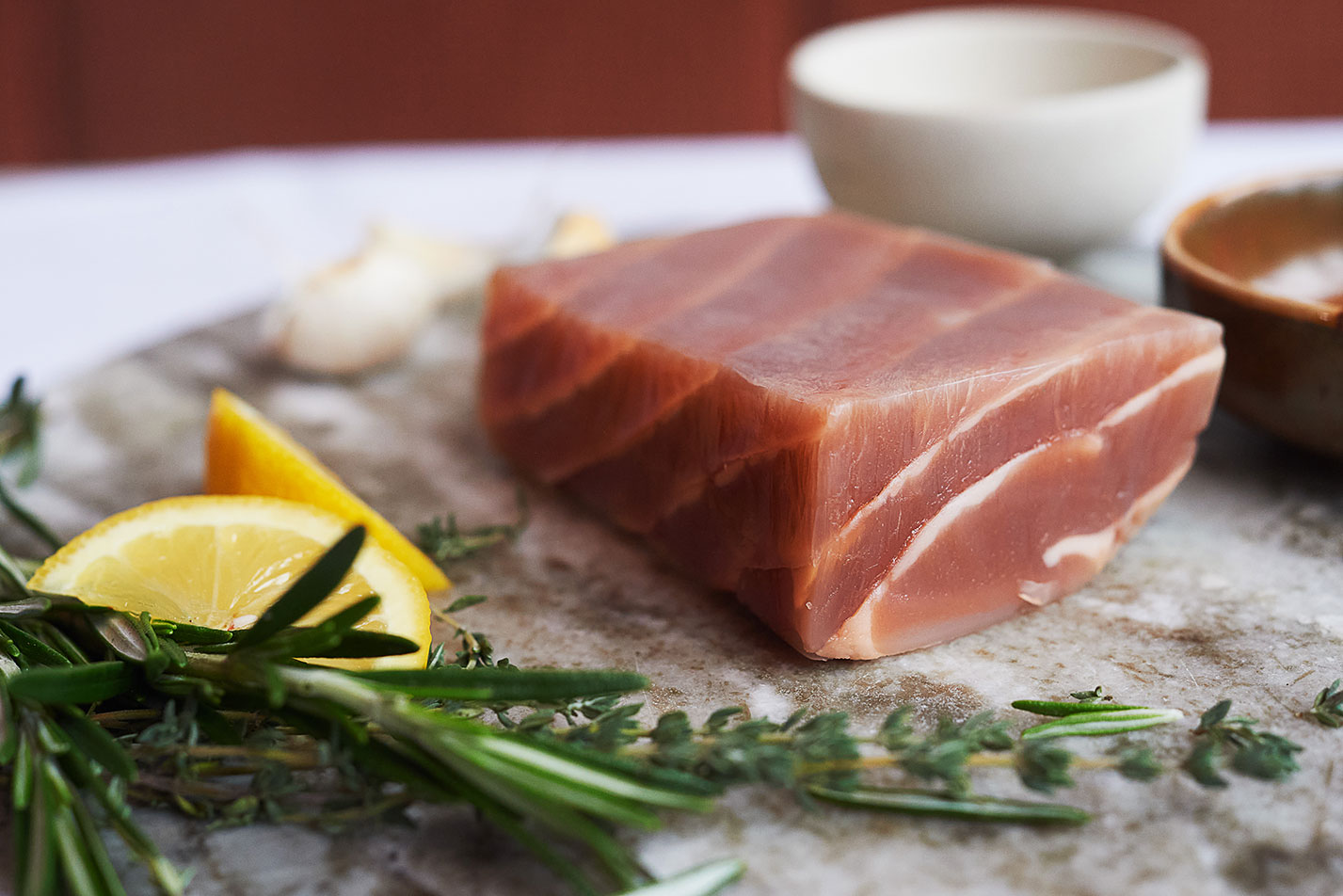 New School Foods
For three years, Bryson invested heavily in academic research and development, funding multiple university studies to identify a scalable platform that delivers all the necessary components for whole-cut fish.
Whole cuts of meat and fish are a big opportunity for the plant-based food market because they represent the majority of meat sales in North America. However, they also come with a host of complex challenges such as texture, connective tissue, muscle fibers, and other macrostructures that exist in animal proteins.
"What's generally available for consumers now are rubbery, ground, pre-cooked products that will not convince anyone to change their lifelong habits," Bryson tells VegNews. "The next frontier of meat alternatives is whole cuts."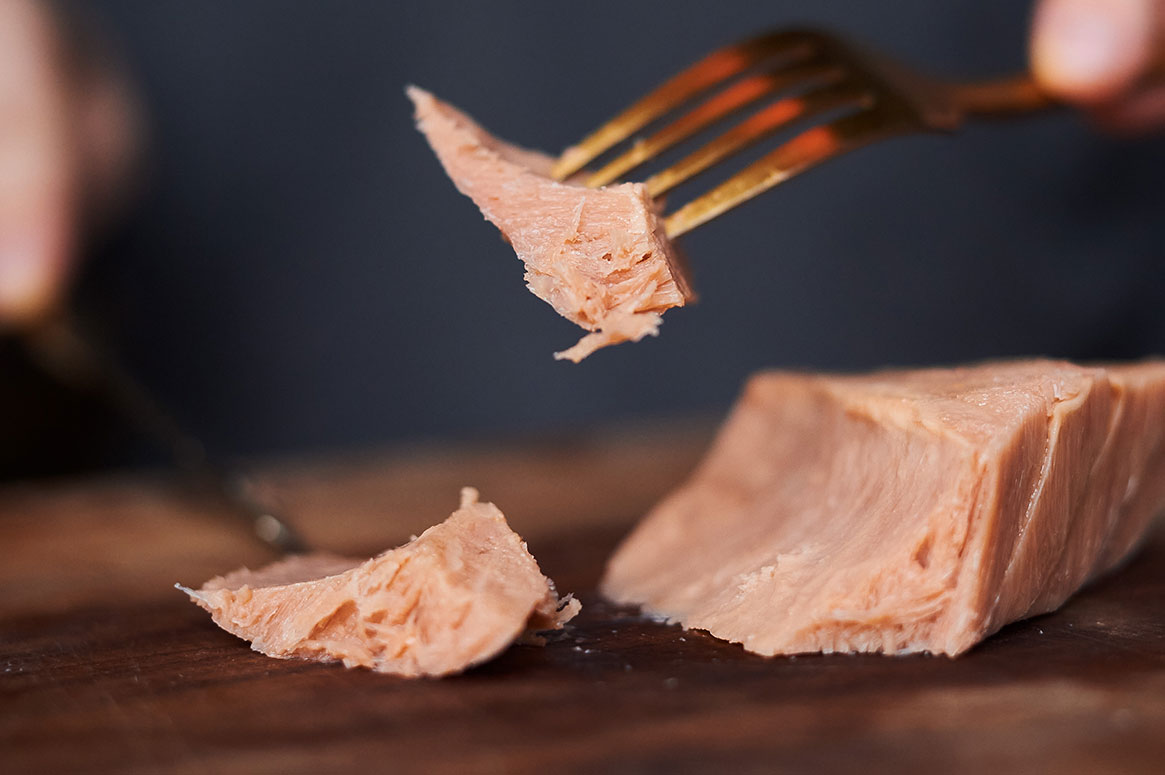 New School Foods
Over the course of his research and development, Bryson and his team created a unique scaffolding technology that uses directional freezing to create scaffolds that mimic muscle fibers and connective tissues found in fish, which are then infused with different proteins and flavors in vertical channels to mimic the taste, texture, structure, and cooking process of conventional fish.
New School Foods' technology also uses a series of cold-based processes, yielding a product that is "raw" and transitions to cooked, keeping the cooking experience as close as possible to conventional fish.
Bringing vegan salmon filets to the table
Ultimately, New School Foods' goal is to create a more sustainable food system by bringing no-compromise whole-cut, plant-based meat and seafood alternatives to market. "From day one, we understood that New School Foods needed to solve two heavily connected issues: the quality of the meat alternatives in-market and the limited toolkit our industry uses to produce them," Bryson says.
"We've invested nearly three years in industrial research and development in search of new methods that will produce something that looks, cooks, tastes, and flakes just like wild fish," Bryson says.
With its $12 million in seed funding, New School Foods will continue focusing on research and development, expanding the team of food scientists, scaling up its scaffolding technology, and building out a research and production facility.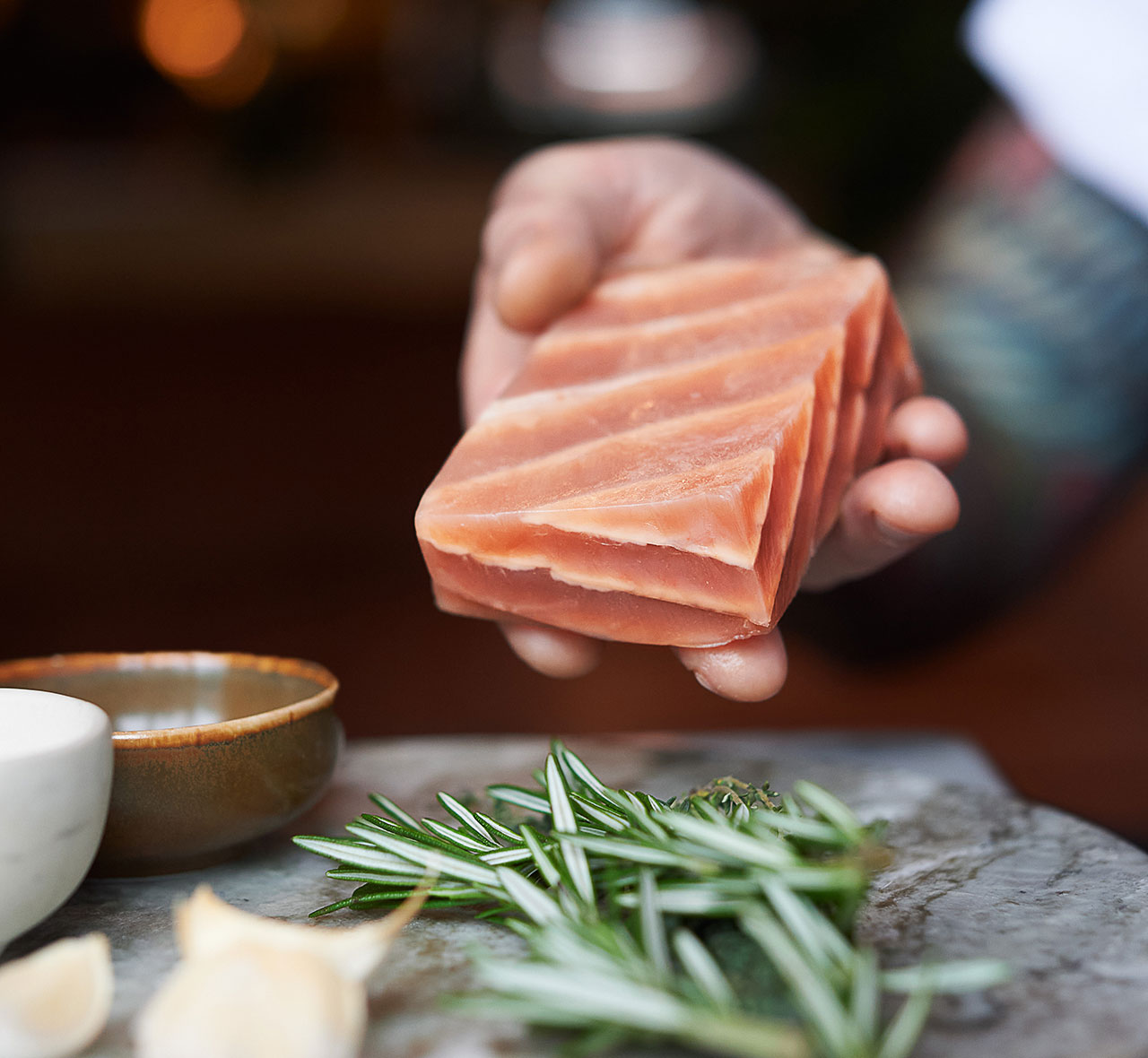 New School Foods
The company's first product, a vegan salmon filet, is slated to be served in restaurants in North America later this year. The startup will also launch a pilot program to collaborate with chefs first-hand in an effort to perfect its products.
Modern Foods expands seafood line
Another vegan startup changing the seafood game is Vancouver, BC-based Modern Plant Based Foods, which received a government grant from National Research Council of Canada's Industrial Research Assistance Program (IRAP) for research and development costs towards its new vegan meat and seafood portfolio, Modern Meat, which includes products such as crab cakes.
Modern Meat has developed a proprietary vegan seafood recipe using whole food ingredients and is now working to expand production capabilities with a co-packer in Saskatchewan. The management team has completed initial testing on prototypes and aims to move forward with initial production runs in the next few months. This improvement to production capacities will allow Modern Meat to sufficiently supply its Modern Seafood products to larger-scale restaurants and retailers.
Modern Meat
"We have had great confidence in our products since inception and it is amazing to see that the government shares the same outlook for our products," Avtar Dhaliwal, Chief Executive Officer of Modern Plant Based Foods, said in a statement. "We are determined to continue forward with our business objectives and this achievement is a preview to our plans for 2023."
The IRAP offers funding to businesses that are developing and commercializing innovative, technology-driven new or improved products, services, or processes in Canada, and provides contributions of up to 80 percent of internal technical labor and subcontractor expenses towards a specified innovation project. And for Modern Meat, this support is everything.
"This will alleviate the majority of overhead costs for the initial project, and the company intends to continue using all resources possible to maintain efficiency to move forward with our growth plans, including the continual application for additional grants for future projects," Dhaliwal said.
For the latest vegan news, read: