To peel or not to peel? That's the question we often find ourselves asking when it's time to prep dinner. It turns out, the right answer often depends on the type of vegetable you're cooking. We spoke with a dietitian to find out why, sometimes, it's best to leave the skin on. And for those times when you want to take it off, we've got the best peelers, too.
What are the benefits of leaving the skin on vegetables?
According to Ana Reisdorf, MS, RD, of The Food Trends, the peel of some vegetables contains insoluble fiber, which is the type of fiber that attracts water to stool, this makes it softer and easier to pass, and, as a result, helps to promote bowel health. "It helps to keep digestion regular," Reisdorf said. "And provides food for healthy bacteria in the gut." That said, she also noted that some peels can taste quite bitter, and therefore it's probably best that you remove them.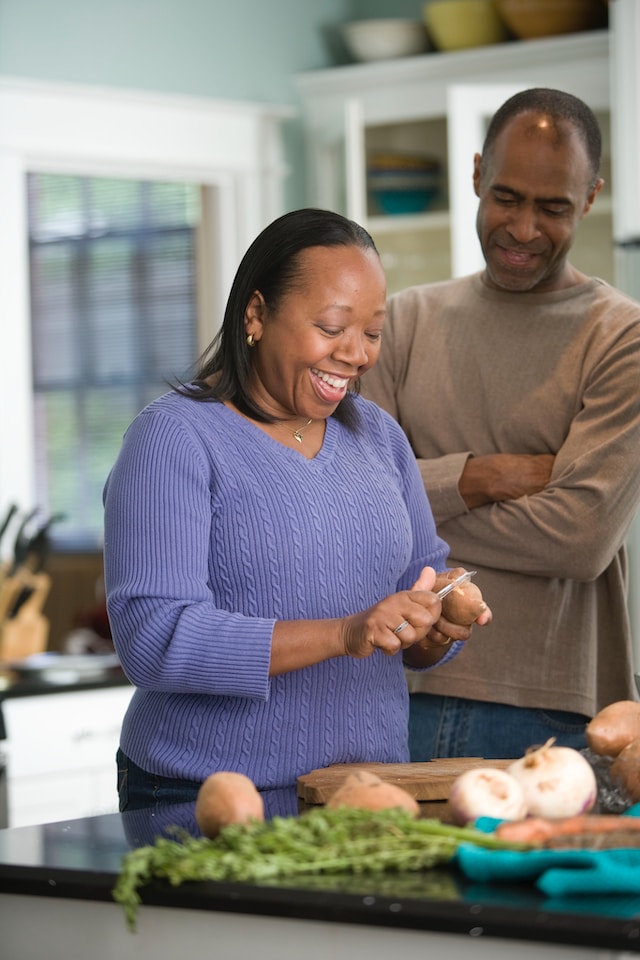 Unsplash
Which vegetables should not be peeled?
Quite a few vegetables are just as tasty with the peel on. Reisdorf says don't worry about breaking out the peeler (which saves you time, too!) on vegetables like potatoes, for example, as well as carrots, cucumbers, zucchini, and eggplant. But the peel of a butternut squash is tough, hard, and thick, so it's best to remove this before you start cooking. The same goes for pumpkin and beets, Reisdorf says.
Reisdorf adds that it's also important to remember that peels have the most contact with pesticides, so if you're going to eat them, make sure to wash them thoroughly before prepping.
The best way to use vegetable peels
If you prefer to eat vegetables without the peel, regardless of variety, that's okay, too! To maximize your nutrition and prevent food waste, another option is to remove peels, but then repurpose them later in a new dish. For example, you could turn the peelings of carrots and potatoes into homemade vegetable chips or you could turn them into fritters, a soup, or a stew, for example.
The best vegetable peelers
For days when you do need to peel vegetables, it's a good idea to invest in a good vegetable peeler. This is going to make the job easier, more efficient, and much quicker. To help you find the best one for you, we've gathered some of our top peeler picks below.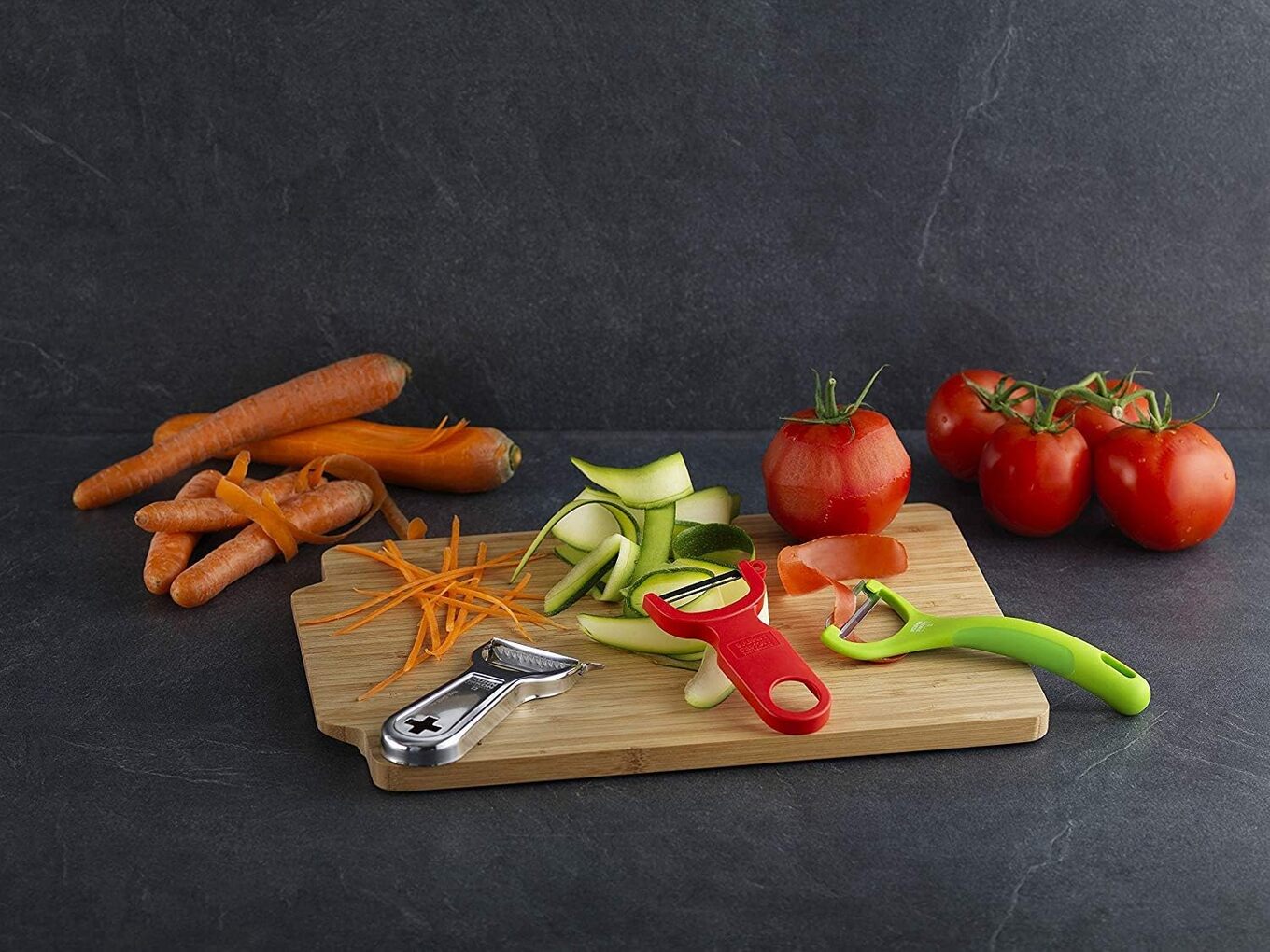 Kuhn Rikon
1 Kuhn Rikon Piranha Y Peeler
Made by Swiss cookware brand Kuhn Rikon, this peeler has rave reviews. It will help you to get through your vegetable pile quickly and efficiently, thanks to the horizontal serrated stainless-steel blade and easy-to-grip plastic handle. Plus, it comes in a rather fetching shade of green.
get it here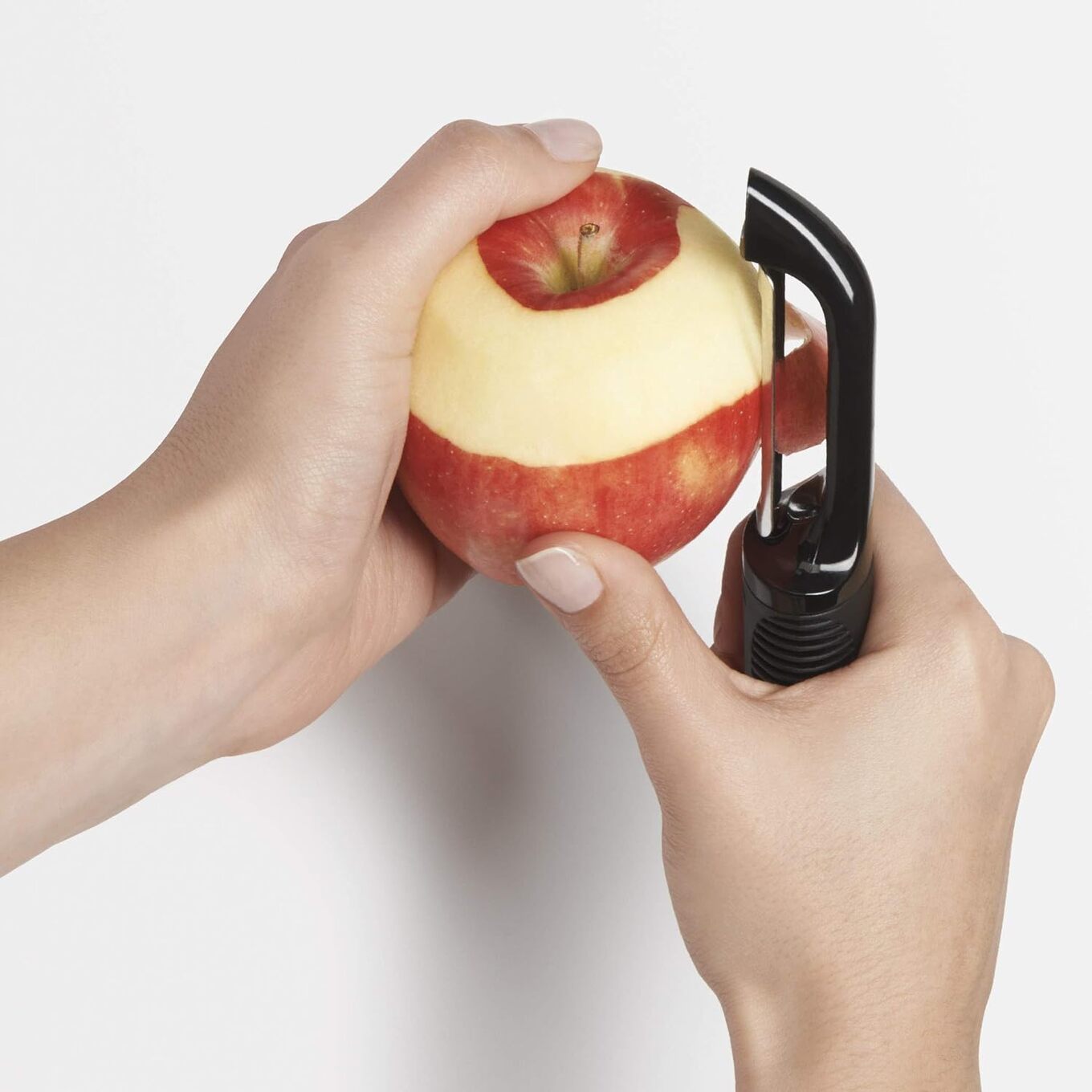 OXO
2 OXO Good Grips Swivel Vegetable Peeler
According to cookware brand OXO, it's always looking to make food preparation as easy as possible for its customers. This peeler is proof of that. Complete with a handy swivel twin blade, it's easy to handle, flexible, and will cut through tough vegetables (like sweet potatoes!) with ease. Even better: it has a built-in potato eye remover, too.
get it here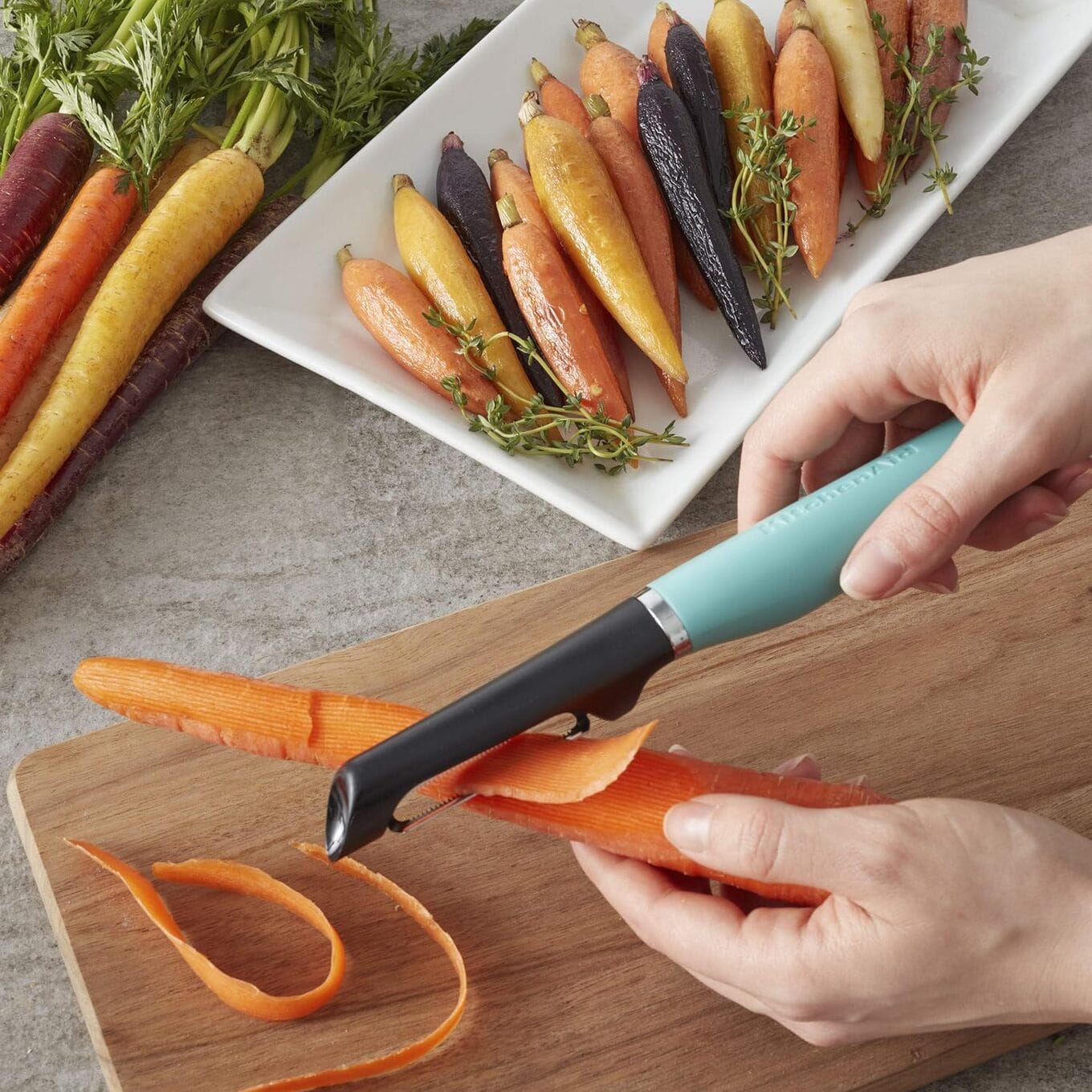 KitchenAid
3 KitchenAid Gourmet Euro Peeler
KitchenAid is known for its top-quality food processors and blenders, but the brand knows how to get the little things right, too. With a double-edge serrated blade, a built-in potato eye remover, an ergonomic handle, and a plastic safety guard, this Gourmet Euro Peeler makes preparing the veg an easy, satisfying kitchen chore.
get it here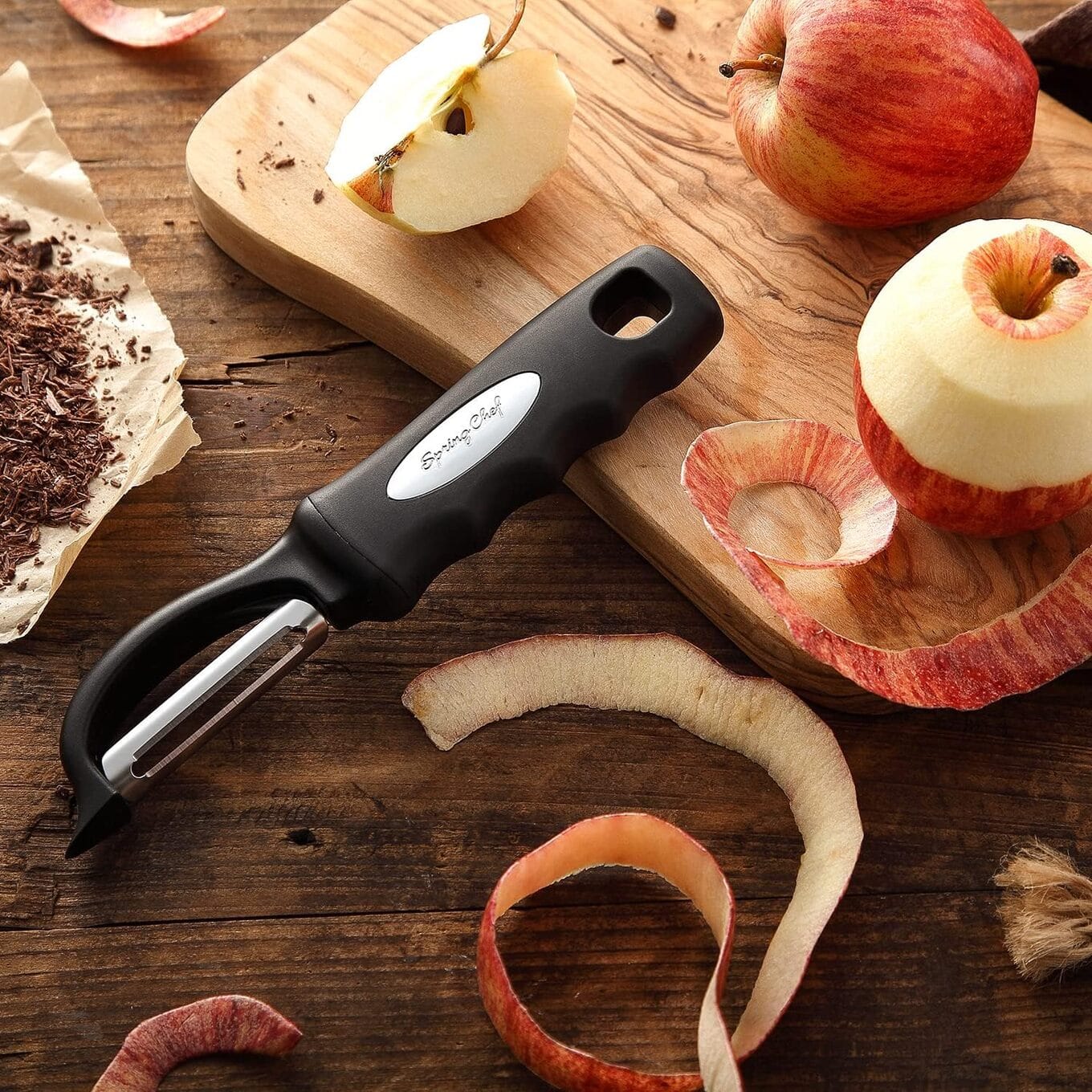 Spring Chef
4 Spring Chef Premium Swivel Vegetable Peeler
Spring Chef is known for its top-quality professional-grade kitchen tools, so it's no surprise that this Premium Swivel Vegetable Peeler is a popular choice for many consumers. In fact, the brand notes that its soft grip handle, ergonomic design, and dual stainless steel blades help to peel skins "off quickly like they are melted butter."
get it here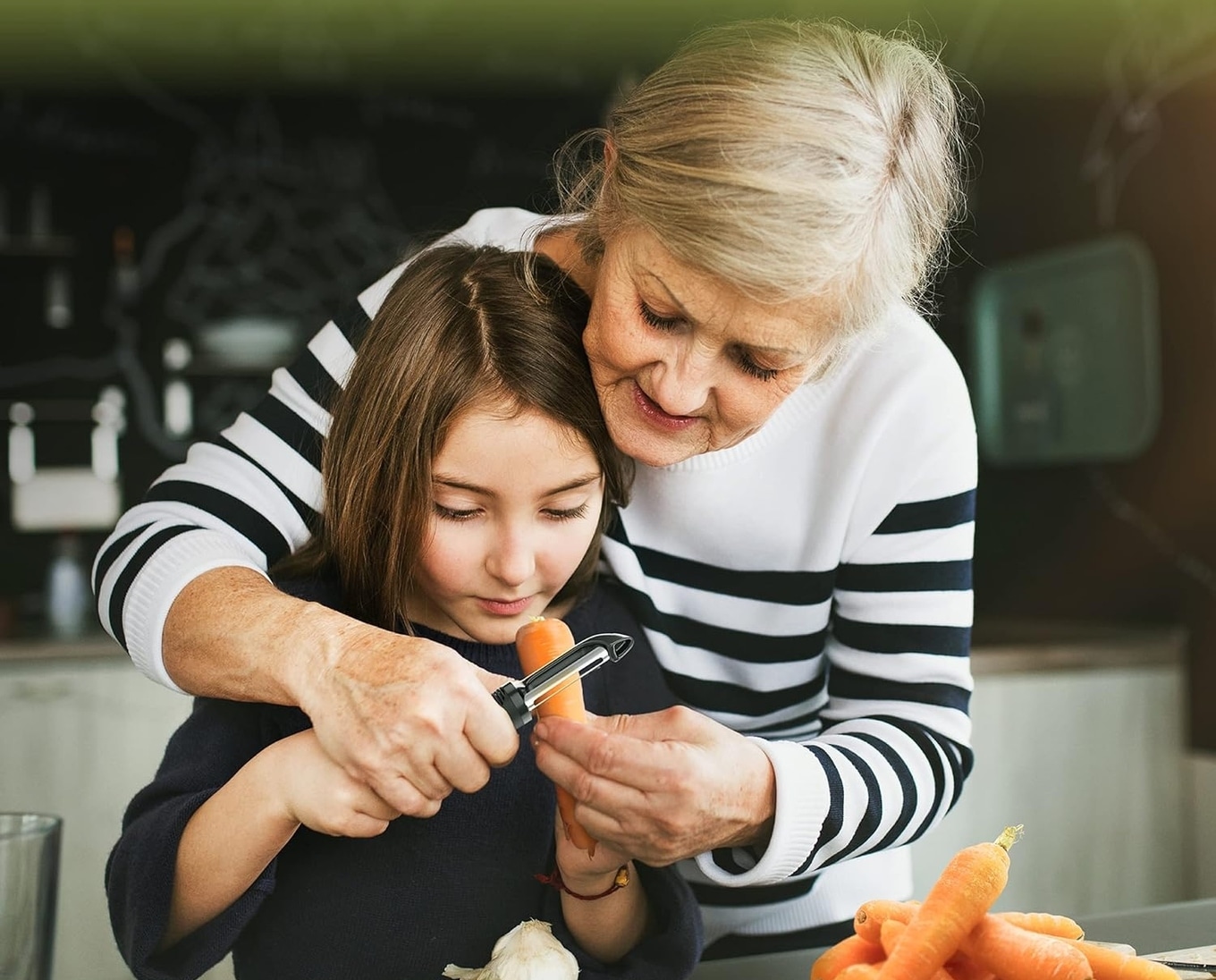 Olive's Kitchen
5 Olive's Kitchen Vegetable Peeler Set
Founded in 2020, Olive's Kitchen's products are crafted "with health and sustainability in mind," according to the brand. That's why it has created this vegetable peeler, to make eating nutritious foods easier than ever. With sharp twin blades, a non-slip grip, and an ergonomic design, this peeler speeds up vegetable prep, leaving you more time to focus on creating a delicious meal.
get it here
For more on cooking, read:
Here at VegNews, we live and breathe the vegan lifestyle, and only recommend products we feel make our lives amazing. Occasionally, articles may include shopping links where we might earn a small commission. In no way does this effect the editorial integrity of VegNews.