Forget Tinder—it might be time to eat some beets. According to European folklore, if two people eat from the same beetroot, they are destined to fall in love. Or, if you follow the beliefs of the ancient Greeks and Romans, at least get a little bit frisky. In fact, beetroots were believed to be the root of Aphrodite, the Greek Goddess of Love, Pleasure, and Fertility.
This all sounds like a good story, but there actually may be some truth to it. Beets are a good source of boron, which, research suggests, may act as an aphrodisiac. But romance and sex aside, beets have many other benefits, too. They're rich in nutrients, they're versatile, and, of course, they taste pretty good. Here's what you need to know about the dark red root vegetable, as well as tasty vegan recipe ideas.
What are beets?
In the scientific world, beets (also called beetroot) are referred to as Beta vulgaris, and they're classified as a root vegetable. The most common variety of beets is dark red, and they have long green leaves with red stems, which are also edible. While they can be traced back to the ancient civilizations of Greece and Rome, today they're popular all over the world. In Poland, beet salad is a traditional dish, for example, and in Eastern Europe and northern Asia, people commonly eat Borscht, a type of sour beetroot soup.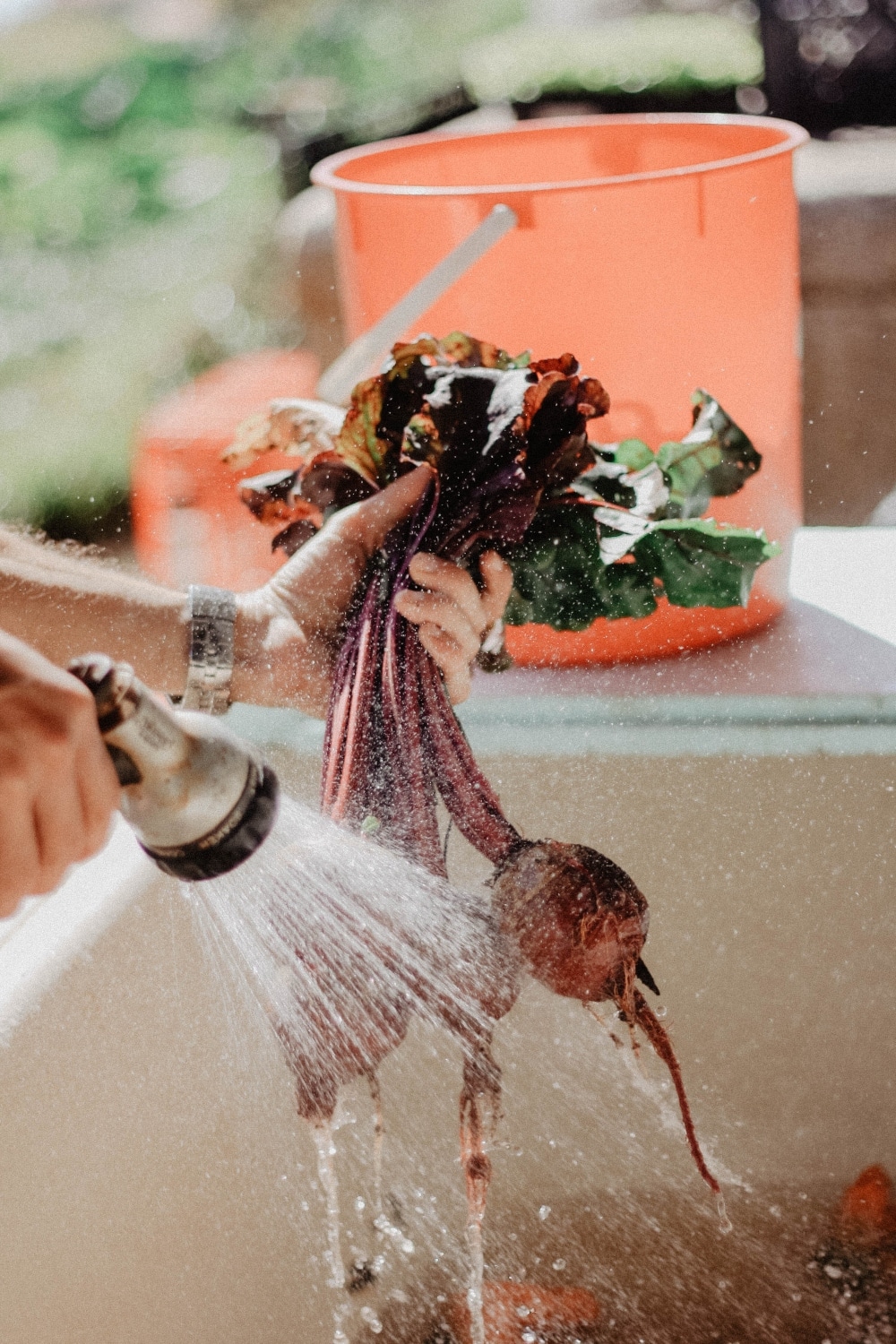 Pexels
What are the benefits of beets?
As well as boron, beets contain many beneficial vitamins and minerals. In fact, according to Healthline, they are a source of nearly all of the nutrients our bodies need, like fiber, folate, vitamin C, vitamin B6, iron, protein, manganese, potassium, and copper.
They are also associated with helping the body maintain good blood pressure levels, reducing inflammation (thanks to a pigment called betalains), and improving digestive health, due to their fiber content. They're also a good plant-based source of nitrates, which, research suggests, may help with cardiovascular health.
"When food sources of nitrate are consumed, the nitrate is absorbed by salivary glands, where it is converted into nitrite," Kelly Johnson Arbor, MD, told Medical News Today. "From there, the nitrite is absorbed into the bloodstream and transformed into nitric oxide. Nitric oxide plays a key role in many functions within the human body, including blood pressure regulation and heart health."
How do you cook with beets?
Beets can be eaten raw in a salad, for example, but many people choose to roast them to improve the flavor. Depending on the dish you have in mind, they can also be boiled, steamed, baked, or even fried. If you've just picked up some beets from the store or the farmers' market (they're in season throughout summer to fall), and you're not sure how to get the best out of them, don't worry: we've compiled seven delicious vegan recipe ideas below.
The best vegan recipes with beets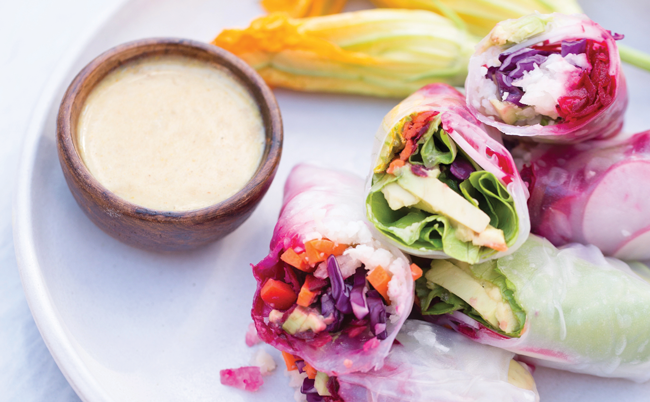 Alexa Gray
1 Rainbow Spring Rolls
Fresh spring rolls are a great appetizer or lunch idea because they're tasty, light, and pretty easy to make. But they're also packed with nutrition, due to their vegetable filling. You can pick your favorites, of course, but this recipe calls for shredded beets, peppers, carrots, and avocado.
Get the recipe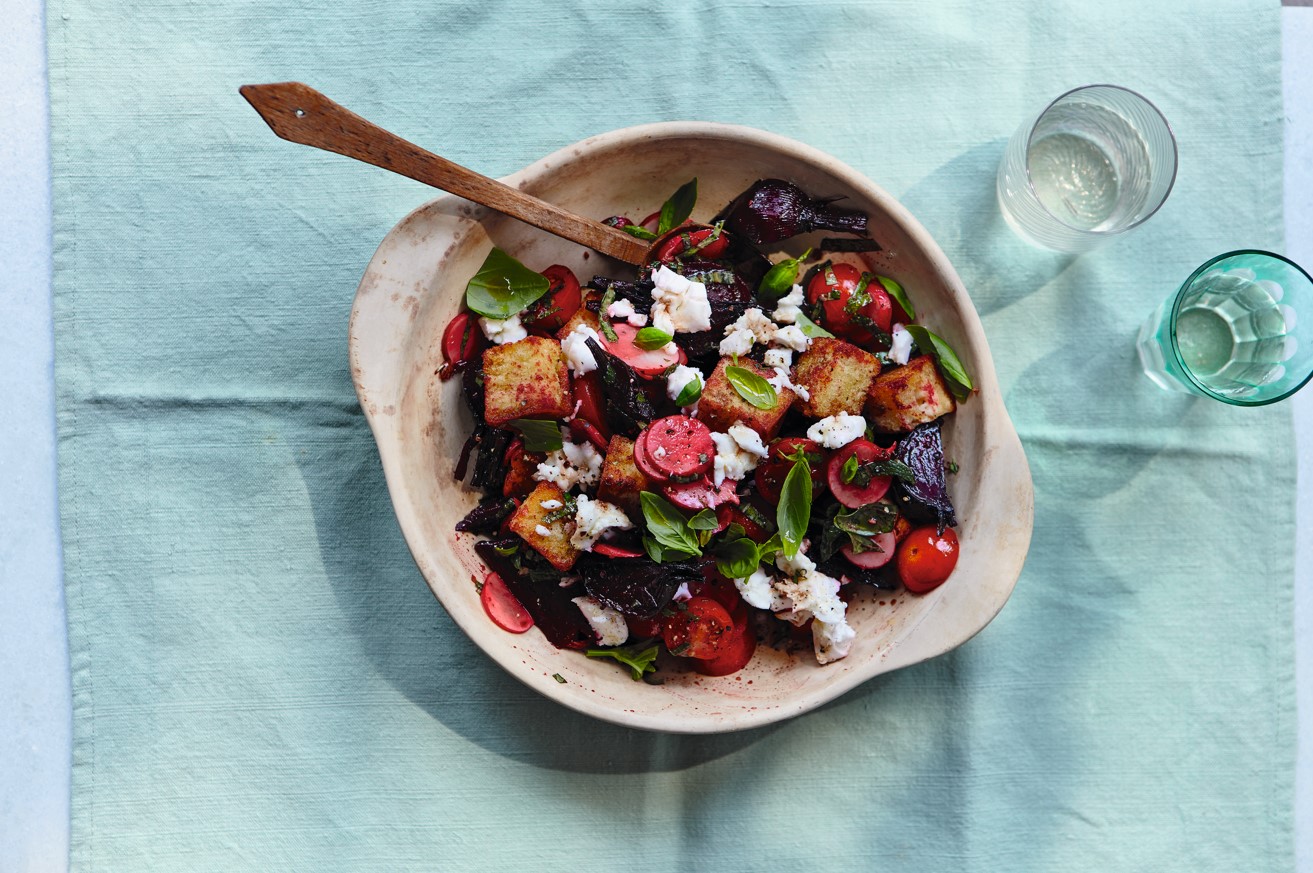 Yuki Sugiura
2 Jamaican Beet and Feta Panzanella Salad
Combine the delicious cuisines of Jamaica and Italy in this tasty, quick salad recipe. You'll need two large beets, hard-dough bread, cherry tomatoes, and a generous serving of creamy, crumbly vegan feta cheese.
Get the recipe
Danielle Duboise and Whitney Tingle
3 Pink Beet Hummus
When it comes to chips and dip, you can't beat hummus. But if you want to liven up this creamy classic (both in color and in taste), we recommend adding some beets to the recipe. It's pretty easy to make, all you need to do is roast the beets, before adding them to a food processor with the rest of the ingredients (chickpeas are a must, of course).
Get the recipe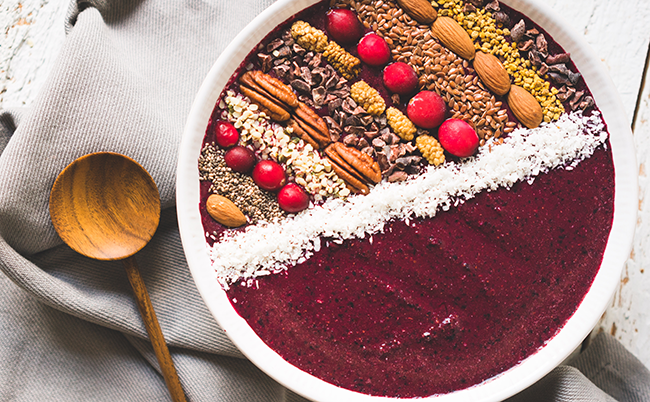 Sara Stevens
4 Blueberry Beet Smoothie Bowl
If you're used to just eating beets in a salad, then adding them to a smoothie bowl might seem a little strange at first. But trust us, this red root vegetable works beautifully with ingredients like blueberries, cocoa powder, and cocoa nibs in this tasty breakfast recipe.
Get the recipe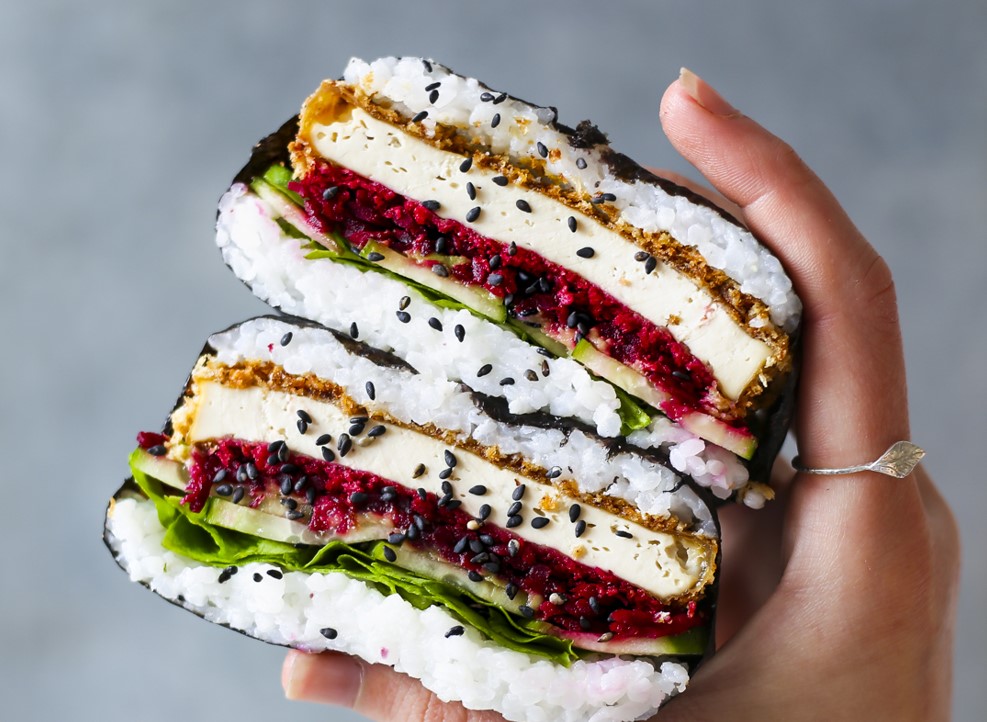 Eat the Rainbow
5 Sushi Sandwich With Crispy Tofu and Pickled Beets
Another great way to prep beets is to pickle them, which brings out a zesty sweet and sour flavor profile. After that, combine them with crispy breaded tofu, nori sheets, and rice to make this tasty and unique sushi sandwich recipe.
Get the recipe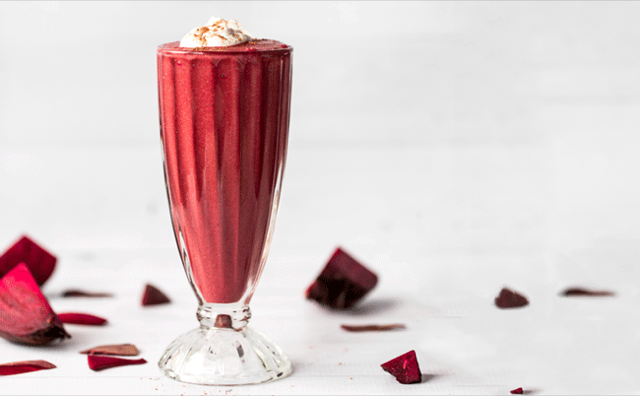 Blissful Basil
6 Red Velvet Beet Shake
Why stop at smoothies? Beets also make a delicious milkshake ingredient, too—especially when they're combined with Medjool dates, cocoa powder, and coconut cream. To up the romance, add two straws. Beets are the vegetable of love, after all.
Get the recipe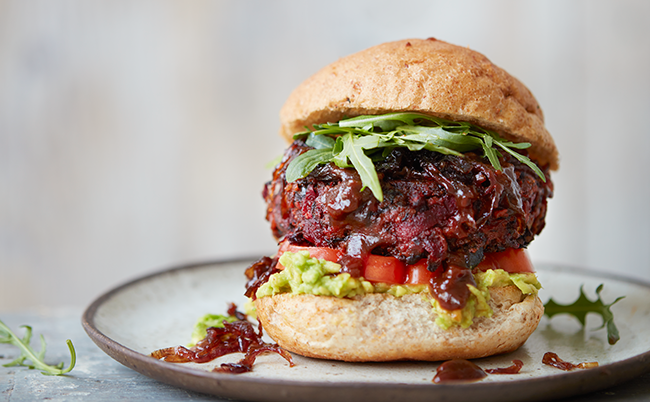 The New Nourishing
7 Beefy Beet Burger
Craving a beefy burger, but not the actual, you know, beef? We've got you. This recipe—which combines black beans, red onions, flax seeds, and beets—is meaty, delicious, and perfect for grilling season. Just make sure you make enough to share—everyone is going to want one when they see them sizzling away on the barbecue.
Get the recipe
For more on vegan ingredients, read: