Longer days, slightly warmer weather, and more sunshine are arguably some of the best things about spring. But it's also a season of new beginnings. Many animals, like wolves, bears, deer, and foxes, have their babies at this time of the year, and after a long winter, many new plants start to sprout up from the ground. The first sight of daffodils, for example, is considered by many to be a sign that spring is on the way. But there are also many delicious vegetables that hit their prime in this season. From asparagus to beets, here are some of the best spring veggies to pile on your plate over the next few months. And if you need cooking inspiration, we've included some tasty recipe ideas, too.
What's in season?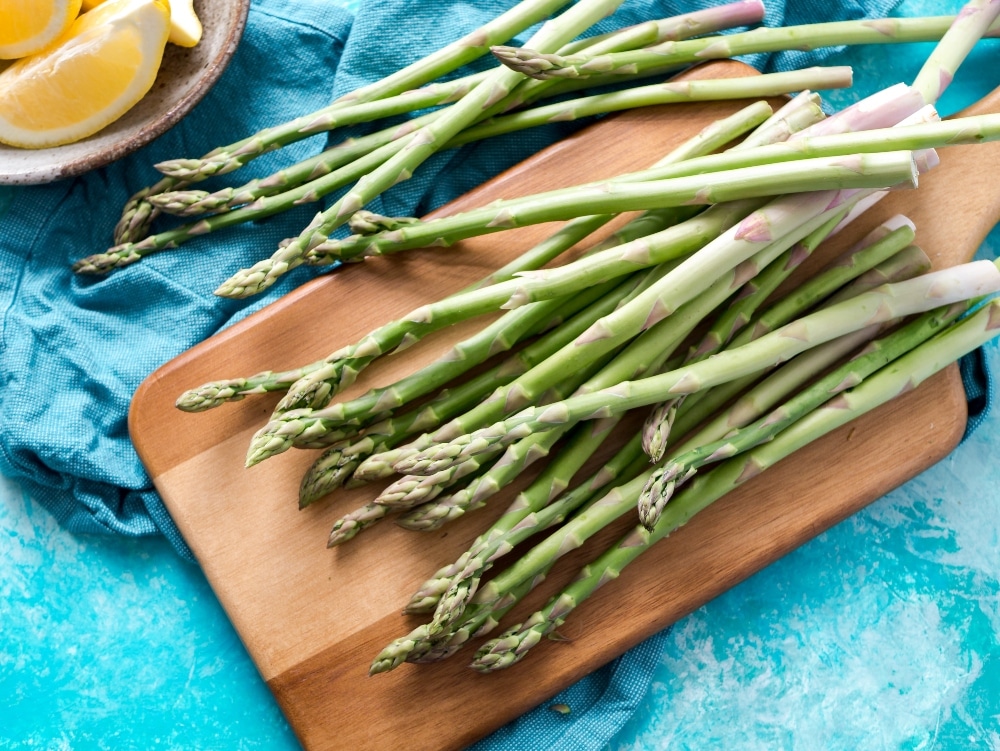 Unsplash
1 Asparagus
The best time to plant asparagus is a few weeks before the last frost of winter. And, remember, if you're trying to grow them from home, it'll take a while before they're ready for harvest. In fact, it's not until the spring of the third year after planting that this perennial vegetable is ready for its first harvest. But whether you grow them yourself or grab them from the farmers' market, asparagus is packed with nutrients, including fiber, vitamin C, and iron.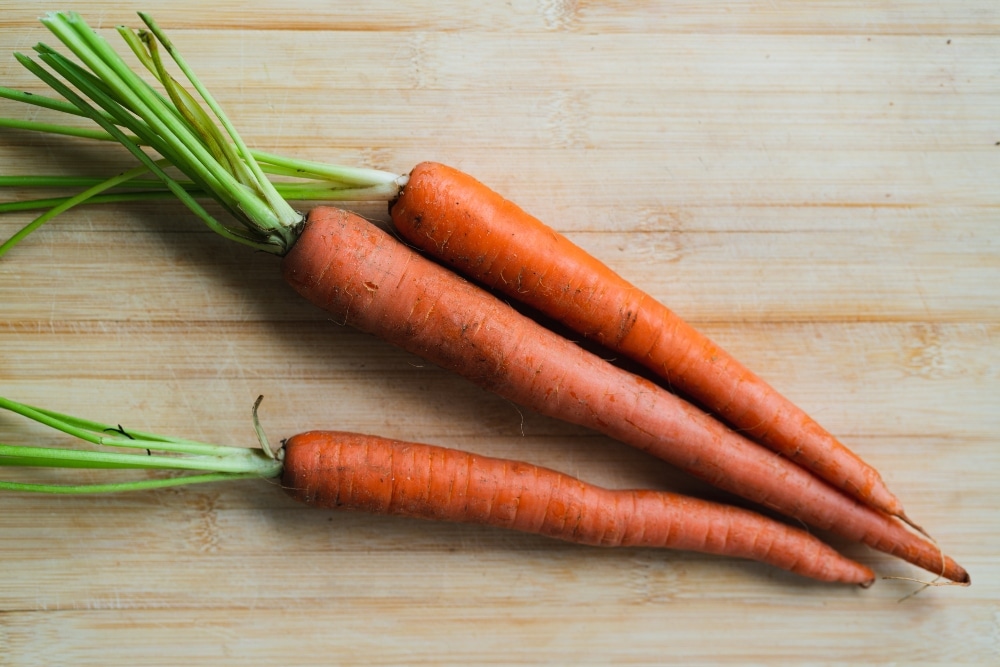 Unsplash
2 Carrots
The seeds of carrots are usually sewn in spring, but they harvest pretty much all year round. That said, they are their best in cool temperatures, which is why they're considered a great spring vegetable. Carrots are a good source of vitamin A, in particular, as well as other nutrients like fiber, potassium, and vitamin K.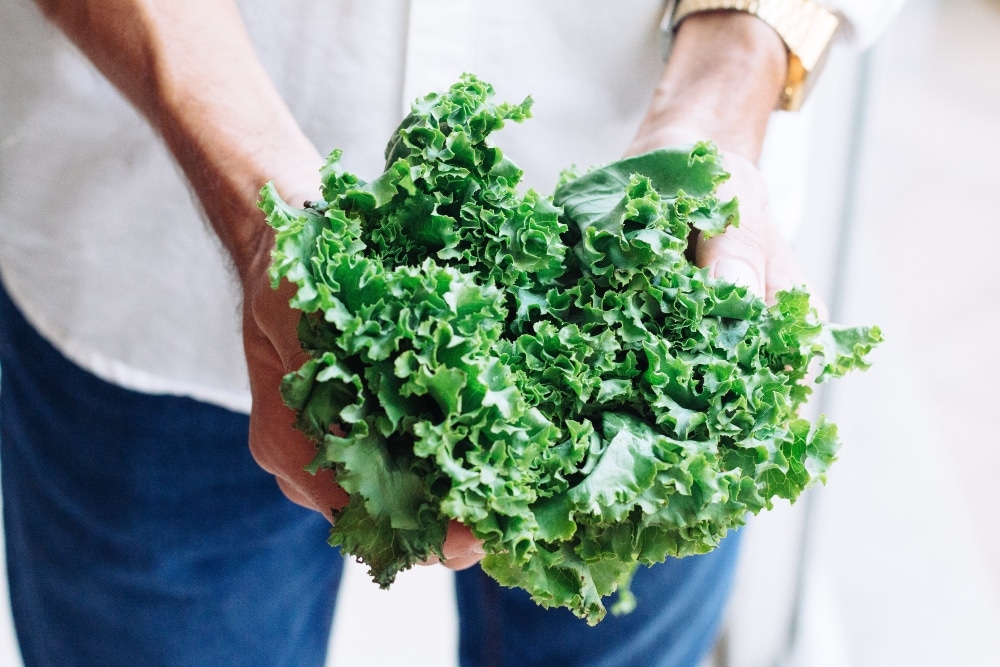 Unsplash
3 Kale
Again, kale can be harvested for most of the year, but one of the best times to pick this leafy cruciferous vegetable from the ground is in late spring. Kale is known for being very nutrient-rich (it's high in vitamins like vitamin C, K, B6, and A) and it's also a great source of antioxidants, too.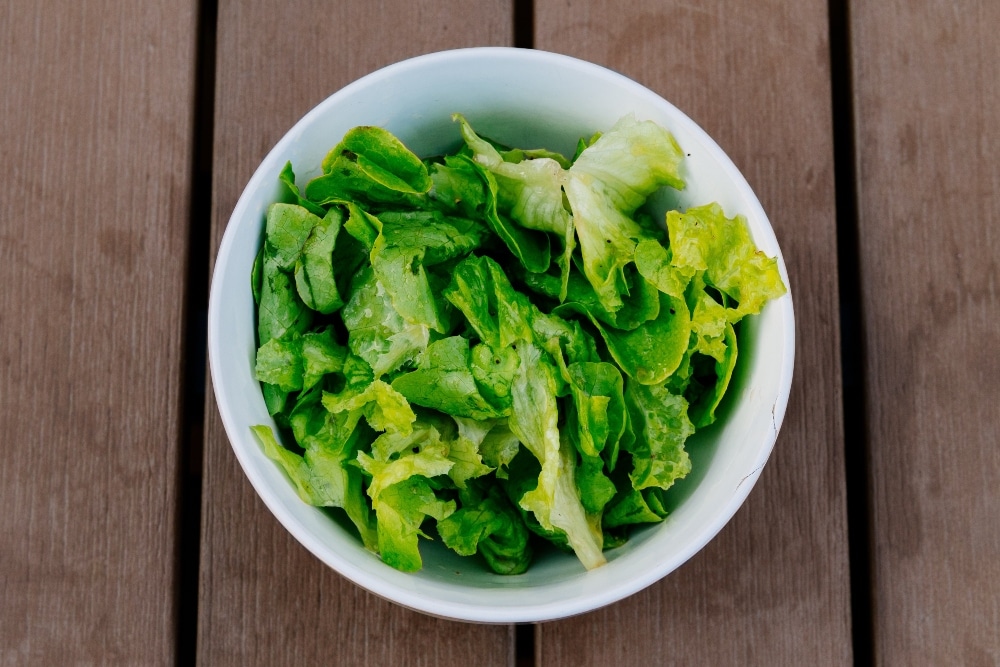 Pexels
4 Lettuce
When you harvest lettuce depends on when the seeds were sewn. If they were sewn in the winter, then this means the leafy annual plant will be ready for picking in spring. Lettuce is an extremely refreshing choice of salad vegetable, and it's a source of nutrients like potassium, vitamin C, and folate.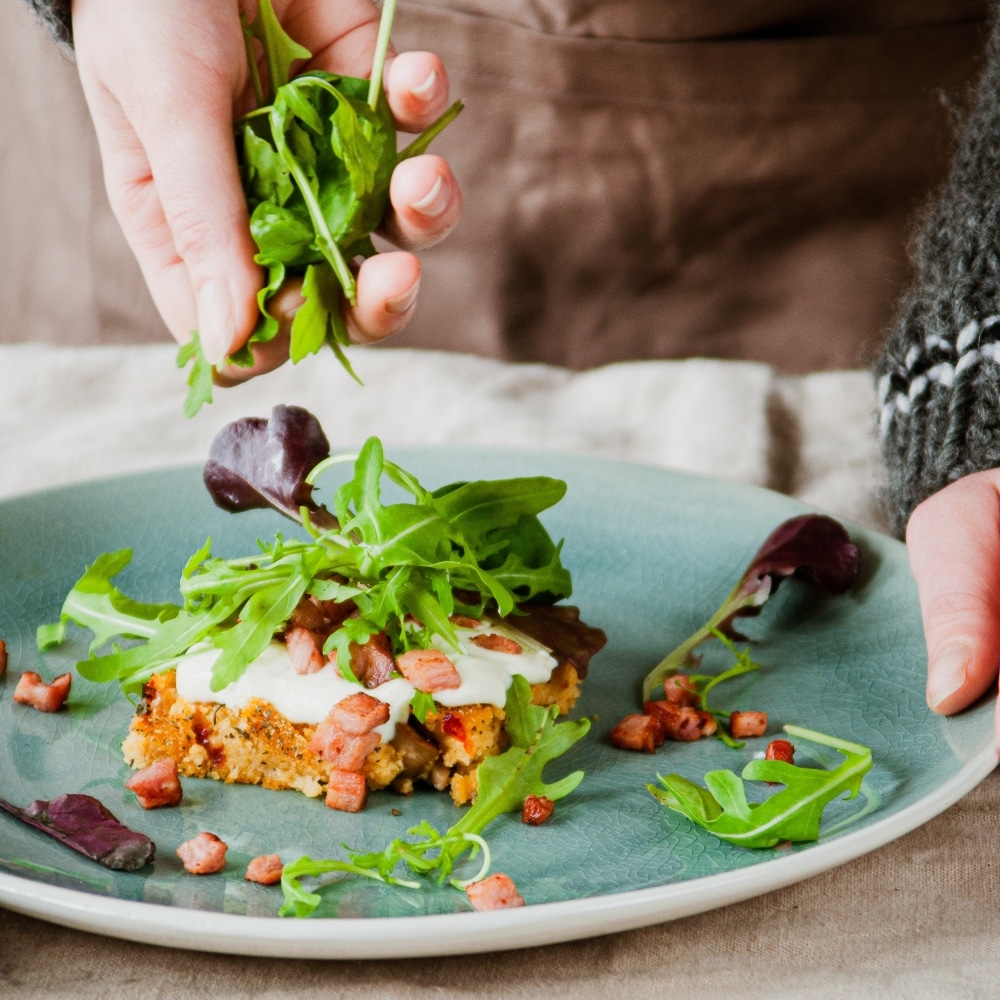 Pexels
5 Arugula
Arugula is prime for harvest when the weather is cool, which makes it a great vegetable for spring. It doesn't take long to sprout, so it can be planted in early spring ready for a late spring harvest. Just like salad, arugula is a great choice of salad vegetable, and it's particularly high in fiber.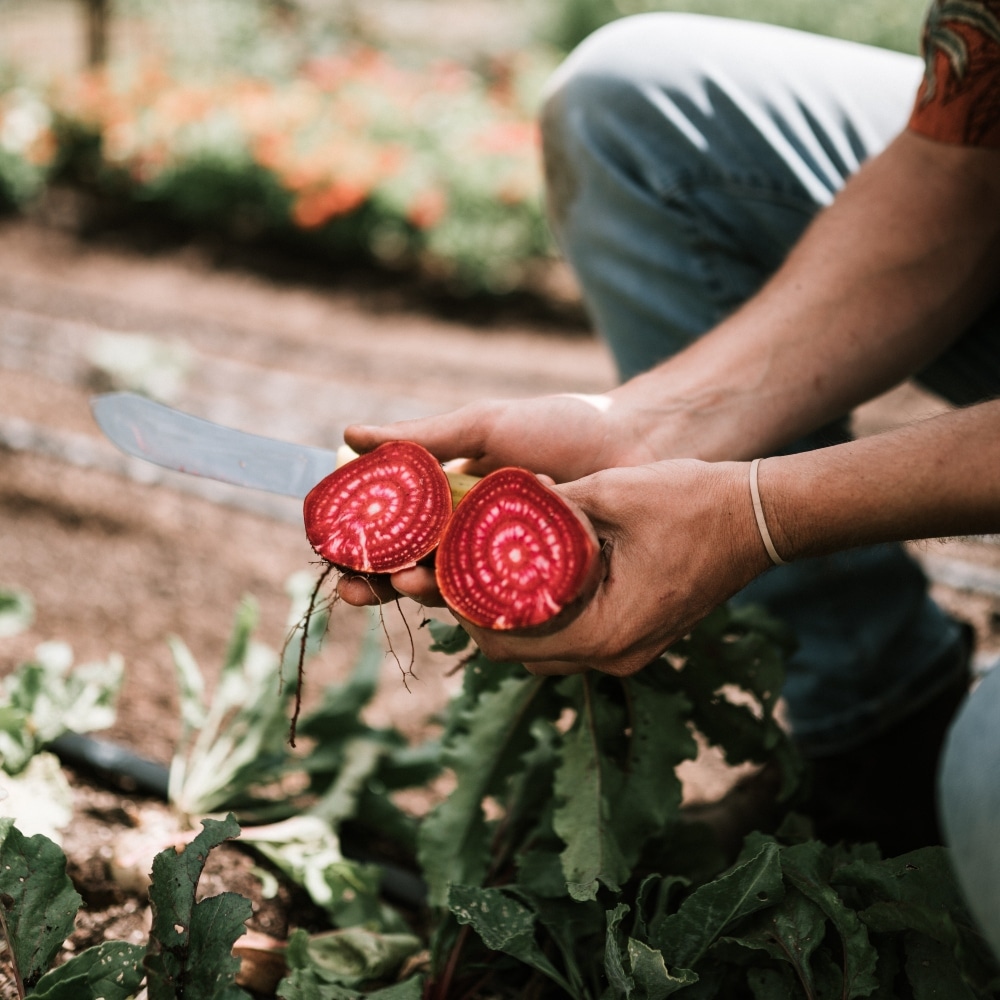 Pexels
6 Beets
Again, beetroot does best in cool weather. So this means it can be grown and harvested in either fall or spring. A root vegetable, beets thrive in salads or in heartier dishes, like stews. They're a good source of folate, as well as manganese, fiber, potassium, and copper.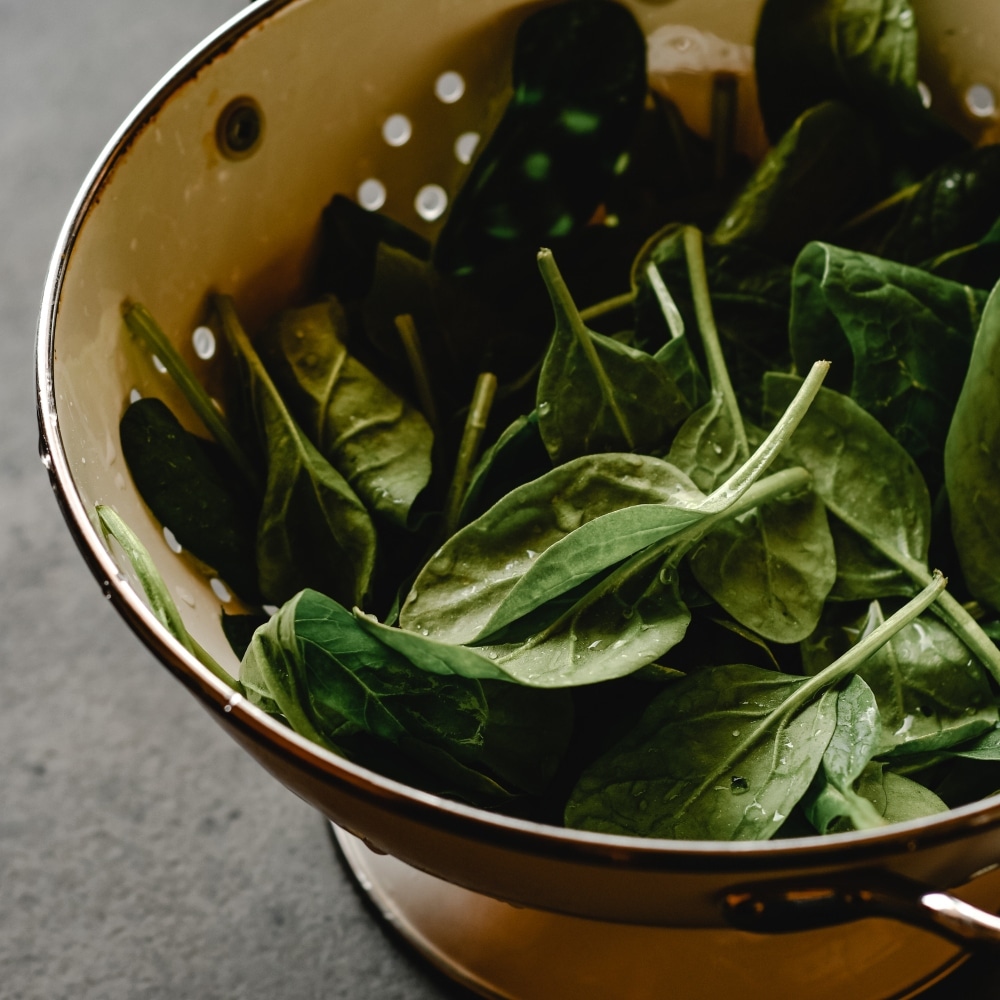 Pexels
7 Spinach
Spinach is another cool season crop—if you plant spinach in the middle of spring, it'll be ready for harvest by the end of the season or the beginning of summer. It's an extremely versatile vegetable and can be eaten fresh, but it also tastes great when it's steamed or sautéed and seasoned. Spinach is packed with iron, and it's also a good source of vitamin C, vitamin B6, and magnesium.
How to cook with spring vegetables: 7 vegan recipe ideas
Once you've harvested your veggies or bought them from your local farmer's market or grocery store, it's time to eat. If you're looking for some of the best ways to cook or prepare them, then you've come to the right place. Here are some of our favorite vegan, vegetable-forward recipes, all of which are perfect for springtime.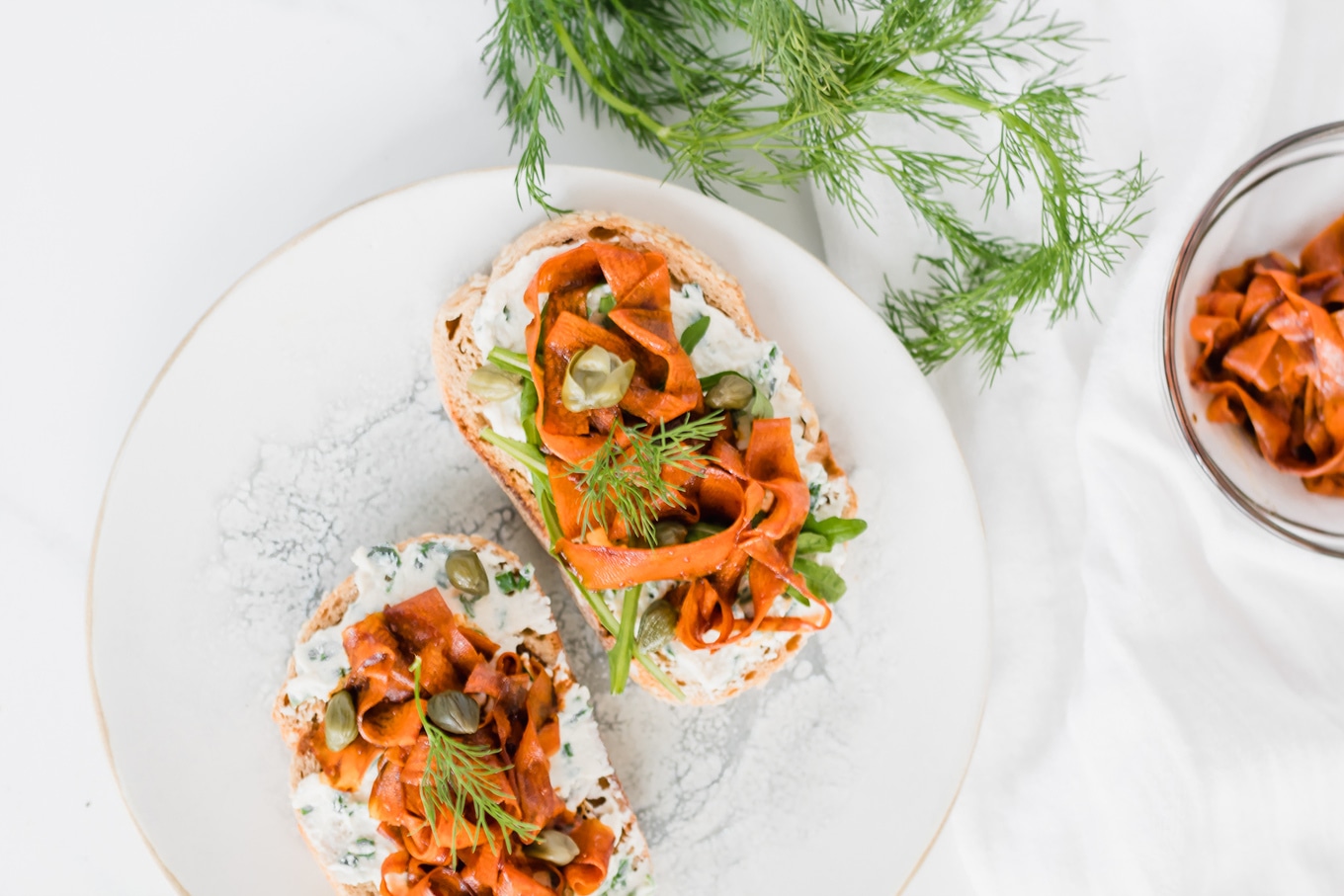 One Green Planet
1 Carrot Lox Toast With Herbed Cheese
Marinated carrots are the perfect replacement for salmon in this smoky vegan lox recipe. Enjoy them on toast with your own homemade herby tofu-based cream cheese (or grab some from the store if you're short on time—vegan Philadelphia is an option now!).
Get the recipe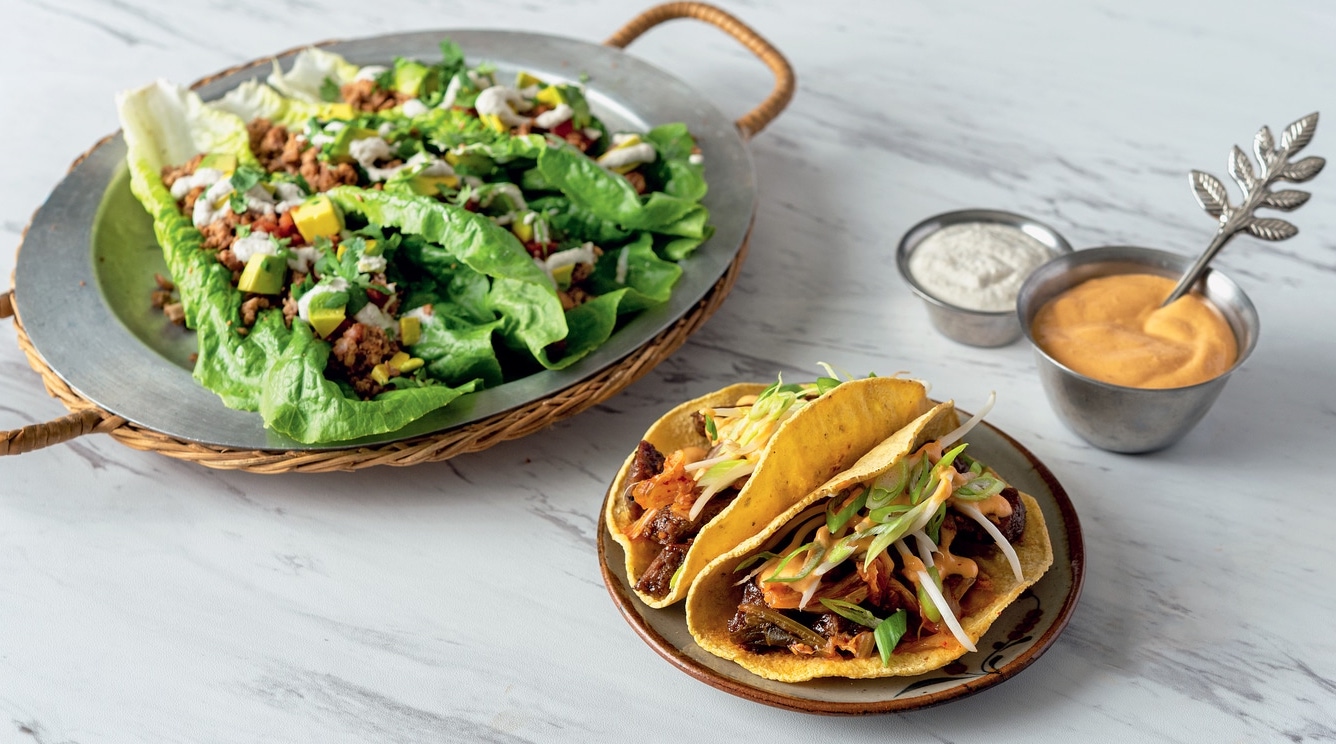 Jackie Sobon
2 Pinto Bean & Pecan Lettuce Tacos
If you're looking for a light lunch option that's still packed with protein and flavor, then try these lettuce tacos. Giant romaine leaves take the place of regular taco shells, but trust us, you'll still be satisfied thanks to the mix of raw pecans and pinto beans in the filling.
Get the recipe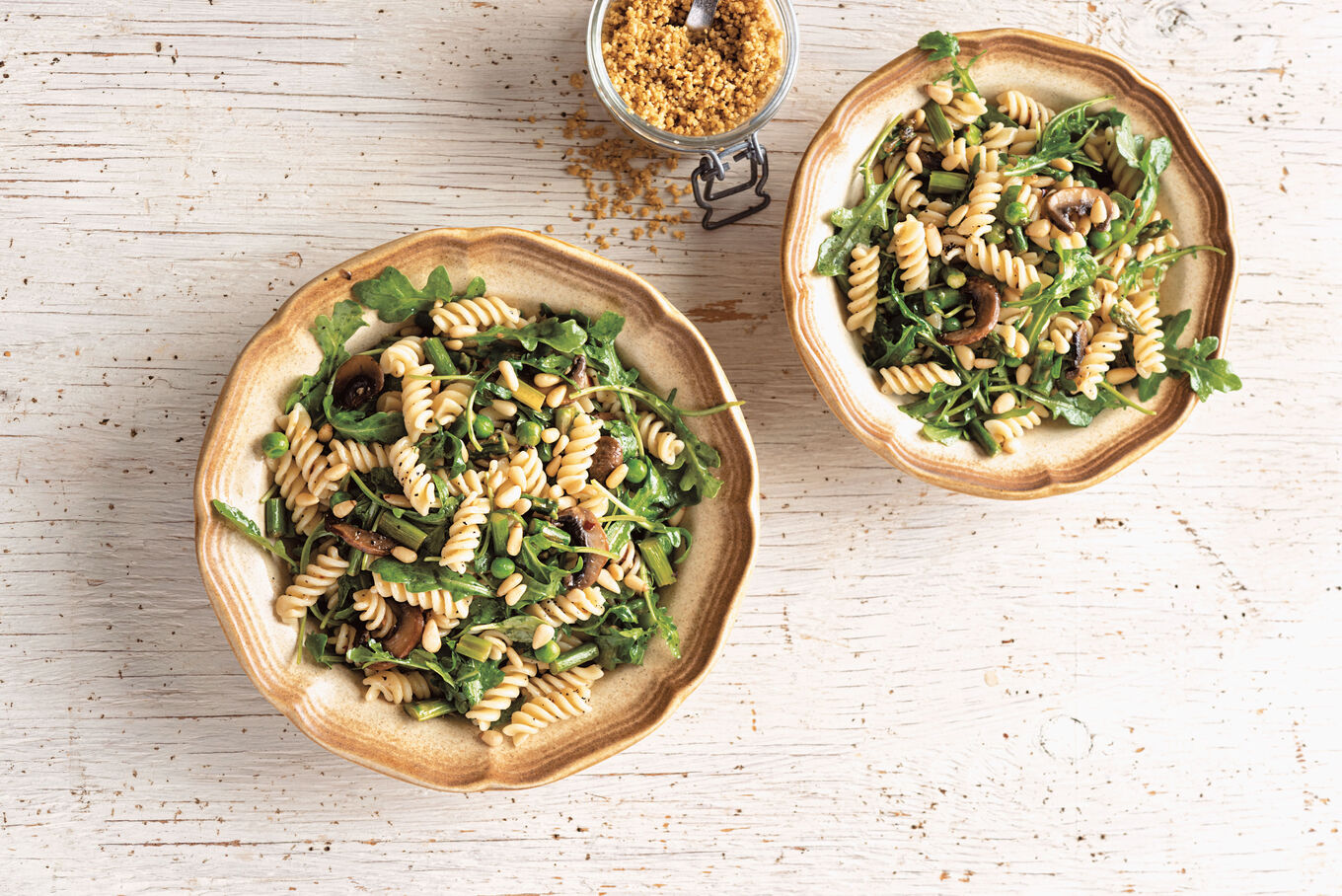 Jackie Sobon
3 Lemony Spring Pasta
This one is a great recipe to batch cook at the beginning of the week, so you have delicious zesty pasta ready to go for your Monday to Friday lunches. It packs in a few great spring vegetables, including asparagus and arugula.
Get the recipe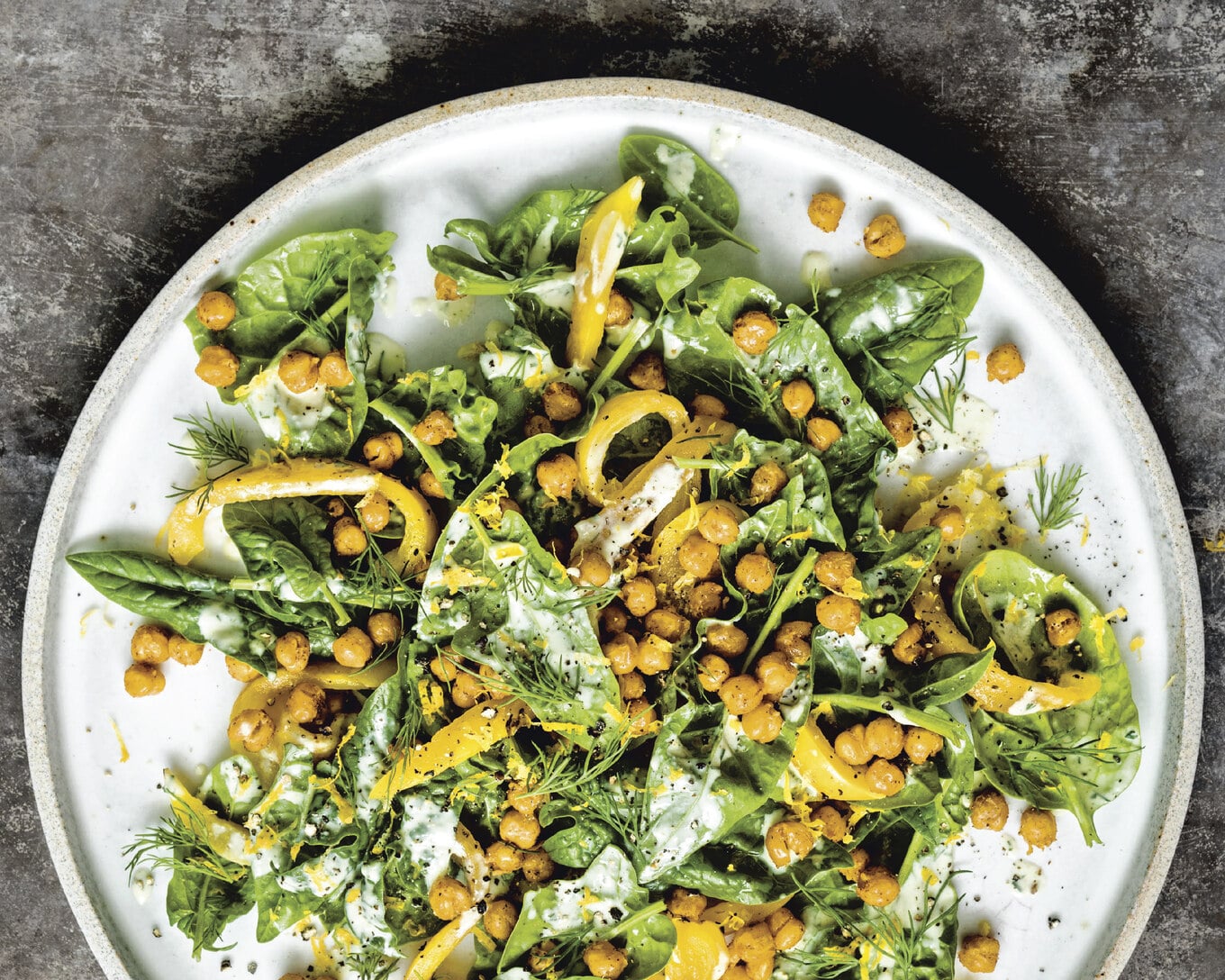 Bryant Terry
4 Spinach Salad with Blackened Chickpeas
On its own, spinach can be a little blah. But it really shines when it's paired with a creamy dressing, lemon zest, and delicious roasted vegetables, like chickpeas and bell peppers. It's guaranteed to become one of your favorite light and easy spring dinners.
Get the recipe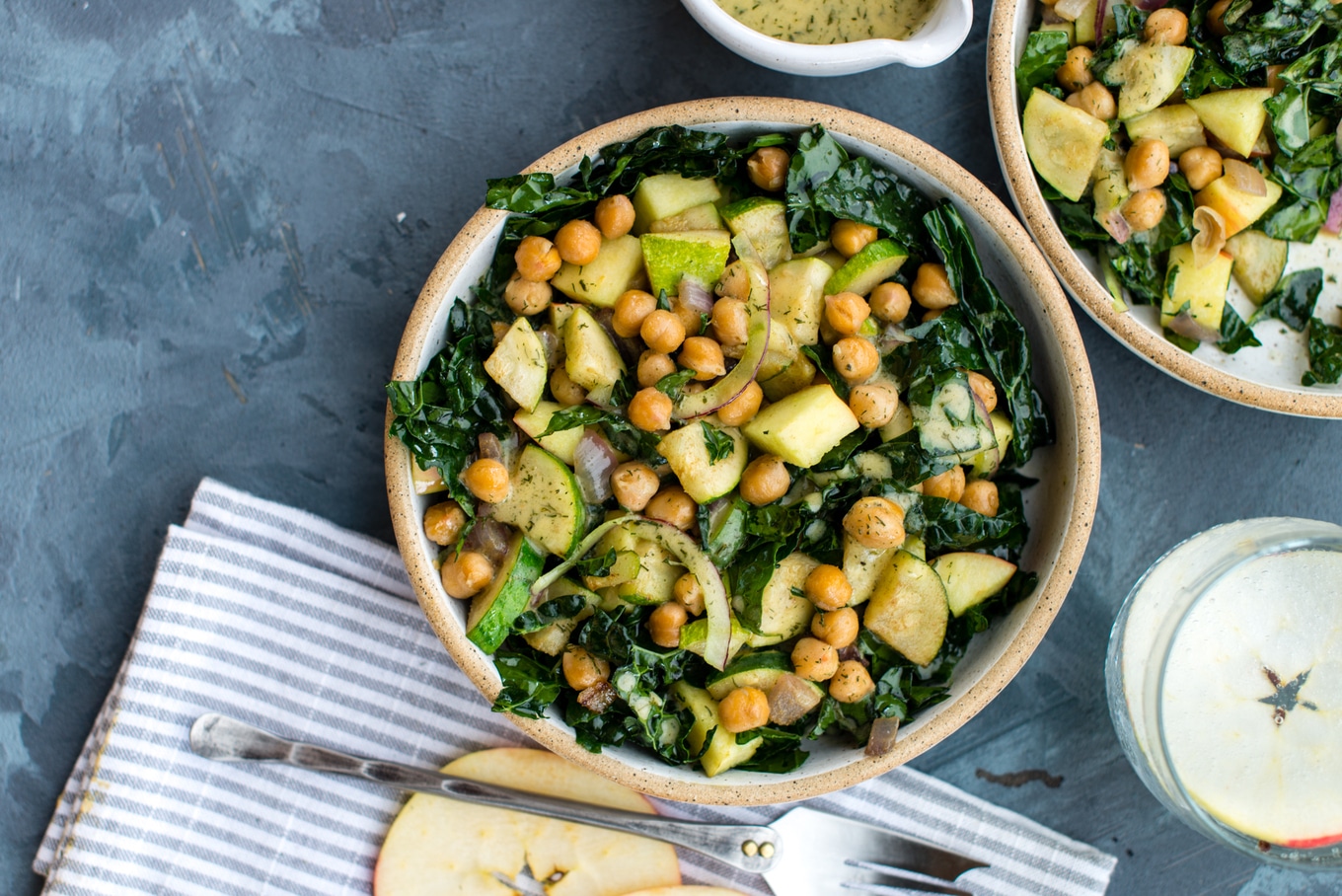 Caryn Jeanne Carruthers
5 Apple-Chickpea Kale Salad
This kale isn't just bursting with flavor, but it's also rich in texture too. Crunchy apples and red onions complement the crispy kale and meaty chickpeas beautifully. For extra zest, make your own citrusy dressing with orange and lemon juice too.
Get the recipe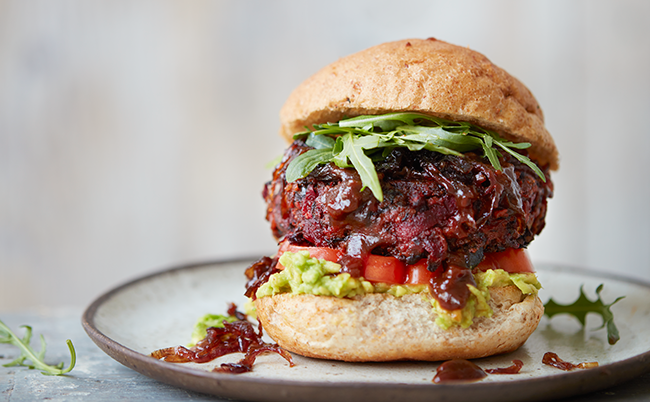 The New Nourishing
6 Beefy Beet Burger
Spring isn't just about salad, it's arguably one of the best times to tuck into a fresh, plant-based burger too. This beefy recipe is made with black beans and beets, and is best served in a bun with some of your favorite leafy spring vegetables.
Get the recipe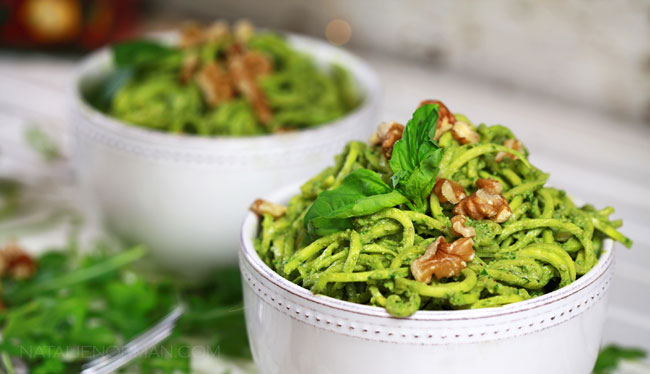 Natalie Norman
7 Walnut, Arugula, and Basil Pesto
Most pesto is made with basil and pine nuts, but this recipe offers a mix of ingredients that's a little bit different, but equally as delicious. It's also incredibly easy to whip up. All you need to do is blend walnuts, arugula, garlic, and basil with some hemp seeds, lemon, and nutritional yeast, and you're done!
Get the recipe
For more on cooking with vegetables, read: