For many, avocado exists in two forms: guacamole and on its own. But while adding avocado to virtually anything savory does amp up the tasty factor, there is so much more that this fatty fruit can do. Chefs have transformed far more bland produce into a wide array of delicious applications (hello, cauliflower everything), so who's to say avocado isn't as versatile? From surprisingly mouthwatering sweets to ultra-creamy sauces, here are 23 vegan avocado recipes to try now. But first, here's more about why adding this creamy fruit to your diet is so beneficial.
What are the benefits of avocado?
Dubbed a "superfood" by some, avocados are undoubtedly a beneficial addition to your diet. Firstly, they are incredibly nutrient-dense—they're packed with fiber, vitamin B6, magnesium, potassium, and more. But they also contain high amounts of monounsaturated and polyunsaturated fats, which means they are linked with good heart health. In fact, according to the British Heart Foundation, research suggests that eating just two servings of avocado a week may reduce the risk of developing heart disease by 21 percent.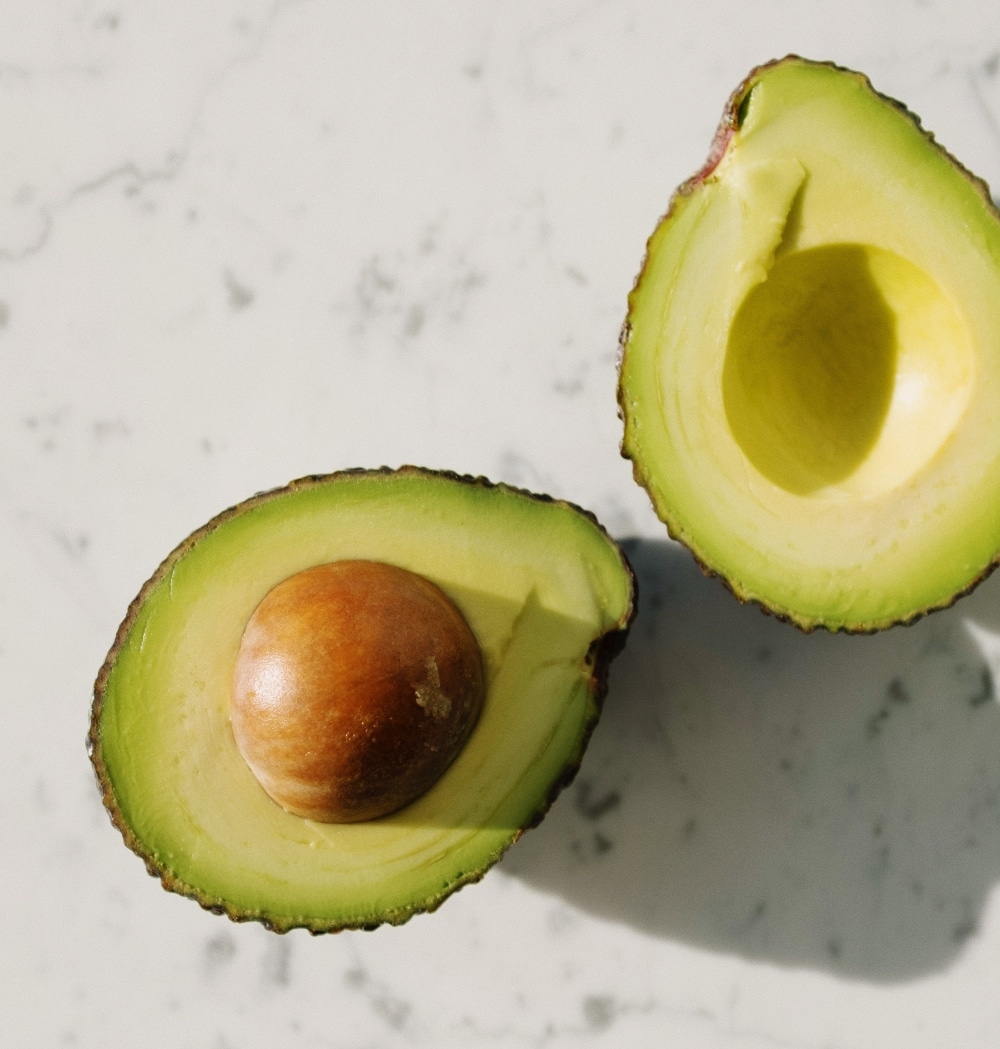 Pexels
Avocados are also creamy, versatile, and mild, which means they can be added to a wide variety of different recipes in different contexts. They work in dips, ice creams, soups, pasta, and more. To prove it, here are some of our favorite ways to incorporate avocados into vegan cooking.
How to cook with avocado: 23 vegan recipes to try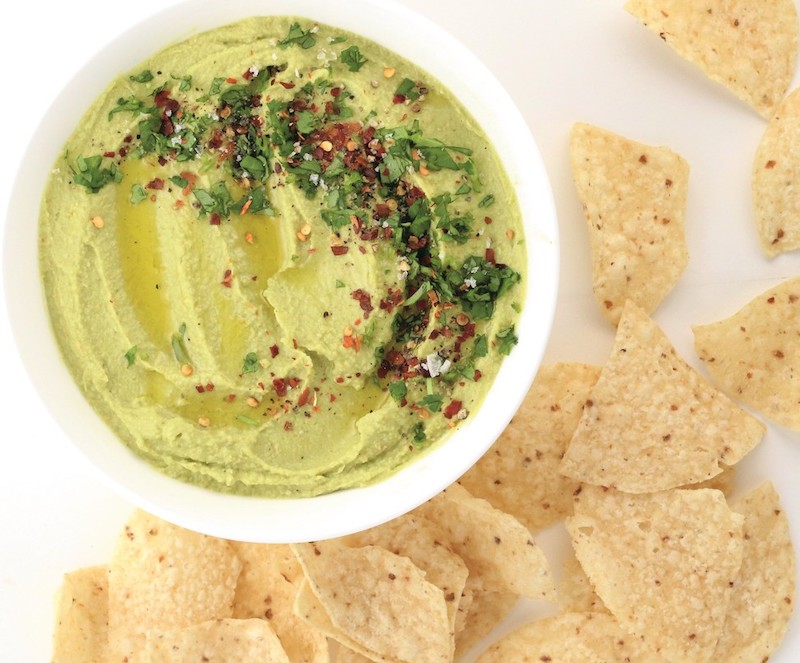 Sam Turnbull
1 Garlicky Avocado Hummus Dip
Have you ever thought to pair the creamy nuttiness of hummus with the richness of guacamole? You should. This combination is perfect for parties—it's unique and enticing, and unlike guacamole, it won't go brown on you thanks to a generous squeeze of bright lemon juice mixed in.
Get the recipe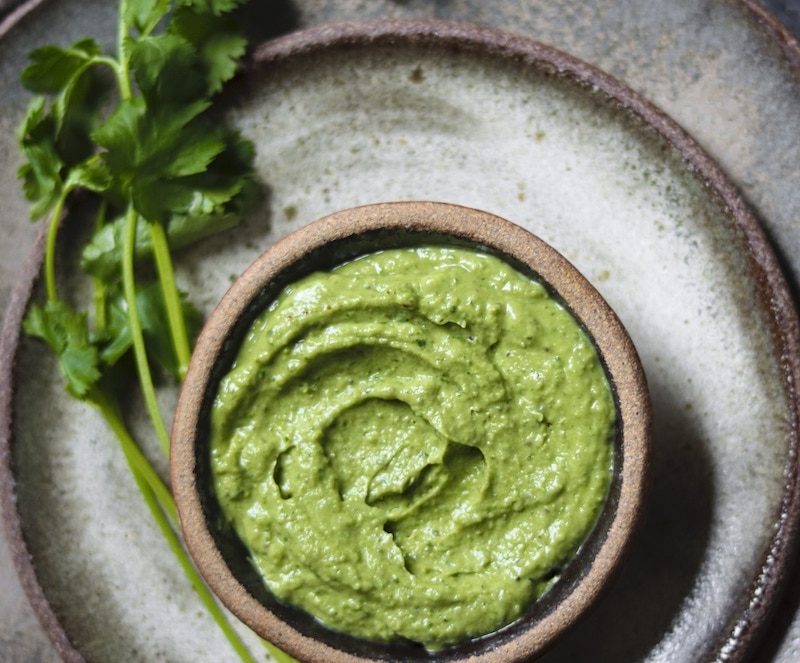 Shivangi Rao
2 Creamy Avocado Indian Chutney
When your avocado is past the point of ripeness, give this spicy chutney recipe a go. It's packed with fresh cilantro and mint, offering an herby contrast to the spicy jalapeño blended in. Serve with your favorite vegan Indian dishes or go rogue and dip fries, slather on sandwiches, or drizzle atop tacos.
Get the recipe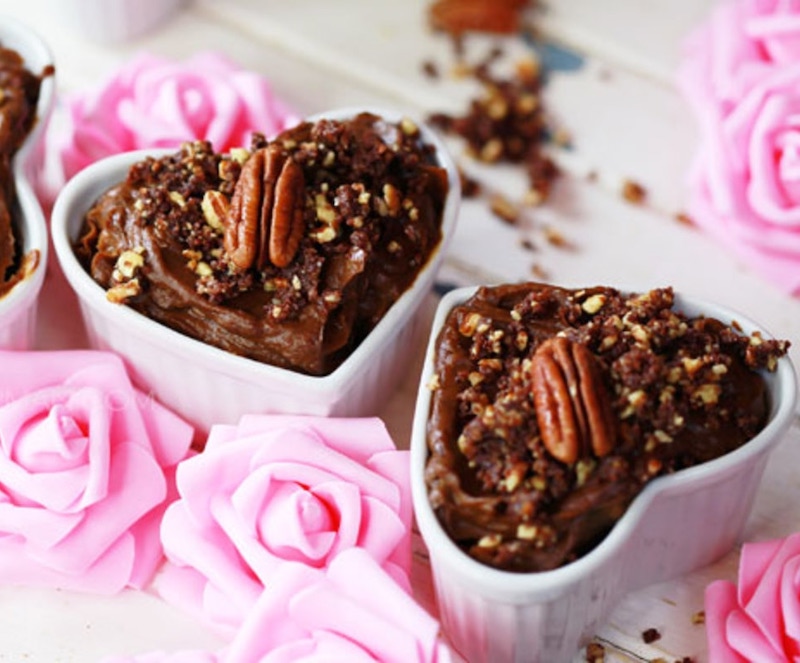 Natalie Norman
3 Chocolate Mousse With Pecan Crumble
This recipe excellently demonstrates the sweeter side of avocado. Avocado chocolate mousse is firmly "a thing" thanks to this fruit's creamy richness. A scoop of cacao powder and a cup of sweet Medjool dates mask any lingering avocado flavor, so all you taste is a rich and decadent dessert. Pro tip: this treat must be blended thoroughly—you don't want to see any green specks in your elegant mousse.
Get the recipe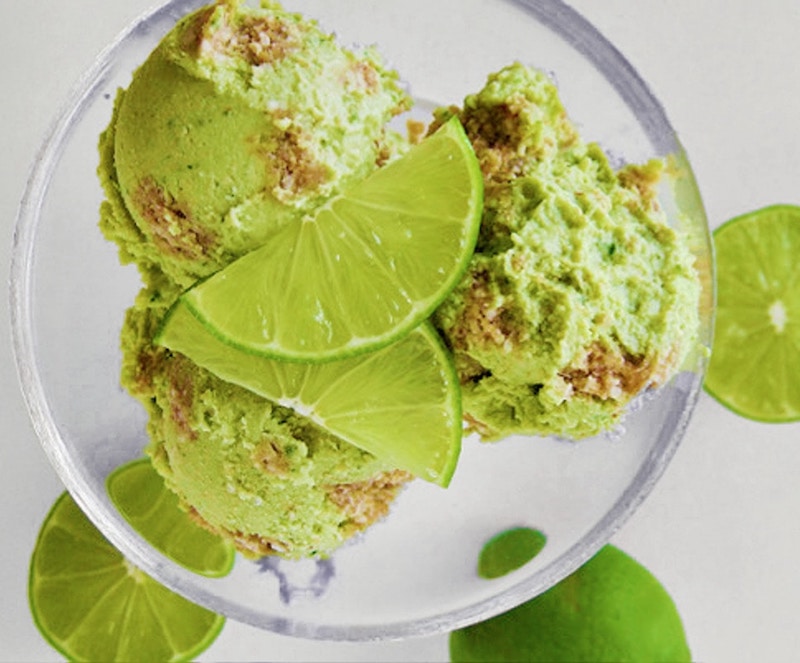 Amy Lyons
4 Dairy-Free Key Lime Pie Ice Cream
Those who follow a raw diet—or simply partake in raw foods from time to time—know that avocado is a key ingredient in any raw vegan key lime treat. Avocados not only provide a thick and creamy element but add to this dessert's light green hue. When combined with coconut meat, real vanilla bean, lime juice, and agave, no one would guess there's a full cup of avocado lurking in their ice cream.
Get the recipe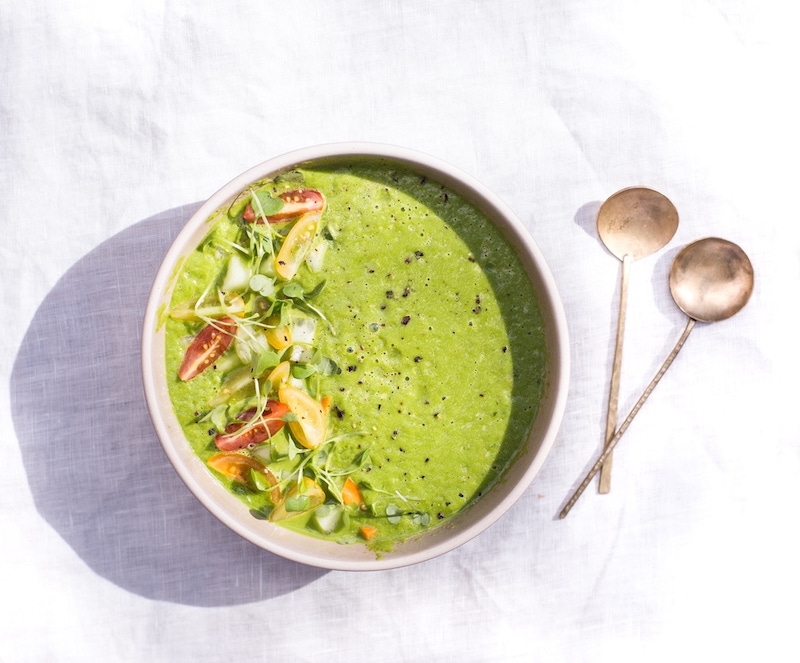 Summer Sanders
5 Raw Spicy Avocado-Jalapeño Soup
This is more than your average bowl of gazpacho. The recipe calls for avocado and tahini which both provide a creamy and nutty element to this classic dish of pulverized raw vegetables. This soup won't weigh you down but eats like a hearty meal. Add a slice of quality artisan bread or soft and fluffy pita for an even more robust lunch or dinner.
Get the recipe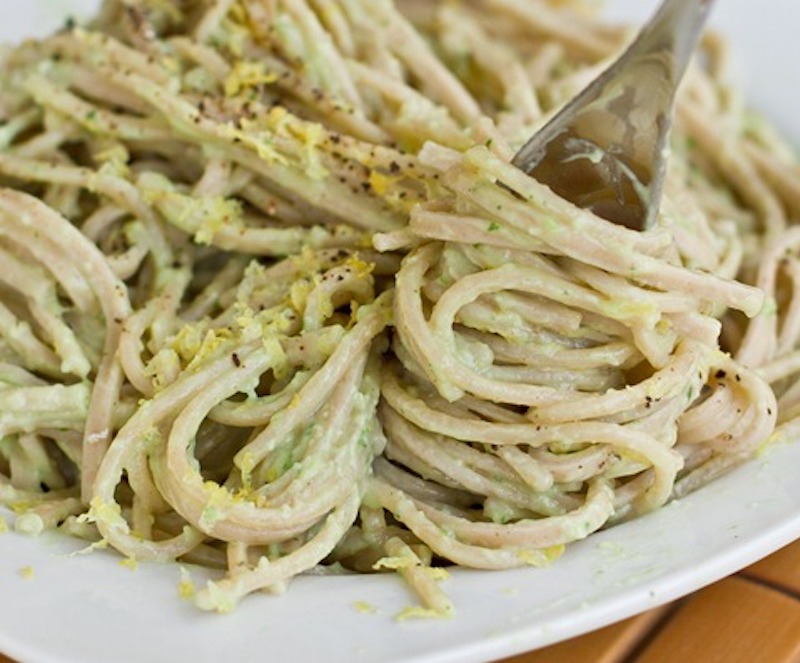 Oh She Glows
6 15-Minute Creamy Avocado Pasta
If you fall under the belief that there can never be too much avocado, try it in a pasta sauce. This lightly green-tinted cream sauce is reminiscent of Alfredo without the heavy feeling that comes after eating. The healthy ingredient profile makes it taste decadent without demanding you take a nap after. Try it on short shapes like penne or farfalle or swirl it with fettuccine for a lighter take on a classic dish.
Get the recipe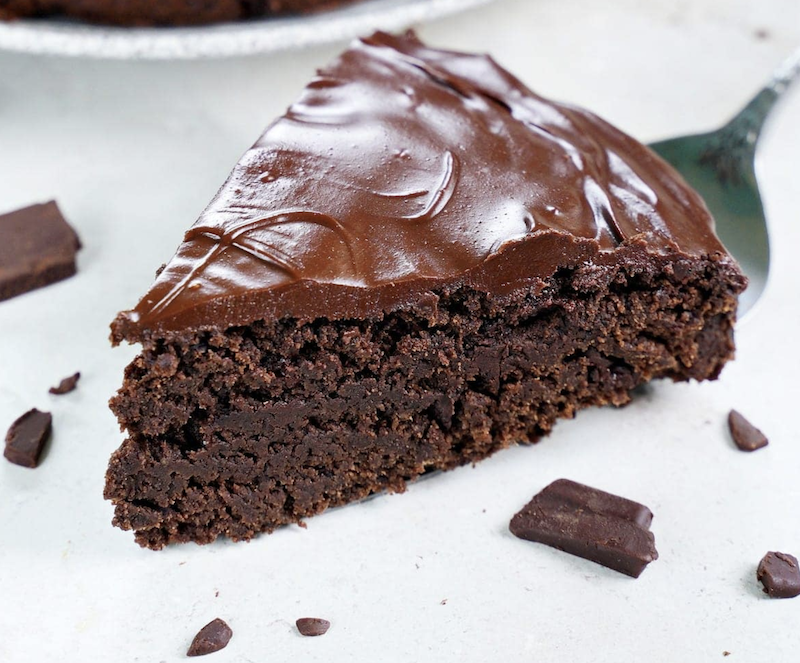 Ela Vegan
7 Gluten-Free Avocado Chocolate Cake
Like vegan mayonnaise, adding blended avocado to a chocolate cake batter makes for a deliciously fudgy and moist cake. When fully incorporated, no one will realize they're inhaling a serving of fruit (yes, avocado is a fruit) with their slice of chocolate cake. The resulting single-layer round cake is dense, chocolatey, and made even more luxurious with a thick schmear of nut butter-based chocolate ganache. Garnish with a few berries to add a pop of freshness to this intensely rich dessert.
Get the recipe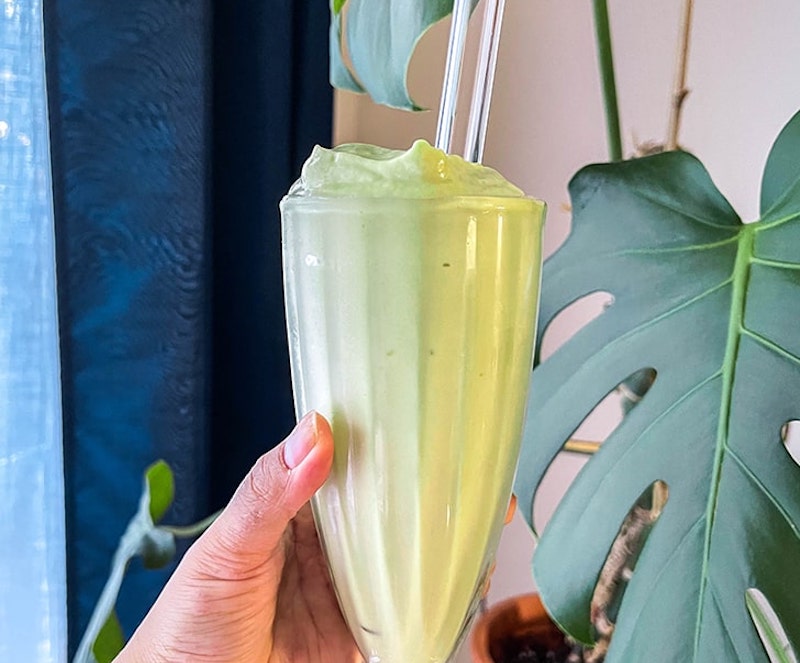 Viet Vegan
8 Creamy Avocado Shake
This isn't a Shamrock Shake—it's very avocado-forward without a trace of mint, but it's delicious. Don't skip the sweetened condensed coconut milk. The two tablespoons called for in the recipe are crucial to obtain a silky texture and transform a chilled avocado drink into a beverage worthy of being called "dessert."
Get the recipe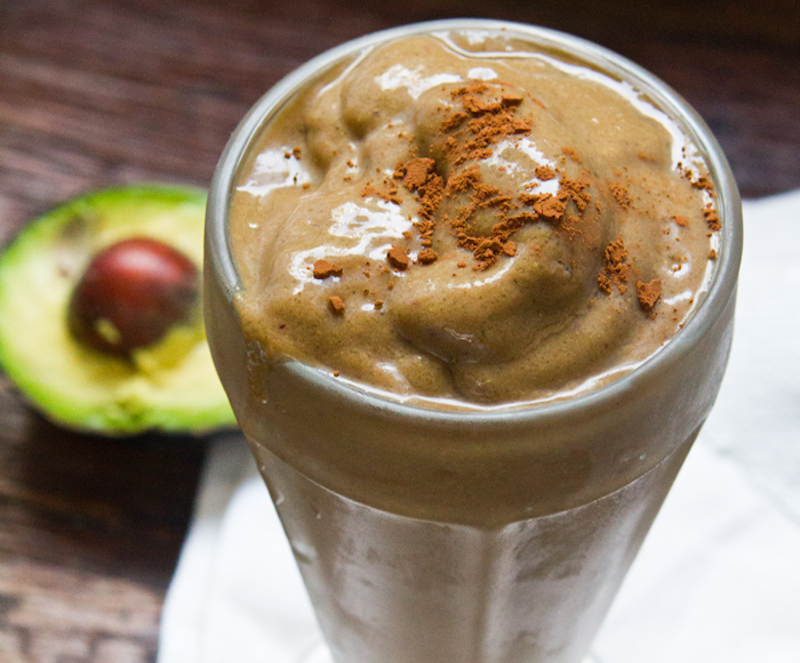 Kathy Patalsky
9 ChocoCado Smoothie
There isn't much to this frosty drink—just avocado, frozen grapes, chocolate vegan protein powder, a frozen banana, and some dairy-free milk to get the blender going. However, this short ingredient list lets you play. Here are two ways to shake up this shake: add fresh mint and a handful of cacao nibs or a dollop of peanut butter. Both are excellent flavor-boosters (just don't add both at the same time … minty peanut butter chocolate just doesn't work).
Get the recipe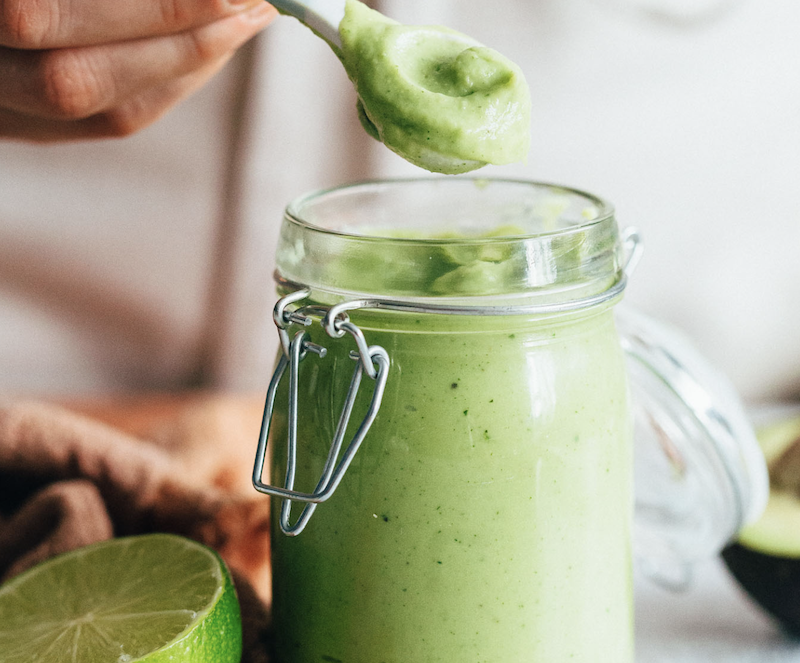 Minimalist Baker
10 Oil-Free Avocado Aioli
Essentially fancy mayo, basic aioli gets a jolt of green when you blend in creamy avocado. Use this addictively good sauce anywhere you'd use vegan mayonnaise: on sandwiches, wraps, tacos, potato and macaroni salad, and even flatbreads. Of course, you could just dip fries in it. That works, too.
Get the recipe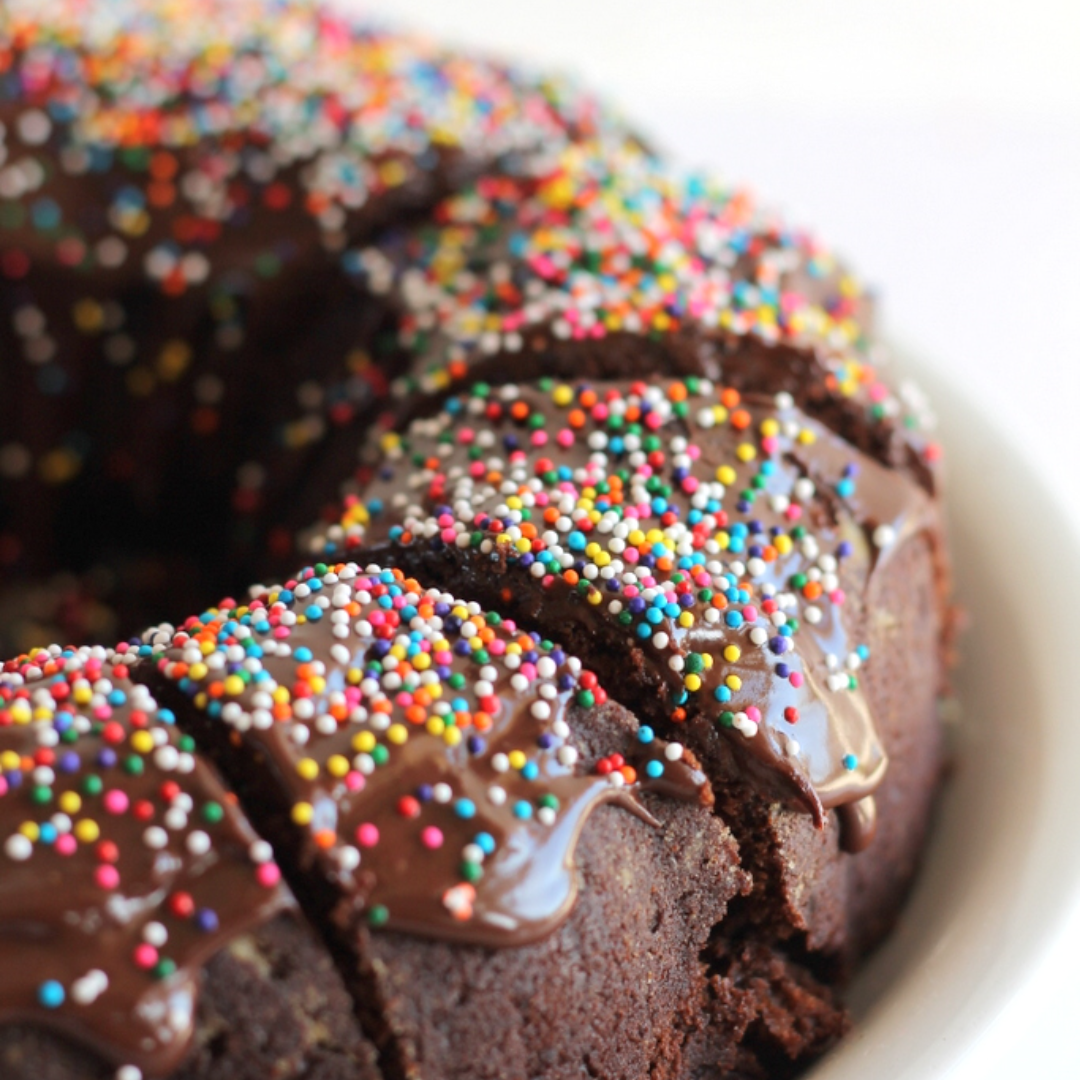 Ambitious Kitchen
11Vegan Avocado Chocolate Birthday Cake With Chocolate Ganache
Once you bake, you never go back. That's what we say about this beautiful birthday cake, made extra-fudgy with the addition of avo. Extra points for colored sprinkles!
Get the recipe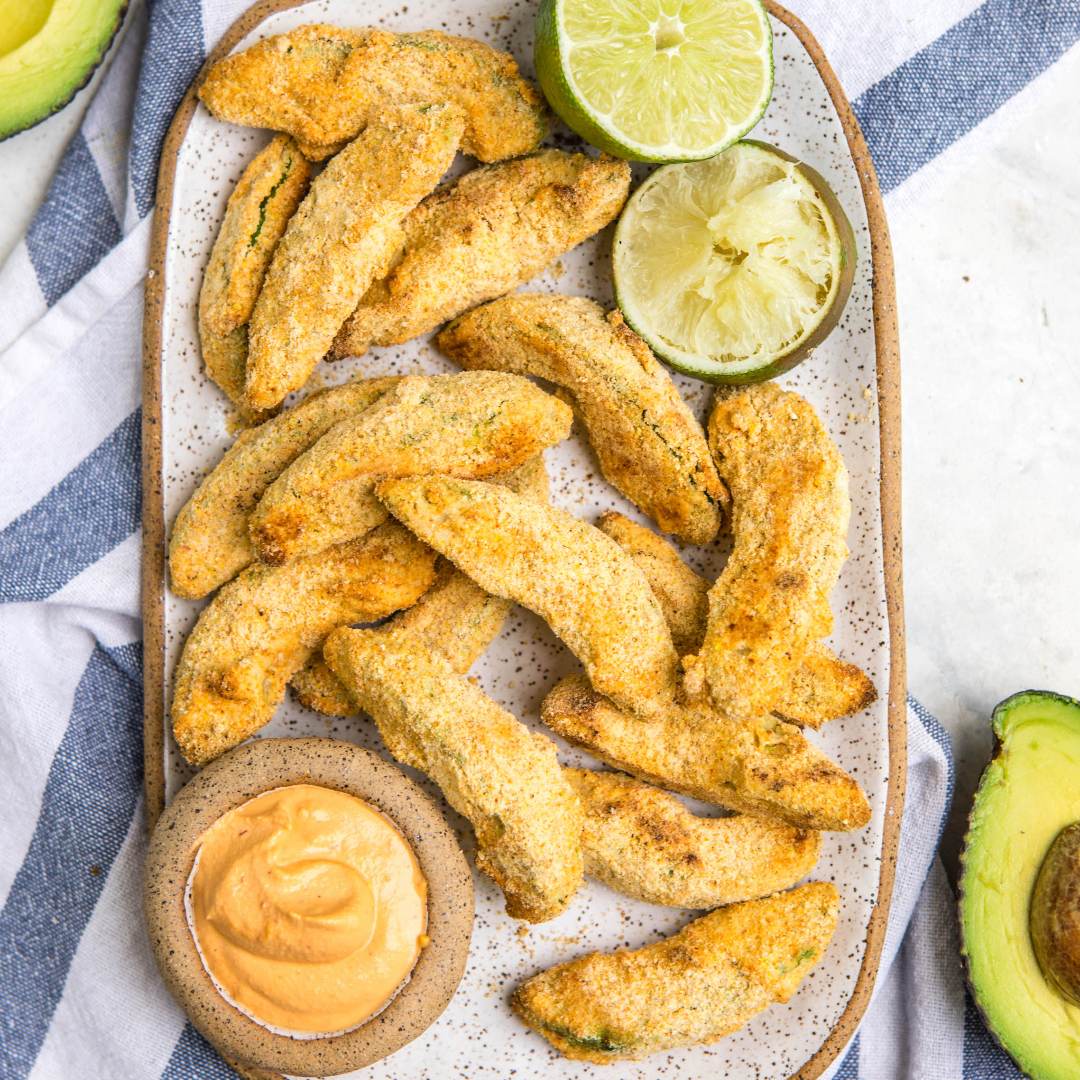 From My Bowl
12Crispy Baked Avocado Fries
Move over, potatoes—these perfectly crispy, gluten-free Avocado Fries are our new favorite way to snack hard. Pass up the fast-food original and pass the spicy mayo dip!
Get the recipe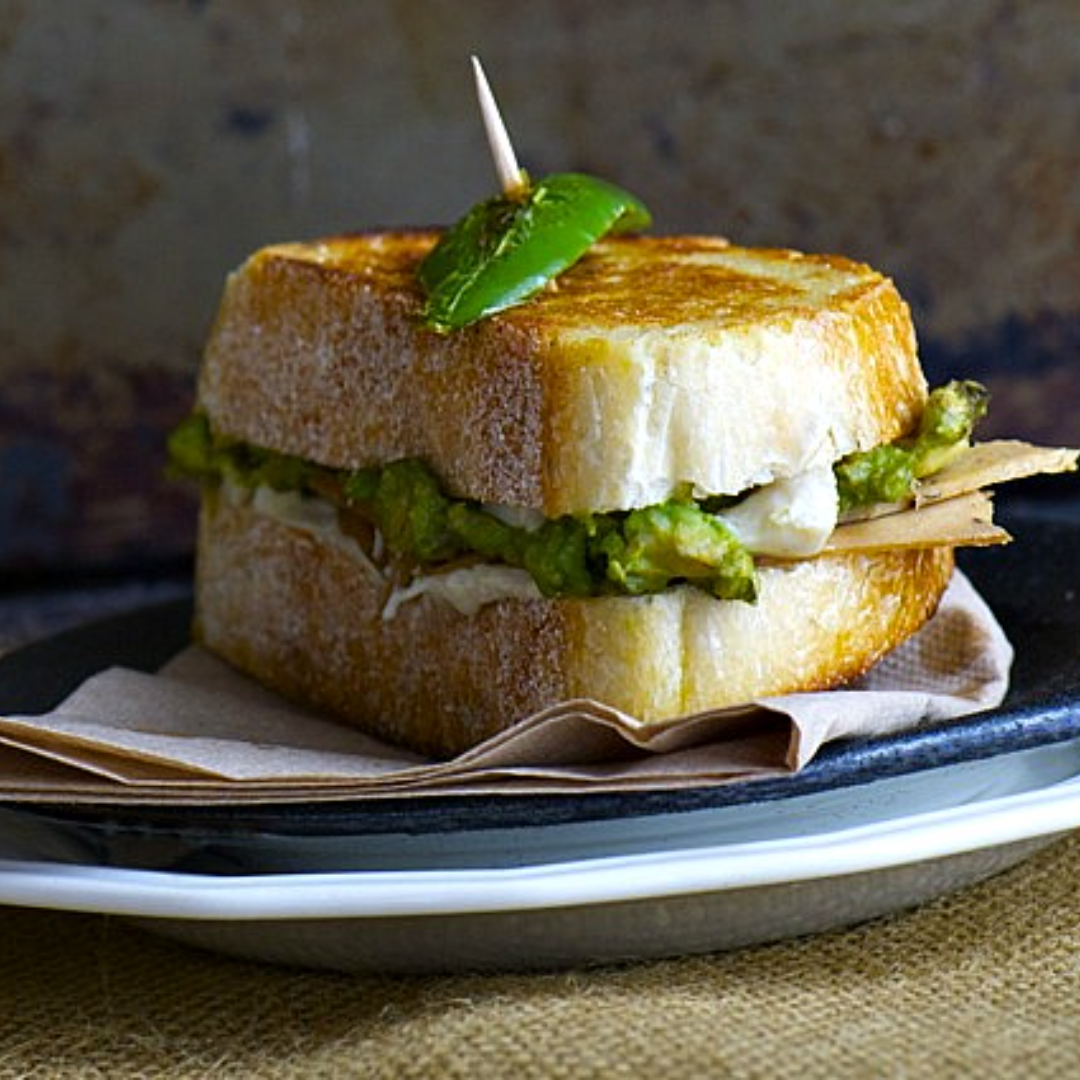 Namely Marly
13Avocado and Jalapeño Grilled Cheese Sandwich
We all know that a grilled cheese benefits from some add-ons, and what better combo than spicy jalapeño-garlic vegan Havarti and smooth avocado? Peppered faux turkey slices and a squeeze of lemon juice complete this hearty sandwich.
Get the recipe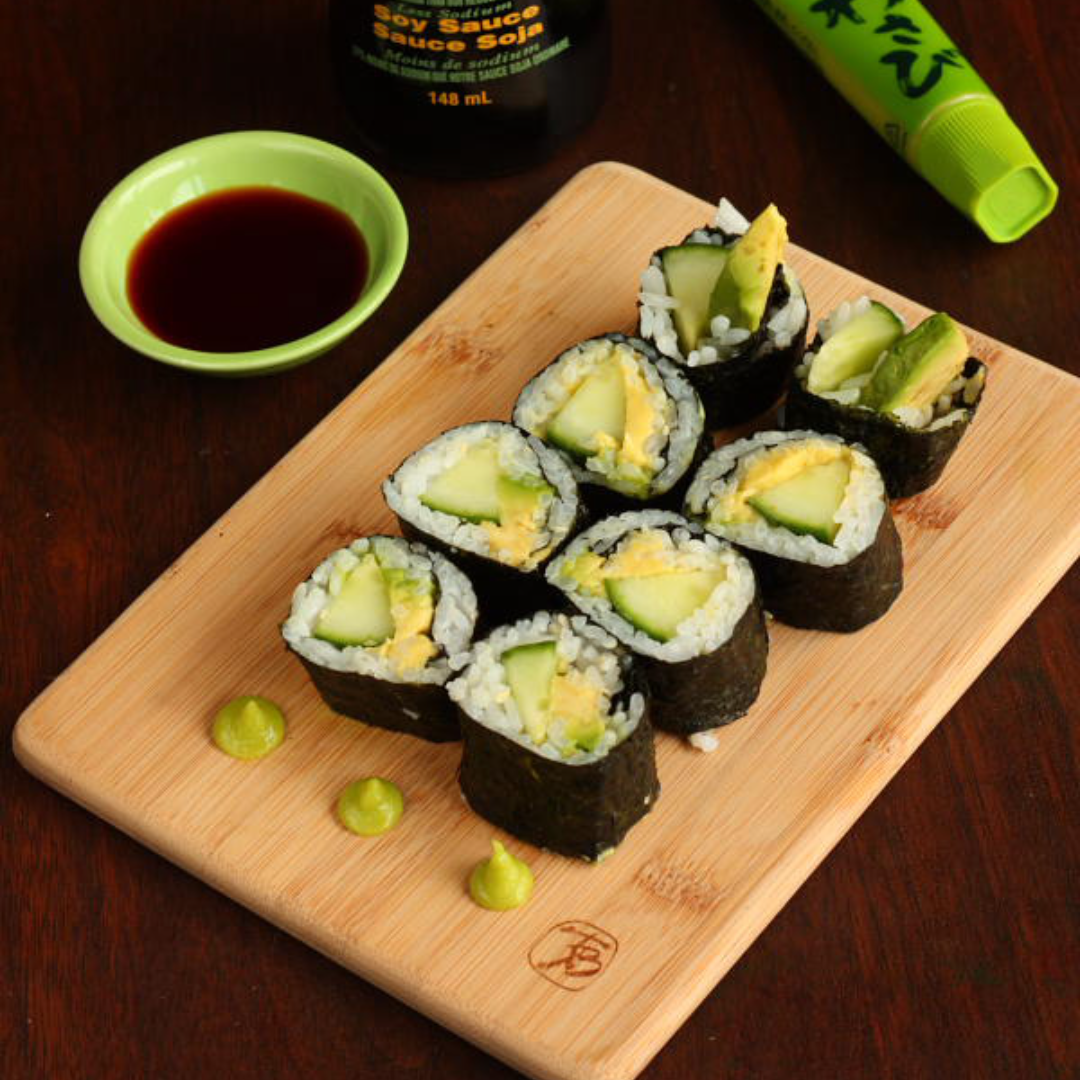 The Viet Vegan
14DIY Cucumber Avocado Sushi Rolls
Keep on rollin' with these homemade sushi rolls that combine crunchy cucumber and thick slices of avocado. We might just get wild and mix in some vegan cream cheese and shiitake mushrooms.
Get the recipe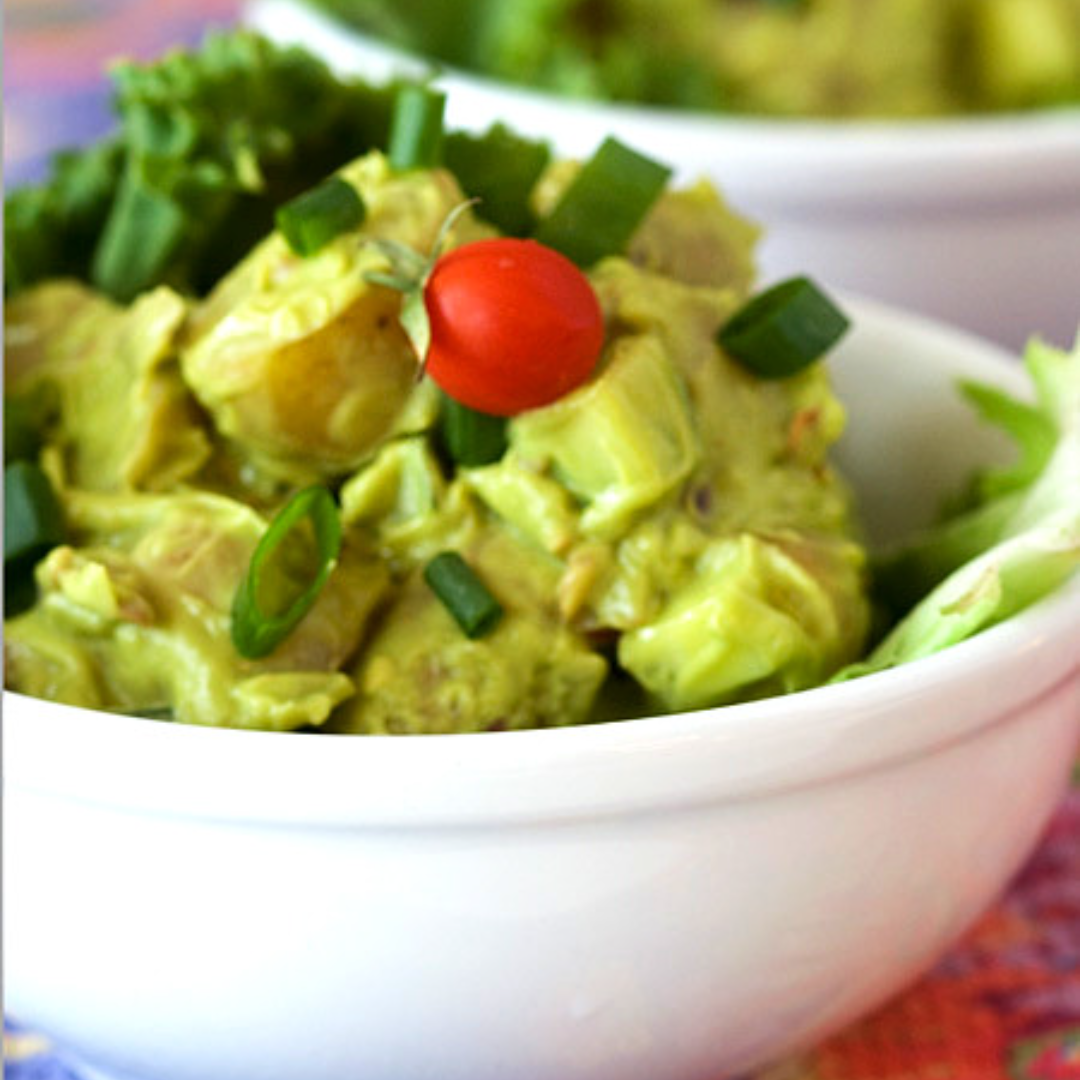 Post Punk Kitchen
15Creamy Avocado Potato Salad
Your next picnic will be 'cado-riffic if it includes this creamy potato salad. Plus, this mayo-free recipe is spiced with cayenne pepper and garnished with a touch of scallions.
Get the recipe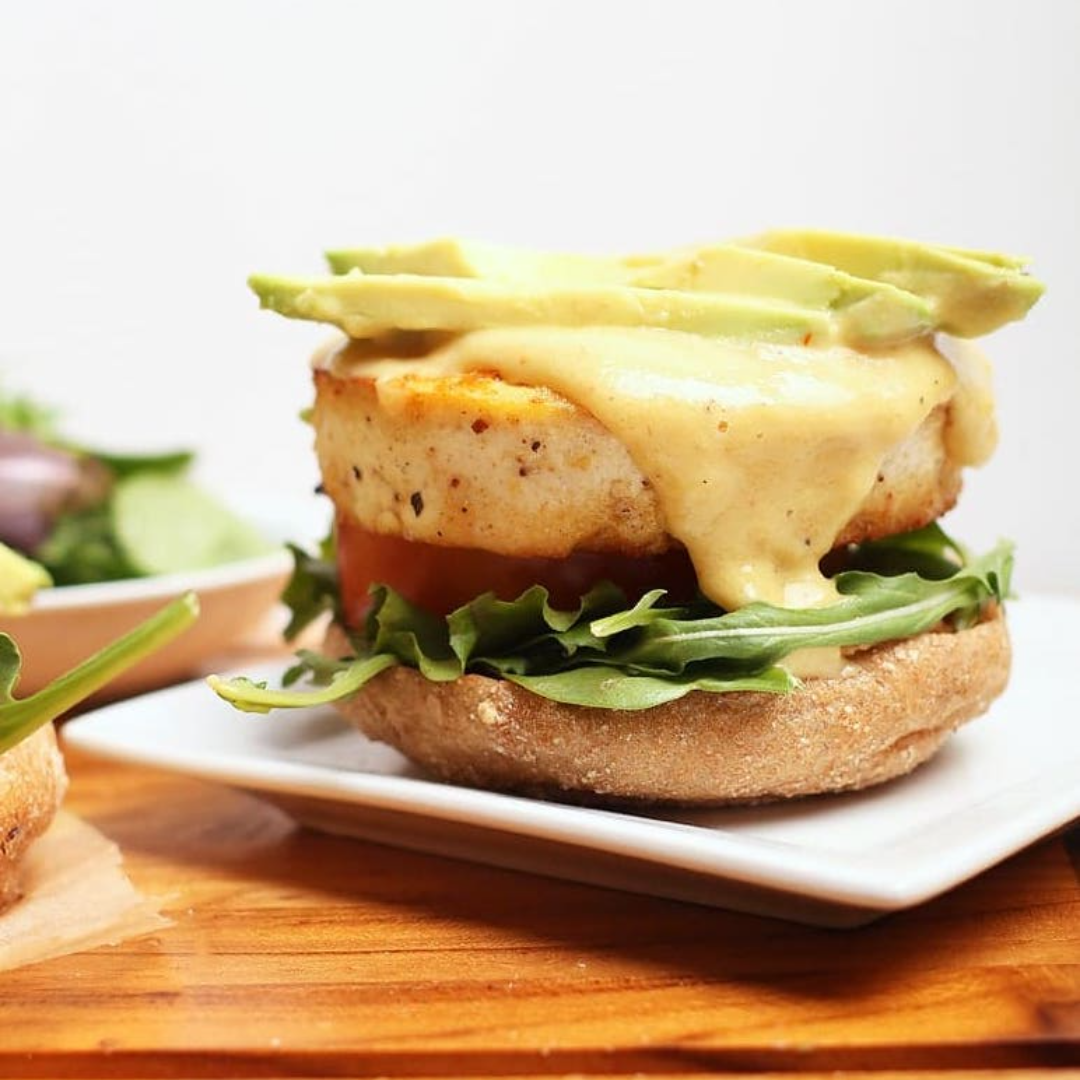 My Darling Vegan
16 Tofu Benedict With Avocado
Few things can rouse us from our beds like a properly made bennie. This one is loaded with buttery avocado and decadent vegan Hollandaise. Now, who's making mimosas?
Get the recipe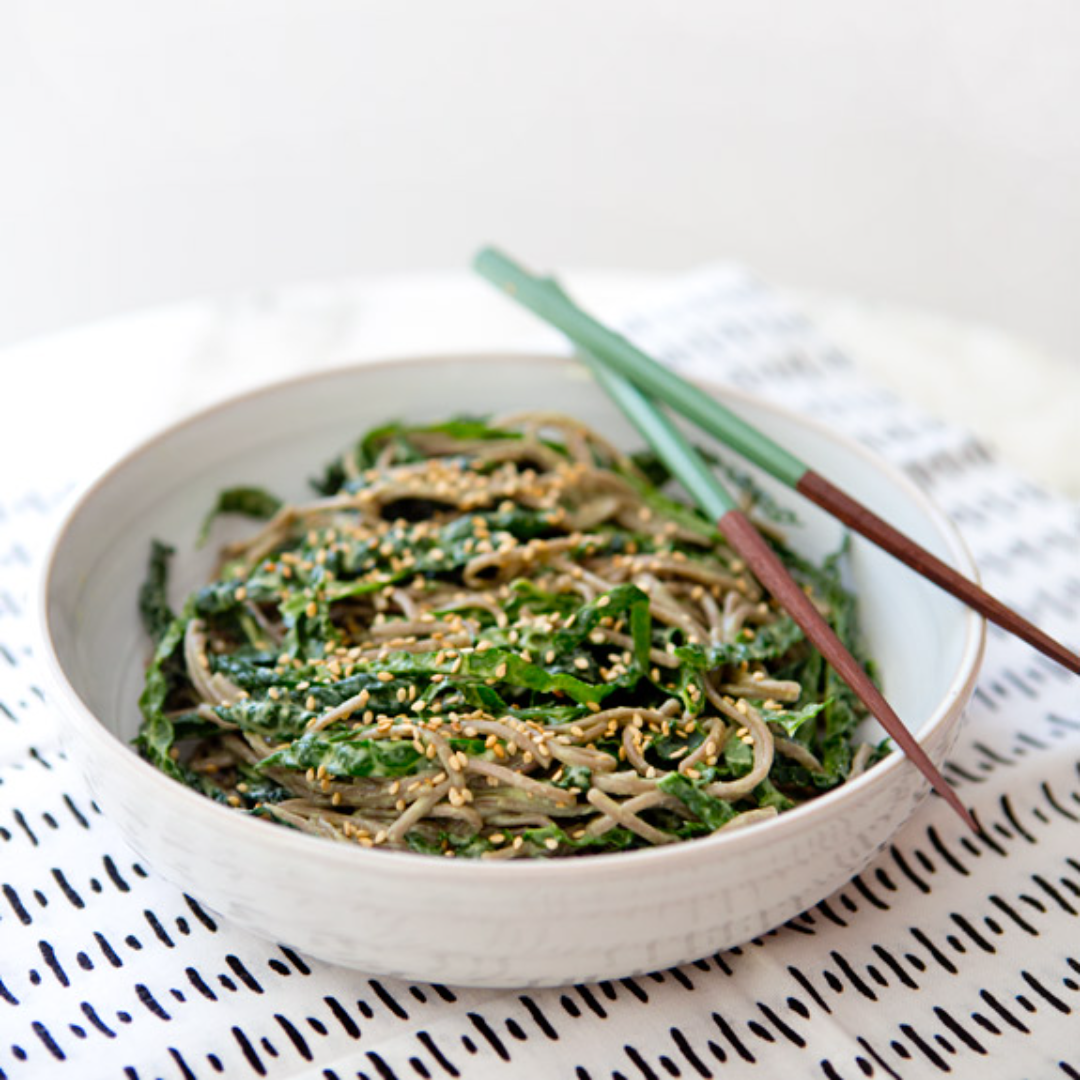 A House in the Hills
17Kale Noodle Bowl With Avocado Miso Dressing
This marvelous meal has as much flavor and heartiness as your go-to noodle takeout. Combine your vitamin K fix and your carbs into one scrumptious, easy-to-prepare bowl.
Get the recipe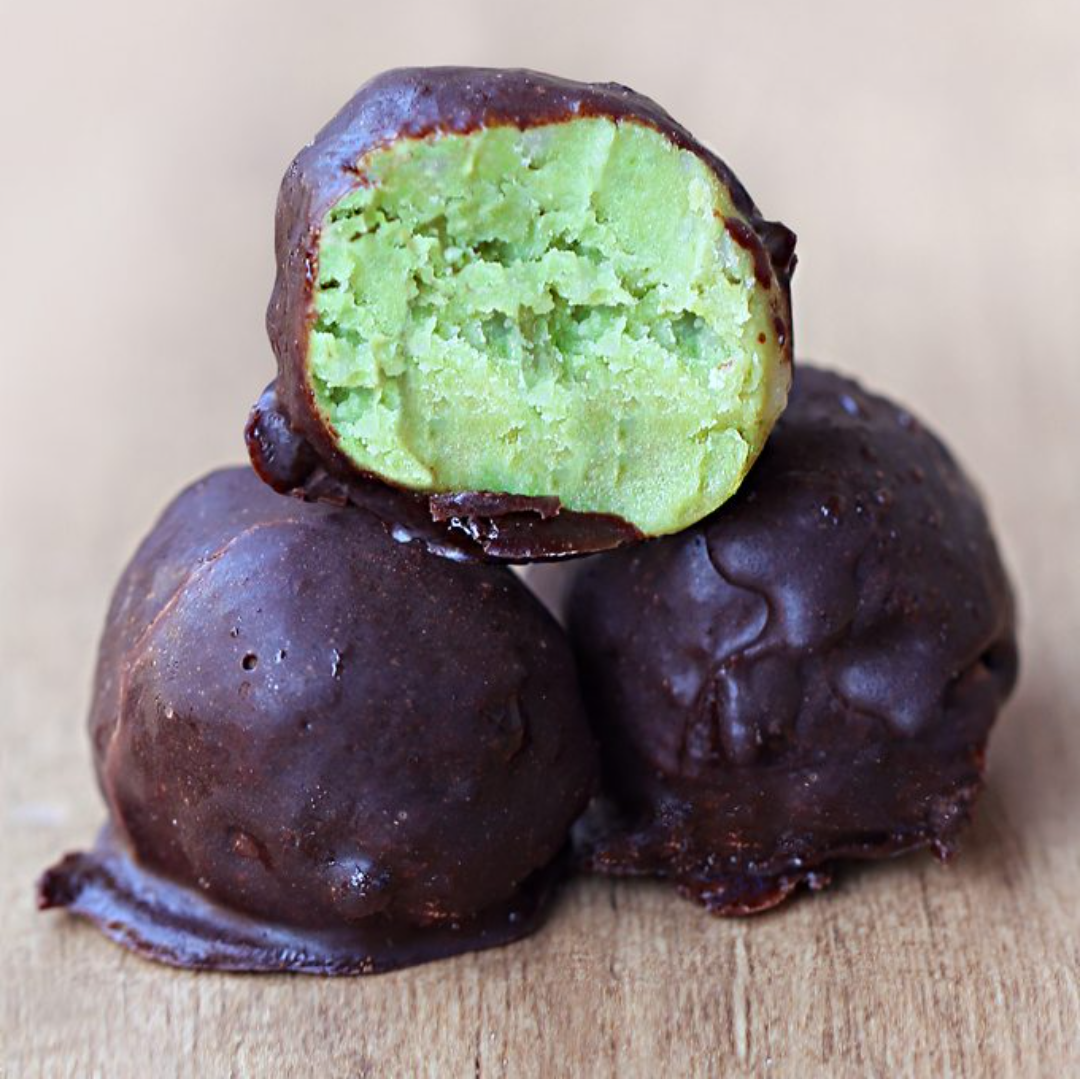 Chocolate Covered Katie
18 Avocado Fudge Bites
Very green, these five-ingredient avocado fudge bites are an easy, healthy way to indulge in your cravings. Plan ahead and have these low-cal bites handy when you need a sweet, summer cool down snack. Our idea: throw in some dark chocolate or carob chips for an extra, chocolaty flair.
Get the recipe
Olives for Dinner
19Buffalo Chickpea Soft Tacos With Avocado Sour Cream
Sure, the avo may not be center stage here, but that doesn't mean that it isn't essential to this daring dish. The incorporation of sesame oil, Sriracha sauce, and rice vinegar in these tacos adds an Asian flair that make them a unique addition to your next potluck or dinner party.
Get the recipe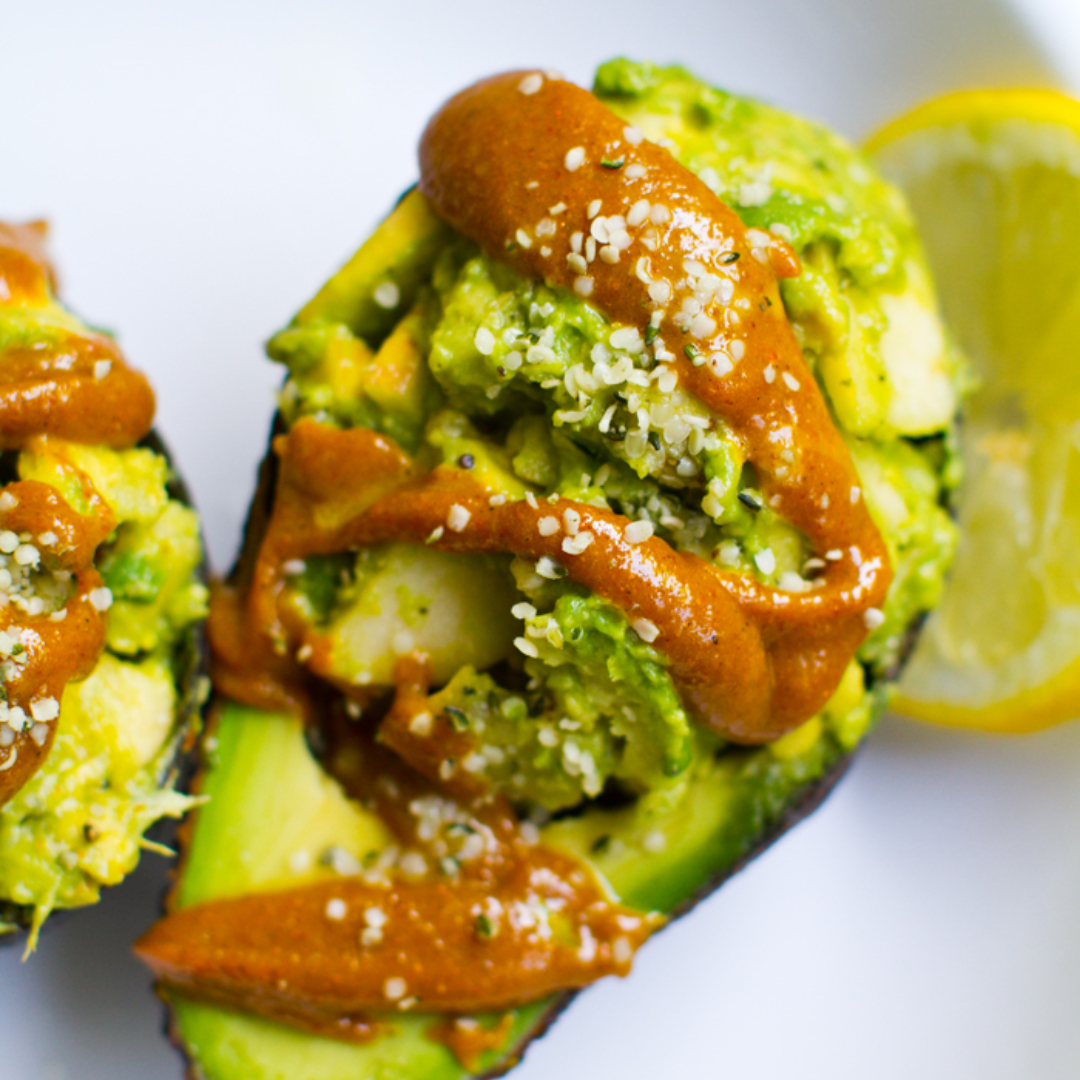 Healthy Happy Life
20Deviled Avocado With Spicy Curry Sauce
Deviled eggs? No thanks, we're vegan. Deviled avocado? Bring it on. Loaded with crunchy salad and drizzled with a bold, spicy-sweet curry sauce, these stuffed wonders are as gorgeously green as they are tasty.
Get the recipe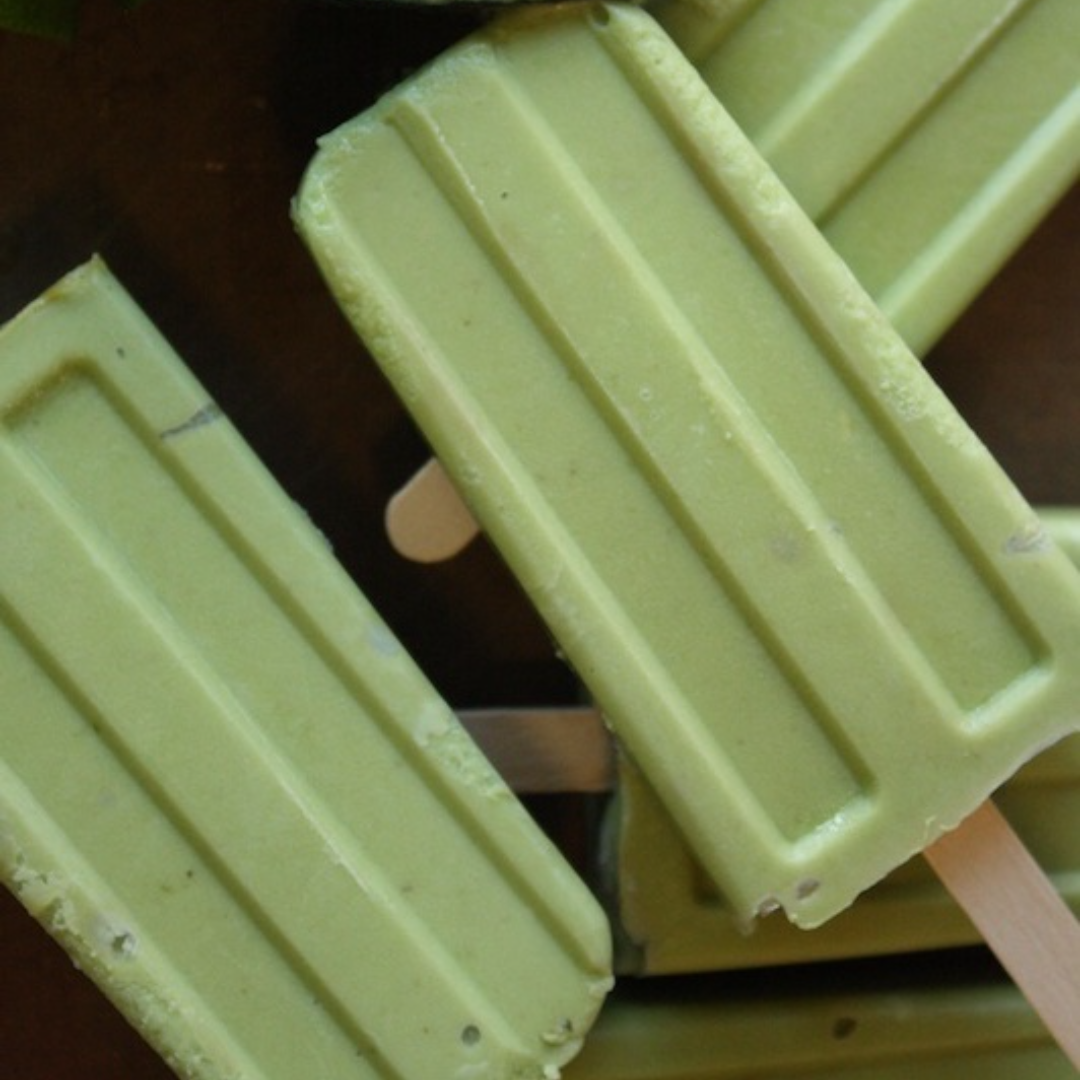 Stresscake
21Avocado Lime Tequila Popsicles
It's 1:42pm. Too early for a margarita? Well … we suppose so. But it's never too early (or too cold) for one of these boozy popsicles!
Get the recipe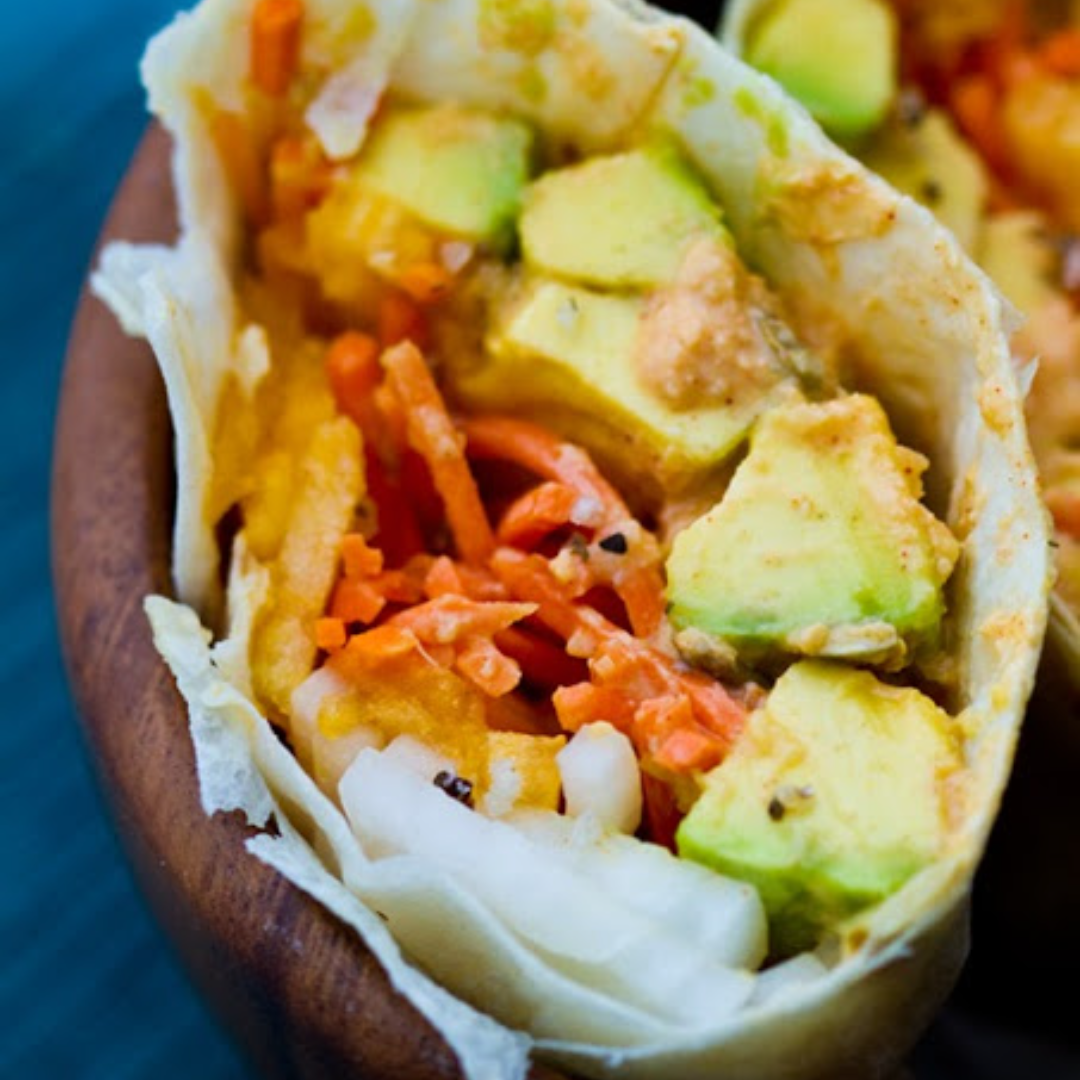 Healthy Happy Life
22Florida Avocado Summer Wrap
Come lunchtime, we love sinking our teeth into a great vegan wrap. This one's got the works: yellow tomato, sweet onion, spicy bean spread, shredded carrots, pumpkin seeds, and—of course—big slices of avocado.
Get the recipe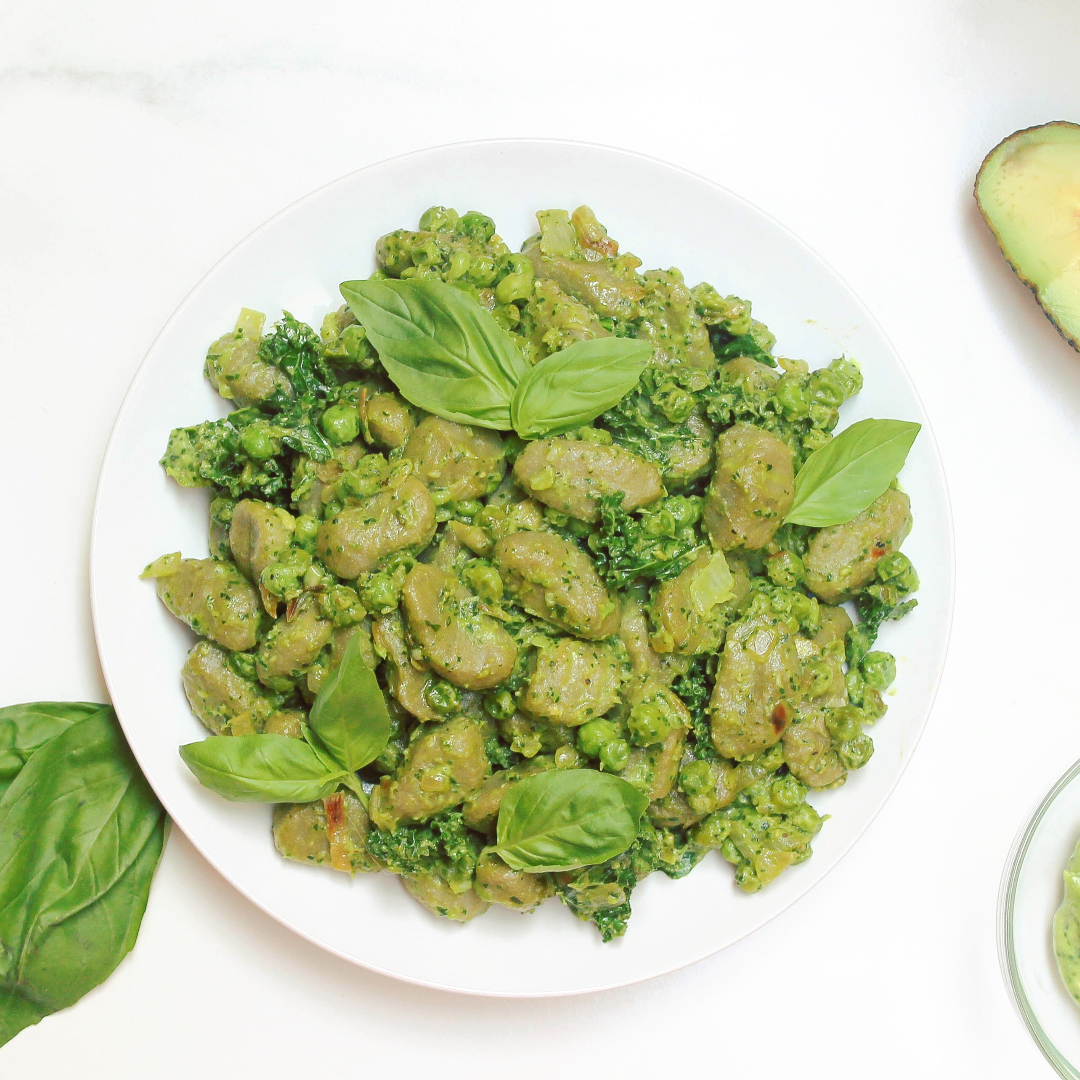 The Mindful Strawberry
23Avocado Pesto Gnocchi
Gnocchi is the perfect nom when you're craving comfort food. Add avocado-based pesto and you've got a tasty Italian dinner for two.
Get the recipe
For more vegan recipes, read: