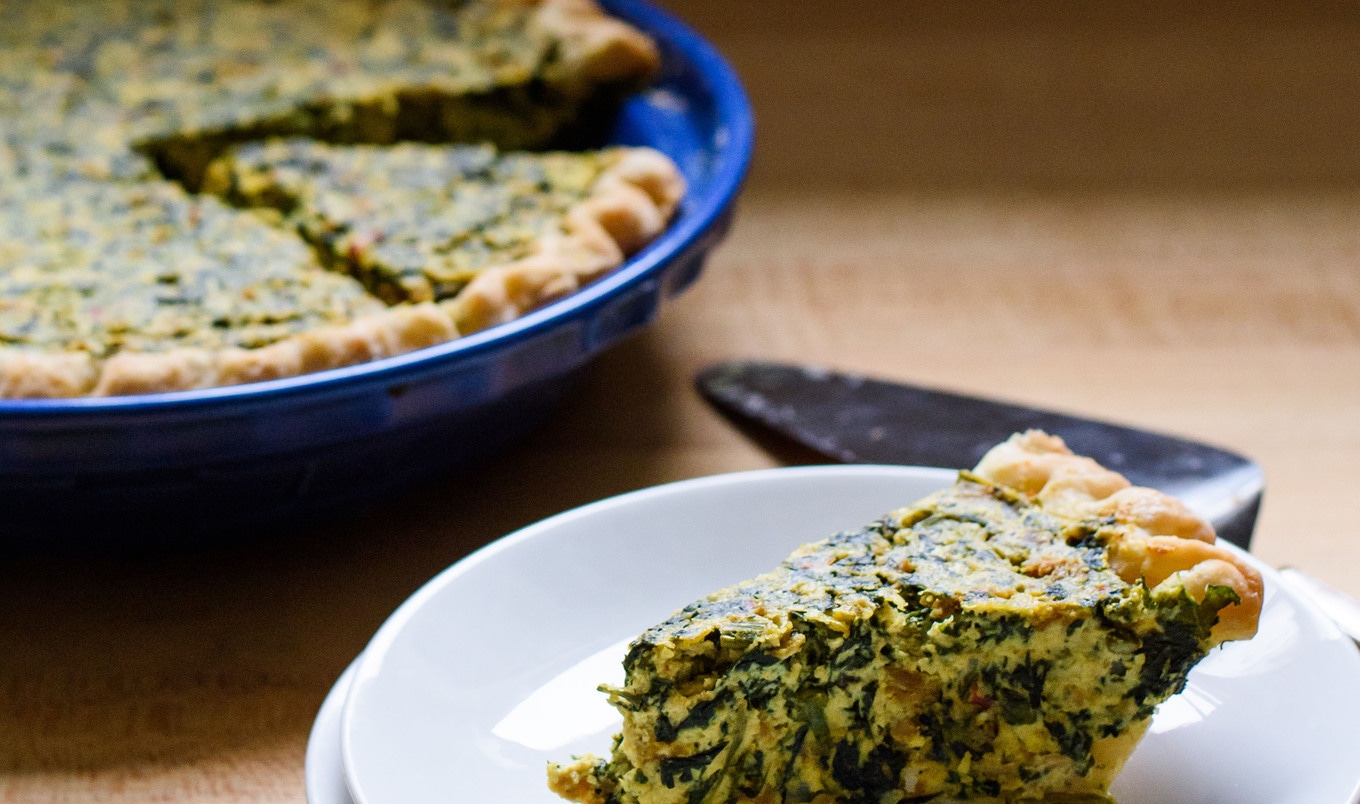 This classic savory breakfast is easily made vegan by substituting tofu and cashews for eggs, without losing any of the familiar texture.
December 30, 2022
Bake up this veganized version of a traditional breakfast pie from the Compassionate Cuisine cookbook for a lovely plant-based brunch. Or to convert this to an easy vegan frittata, skip the pie crust and spread the filling into an oiled 8-inch square baking dish and bake.
What you need:
1 unbaked store-bought vegan pie crust, fitted into a 9-inch pie plate
For the tofu-cashew custard:
½ cup raw cashews, soaked for 4 hours, and drained
1 pound extra-firm tofu, drained and rinsed
2 tablespoons nutritional yeast
2 teaspoons Dijon mustard
½ teaspoon ground turmeric
1 tablespoon cornstarch
For the vegetables:
1 tablespoon olive oil
½ cup finely chopped shallots
½ pound fresh asparagus, ends trimmed, roughly chopped
1 tablespoon minced garlic cloves
1 (10-ounce) package frozen chopped spinach, defrosted and water squeezed out
2 large vegan sausages, crumbled
1 teaspoon dried thyme
1⅛ teaspoon salt, divided
⅛ teaspoon black pepper
What you do:
1. Preheat oven to 350 degrees. Use a fork to prick unbaked pie crust several times (both
on bottom and sides) and place on a baking tray into preheated oven. Bake for 10 minutes, until crust is just starting to brown. Remove from oven and set aside.
2. For the tofu-cashew custard, into a food processor, add cashews, tofu, nutritional yeast, mustard,
turmeric, and cornstarch. Process until smooth and set aside.
3. For the vegetables, in a large pan over medium-high heat, warm oil. Add shallots and ⅛ teaspoon salt, and cook for 5 minutes. Add sliced asparagus and cook for an additional 5 minutes, until asparagus is bright green and tender when pierced with a fork. Add garlic and cook for 1 minute or so, until fragrant. Stir in spinach, crumbled sausage, thyme, remaining 1 teaspoon salt, and pepper, and cook until heated through. Remove from heat.
4. Stir tofu-cashew custard into vegetable mixture until everything is well-incorporated. Pour into par-baked pie shell, smoothing top with a spatula, and use baking tray to transfer quiche to oven.
5. Bake for about 45 minutes, until custard is set and crust is golden brown. If crust browns before filling is ready, cover edges with strips of foil to prevent burning. Remove from oven, allow to cool for 10 minutes, then slice and serve.