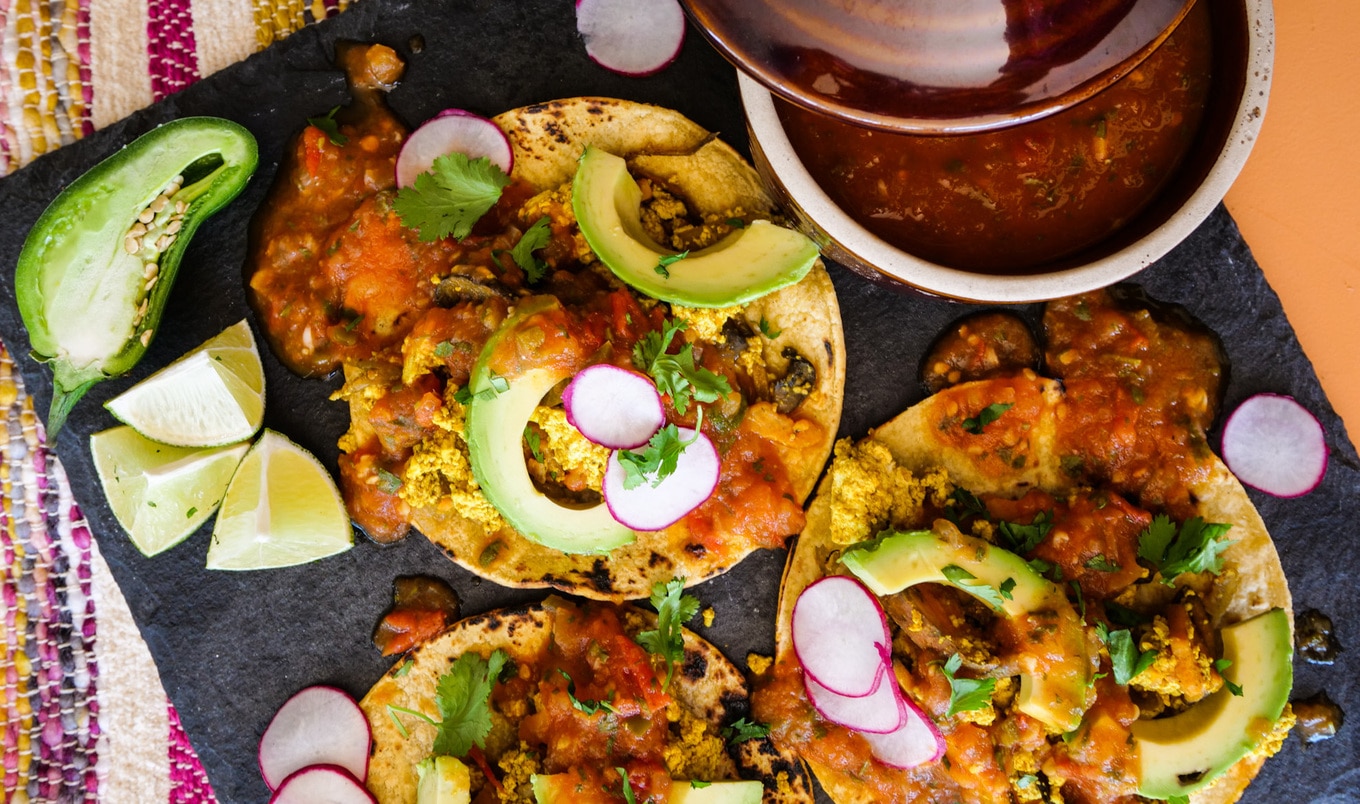 Swap up your savory breakfast game with these satiating tofu scramble tacos with homemade ranchero sauce.
November 24, 2023
Homemade ranchero sauce, a flavorful tomato and chili pepper-based sauce, takes these breakfast tacos from the Cook. Heal. Go Vegan! cookbook up a notch. Pair with mimosas or Bloody Mary's for the ultimate Sunday brunch.
What you need:
For the tacos:
1 teaspoon olive oil
1 medium sweet potato, thinly sliced
½ medium yellow onion, thinly sliced
1 teaspoon salt
¼ cup vegetable broth, divided
1 cup thinly sliced cremini mushrooms
½ teaspoon granulated garlic
¼ teaspoon black pepper
1 (14-ounce) block firm tofu, drained
1 teaspoon ground turmeric
½ teaspoon black salt
10 corn tortillas
Thinly sliced radishes, for garnish
Finely chopped fresh cilantro, for garnish
Avocado slices, for garnish
For the ranchero sauce:
1 teaspoon olive oil
½ medium yellow onion, diced
¾ teaspoon salt, divided
2 cloves garlic, minced
1 (4-ounce) can mild green chilies, undrained
½ small jalapeño pepper, thinly sliced
2 large tomatoes, diced
½ teaspoon ground cumin
½ teaspoon paprika
1 teaspoon fresh lime juice
¼ packed cup fresh cilantro, minced
What you do:
For the tacos, in a large sauté pan over medium-high heat, warm oil. Add sweet potato, onion, and salt. Cook for 7 to 10 minutes, stirring often, until sweet potato starts to soften. Add mushrooms, granulated garlic, and black pepper and cook for 2 minutes. Mix in broth to deglaze pan. Into pan, crumble tofu. Add turmeric and black salt and mix well.
Reduce heat to low and cook scramble for 3 to 5 minutes, stirring occasionally. Remove from heat and cover to keep warm.
For the ranchero sauce, in a small saucepan over medium-high heat, warm oil. Add onion and ¼ teaspoon of salt and cook mixture for 2 to 3 minutes. Toss in garlic, remaining salt, and green chilies with juice. Cook mixture for 1 minute, and stir in jalapeño, tomatoes, cumin, and paprika. Stir sauce, cover, reduce heat to medium, and cook sauce for 7 to 10 minutes.
For a chunky sauce, simmer for another 10 minutes. For a smooth sauce, transfer sauce to a blender and blend until sauce reaches desired consistency. Add lime juice and cilantro. If sauce was blended, return to saucepan. Cover and set aside to keep warm.
Warm tortillas by cooking over open flame of stove for 30 seconds on each side, until brown on edges. If you have an electric stove, heat a dry large cast-iron skillet over medium-high heat, and warm tortillas for 30 seconds on each side. Transfer to a tortilla warmer to steam.
Place 2 to 3 tortillas onto serving plates. Top with tofu scramble, ranchero sauce, radishes, cilantro, and avocado and serve.
For more recipes like this, read:
Here at VegNews, we live and breathe the vegan lifestyle, and only recommend products we feel make our lives amazing. Occasionally, articles may include shopping links where we might earn a small commission. In no way does this effect the editorial integrity of VegNews.