In the last few years, brunch has become seriously popular. This late morning meal (which is a portmanteau of breakfast and lunch) is usually enjoyed on vacation or at the weekend, at around 11am, with a frothy coffee or even a mimosa. It can be literally anything you want it to be—hence the popularity. If you're in the mood for breakfast foods, cook up some pancakes or vegan scramble. Or, if you prefer something sweet and light, a smoothie bowl does the trick, too.

Brunch is versatile, but there is one thing that you can't compromise on: it must always be enjoyed. Brunch isn't about fuelling up for the day and then getting on with your tasks or chores, it's about taking it easy, relaxing, and treating yourself to some delicious food. The rest is up to you.
But, that said, if you're not sure what kind of indulgence your next brunch will involve, we've compiled these 25 vegan recipes to help you decide.
Upgrade Sunday brunch with these delicious vegan recipes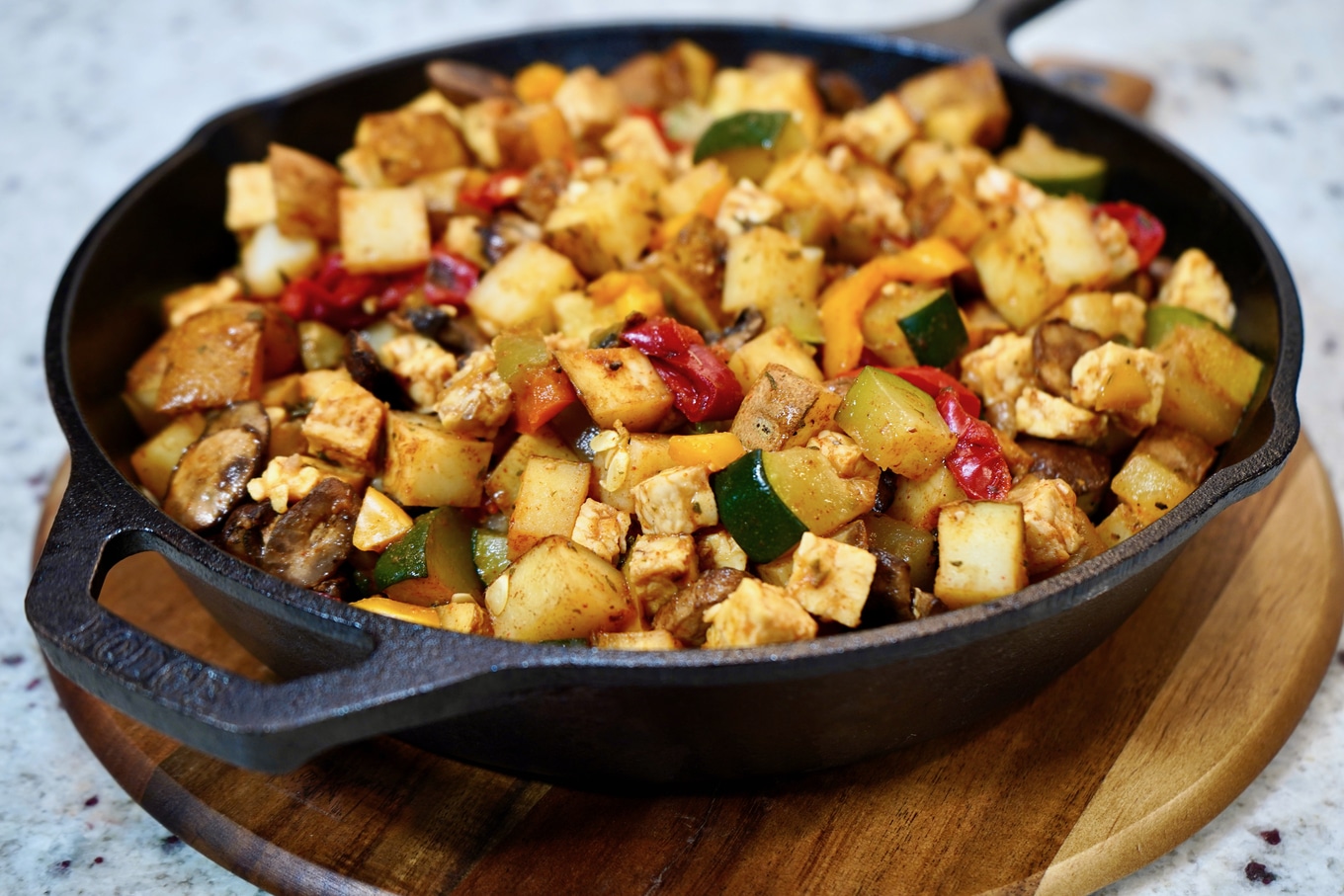 1 Smoky Vegan Tempeh, Mushroom, and Roasted Potato Breakfast Skillet
For a filling, satisfying, tasty brunchtime treat, load up a skillet with plenty of vegetables, roast potatoes, and tempeh. It's delicious and hearty on its own, but it goes perfectly with a slice of avocado on toast and a drizzle of hot sauce.
Get the recipe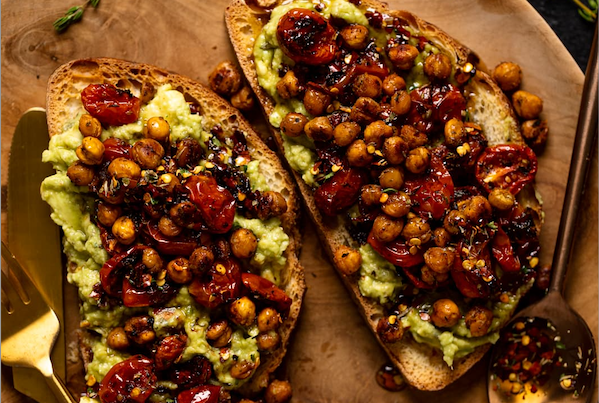 Shanika Graham-White
2 The Best Avocado Toast Ever
Avocado toast is a brunch classic, but with chickpeas, tomatoes, and plenty of herbs and spices, this recipe takes the OG recipe to a whole new level.
Get the recipe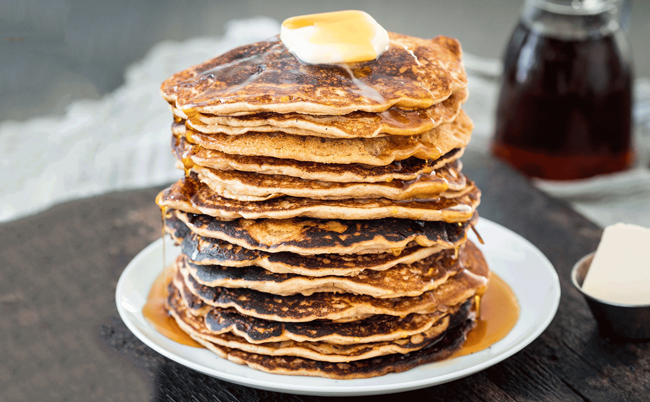 Kristy Turner
3 Easy Vegan Maple Peanut Butter Pancakes
If you're having a lazy morning, this serving of maple peanut butter pancakes is best enjoyed in bed with extra butter and maple syrup.
Get the recipe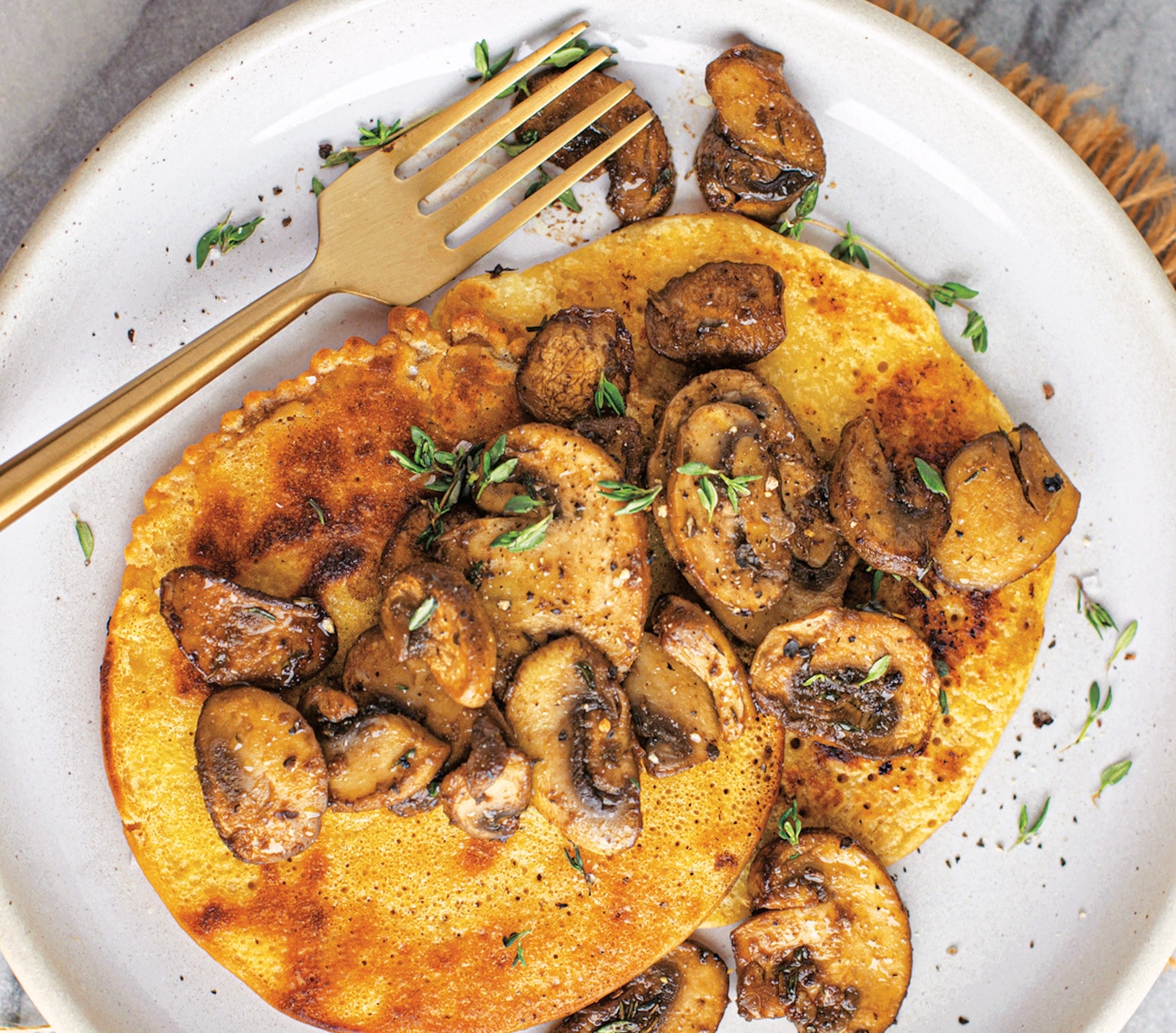 Sarah Nevins
4 Vegan Chickpea Pancakes With Balsamic Mushrooms
No rule says pancakes have to be sweet. After you've eaten these chickpea pancakes with balsamic mushrooms, we bet savory pancakes will become your new go-to.
Get the recipe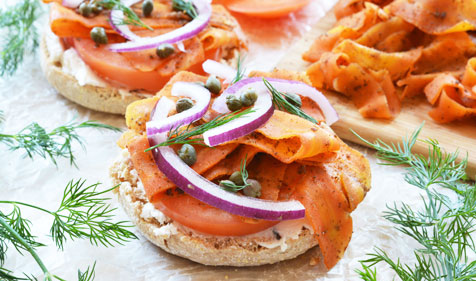 The Colorful Kitchen
5 Vegan Lox and Cream Cheese
Lox usually refers to brined salmon, but you can get the same delicious texture and taste using carrots. And, of course, the dish isn't complete without a bagel and plenty of vegan cream cheese.
Get the recipe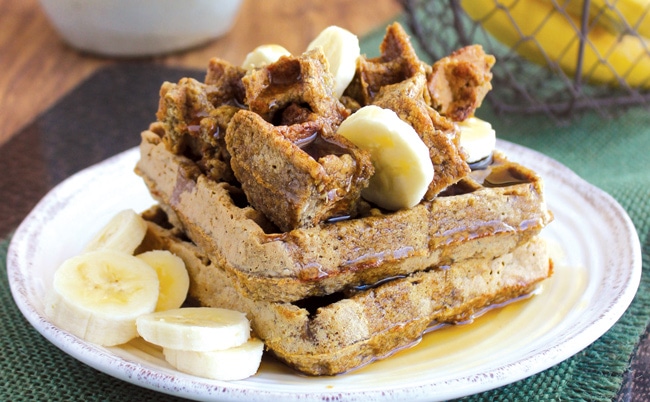 6 Vegan Banana Oat Waffles
Sweet bananas are the secret to these delicious oat waffles. Serve with plenty of maple syrup and chopped fruit.
Get the recipe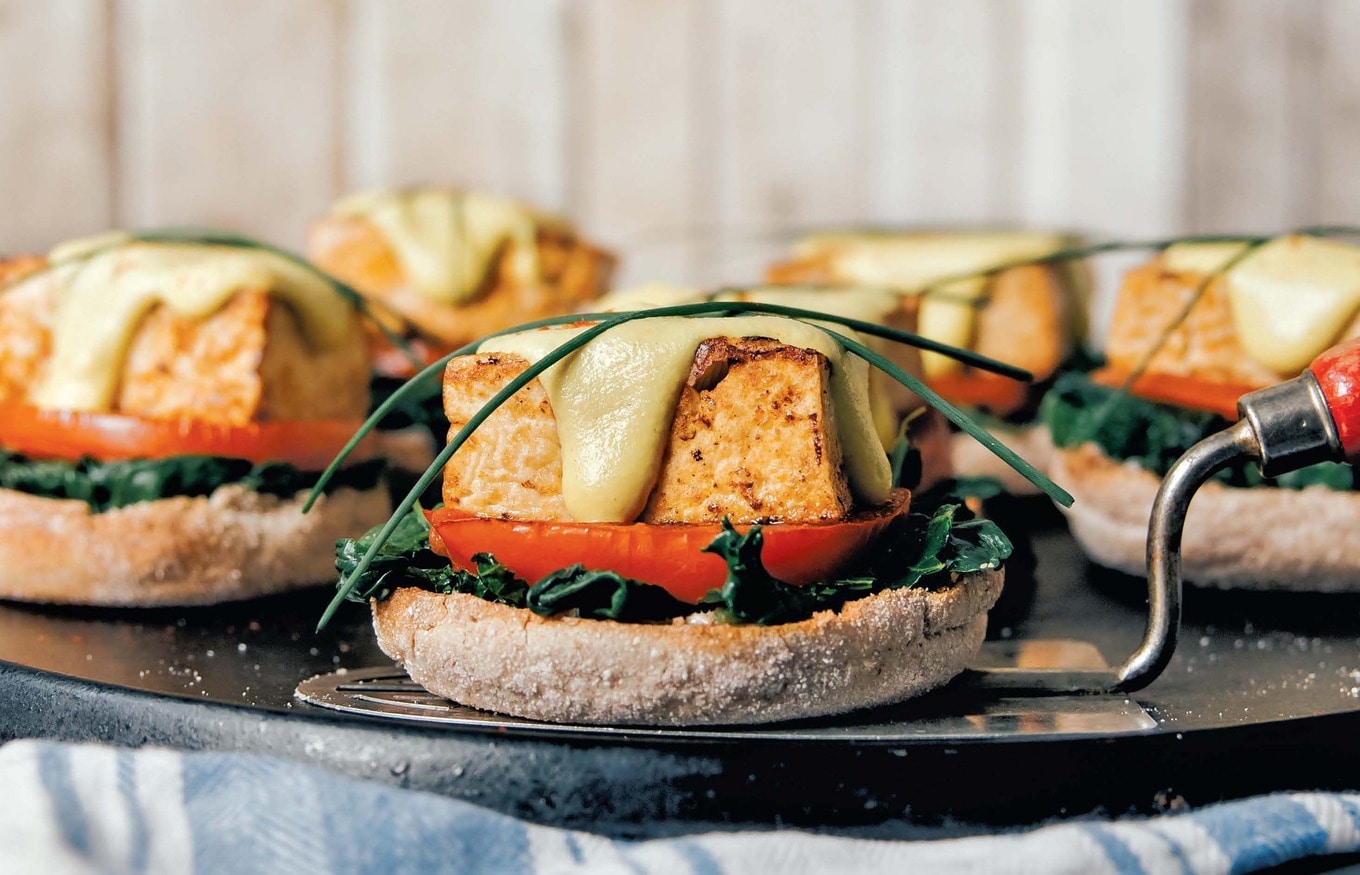 Lauren Toyota
7 Vegan Tofu Benedict With Hollandaise
Eggs Benedict probably isn't the first meal that comes to mind when you think of vegan brunch. But, as this delicious recipe demonstrates, you can get all the flavor and texture with vegan ingredients, like tofu, dairy-free hollandaise, tomatoes, and spinach.
Get the recipe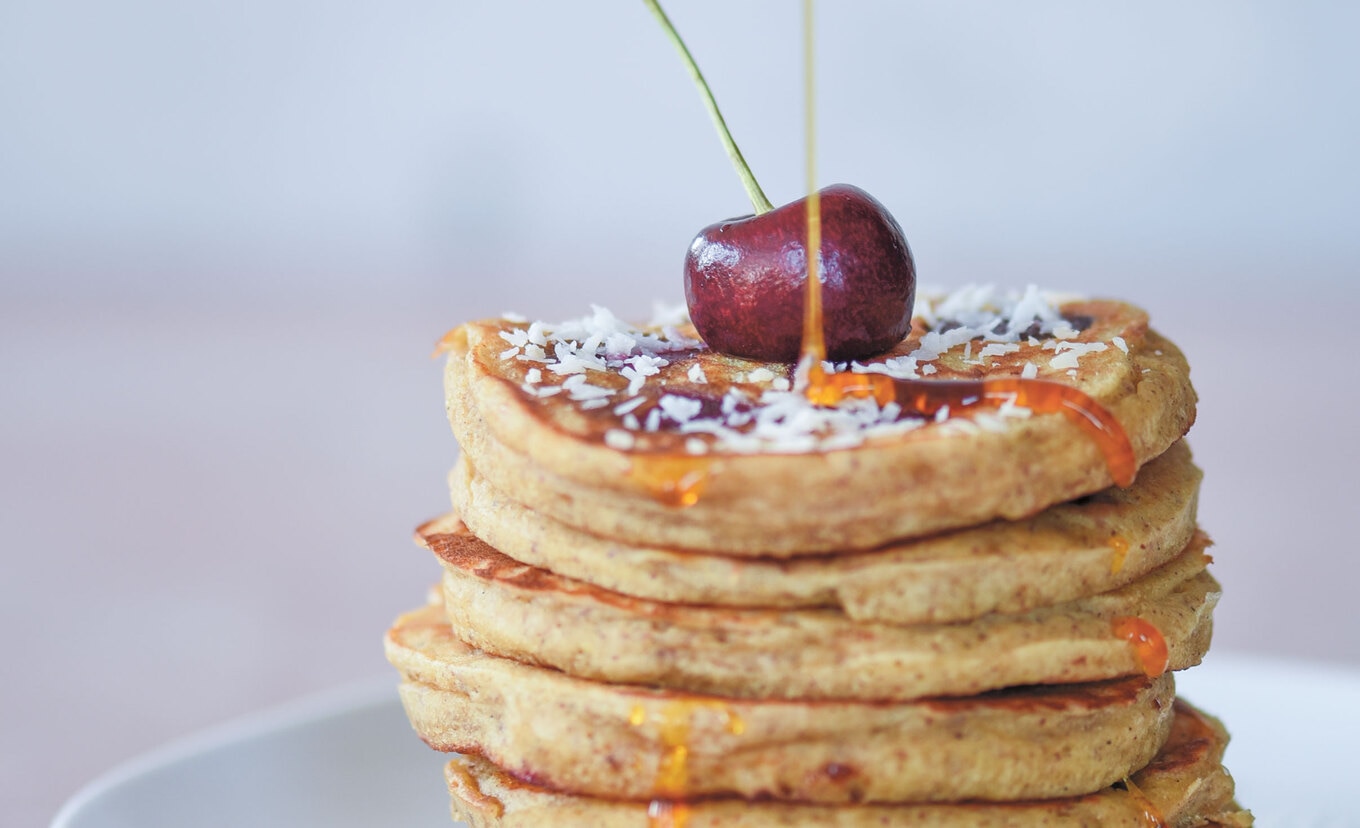 Best of Vegan
8 Sweet Vegan Cherry Coconut Pancakes
Simple sweet fluffy pancakes are the perfect Sunday morning treat, especially when enjoyed with a frothy indulgent latte on the side.
Get the recipe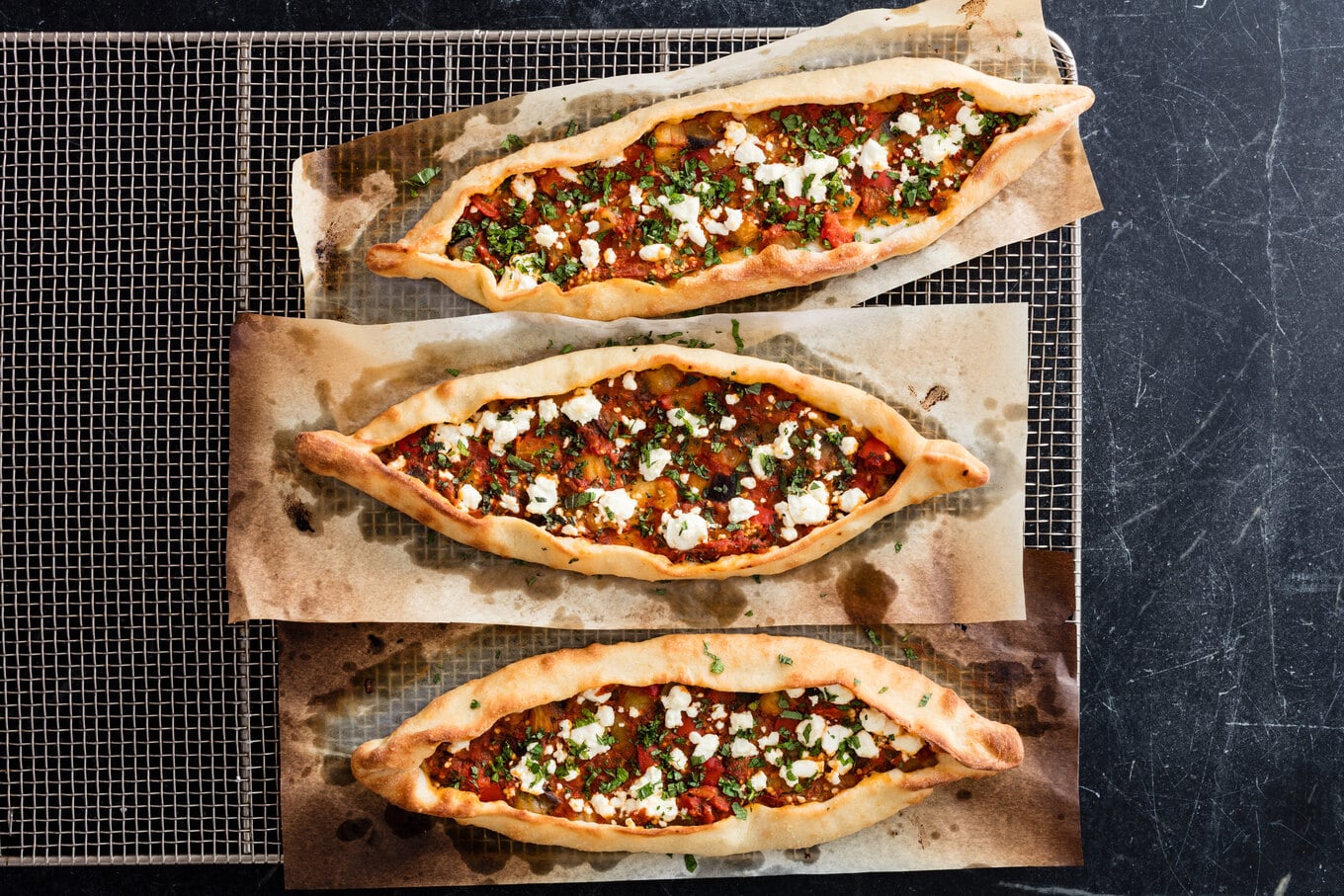 America's Test Kitchen
9 Vegan Turkish Flatbread With Eggplant and Tomatoes
If you're in the mood for something that's not your standard pancakes, these filled Turkish flatbreads are packed with goodness and flavor.
Get the recipe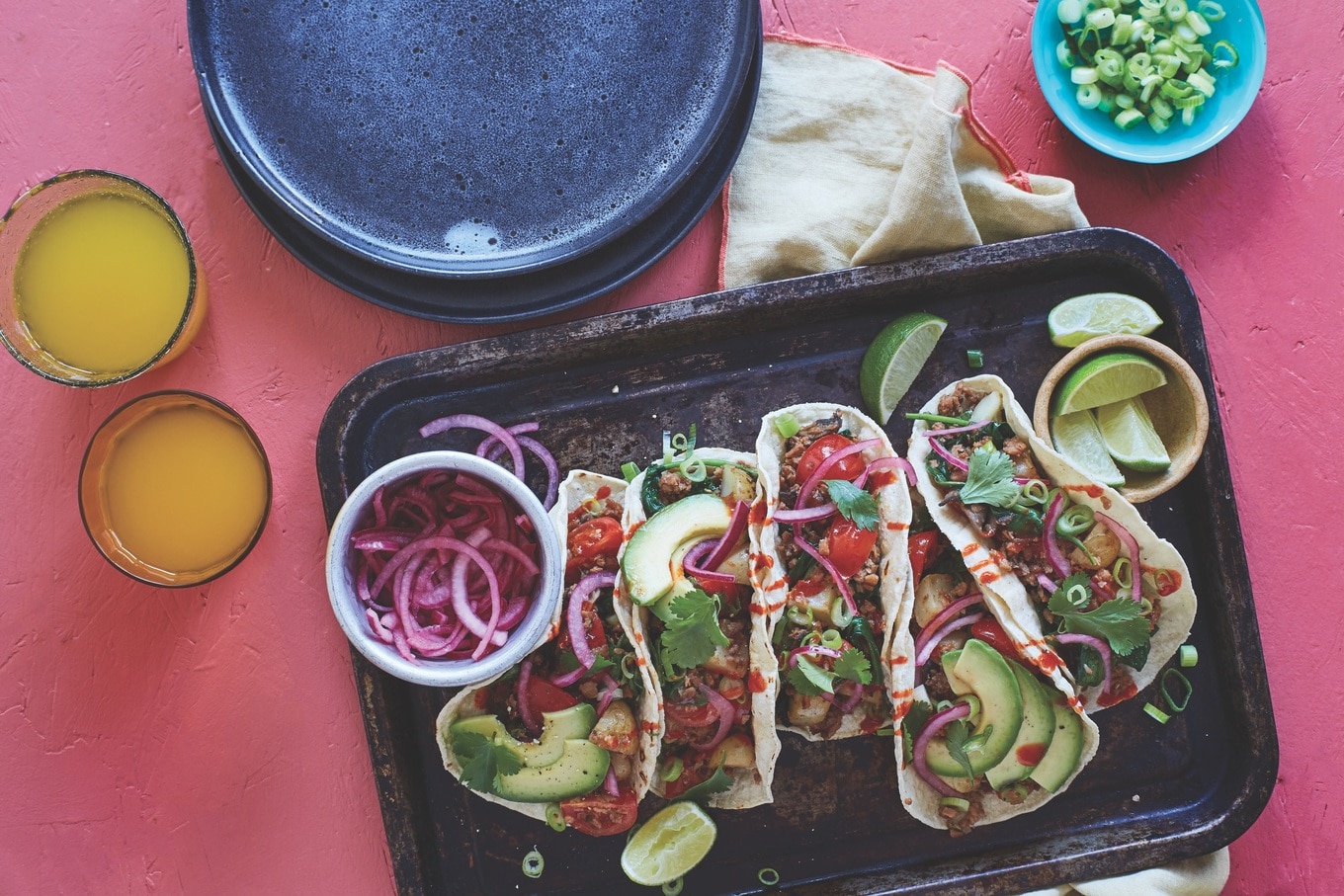 BOSH!
10 Vegan Mushroom-Sausage Breakfast Hash Tacos
Loaded with vegan sausages, avocado, and a generous sprinkling of fajita seasoning, these breakfast hash tacos are ideal for a hearty brunch, dinner, or even late-night snack.
Get the recipe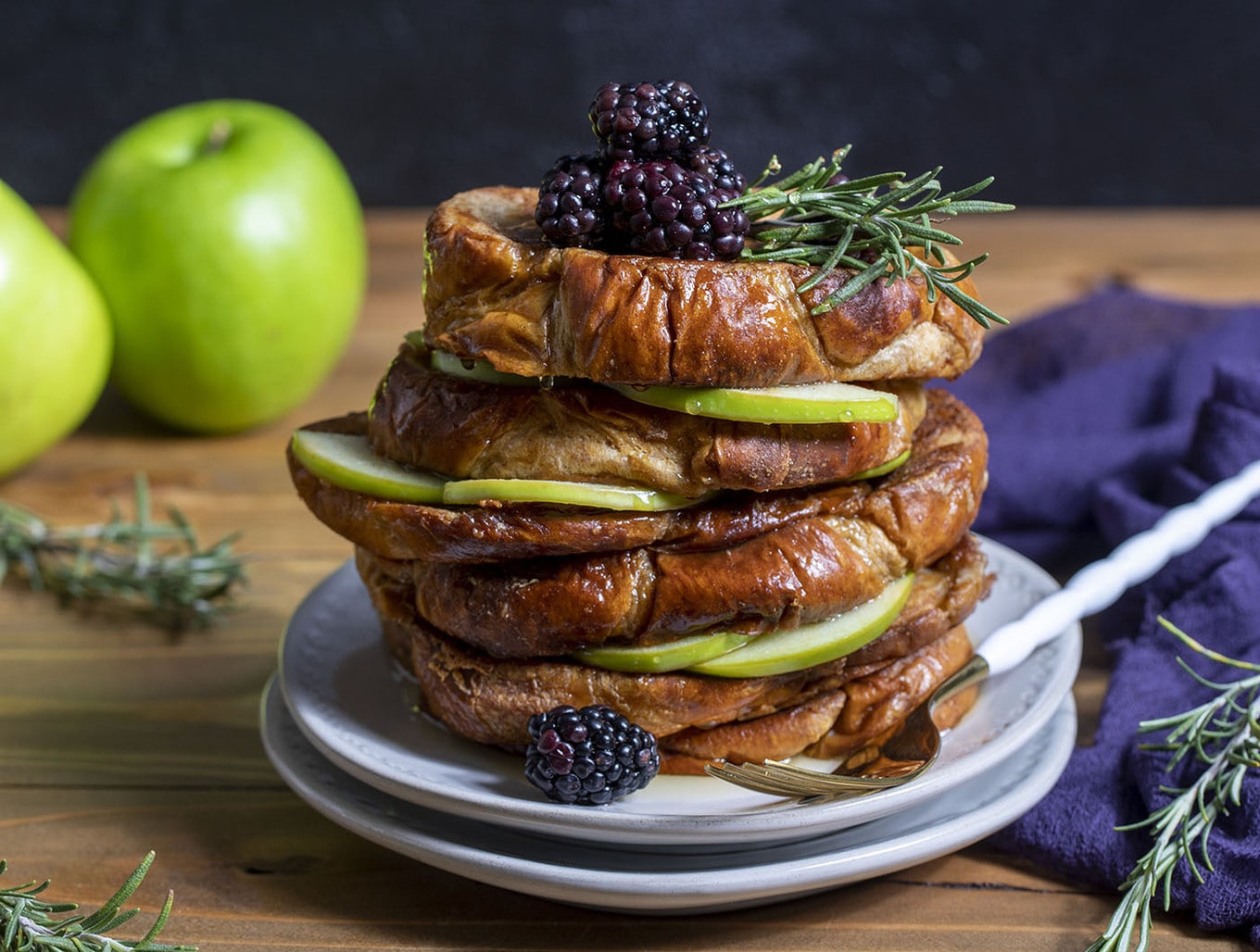 Shanika Graham-White
11 Vegan Apple Blackberry Brioche French Toast
These golden, light, fluffy slices of vegan French toast are best served with fresh blackberries, rosemary leaves, and maple syrup.
Get the recipe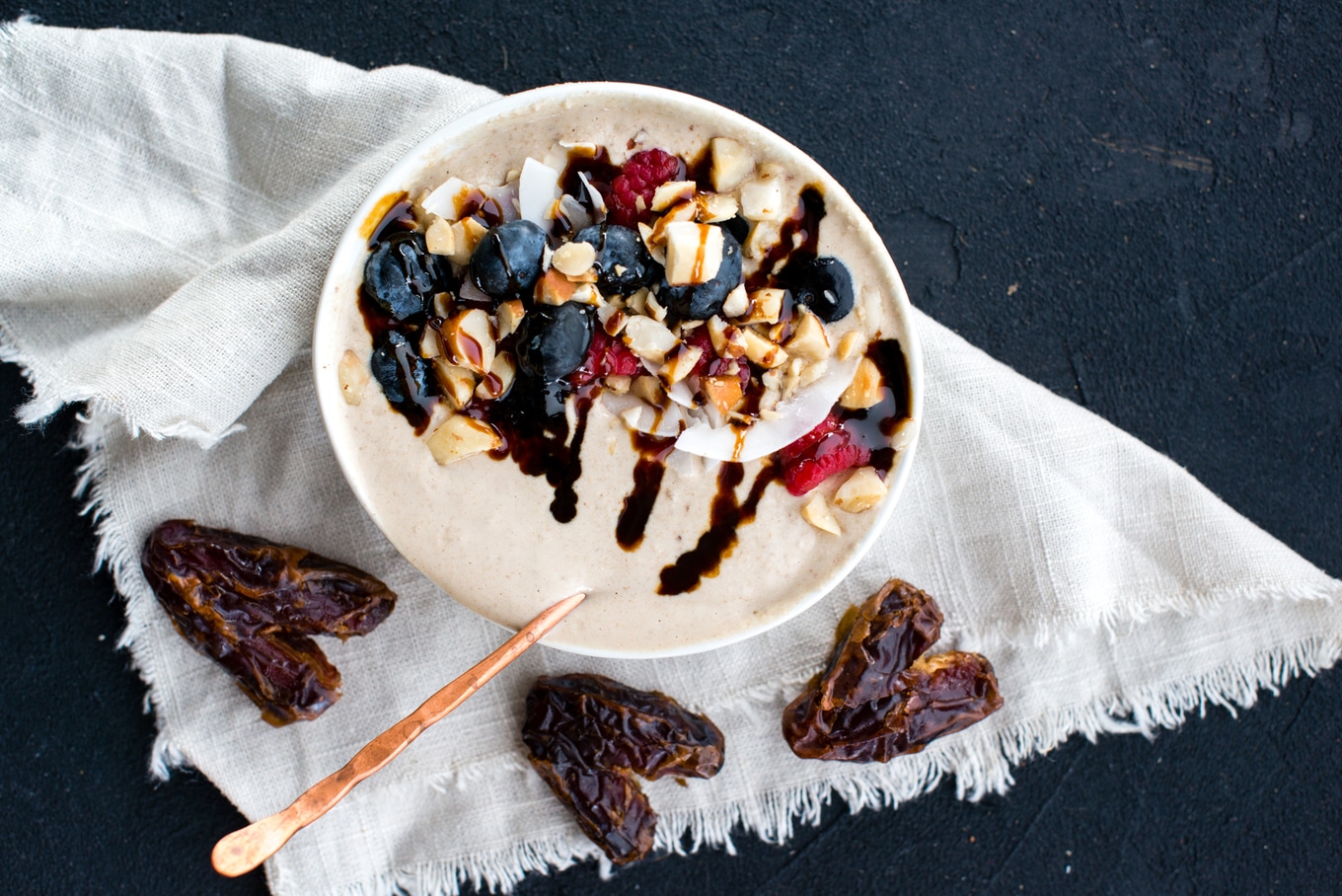 12 Smoothie Bowl With Tahini, Coffee, Buckwheat, and Coconut
If you're in the mood for a light brunch, you can't go wrong with a smoothie bowl—especially when it's made with a creamy blend of coffee, tahini, and dates.
Get the recipe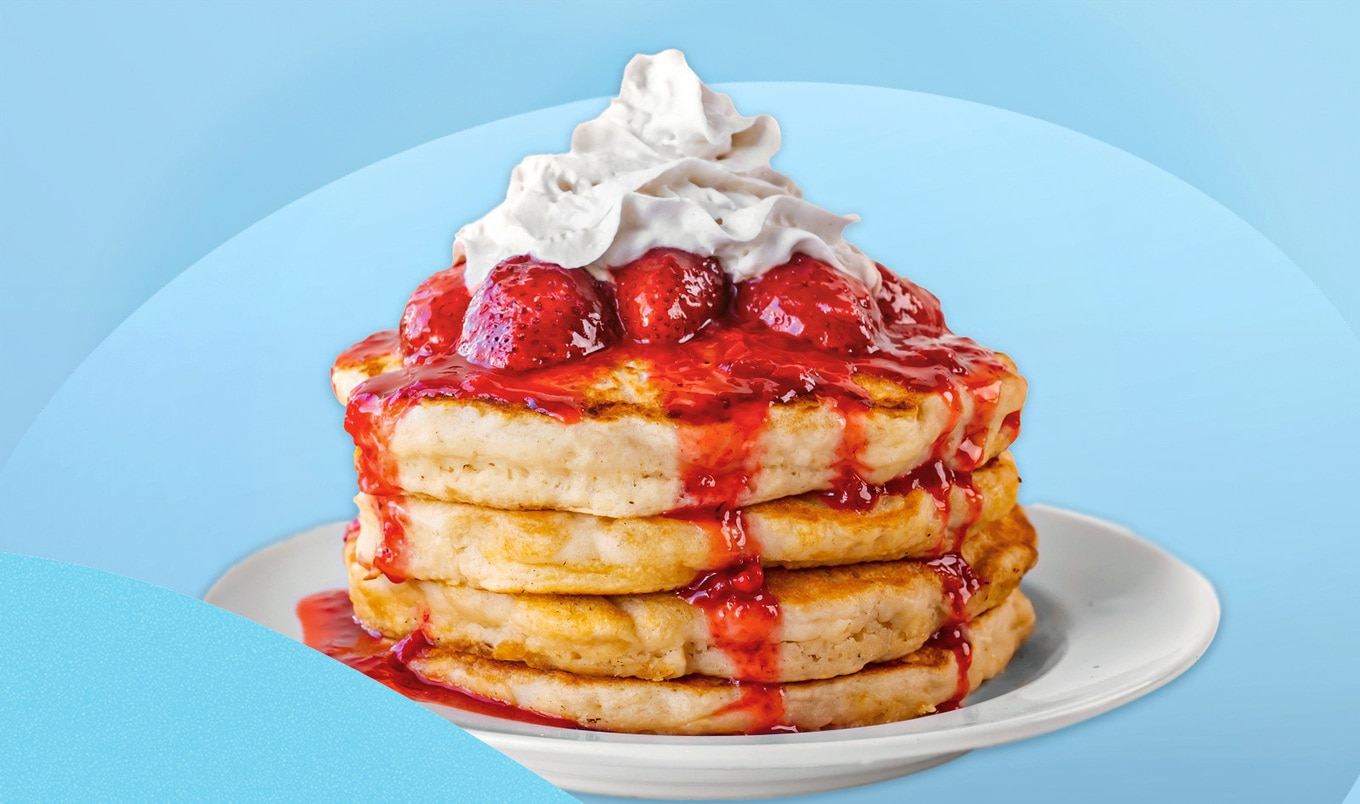 13 Vegan Copycat IHOP New York Cheesecake Pancakes
Combine the two best meals of the day, dessert and brunch, with these vegan New York cheesecake pancakes. Vegan whipped cream on the top is a must.
Get the recipe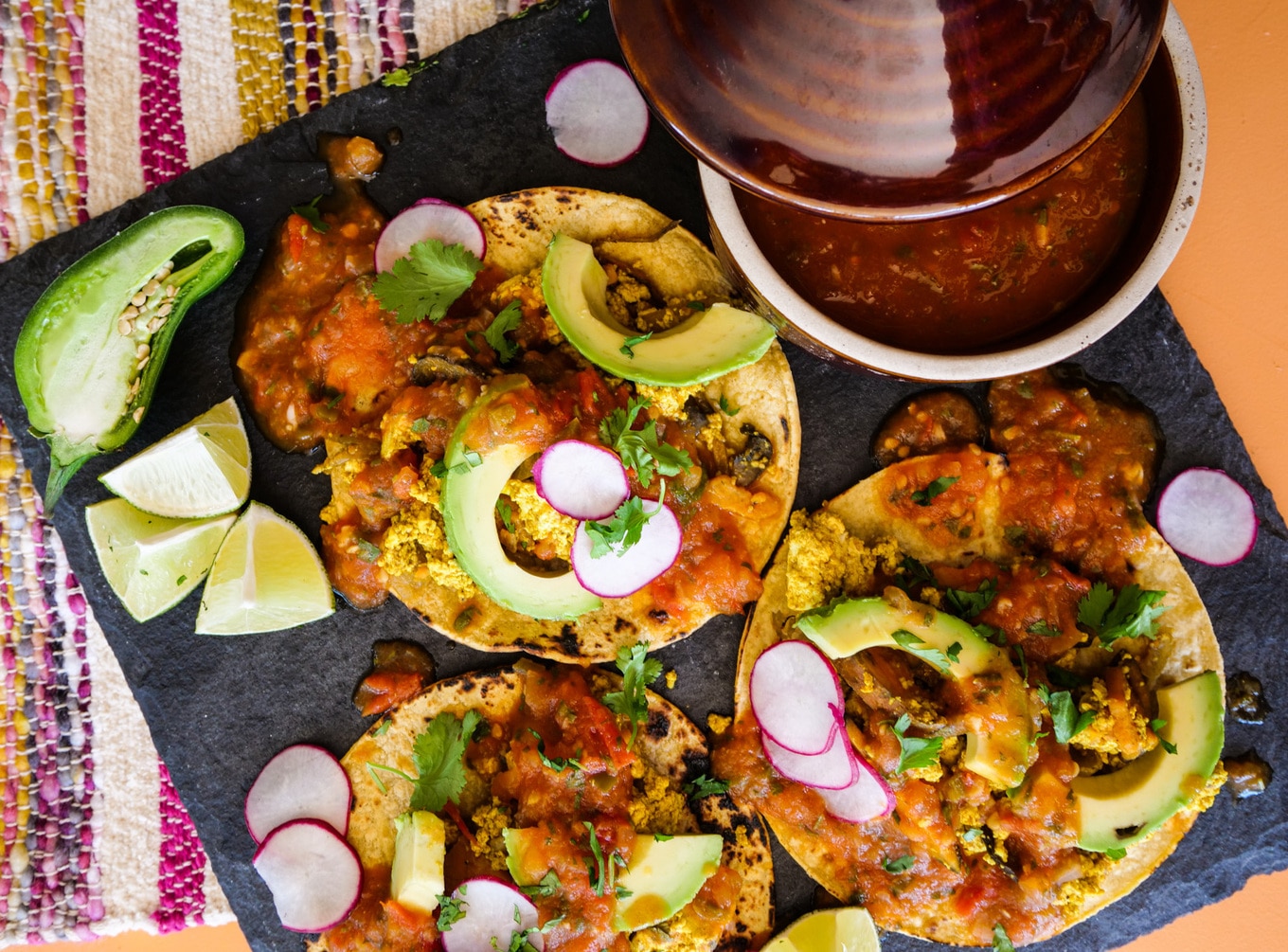 Bailey Ruskus
14 Vegan Sweet Potato Tofu Breakfast Tacos With Ranchero Sauce
In this recipe, breakfast tacos reach a whole new level of flavor, thanks to the tomato and chili pepper ranchero sauce.
Get the recipe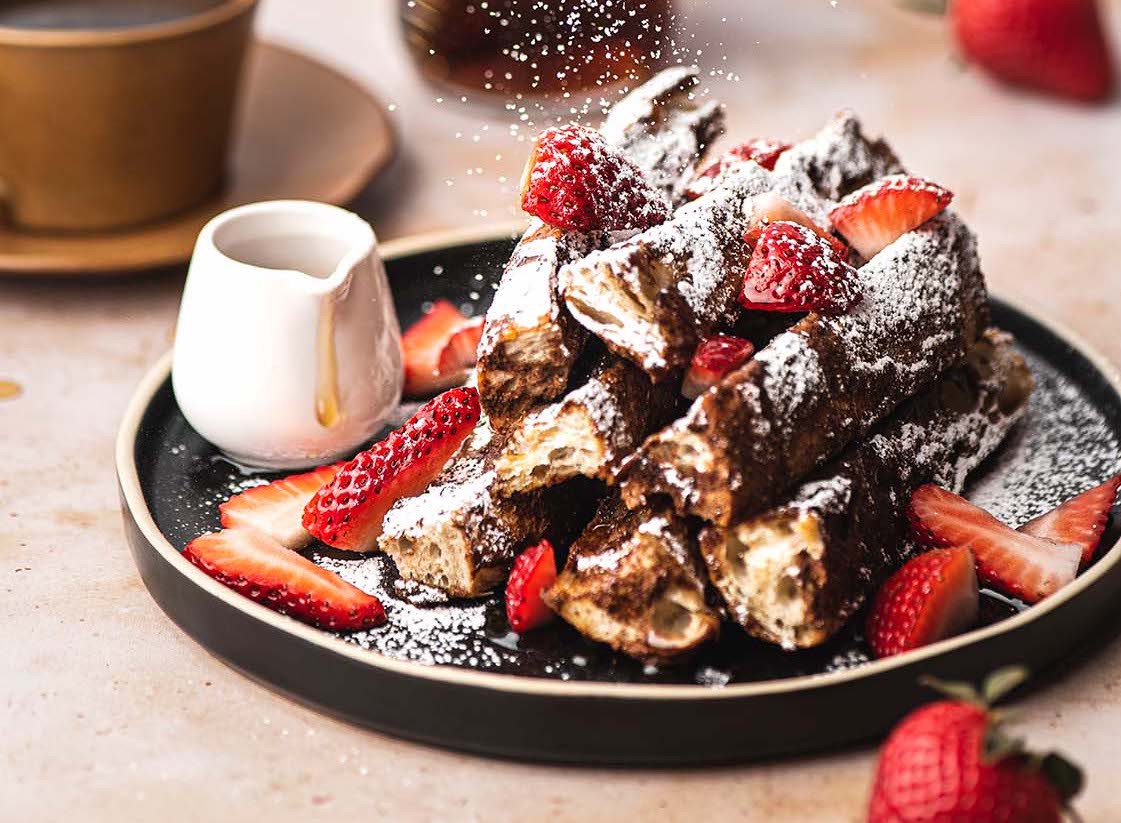 Dustin Harder
15 Vegan Baked French Toast Sticks
For a super indulgent brunchtime treat, serve these homemade French toast sticks with berries, chocolate sauce, and vegan whipped cream.
Get the recipe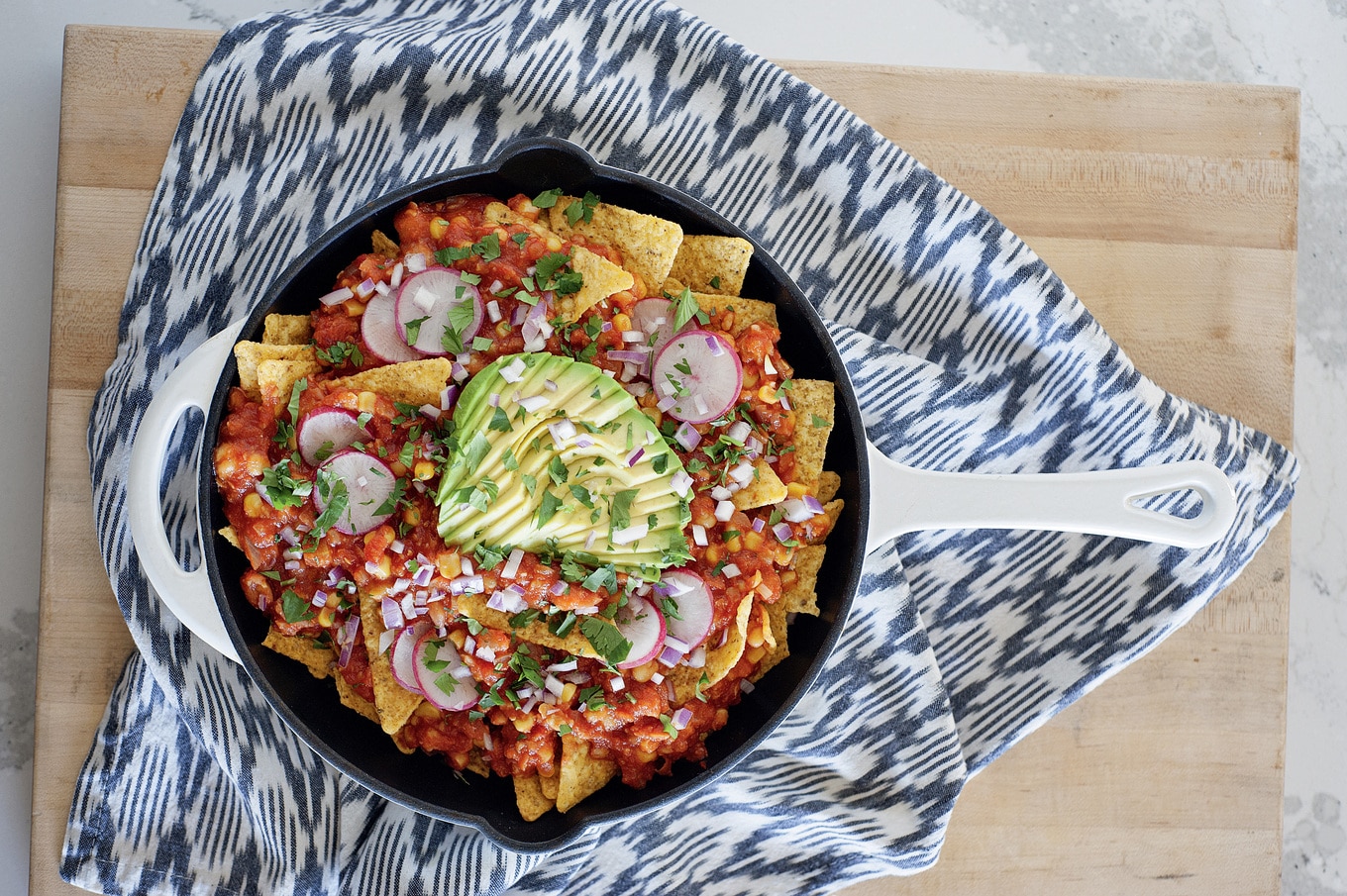 Alison Bickel
16 Easy Vegan Skillet Chickpea Chilaquiles
This Mexican breakfast classic, which consists of torn-up, lightly fried corn tortillas, is a flavorful, comforting dish, perfect for Sunday brunch.
Get the recipe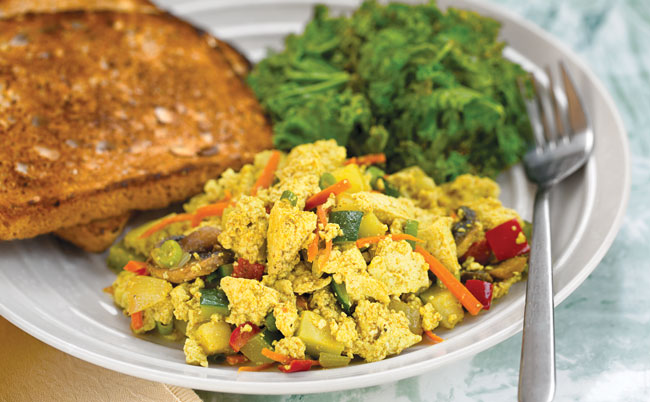 Hannah Kaminsky
17 Easy Two-Step Vegan Tofu Scramble With Mixed Veggies
Keep brunch simple and healthy by making this easy two-step tofu scramble and adding in plenty of your favorite vegetables.
Get the recipe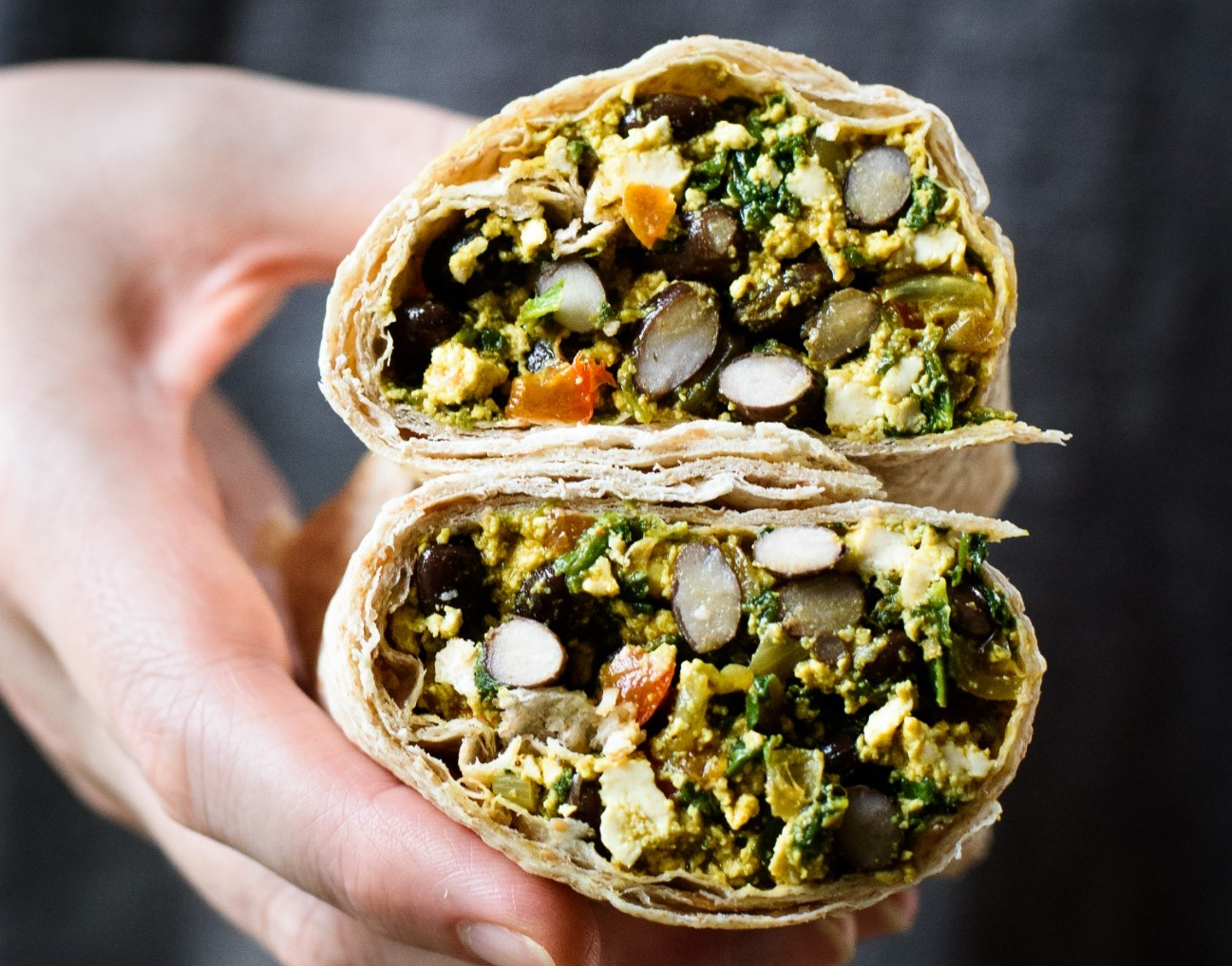 Linda Soper-Kolton
18 Vegan Freezer-Friendly Black Bean Breakfast Burritos
Sure, it's easy to grab a frozen burrito from the store, but making them yourself is satisfying, healthier, and arguably even more delicious. Make and freeze in advance for a low-effort brunch treat.
Get the recipe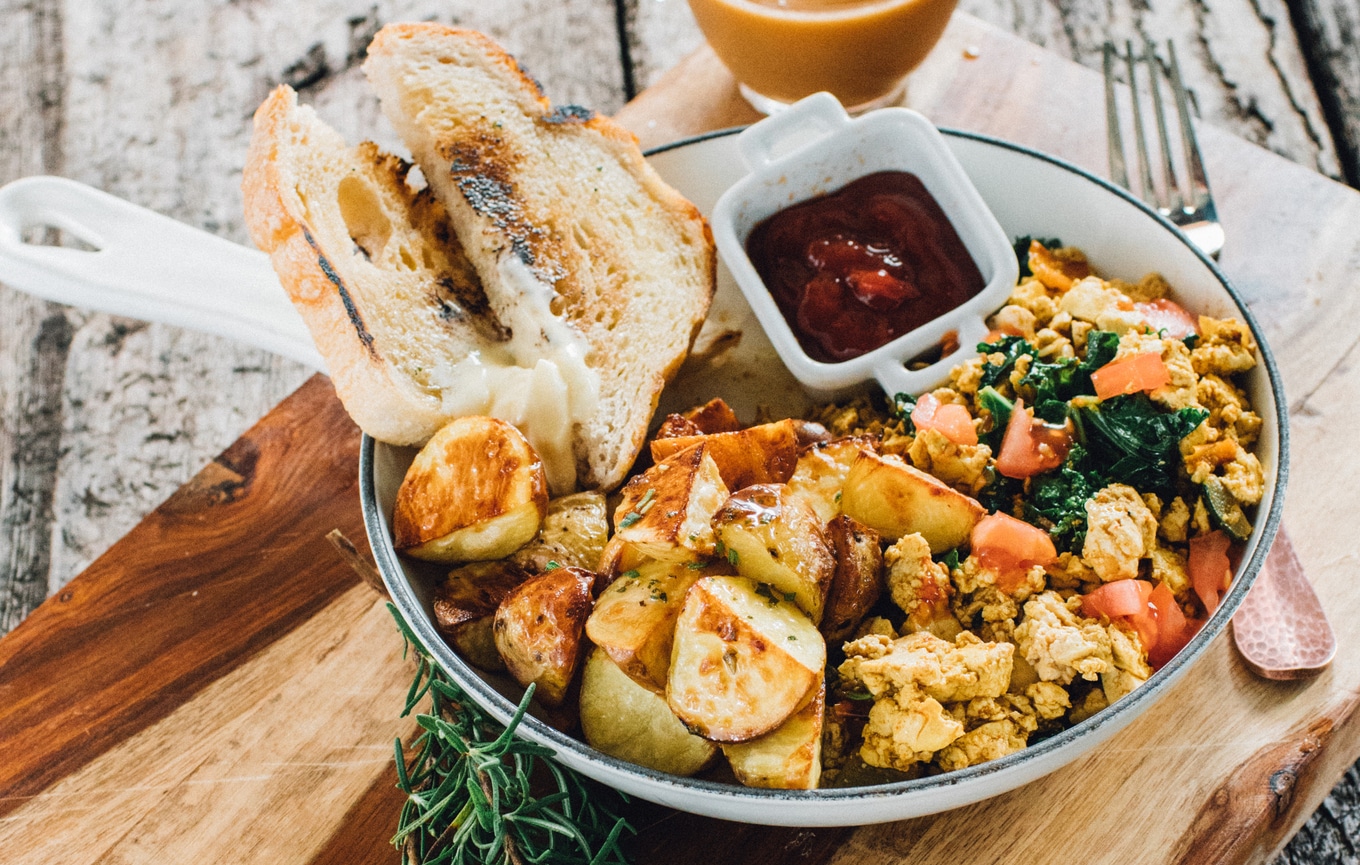 Hollan Hawaii
19 Curry-Spiced Vegan Tofu Scramble
If you love tofu scramble but want to change things up a little, this curry-spiced version is bursting with flavor. Best served with roast potatoes and buttery toast.
Get the recipe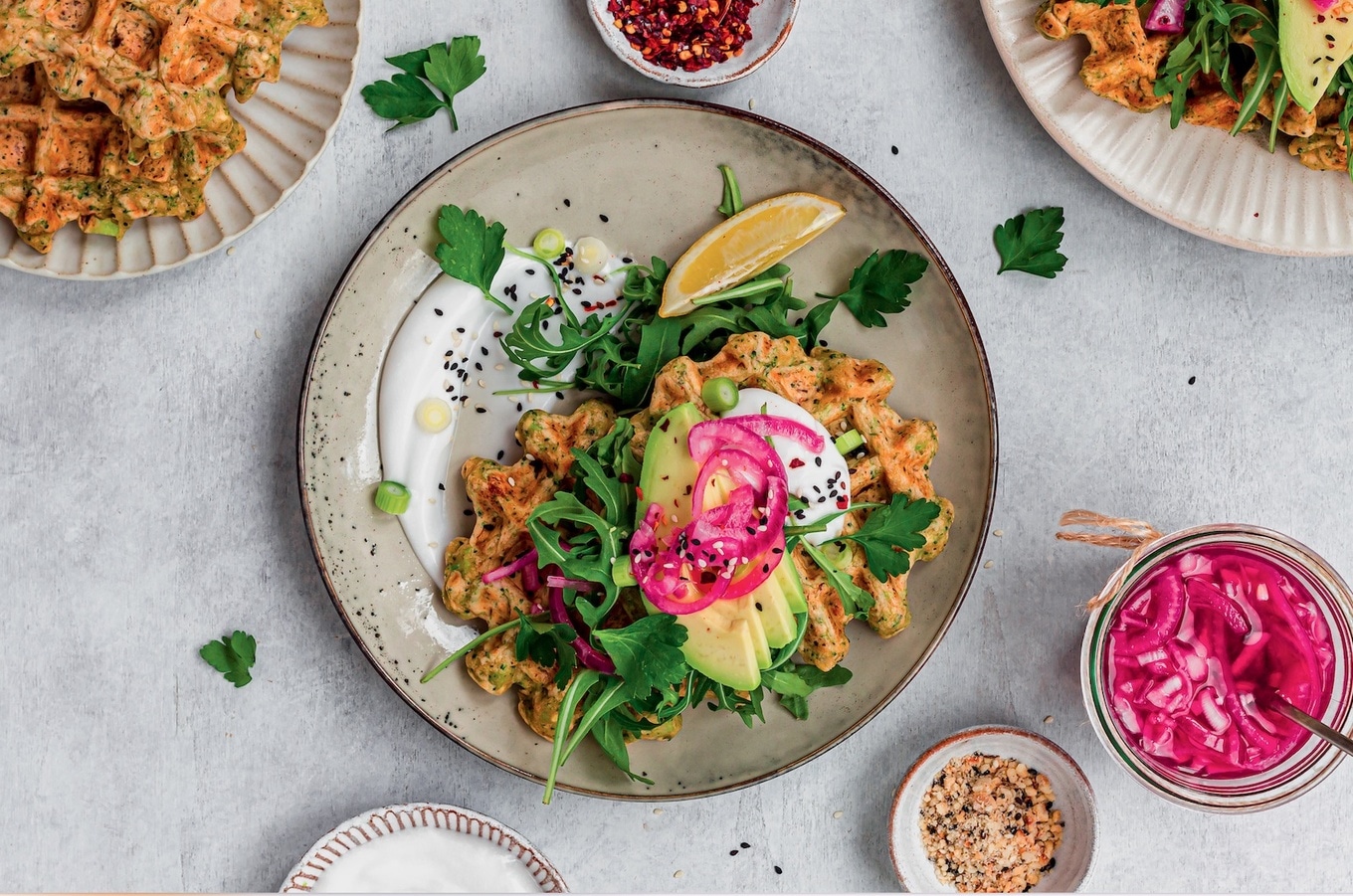 Amy Lanza
20 Savory Vegan Cheesy Broccoli Waffles
Just like pancakes, waffles don't have to be sweet to be delicious. If you need further proof of that fact, check out these cheesy broccoli waffles.
Get the recipe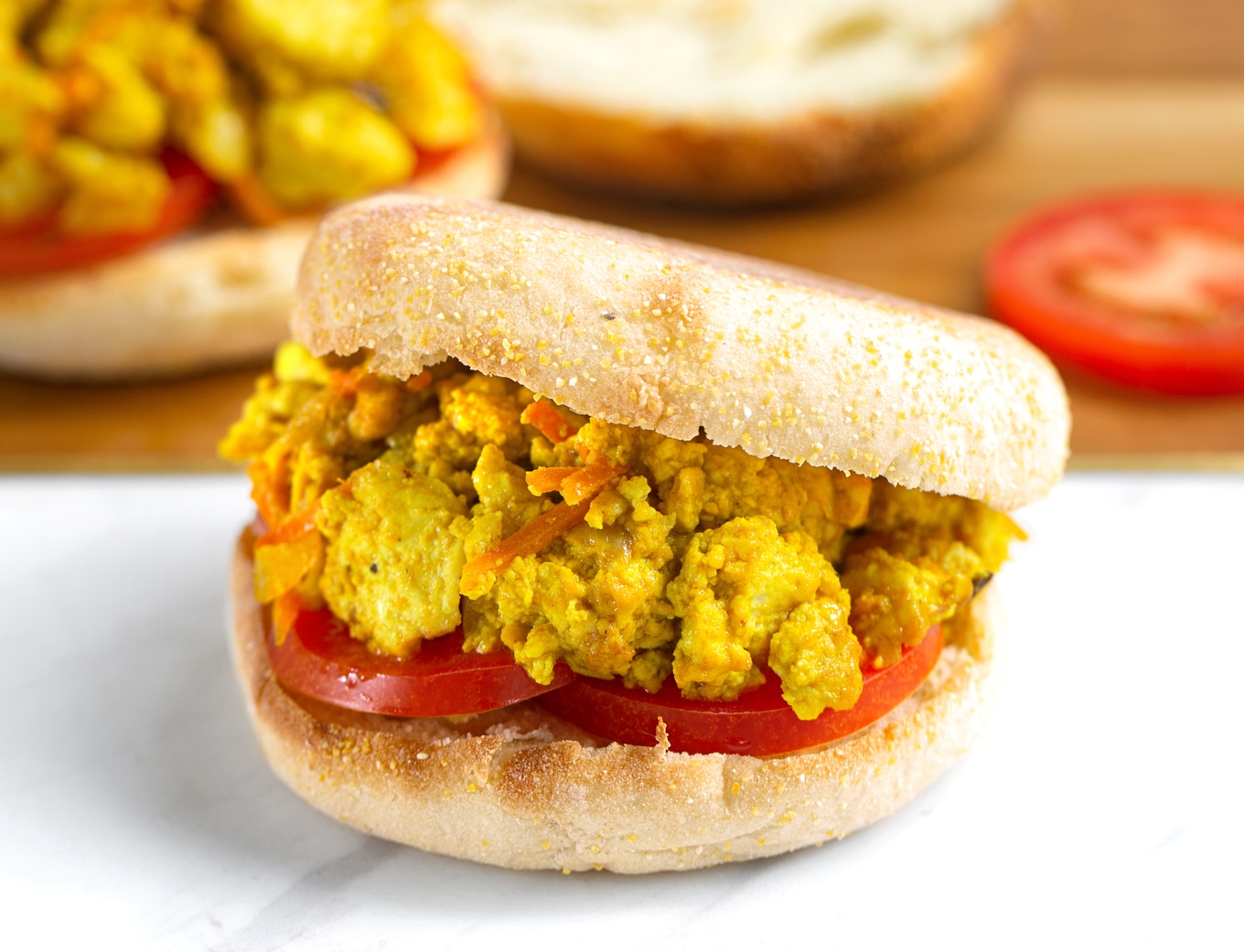 Hannah Kaminsky
21 Simple Vegan Scramble Sandwiches
Whip up these simple, tasty vegan scramble sandwiches after a long weekend lie-in (or after an early morning yoga session, you do you).
Get the recipe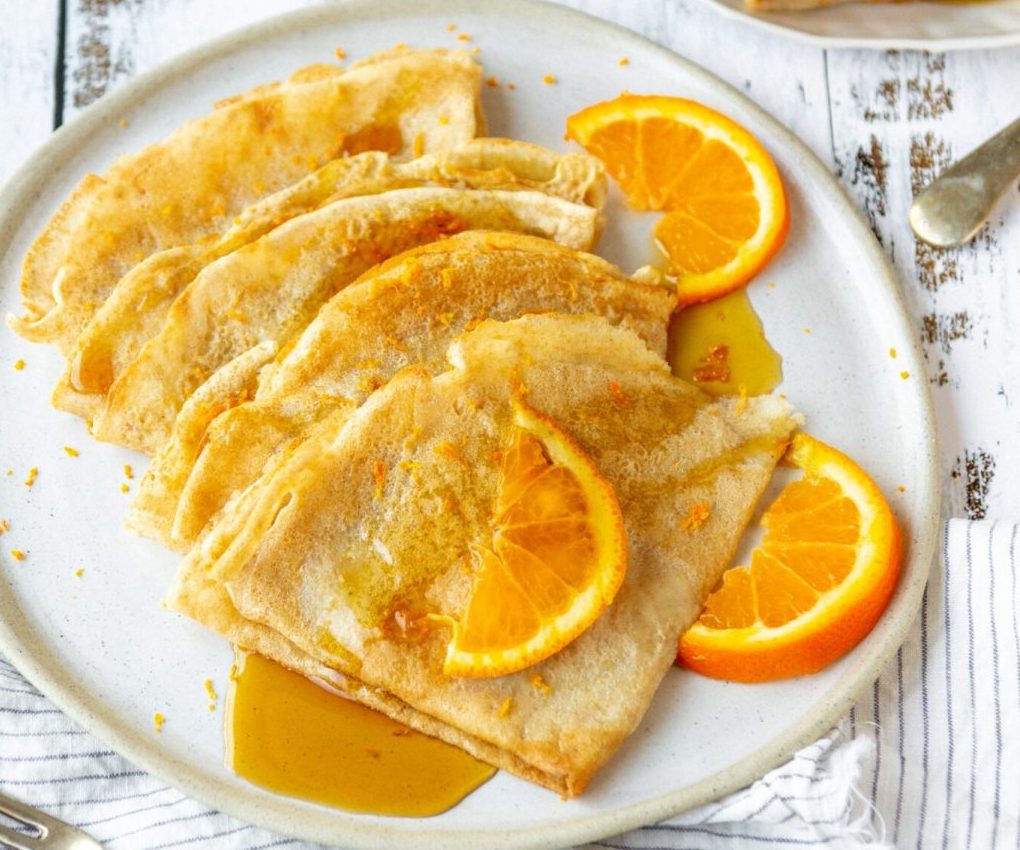 Claire Power
22 3-Step Vegan French Crêpes
These French pancakes might be thin and delicate, but they do not lack flavor—especially when they're paired with vegan whipped cream and berries.
Get the recipe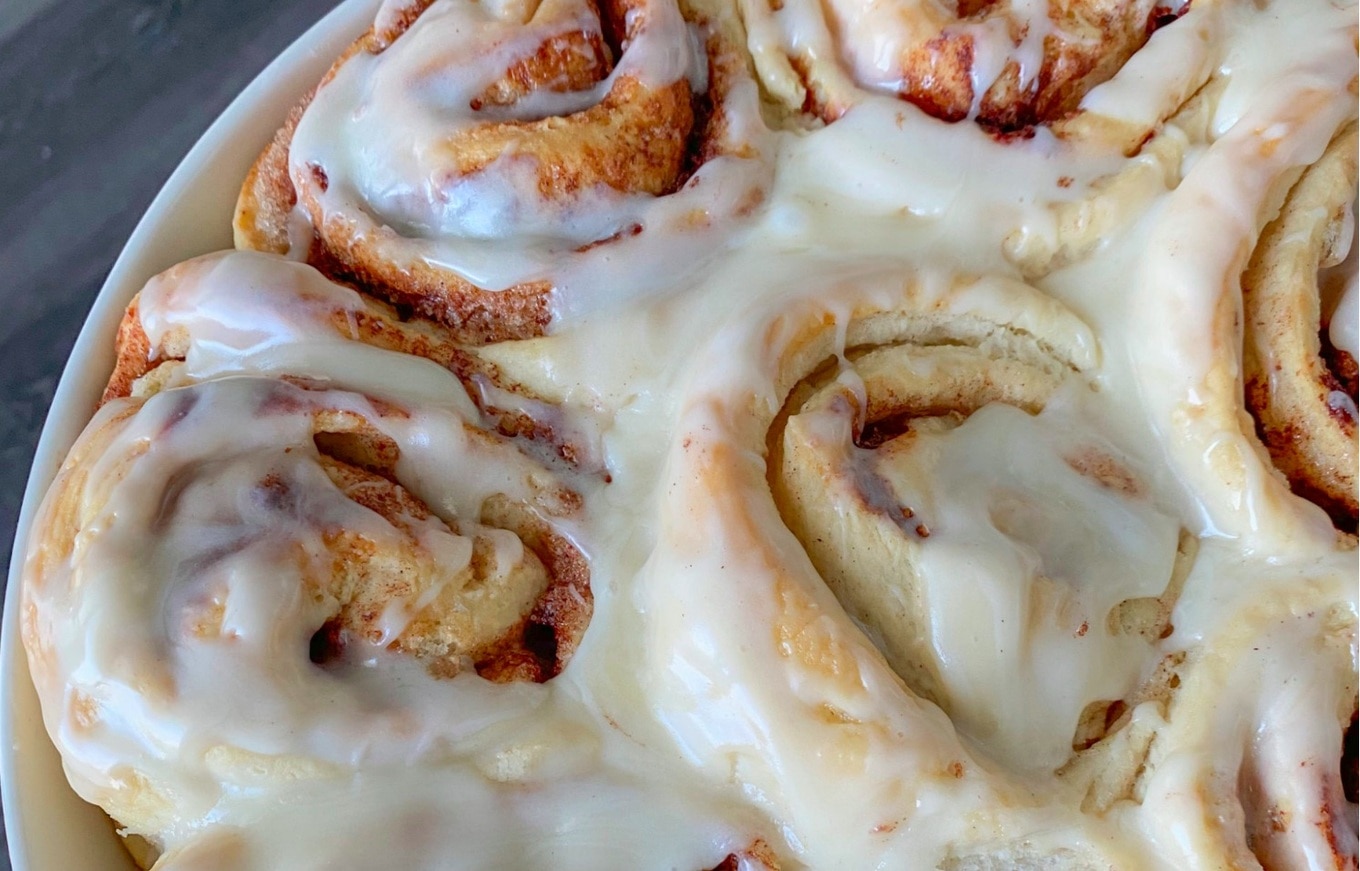 Jillian Glenn
23 Vegan Cinnamon Rolls With Cream Cheese Icing
Cinnamon rolls, good friends, and a hot cup of coffee = bliss. The only thing that makes this combination better is when the rolls are homemade from scratch.
Get the recipe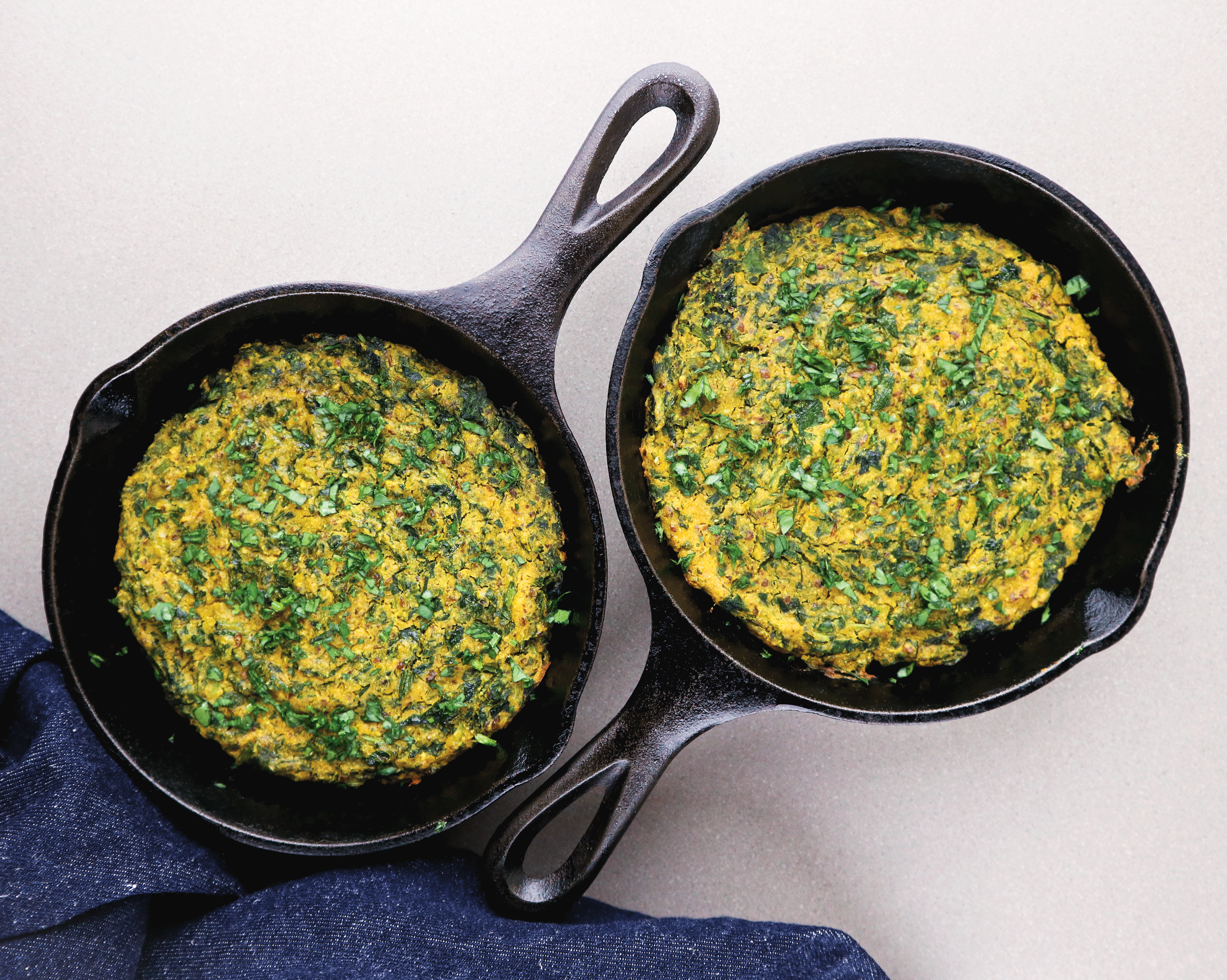 24 Vegan Fresh Herb and Fennel Chickpea Frittata
Can't decide on an omelet or a scramble? Make a combination of both with this sophisticated, herbaceous frittata, which is made with chickpeas. Serve with mimosas for the perfect indulgent brunch.
Get the recipe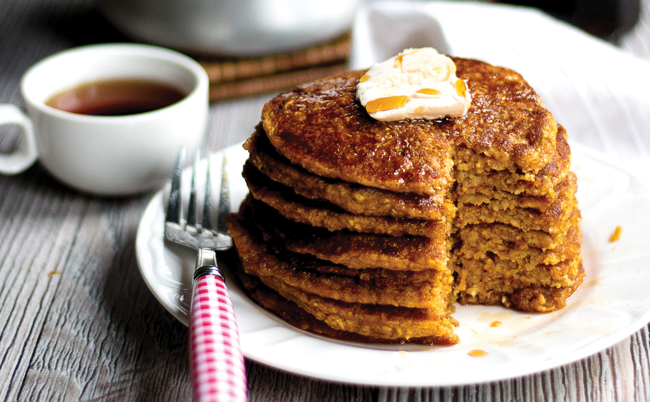 The Experiment
25 Vegan Sweet Potato Pancakes With Cinnamon and Nutmeg
A stack of sweet potato pancakes is a delicious fall brunch treat. Just make sure to serve with tons of maple syrup.
Get the recipe