As the nights darken and the weather cools, there's one meal that dominates our thinking. It is, of course, soup. Research suggests that most Americans agree with us on the fact that blending together nutritious ingredients to make a hearty, warming liquid meal is one of the best ways to nourish ourselves throughout winter and fall. In fact, according to one study by popular soup brand Campbell's, nearly 95 percent of Americans, regardless of age, gender, or region, say they love or like soup.
Aside from being hearty and nourishing, another reason people love soup is that it's incredibly versatile. The truth is, from tomatoes to cauliflower to sweet potatoes, when combined with vegetarian broth or a can of coconut milk, pretty much any vegetable can become a soup. That means this dish is easy to make vegan, too—just leave out the meat broth and dairy.
We've compiled all of our favorite vegan soup recipes below—so, next time you're craving a big bowl of hearty broth, you know just where to come for inspiration.
The best vegan soup recipes to make now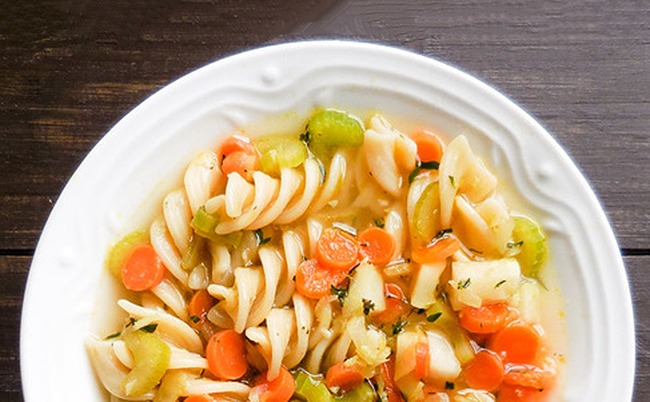 1 Vegan Ginger Chicken Noodle Soup
Chicken noodle soup is the most popular soup dish in the US, but, thanks to vegan chicken broth, it's easy to enjoy the nostalgic flavor of this dish without the meat.
Get the recipe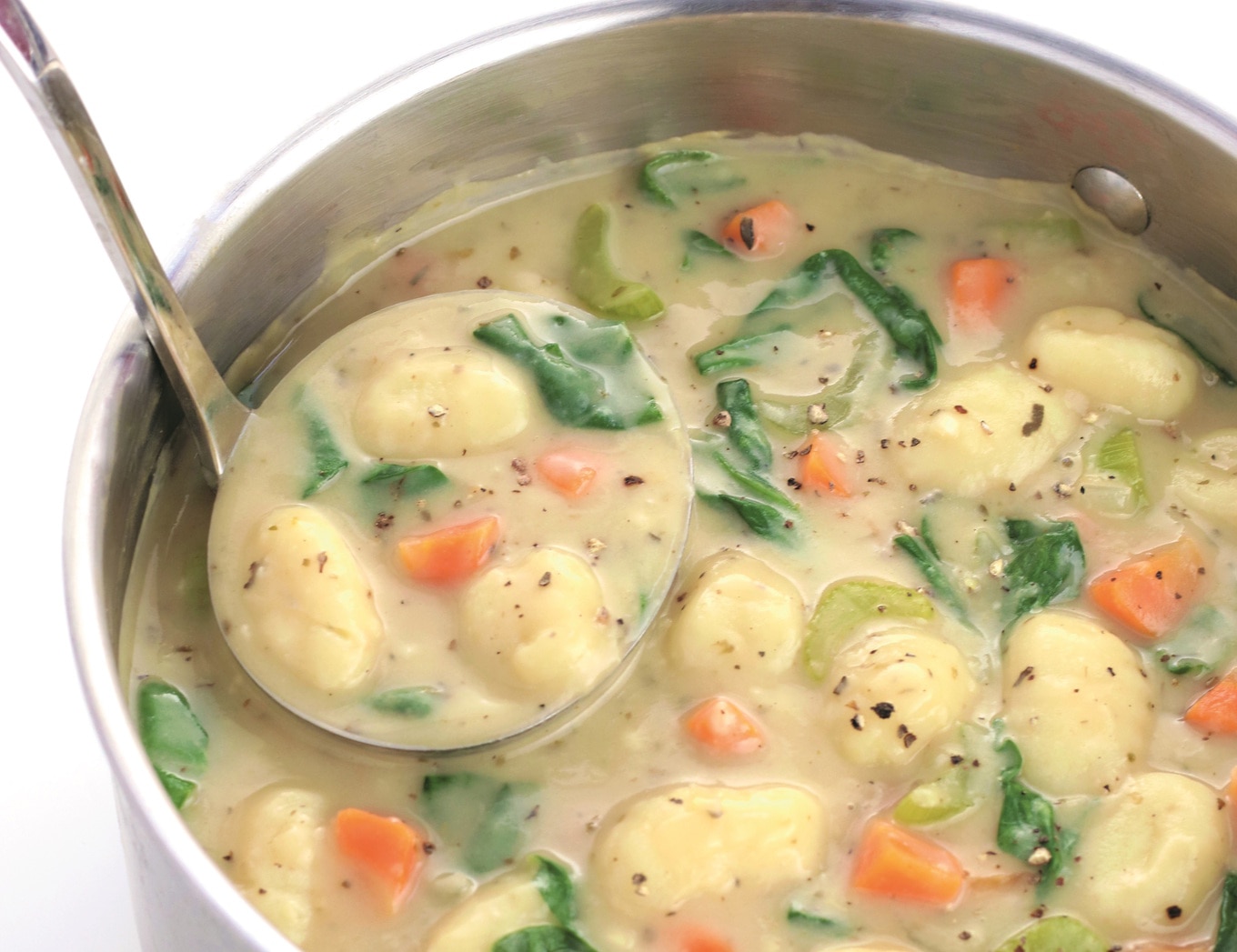 2 Creamy Italian Gnocchi Soup
Gnocchi is a hearty, filling addition to this creamy, Italian soup. If you prefer, you can also swap in macaroni or shells, too.
Get the recipe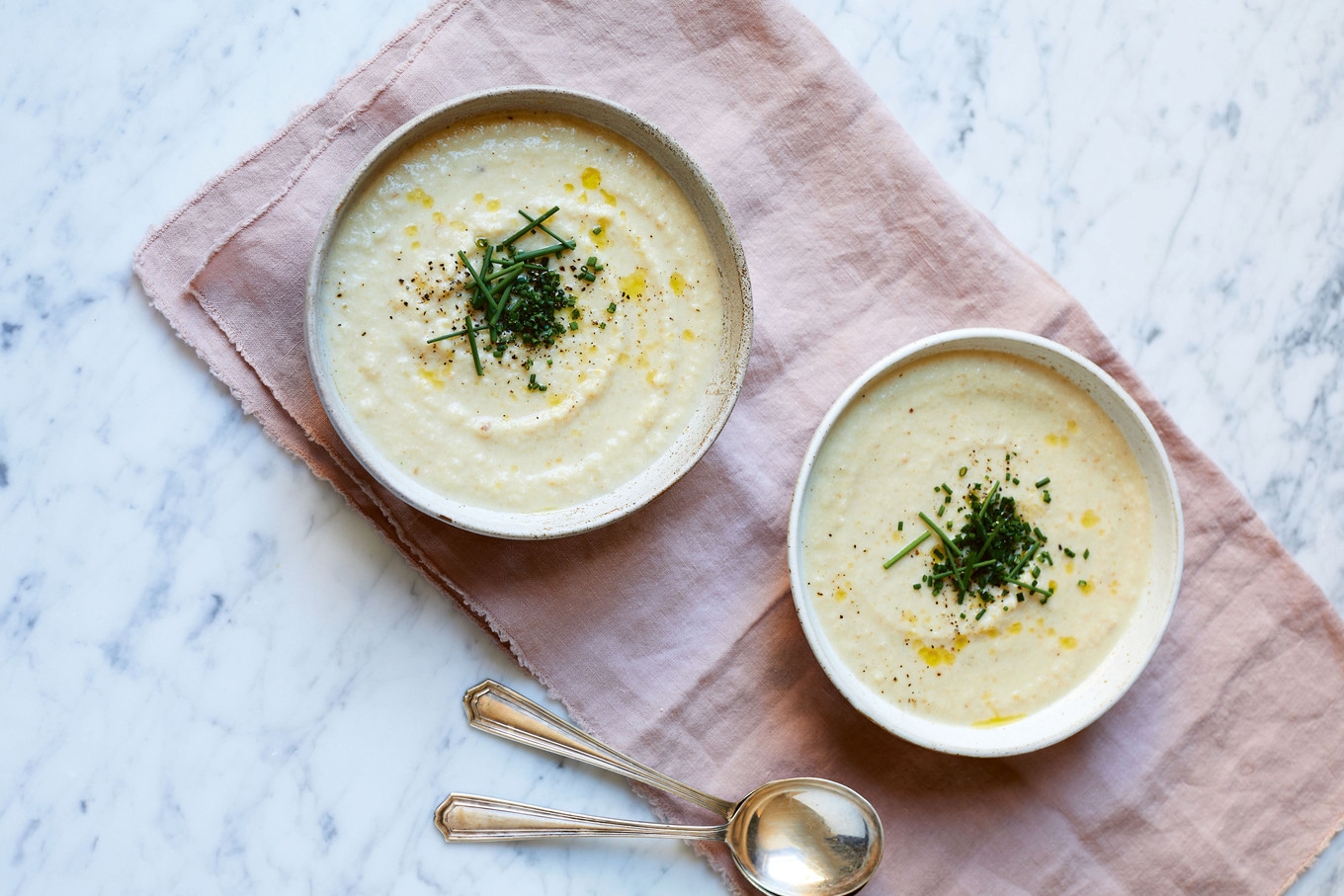 Luke Albert
3 Vegan Cauliflower Cheese Soup
Packed with vegan cream cheese, this thick vegan soup is comforting, warming, and delicious. It's guaranteed to become a new favorite.
Get the recipe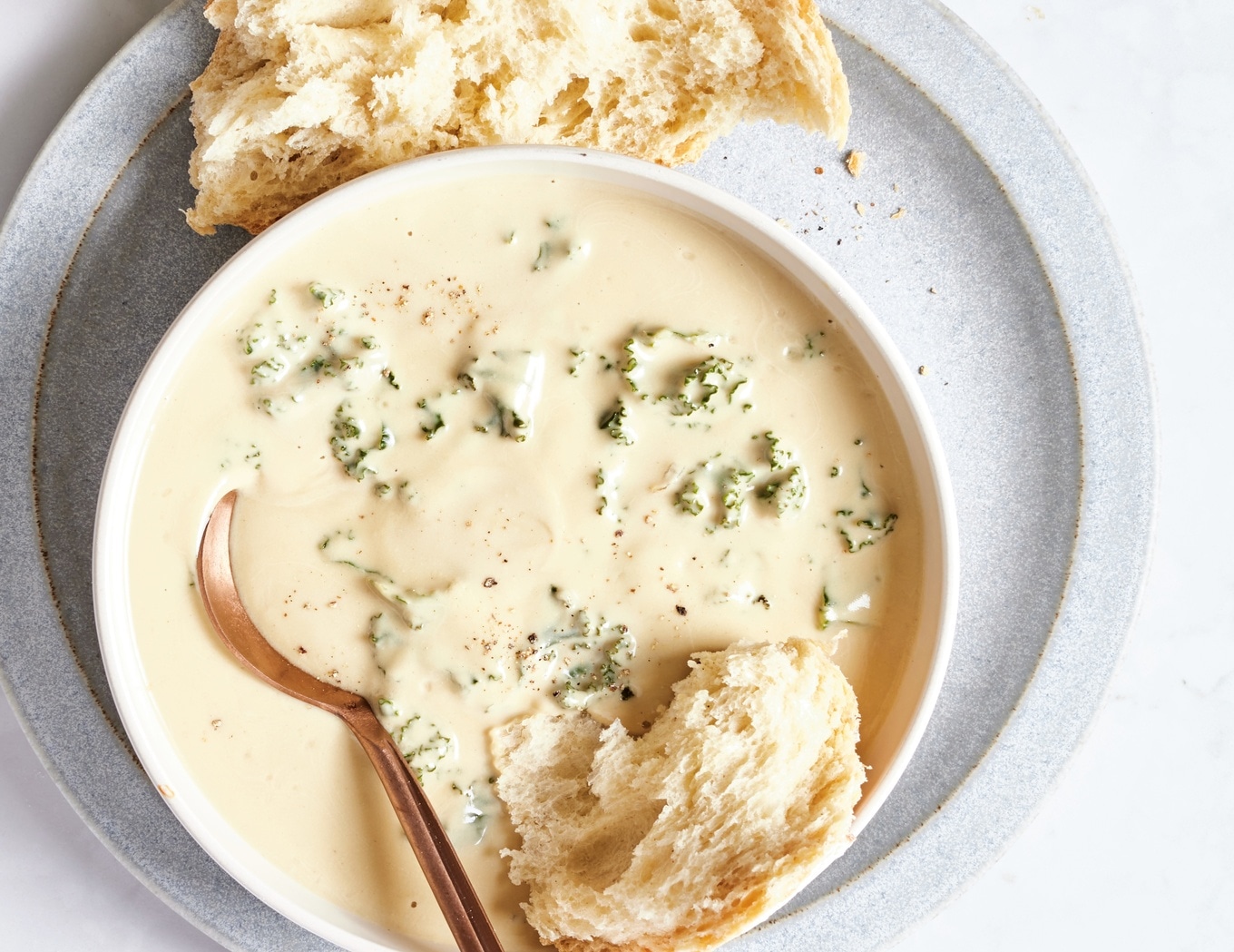 Sam Turnbull
4 Four Heads of Garlic Soup
If you're a fan of all-things garlicky, you will love this creamy soup, which is made with four heads of garlic, cashews, and vegan chicken broth.
Get the recipe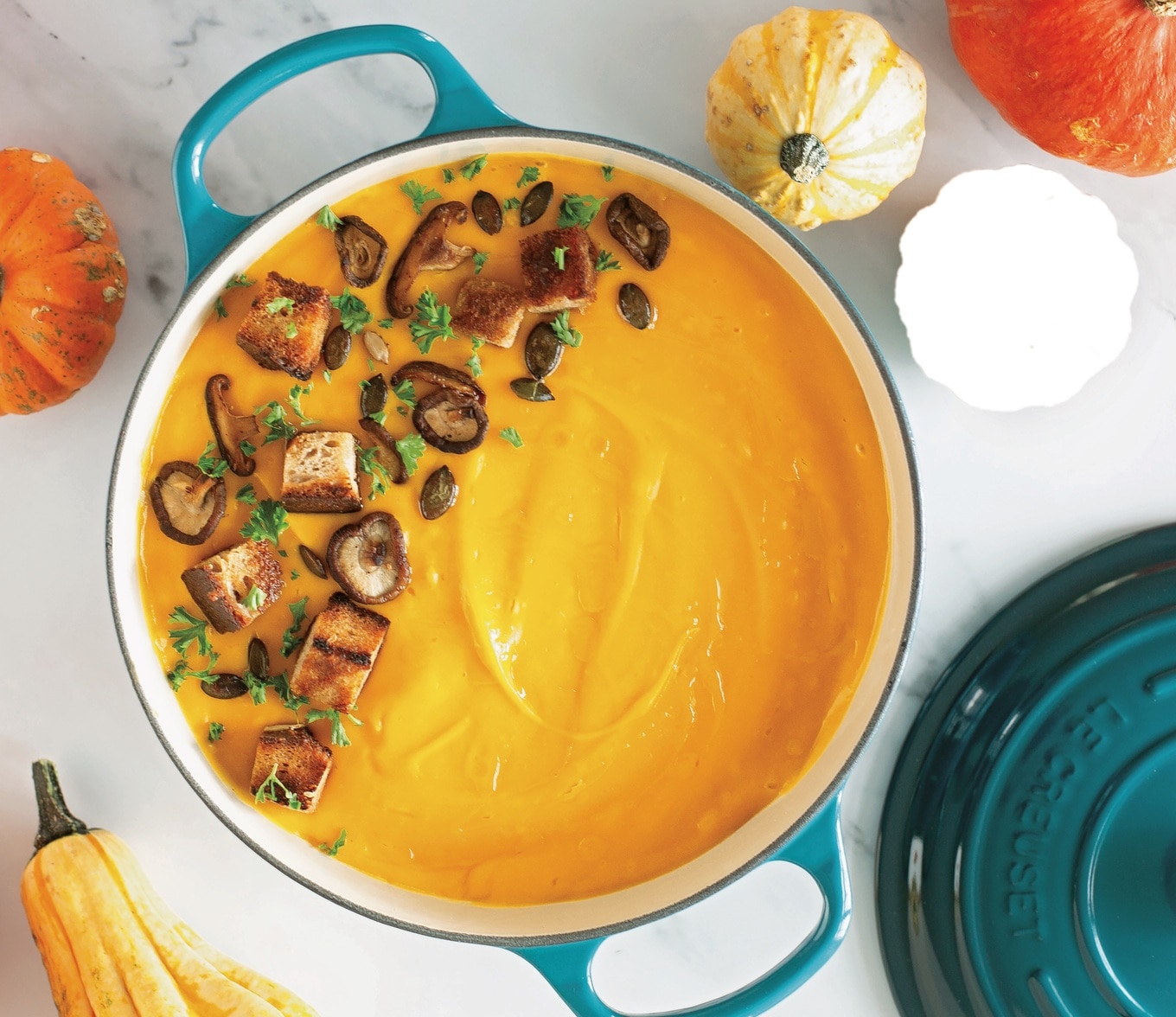 5 Pumpkin Soup With White Beans
Blended cannellini beans make for a thick, velvety texture in this tasty soup dish. Serve with plenty of crusty bread.
Get the recipe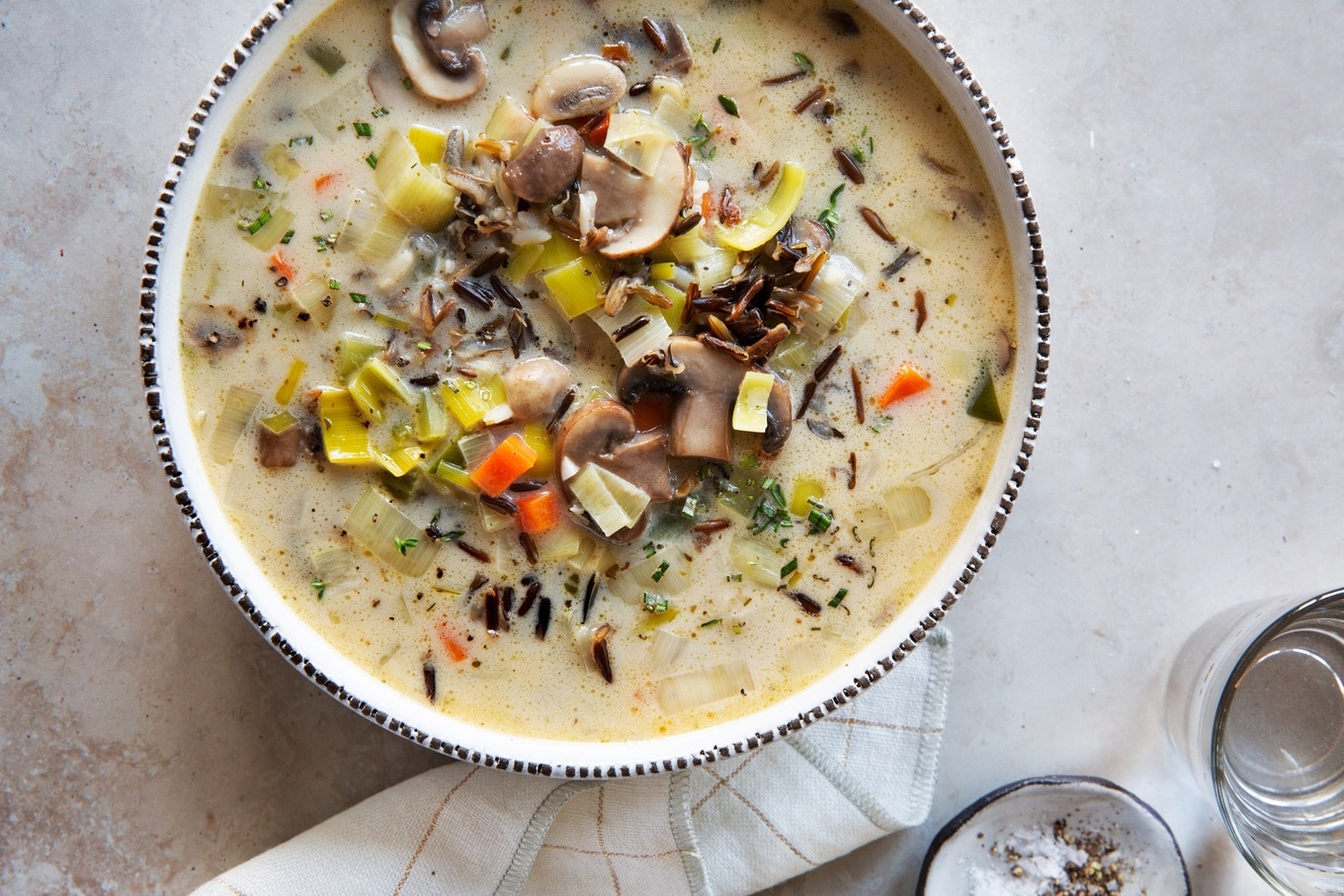 6 Wild Rice and Mushroom Soup
This rich, nourishing soup gets its flavor from aromatic herbs, coconut milk, meaty mushrooms, and plenty of vegetables.
Get the recipe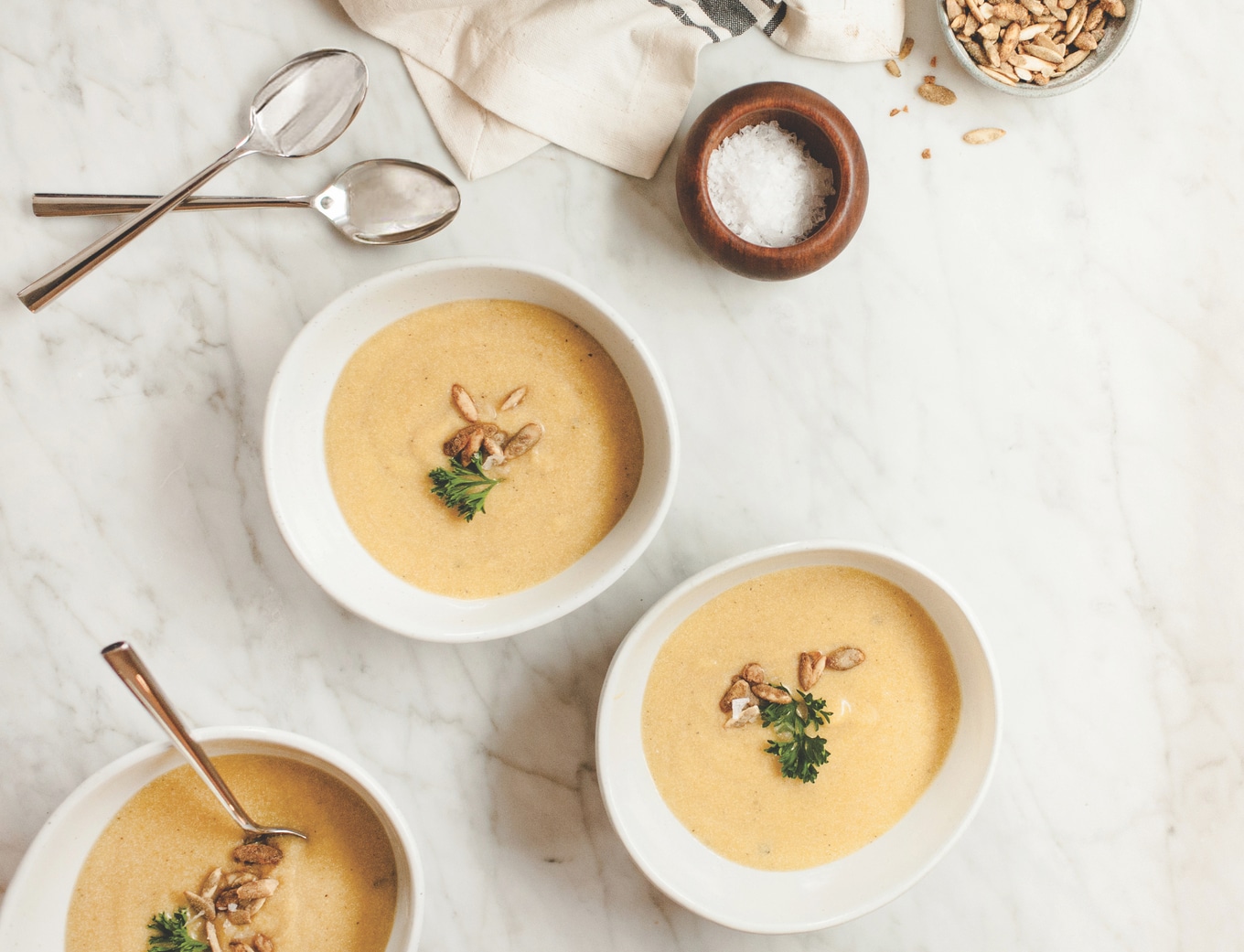 7 Roasted Kabocha Squash Soup
Kabocha squash makes for a creamy, delicious soup, but if you can't find it, you can also swap in butternut squash or pumpkin for an equally tasty dish.
Get the recipe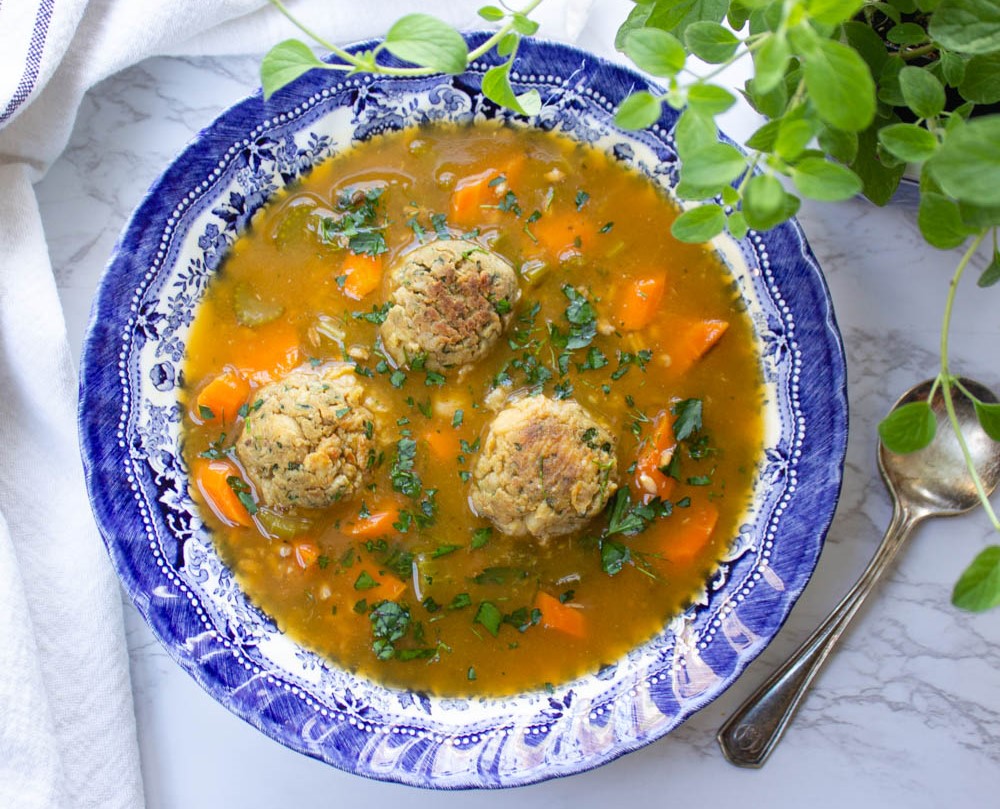 Mary Callan
8 Italian Meatball Wedding Soup
For a delicious meaty texture, make these vegan meatballs with cannellini beans, herbs, spices, and breadcrumbs.
Get the recipe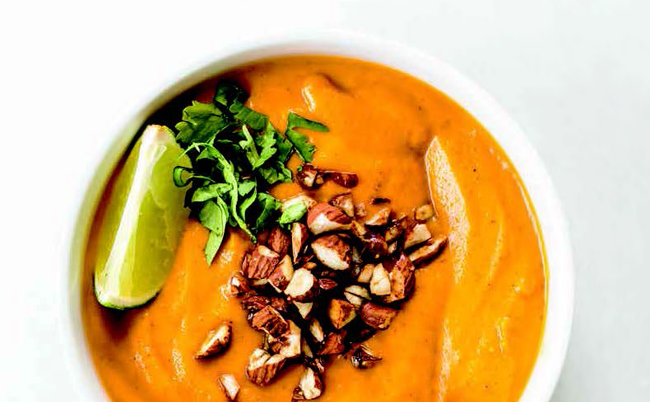 9 Thai Carrot Soup With Tamari-Roasted Almonds
Thanks to ingredients like red curry paste, fresh ginger, and diced sweet potatoes, this soup is bursting with flavor.
Get the recipe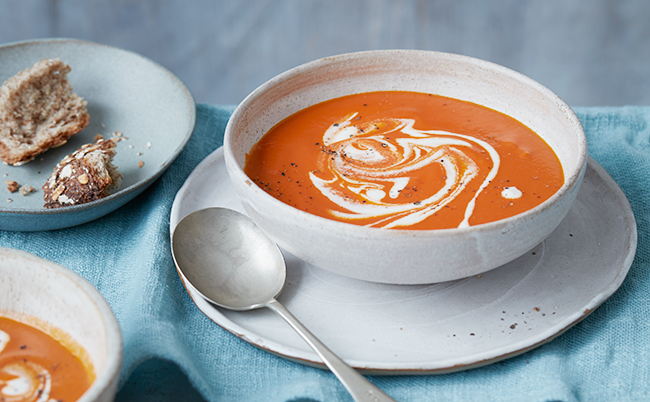 The New Nourishing
10 Roasted Tomato Soup With Cashew Cream
This nourishing, hearty soup is easy to make. In fact, it just takes four steps and a handful of ingredients.
Get the recipe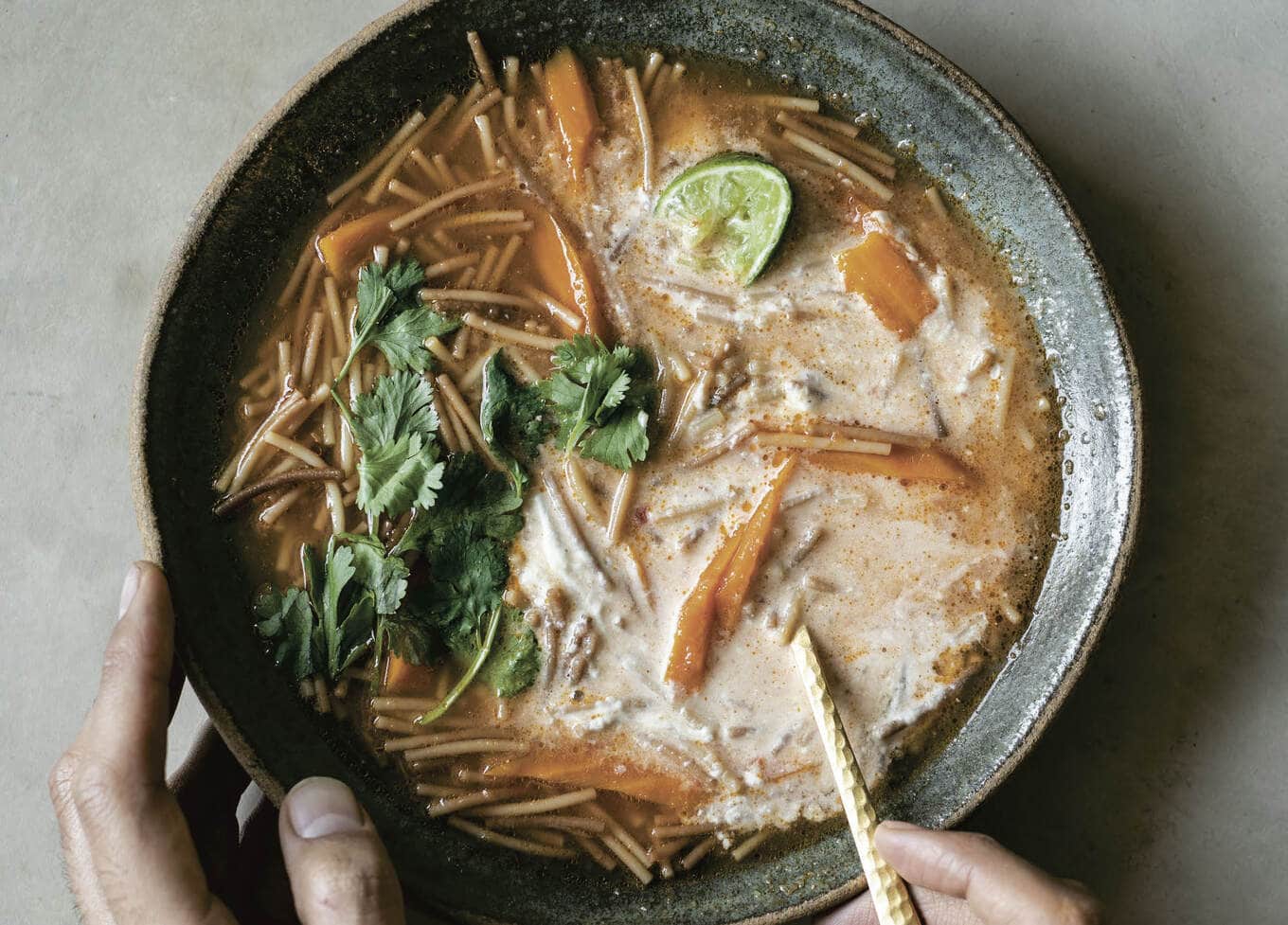 Edgar Castrejón
11 Sopa de Fideo (Mexican Noodle Soup)
When the weather is chilly, warm up your insides with this satisfying, brothy noodle soup from Mexico.
Get the recipe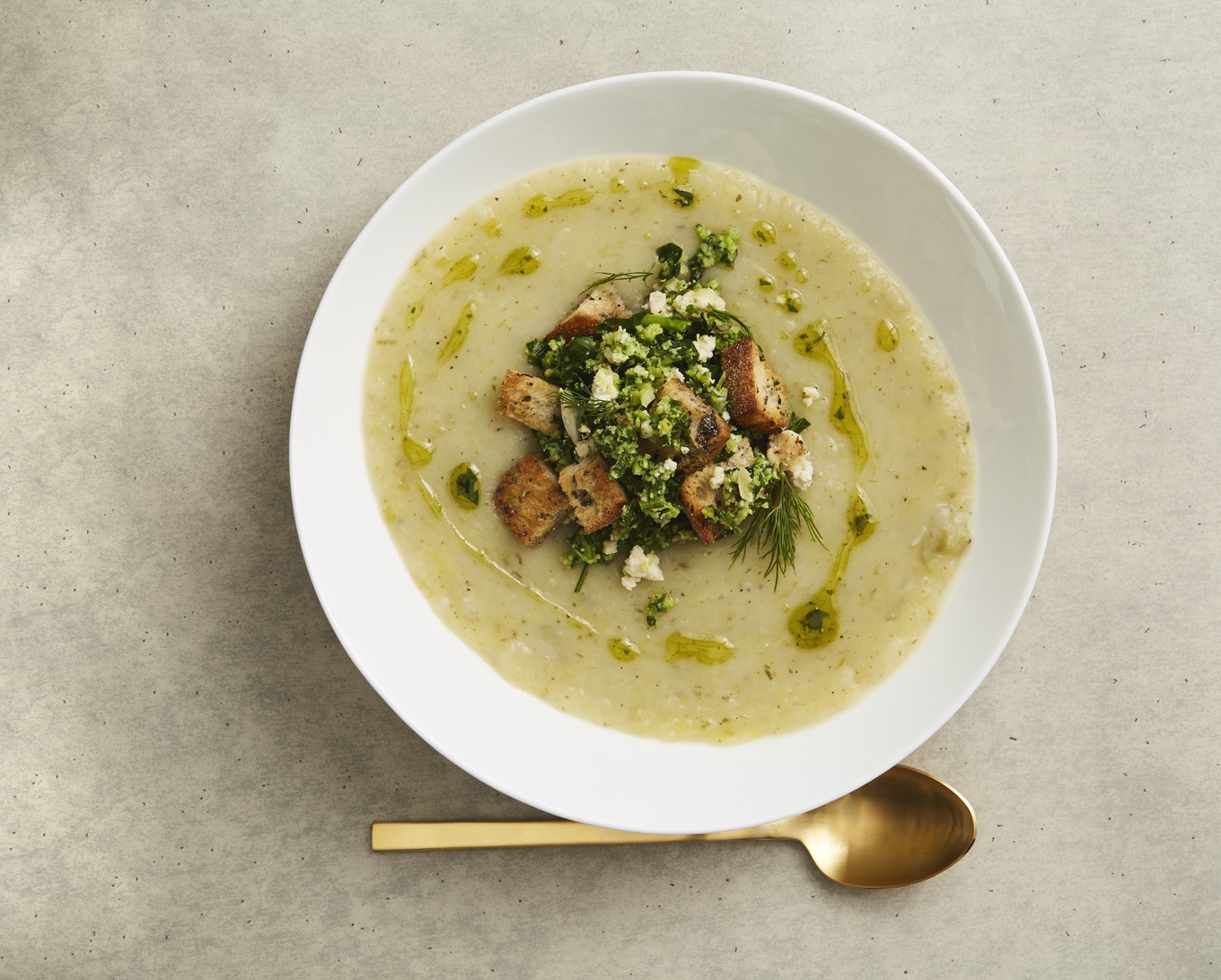 12 Potato Leek Soup With Broccoli Gremolata
Zesty, flavorful gremolata, which originated in Milan, Italy, is the star of this hearty, creamy potato leek soup.
Get the recipe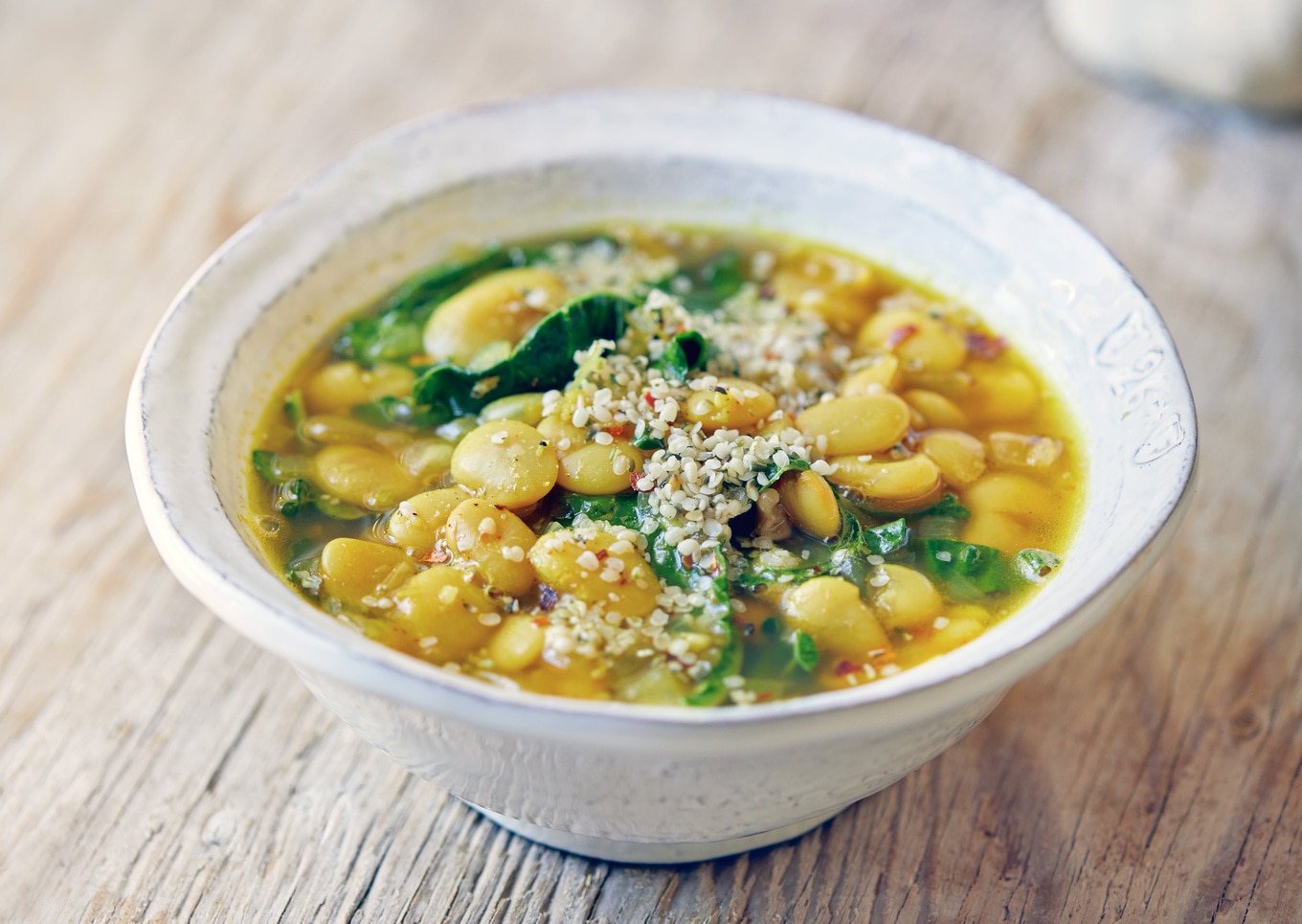 Oliver Barth
13 Garlicky Butter Bean Soup With Greens
This garlicky soup goes beautifully with leafy greens like kale and spinach. Top with hemp seeds to serve.
Get the recipe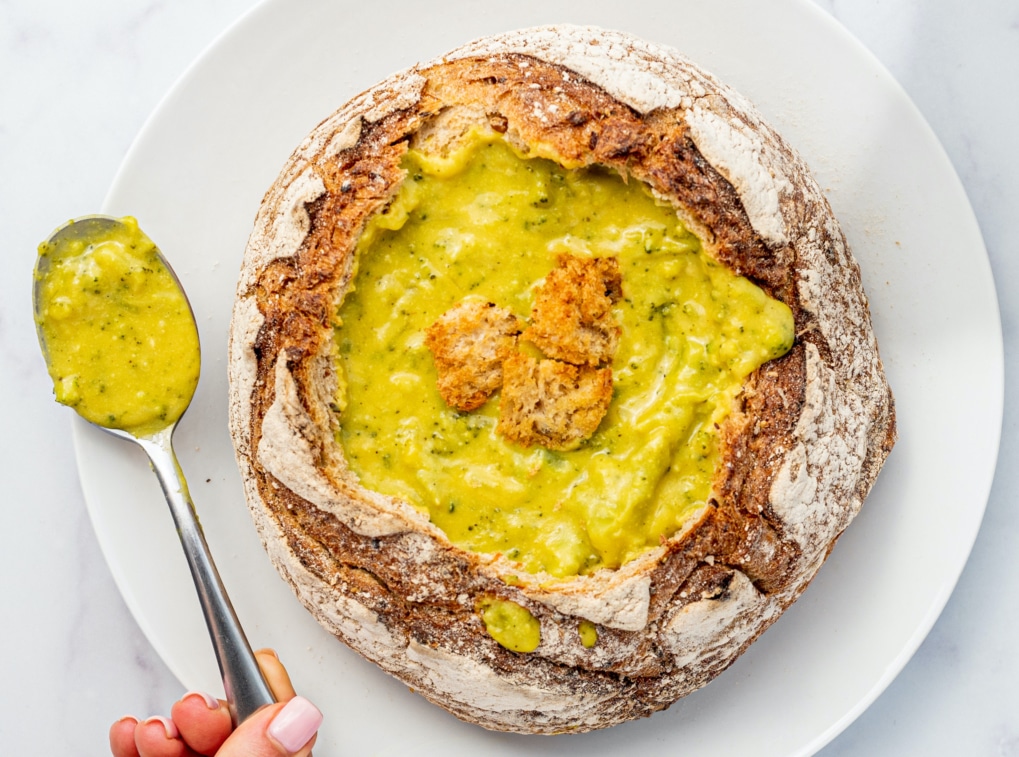 Danielle Keith
14 Copycat Panera Broccoli Cheddar Soup
Panera Bread fans, this is your dish. Made with cashews, this soup is just as creamy, cheesy, and comforting as the chain's menu favorite.
Get the recipe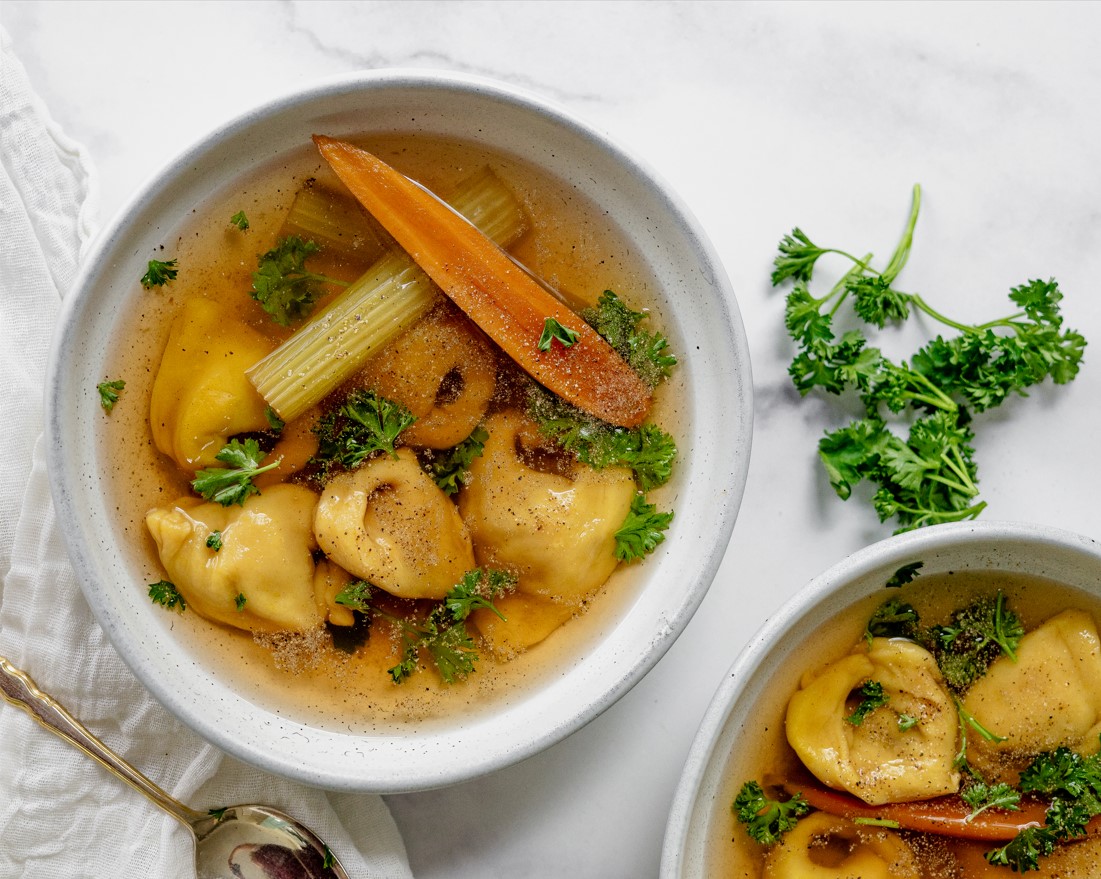 Micah Silva
15 Sweet Potato Kreplach
Traditional Kreplach dumplings are usually filled with meat, but you can make an equally tasty version using sweet potatoes.
Get the recipe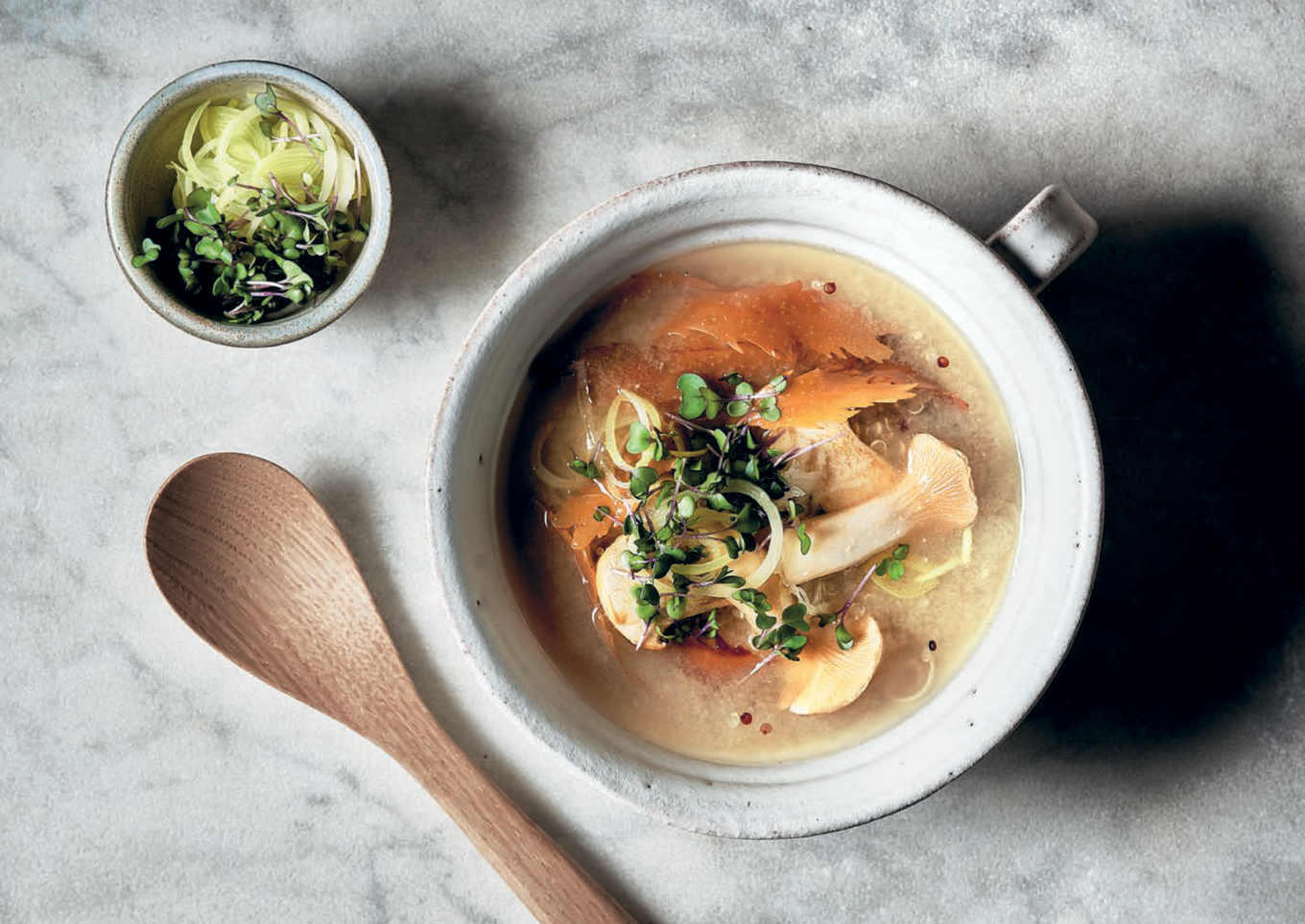 Martin Nordon
16 Miso Soup With King Oyster Mushrooms, Quinoa, and Seaweed
This traditional Japanese soup is filled with nutrient-packed ingredients, making it a nourishing, healthy, and tasty winter meal choice.
Get the recipe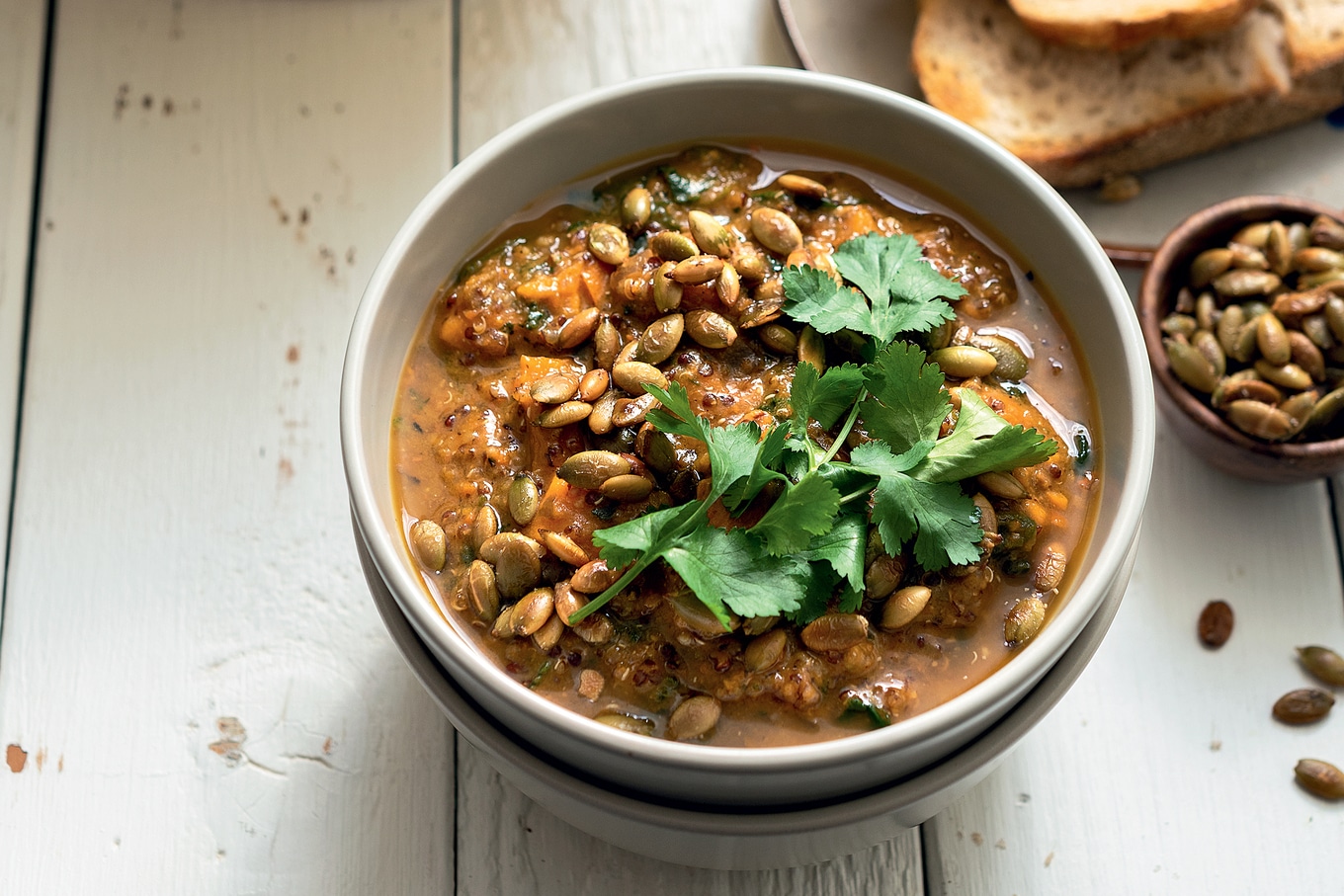 Jackie Sobon
17 Smoky Sweet Potato Soup
This creamy, savory, satisfying sweet potato soup is ideal for cool fall afternoons. Top tip: batch cook in advance to save time throughout the week.
Get the recipe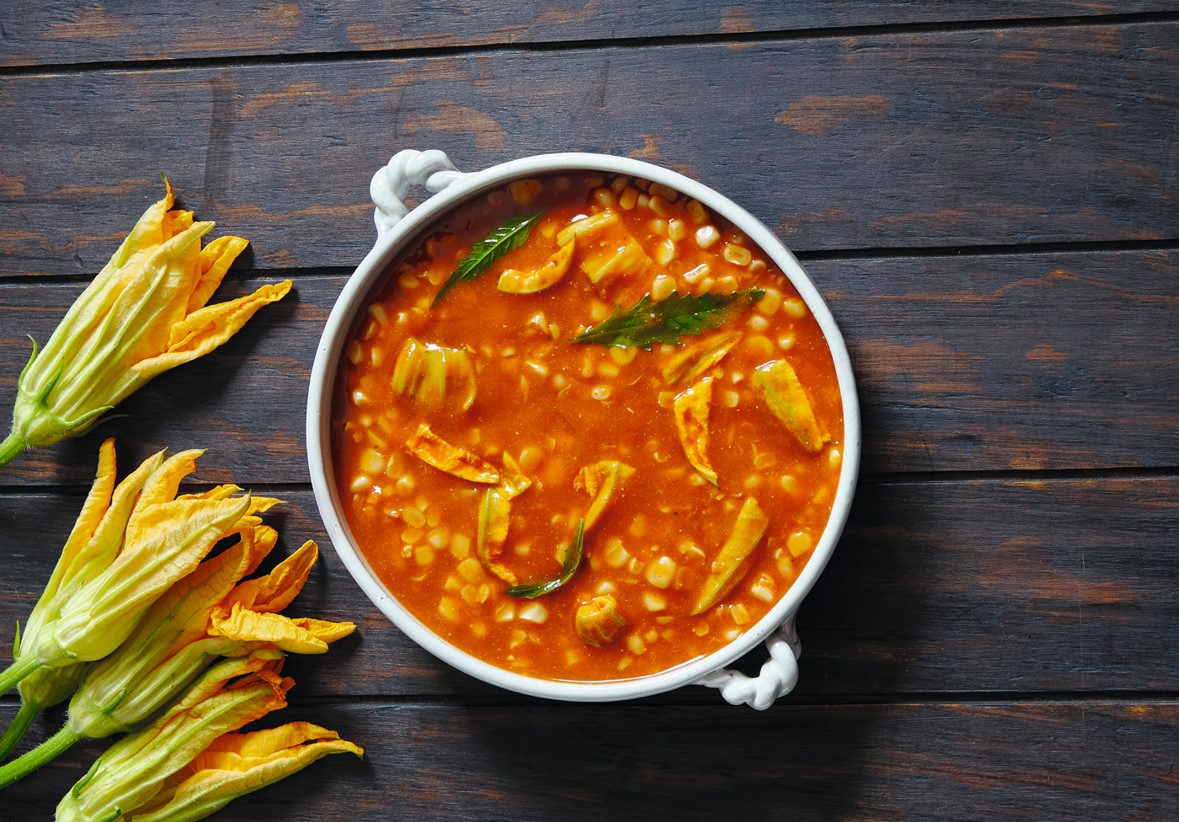 Ignacio 'Nacho' Urquiza
18 Zucchini Flower Chileatole (Corn Soup)
This traditional Mexican soup is thick, aromatic, and packed with flavor, heat, and spice.
Get the recipe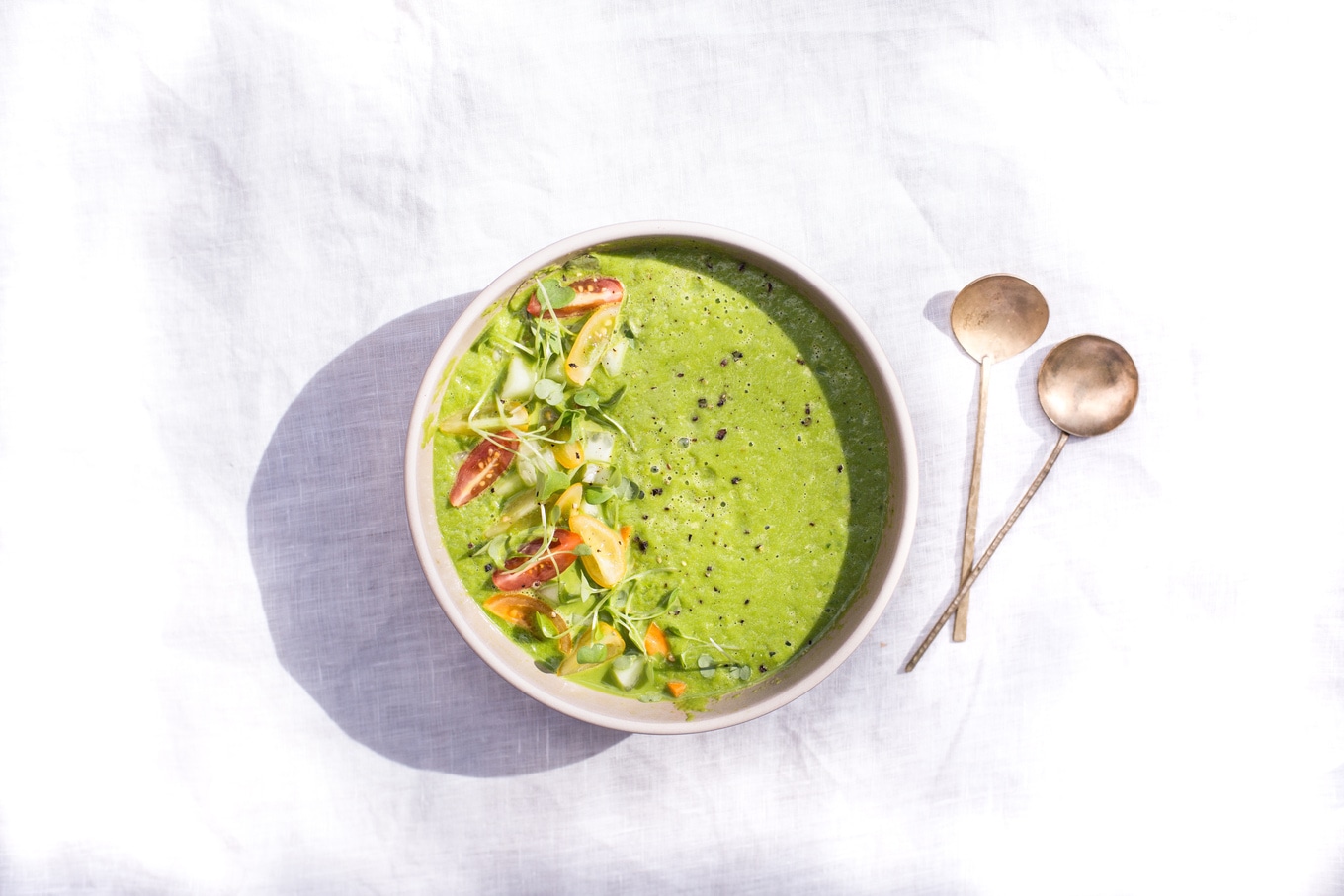 19 Raw Spicy Vegan Avocado-Jalapeño Soup
Avocado on toast is a classic choice, but this creamy fruit also serves as the perfect base for a velvety flavorful soup, especially when combined with spicy jalapeños.
Get the recipe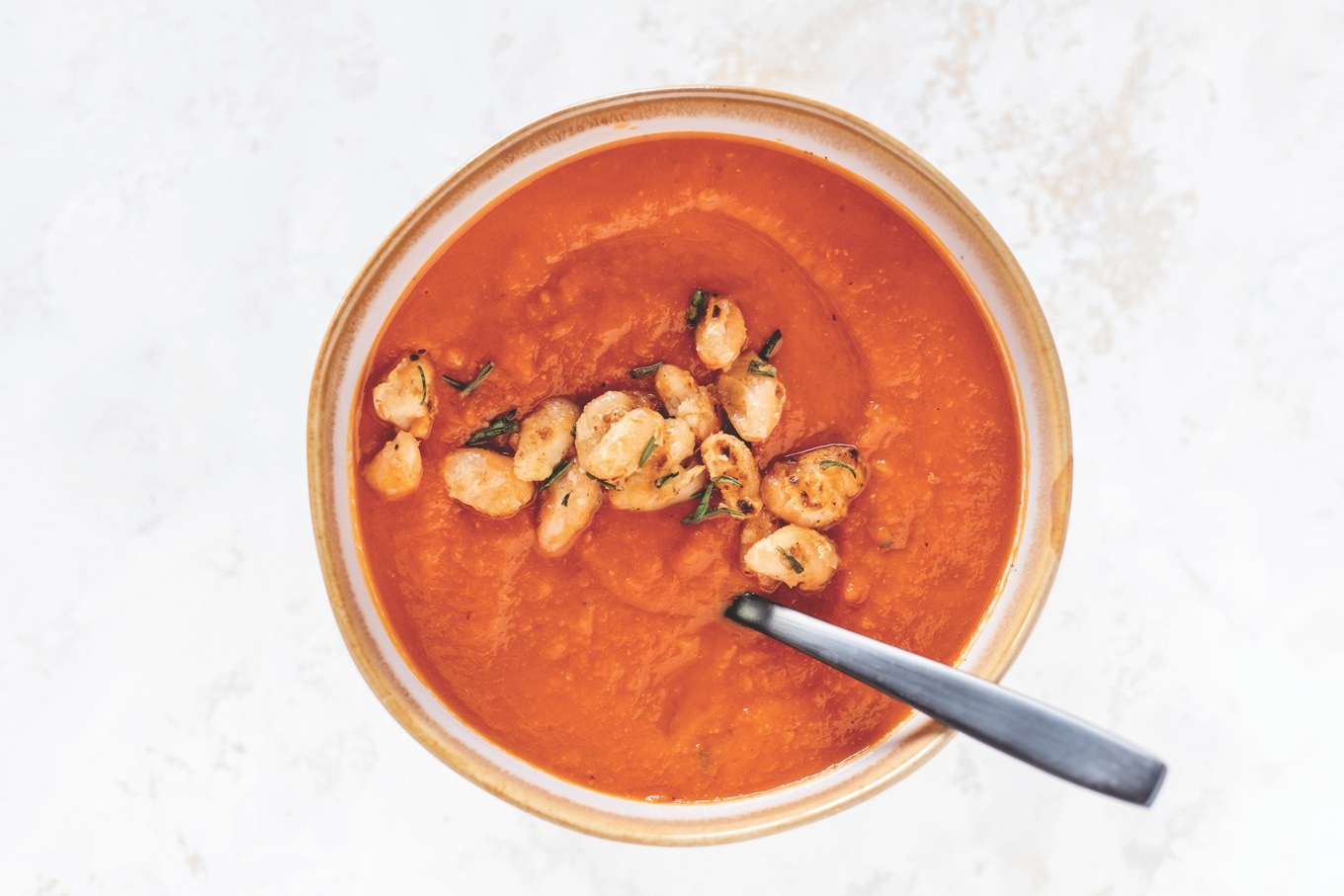 20 Tuscan Red Pepper & White Bean Soup
Transport yourself to Tuscany with this delicious red pepper soup. Crispy, pan-fried white beans make the perfect topping.
Get the recipe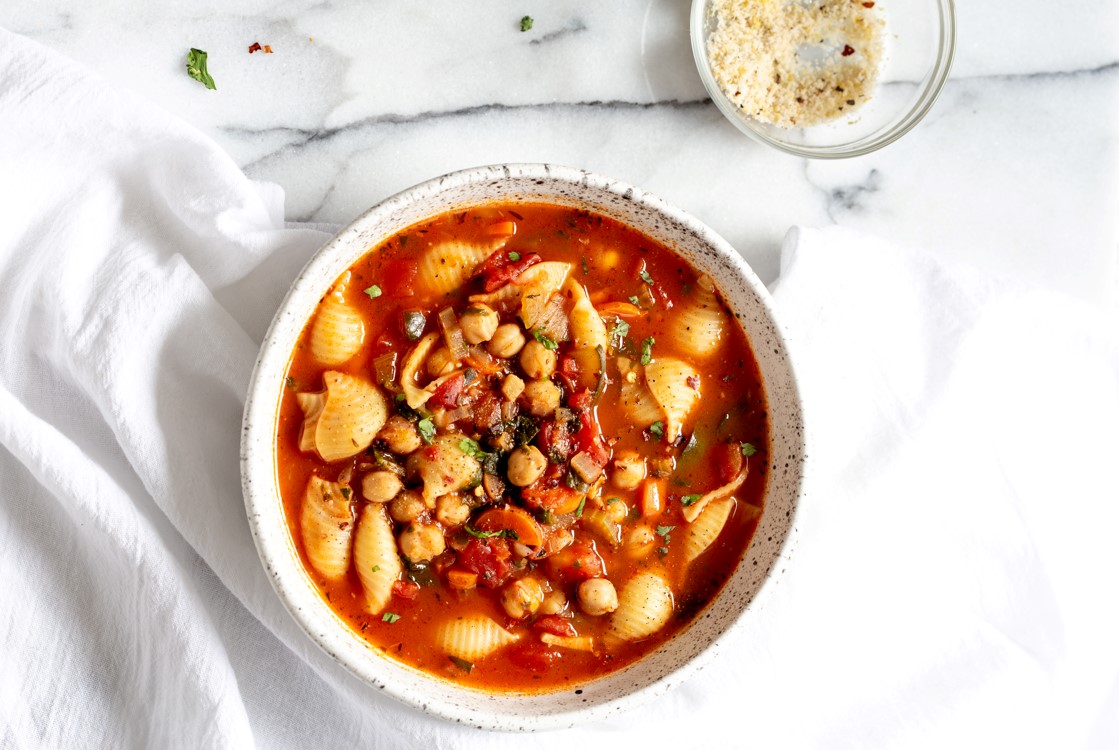 Richa Hingle
21 Instant Pot Minestrone Soup
Using an Instant Pot is a simple, low-effort way to make a nourishing soup (like this comforting minestrone, for example) for all the family.
Get the recipe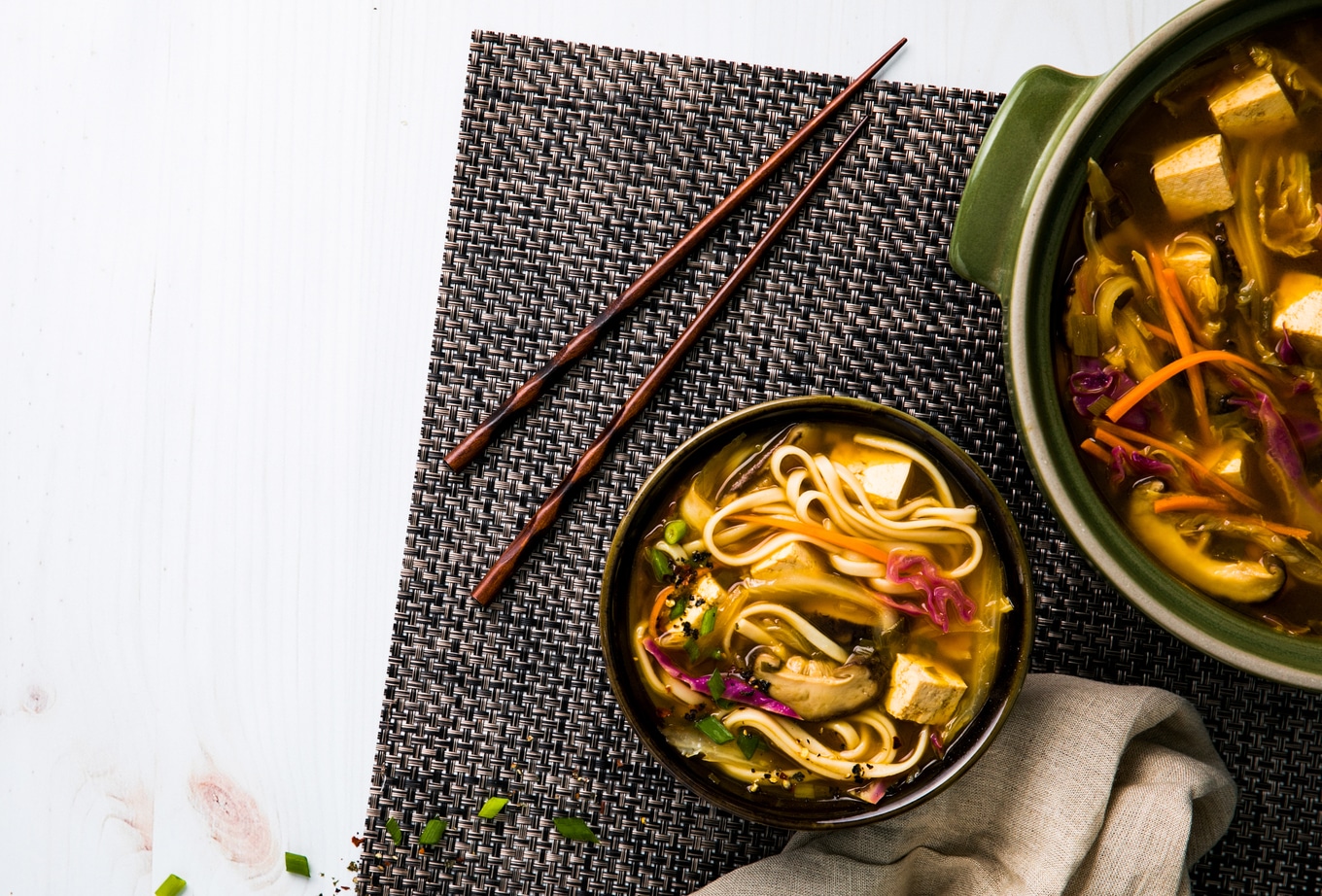 22 Hot-and-Sour Shiitake Udon Soup
If you're feeling under the weather, this udon soup—which is packed with tofu, shiitake mushrooms, and vegetables—is sure to help pick you back up.
Get the recipe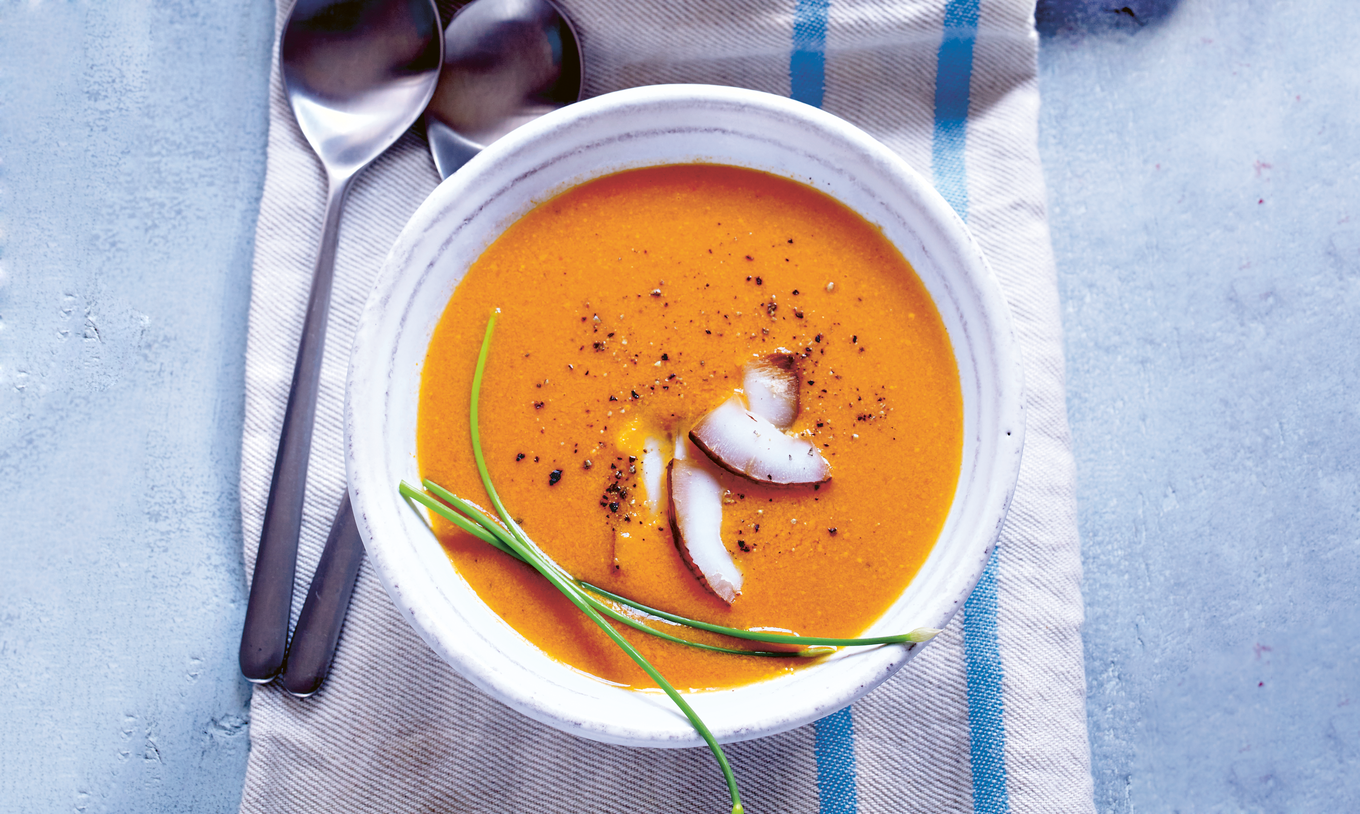 Nourish Books
23 Coconut-Tomato Soup
Coconut milk is the base of this creamy dish, which is smooth, comforting, and warming. Garlic toast is the perfect accompaniment.
Get the recipe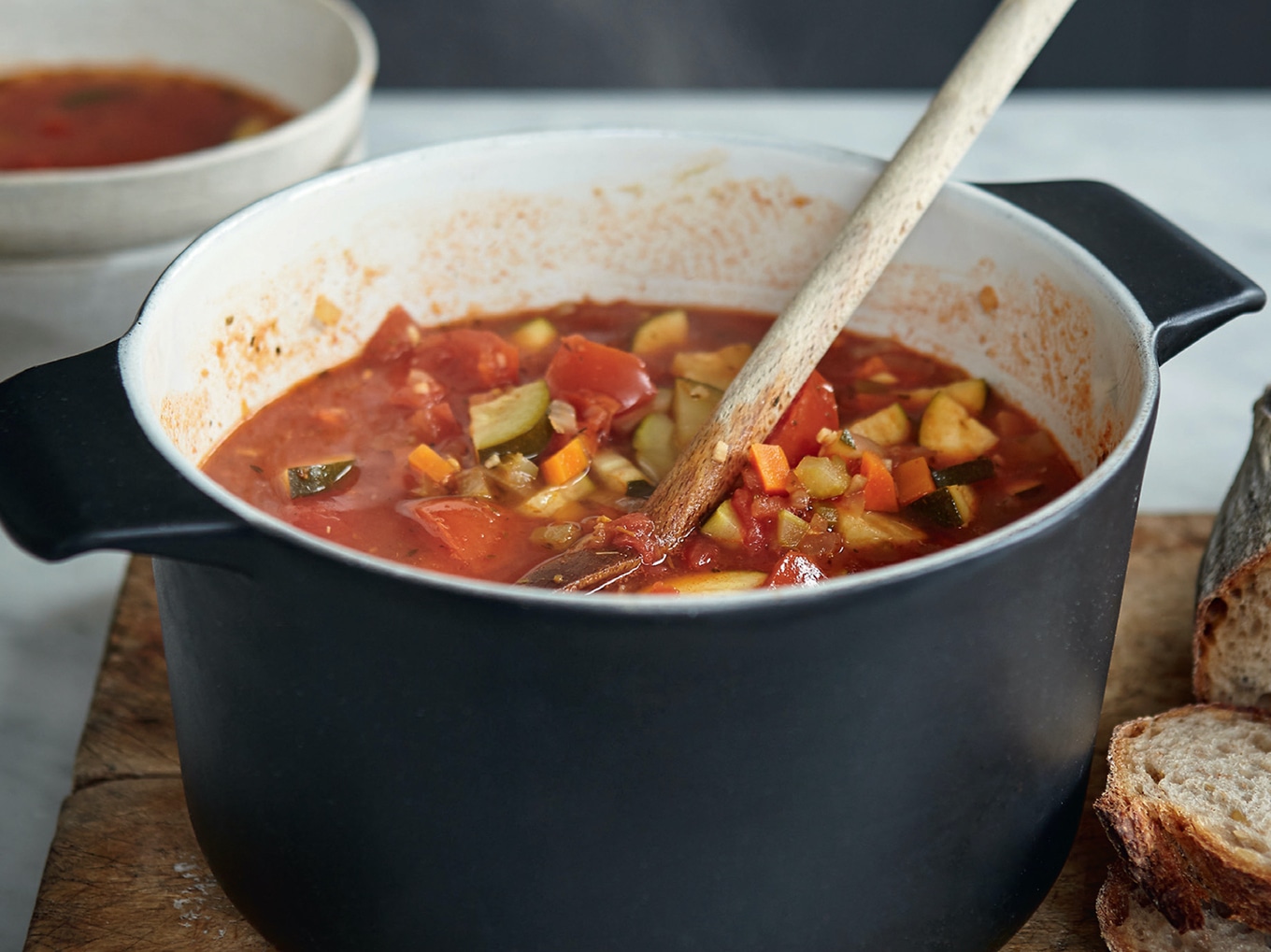 Nassima Rothacker
24 Italian Vegetable Soup
Warm, rustic country bread and olive oil are the perfect sides to go with a nourishing bowl of Italian vegetable soup.
Get the recipe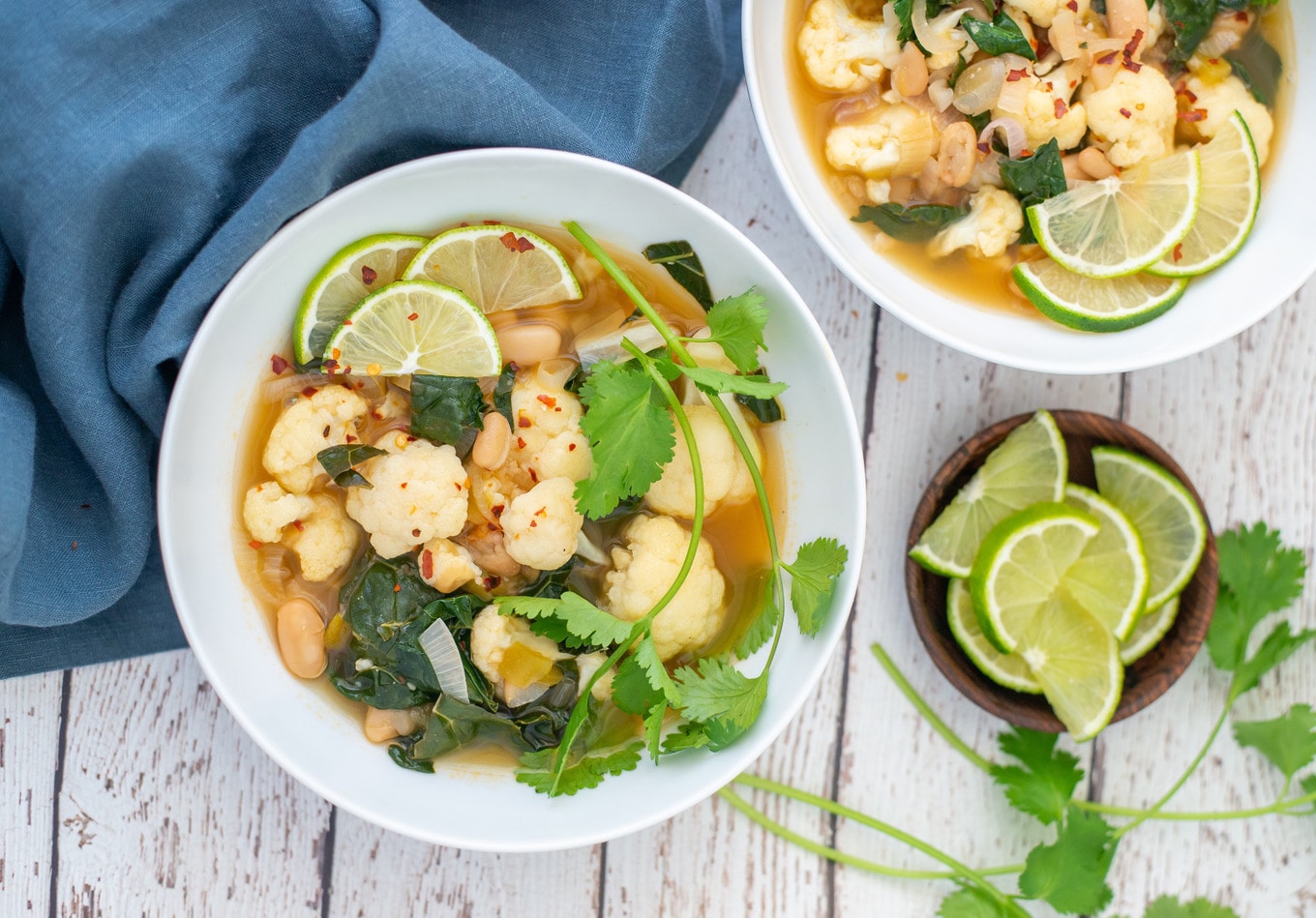 Mixed & Measured
25 Cauliflower Lime & White Bean Soup
Nutritious, refreshing, and simple to pull together, this soup is zesty and filling, making it the perfect weeknight meal.
Get the recipe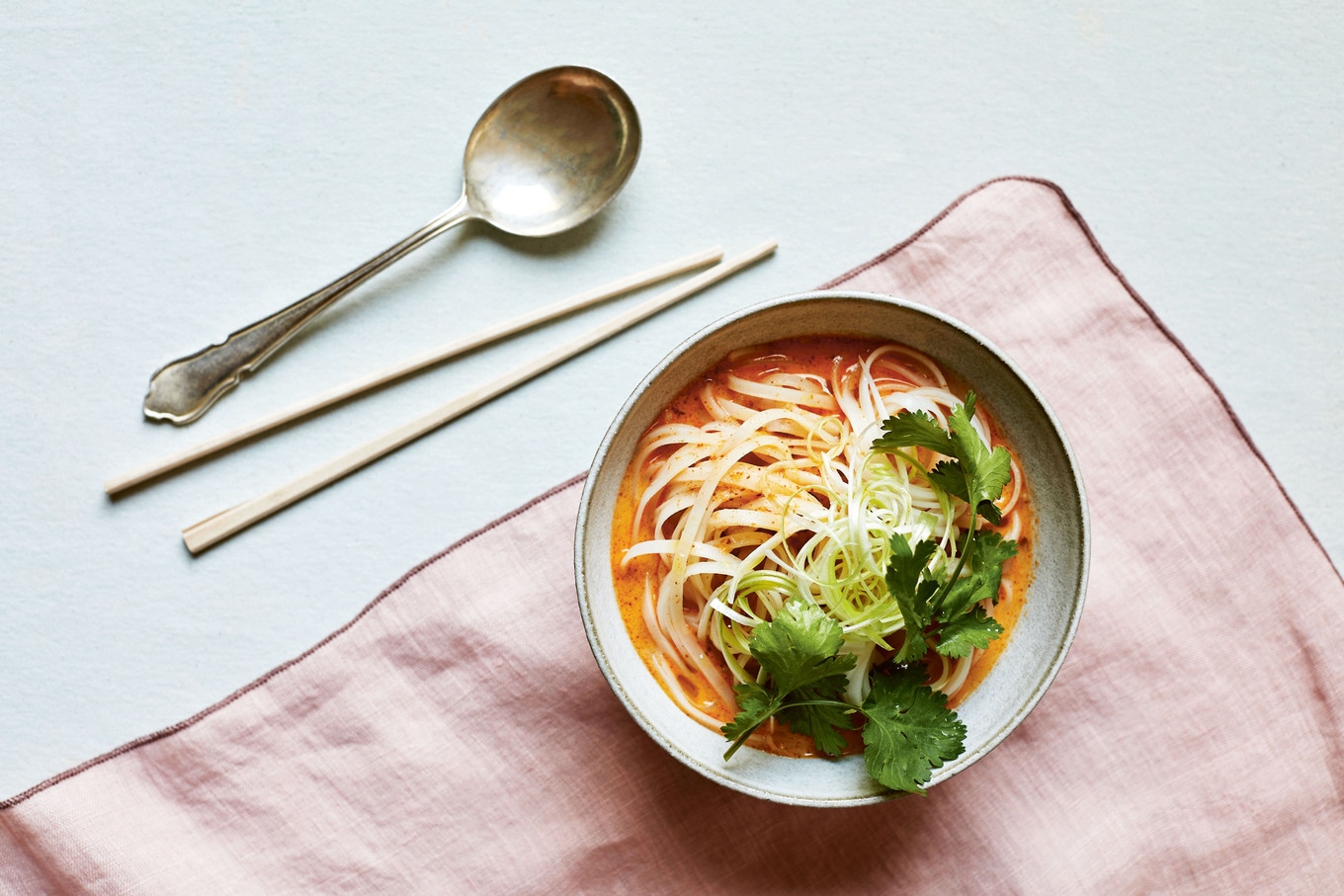 26 Spicy Vegan Noodle Soup
Just five ingredients come together, including coconut milk and red Thai curry paste, to make this simple, nourishing, spicy dish.
Get the recipe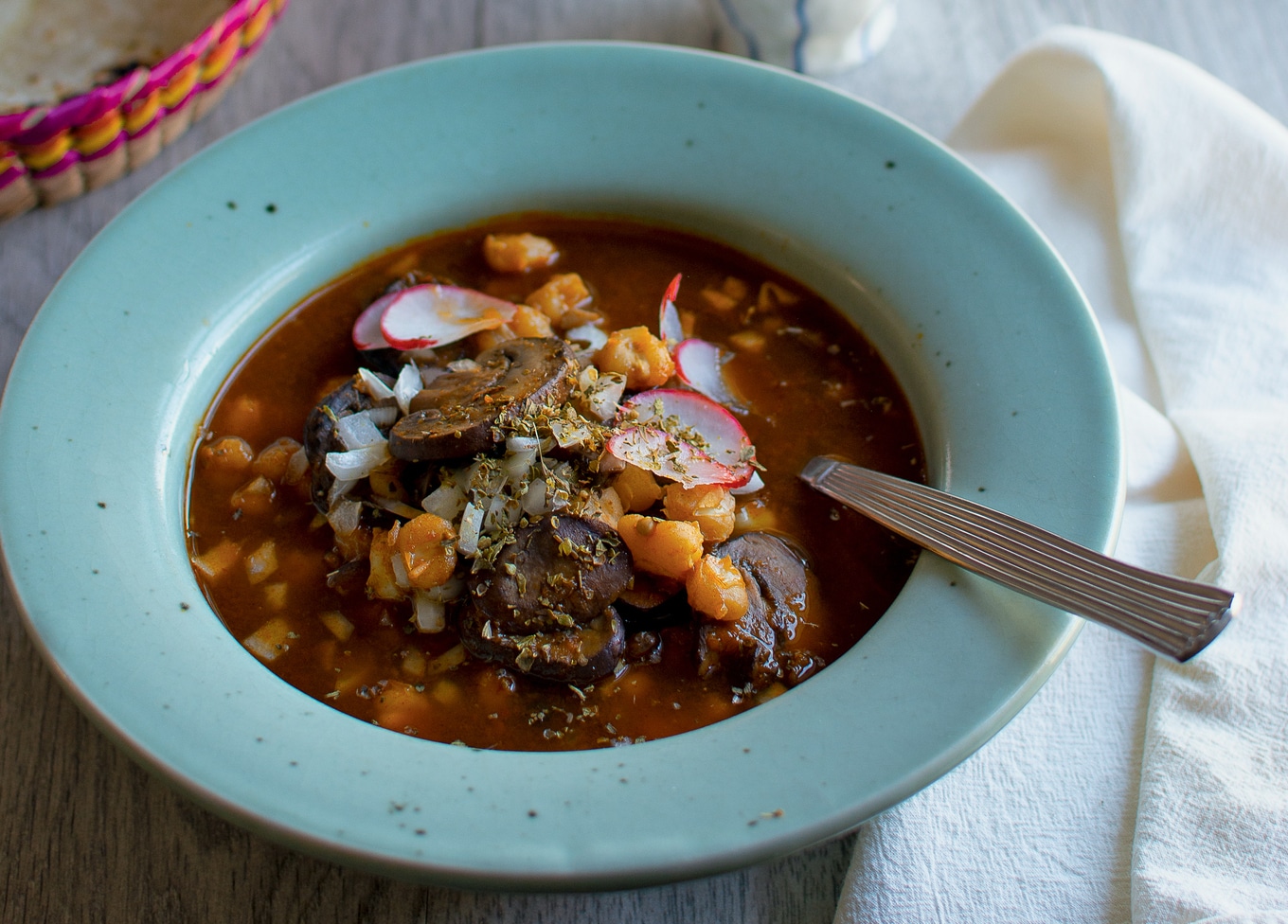 Kate Ramos
27 Red Pozole With Mushrooms and Hominy
Pozole, traditionally from Mexico, is a rich, brothy soup, usually made with meat. Instead, swap in mushrooms and hominy for a nourishing, flavorful dish.
Get the recipe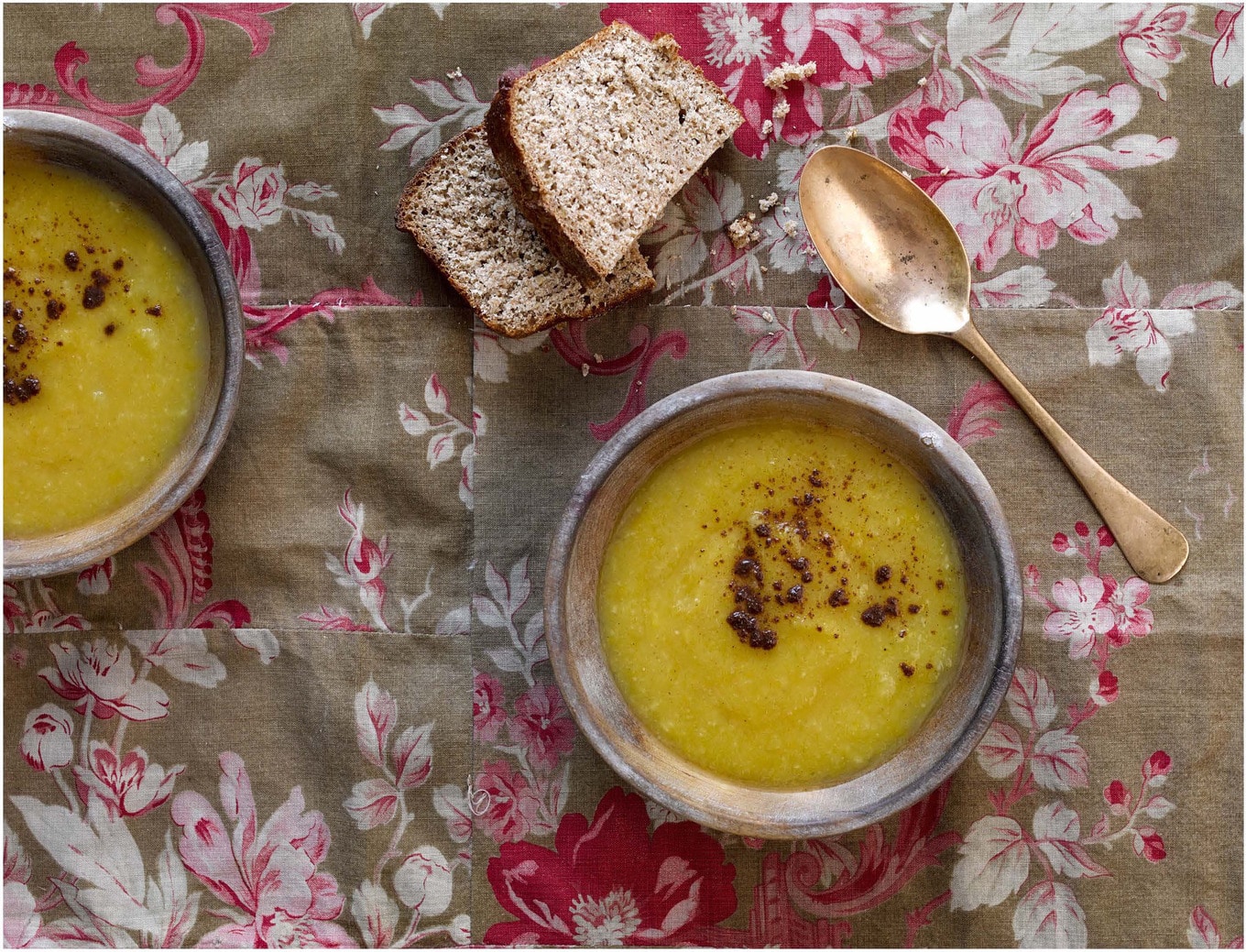 28 Pumpkin and Parsnip Soup
In this hearty soup, earthy pumpkin blends beautifully with sweet parsnip and Chinese five spice.
Get the recipe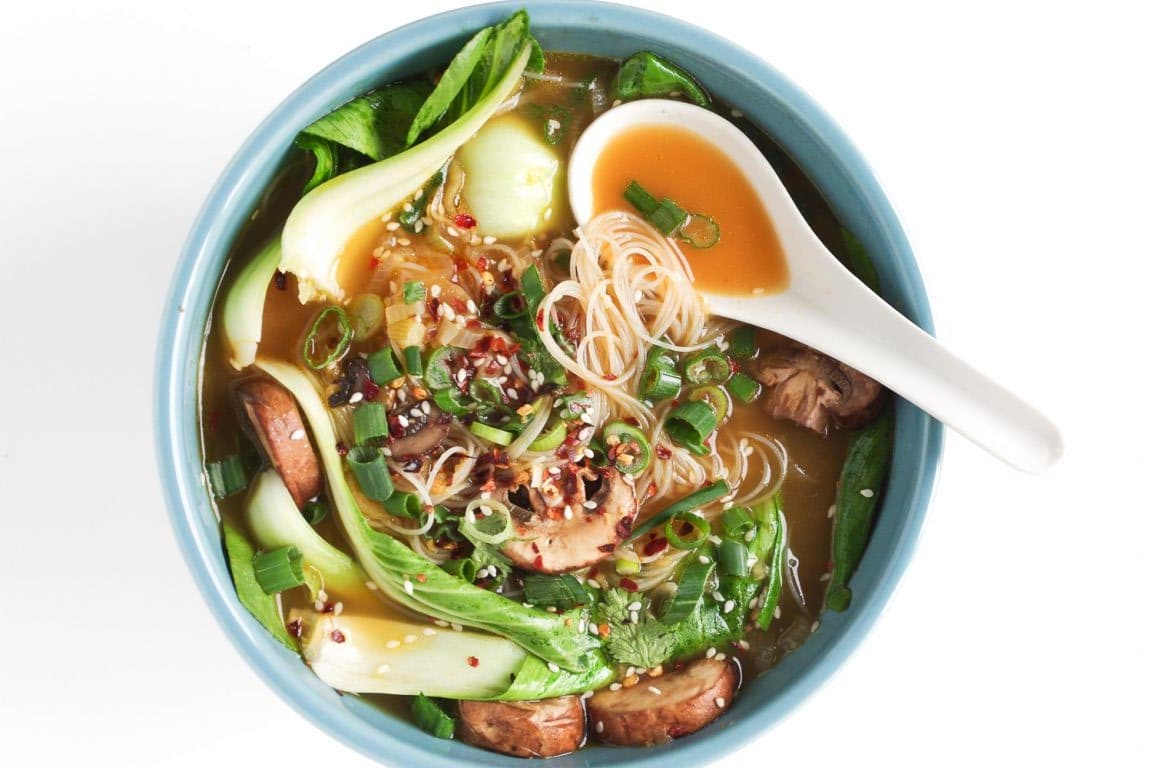 Jessica Randhawa
29 Ginger Garlic Noodle Soup With Bok Choy
When you're feeling rough, you need this vegan ginger garlic noodle soup in your life. It's the perfect combination of nutritious, comforting, and warming.
Get the recipe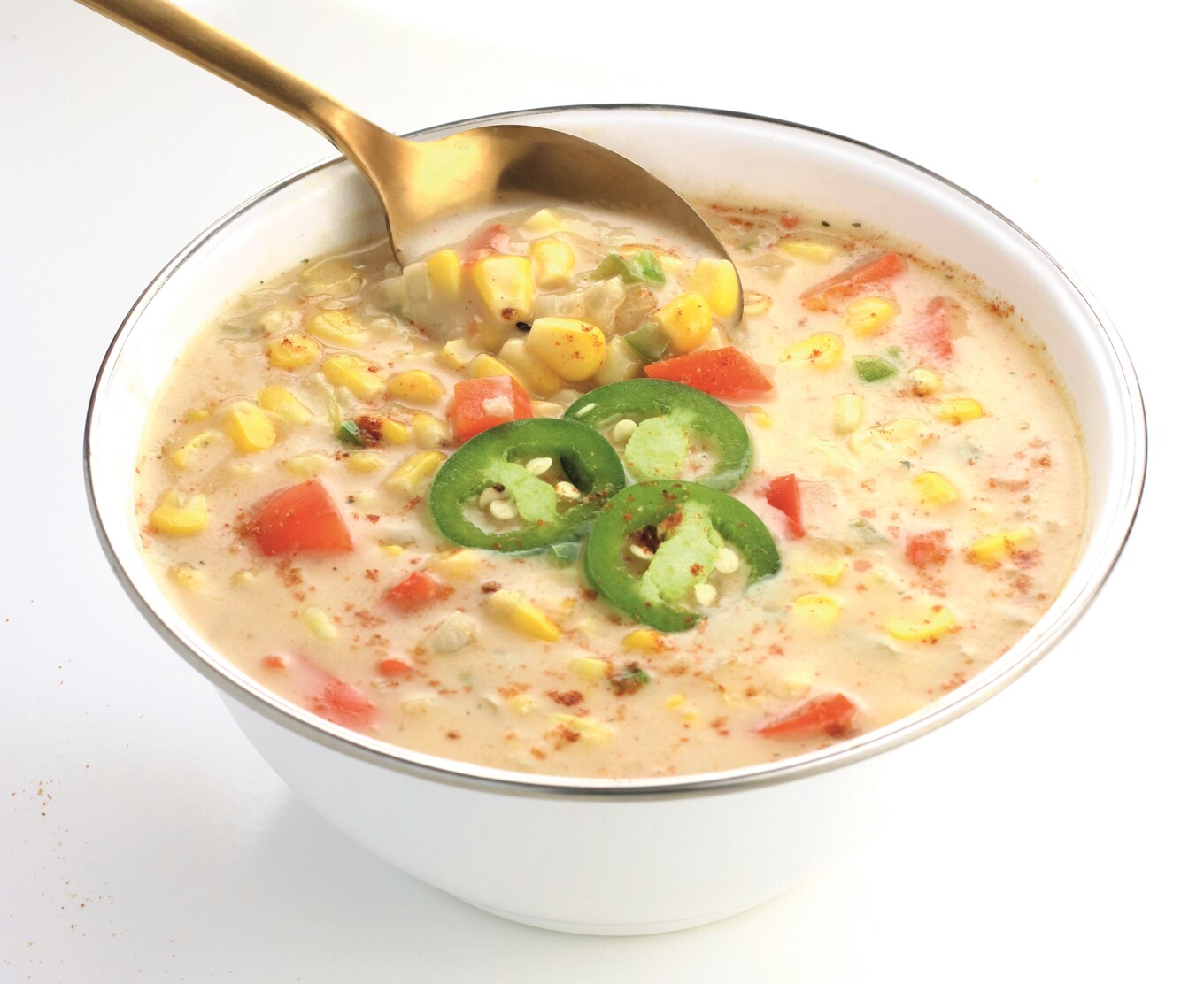 Sam Turnbull
30 Sweet and Spicy Corn Soup
This lively sweet and spicy soup is creamy, rich, and bursting with flavor. For extra corn deliciousness, serve with cornbread, too.
Get the recipe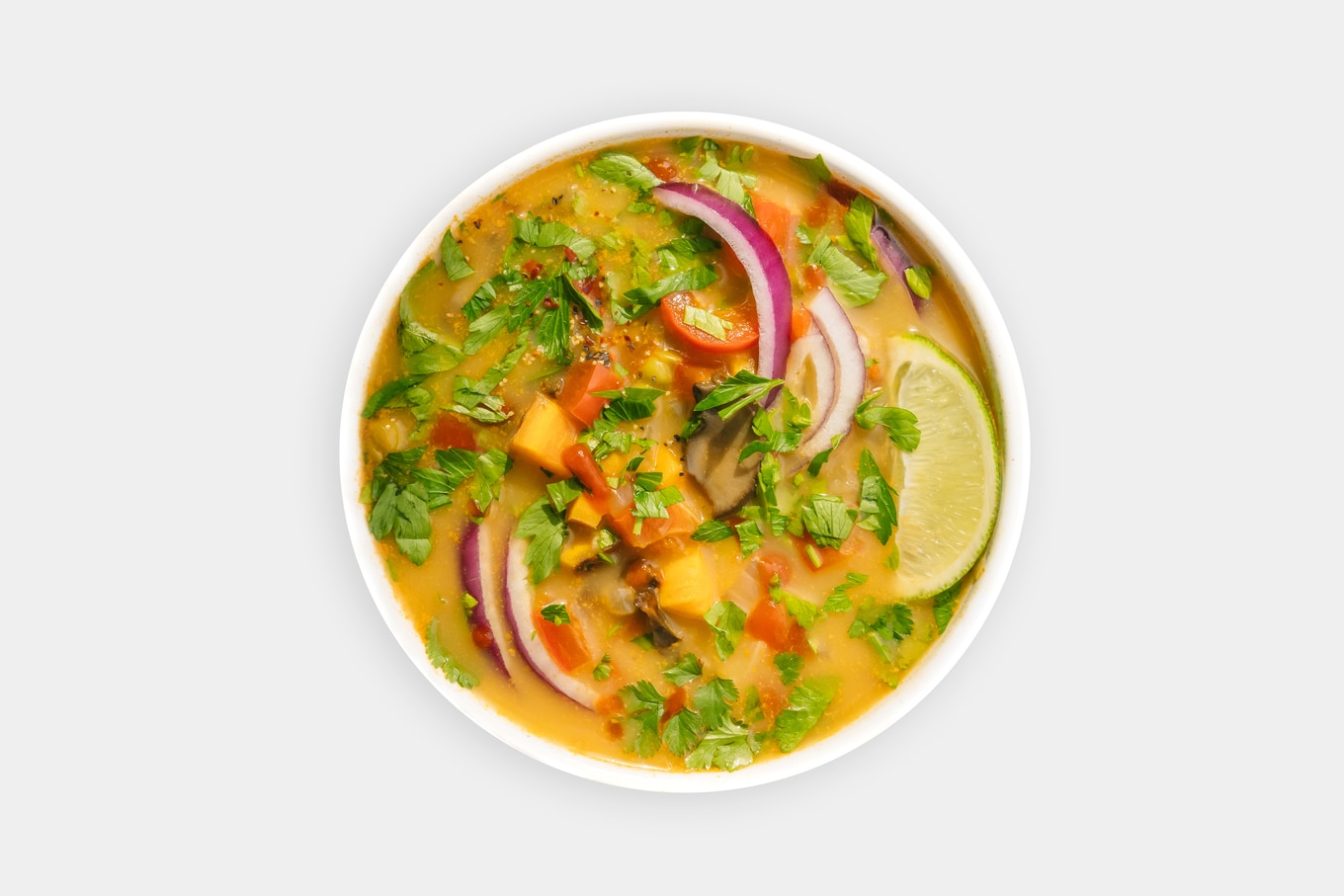 31 Thai-Inspired Red Curry Sweet Potato Soup
If you're a Thai curry fan, you'll love this aromatic red curry soup, which is loaded with nourishing sweet potato. For a meatier texture, add in some extra vegan chicken.
Get the recipe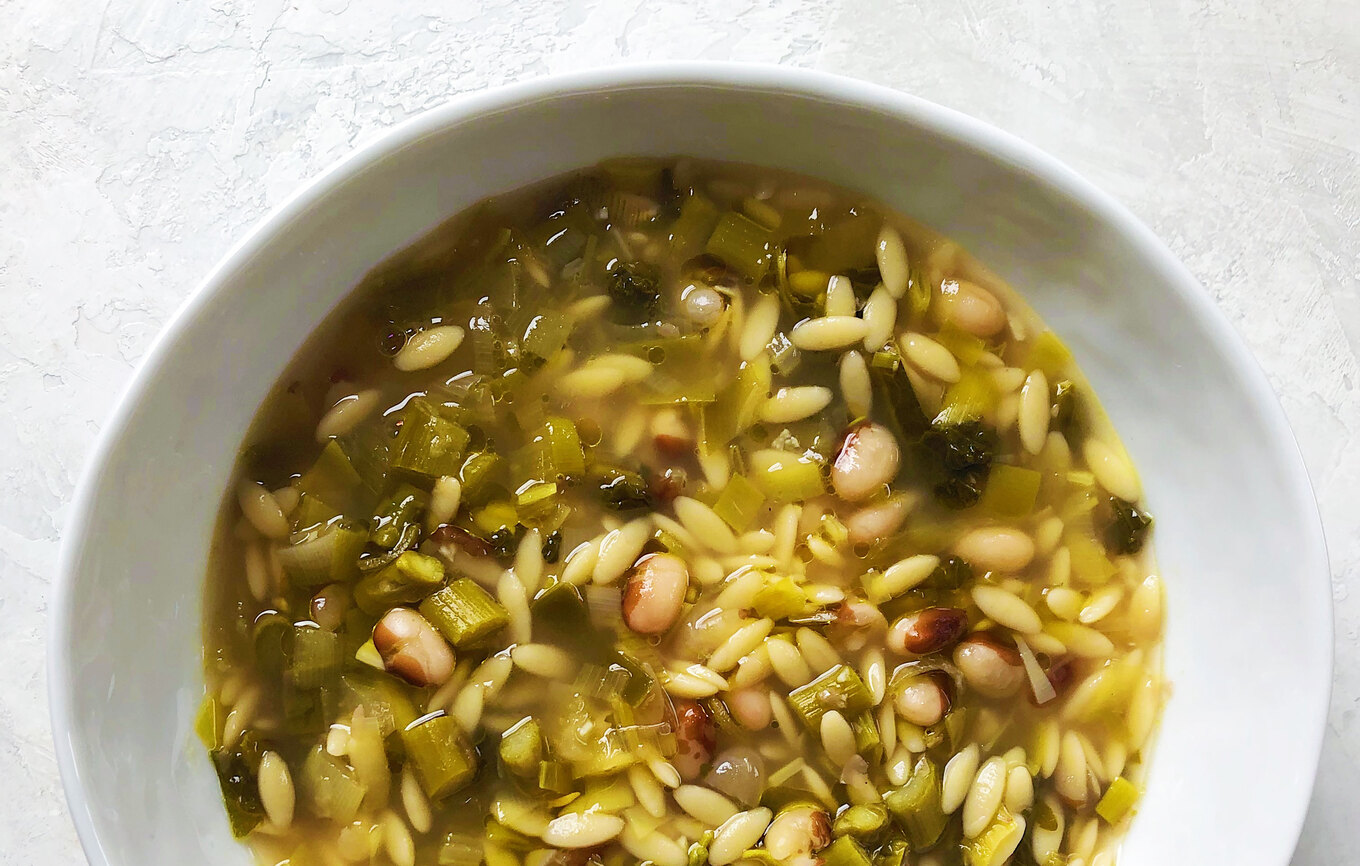 Lauren Kretzer
32 Asparagus Leek Minestrone Soup
This protein-packed soup is nourishing, healthful, and loaded with nutritious tasty vegetables, like asparagus, kale, and leeks.
Get the recipe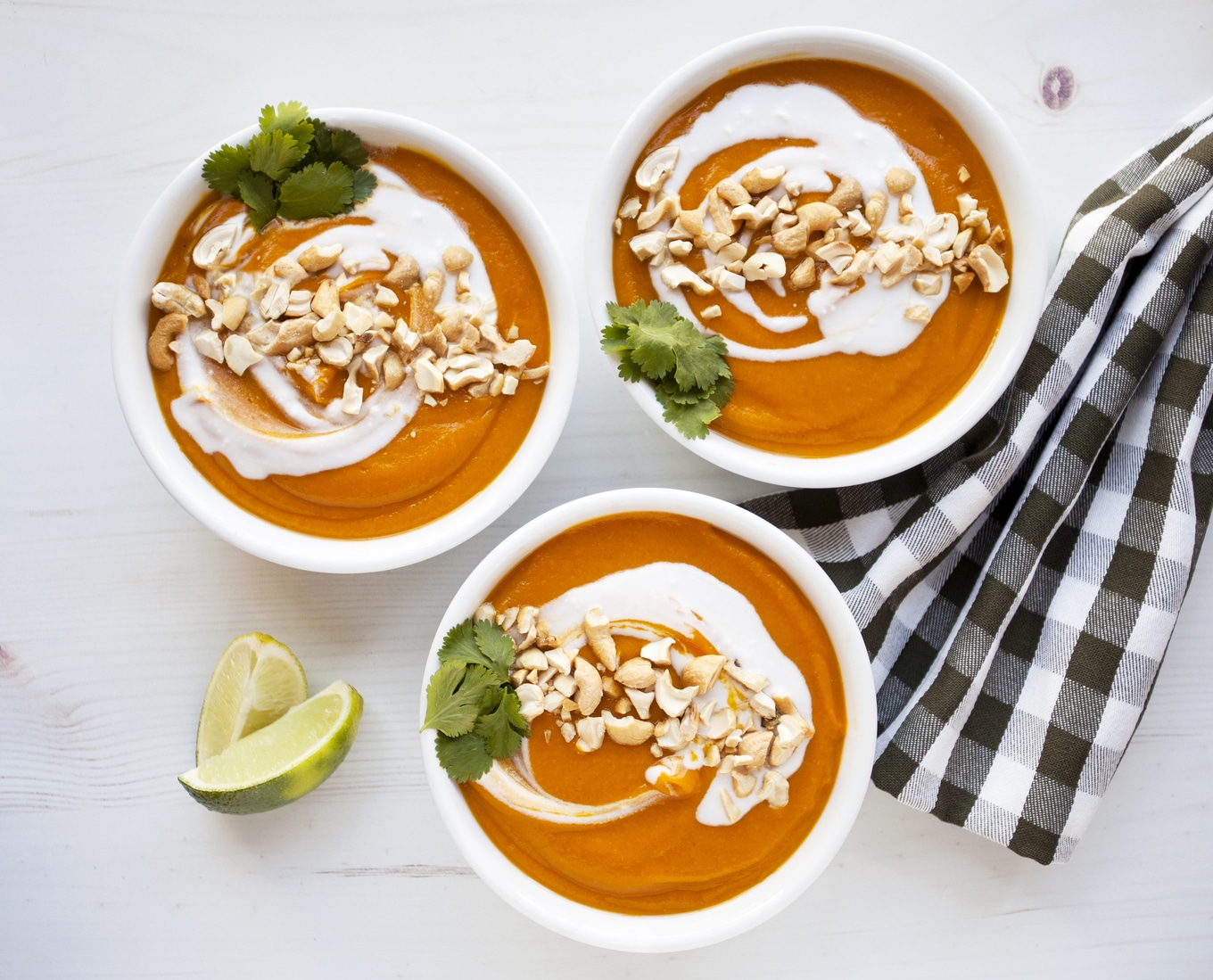 Amy Angelo
33 Carrot Ginger Turmeric Soup
Thanks to all the carrots and unpeeled sweet potatoes in the recipe, this thick and creamy soup is loaded with beta-carotene.
Get the recipe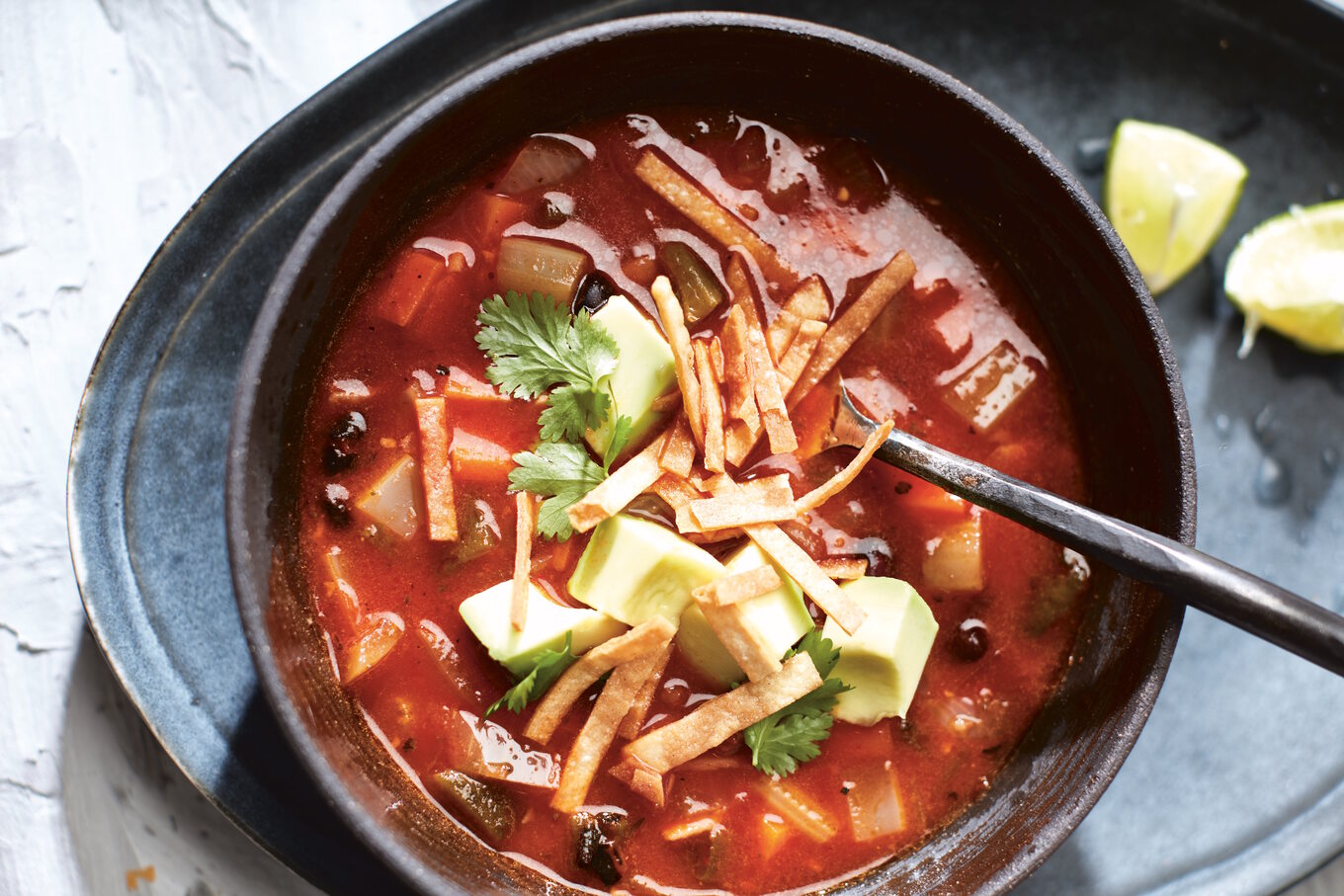 Charity Morgan
34 Sopa Azteca (Mexican Tortilla Soup)
This textured sopa Azteca features pieces of tortilla and a blend of ancho and poblano chiles for some gentle heat. Serve with plenty of vegan cheese, avocado, and lime.
Get the recipe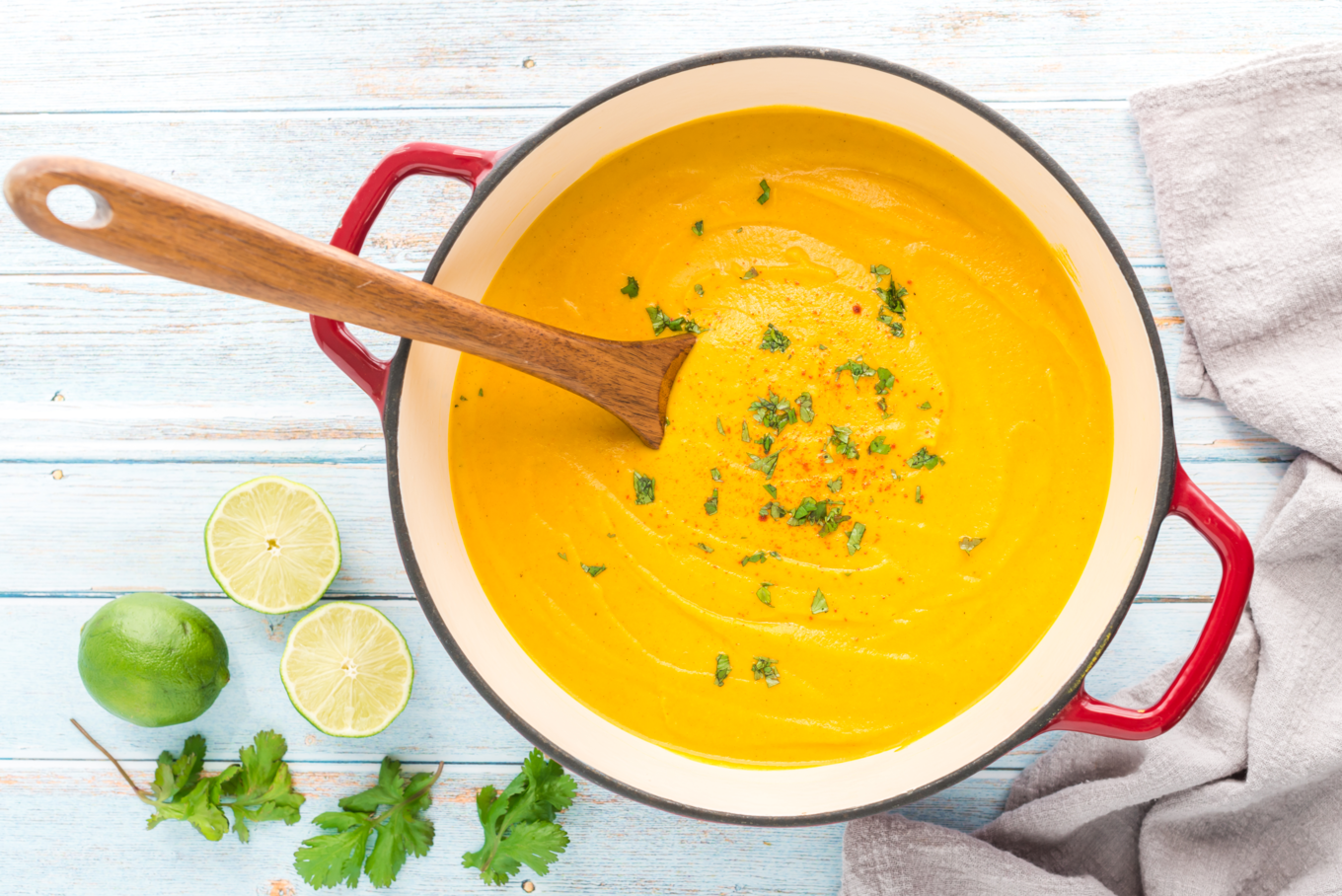 35 Creamy Curried Carrot and Lentil Soup
Carrots, onions, celery, and lentils pack this hearty, creamy curried soup with plenty of nutrients.
Get the recipe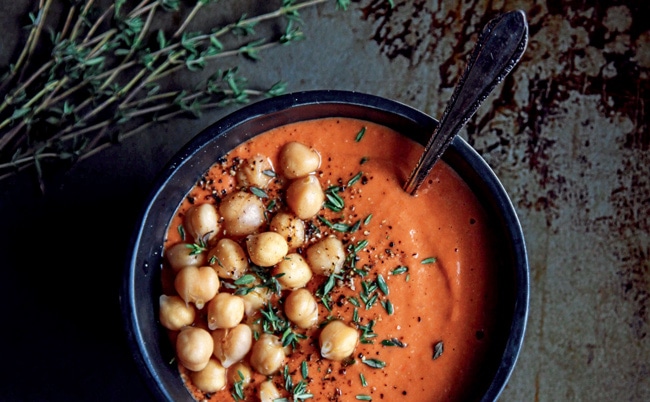 Emily von Euw
36 Easy Vegan Tomato Soup
Sometimes, you can't beat a simple tomato soup. This flavorful recipe is straightforward but plays with added ingredients like maple syrup and cashew butter.
Get the recipe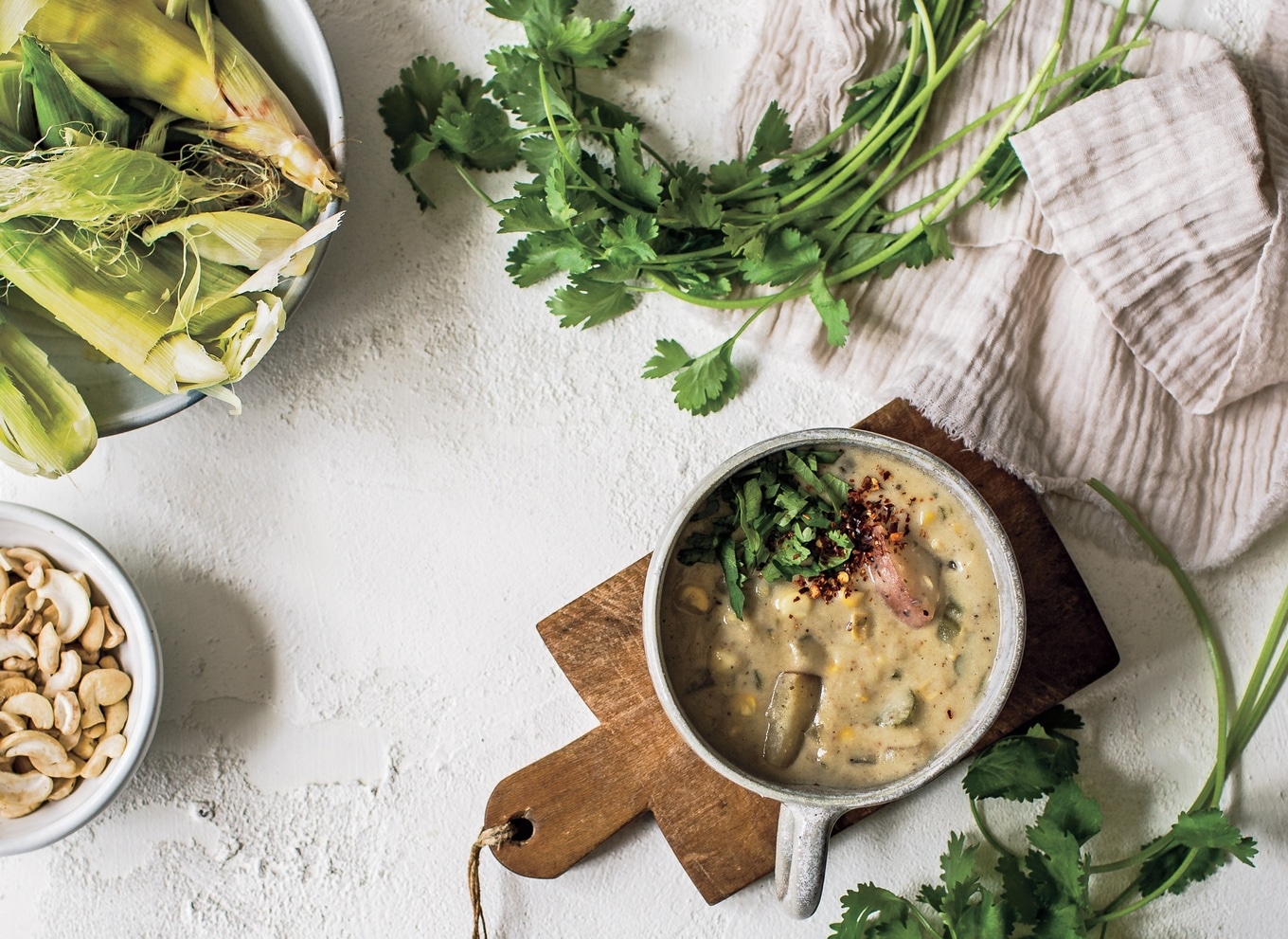 Ashley McLaughlin
37 Vegan Corn Chowder With Jalapeños
This creamy chowder is made with whole corn on the cobs, raw cashews, fresh ginger, and for a little bit of a kick, two jalapeño peppers.
Get the recipe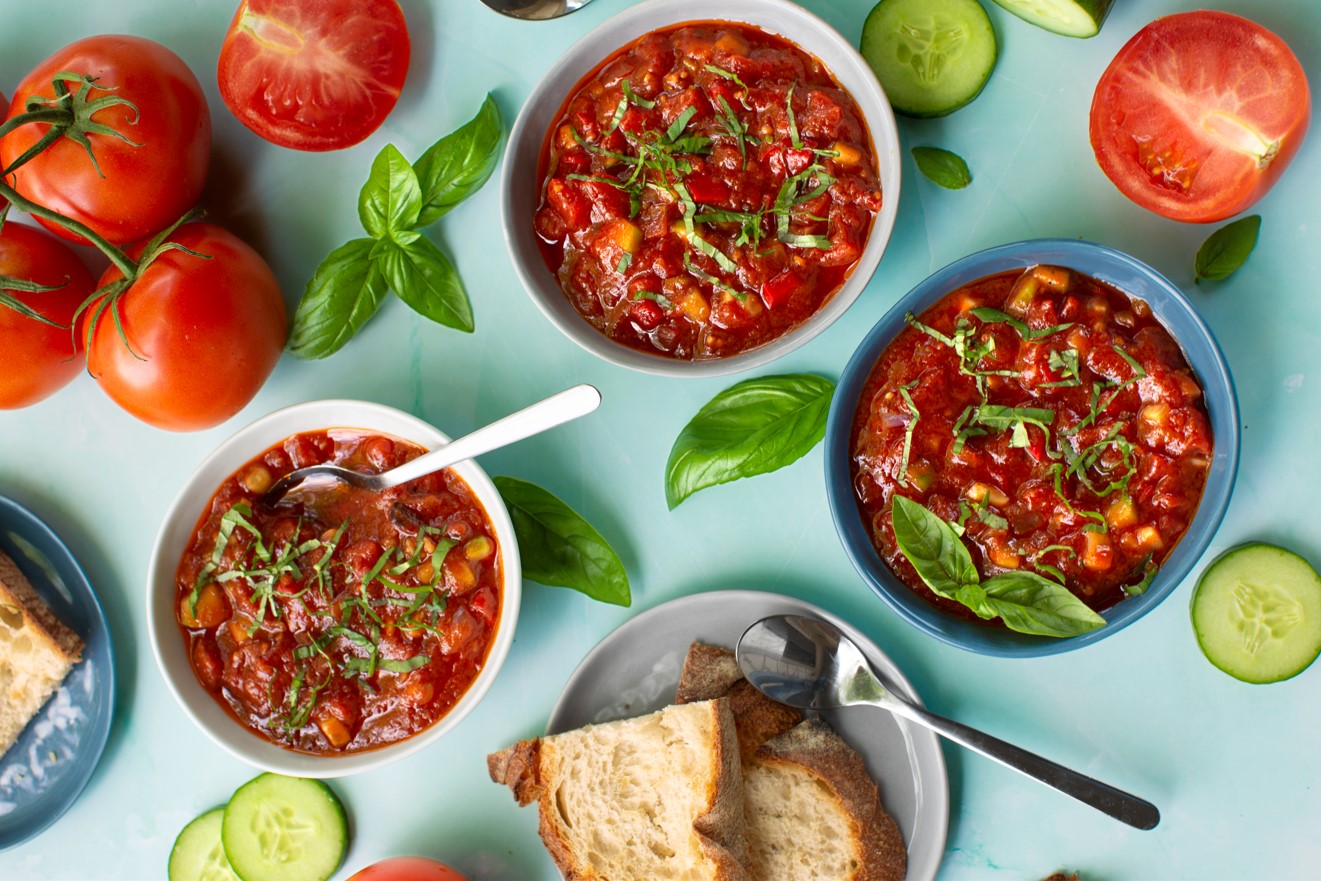 Hannah Kaminsky
38 Herby Vegan Roasted Tomato Gazpacho
Soup doesn't have to be served hot to be nourishing and comforting. This flavorful, nutrient-rich chilled gazpacho is proof of that.
Get the recipe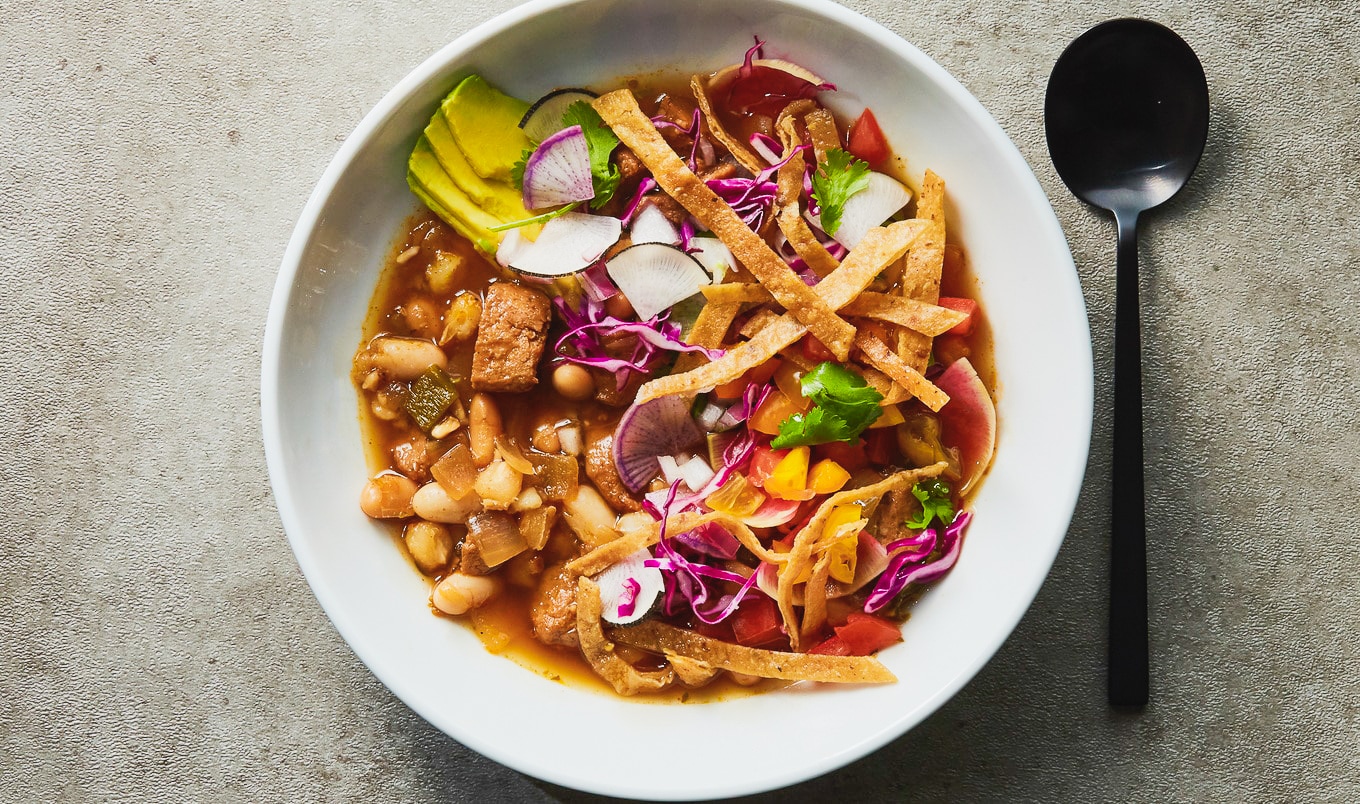 Terry Hope Romero
39 White Bean and Seitan Pozole Verde
This tasty vegan pozole verde is a little smoky, thanks to the poblano peppers, and a little sweet, thanks to the white beans. Seitan adds a delicious meaty texture.
Get the recipe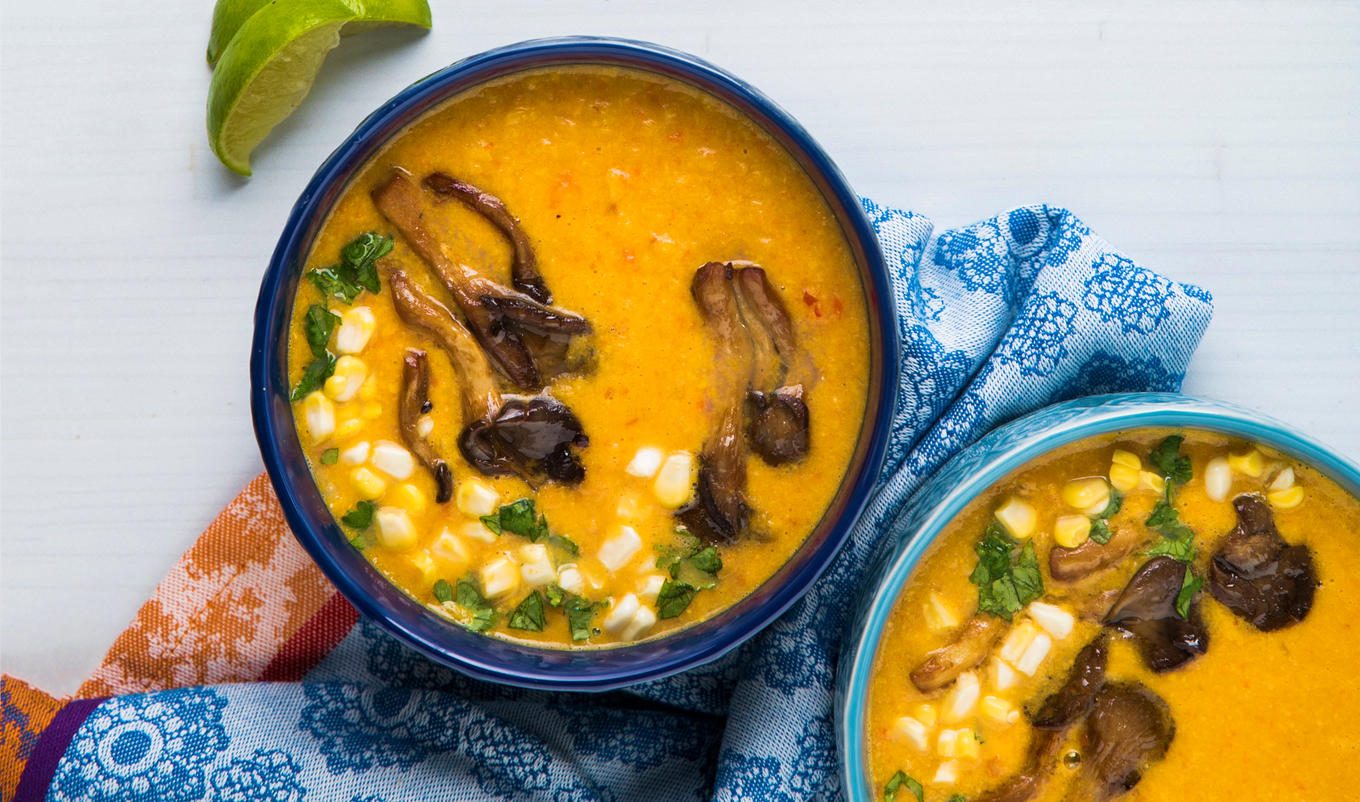 40 Spicy Thai Vegetable Chowder
This spicy, creamy chowder with oyster mushrooms and sweet corn features aromatic Thai flavors thanks to a blend of ginger, lemongrass, chilis, and cilantro.
Get the recipe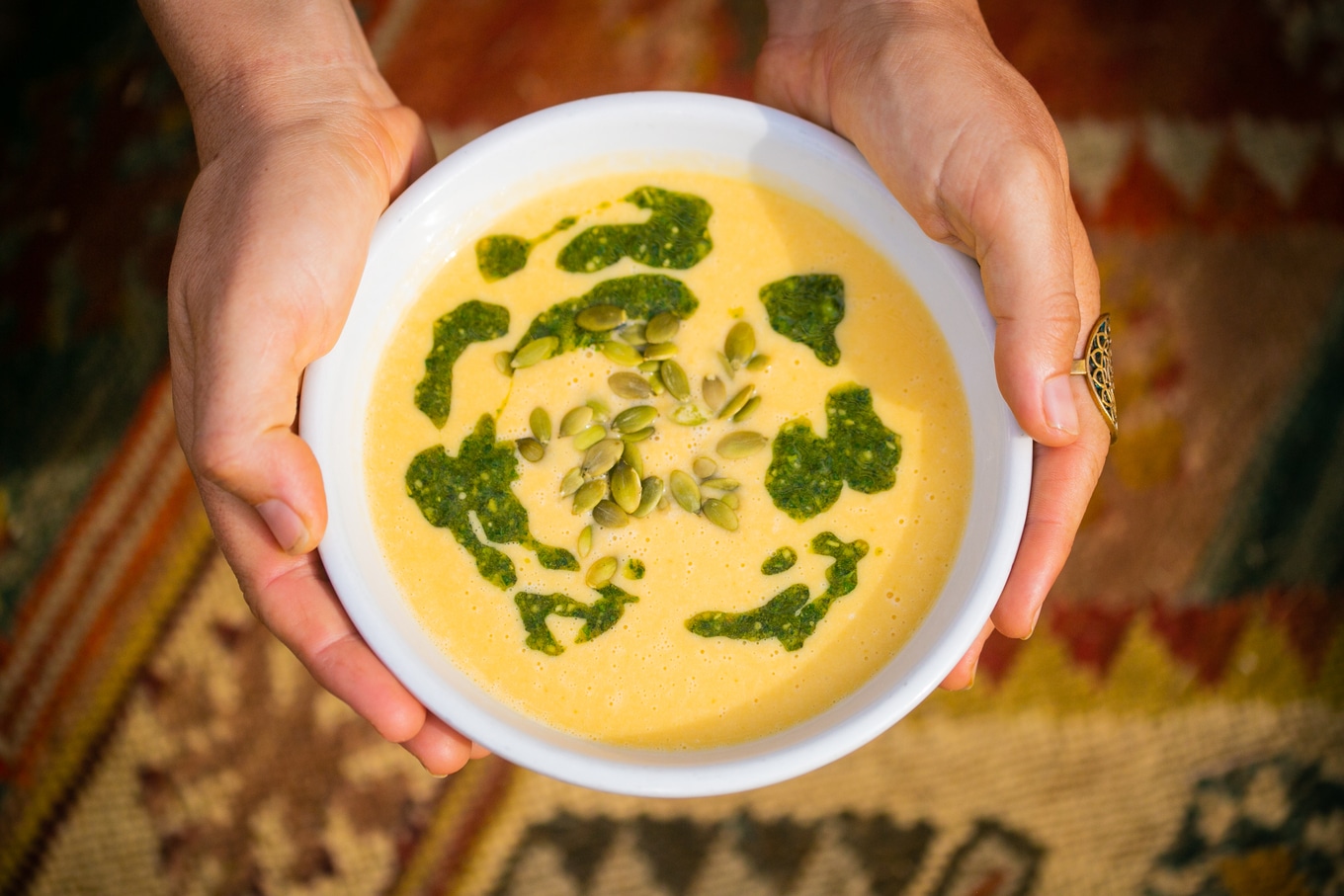 Trilogy Sanctuary
41 Gingery Butternut Squash Soup
Give your immune system a boost with this creamy, ginger soup, which features butternut squash and a Granny Smith apple in the mix.
Get the recipe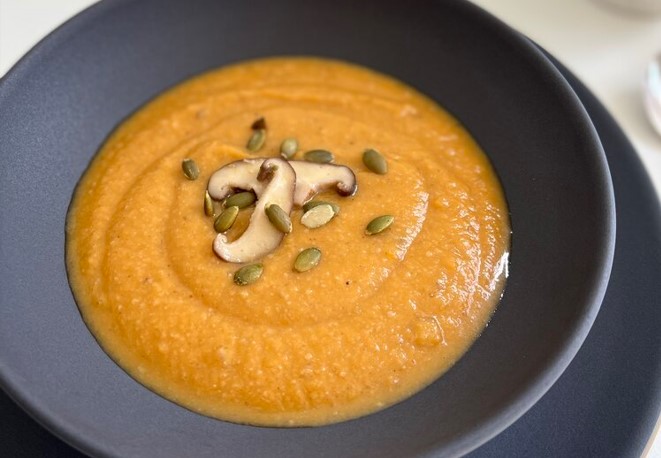 Betsy Freeman
42 Shiitake Mushroom and Butternut Squash Soup
This creamy soup has a deep, rich umami flavor, thanks to the shiitake mushrooms, which blend perfectly with butternut squash.
Get the recipe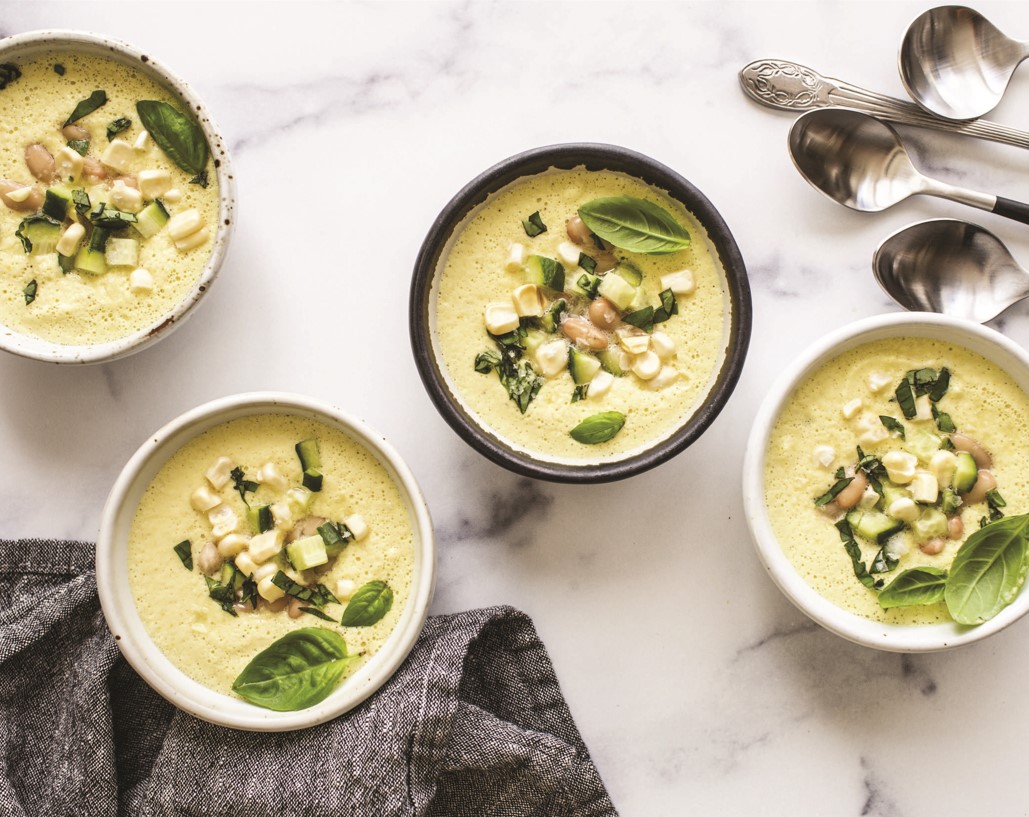 Alex McLaughlin
43 Sweet Corn and Pepper Gazpacho
This juicy chilled soup, which is made with yellow bell peppers, corn, and cucumber, is one to bookmark for the summer months.
Get the recipe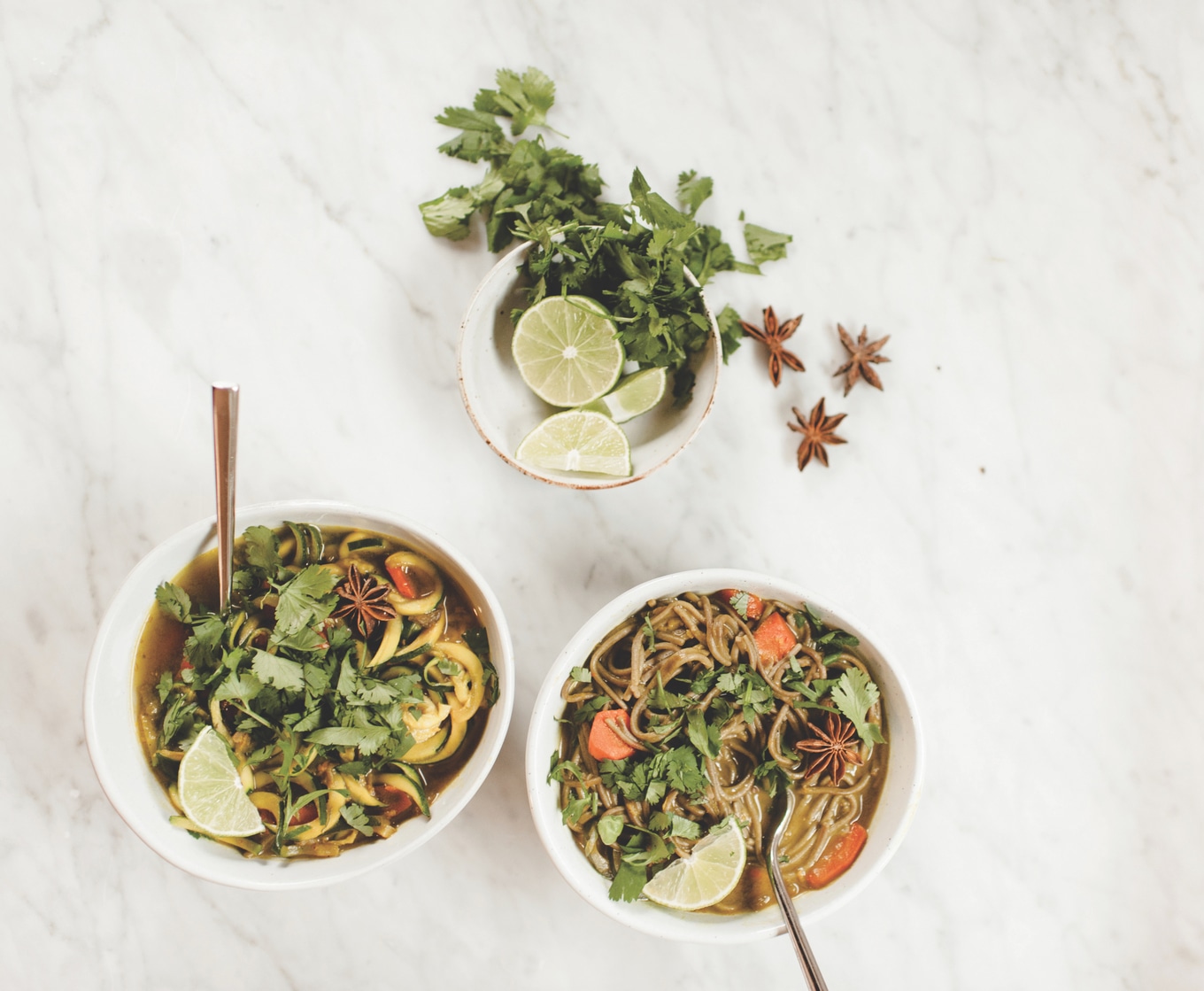 Carina Skrobecki Photography
44 Pho-Inspired Zucchini Noodles
This Vietnamese-inspired soup features zucchini noodles, jalapeños, and hearty vegetable broth.
Get the recipe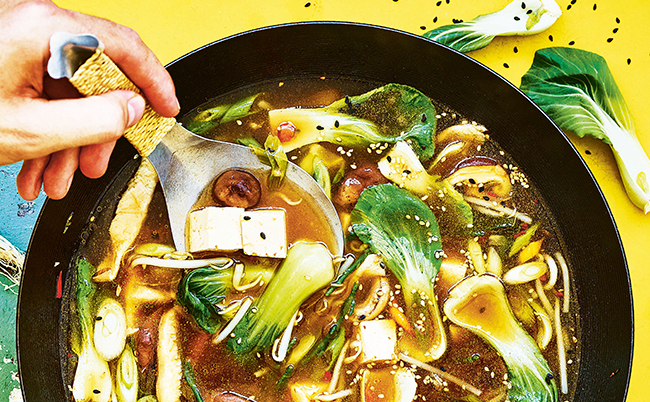 Simon Smith and Adam Laycock
45 Sweet & Spicy Broth
Made in a wok, this punchy soup is the perfect blend of sweet and spicy. It's set to become your new go-to.
Get the recipe