When you need something hot and comforting, you can't go wrong with a bowl of soup. While there will always be something special about a homecooked broth (and you can find all of our recipes for vegan soup here!), let's be honest: sometimes, it's easier just to crack open a tin and heat it up. To help you out next time you're looking for a tasty and quick lunchtime dish, here, we've compiled some of the best plant-based options from Campbell's, one of the most well-known soup brands in the US.
Are any Campbell's soups vegan?
While many of Campbell's options are made with meat and dairy, the company—which is officially called the Campbell Soup Company and has been operating for more than a century—does offer a number of vegetarian options, many of which fall under its Well Yes! range. The latter was launched back in 2016 and aims to offer consumers ready-to-serve soups made with "clean, simple, and nutritious" ingredients.
"We thought differently about the creation of this soup, from flavor combinations to our package design to the types of ingredients we sourced," said Sophie Arsenlis, Campbell's director of marketing at the time of the launch. "With the Well Yes! brand, we are saying 'yes' to real food and well-being by only using ingredients that consumers know and trust."
Now, the line even includes plant-based meat options, like Plant Based Chick'n Noodle Soup. But bear in mind that not all of these are vegan, as some of the recipes contain ingredients like egg whites. That said, the brand does have several options that are totally animal-free. Here, we've gathered some of the best, most comforting options.
Vegan soup options from Campbell's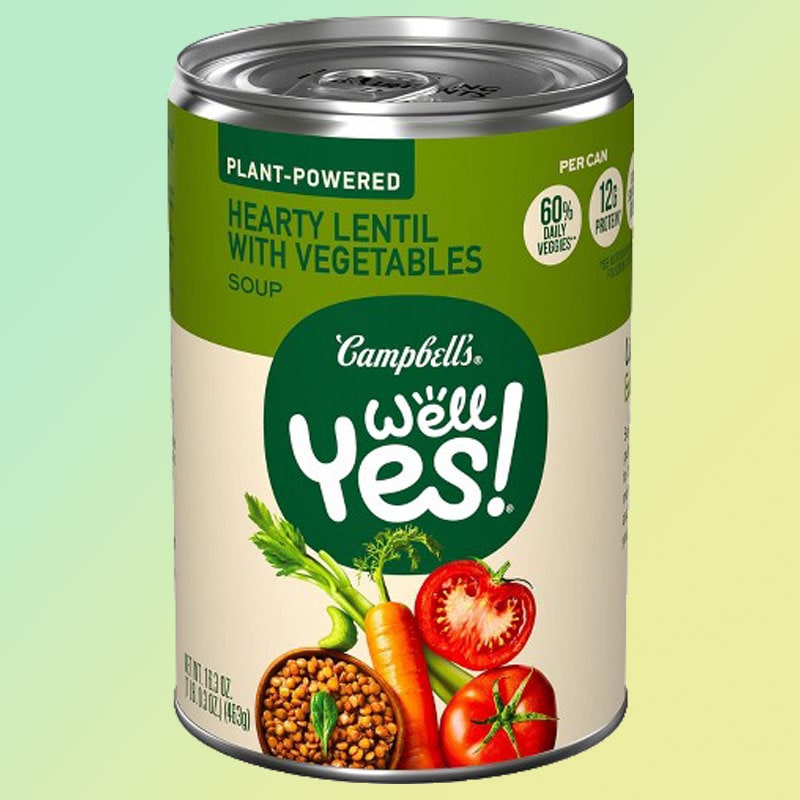 Campbell's
1 Well Yes! Hearty Lentil Soup With Vegetables
This plant-powered soup has around 60 percent of your daily veggies, according to Campbell's. It makes sense: it's loaded with carrots, lentils, tomatoes, spinach, and garlic. This is one for when you're feeling a little run-down, hit with a seasonal cold, or just need a little bit of a pick-me-up. Don't forget the vegan butter and crusty bread.
Find it here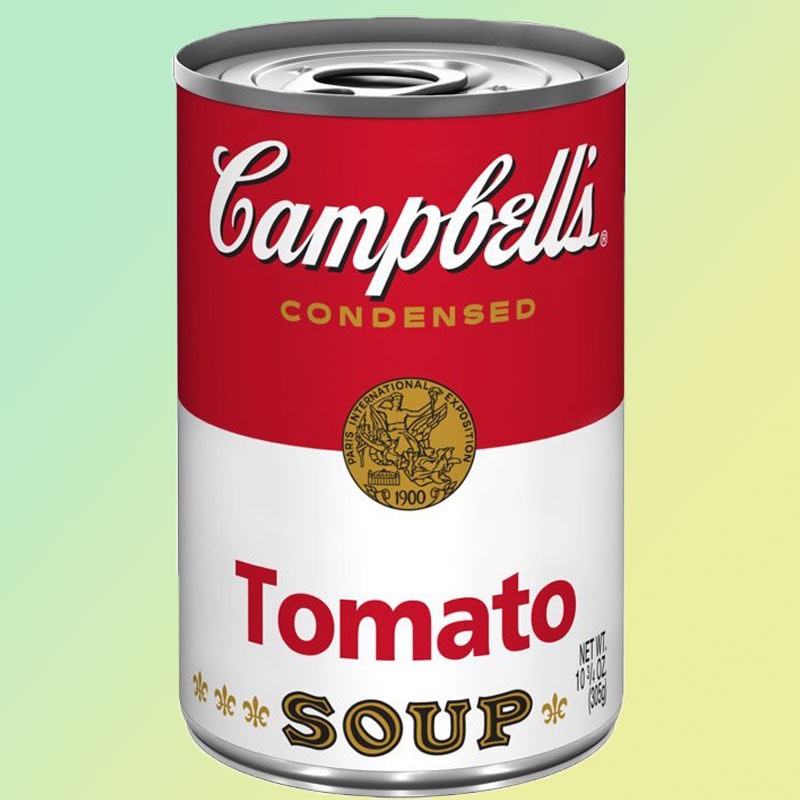 Campbell's
2 Tomato Soup
One of Campbell's most popular options, Condensed Cream of Tomato Soup, is not vegan, because it contains double cream. But if you're in the mood for a steaming bowl of nourishing tomato soup, don't worry! The company can still deliver what you're craving. Campbell's Healthy Request Tomato Soup is totally dairy-free.
Find it here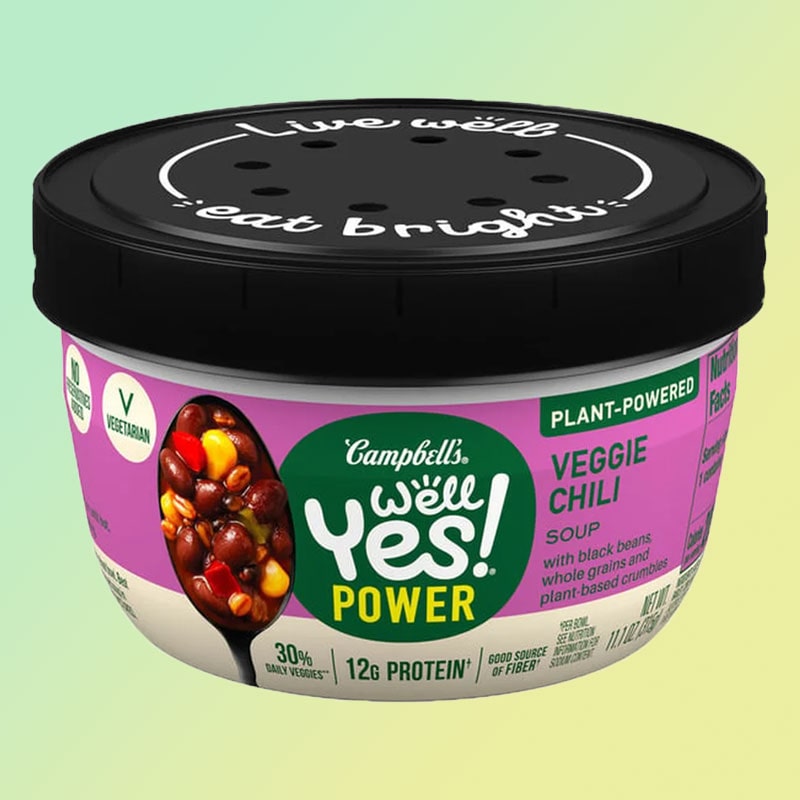 Campbell's
3 Well Yes! Veggie Chili Soup
If you prefer a meaty soup, this option from the Well Yes! Range contains plant-based meat crumbles, which are combined with black beans and whole grains for extra protein and fiber. It's delicious on its own, with a baked potato, or with a side of rice. The ultimate easy midweek lunch.
Find it here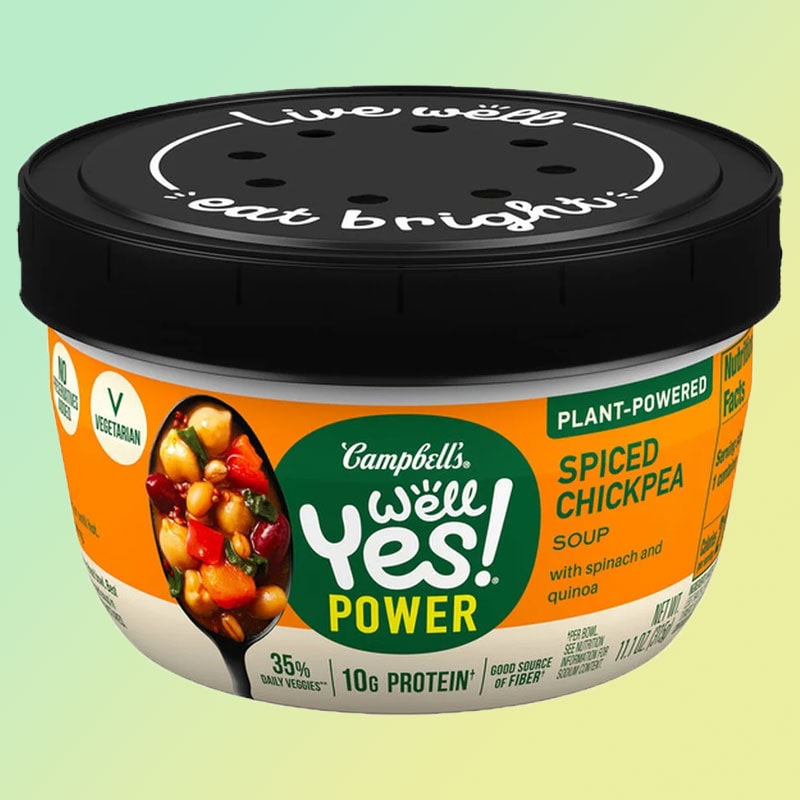 Campbell's
4 Well Yes! Power Spiced Chickpea Soup
Chickpeas are a good source of protein, fiber, vitamins, and minerals, plus they're super tasty, so they're the ideal base for this spiced soup from Campbell's. Spinach, quinoa, and curry spices are featured too for extra nutrients and, of course, arguably the most important part: flavor.
Find it here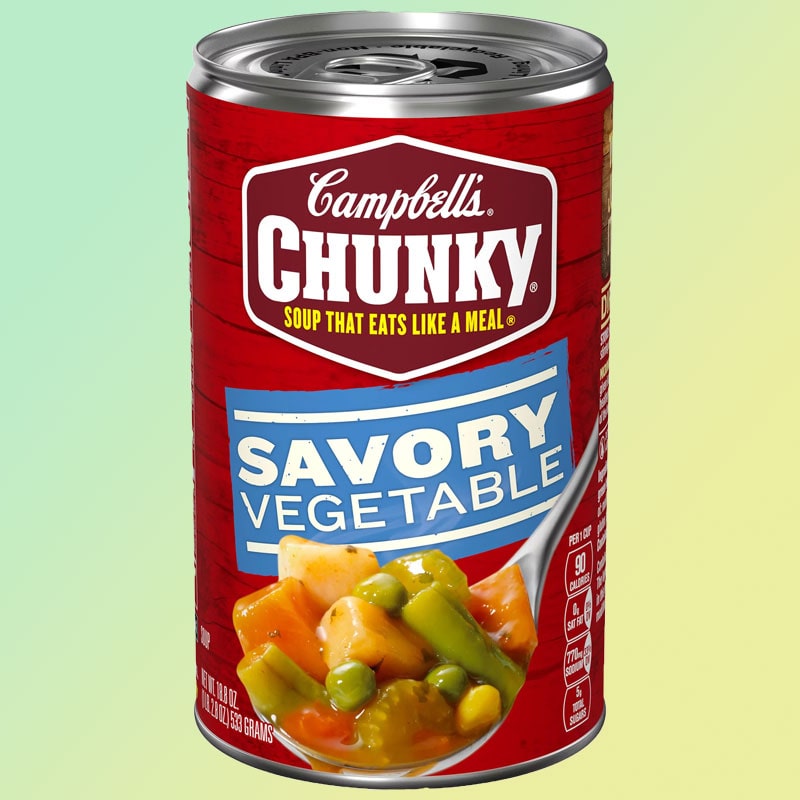 Campbell's
5 Chunky Savory Vegetable Soup
Sometimes it's easy to pack in your 5-a-day, and other times, it's a little more tricky. But, thanks to its delicious, satisfying blend of potatoes, carrots, corn, green beans, peas, and tomato broth, this Chunky Savory Vegetable option from Campbell's takes the stress out of eating healthy.
Find it here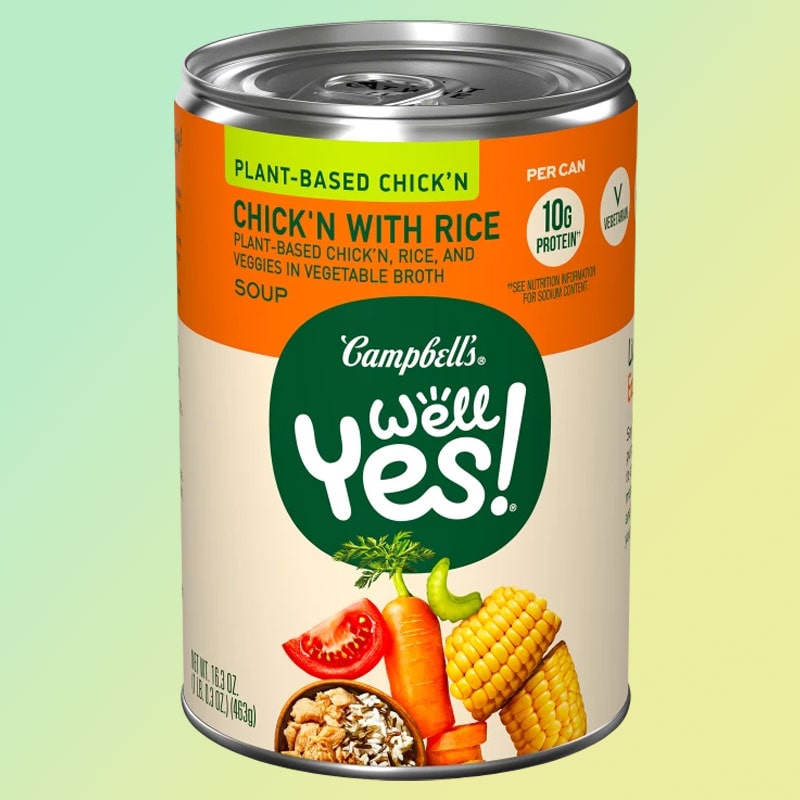 Campbell's
6 Well Yes! Plant Based Chick'n With Rice Soup
Not all of Campbell's vegan chicken options are vegan, but if you love the taste and texture of plant-based meat, you're in luck, the Plant Based Chick'n With Rice Soup is totally egg- and dairy-free. It's warm, it's comforting, and, as always, it's packed with flavor.
Find it here
For more on vegan soup, read:
Here at VegNews, we live and breathe the vegan lifestyle, and only recommend products we feel make our lives amazing. Occasionally, articles may include shopping links where we might earn a small commission. In no way does this effect the editorial integrity of VegNews.