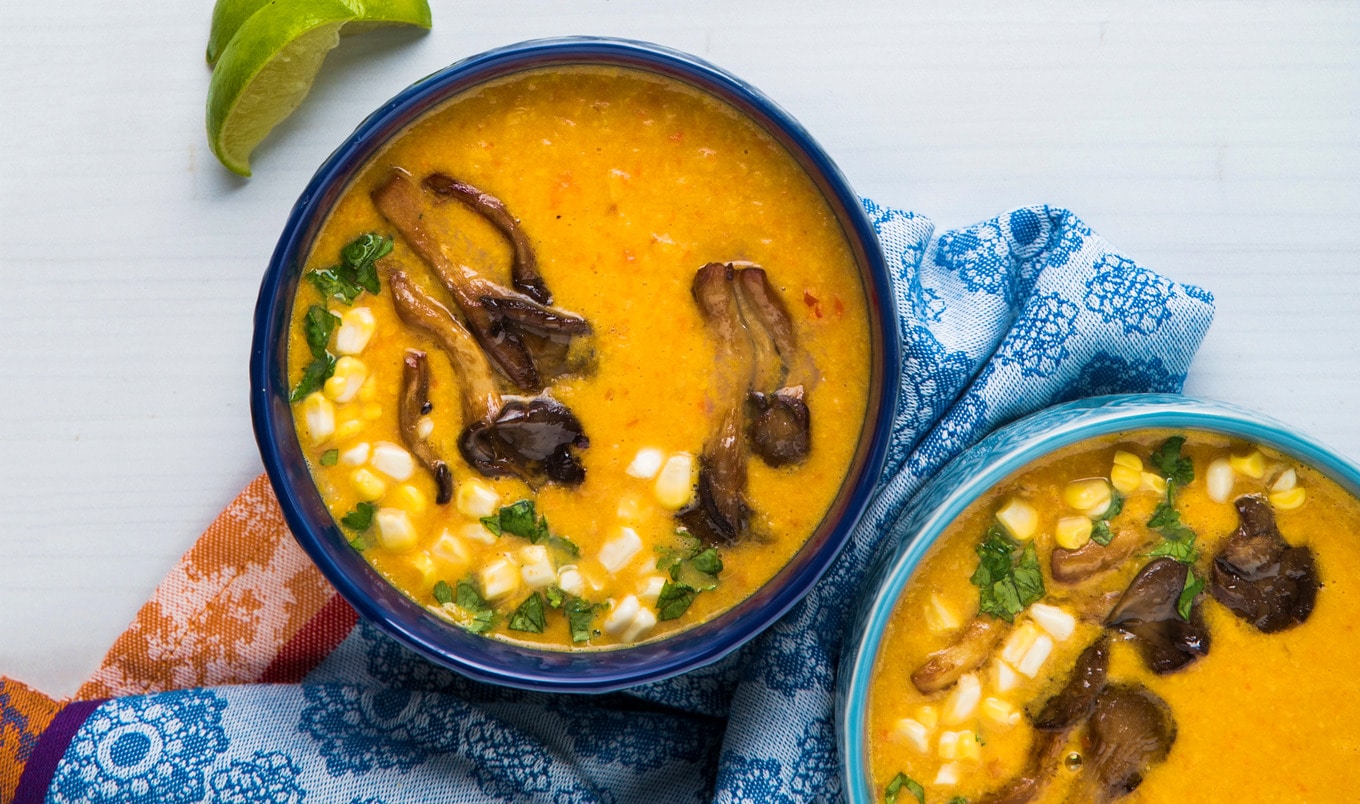 Oyster mushrooms and sweet corn are infused with classic Thai flavors in this spicy, creamy chowder.
May 3, 2020
Aromatic Thai flavors from ginger, lemongrass, chilis, and cilantro infuse this heavenly soup from The Healthspan Solution cookbook.
What you need:
½ teaspoon coriander seeds
1 medium yellow onion, diced
2 garlic cloves, minced
1 tablespoon minced fresh ginger
2 tablespoons finely chopped lemongrass
3 Thai chiles, deseeded and minced
1 cup diced carrots
1 cup diced red bell pepper
½ cup low-sodium vegetable broth
½ teaspoon crushed red pepper flakes
4 cups frozen corn kernels, thawed, divided
2 cups coconut water
1 cup unsweetened vegan milk
2 cups sliced oyster mushrooms
1 teaspoon low-sodium tamari
¼ cup minced fresh cilantro leaves
¼ cup lime juice
What you do:
In a large pot over medium heat, lightly toast coriander seeds for 60 seconds. Add onions, garlic, ginger, lemongrass, and chiles. Sauté over medium heat, stirring often, for 3 minutes (if the pan gets too dry, add a small amount of water or broth). Add carrots, bell pepper, and vegetable broth and cook, stirring often, for 5 minutes more.
Add red pepper flakes, 2 cups corn kernels, coconut water, and milk. Bring to a boil over high heat. Cover, reduce heat to low, and simmer for 10 minutes.
While soup simmers, in a separate medium pan over medium heat, sauté oyster mushrooms with tamari for 3 minutes.
Using an immersion blender, carefully blend vegetable and milk mixture until smooth and creamy. Stir in remaining 2 cups corn kernels and sautéed oyster mushrooms, and simmer over medium-low heat for 5 minutes more. Stir in cilantro and lime juice. Remove from heat and serve hot.