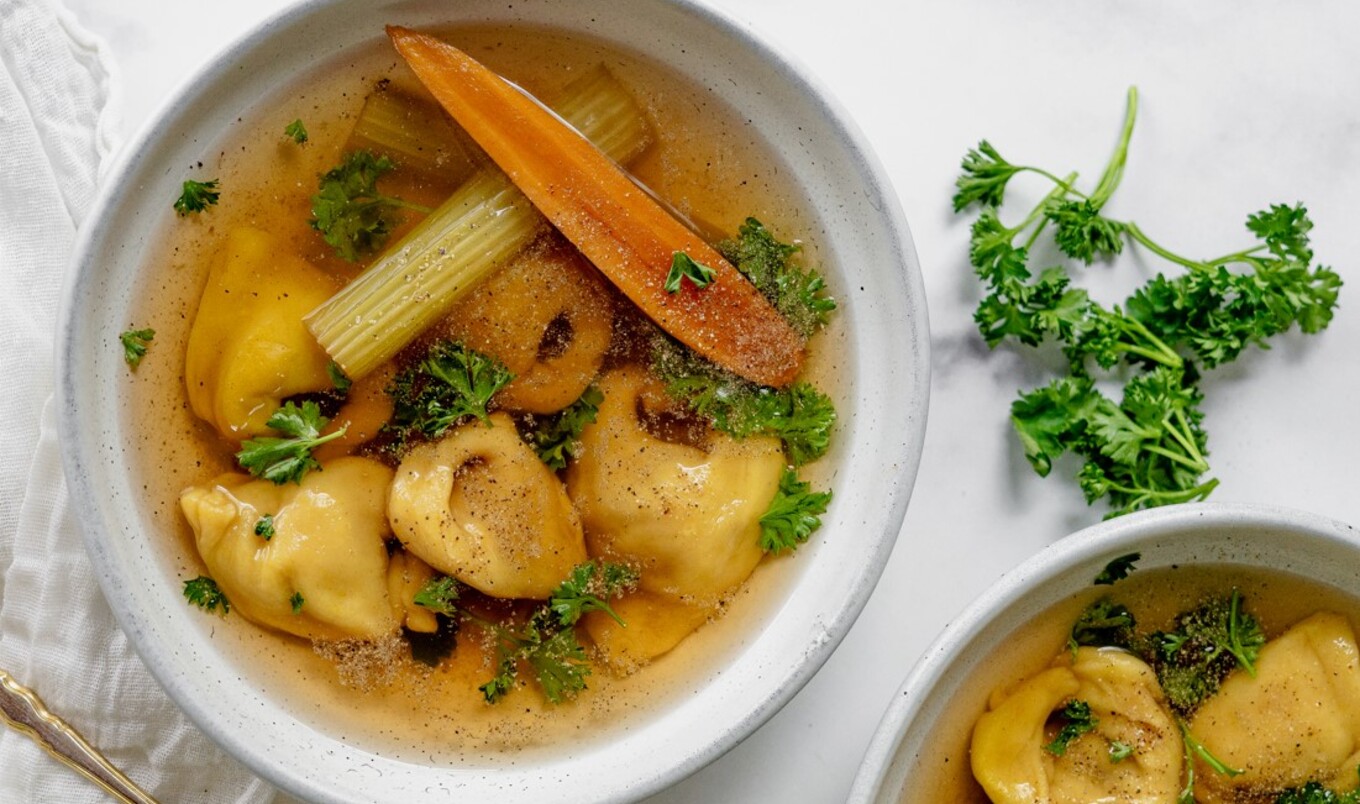 Caramelized garlicky onions and mashed sweet potato make up the delicious filling for these vegan Jewish kreplach.
September 29, 2023
Kreplach are Jewish stuffed noodle dumplings, and have been around as a traditional dish since medieval times. Typically stuffed with meat and potatoes, this sweet potato-filled version from Nosh with Micah blogger Micah Siva offer a plant-based twist.
What you need:
For the filling:
1 large sweet potato
2 tablespoons olive oil
½ large yellow onion, chopped
1 clove garlic
¼ teaspoon salt
¼ teaspoon black pepper
For the dough:
2 cups flour
1 tablespoon cornstarch
¼ teaspoon turmeric
½ teaspoon salt
½ cup to ¾ cup water
2 tablespoons olive oil
To assemble:
1 tablespoon cornstarch
¼ cup water
What you do:
For the filling, preheat oven to 425 degrees. Line a baking sheet with foil. Pierce sweet potato, place on tray, and bake 40 to 50 minutes or until tender. Peel, place in a bowl, and gently mash. Set aside.
In a medium pan over medium heat, warm oil. Add onion, and cook until golden, stirring occasionally, about 20 minutes.
Reduce heat to low, add garlic, and cook an additional 15 minutes. Remove from heat and combine with sweet potato mash, salt, and pepper.
For the dough, in a large bowl, combine all ingredients (starting with ½ cup water). Knead until a dough forms. Add additional water, 1 tablespoon at a time, until desired consistency is reached. Cover in plastic wrap, and refrigerate 15 minutes.
In a small bowl, combine cornstarch and water. On a lightly floured surface, roll dough to ⅛-inch thickness. Using a small knife, cut 3 x 3-inch squares. Using finger, run cornstarch mixture around edges of each square. Place 1 teaspoon filling in middle of each square. Fold into a triangle, and join ends. Set aside and repeat with remaining dough and filling.
In a large pot, bring water to a boil. Carefully add dumplings in batches of 8 for 3 to 5 minutes, or until they float to surface. Remove from pot and let cool 1 minute before serving.
For more recipes like this, check out: