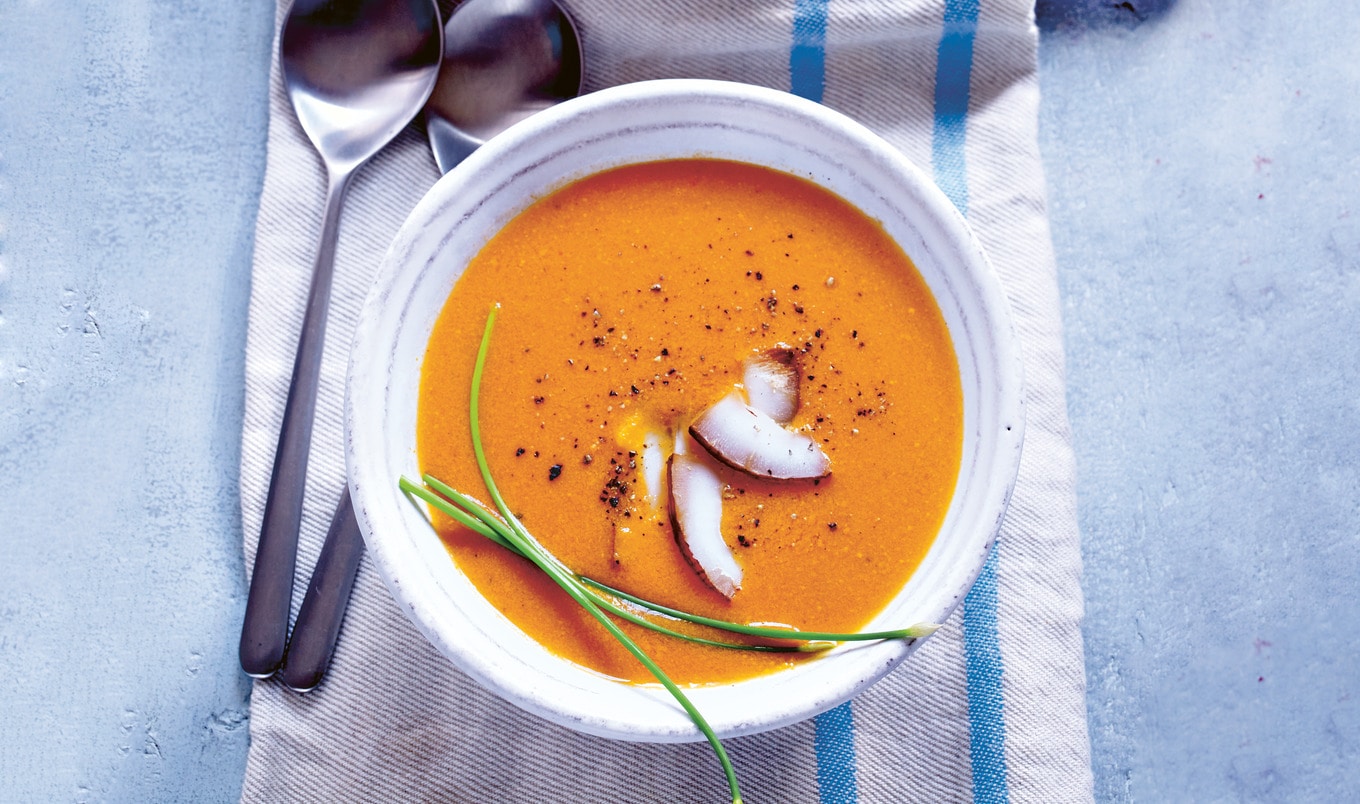 The classic tomato soup gets a unexpected hit of flavor from rich coconut milk.
September 22, 2021
Thanks to the addition of lime juice and coconut milk, this smooth, complex take on a classic tomato soup—from Heather Whinney's Virtually Vegan—will warm you up and transport you to the tropics this winter.
What you need:
For the soup:
1 tablespoon olive oil
1 medium onion, finely chopped
½ teaspoon salt
¼ teaspoon ground black pepper
2 garlic cloves, finely chopped
1 teaspoon grated nutmeg
8 tomatoes, roughly chopped
1 tablespoon tomato paste
5 cups vegetable stock
2 (14-ounce) cans coconut milk
Juice of 1 lime
¼ cup fresh coconut chunks
¼ tablespoon chopped chives, to garnish
For the toast:
2 slices sourdough bread
1 tablespoon olive oil
2 large garlic cloves, halved
What you do:
1. In a large saucepan over medium heat, warm oil over. Add onion and cook for 2 minutes, or until softened. Add garlic, season with salt and pepper, and cook for a minute more. Add nutmeg, tomatoes, and tomato paste, and stir. Increase heat to medium-high and stir in stock and coconut milk.
2. Bring soup to a boil, then reduce heat and simmer gently, partially covered, for 20 minutes. Add lime juice. While the soup is cooking, preheat the oven to 400 degrees.
3. Onto a baking sheet, add coconut chunks and roast for 7 minutes, or until golden. Shred coconut with a sharp knife into fine shards. Set aside.
4. Heat a griddle pan over high heat. Brush bread slices with olive oil and griddle each side until char marks appear. Rub warmed bread garlic cloves.
5. Ladle soup into serving bowls, top with shredded toasted coconut and chives, and serve with garlic toast.