More than once, Delmonico's in New York has made the history books. It was the first restaurant to serve groups of women without men present at their table, which, in 1800s America, was pretty groundbreaking. It was also reportedly the first to offer guests a printed-out menu to choose their food from. And, because of that, it is responsible for the oldest known document that refers to a "Hamburg steak," a patty of ground beef that would set diners back 11 cents, an eye-watering price for the time.
Over the decades, of course, the dish became more sought-after, and eventually, the Hamburg steak morphed into the "hamburger," which was more fast food than fine dining. Today, burgers are still one of the most popular ways to consume ground beef. But there is no rule that says the latter has to be made from a cow.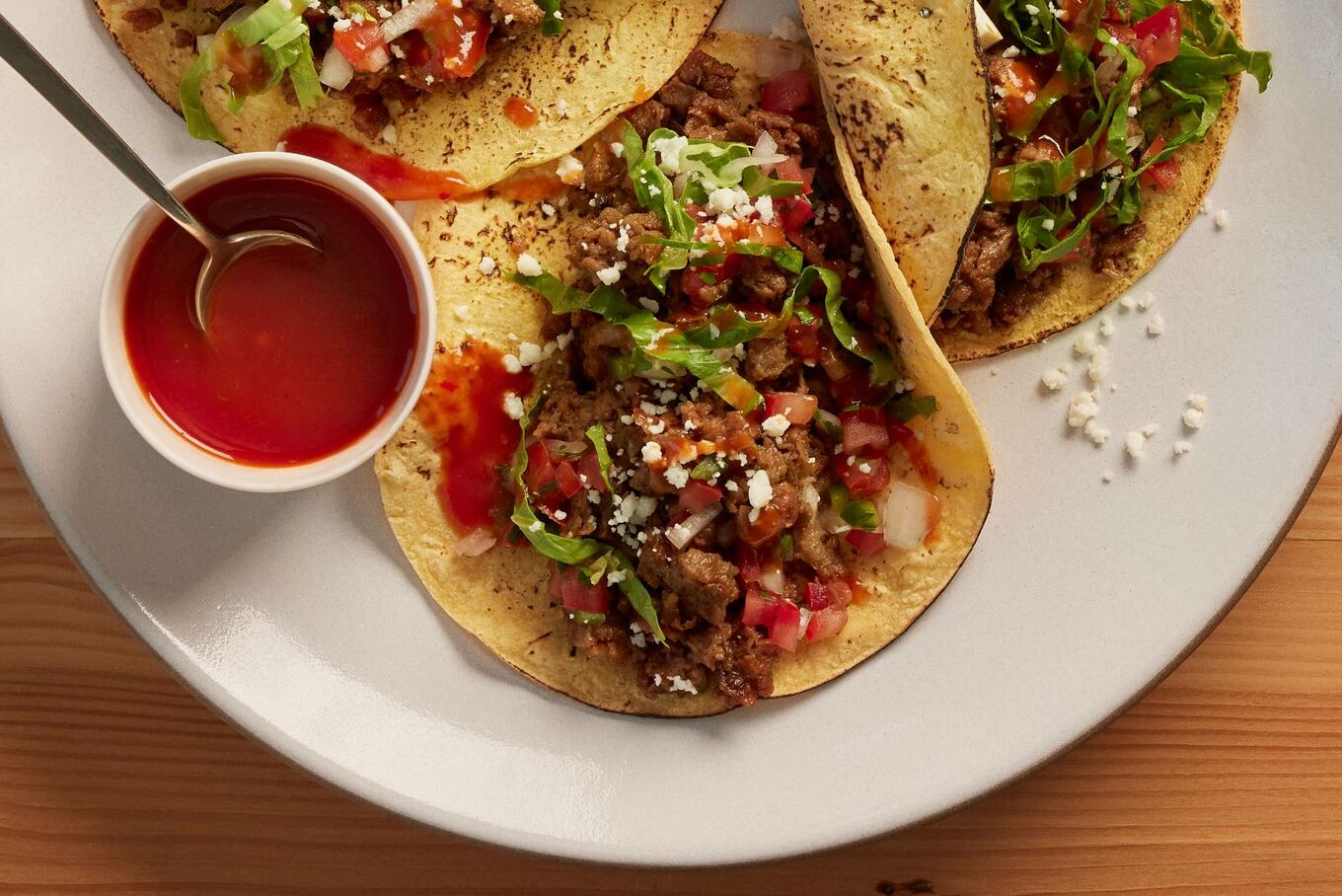 Beyond Meat
Now, there are more meatless ground beef options on the market than ever, and sure, they can also be used to make delicious patties. But they can also be used in lasagna, Bolognese, tacos, and more tasty vegan dishes.
Here's what you need to know about meatless ground beef, including where to buy it, how to make it, and how to cook with it.
What is it?
Ground beef, which is also referred to as minced beef, beef mince, or simply "mince," refers to beef that has been ground with a meat grinder or mincer, or finely chopped with a knife. It has a firm but flaky texture and can be used in a number of recipes.
In Mexico, it's a key part of picadillo, which is a type of beef hash that is often used in burritos, enchiladas, and tacos. Ground beef is also a staple in Italian cuisine, and forms a key part of spaghetti Bolognese and lasagna recipes. In England, it's the basis of cottage pie, which is mince mixed with vegetables and sauce and topped with mashed potato.
Meatless versions of ground beef are made with plant-based ingredients, like soy or pea protein, and are designed to mimic the taste and texture of the real thing.

Is it healthier than beef?
Beef is a type of red meat, and so it is, undeniably, rich in protein. One hundred grams of ground beef contain around 14 grams of protein. It also contains nutrients, like iron.
But research suggests that eating too much can be bad for your health. One reason for this is that it's high in saturated fat, which raises cholesterol, a risk factor for heart disease. Studies have also linked red meat with high levels of trimethylamine N-oxide, a toxin that also increases the risk of heart disease. According to the World Health Organization, red meat also falls into its Group 2 carcinogen category, which means it is "probably carcinogenic to humans."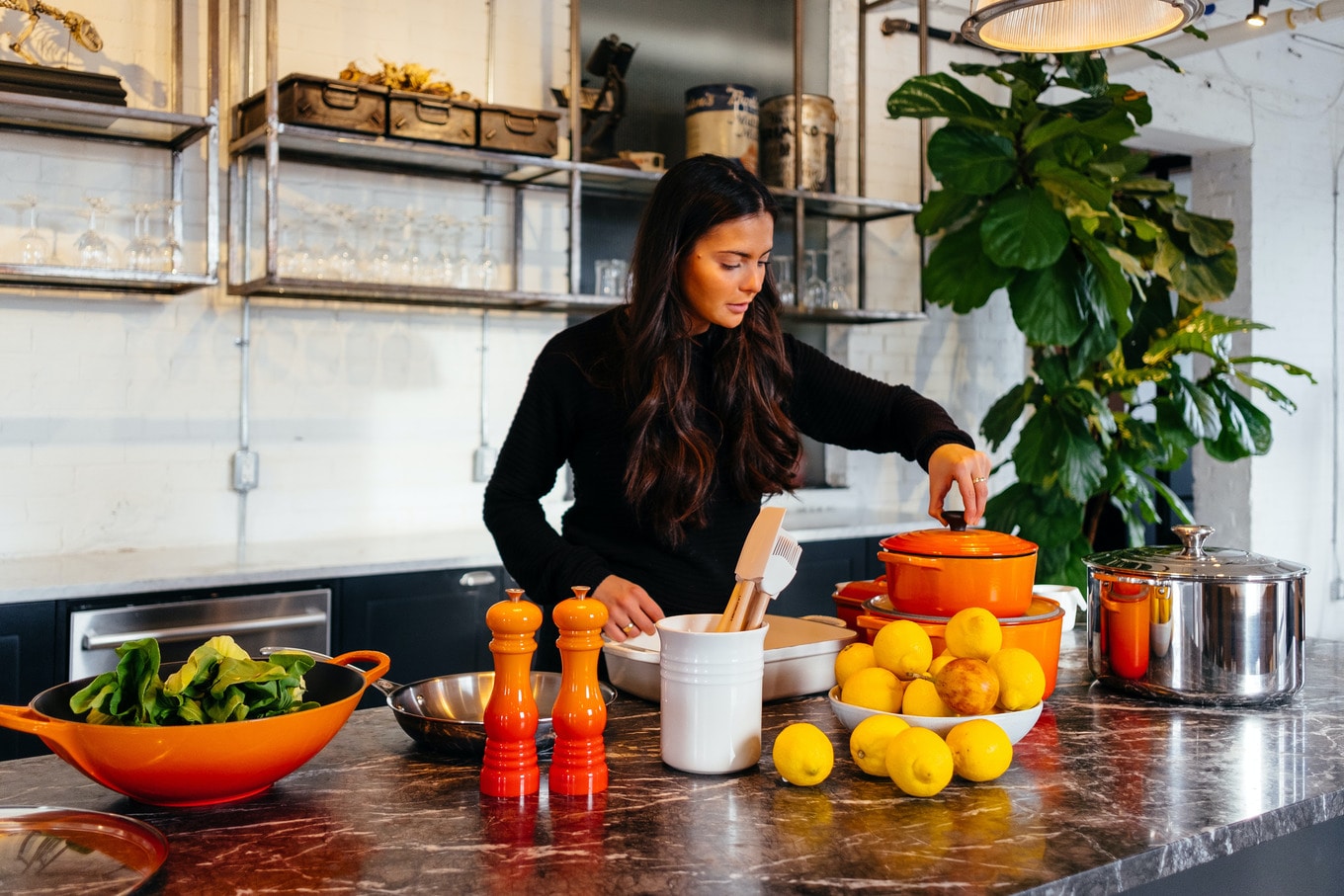 Meatless alternatives, however, taste similar, but research suggests they are better for our health than the traditional beef-based version. In fact, a paper published from Bath University in July 2022—which examined 43 prior studies into the health and environmental impact of plant-based foods—revealed that all "plant-based dietary alternatives to animal products are better for the environment and human health when compared with the animal products they are designed to replace."
But meatless ground beef is still high in protein. One pound of Beyond Meat's Beyond Beef, for example, contains 20 grams of protein per serving, as well as 35 percent less saturated fat than 80/20 ground beef (the 80/20 ratio refers to the percent of lean meat and fat in ground beef).
Brands that make meatless ground beef
As the plant-based meat market grows, more vegan alternatives are hitting grocery store aisles all the time. So, if you're after meatless ground beef, here are a few of the best products available right now.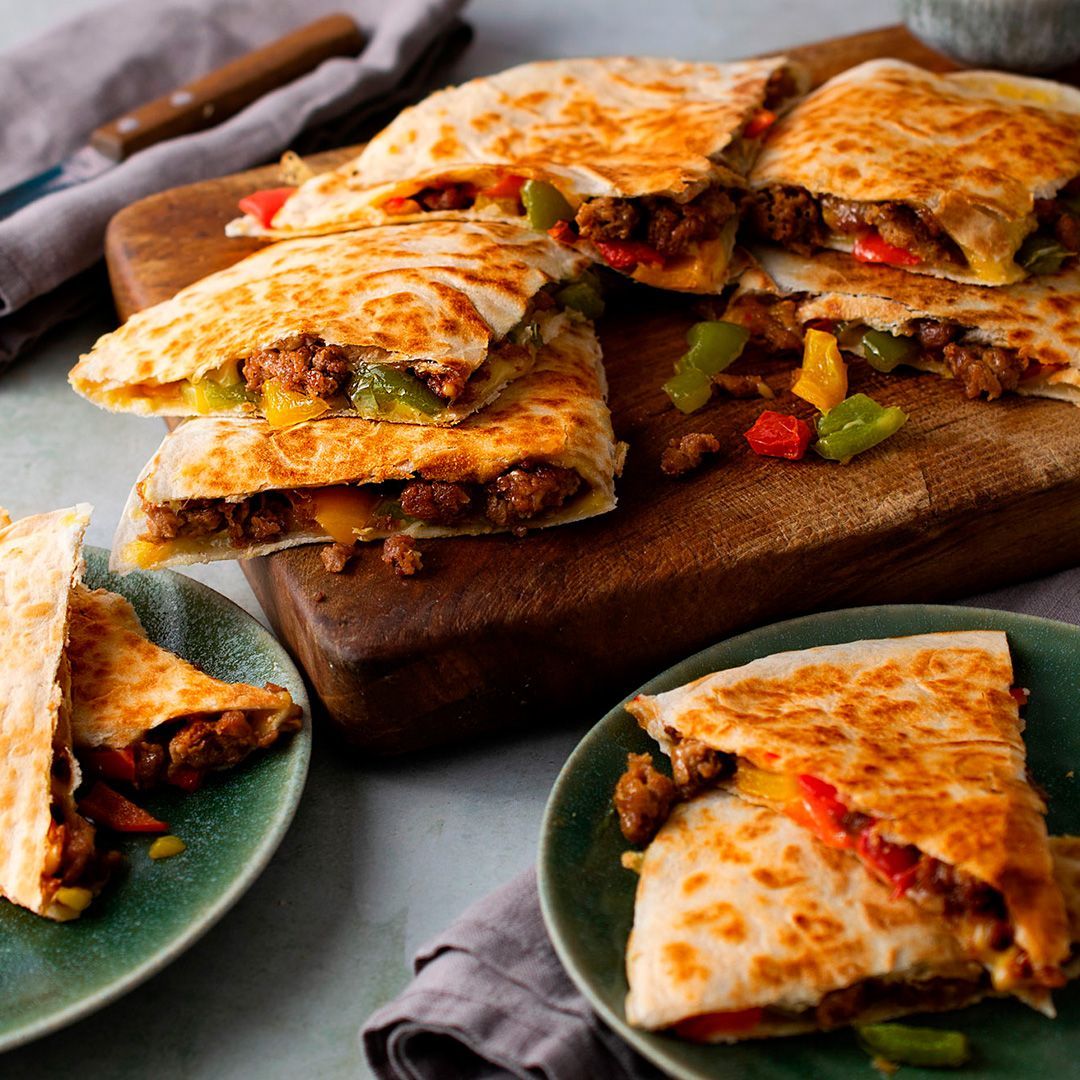 @beyondmeateu/Instagram
1 Beyond Meat
California-based plant-based giant Beyond Meat has several ground beef options, all of which are made with pea protein. You can buy it in a one-pound block, or you can opt for its Beyond Beef Crumbles, which are ideal for cooking into a pasta dish. It also offers a Feisty flavor, which packs a little more heat and is perfect for filling up a burrito.
FIND IT HERE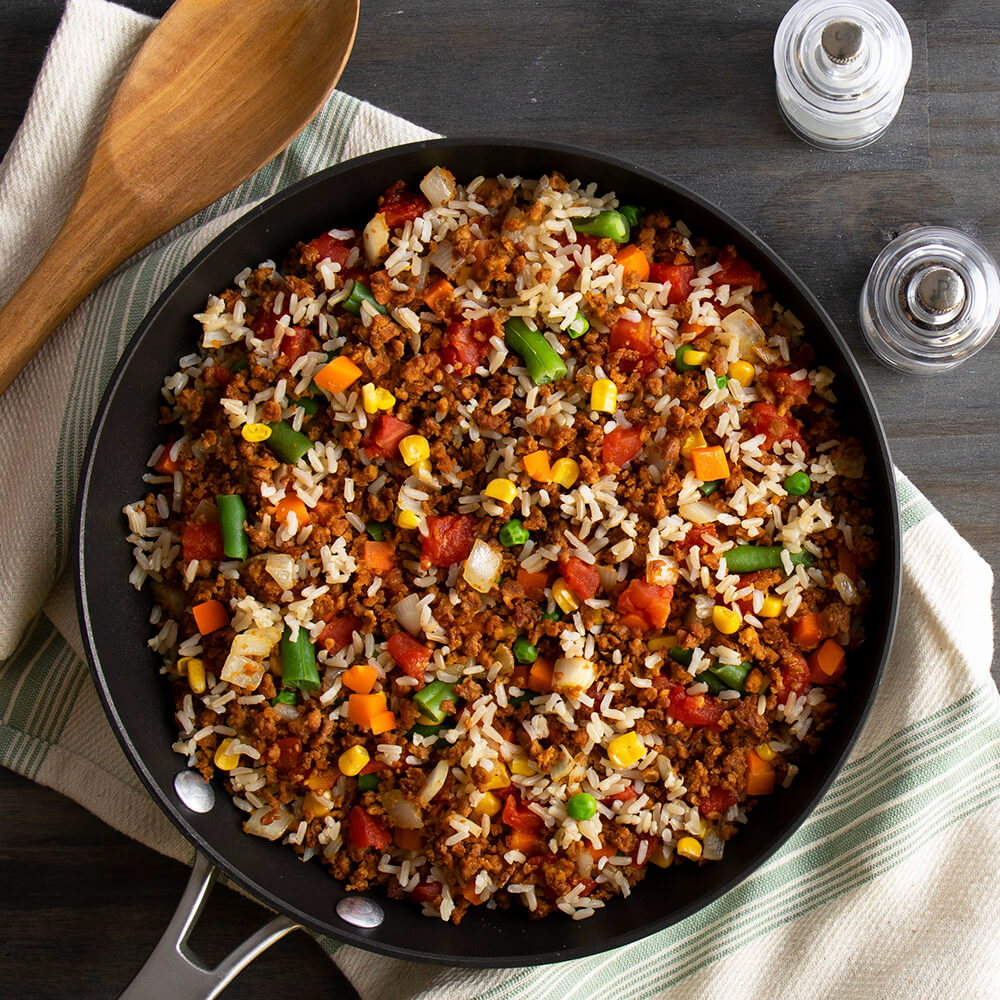 Gardein

2 Gardein
Gardein's beef alternative is called "B'ef." It's made with textured soy protein, and you can find it in a number of the Canadian brand's products, like its Be'f Burgers and Be'f Sliders. But if you want to make your own patties, or you feel like whipping up a spaghetti Bolognese, then there's also Ground Be'f, too.
FIND IT HERE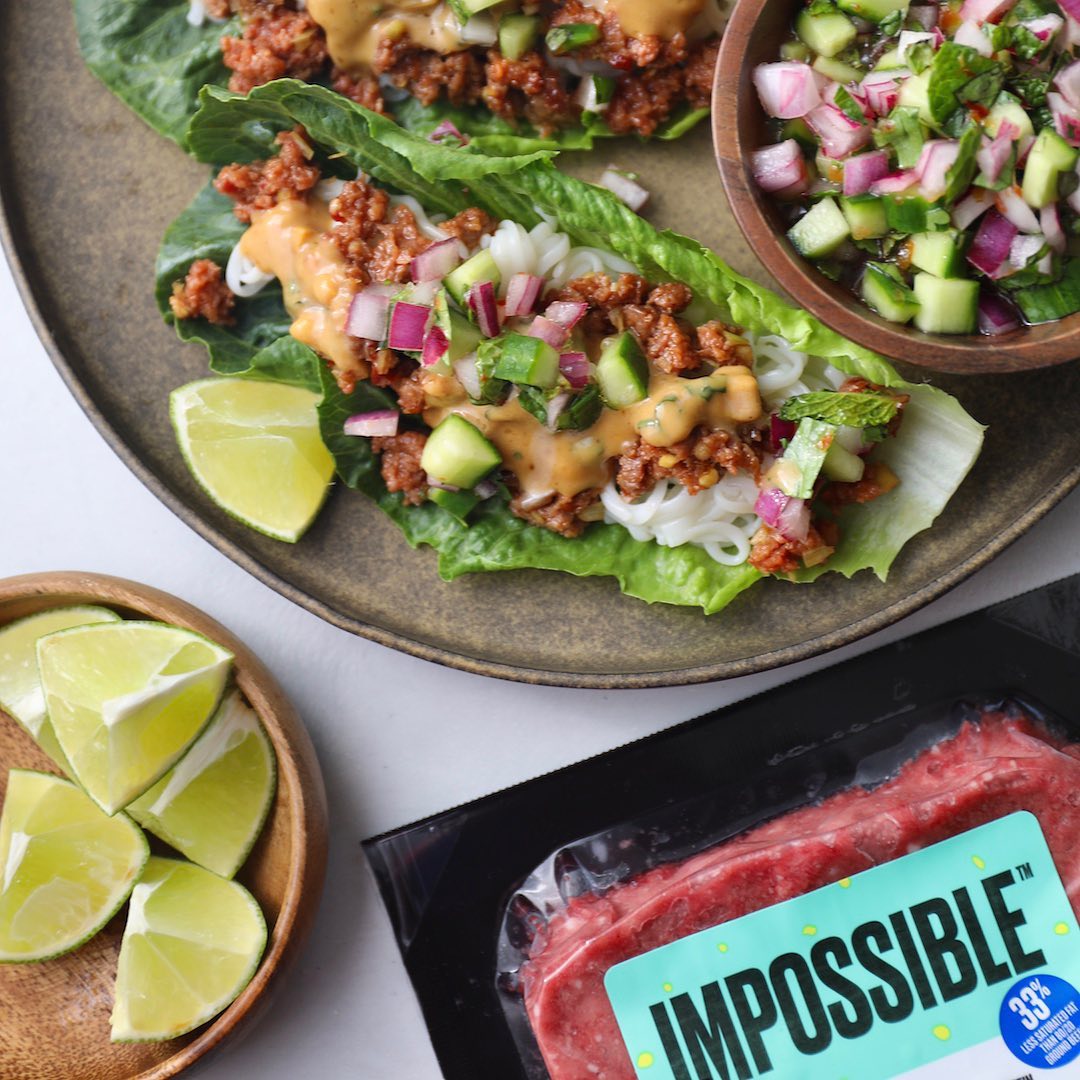 @impossible_foods/Instagram
3 Impossible Foods
Also based in California, Impossible Foods' vegan meat is everywhere. You can even find it on the menu at Burger King. But if you want to create that signature Whopper taste at home with your own spin, you can buy the brand's Plant Based Burger Ground, which features 19 grams of protein. And, according to Impossible Foods, it also has 33 percent less saturated fat than traditional 80/20 ground beef.
FIND IT HERE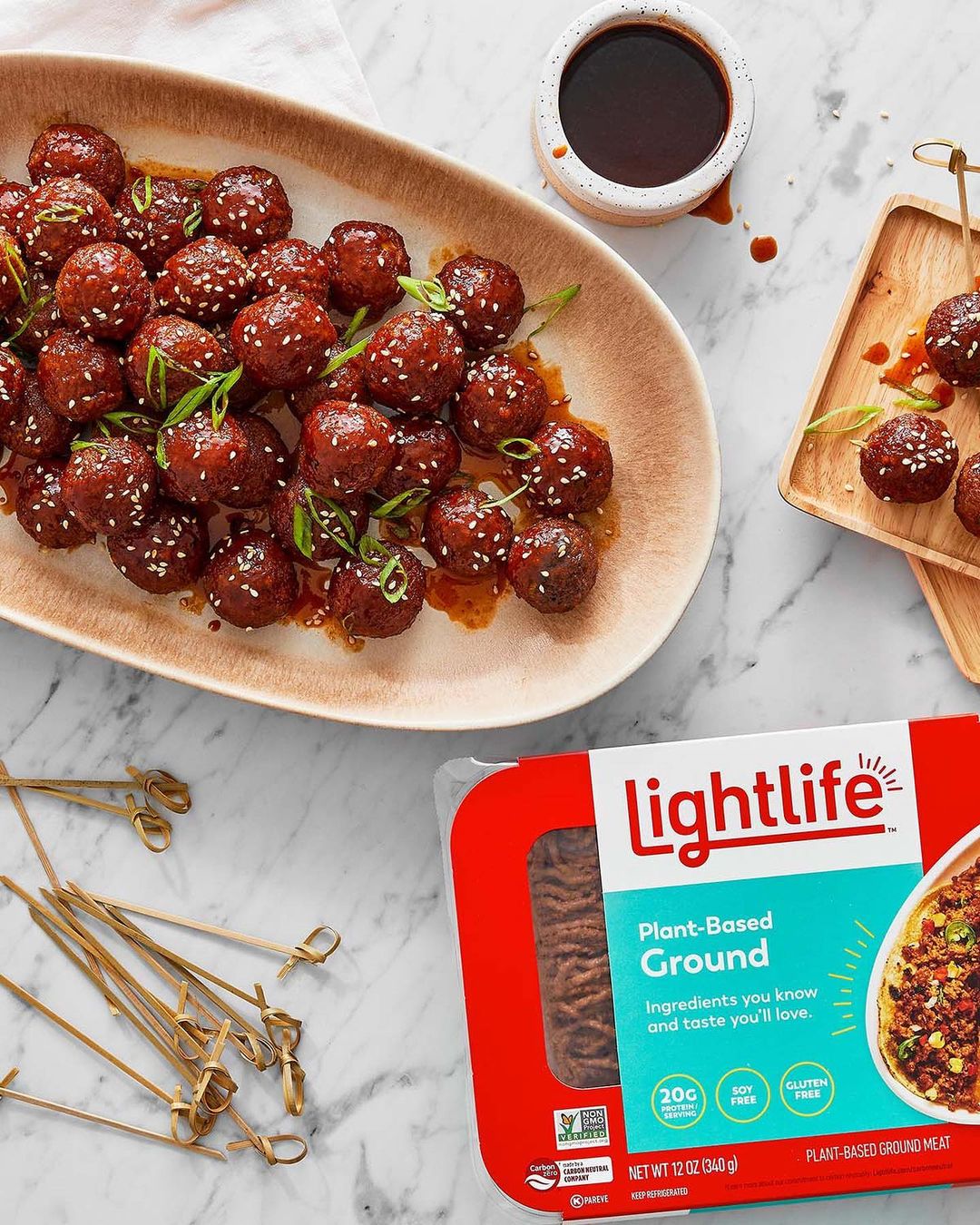 @lightlifefoods/Instagram
4 Lightlife
Massachussetts-based brand Lightlife has not one, but three different types of ground beef on offer. In its Smart range, there are two types on offer: Original and Mexican. Both pack in 10 grams of protein and have zero saturated fat. But it also offers its new and improved Plant-Based Ground, which boasts 20 grams of protein per serving.
FIND IT HERE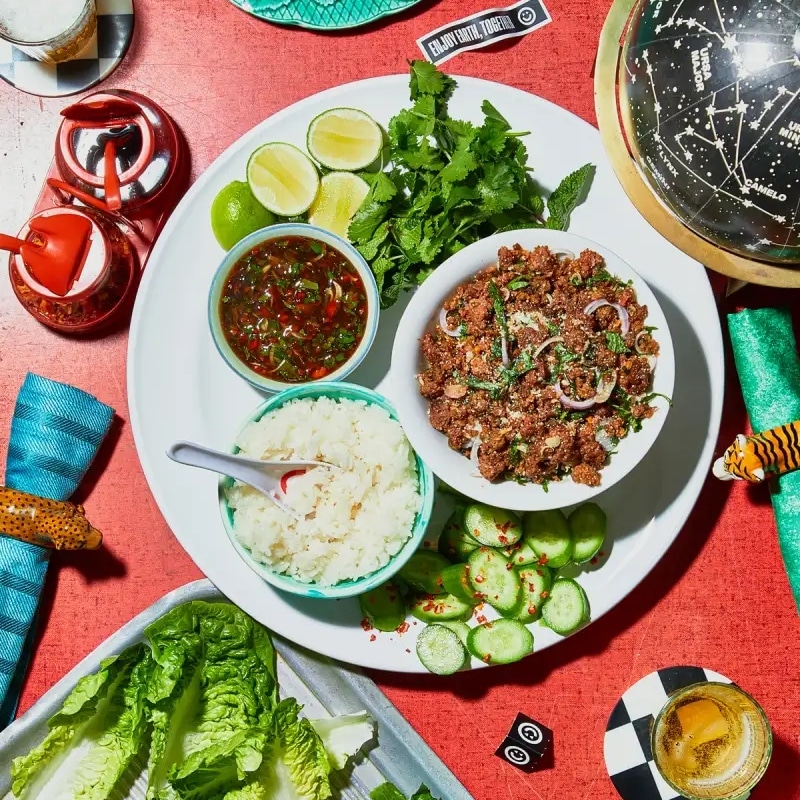 Future Farm
5 Future Farm
Future Farm, which is headquartered in Brazil, is known for its super realistic versions of traditional meat products. And just like the rest of its product portfolio, its Future Beef Plant-Based Ground, which is a source of fiber and protein, delivers a taste and texture that is almost indistinguishable from the real thing.
FIND IT HERE
How to make your own
If you're in a rush or don't have the energy to make your own meatless ground beef, that's totally fair. That's why the store-bought versions exist, after all. But if you're in the mood to make your own, it's also quite simple to pull some ground beef together at home, without turning to a packet. This recipe for vegan ground beef will walk you through how to make your own crumbles, using ingredients like walnuts, cauliflower, and tomato. Plus, unlike many options on the market, it's soy-free.
How to use it
Whether you've grabbed some from the grocery store or you've whipped it up from scratch, once you've got your ground beef, the next part is deciding just how, exactly, you're going to enjoy it. If you're looking for inspiration, good news: you've found it. Here are some of our top meatless ground beef recipes.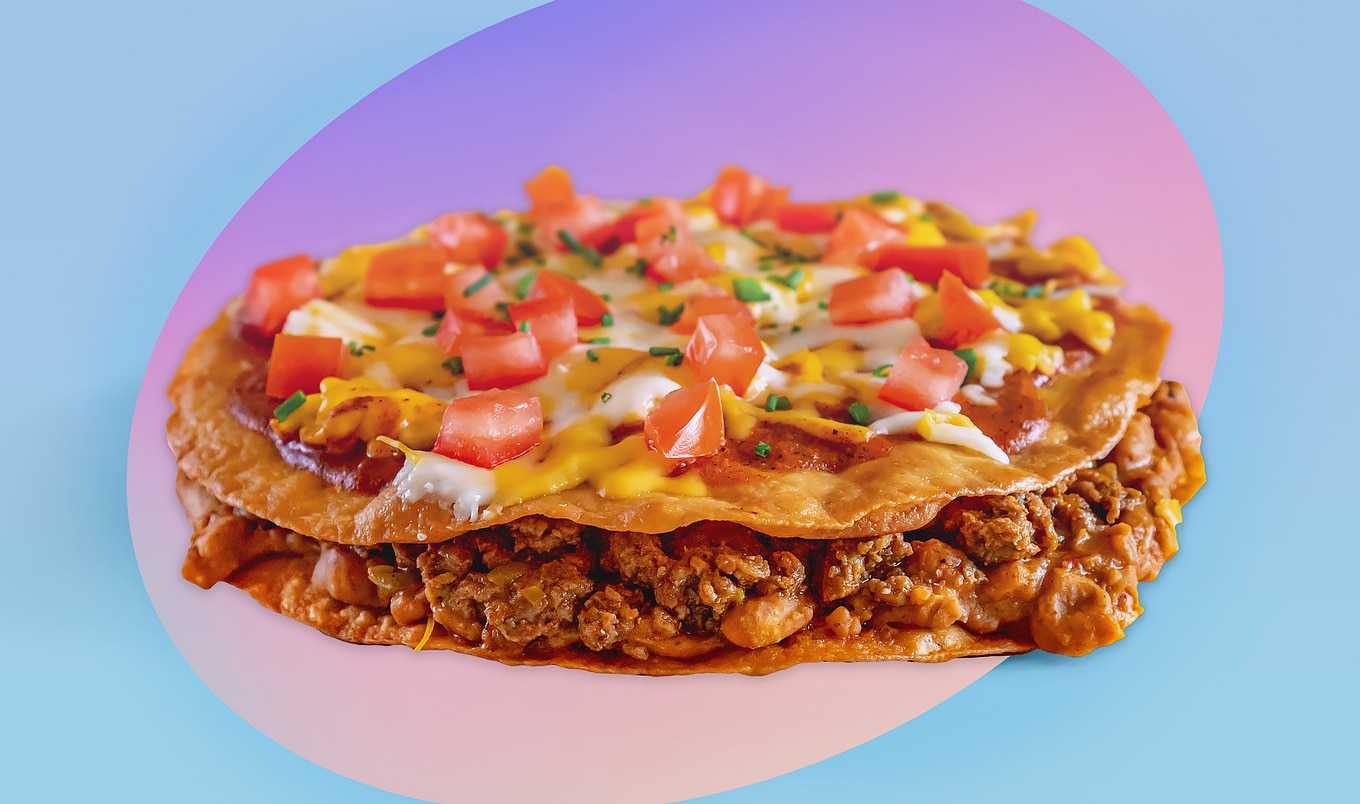 Brian Watson
1 Copycat Taco Bell Mexican Pizza
Taco Bell's Mexican Pizza is much-loved, but it's not vegan. So don't miss out, make it from home! Grab some vegan ground beef, some beans, and your favorite type of tortillas for the ultimate crowd-pleasing fakeaway night.
Get the recipe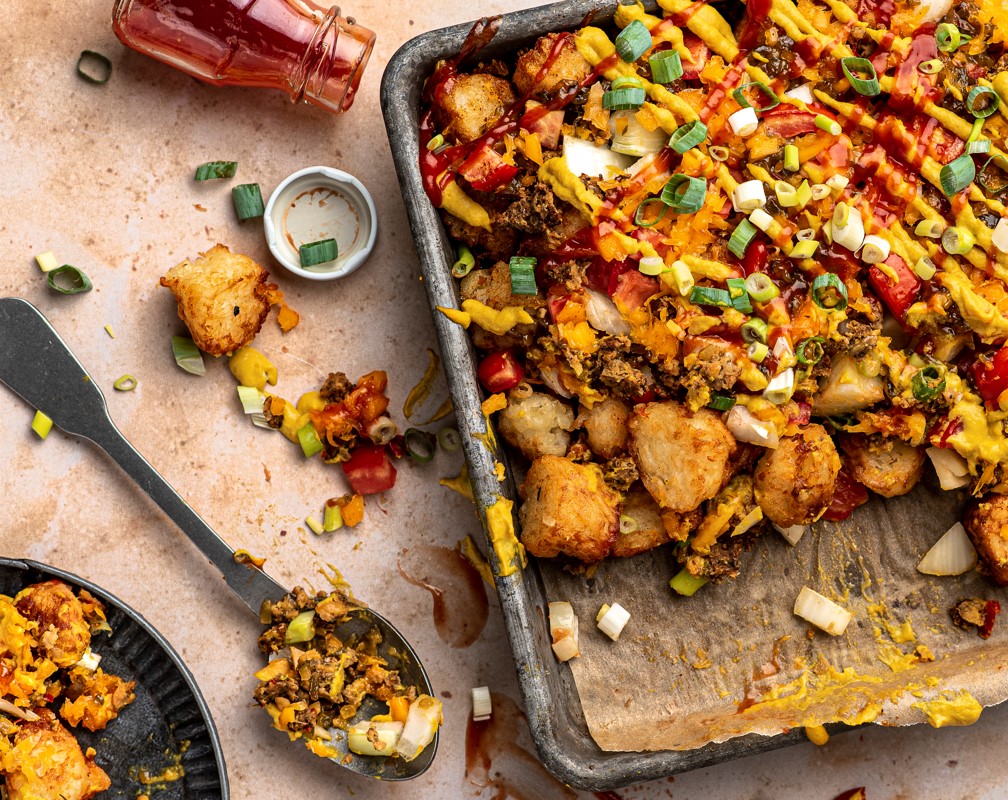 Dustin Harder
2 Cheeseburger Tater Tots With Cashew Cheddar Sauce
You could use your ground beef to make cheeseburgers, and that would undeniably be delicious. But you could also take it one step further and, instead, layer up some tater tots with the ground beef, and add your own creamy, cheesy vegan cheddar sauce. Divine.
Get the recipe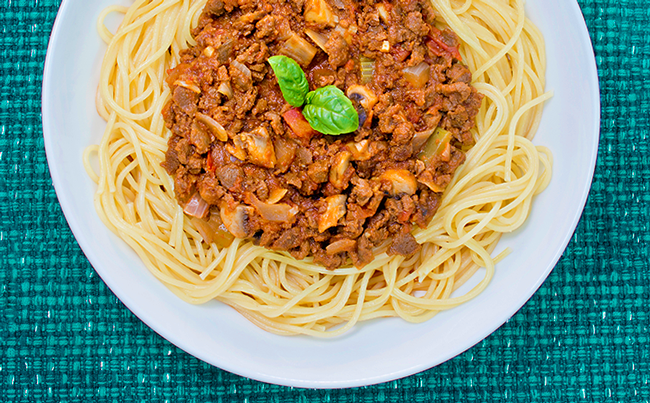 Chris Shoebridge
3 Spaghetti Bolognese
If it's midweek comfort you're after, classic spaghetti bolognese with meatless ground beef hits the spot every time. It's so easy and quick to make. Pro tip: for extra comfort, serve with crunchy garlic bread.
Get the recipe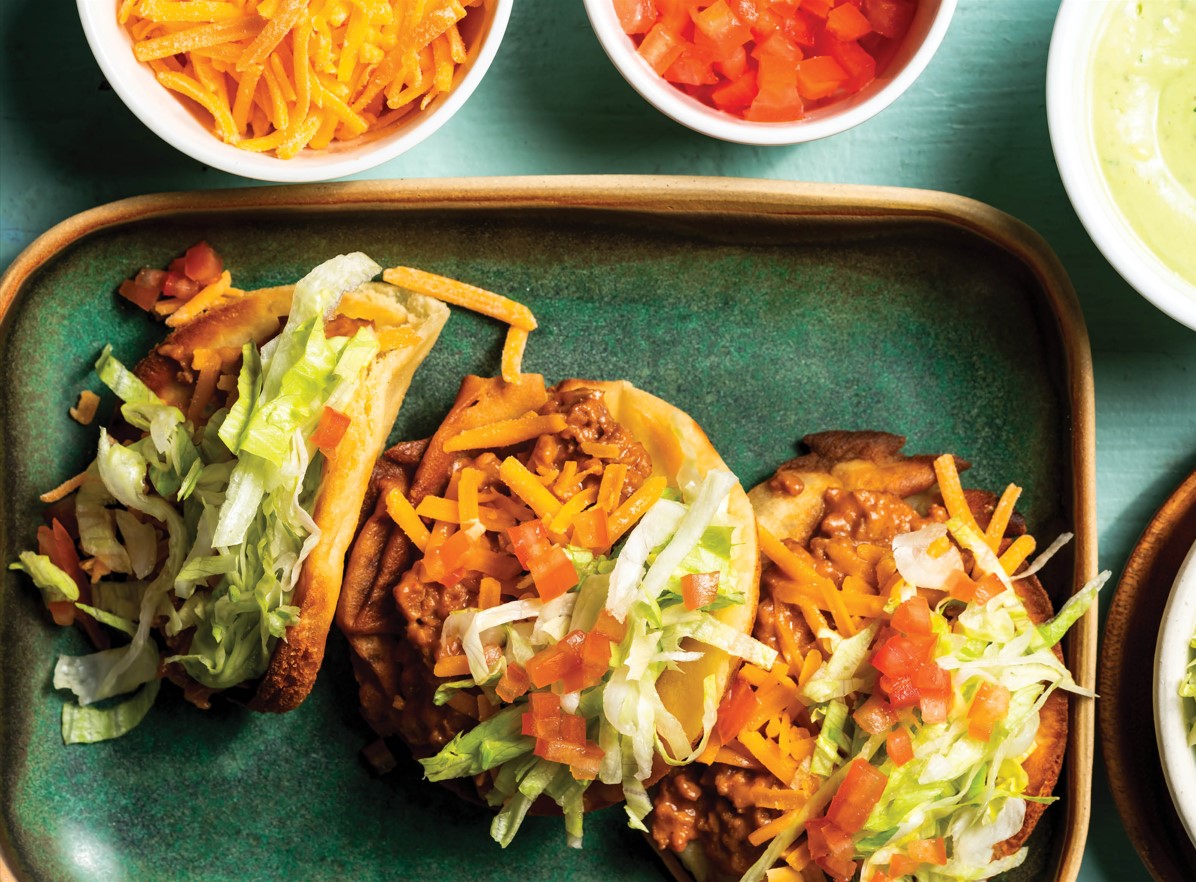 Candice Hutchings
4 Crunchy Chalupa Naan Tacos With Avocado-Ranch
Chalupa naan tacos filled with vegan ground beef and topped with your favorite vegan cheese are already delicious. But if you want to take your recipe to the next level, you won't regret adding this zesty avocado-ranch sauce.
Get the recipe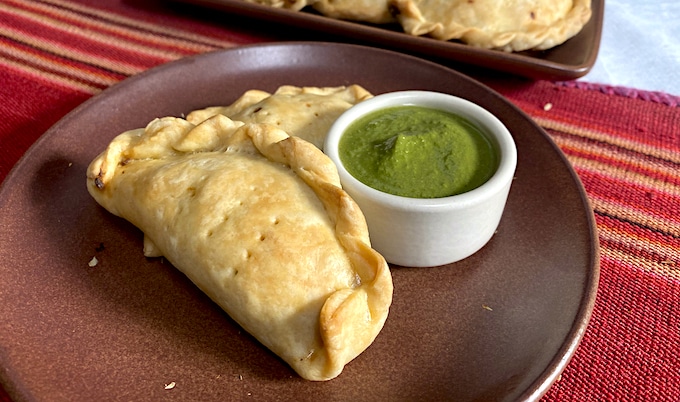 Nico Vera
5 Beef Empanadas
The perfect portion size for a tasty, filling lunch, try these delicious vegan beefy empanadas with onions, garlic, and currants. And, for an extra spicy kick, serve with homemade aji verde.
Get the recipe
For more on vegan meat, read:
Here at VegNews, we live and breathe the vegan lifestyle, and only recommend products we feel make our lives amazing. Occasionally, articles may include shopping links where we might earn a small commission. In no way does this effect the editorial integrity of VegNews.