Which came first—Beyond Meat or Impossible Foods? While the Impossible Burger trailed behind the first iterations of Beyond Meat products, the San Francisco-based company is still very much a trendsetter in both the retail and restaurant space.
What began as a highbrow restaurant burger served only in New York City's elite restaurants swiftly trickled down into a two-for-$6 Impossible Whopper accompanied by retail shelf space and additional meaty products including sausages and chicken nuggets.
Given the saturation of the market and an abundance of media hits, it's natural to wonder about this behemoth of a company. From what Impossible meat is made out of to where to find the nuggets, here is your complete guide to Impossible Foods.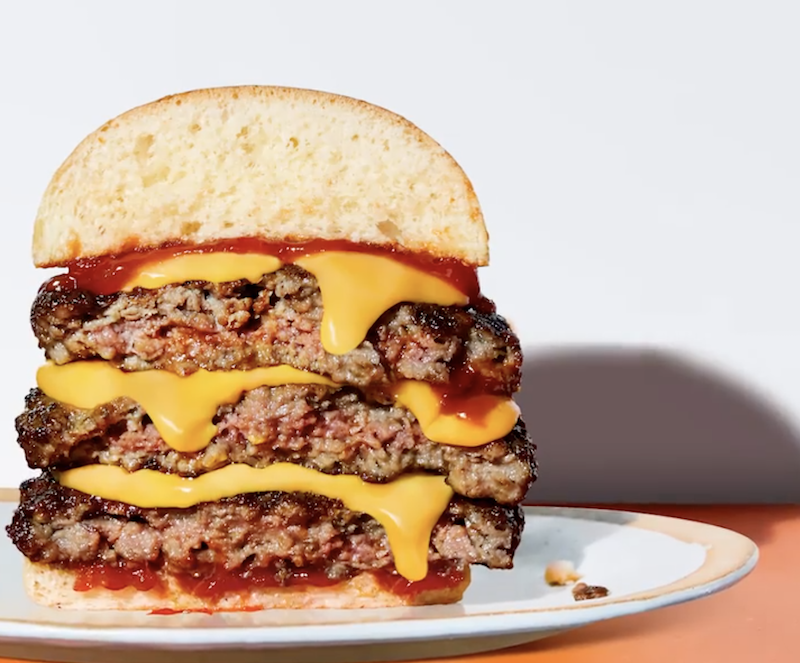 Impossible Foods
Impossible Foods' history
The concept for Impossible Foods came to mind back in 2009 while Patrick Brown—then a Stanford University professor of biochemistry—was on sabbatical. It was the same year Beyond Meat debuted as a company, though the Beyond Burger as we know it today was still several years away. Brown realized the devastation of the current food system and wanted to create a sustainable alternative—starting with meat. While continuing to work at Stanford until 2013, Brown assembled a team of food scientists and business-savvy professionals to build a company behind the inaugural product, the Impossible Burger.
Unlike Beyond Meat, Impossible Foods did not go after the retail market from the start. Taking a page from Oatly—which also launched in the US in 2016—Impossible Foods took the food service route, hoping professionals would best showcase the product and spark early adopter buzz. The first Impossible Burger was served at celebrity chef David Chang's Momofuku Nishi in New York City (which has since permanently shuttered).
"Impossible Foods is honored to have a chef of David Chang's talent and vision as our anchor chef in New York. Under David's skilled hand, the Impossible Burger is moving to the next level of taste," Brown christened the launch.
The Nishi Style Impossible Burger was adorned with romaine, a beefsteak tomato slice, pickles, and special sauce held together between two Martin potato buns.
Following a successful debut, Impossible sold its grounds to high-end restaurants in California during the fall of 2016—including Jardiniere in San Francisco and Crossroads Kitchen in Los Angeles. By 2017, the Impossible Burger could be found on chain restaurant menus including Bareburger and Umami Burger, and in 2018, White Castle made a splash by becoming the first major fast-food restaurant to add the burger to its menu. By the end of that year, Impossible Burgers could be found in over 5,000 restaurants throughout the US and Hong Kong. Never seeming to run out of momentum, the company topped its 2018 success by launching the Impossible Whopper in Burger King locations nationwide. That same year, Impossible patties finally made their way into retail where they vied for shelf space with its major competitor, Beyond Meat.
By 2019, seeing an Impossible Burger on any given menu was de rigueur. Impossible's sausage had also hit both retail and restaurant menus in the form of versatile grounds. Frozen Impossible Meatballs were next, and during the fall of 2021, the brand launched Impossible Pork for food service only—a move to match the wild popularity of Hong Kong's vegan pork product—Omnipork. Like the original Impossible Burger, the company's plant-based pork product first debuted at a David Chang restaurant, Momofuku Ssam Bar, before launching in over 100 additional restaurants in the US and Hong Kong.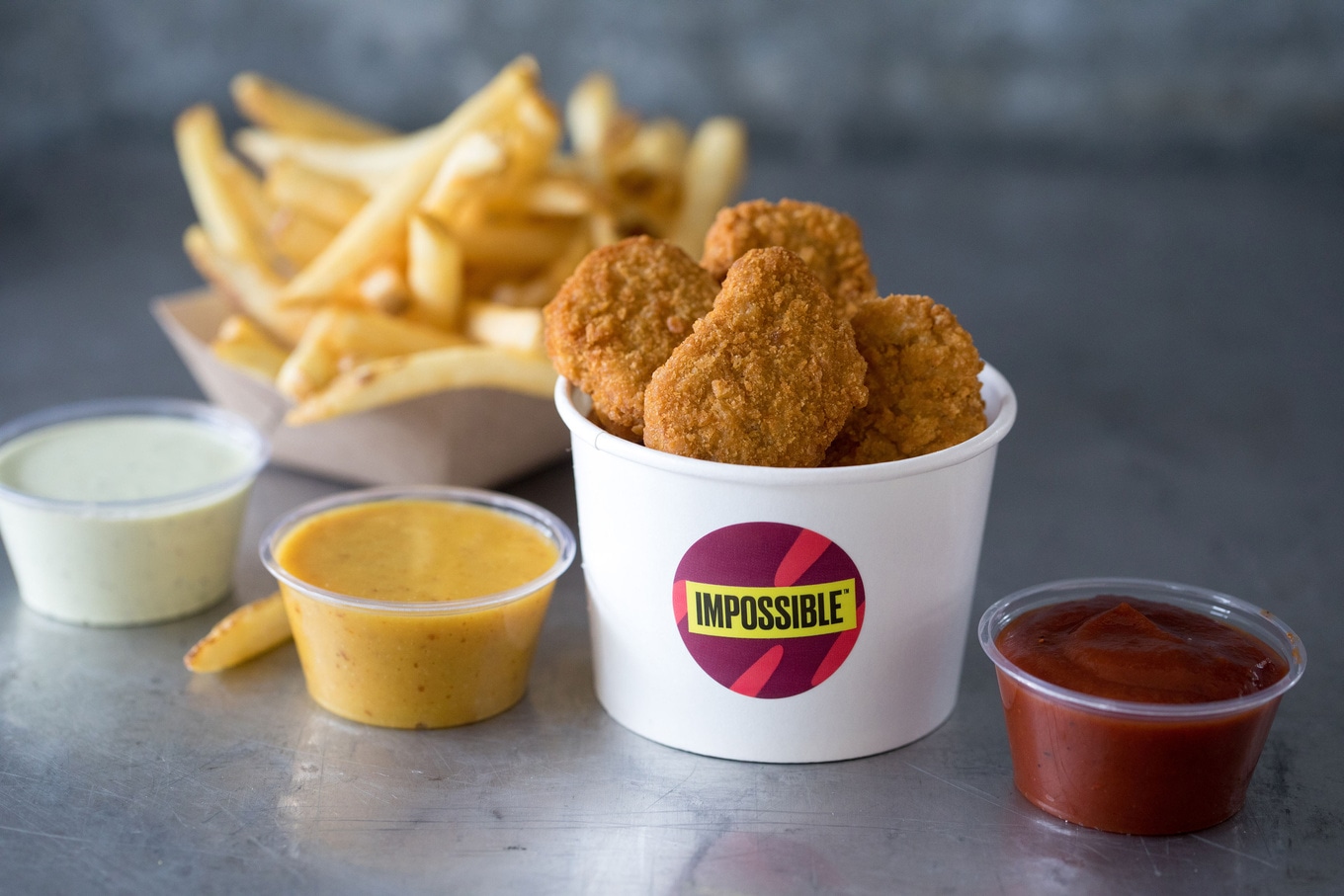 Impossible Foods
While continuing to improve and expand its beef and pork range, Impossible was cooking up another product to join the next trend in vegan meat alternatives—chicken nuggets. In September of 2021, Impossible's tit-for-tat with Beyond Meat followed in the form of a golden, crispy chicken nugget. First only available as limited-time offers at select restaurants, the nuggets later made their way into over 10,000 grocery stores.
Expansion into more retailers and restaurants still seems to be top of mind for Impossible Foods, but innovation plays a major role as well. The next Impossible product the world may see could be milk. In October 2020, the brand announced it had doubled its research and development team to shift its efforts toward creating a truly functional plant-based milk.
With a goal of eradicating all animal products by 2035, Impossible is not slowing down any time soon.
What is Impossible Foods' meat made from?
Impossible meat has evolved in the last six years. The Impossible Burgers 2.0 and later 3.0 removed the gluten and upped the iron and protein to become even more comparable with its cow-based counterpart. Far from the homemade veggie burger, Impossible patties are a product of science, and the ingredients reflect that. Soy protein concentrate makes up the bulk of the burger along with coconut oil to mimic the juicy sizzle of beef. These key ingredients are bound together with an assortment of natural flavors, starches, dextrose, methylcellulose (a laxative), salt, and fortified vitamins and minerals.
Impossible nuggets are also soy-based and vitamin-fortified but contain added wheat gluten, spices, corn flour, yeast extract, and leavening (for the battered component).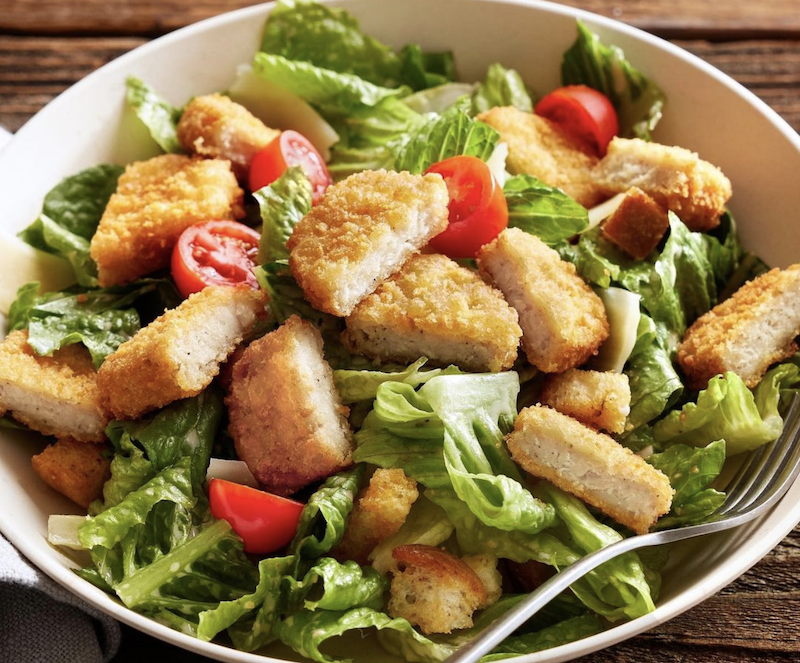 Impossible Foods
Is Impossible Foods' meat healthy?
Given these unorthodox ingredients, many have argued that Impossible Foods products are not healthy. This statement is objective—it depends on what you're comparing them to. When put up against their animal-based predecessors, Impossible's plant-based products are healthier for the sheer fact that they contain a similar nutrient profile without the added cholesterol of animal-based foods. Plant-based meats are also safer in regards to the contamination that may result from zoonotic disease or animal feces that are occasionally ground into a final product. A study conducted by the Physician's Committee for Responsible Medicine found that nearly half of the chickens tested contained fecal matter, and while the USDA admitted that "bacteria commonly found in feces are routinely present on meat and chicken products," it would not tighten its inspection standards. To this end, feces-free products such as Impossible meats are healthier in comparison to animal-based meat.
Just this year, the company debuted Impossible Beef Lite, a vegan alternative to USDA 90/10 ground cow meat. This new product contains 21 grams of plant protein per serving and is a good source of fiber, iron, B vitamins, zinc, and potassium. It also features 45-percent less total fat, 75-percent less saturated fat, and zero cholesterol than lean animal-derived beef.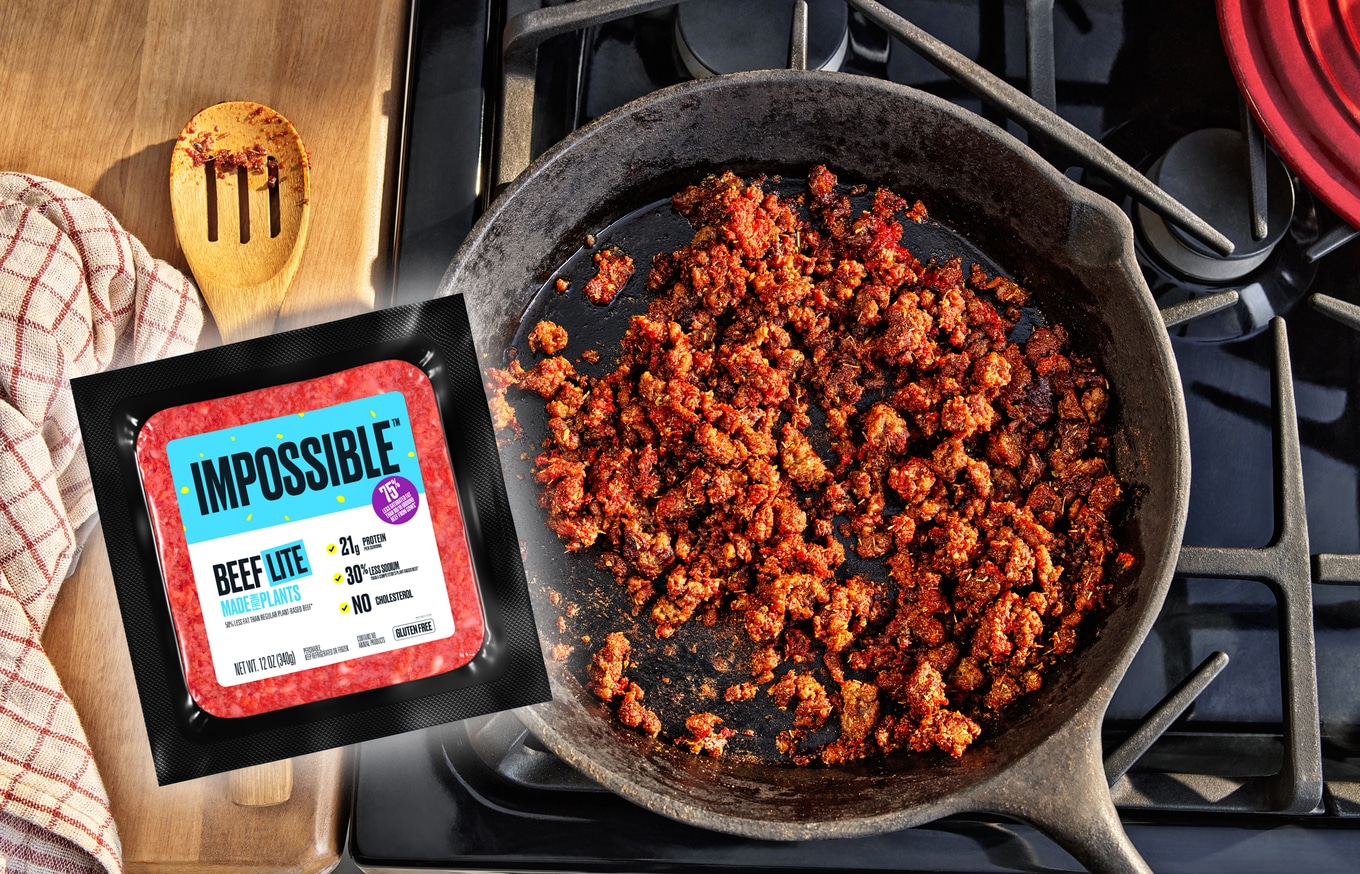 Impossible Foods
All of that being said, Impossible meat is still a replica of a generally unhealthy food. As such, it's not the best thing for your body to consume on a regular basis. For example, five Impossible Nuggets contain 240 calories, 12 grams of fat (1.5 grams saturated fat), and 480 milligrams of sodium (which equates to one-fifth of the recommended daily sodium intake). Bringing back the comparison to animal-based nuggets, a similar-sized serving of frozen Tyson chicken nuggets contains 270 calories, 17 grams of fat (4 grams saturated fat), 40 milligrams of cholesterol, 470 milligrams of sodium, and zero dietary fiber (Impossible Nuggets contain 2 grams of fiber).
Like any burger, sausage patty, or chicken nugget, Impossible meat is best enjoyed in moderation. Yes, it's healthier than a beef-based Whopper, but in the end, it's still a Whopper.
Impossible Foods products
The brand currently churns out a number of plant-based meats for both retail and food service. Here's the dish on all the juicy, meaty goodness.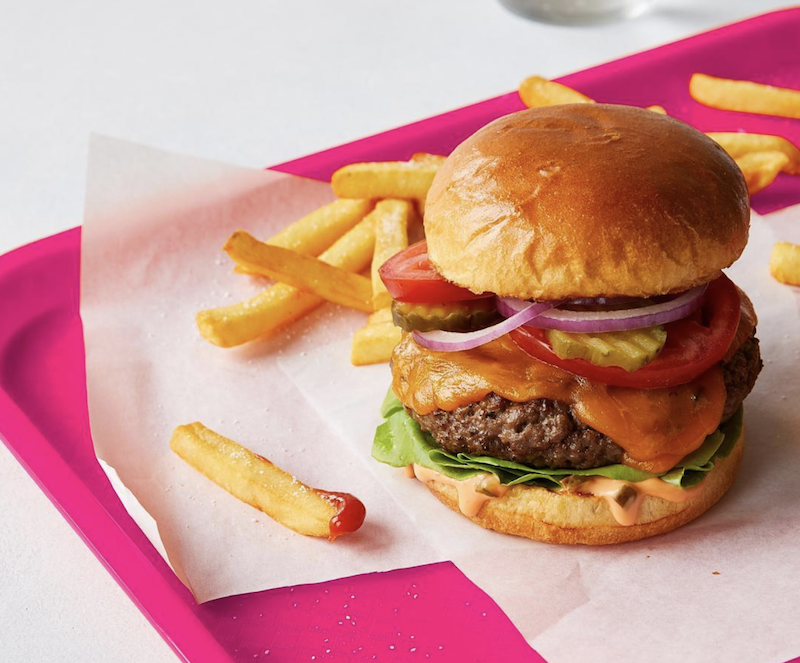 Impossible Foods
1 Impossible Burger
The inaugural product of this booming brand, the Impossible Burger can be found in both patty and ground form in supermarkets and restaurants nationwide. It's the company's most distributed product and certainly the most versatile when it comes to the ground option. The patties boast 19 grams of protein, 240 calories, 25 percent of the daily recommended iron, and an assortment of other vitamins and minerals. Granted, this nutritional package also comes with eight grams of saturated fat and 14 grams of total fat. Find the grounds and patties at a store near you or seek out a number of chain restaurants that serve the product both in burger form and other inventive dishes.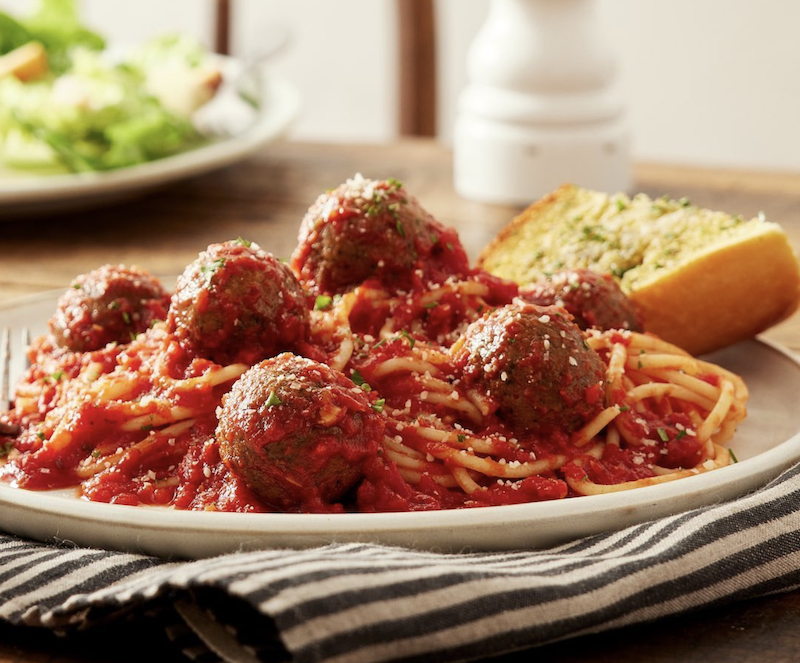 Impossible Foods
2 Impossible Meatballs
Most commonly found stuffed into hoagies in the food service world, Impossible Meatballs also cater heavily to grocery store shoppers. Find them in the frozen section of your nearest retailer. Three hearty meatballs contain 200 calories, 12 grams of fat (3.5 grams saturated fat), 400 milligrams of sodium, 12 grams of protein, and an assortment of fortified vitamins and minerals. Beyond pasta and marinara, these meaty bites are excellent when served doused in herbaceous vegan gravy.
Impossible Foods
3 Impossible chicken nuggets, patties, and tenders
Yet another option within the vegan nugget craze, Impossible's iteration is fairly spot-on in regards to nostalgia. While widely distributed amongst the frozen aisles of national grocers, the nuggets are a rare find in restaurants. Check out Fatburger, Fuku, and Dog Haus if you're looking for these nuggets outside of a grocery store.
Earlier this year, the company expanded its vegan chicken offerings with tenders, patties, and new spicy iterations of its fan-favorite nuggets.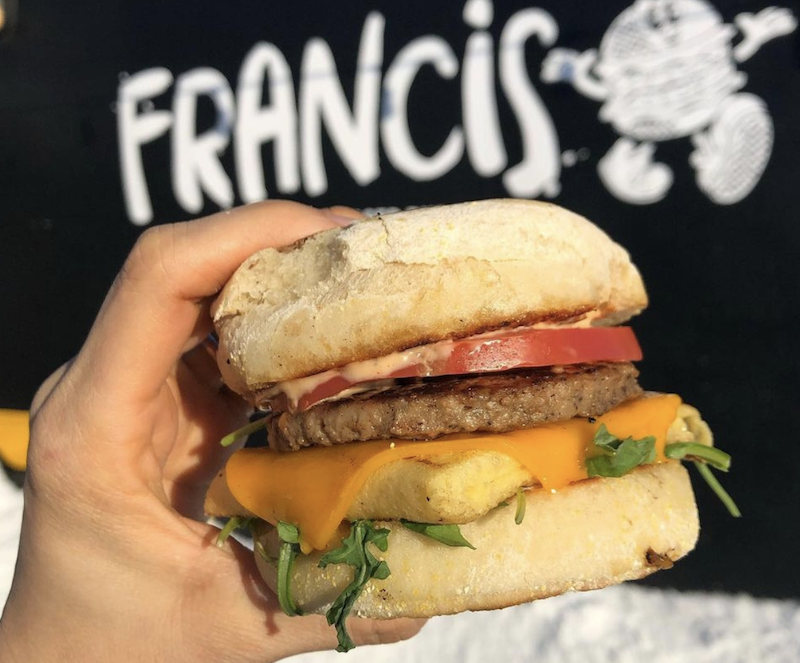 Francis Burger Joint
4 Impossible Sausage
Refusing to limit itself to traditional link casing, Impossible Sausage has been ground to improve its versatility for both grocery shoppers and food service. The product comes in two flavors, Savory and Spicy. The lightest of the Impossible line, a two-ounce serving of Impossible Sausage contains 130 calories, nine grams of fat (four grams of saturated fat), seven grams of protein, and 380 grams of sodium. Restaurants scatter it atop plant-based pizzas or form it into spicy breakfast patties, among other umami-laden dishes.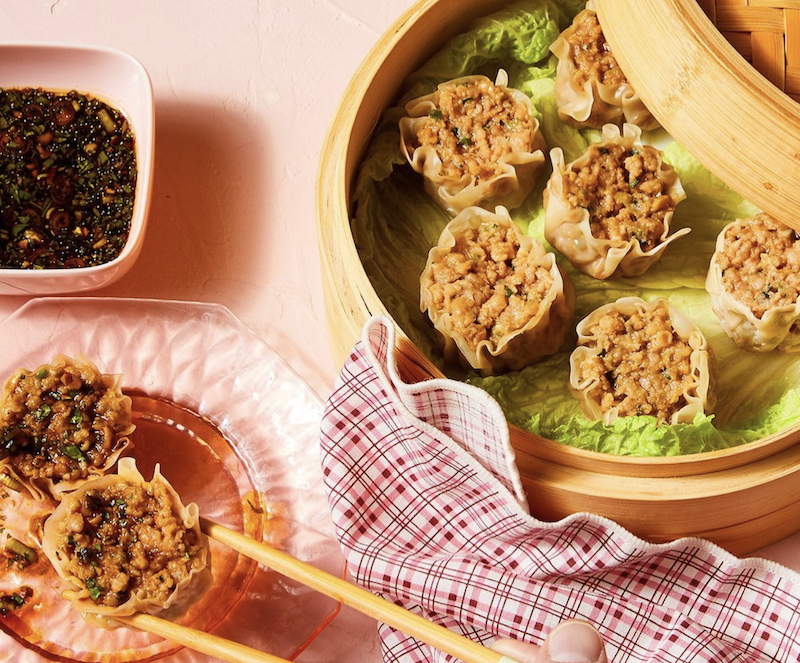 Impossible Foods
5 Impossible Pork
Another product to join the Impossible lineup is a ground plant-based pork made exclusively for restaurants. Relatively heavy like its pig-based inspiration, a four-ounce serving contains 220 calories, 13 grams of fat (seven grams of saturated fat), 18 grams of protein, and 290 grams of sodium. Still new to the market, not many restaurants have added this plant-based item to their menus, but based on the brand's reputation for growth, we imagine we'll see Impossible Pork far more often in the not-too-distant future.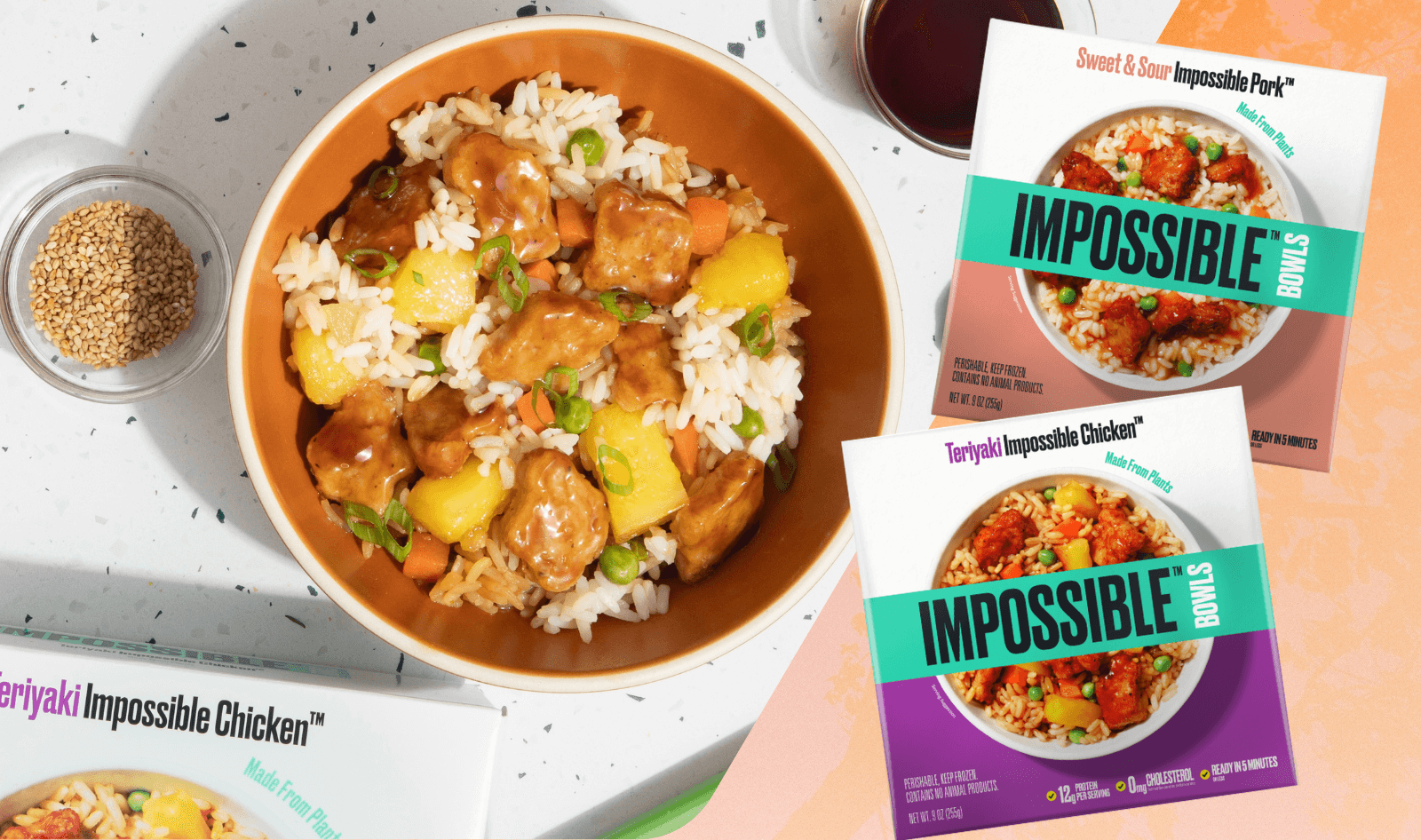 Impossible Foods
6 Frozen meals
Entering the frozen meal category, Impossible's vegan bowls made with its plant-based pork, beef, and chicken are available for a quick and easy lunch or dinner. Inspired by global flavors, shoppers can try Sweet & Sour Impossible Pork Made From Plants; Teriyaki Impossible Chicken Made From Plants; Chili Mac with Impossible Pork Made From Plants; Barbeque Impossible Pork Made From Plants; Spaghetti & Impossible Meatballs Made From Plants; Pasta Bolognese with Impossible Beef & Pork Made From Plants; Burrito Bowl with Impossible Beef Made From Plants; and Spicy Enchilada Bowl with Impossible Chicken Made From Plants.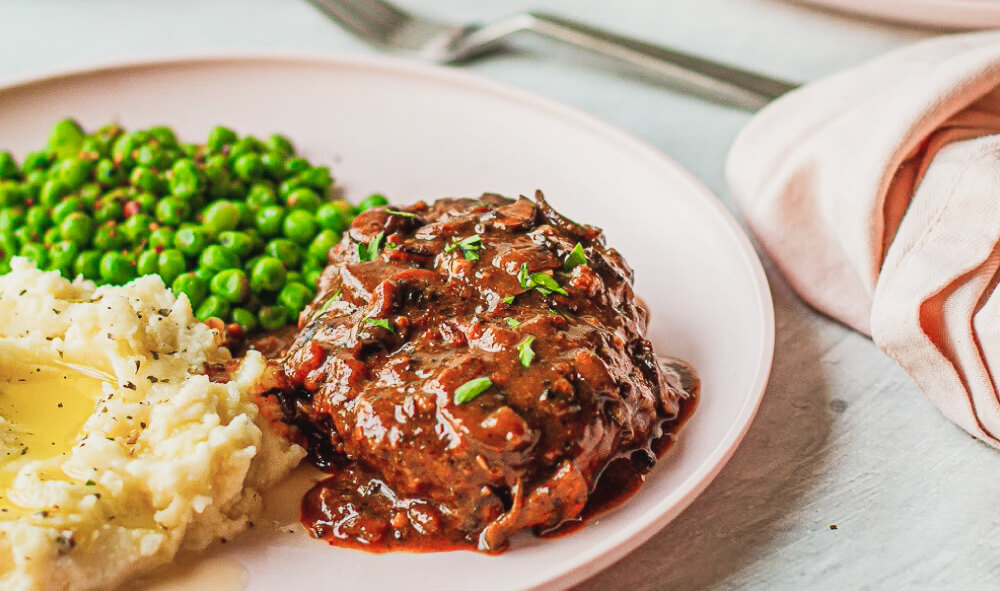 Impossible Foods
7 Impossible Filet Mignon
Last year, Brown revealed that an Impossible Filet Mignon is in development at the MIT Technology Review's Climate Tech conference. However, Impossible will not release its plant-based steak until it can compete with its animal counterpart in every way that matters to consumers.
Where to find Impossible Foods
Impossible Foods is constantly evolving and expanding with retailers and restaurants picking up the product virtually every week. For some restaurant launches, like the chicken nuggets, it's a limited-time offer, but more often than not, the products are there to stay.
The vast majority of Impossible's meat alternatives can be found in a medley of national and regional grocery stores including Kroger brand, Gelson's, Albertsons, and even Trader Joe's. Retail-ready items include the Impossible patties and beef grounds, sausage, meatballs, chicken nuggets, tenders, and patties. Many of these can also be found at independent and chain restaurants, from Umami Burger to the Cheesecake Factory.
Impossible Pork is the outlier and can only be found in a handful of restaurants across the US and Hong Kong—for now.
For an interactive directory of Impossible Foods' plant-based meats, see the store and restaurant locator.
For more Impossible Foods finds, read: