With fresh food prices hitting record highs, consumer reports show that shoppers are taking a second look at frozen meals as a convenient, wallet-friendly option. And this month, they'll find exciting new vegan meals. That's because Impossible Foods is getting into frozen meals for the first time with a line that will begin hitting the freezers at approximately 4,000 Walmart stores nationwide this month.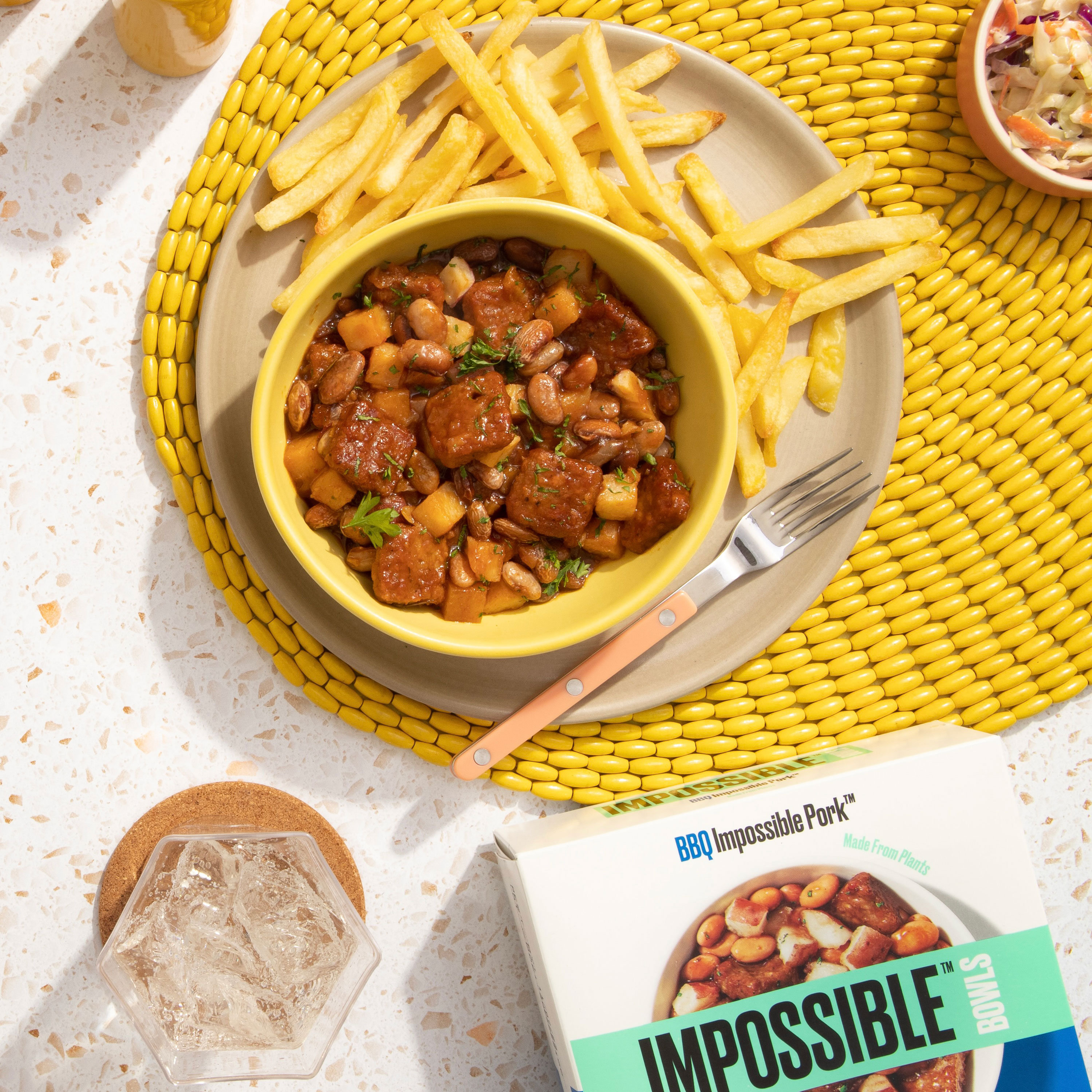 Impossible Foods
Developed and distributed in partnership with Golden West Food Group, Impossible Bowls will be offered in eight globally inspired flavors, each featuring Impossible's line of plant-based beef, pork, and chicken. This week, Walmart stores will begin stocking four Impossible Bowls: Sweet & Sour Impossible Pork Made From Plants; Teriyaki Impossible Chicken Made From Plants; Chili Mac with Impossible Pork Made From Plants; and Barbeque Impossible Pork Made From Plants.
"Convenience and accessibility are a huge part of this, and we're excited to give people even more ways to try and buy Impossible products," Peter McGuinness, CEO of Impossible Foods, said in a statement. "This is a major milestone that we're proud of and hope will push the category forward in a meaningful way. It's never been easier to try a delicious plant-based meal in minutes."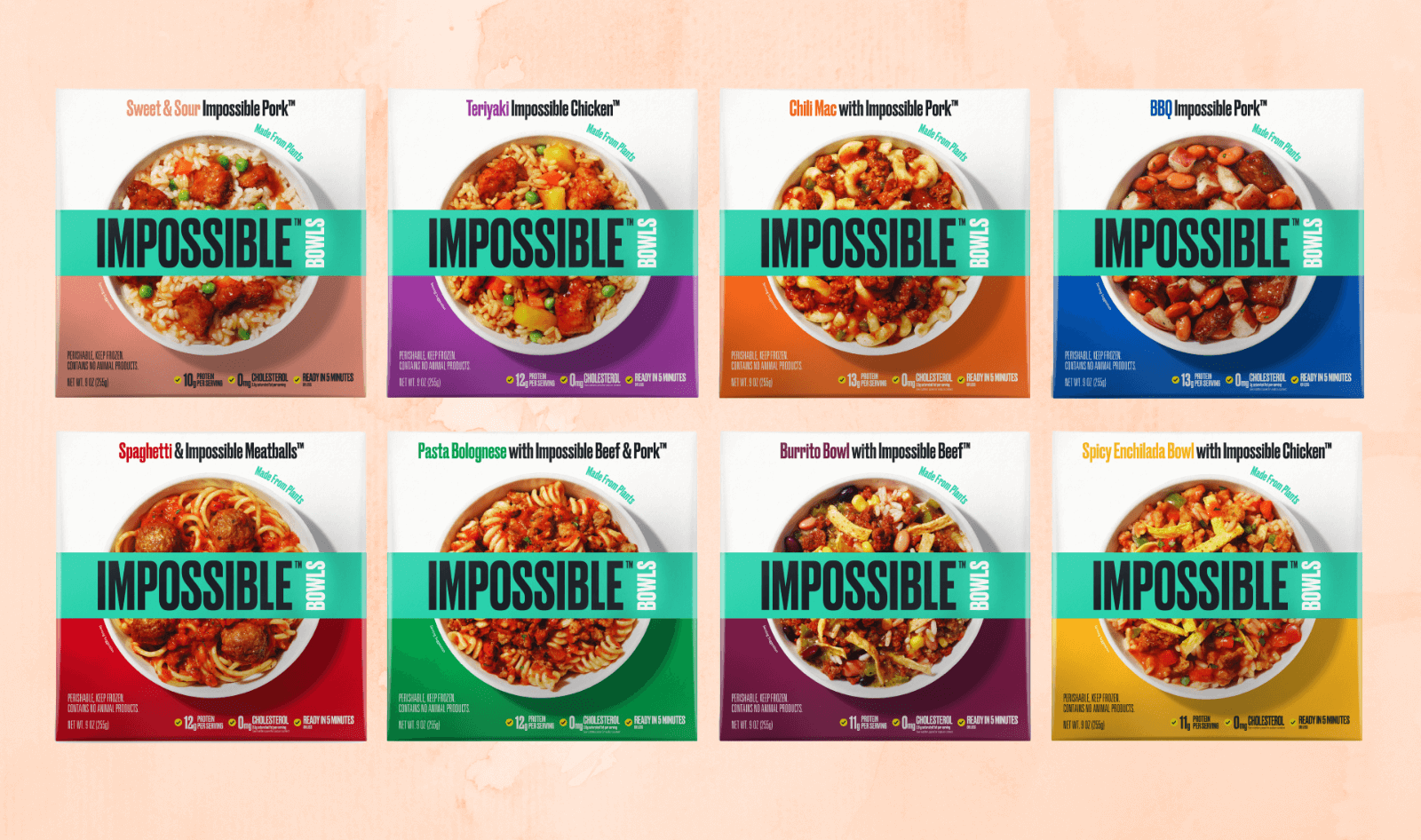 Impossible Foods
In October, another four meals, inspired by Italian and Latin cuisines, will begin hitting Walmart shelves: Spaghetti & Impossible Meatballs Made From Plants; Pasta Bolognese with Impossible Beef & Pork Made From Plants; Burrito Bowl with Impossible Beef Made From Plants; and Spicy Enchilada Bowl with Impossible Chicken Made From Plants.
With this launch, Impossible Foods will be tapping into the frozen food market, which in 2021 was valued at nearly $56 billion with the ready-meals segment holding the largest market share at 40.7 percent. The frozen food category, according to a recent report by Grand View Research, is expected to grow by a compounded annual growth rate of 4.7 percent between now and 2030.
Impossible's Meatless Bowls, Tacos, and Burritos at Baja Fresh
Impossible Foods is also making moves with plant-based bowls on the foodservice side of things. This week, fast casual chain Baja Fresh announced it has extended its partnership with Impossible Foods to add several menu options to its permanent menu.
In 2021, Baja Fresh first added three menu items made with Impossible's plant-based meat to approximately 80 locations nationwide for a limited time. This week, Baja Fresh announced that based on the success of its limited test, Impossible's plant-based beef will remain on the permanent menu and can be ordered in place of animal meat in almost any menu item.
"When we added Impossible meat to our menus last year the positive feedback from our customers was overwhelming, so we are thrilled to announce it has been added to our permanent menu," April Fogle, brand leader of Baja Fresh, said in a statement. "We can't wait to continue our relationship with Impossible Foods and meet the growing demand for plant-based menu options."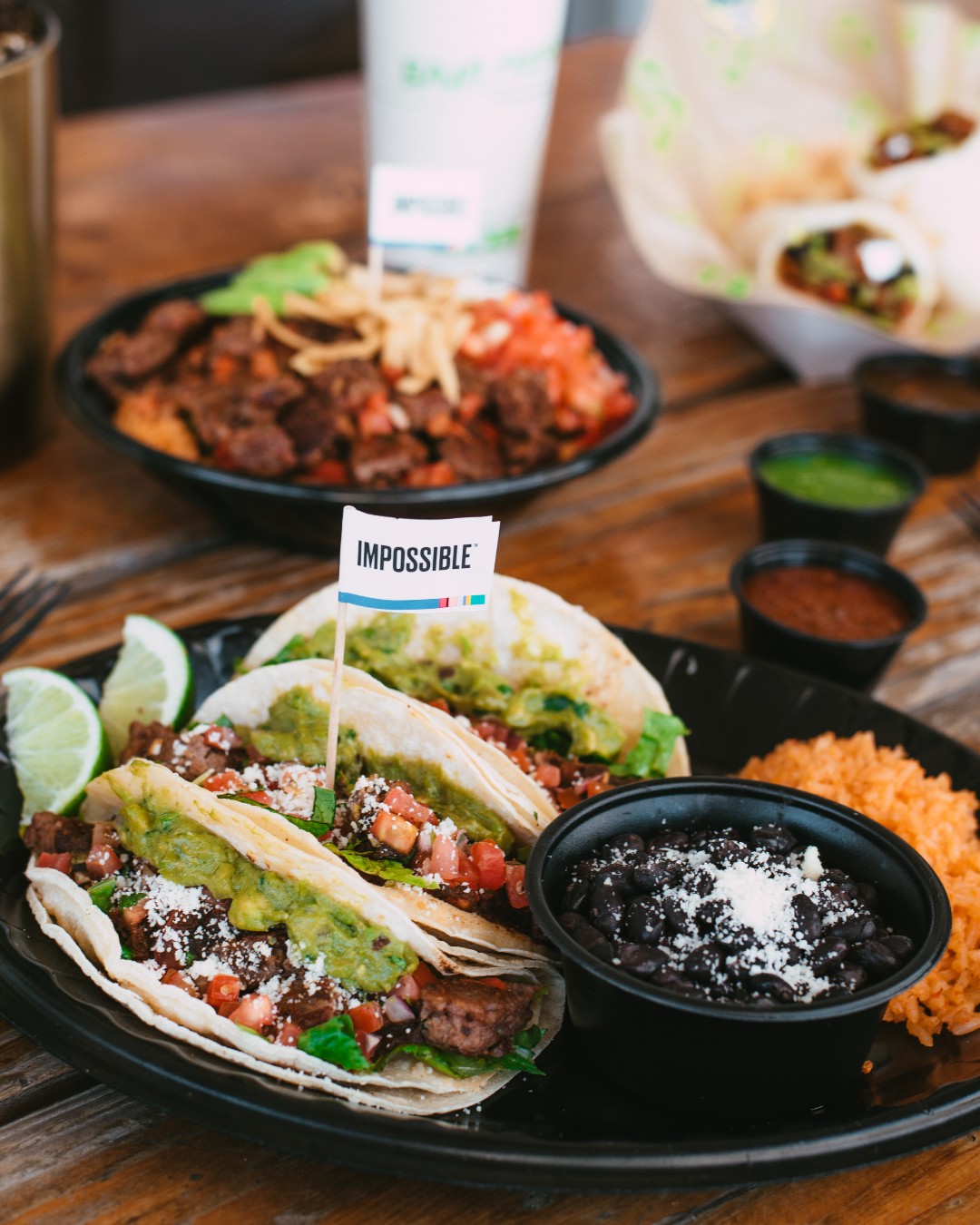 Baja Fresh
The new permanent menu items at Baja Fresh are: The Impossible Taco Combo (which features three tacos filled with Impossible meat, shredded lettuce, pico de gallo, guacamole, Baja salsa, cotija cheese, and stuffed into warm corn tortillas and served with a side of black or pinto beans and Baja rice); The Fuego Impossible Burrito (which is made with the plant-based beef, dairy-based jack cheese, guacamole, black beans, Diablo salsa, Six Chiles salsa, pico de gallo, pickled jalapeños, shredded lettuce, and sour cream); and The Impossible Bowl (made with a a base of Baja rice topped with roasted vegetables, Impossible meat, sour cream, avocado, pico de gallo, and tortilla strips.)
"Impossible meat has been a hit with Baja Fresh's customers, and we're excited to see it extended across the entire menu," Dan Greene, Senior Vice President of North America Sales at Impossible Foods, said in a statement. "The response has been great so far, and we think guests will be glad that Impossible is here to stay."
In addition to carving out a permanent space on Baja Fresh's menu, Impossible Foods is also in the middle of expanding its presence on the menu of its largest fast-food partner, Burger King. Last week, the fast-food giant began testing its first plant-based chicken sandwich, made with Impossible's new patty, at select locations in Cincinnati, OH.

For the latest vegan news, read:
Study Links Processed Meat To Higher Risk of Colorectal Cancer in Men
Why Vegan Meat Is Moving Out of the Burger Bun and Into the Deli Case
Vegan vs Plant-based: Which Should the Food Industry Officially Adopt?