Impossible Foods recently raised $500 million in a new funding round led by investment firm Mirae Asset Global Investments. This investment builds on previous funding rounds, including a $500 million round in March 2020 also led by Mirae Asset and a $200 million round in August 2020 led by investment firm Coatue. With a mission to transform the food system with innovative plant-based alternatives, Impossible Foods is now the most-funded and fastest growing plant-based startup in the world.
"Mirae Asset is excited to double down on the team at Impossible Foods as they continue transforming the global food system," Thomas Park, president of Mirae Asset Global Investments (US), said in a statement. "It is important to us to partner with true innovators like Impossible Foods' CEO Pat Brown and support the entire Impossible Foods team as they work to solve one of the most critical challenges facing our planet—climate change."
The most recent funding brings the company's total investments to date to nearly $2 billion, funds that Impossible Foods is using to achieve its mission of replacing all animal foods with viable plant-based alternatives by 2035.
"We're fortunate to have great investors who believe in our long-term mission," Impossible Foods Chief Financial Officer David Borecky said in a statement. "The latest round of funding allows us to further accelerate our product innovation and global expansion efforts as we continue to leverage the power of the food system to satisfy consumers and fight climate change."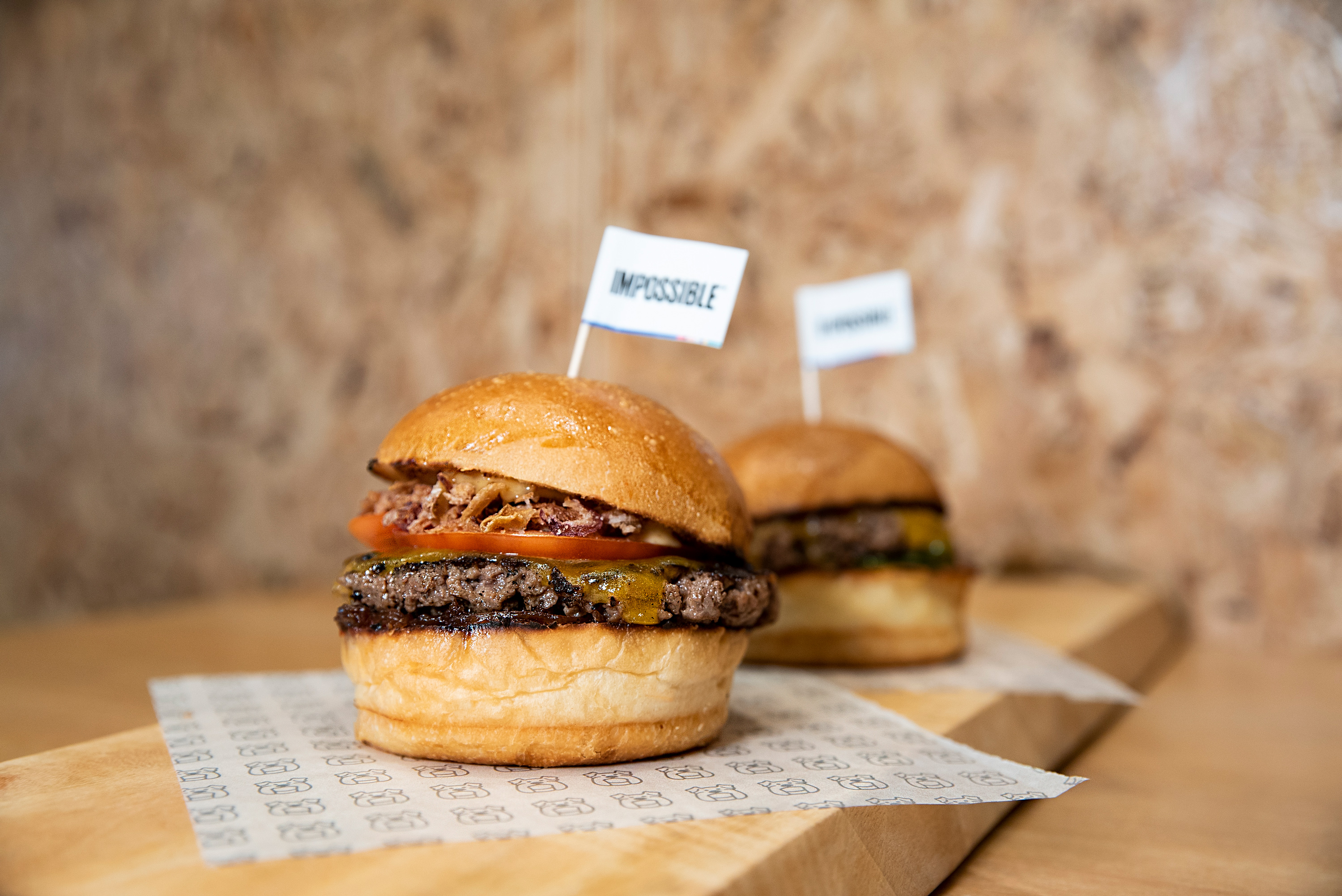 Road to 2035: Impossible Foods is replacing meat with plants
The global meat sector was worth $889 billion in 2020 and is projected to increase to $1.2 trillion by 2025. Animal agriculture is a major contributor to greenhouse gas emissions and Impossible Foods aims to take a chunk out of the global meat market, replacing it with plant-based meats that require far fewer resources to produce while emitting fewer greenhouse gases.
The company first targeted beef—which is responsible for the majority of the greenhouse gas emissions attributed to animal agriculture—with the launch of its Impossible Burger in 2016. After it launched at a handful of high-end restaurants, the Impossible Burger hit fast-food giants, including White Castle, Burger King, and Fatburger. While the initial formulation of the plant-based burger approximated beef well, Impossible Foods released an Impossible Burger 2.0 version in early 2019 which won it top accolades at the Consumer Electronics Show, the world's largest technology expo, that year.
Next, Impossible Foods targeted pork with the launch of Impossible Pork in foodservice in early 2020. Its partners included Burger King, Jamba, and Starbucks—which added the Impossible Breakfast Sandwich to its menu that summer. Impossible Foods made its pork alternative available in retail earlier this year with the launch of Impossible Sausage made from Plants in spicy and savory flavors at 13,000 stores nationwide.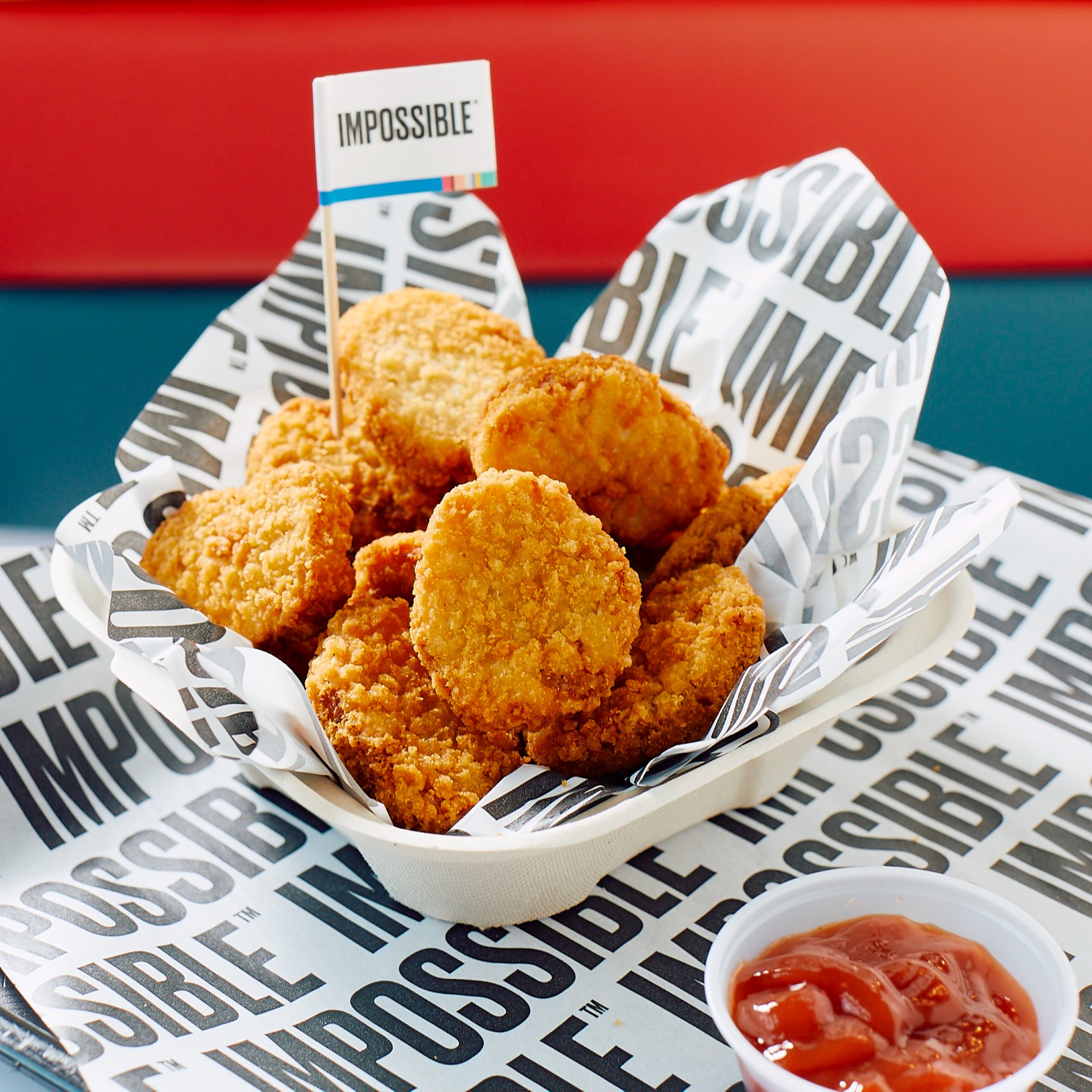 Impossible Foods picks up the pace
While Impossible Foods initially spent several years developing and launching its first products, in recent months, the company has accelerated the release of new products. This summer, Impossible released its first plant-based chicken product with the Impossible Chicken Nuggets made from Plants. The new vegan chicken nuggets quickly landed on the menu at select Burger King locations, along with a slew of other restaurants—such as Red Rooster, owned by celebrity chef Marcus Samuelsson—known for their animal-derived chicken offerings.
Earlier this month, Impossible Foods launched Impossible Meatballs made from plants—a blend of its Impossible Burger and Impossible Sausage. The prepared vegan meatballs are now hitting Walmart stores, where they are stocked in a dedicated freezer section alongside Impossible's other meat products. The company is also looking to replace animal foods outside of the meat sector and unveiled a prototype for its functional plant-based milk last October.
In March 2020, Impossible Foods' plant-based burger was stocked in approximately 150 stores. Currently, Impossible products can now be found in about 22,000 grocery stores, as well as in close to 40,000 restaurants globally.
"Our mission is to completely replace the use of animals as a food technology by 2035. We're dead serious about it and we believe it's doable," Impossible Foods CEO Pat Brown, who founded the company in 2011, said during a conference earlier this year. "I was confident that we would succeed when I launched this company, and now I'm completely confident. It's game over for the incumbent [meat] industry—they just don't realize it yet."
For more about Impossible Foods' plant-based innovations, read:Impossible Foods Is Now Certified for School LunchesTIME Names Impossible Pork One of the Best 100 Inventions of 2020Impossible Burgers Are About to Get Much Cheaper in Stores