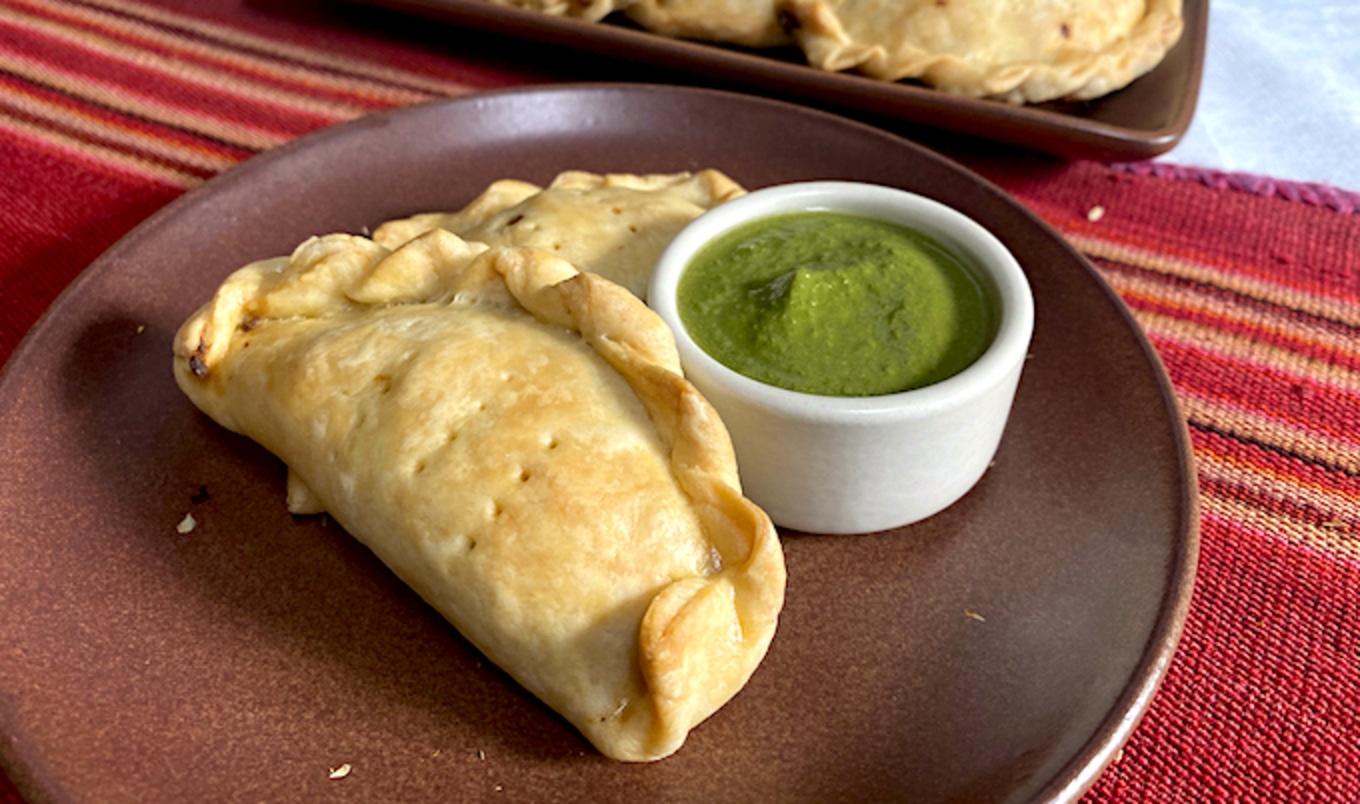 A portable South American classic, baked hand pies with a savory beef-filling alternative and green hot pepper dipping sauce.
April 7, 2023
An onion sauté with garlic, spices, broth, and bay leaf enhance the savory filling; while currants and olives add a touch of fruitiness to this recipe from the Vegan Peruvian Kitchen cookbook. Mint and serrano peppers give the dipping sauce aromatic heat.
What you need:
For the aji verde dipping sauce:
1 cup cilantro leaves, loosely packed
½ cup flat parsley leaves, loosely packed
½ cup mint leaves, loosely packed
2 tablespoons minced serrano pepper
¼ cup water
½ cup plain soy yogurt
1 tablespoon creamy peanut butter
1 tablespoon lime juice
¼ teaspoon salt
For the filling:
2 tablespoons vegetable oil
1 cup diced red onion
2 garlic cloves, minced
1 pound vegan ground beef (such as Beyond Meat)
¼ teaspoon salt
¼ teaspoon pepper
¼ teaspoon cumin
¼ teaspoon oregano
1 cup vegan beef stock
¼ cup currants
1 bay leaf
12 pitted Kalamata olives
For the dough:
3 cups flour, plus more to dust the work surface
1 teaspoon salt
1 cup solid vegetable shortening
1 teaspoon white wine vinegar
1 cup cold water
For the glaze:
¼ cup soy milk
What you do:
For the aji verde dipping sauce, in a high-speed blender, add cilantro, parsley, mint, serrano peppers, water, and yogurt. Purée for 30 seconds. Add peanut butter, lime juice, and salt, and purée for an additional 30 seconds. Transfer to a small bowl and set aside.
For the filling, in a large non-stick skillet over medium-high heat, warm vegetable oil. Add onion and garlic, sauté stirring occasionally, until onion becomes translucent, about 2 minutes. Mix in vegan beef, using a spatula to break up large pieces. Season with salt, pepper, cumin, and oregano. Cook, stirring occasionally, until vegan beef begins to brown, about 10 minutes. Add stock, mix in currants and bay leaf. Bring to a simmer and cook until liquid reduces almost completely, about 5 minutes. Transfer filling to a bowl, remove bay leaf, and set aside.
Preheat oven to 375 degrees.
For the dough, in a large bowl, add flour, salt, shortening, and vinegar. Use a spatula to mix thoroughly. Continue to mix, adding 2 tablespoons of water at a time. After adding ¼ cup water, shape dough in bowl by hand to form a ball. If ball doesn't keep its shape, add a few more tablespoons of water. The dough ball should have some elasticity when pulled and not crumble or tear apart right away. Transfer dough ball to a floured working surface, and knead for 1-2 minutes, until it maintains a dome form. Shape into a log and cut into 12 equal pieces.
Use a rolling pin to roll out each piece of dough into rough circles large enough to cut 6-inch diameter dough circles with a round dough cutter.
To assemble, place dozen 6-inch diameter dough circles flat on working surface. Scoop 2 tablespoons of filling onto center of each circle and place an olive on top. Use a brush to moisten edges of dough circles with water. Fold dough circles in half, and press down firmly on edges with fingertips to seal.
To braid, place an empanada on left palm with straight edge facing away from you. Pinch left corner with index finger and thumb of right hand, index finger on top, and thumb below. Turn right wrist clockwise while gently pulling dough with fingers so that thumb ends up on top and a triangular piece of dough covers the index finger. Repeat from left to right, now pinching half of folded triangular piece.
To bake, arrange empanadas flat on a baking sheet lined with parchment paper. Brush top of empanadas with soy milk, then poke top of each with a fork three times and put in oven. Bake until empanadas turn golden brown and have a firm, puffy shape, about 40-45 minutes. Serve warm with side of aji verde dipping sauce.