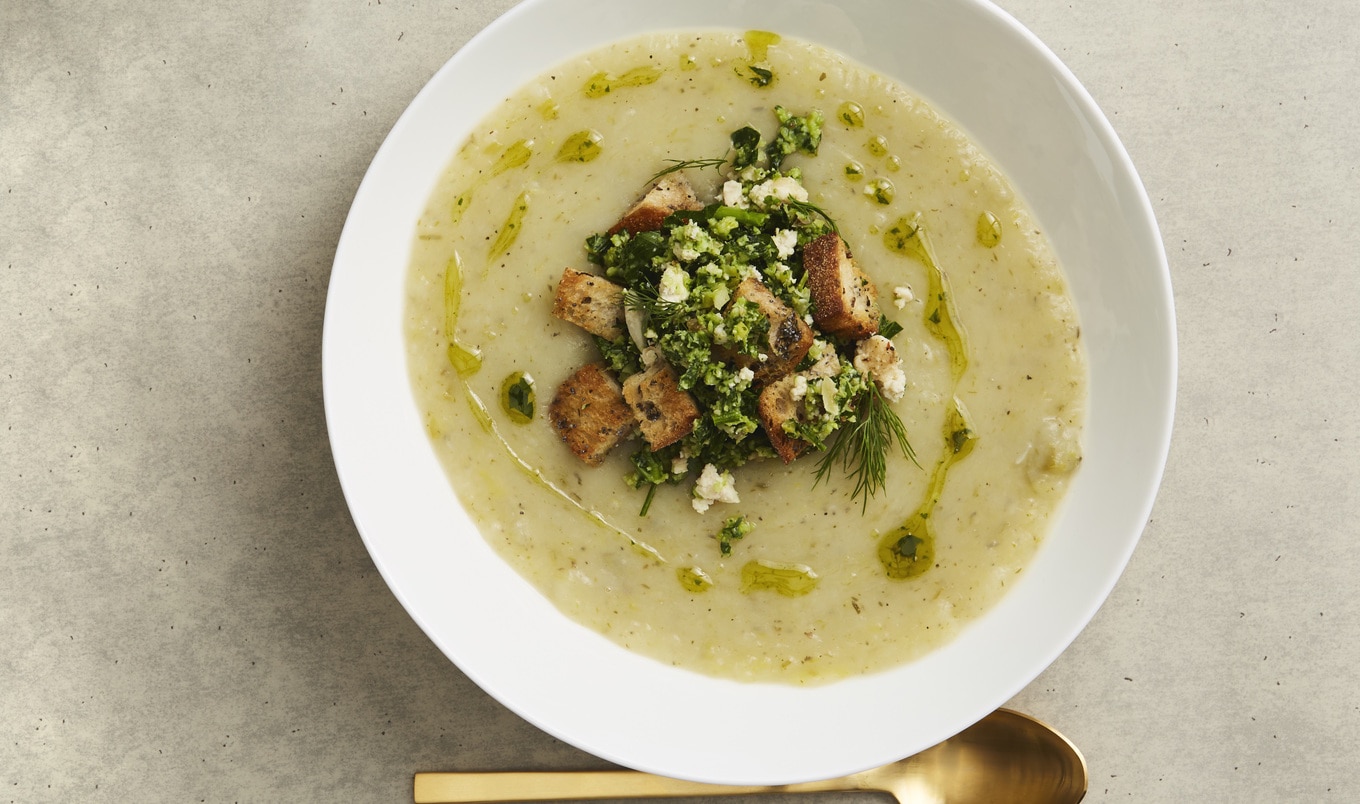 Broccoli offers a more substantial twist on gremolata—a zippy, crunchy, and refreshing relish of parsley, lemon zest, garlic, and nuts that adds a burst of flavor to this warming soup.
November 25, 2022
Waxy yellow Yukon or red potatoes are the best choices for this classic wintery soup from the Show Up for Salad cookbook. They remain unpeeled for rustic appeal, but feel free to go with your preference. Swap the broccoli for any substantial cruciferous vegetable—think broccolini or collard stems—for the bright and zesty topping.
What you need:
For the Potato Leek Soup:
2 tablespoons vegan butter
2 shallots, peeled and diced
1 large leek, white and tender light green parts only, cleaned and thinly sliced
2 pounds starchy white potatoes, unpeeled and diced
6 cups vegetable broth
1 teaspoon dried thyme
1 teaspoon salt
¼ teaspoon black pepper

For the Broccoli Gremolata:
¼ cup slivered almonds
Grated zest of 1 lemon
2 tablespoons lemon juice
2 garlic cloves, peeled and minced
1 tablespoon olive oil
1 teaspoon salt
2 cups shredded broccoli stems (such as broccoli slaw) or 3 cups broccoli florets
½ cup roughly chopped flat-leaf parsley
What you do:
For the Potato Leek Soup, in a 2-quart pot over medium-low heat, melt butter and stir in shallots and leek. Fry until shallots and leek are very tender but before browned, about 6 to 8 minutes. Add potatoes, broth, thyme, salt, and pepper. Increase heat to medium-high and bring soup to a rapid simmer for 10 minutes, then reduce heat to low and partially cover. Simmer for another 10 to 15 minutes, or until potatoes are very tender.
Use an immersion blender to pulse soup into an almost smooth mixture (some tiny lumps are okay). Turn off heat and cover soup.
For the Broccoli Gremolata, in a food processor, roughly chop almonds. Add lemon zest, lemon juice, garlic, oil, and salt and pulse a few more times. Add broccoli stems or florets and parsley. Pulse only a few times to finely chop stems, being careful not to overprocess.
Divide soup into serving bowls and top with a heaping tablespoon or two of gremolata. Serve immediately and use gremolata within a day of preparing.