Americans really, really love cheese. Between 1977 and 2017, data reveals that the average person's consumption grew from 16 pounds a year to around 37 pounds—which is a heck of a lot of cheese. There are a few different types that capture the hearts and appetites of American consumers, but, without a doubt, queso is one of the most loved.
Chile con queso, which is often shortened to just queso, is a rich, velvety, gooey mix of melted cheese and chili peppers. It's often served in Tex-Mex restaurants, usually alongside tortilla chips, guacamole, and salsa. But while the popular dip is usually made with dairy, just like with most cheeses, it is possible to make this savory, addictive treat vegan—without losing any of the delicious taste or texture. Here's what you need to know.
What is queso and where did it originate?
On more than one occasion, queso has been dubbed "the world's most perfect food." But that said, it's most popular in the US, where you can find it on the menu at most Tex-Mex restaurants, like Del Taco, Chipotle, Qdoba, and Buffalo Wild Wings, for example. It's essentially a processed liquid cheese dip, which has a thick, velvety consistency and a slightly spicy taste.
But while it's a staple of US comfort food, queso was likely developed across the border. "The earliest reference to [queso] in print can be found in the 1816 Mexican novel El Periquillo Sarniento (The Mangy Parrot) by José Joaquín Fernández de Lizardi," says Lisa Fain of the Homesick Texan blog. Lizardi, a renowned novelist and political pamphleteer, was born and lived in Mexico City, which is more than 860 miles from Texas.
But, Fain notes, while it is likely that the dip has Mexican roots, the first published recipe for queso actually appeared in a 1986 article in the US. "Like all early Mexican versions, it was intended to be a side dish, with the cheese enhancing the chiles, much like cheese melted onto cauliflower," she explains. "Its evolution to a dip was yet to come."
Can you make queso vegan?
Queso has evolved significantly over the decades, and, if you spend a while surfing the internet, you'll find there are now many different recipes and versions to be found. And some of them are 100 percent vegan.
Instead of cheese made from cow's milk, many vegan recipe developers and brands use ingredients like nutritional yeast, for example, which is known for its nutty, cheesy flavor, to make delicious plant-based queso dip. They also often use cashews, which, when soaked and blended, have a similar velvety consistency to queso dip. And, just like traditional versions, these ingredients are mixed with spices and garlic to get that signature spicy flavor.
If you've now got a big craving for vegan queso (and who can blame you?), it's easy to find in-store or make it from home. For guidance, just check out the brands and recipes below. And don't forget the extra big portion of tortilla chips, too.
Where to buy vegan queso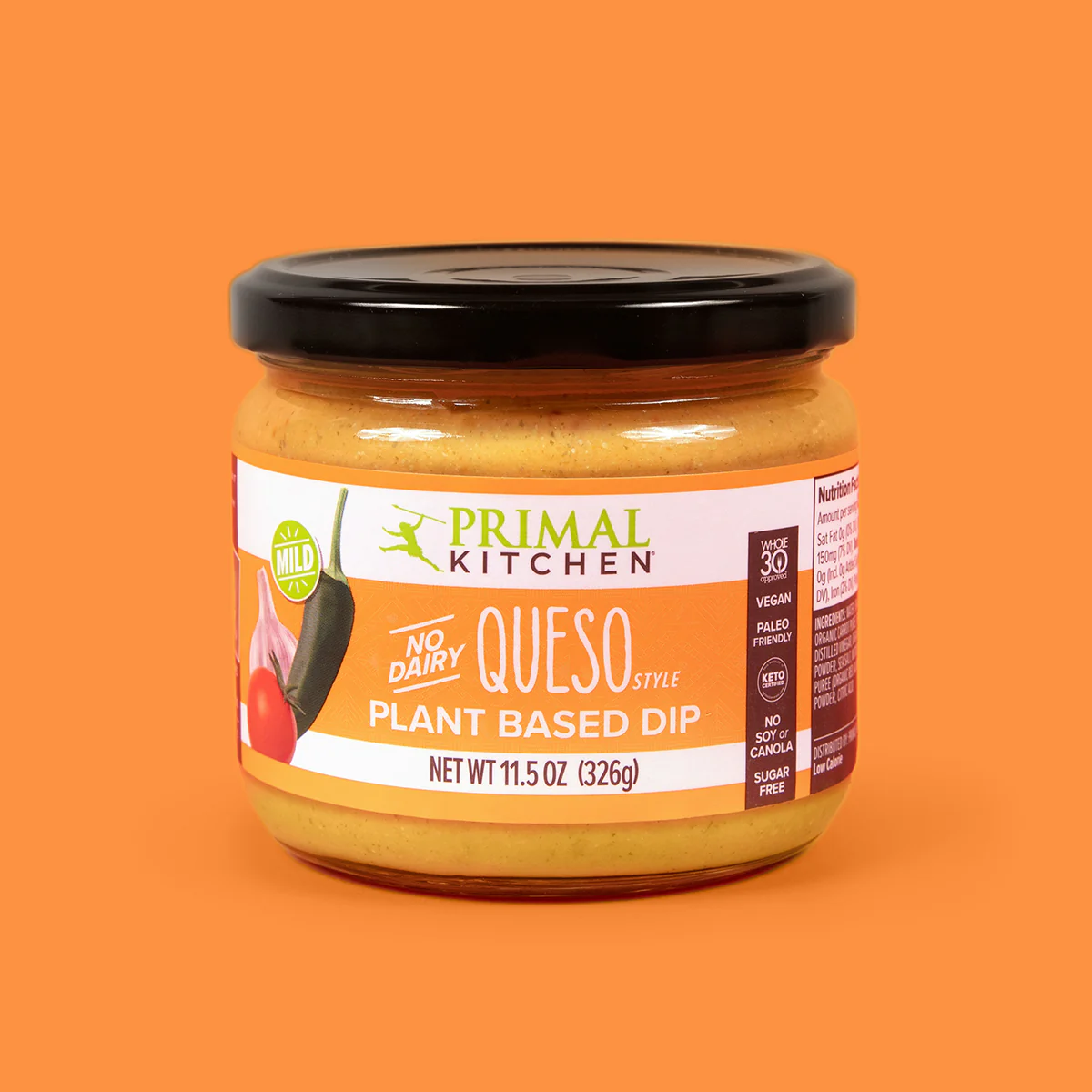 Primal Kitchen


1 Primal Kitchen
Primal Kitchen's extensive range of condiments and cooking oils includes this creamy, tomato-y No-Dairy Queso Style Plant-Based Dip. It's mild but contains "a hint of jalapeño" for an extra little flavor kick.
Get it here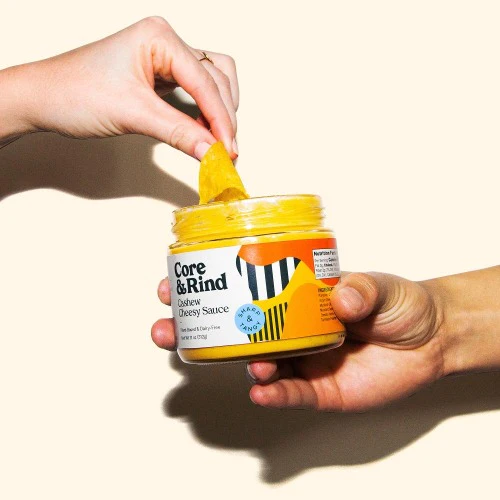 Core & Rind


2 Core & Rind
Core & Rind is a connoisseur of vegan cheesy sauces. In fact, the whole brand is dedicated to making flavor-packed, creamy dips, using cashews. Depending on your personal preference, you can choose from flavors like Sharp & Tangy, Bold & Spicy, and Rich & Smoky.
Get it here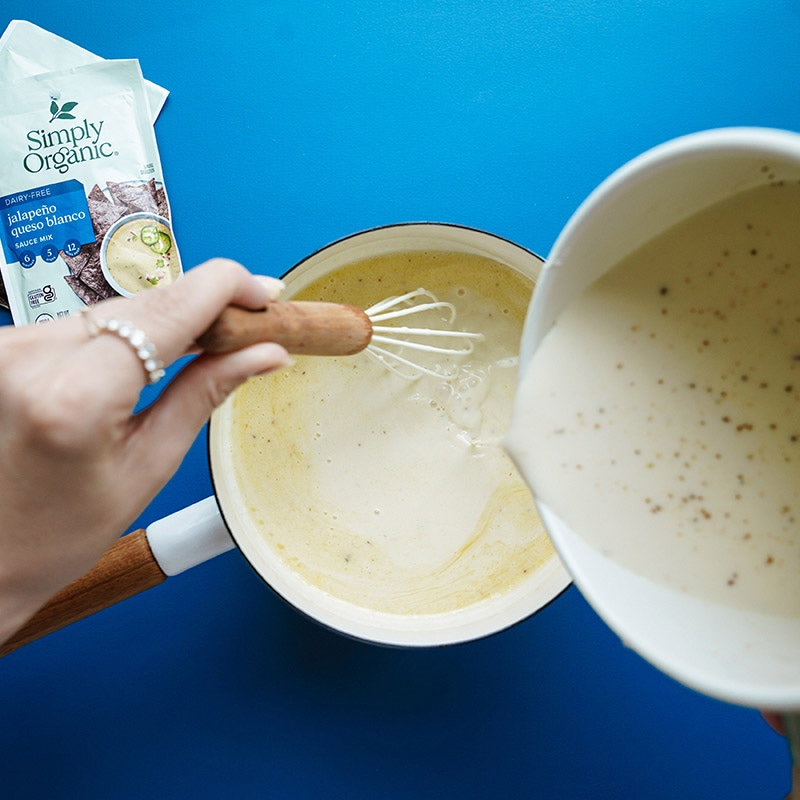 Simply Organic
3 Simply Organic
Simply Organic's Dairy-Free Jalapeño Queso Blanco Sauce Mix is a quick way to whip up your own tasty vegan queso dip from home. All you need to do is mix it with your favorite plant-based milk or butter and heat it up.
Get it here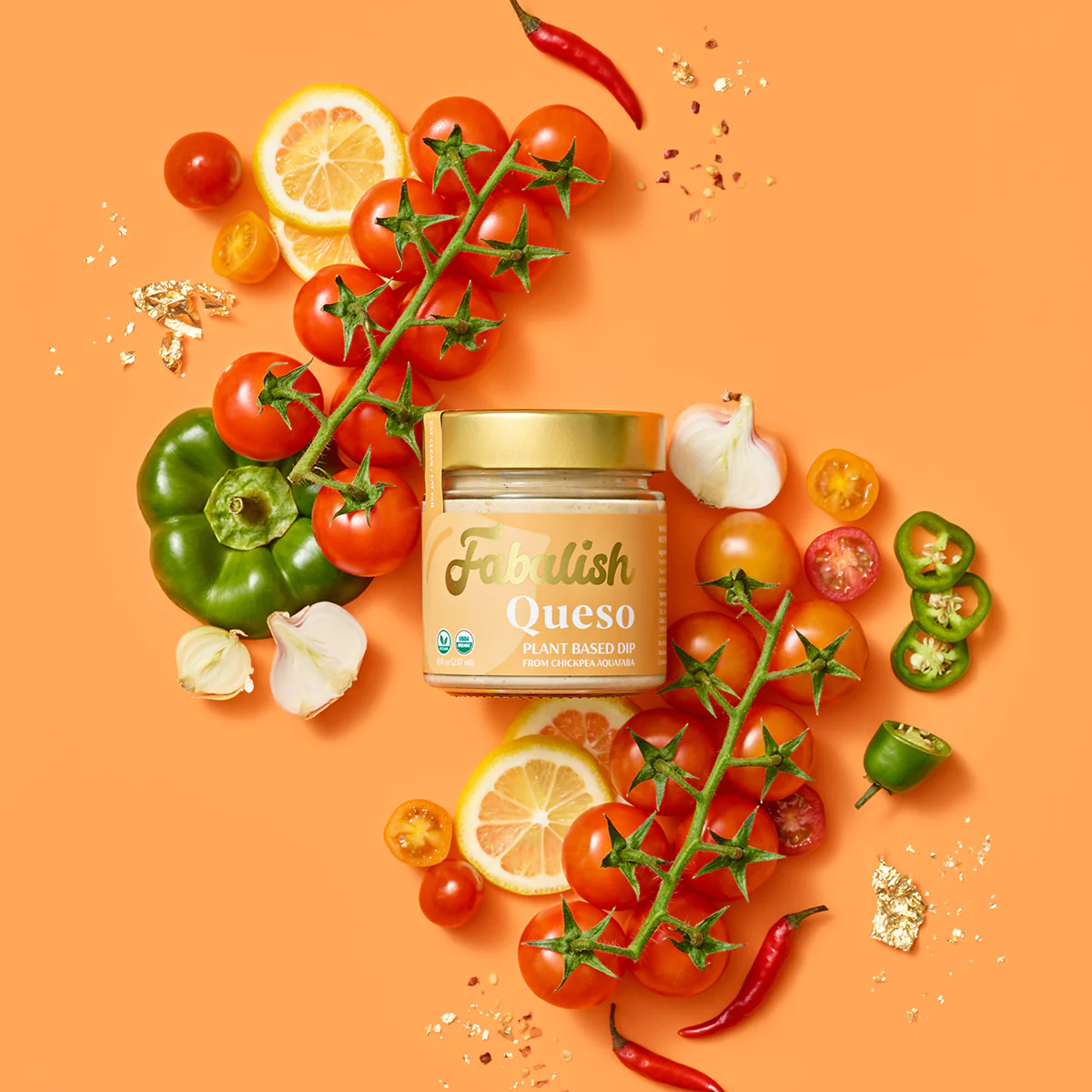 Fabalish
4 Fabalish
Vegan brand Fabalish relies on aquafaba (aka chickpea brine), tomatoes, spices, and nutritional yeast to make its signature vegan queso blend. It's smooth, creamy, and mildly spicy. Basically, it ticks all of the boxes.
Get it here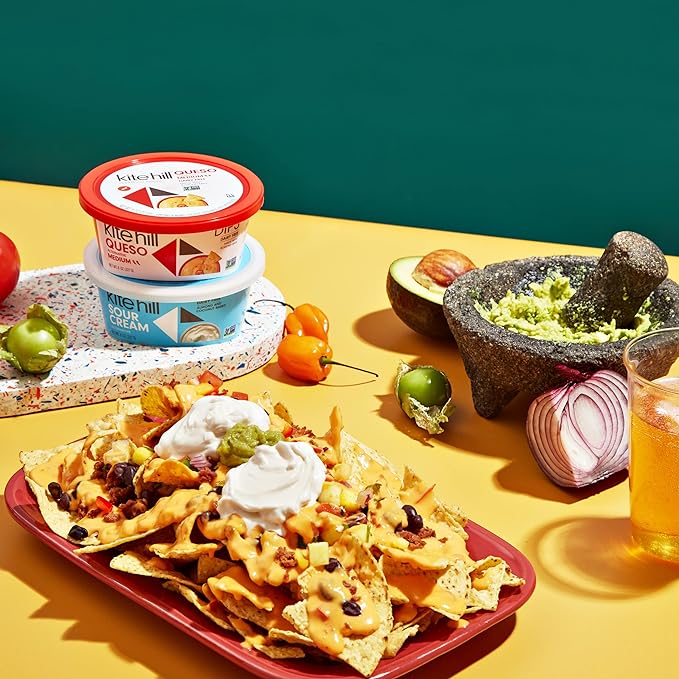 Kite Hill
5 Kite Hill
Kite Hill is known predominantly for its vegan cheese products, but this dairy-free brand also makes delicious dips, including its own plant-based queso alternative. Unlike others on the market, the brand's version is made with almond milk, as well as rip tomatoes, bell peppers, and jalapeños.
Get it here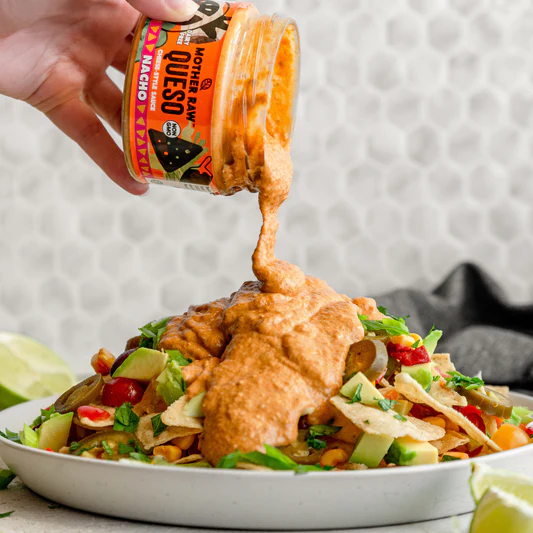 Mother Raw
6 Mother Raw
According to Mother Raw, it is on a mission to "make plants craveable." And if its queso range is anything to go by, it has already achieved that goal. The brand offers three different types of its popular creamy dairy-free dip: Original, Spicy, and Nacho.
Get it here

How to make vegan queso: 5 recipes to try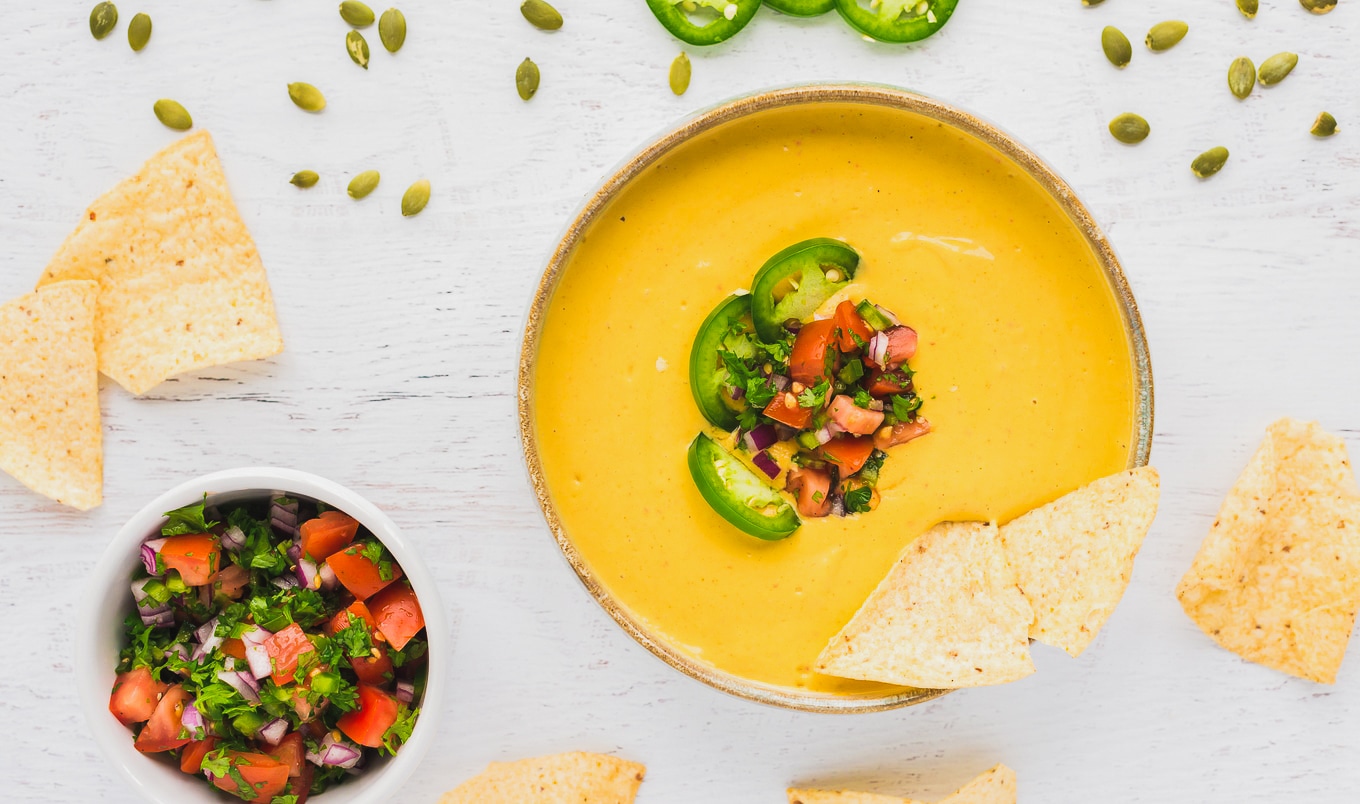 Dreena Burton
1 Easy Veggie Fakeout Queso
Did you know you can make a delicious version of queso using vegetables? Well, it's true—and this tasty recipe is the proof. Combine potatoes, bell peppers, and carrots, with ingredients like coconut milk, nutritional yeast, and garlic to make a delicious (and nutritious) vegan queso dip. Just make sure the portion is big enough, it's guaranteed to be gobbled up in seconds.
Get the recipe
2 Sweet Potato Queso
Another vegetable that can replicate the smooth, velvety texture of queso when it's cooked and blended is sweet potato, which is not only flavorful but also nutritious. And the other secret ingredient in this vegan recipe? It's quinoa (not that you'd be able to tell from the taste and texture).
Get the recipe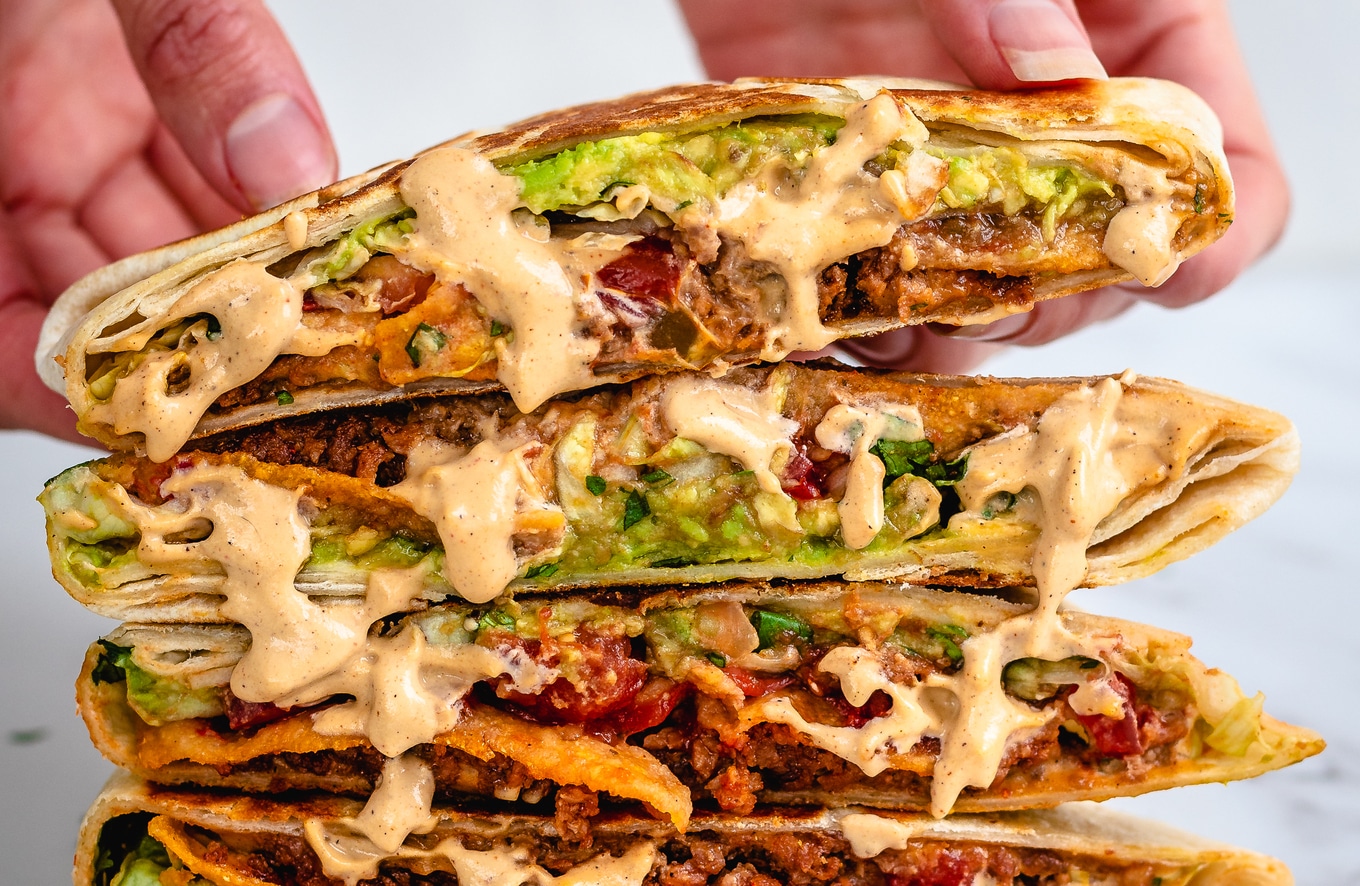 Hannah Sunderani
3 Spicy Cashew Queso
This recipe also relies on cashews to get that signature queso texture. All you need to do is soak the cashews first, before mixing them in a high-speed blender with ingredients like nutritional yeast, garlic, cumin, and onion powder. If you like things super spicy, up the chili powder for a little bit of an extra kick.
Get the recipe
4 Melty Queso Dip with Jalapeños and Pinto Beans
Again, this tasty version of queso calls for cashews, but it also throws in ingredients like almond milk, white miso, pinto beans, and vegan mozzarella cheese, in order to get the taste and consistency just right. Put it to the test for yourself next time you're hosting a Tex-Mex evening. We recommend serving alongside this tasty vegan guacamole with a twist, as well as a generous serving of mango-avocado salsa.
Get the recipe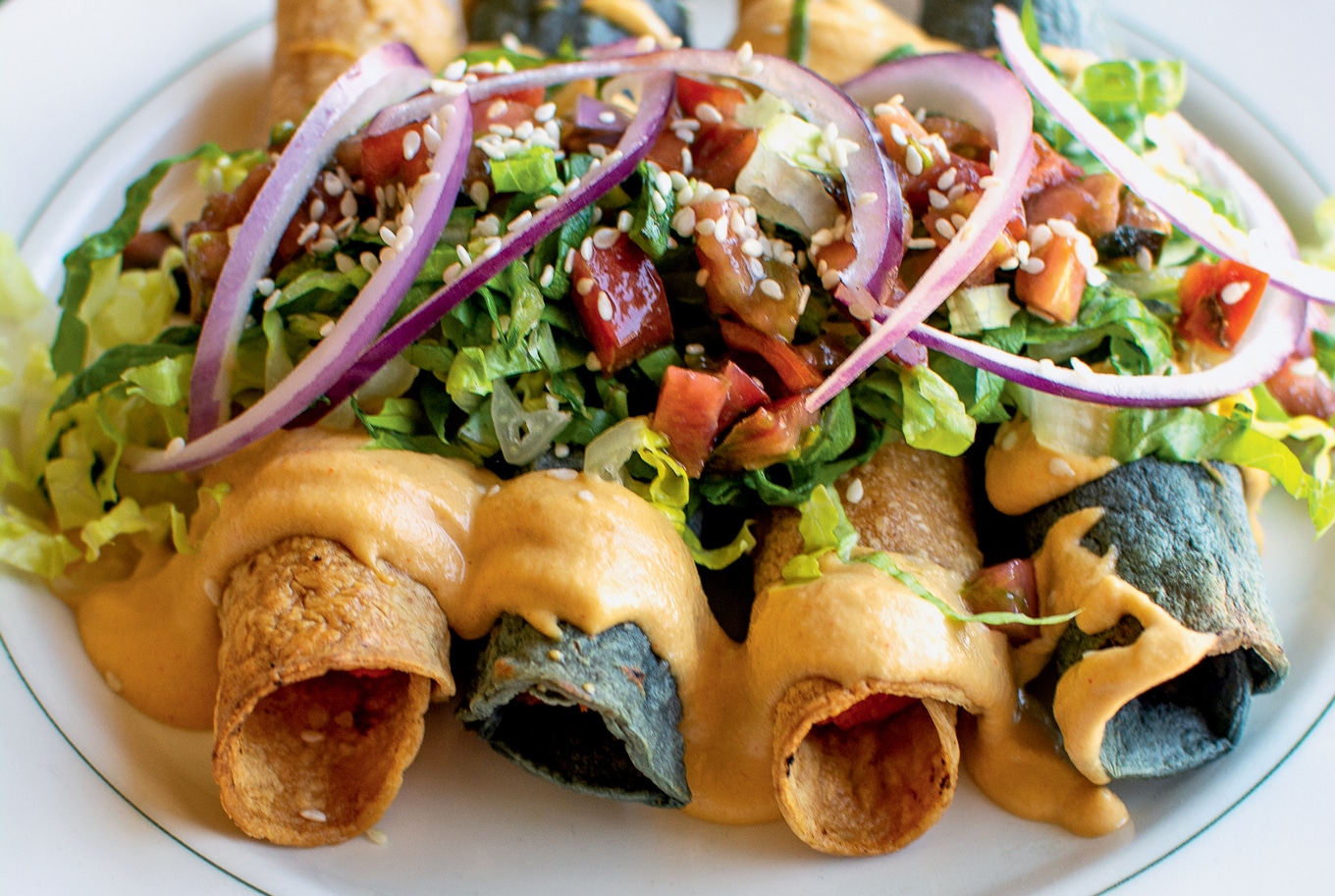 Kate Ramos
5 Fried Cashew Queso
This recipe relies on fried cashews, which are then blended with ingredients like avocado oil, lime juice, smoked paprika, and green chiles, to get that rich, velvety queso texture and flavor profile. If you've got time, it's worth whipping up the accompanying crispy flautas, too, for a delicious and comforting midweek meal.
Get the recipe
For more on vegan recipes, read:
Here at VegNews, we live and breathe the vegan lifestyle, and only recommend products we feel make our lives amazing. Occasionally, articles may include shopping links where we might earn a small commission. In no way does this effect the editorial integrity of VegNews.