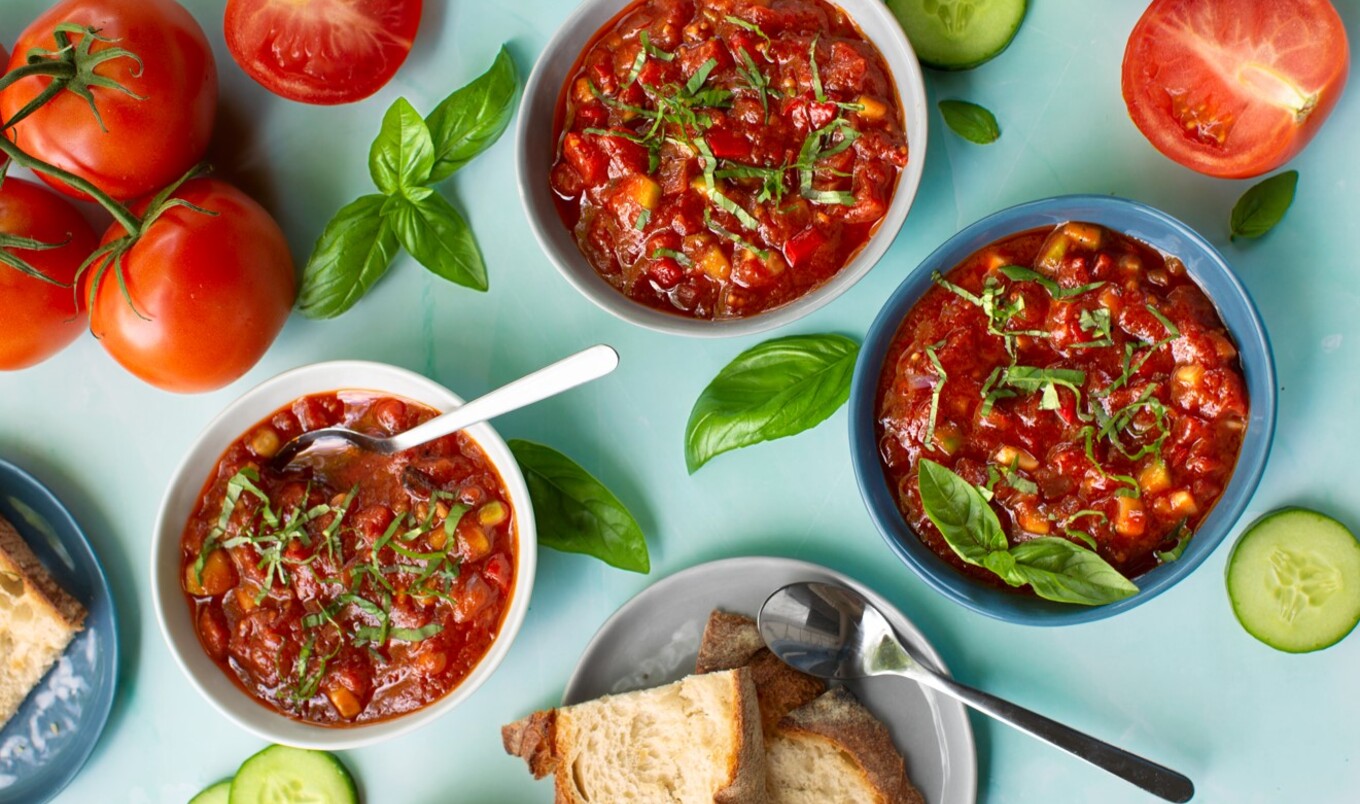 Forget about green juices or smoothies; chilled vegetable soups are the coolest blends around.
September 15, 2022
Gazpacho is indeed a dish best served cold, but that doesn't mean it needs to be a raw deal. Adding fire-roasted tomatoes such as in this recipe from The Everyday Vegan Cheat Sheet cookbook is a quick shortcut to deeper, savory flavor, adding richness without the butter or cream associated with a long-simmered bisque.
What you need:
2 tablespoons olive oil
2 pounds (4 to 6 medium) tomatoes, diced
½ medium red bell pepper, finely diced
½ medium red onion, finely diced
1 clove garlic, minced
1 (15-ounce) can tomato sauce
½ cup vegetable stock
2 tablespoons red wine vinegar
1 teaspoon horseradish or wasabi paste
2 teaspoons soy sauce
½ teaspoon salt
¼ teaspoon smoked paprika
¼ teaspoon ground black pepper
½ pound (2 small Persian or ½ English) seedless cucumbers, finely diced
2 tablespoons fresh basil, thinly sliced
What you do:
Preheat oven to 400 degrees. Drizzle oil over a half sheet pan, tilting sheet to completely coat bottom. Add tomatoes, pepper, onion, and garlic, tossing to combine. Place on center rack of oven and roast for 35 to 40 minutes, stirring thoroughly every 15 minutes or so, until vegetables are tender, highly aromatic, and lightly charred around edges. Let cool completely.
Transfer everything to a large pitcher and stir in tomato sauce, vegetable stock, vinegar, horseradish, soy sauce, salt, paprika, pepper, and cucumber. Stir gently to combine.
Let soup rest in refrigerator for at least 1 to 3 hours, or until thoroughly chilled. Add fresh basil just before serving and enjoy cold.
Photo credit: Hannah Kaminsky