Breakfast is, arguably, one of the best meals of the day. Whether you eat first thing in the morning or you're more of a brunch-lover, you can't go wrong with a stack of pancakes, a plate of (vegan) bacon and eggs, a bagel, or a simple bowl of cereal and oat milk. But when did we first start eating breakfast? And why? We've got the answers below. And, for days when you roll out of bed and just don't feel like cooking, we've also listed the very best chains to grab some tasty plant-based morning grub.
Why do we eat breakfast?
While it's now considered by many as the most important meal of the day, people haven't always eaten breakfast.
Those who lived in medieval Europe, for example, would only eat early in the morning if they were up early for work, or they were suffering from an illness. Some also rejected the idea on religious grounds. Fasting was the pinnacle of morality, and eating too soon in the morning was seen as a sign of gluttony. Fun fact: the word breakfast literally means to break the fast—because we fast as we sleep.
But over the centuries, as new foods and beverages (like tea and coffee) were introduced to Europe from countries they had colonized, breakfast became more normalized, and even celebrated.
By the Victorian era, people on both sides of the Atlantic were enjoying breakfast. For poorer, working people, this would be something simple and quick, but for, say, wealthy Americans, breakfast became a feast of poached eggs, English muffins, toast, and French cheese, reports CBS.
The 19th century also brought with it the invention of Quaker Oats and cereals, like cornflakes. And by the turn of the 20th century, breakfast, as we know it today, had started to take shape.
Popular vegan breakfast foods
According to USA Today, bacon, eggs, sausage, and pancakes are all in the top five breakfast foods for Americans. But plant-based alternatives to all of these foods exist, so if you want to indulge in a big vegan meal in the morning, you don't have to miss out. For more on vegan bacon options, follow our guide to the best brands here. We've also got the ultimate guide to vegan sausages, and you can find out everything you need to know about one of the most popular vegan egg products, Just Egg, here.
Where to buy vegan breakfast
Life is all about the little things that make us happy. And waking up at the weekend and finding somewhere to eat a delicious breakfast is one of those little things. Luckily, the vegan breakfast options are leveling up all of the time—and not just in the US.
If you're in Toronto, Revelstoke Cafe is the newest brunch spot turning its customers on to plant-based foods with vegan breakfast classics, like tofu scramble and cashew hollandaise. And in London, popular breakfast chain the Breakfast Club serves an extensive vegan menu, and even turned one location totally vegan for Veganuary.
But in the US, there is also an abundance of vegan breakfast options. Next time your stomach growls in the morning, consider breaking your fast at one of these chains.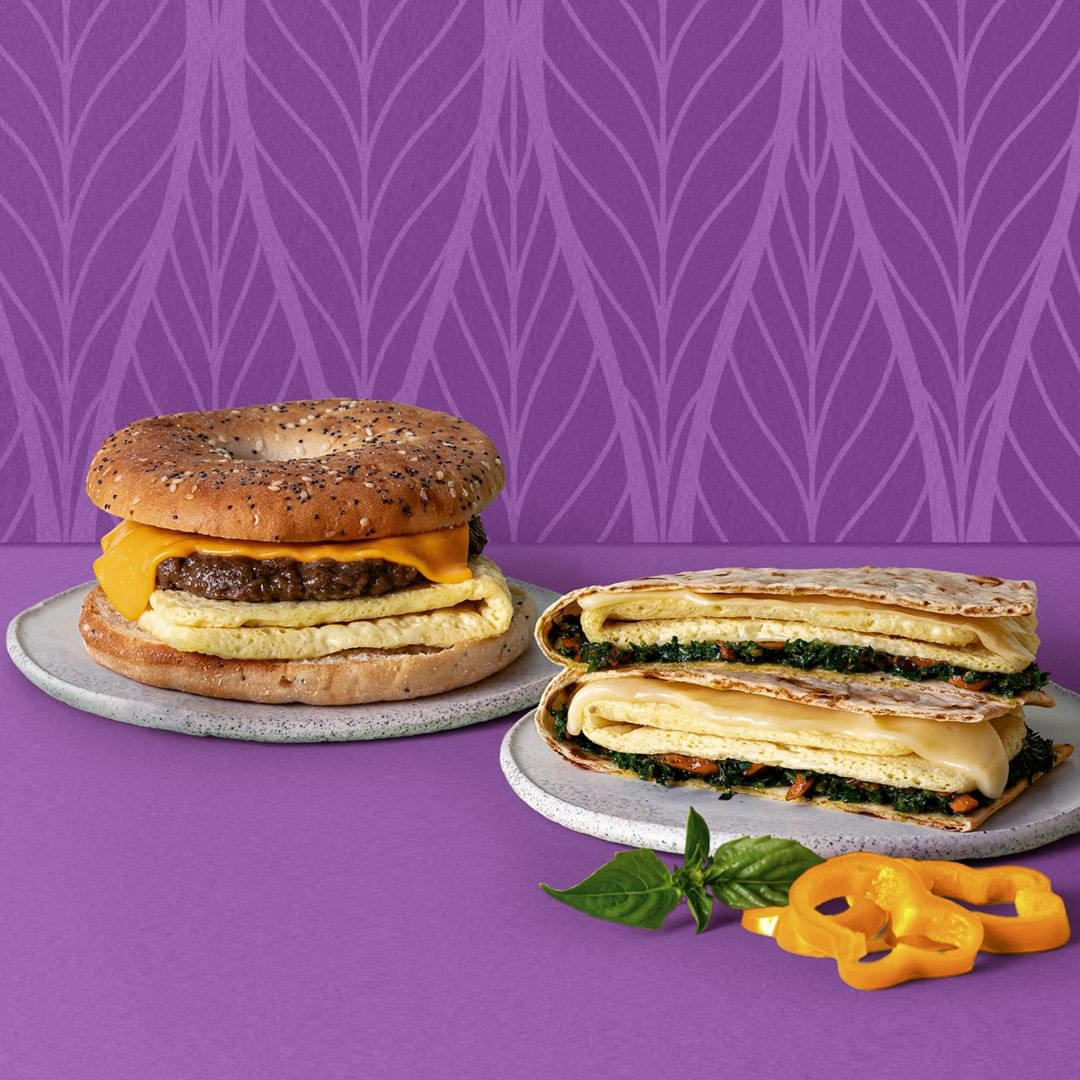 Peet's Coffee/Instagram
1
Peet's Coffee
If you're in the mood for a munch and a morning coffee (with dairy-free milk, of course), head down to Peet's and try the Everything Plant-Based Sandwich, which includes Beyond Breakfast Sausage, Just Egg, and vegan cheddar cheese.
Check it out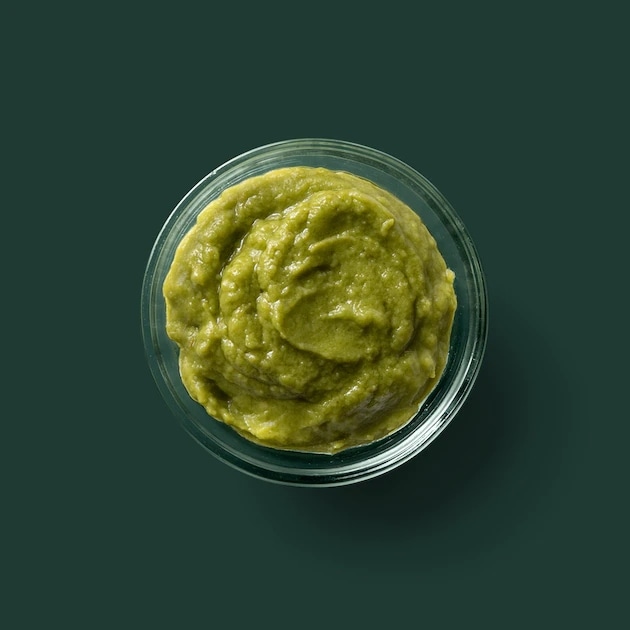 Starbucks
2 Starbucks
If you're passing a Starbucks (which, to be honest, is a frequent occurrence for most of us), meat-free breakfast options include an Impossible Breakfast Sandwich (which comes with egg and cheese) or a bagel with avocado spread (which is totally vegan!).
Check it out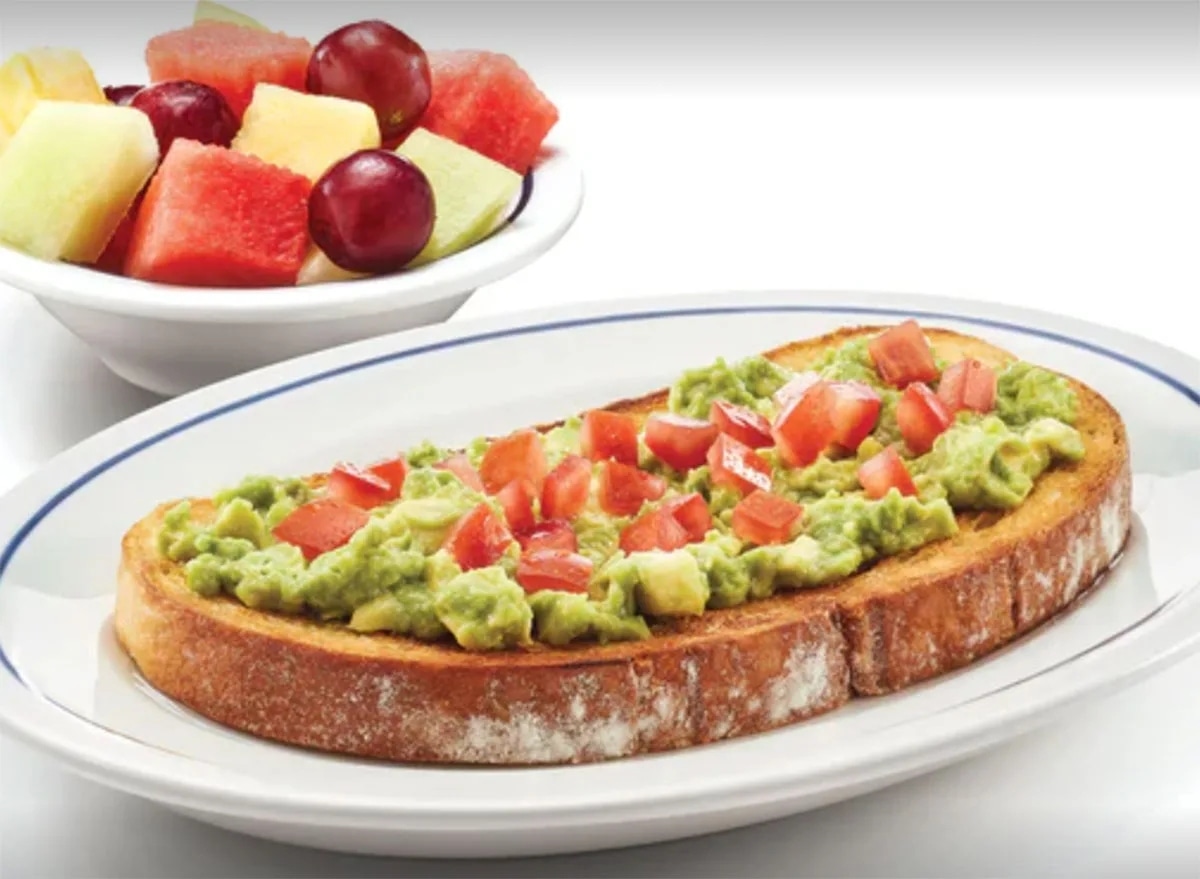 IHOP
3IHOP
Ok, so unfortunately the pancakes at IHOP are not vegan. But don't despair, the menu at the popular pancake chain has plenty of other plant-based choices, including plant-based sausages, avocado toast, and crispy hashbrowns.
Check it out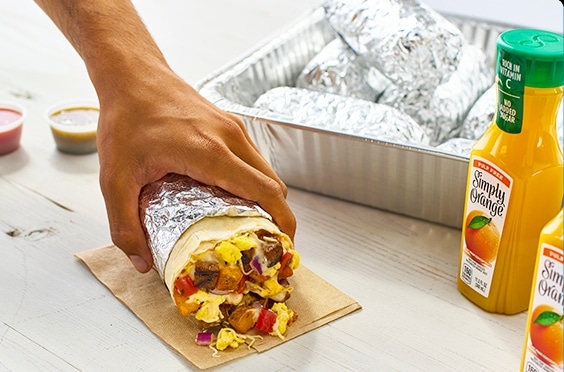 Qdoba
4 Qdoba
Qdoba is a great place to grab a quick burrito for lunch or dinner, but there are some vegan breakfast options too. Ask for the Potato Breakfast Burrito, or the Potato Breakfast Bowl, without egg or cheese, and ask for extra guac.
Check it out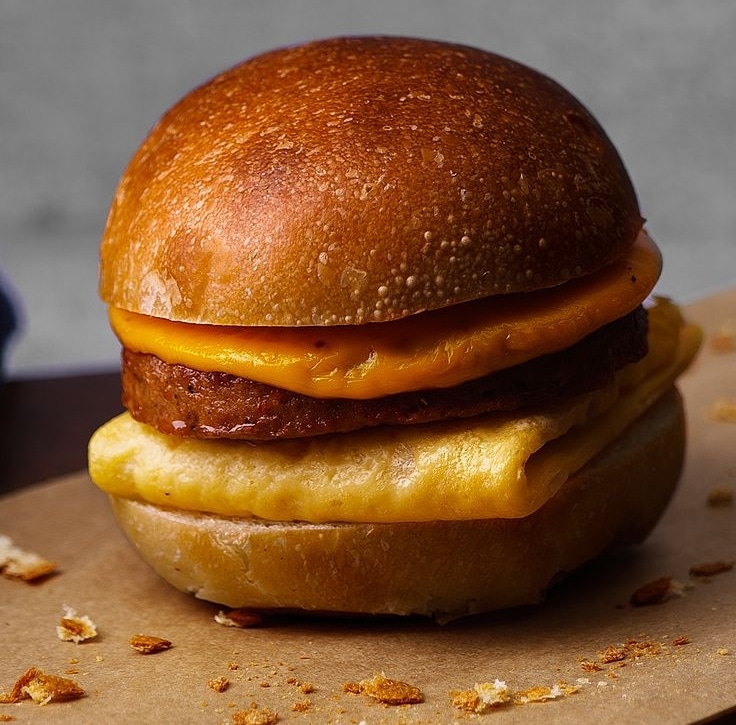 Caffe Nero
5 Caffe Nero
Based in London and inspired by Italy, the coffee chain Caffe Nero also has several locations in the US. And just like its UK spots, a handful of vegan options are on the menu, including a Vegan Breakfast Roll with Beyond Sausage, Just Egg, and Daiya vegan cheese.
Check it out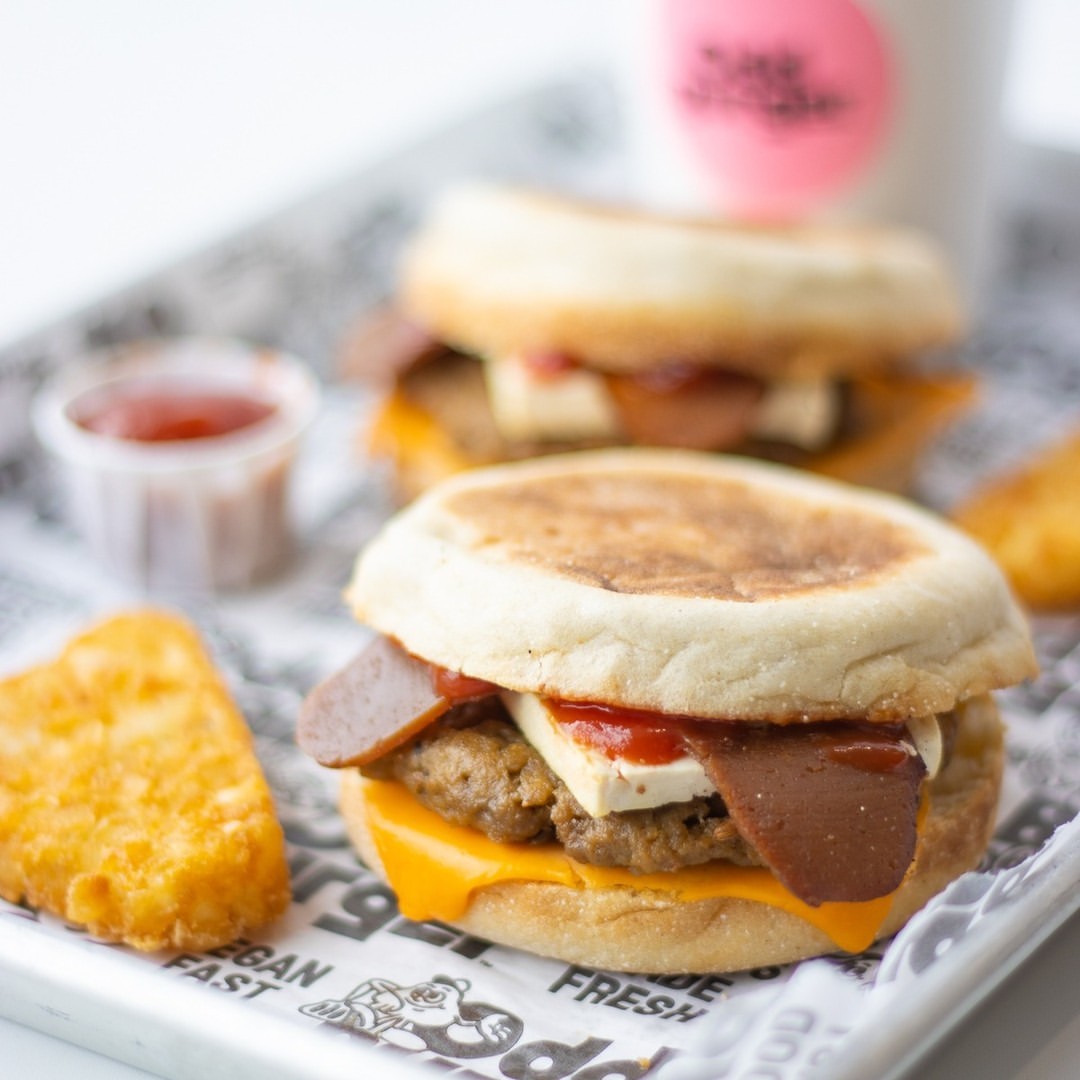 Odd Burger/Instagram
6 Odd Burger
Odd Burger (formerly known as Globally Local) is currently a Canada-based vegan chain, but it's on its way to the US very soon, as it signed a letter of intent last year to open 50 new spots in the US and Europe. And when that moment comes, make sure your stomach is ready, because its vegan breakfast menu—which includes the Bacun Maple Crunch, the Faconator, and the Ham Breakfast Sandwich—is extensive.
Check it out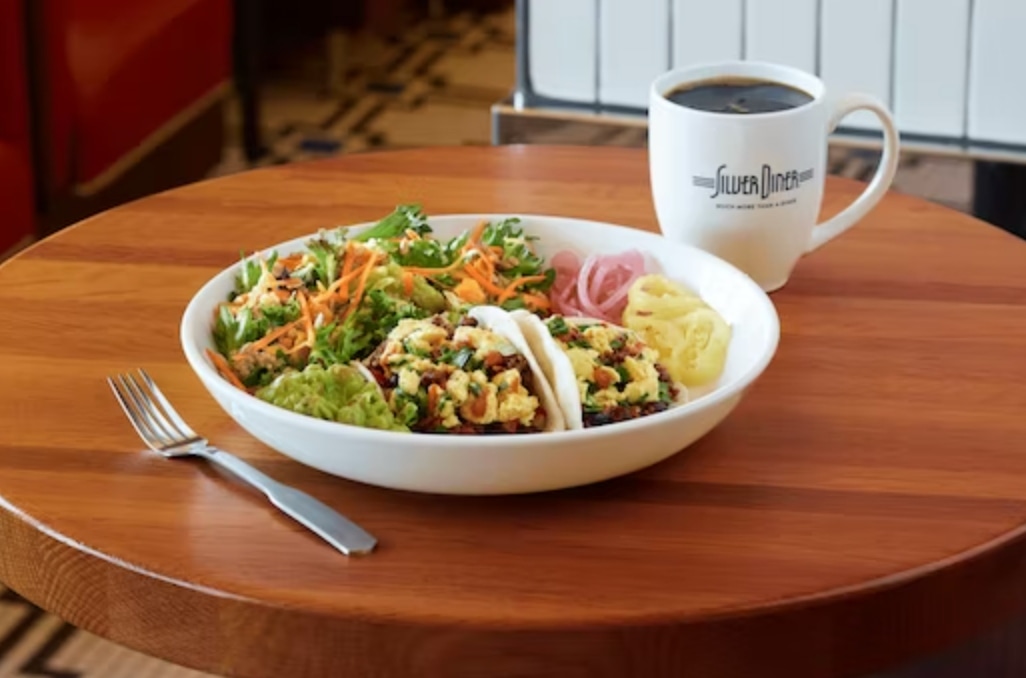 Silver Diner
7 Silver Diner
Eastern US chain Silver Diner really delivers on the vegan breakfast options. If you want to keep it simple, there's the standard (yet always delicious) pancake stack, or you can indulge in Just Egg Breakfast Tacos, which are served with BBQ Beyond Meat. If you're extra hungry, you could add some tempeh bacon too.
Check it out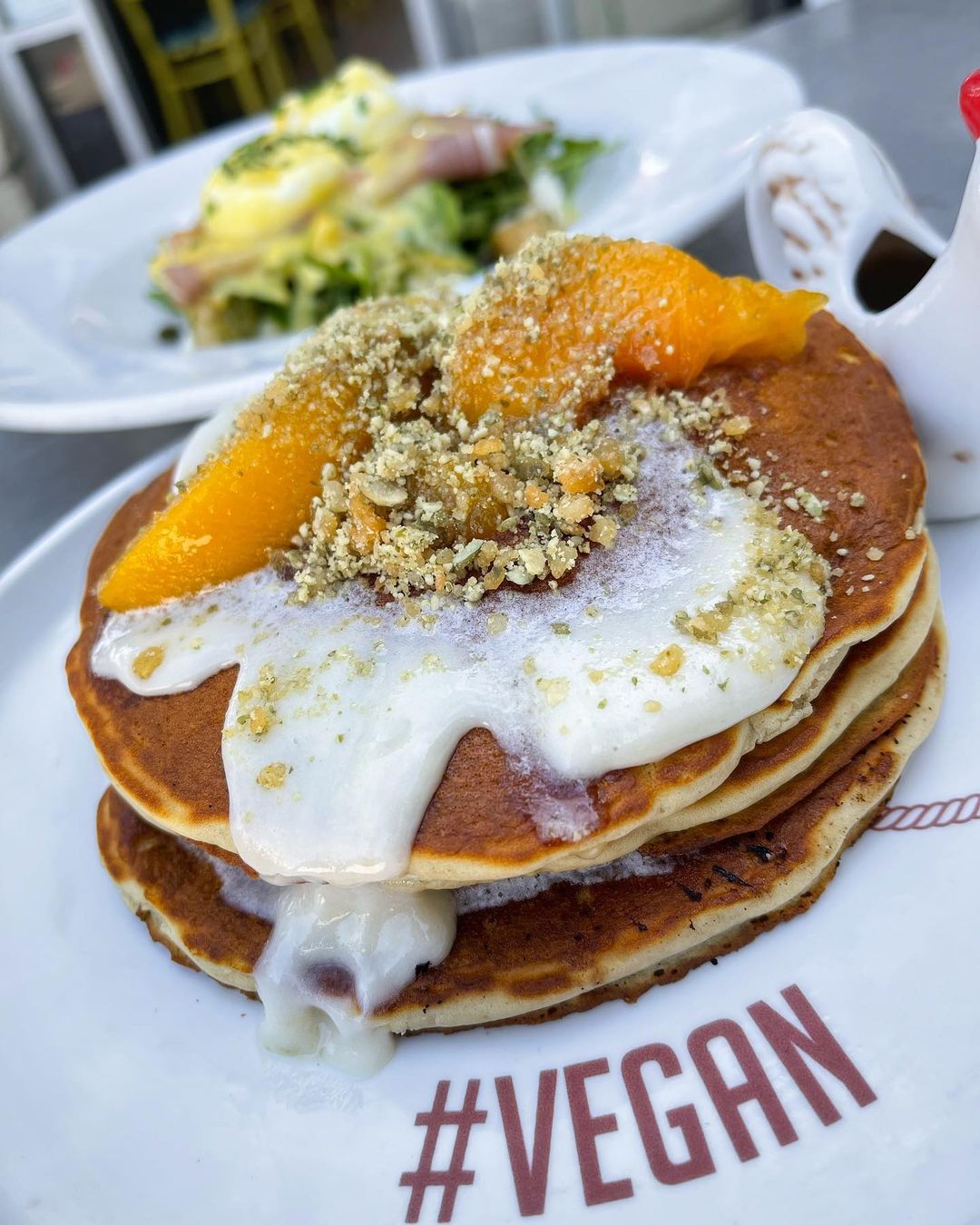 Breakfast Republic/Instagram
8 Breakfast Republic
Breakfast Republic caters to all tastes and lifestyle choices, and its vegan menu doesn't disappoint. There's even a Harvest Omelet, complete with plant-based eggs, veggies, vegan sausage, pancakes, and a Vegan Breakfast Burrito with meatless beef strips.
Check it out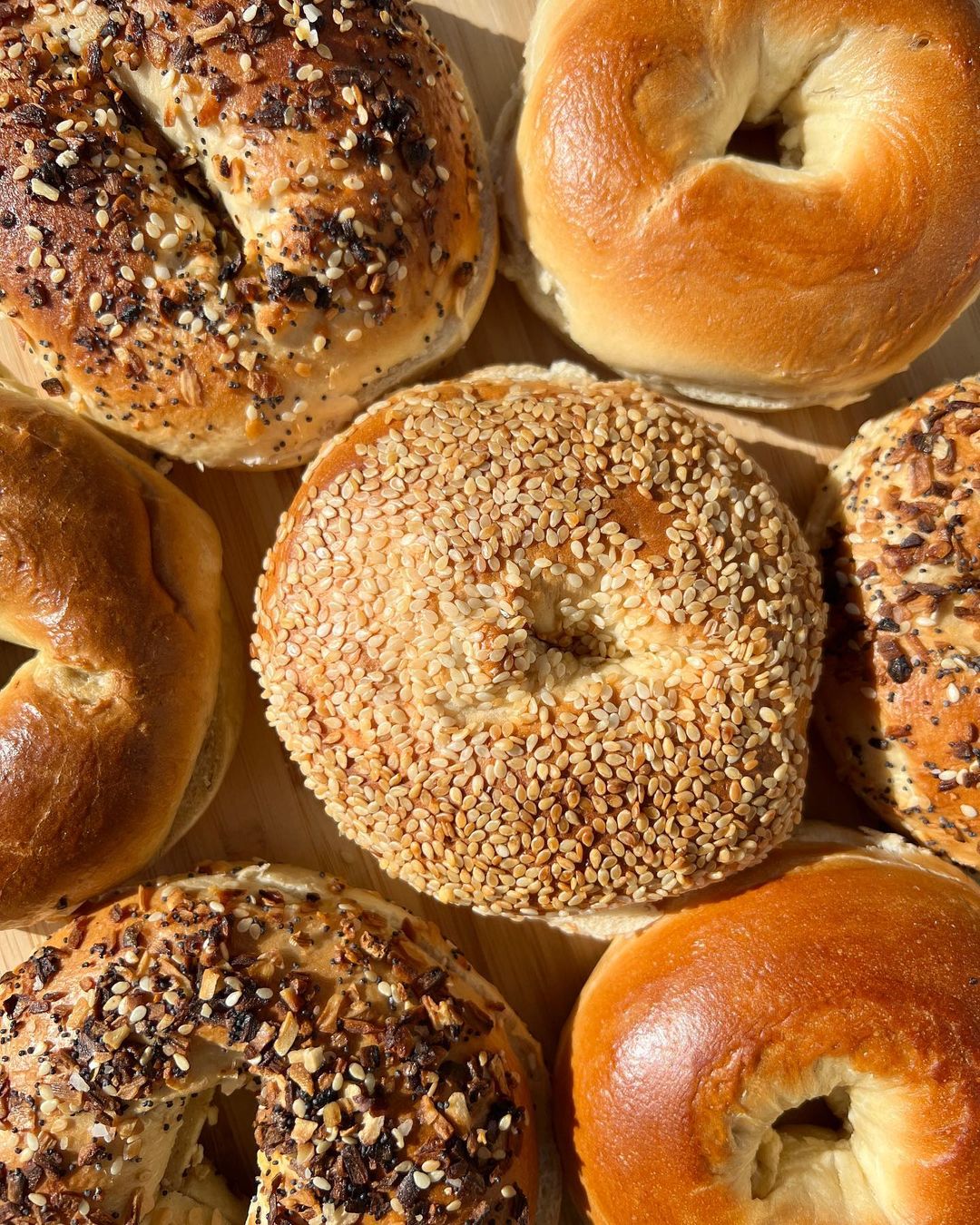 Alfred Coffee/Instagram
9 Alfred Coffee
Popular LA coffee chain Alfred has something for everyone—including vegans. Grab an iced, dairy-free latte, and if your stomach is rumbling, there are choices like an Avo Bagel with chives and micro greens or a VLT bagel with avocado, lettuce, and tomato.
Check it out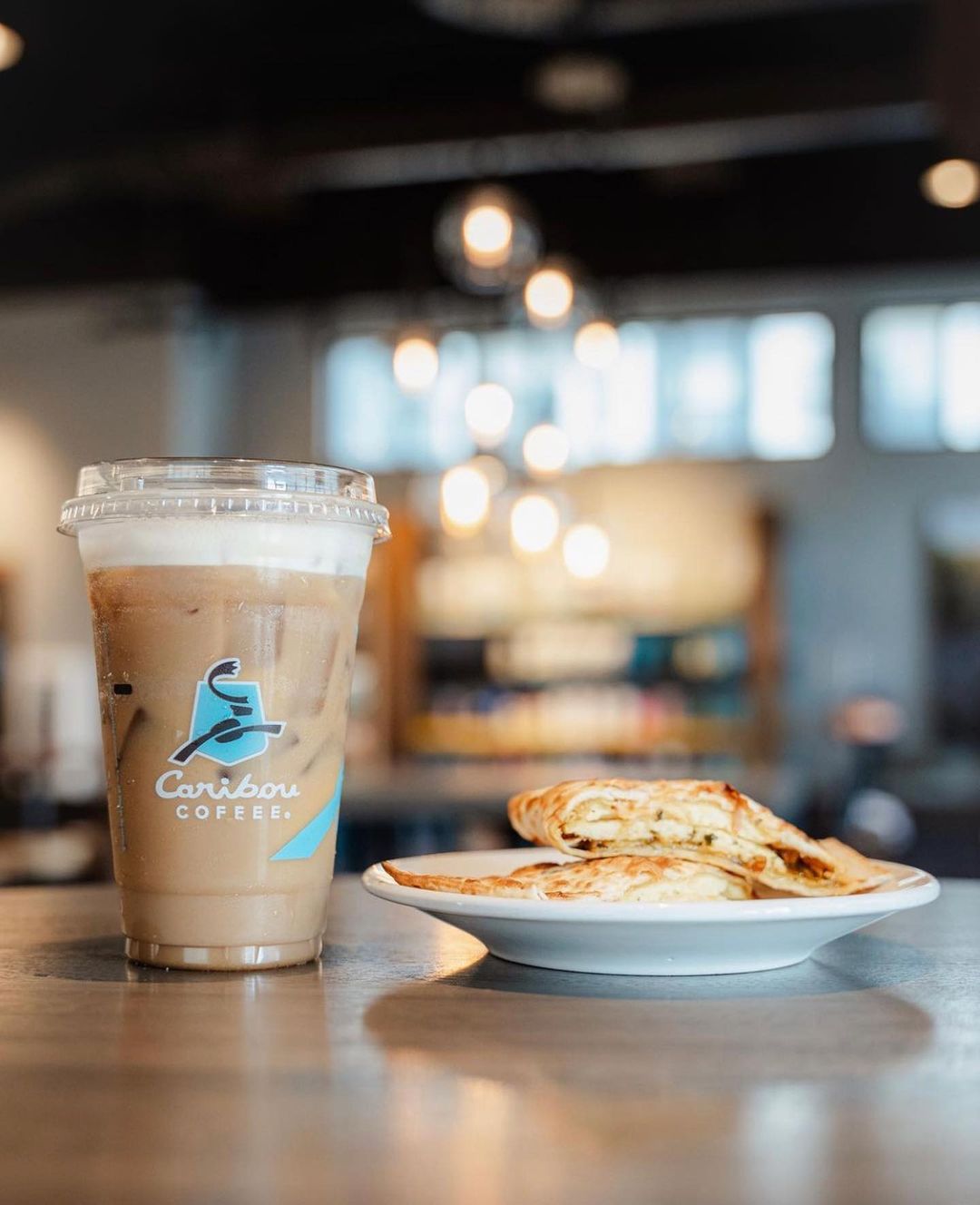 @nderaney_/Instagram
10 Caribou Coffee
Caribou Coffee started in Minnesota in the 1990s and has since expanded to around 485 locations across the US. If there's a spot near you, head down in the morning for an Iced Oatmilk Crafted Press and a Just Egg Roasted Tomato & Pesto Flatbread, complete with vegan cheese.
Check it out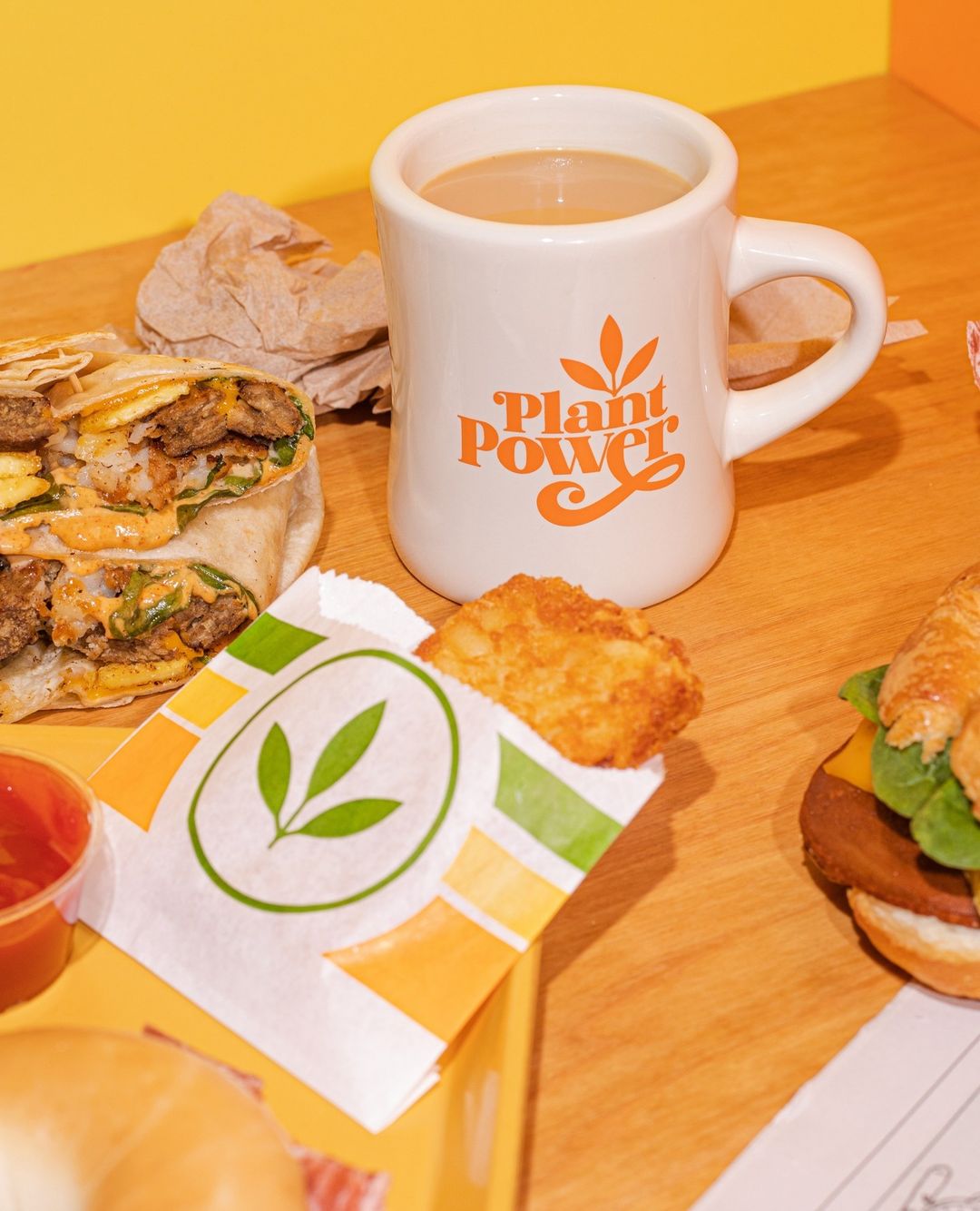 Plant Power Fast Food/Instagram
11Plant Power Fast Food
McDonald's may be lacking in vegan breakfast options, but you still can grab a meaty, cheesy plant-based muffin, croissant, or bagel at California-based chain Plant Power Fast Food. Don't forget the side of hash browns!
Check it out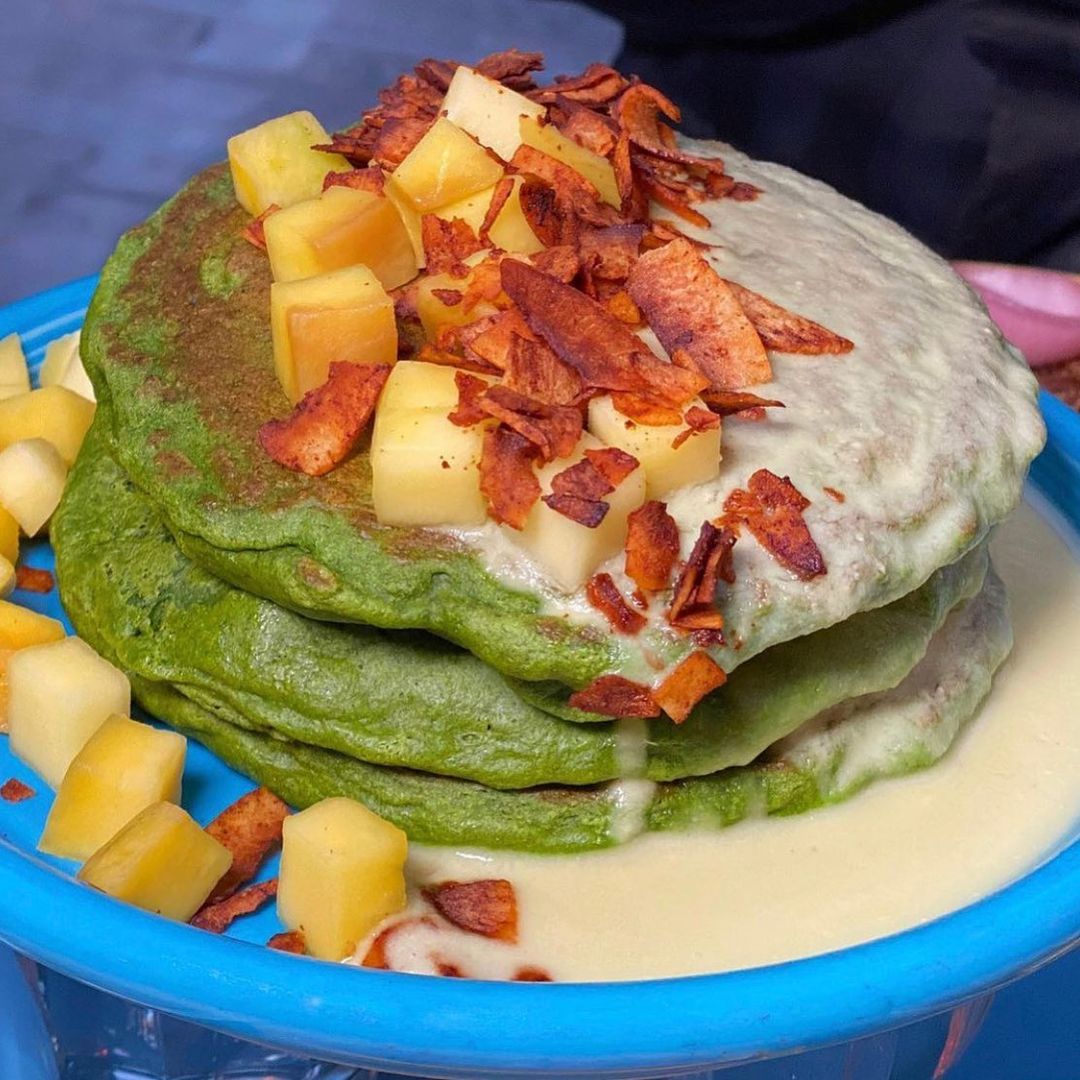 @eats_n_deets/Instagram
12Jajaja Mexicana
For a taste of Mexico in the morning, head down to one of Jajaja Mexicana New York locations and grab a Breaky Burrito with vegan eggs and mushrooms, or treat yourself to a big stack of Kale Pancakes with coconut mango jam.
Check it out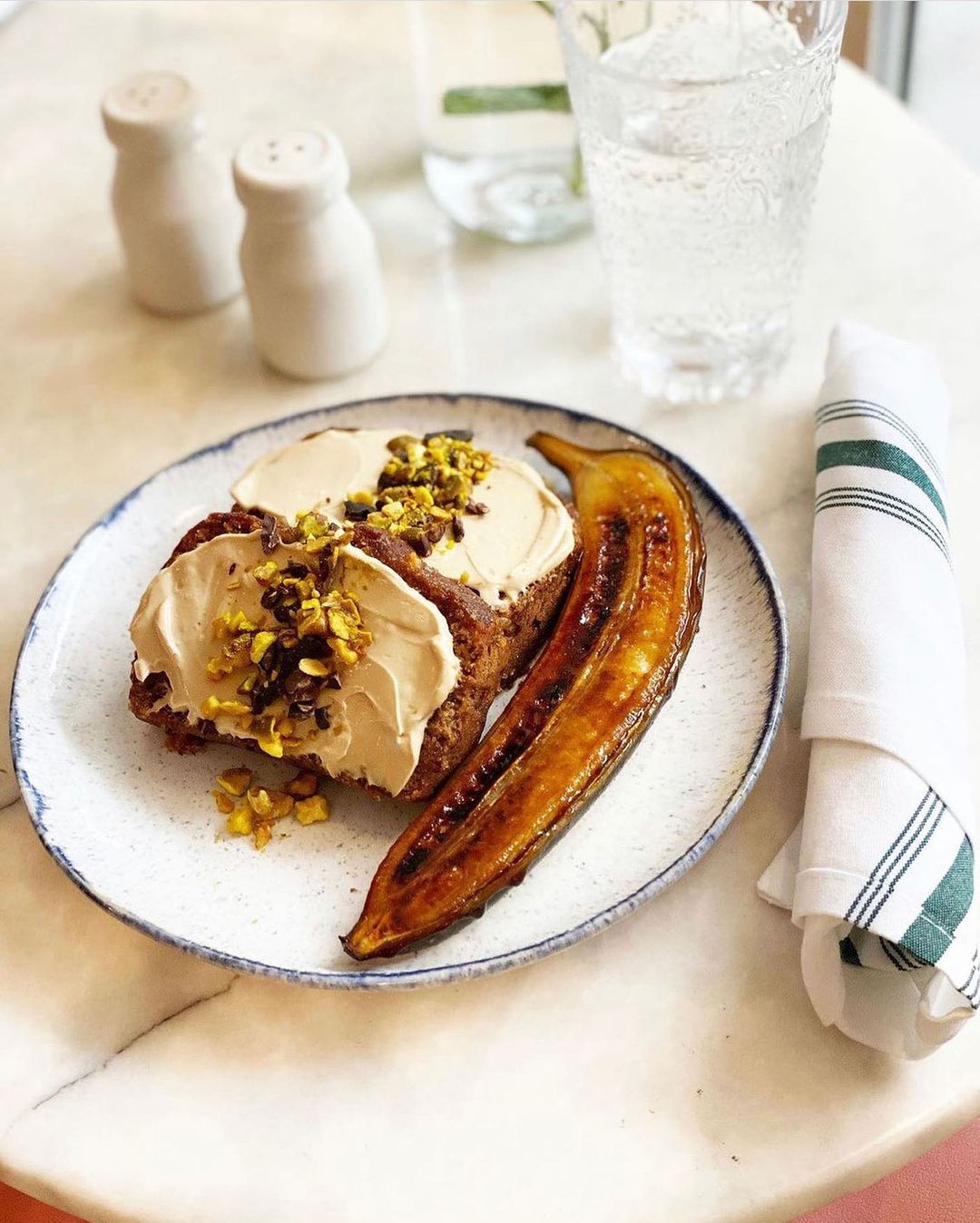 The Butcher's Daughter/Instagram
13The Butcher's Daughter
Despite the name, The Butcher's Daughter is an entirely vegetarian chain, with locations in Venice, West Hollywood, Nolita, Williamsburg, and West Village. At the weekend, it serves a brunch menu, complete with vegan Loaded Banana Bread and Butcher's Pancakes with coconut drizzle and berry sauce.
Check it out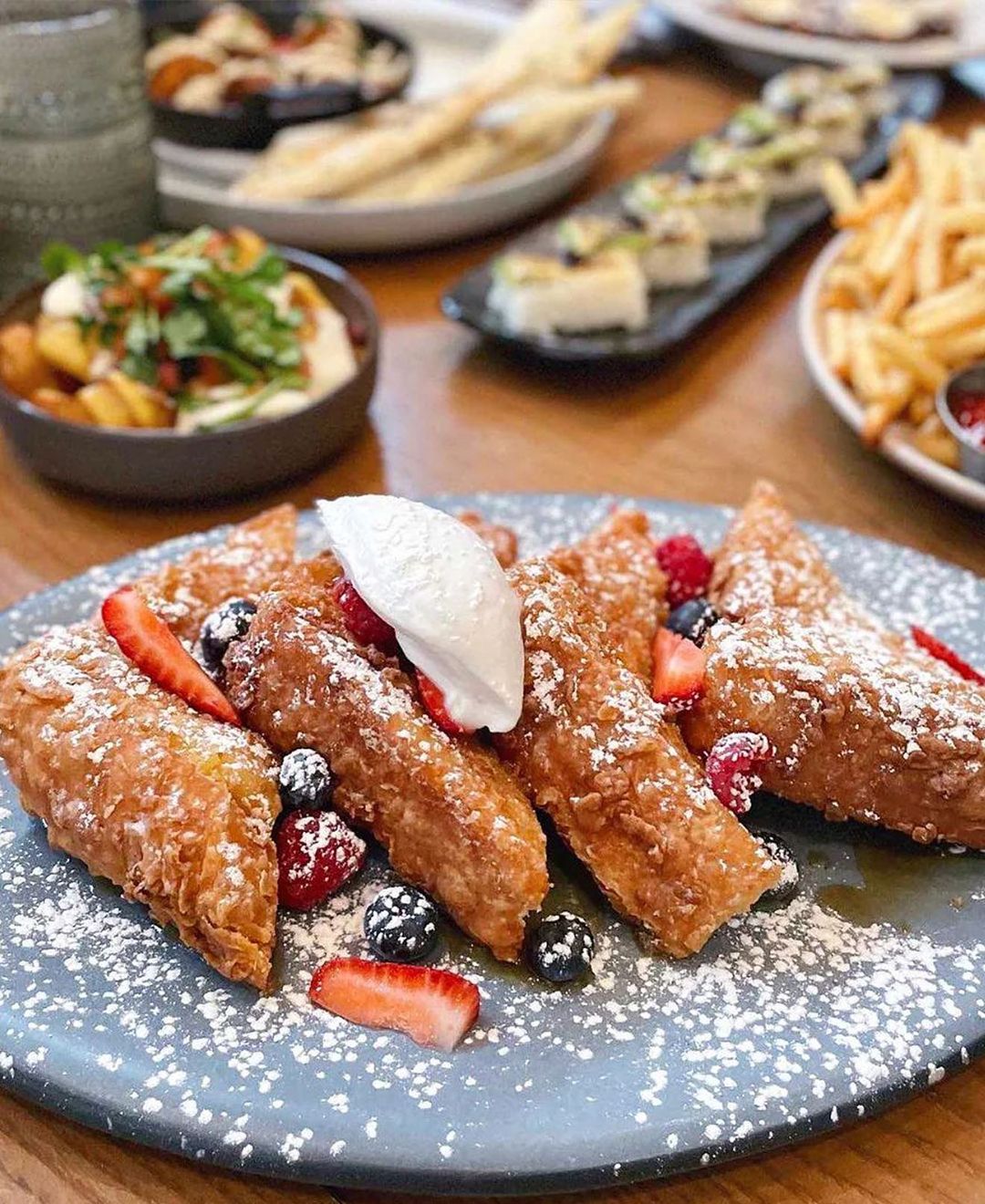 @nourishingmeg/Instagram
14 Planta
With 10 locations across the US and Canada, Planta is the place to go if you're celebrating something special. Its indulgent plant-based brunch menu includes French Toast, Frittata, and Overnight Oats. If you prefer something a little less breakfast-y, there's also a Poke Bowl with spicy ahi watermelon and hearts of palm.
Check it out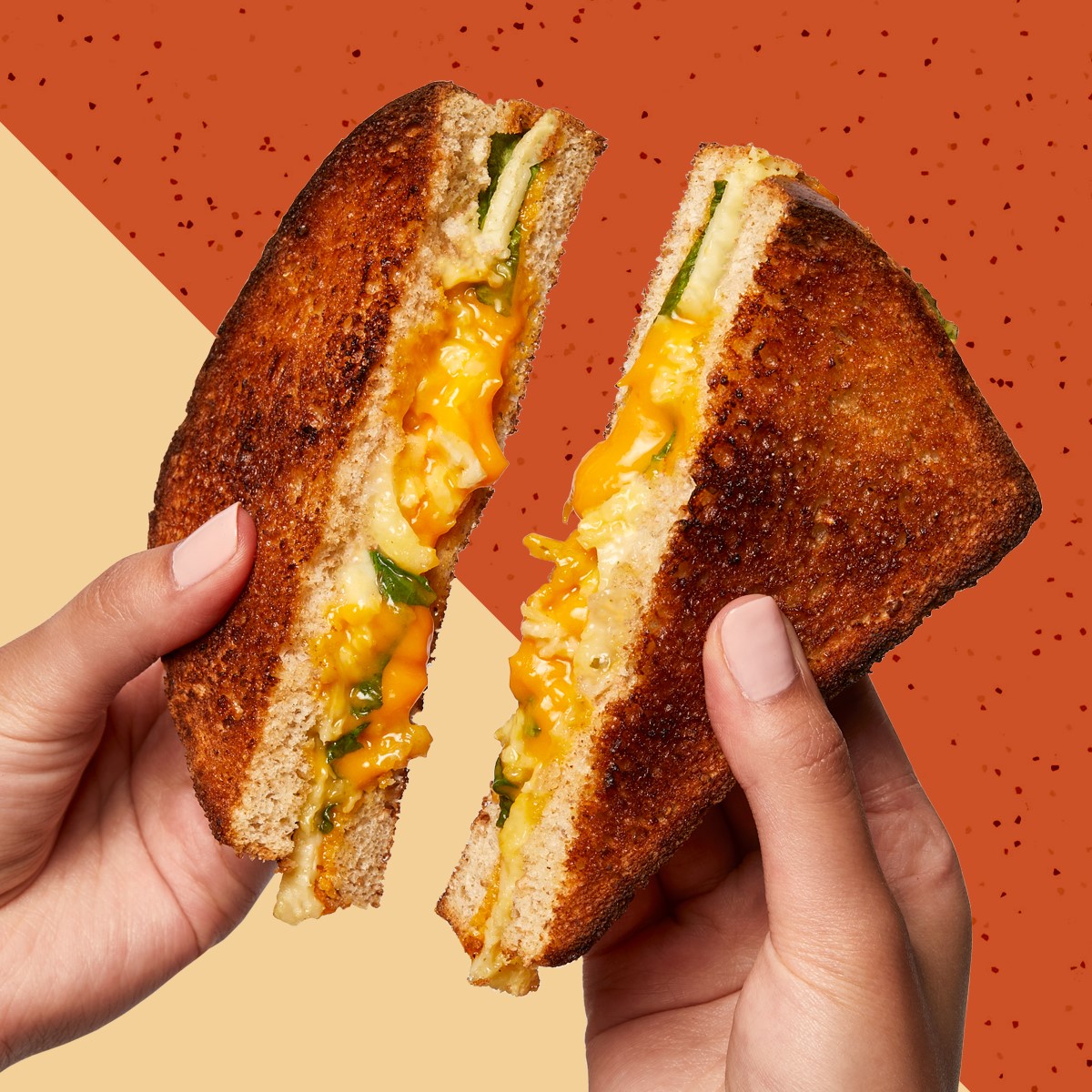 JUST Egg/Facebook
15 Saxbys
It's breakfast all day every day at Philadelphia-based Saxbys, so don't worry if you want a super long lie-in. After you've emerged from your slumber though, you should definitely try the Plant-Powered Breakfast Grilled Cheese with dairy-free cheddar and Just Egg.
Check it out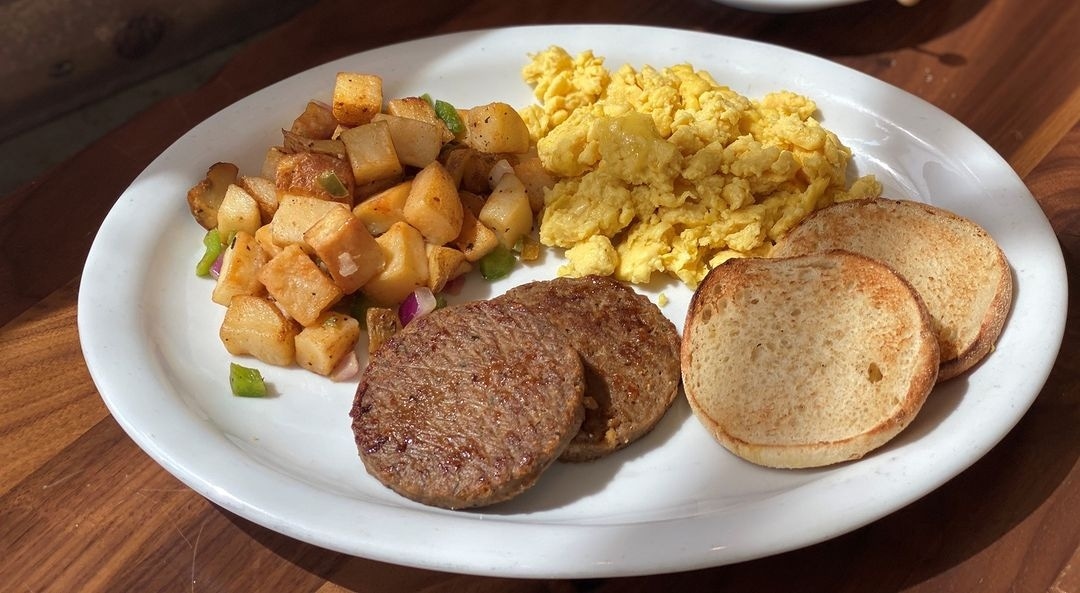 Turning Point/Instagram
16Turning Point
With 20 locations across New Jersey, Pennsylvania, and Delaware, Turning Point is a bit of a vegan breakfast paradise. There are plant-based omelets, sausages, patties, and Just Egg, but the star of the menu is the I Can't Believe They're Vegan Pancakes, served with fresh fruit.
Check it out
Gregory's Coffee
17Gregory's Coffee
New York-based Gregory's Coffee goes above and beyond with its breakfast menu, which is prepared under the guidance of its own in-house registered dietitian. The croissant Deluxe is one of its most popular menu items, but vegans don't have to miss out, because the chain has made a plant-based version with vegan eggs, sausage, and cheese.
Check it out

For more on vegan breakfast, read: