It's no secret—Starbucks drinks aren't made with real caramel or fresh fruit. Every Frappuccino, sweetened latte, and refresher gets its signature flavoring from concentrated syrups, sauces, and powdered mix-ins. However, not all Starbucks syrups and sauces are dairy-free, and it can be confusing. Case in point: the caramel syrup is vegan but the caramel sauce is not. Here is everything you need to know about these flavor-enhancers so you can order with confidence the next time you stroll up to a Starbucks.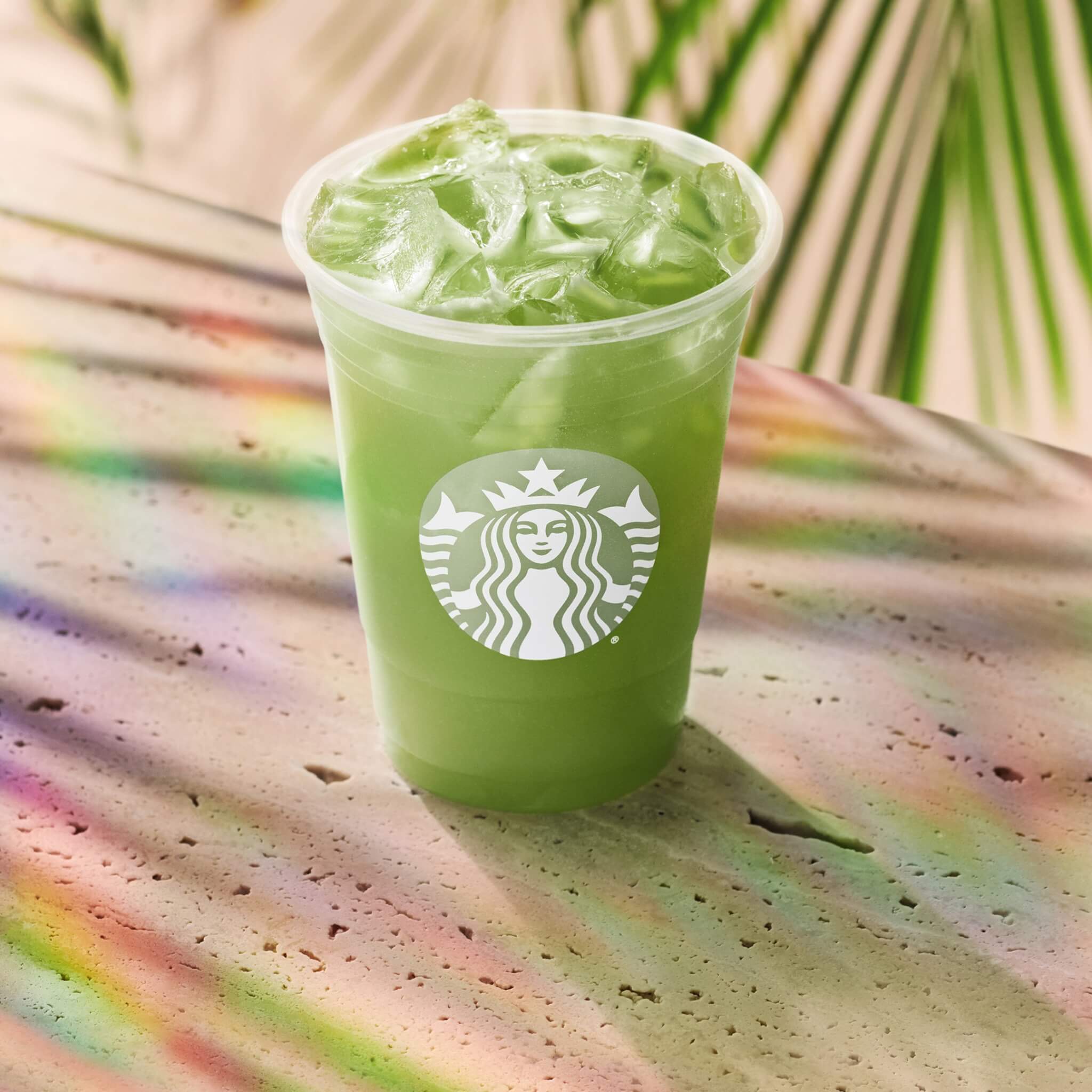 Starbucks
Are Starbucks syrups vegan?
Starbucks has drinks down to a formula, creating a perfectly engineered product by combining caffeine with a sweet approximation of vanilla, toffee nut, or chocolate. In a way, the artificial roots of these sweeteners are a benefit to vegans, as they recreate the taste of dairy-based foods without the use of dairy. Here are your options for dairy-free syrups and sauces at Starbucks:
1 Mocha sauce
The key to any Starbucks chocolate drink—be that mocha or hot chocolate—is a few pumps of this thick, chocolaty sauce. It's used to flavor drinks and is often drizzled on top for an extra burst of deep chocolate flavor.
Pro tip: For a sweet ending, ask your barista for one pump of mocha sauce at the bottom of a dairy-free Coffee Frappuccino. That last sweet sip is similar to discovering the chocolate center at the end of a Trader Joe's Mini Ice Cream Cone.
2 Strawberry purée sauce
This fruity, thick sauce is featured in the Strawberry Crème Frappuccino. It's made with real strawberry purée, white grape juice concentrate, xanthan gum, citric acid, and fruit- and vegetable-based food colorings.
Pro tip: You can make the Strawberry Crème Frappuccino vegan by ordering it with oat, almond, coconut, or soy milk and asking for no whipped cream.
3 Coffee & Crème Frappuccino syrups
If you order a frappuccino at Starbucks, you're going to see your barista pumping one of these into your drink. The Coffee and Crème frappuccino syrups aren't flavoring agents—they're essential ingredients that help make these chilled beverages smooth and creamy instead of icy. Both are completely vegan, so no need to get anxious as you watch the barista pumping mystery syrups into your cup. It's all good.
Pro tip: the Coffee syrup is used for caffeinated beverages; the Crème is for uncaffeinated. Thankfully, there's no need to specify when you order—the baristas have this down pat.
4Classic syrup
In other words, this is a simple syrup—the same thing that's used to sweeten up cocktails. It's used in everything from Frappuccinos to iced coffee. Simple syrup doesn't have a flavor other than sweet, so use it sparingly.
Pro tip: Baristas typically use three pumps of syrups for a tall drink. For a less-sweet option, ask for one or two, tops.
5 Vanilla powder
True, this is not syrup or a sauce, but it's a common flavoring agent found in bestselling beverages such as the Caffé Vanilla Frappuccino. Fun fact: it's not that artificial. It truly contains vanilla bean.
Pro tip: Ask for a scoop of vanilla powder in a dairy-free hot chocolate for a more complex flavor.
6
Matcha tea blend
Thankfully, there are no hidden animal ingredients in Starbucks' matcha. The blend does contain sugar, though, so it's not quite for the matcha purists.
Pro tip: If you've yet to step on board the matcha train, this sweetened version may be a palatable first step if you want to get into matcha like the cool kids.
7 Chocolate malt powder
Malt traditionally contains dairy, but during a plant-based kick, Starbucks debuted this new ingredient without using any animal products. You'll find it in the new favorite summertime beverage: Iced Chocolate Almondmilk Shaken Espresso. It's a mouthful to say, but it's one of our favorite debut drinks in a long time.
Pro tip: If you enjoy a less-sweet beverage, keep the amount of malt powder the same but ask for an extra shot of espresso. In our humble opinion, this is the perfect ratio of coffee-to-chocolate flavor.
8 Flavored syrups
Ready for the list? These vegan-friendly syrups can be added to any beverage for a hint or a tidal wave of sweet flavoring. They include Cinnamon Dolce, Vanilla, Brown Sugar, Hazelnut, Peppermint, Raspberry, Toffee Nut, Caramel, and Sugar-free Vanilla.
Pro tip: While not promoted, Starbucks carries peppermint all year round. Good to know if you're in the mood for a non-dairy Peppermint Mocha in July.
9Flavored refresher bases
Every fruity Starbucks Refresher Base—from the Pink Drink to the new Paradise Drink—is vegan. They contain a mix of water, sugar, natural flavors, citric acid, natural green coffee flavor, white grape juice concentrate, and Rebaudioside-a—an artificial sweetener that is a derivative of stevia, but 240-times sweeter.
Pro tip: Remember, refreshers contain caffeine!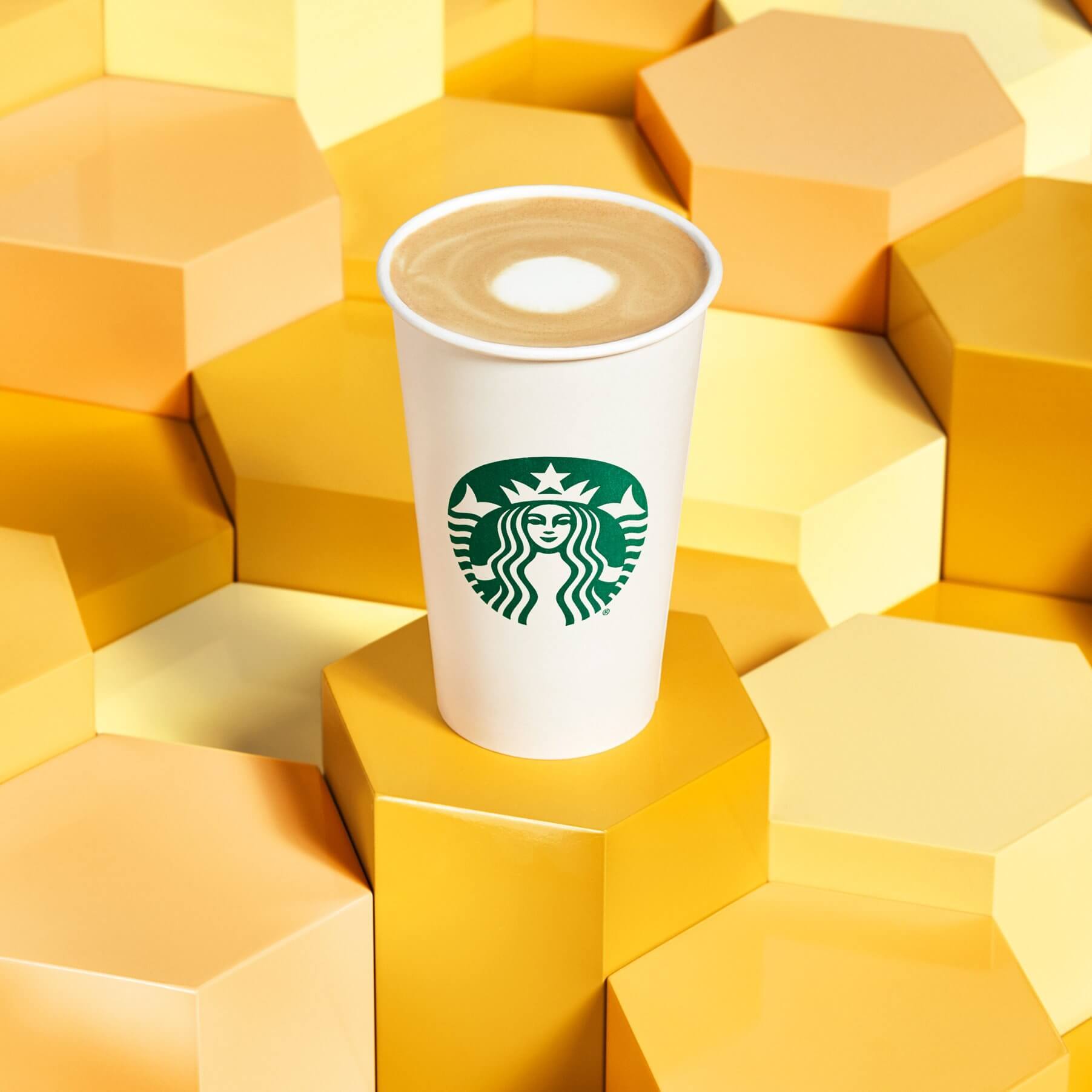 Starbucks
What's not vegan at Starbucks?
Ordering vegan at Starbucks often comes with necessary customizations. Here are the sauces to avoid:
1 Caramel sauce/drizzle
Stay away from any beverages that contain this sauce. Alternatively, ask for the caramel sauce to be substituted with caramel syrup inside of your beverage.
2 White chocolate mocha sauce
Like most white chocolate, this sauce contains dairy. Sorry, previous White Chocolate Mocha lovers. At Starbucks, stick to the regular mocha.
3 Chai tea concentrate
Alas, seek chai elsewhere. This spicy concoction contains honey. It's found in both the Chai Crème Frappuccino and the chai latte.
4 Honey blend
Found in the Honey Almond Flat White as well as any seasonal honey-flavored beverage, this mix contains actual honey.
5 Pumpkin spice sauce
Following several years of consumer outrage when the secret was let out that Starbucks' cult-favorite Pumpkin Spice Latte did not contain any pumpkin, the company pivoted and added pumpkin purée. Unfortunately, Starbucks did not omit the dairy while changing the recipe, keeping the Pumpkin Spice Latte out of reach for vegan customers. But if you're in the United Kingdom, you have the green light, as UK Starbucks' PSL is dairy-free when ordered with plant milk. Stateside? When fall rolls around, seek out Peet's Coffee for a taste of this iconic beverage.
6 Sweet cream
Introduced to add a subtle sweetness to the coffee chain's line of cold brews, this creamy substance is not vegan and is made of dairy-based cream. Each flavor iteration—Sweet Cream, Irish Cream, Vanilla, and Salted Caramel—all contain dairy. When ordering cold brew or nitro, it's best to enjoy it black.
Which Starbucks toppings aren't vegan?
1 Whipped cream
Sometimes, it's necessary to state the obvious. Starbucks has made major strides in providing a medley of non-dairy milk options (soy, coconut, almond, and oat), but the company has yet to introduce a vegan whipped cream. However, hope is on the horizon. In September, the company teased a plant-based whipped cream made with … wait for it … lentils. No sign of its return as of summer 2022, but we're looking.
2 Frappuccino chips
Found in the Double Chocolatey Chip and the Java Chip Frappuccinos, these chocolate chip bits contain milk. Omit them to veganize these drinks.
3 Cinnamon dolce topping
Made exclusively for the warming Cinnamon Dolce Latte, this edible drink adornment is not vegan—it contains extractives of butter made from cow's milk. Vegans can still enjoy this year-round beverage by ordering it with plant-based milk, no whipped cream, and no topping. The syrup used to make the drink is flavorful enough to still produce an outstanding pick-me-up.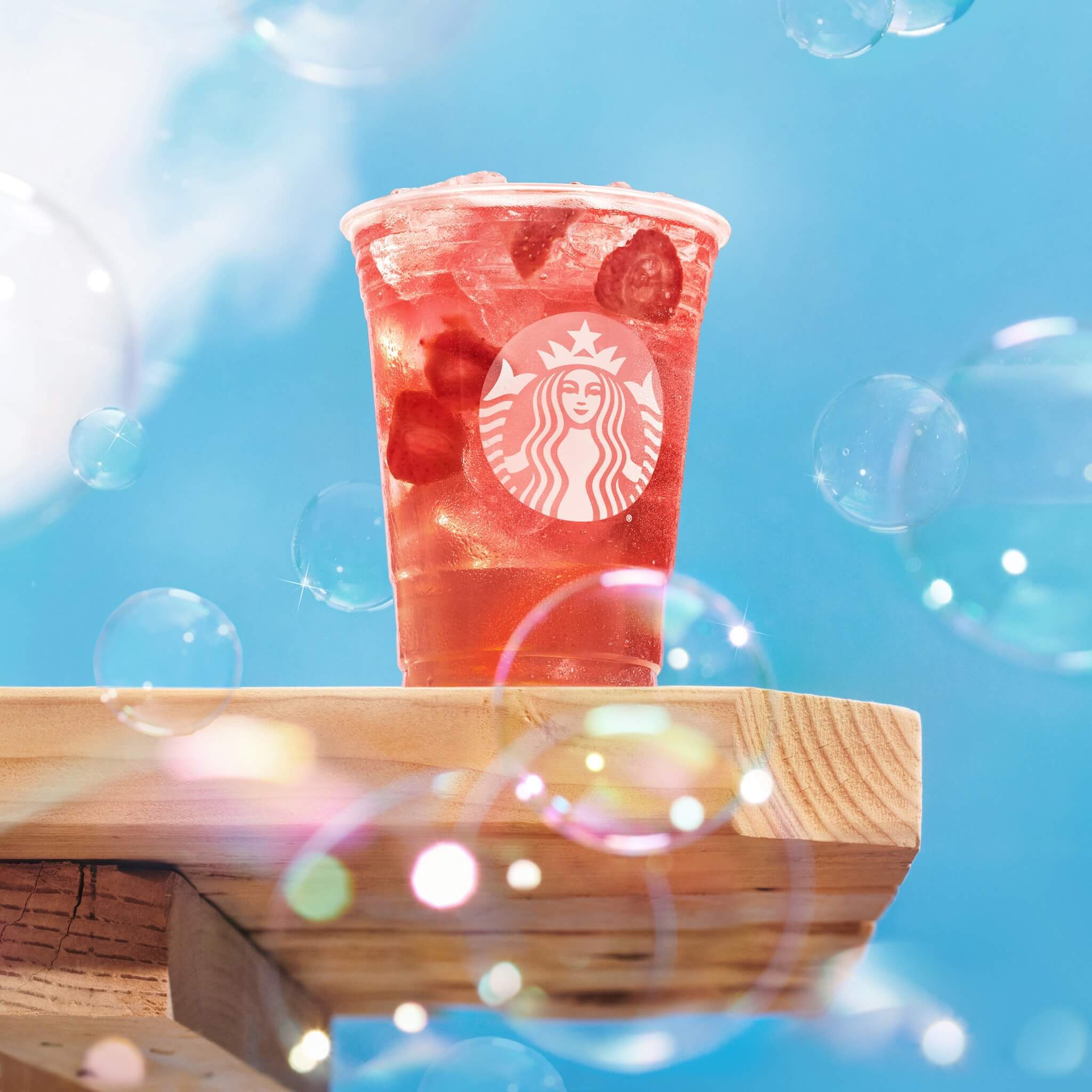 Starbucks
Vegan toppings and add-ins at Starbucks
While there are a few restrictions as to what kinds of add-ins you can get at Starbucks, there are also a few picks for plant-based add-ins.
1 Caramel sugar topping
This crunchy, caramelly powder is vegan! Ask for it on a hot beverage that involves foam—it just dissolves if there's nothing to suspend it on top of the drink. Try it on a hot Toffee Nut Latte made with your favorite dairy-free milk.
2 Cookie crumble
Blended into the Java Chip Frappuccino (which can be veganized by asking for no Frappuccino Chips or whip), these tiny cookie morsels are accidentally vegan. Whether we should be consuming cookies in our coffee is an entirely different discussion.
3 Freeze-dried fruit
A staple of the Refreshers drinks, all of the freeze-dried fruits at Starbucks are free from animal ingredients, so you can combine to your heart's delight.
For more on vegan coffee, read: