Tofu can be complicated. For many people, when they first try to cook it themselves, they don't understand what the fuss is about. They might think it's soft, it's flavorless, it's no real alternative to meat—but that's only at the start. After you've learned to cook with tofu properly, there's no going back. And one of the most important steps toward cooking a great tofu-based meal is finding the right tofu press. Yep, that's right, if you've just been taking tofu straight out of the packet and hoping for the best, your world is about to change. Here's why you should start pressing your tofu, as well as some of the best tofu presses available right now, and, of course, mouthwatering recipe inspiration.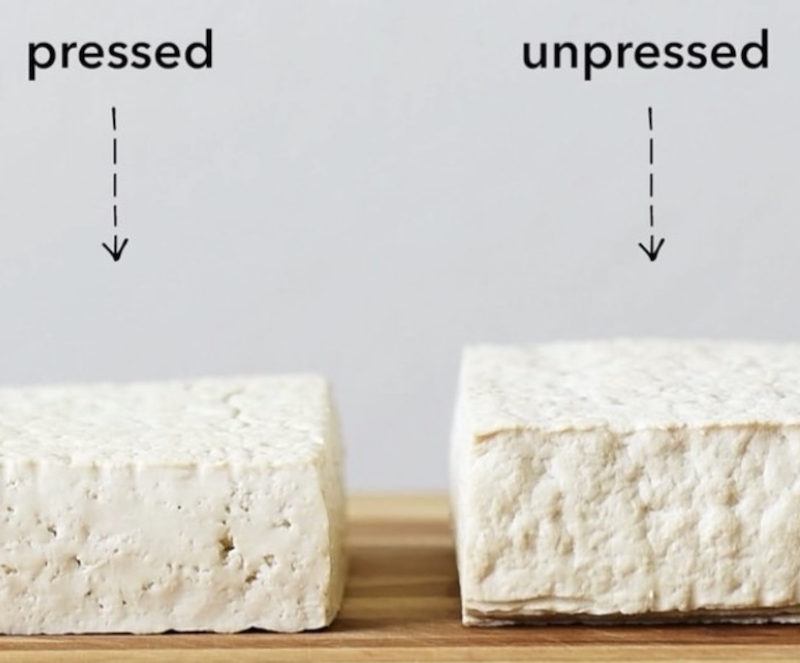 House Foods
Should you always press tofu?
Most packaged tofu has a high water content, and when tofu is wet, it's much harder to achieve that dense texture, which allows it to easily or firm up in the oven, frying pan, or air fryer. This applies to most types of tofu, even extra firm.
"You can technically still cook and eat tofu that has not been pressed, however, it will not absorb flavor as well and will definitely not have a very good texture," food blogger Brita Britnell writes on her blog Food with Feeling. "Especially if you're trying to get it crispy at all. Just because the tofu has a firmer consistency, that does not mean it's not holding an excess of liquid inside."
What's the best way to press tofu?
There are many different ways to press tofu. One of the best ways is to buy a specific tofu press gadget for your kitchen (and you can find some of our recommendations below), but if you're short on time and don't want to wait for delivery, it is possible to press tofu without buying anything new at all—all you need is something heavy.

First, layer up some paper towels over and underneath the tofu on a chopping board. After that, find a skillet or a pan to balance on top. And finally, fill that pan with heavy items in the kitchen, you can use tinned vegetables, cookery books, bags of flour, or anything else you have to hand.
Whether you're using a tofu press or the makeshift pan method, you'll need to leave the tofu for around 30 minutes before you start cooking, to allow most of the water to drain out.
Tofu presses to buy right now
If you're a tofu fan (and if you're not, give it time), then a tofu press is a great tool to keep in your kitchen. It'll save you time and hassle, and, of course, improve the taste and texture of your tofu dishes. From budget options to more expensive investments, here are some of the best tofu presses you can buy now.
Yueshico
1 Yueshico Bamboo Tofu Press
For under $15, this simple bamboo tofu press is one of the more affordable options on the market. It's easy to use—all you need to do is pop your tofu block in the center of the two plates of wood and then turn the wooden knobs to apply pressure.
Get it here
Noya
2 Noya Adjustable Tofu Press
This slightly more sophisticated, self-contained tofu press from Noya is still priced under $25, and you get a bang for the buck. It presses the tofu evenly, has a separate drip tray for catching water, and it even has a pour spout (so you can easily remove the extra water without making a mess). Even better, you can use it for marinating tofu in the fridge, too, due to the extra lid.
Get it here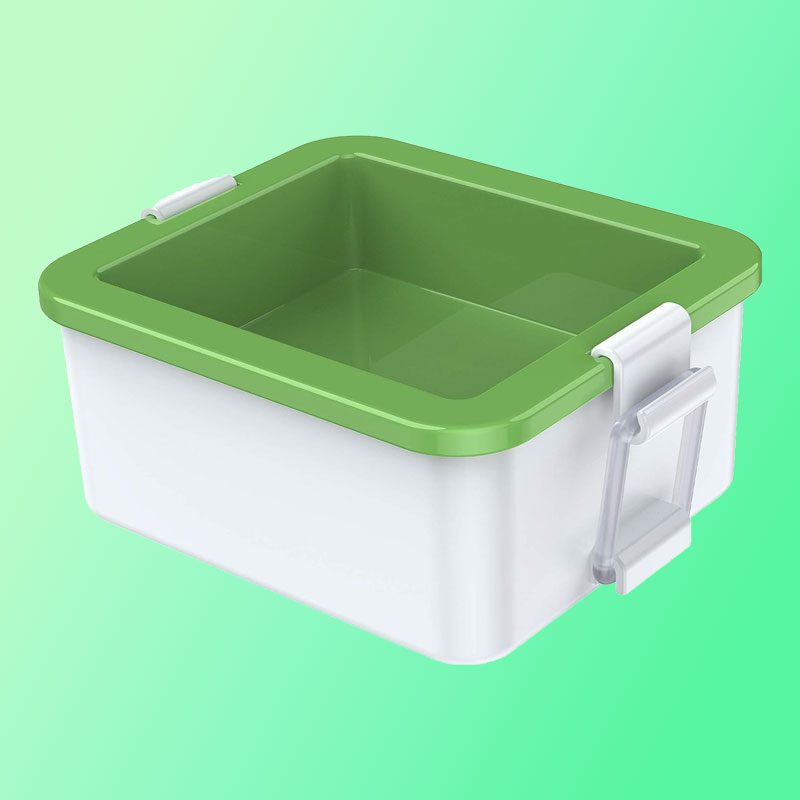 ACHub
3 ACHub Bamboo Tofu Press
This option is a little more expensive, at just over $30, but it's worth the spend. It's more eco-friendly than the plastic options on the market because it's made with bamboo, which is coated with non-toxic, plant-based oil. And, in three pieces, it's pretty straightforward to use (plus it even comes with a tofu mold, too, if you fancy making your own from scratch).
Get it here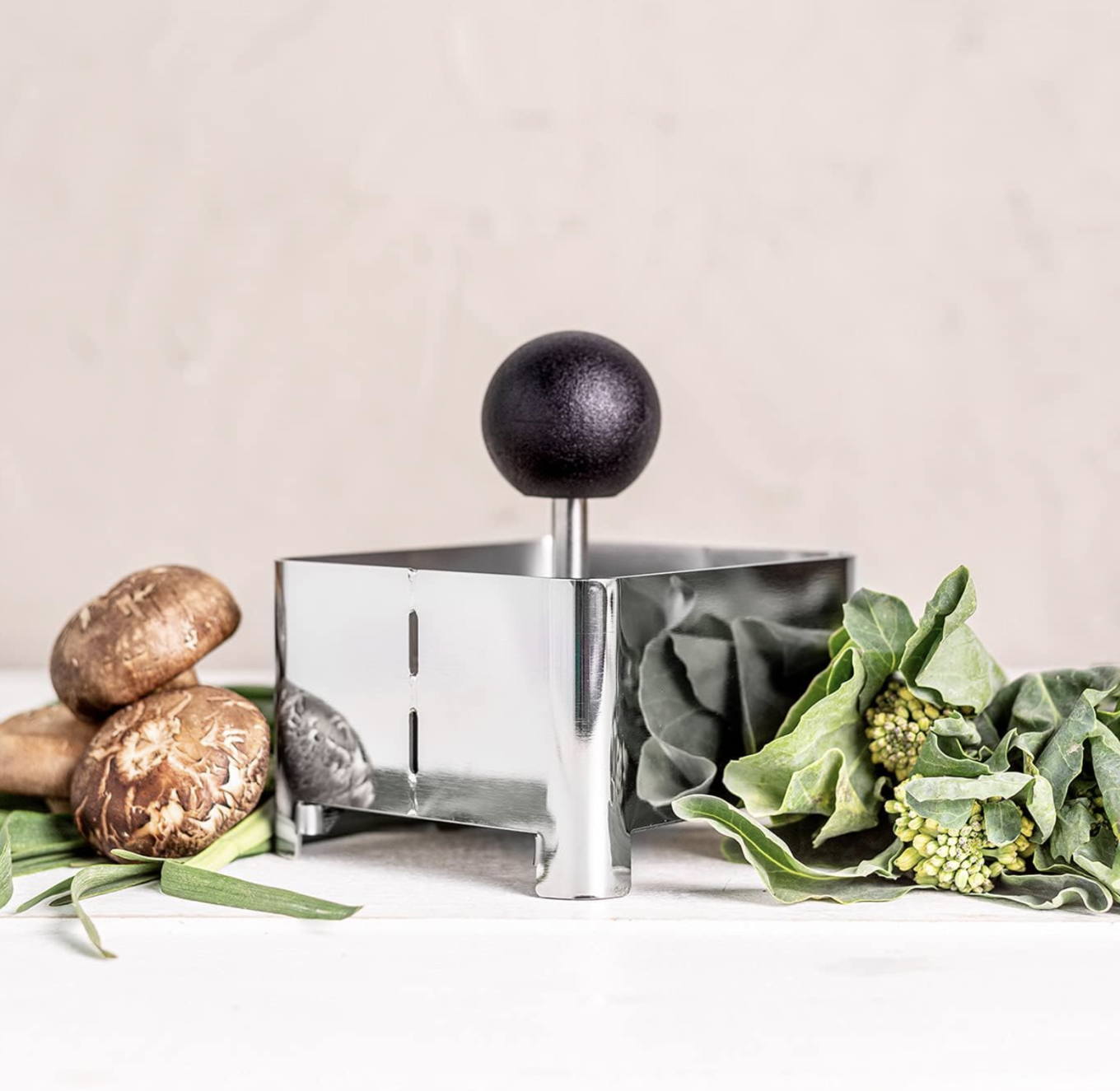 Raw Rutes
4 Raw Rutes Stainless Steel Tofu Press
This stainless steel option from Raw Rutes is for the real tofu aficionados among us because it's over $100. But if you're the type of person who loves to eat tofu for breakfast, lunch, and dinner, it's worth the investment. There are no metal springs or plastic bands, just a heavy-duty pressing weight. "It's the last tofu press you'll ever buy," according to Raw Rutes.
Get it here
5 tofu recipes to try next
After you've pressed your tofu, the next step is finding the most delicious recipe to try. We have a plethora of tofu recipes to choose from here, but to get you started, here is just a small selection of our favorites.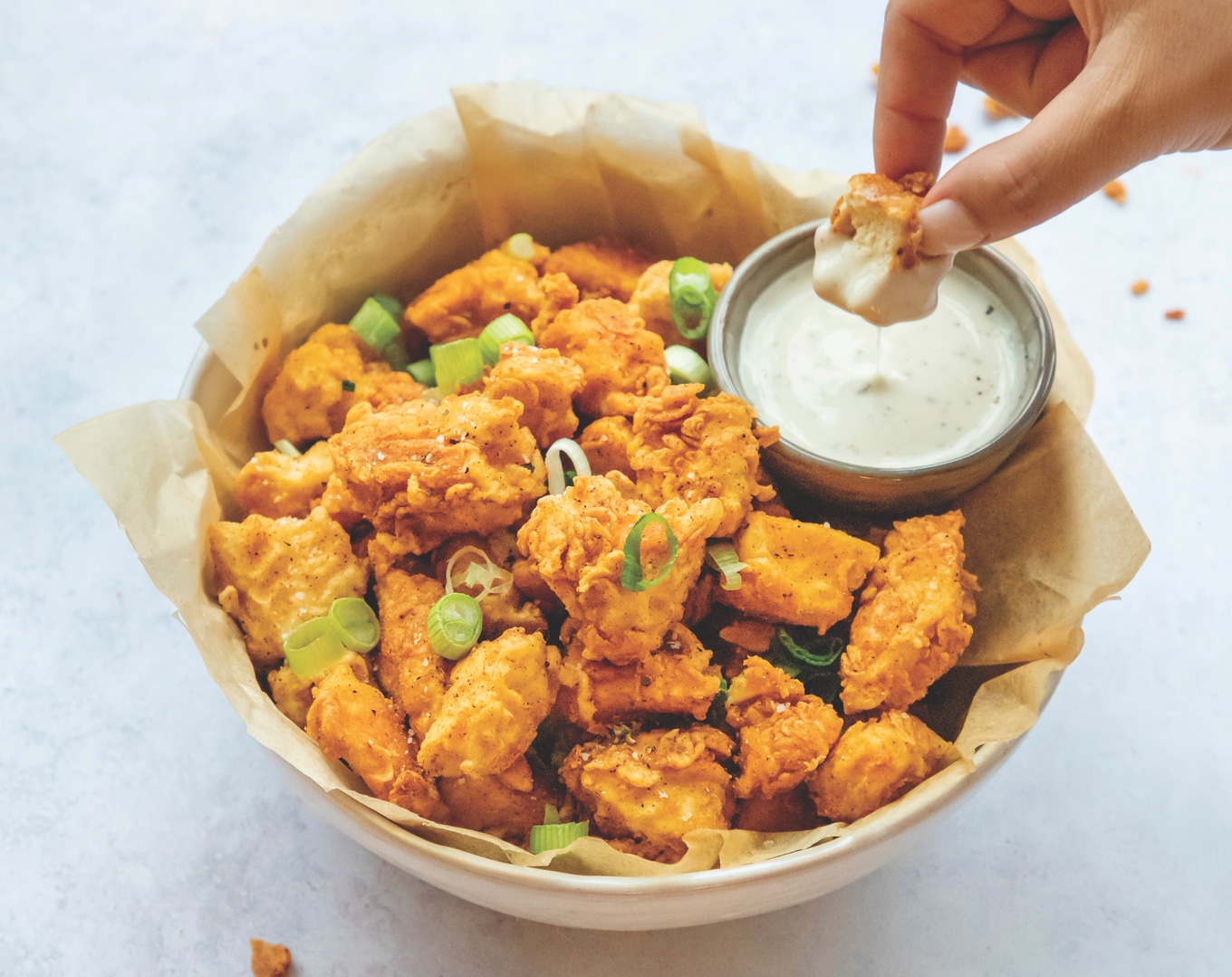 Francesca Bonadonna
1 Easy, Crispy Vegan Tofu Popcorn Chicken
Forget KFC—all you need is a block of tofu and you can make crispy, delicious animal-free popcorn chicken without going anywhere near the fast-food chain. To complete the experience, we recommend serving with fries and your favorite selection of dips, too.
Get the recipe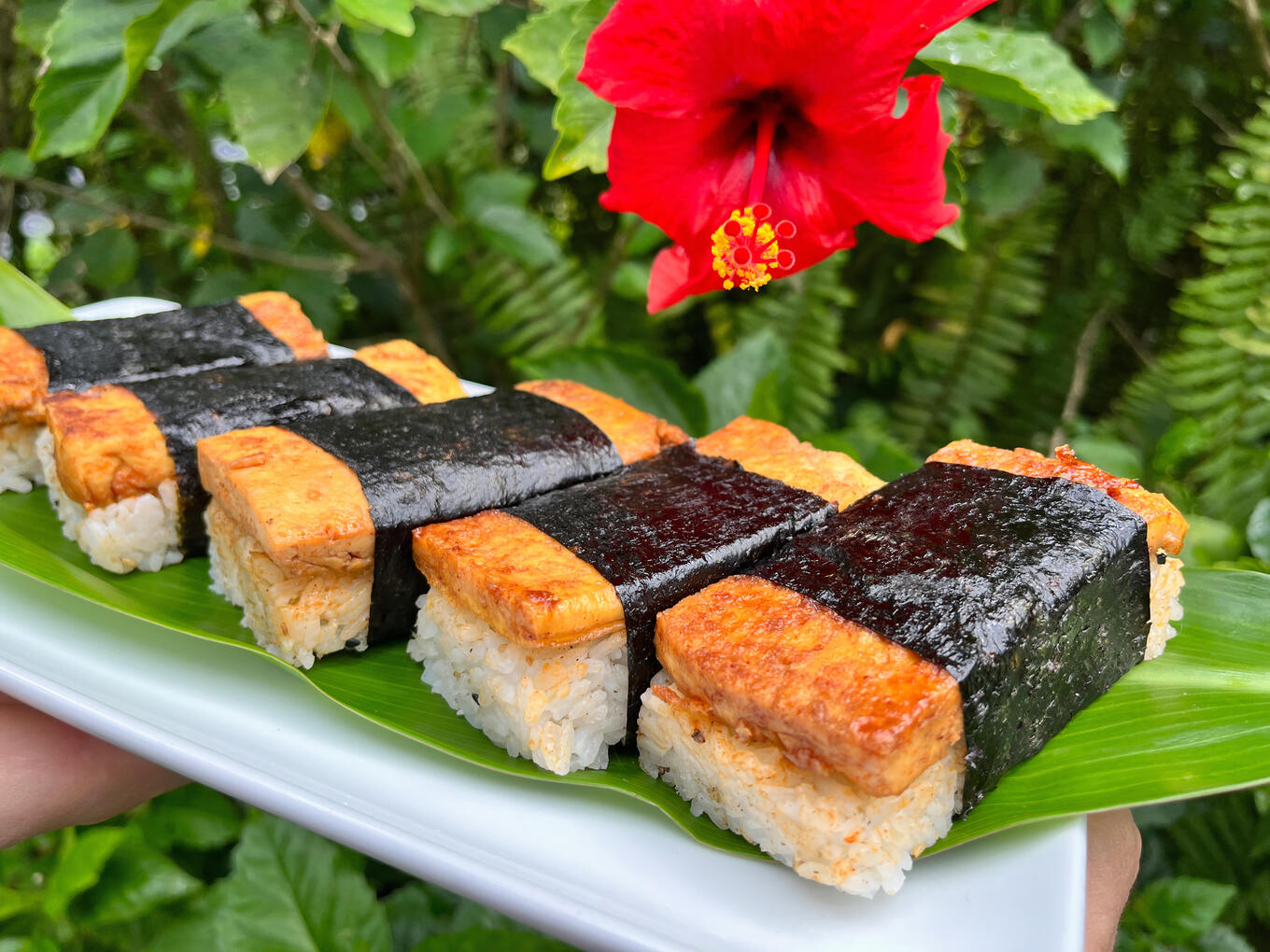 Deborah Gleason
2 Maple-Glazed Tofu Musubi
Sushi lovers, listen up: you can make Hawaiian Spam musubi without the actual Spam part. You guessed it, tofu does a great job of replicating the taste and texture of the processed meat favorite.
Get the recipe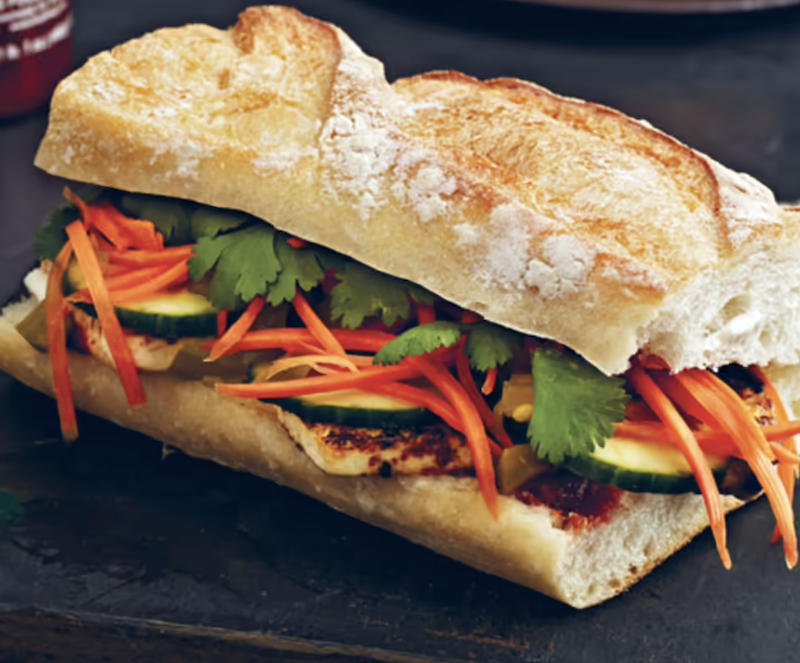 William and Susan Brinson
3 Vietnamese-Inspired Tofu Bánh Mì
Usually, bánh mì is loaded with pickled vegetables and chicken, but instead of the latter, you can swap in some thin slices of extra-firm tofu. For extra flavor and spice, this recipe calls for hoisin sauce, sriracha, and chopped jalapeño slices.
Get the recipe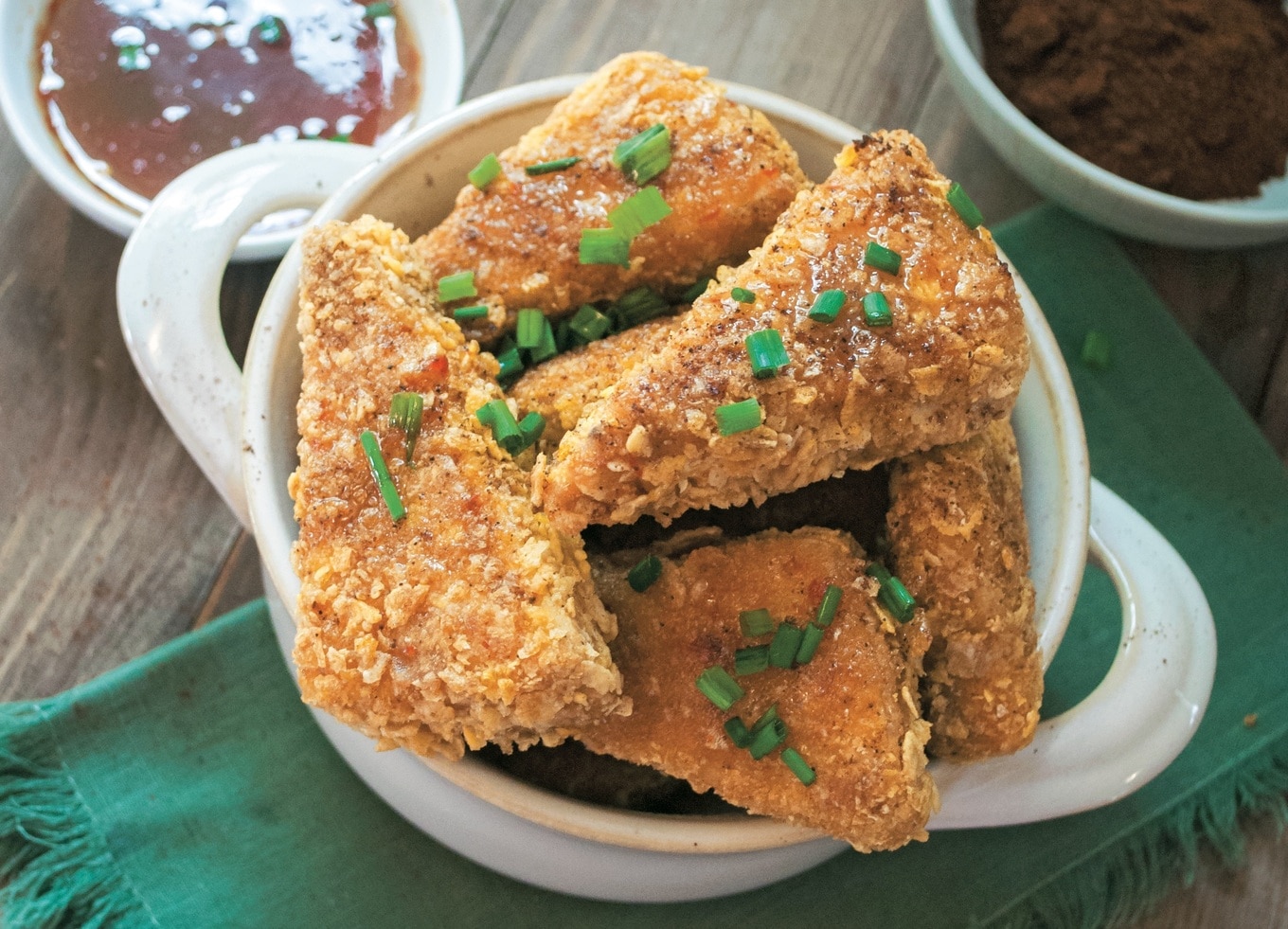 Lauren Hartmann and Julie Grace
4 Spicy Oven-Fried Tofu
Arguably, tofu is at its best when it's been baked—it's crispy on the outside and tender and firm on the inside. For extra crunch, this recipe also uses cornflakes for the coating. And don't forget the hot sauce, too!
Get the recipe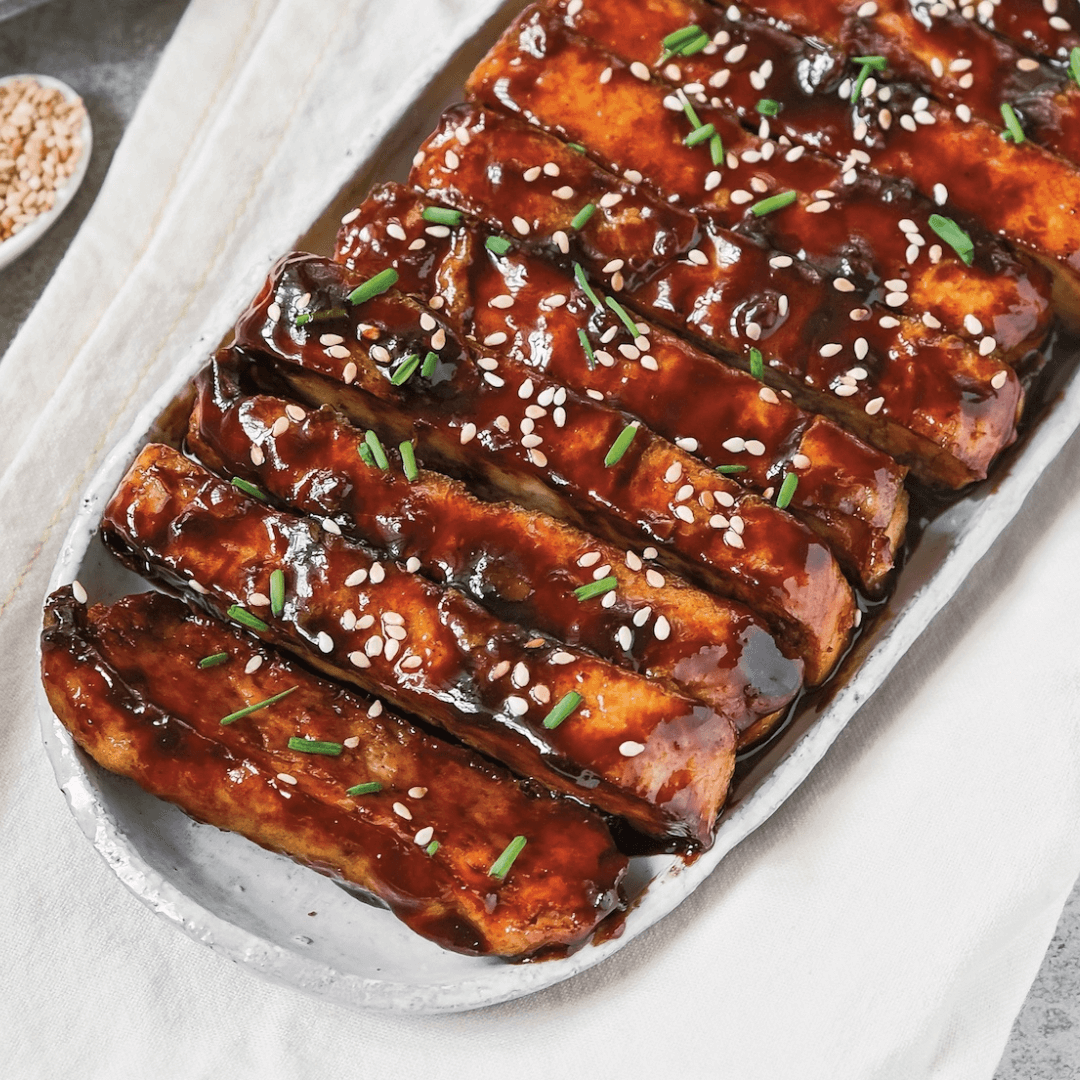 Jeeca Uy
5 Sticky Sweet Char Siu Tofu
Save money on takeout by learning to make this delicious sticky, sweet, and tangy tofu recipe at home. It's easy to make, packed with flavor and is guaranteed to become your new go-to.
Get the recipe