The vegan chicken game is getting stronger by the day. Showing up in force in supermarkets, there are plant-based nuggets, frozen grilled chicken-free strips, and even plant-based popcorn chicken is starting to enter the mass retail scale. But while we wait for the flood of fast-food options (KFC, we're looking at you), here are seven tasty vegan popcorn chicken recipes you can make at home.
What is popcorn chicken?
Popcorn chicken consists of bite-sized, breaded fried chicken pieces, which are roughly the same size as popcorn (no surprise there). It's synonymous with fast-food giant KFC, and that's because the chain was the first to develop the dish (invented by Gene Gagliardi, a food technologist) and make it accessible to the masses in the 1990s. Since then, it has been added to the chain's menus around the world and inspired many branded, frozen copycat products.
What is vegan popcorn chicken made of?
A few vegan brands have already developed products that emulate KFC's iconic menu item, but, of course, they're not made with real chicken. Both UK brand VFC and South African brand Fry's make vegan versions of popcorn chicken with soy and wheat protein, for example. And more recently, Beyond Meat has also added vegan popcorn chicken to its product lineup.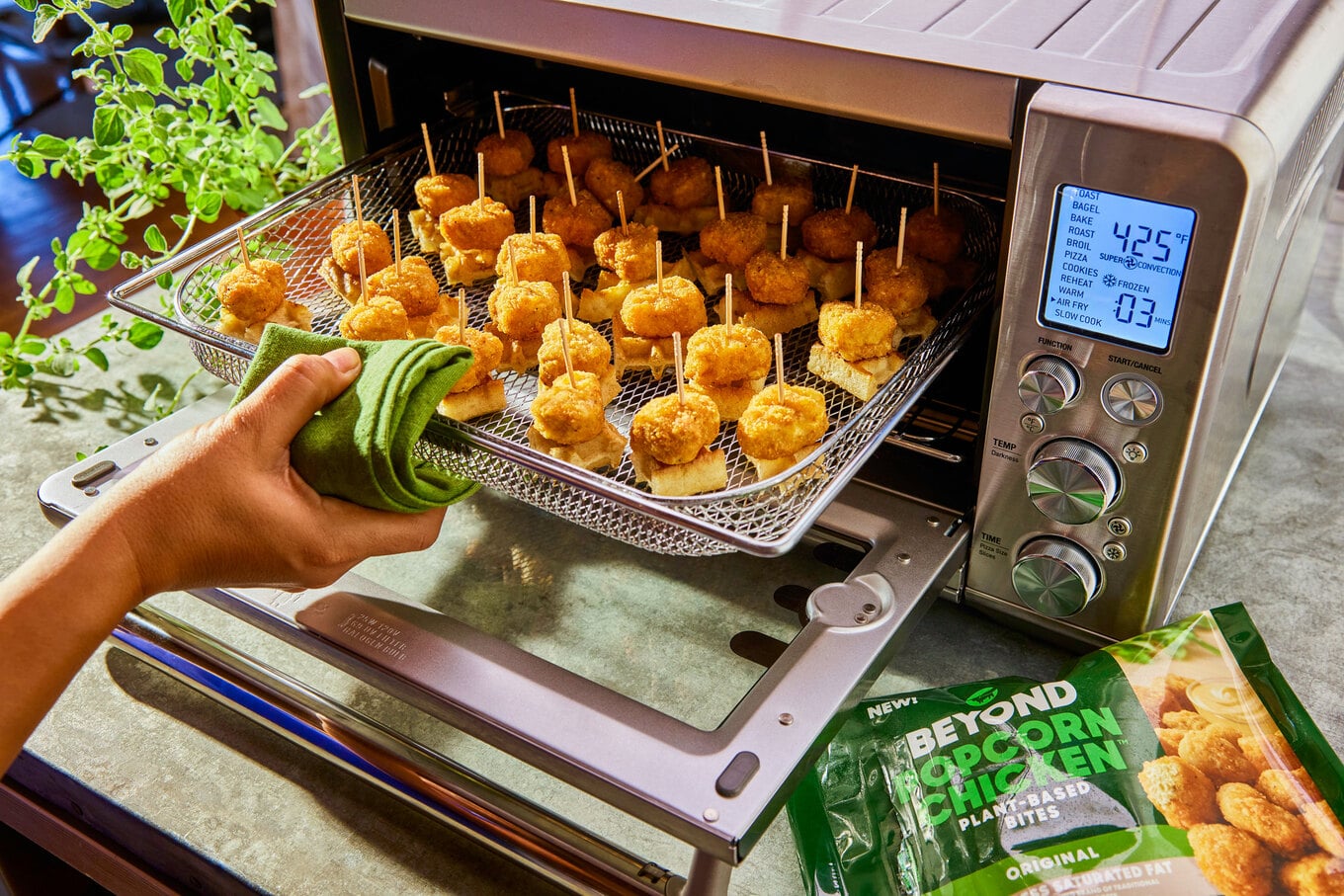 Beyond Meat
As the plant-based meat market grows, they're likely to be faced with more plant-based popcorn chicken competition in the coming years. But until then, you can make your own at home using ingredients like tofu, cauliflower, soy curls, and seitan.
Vegan popcorn chicken recipes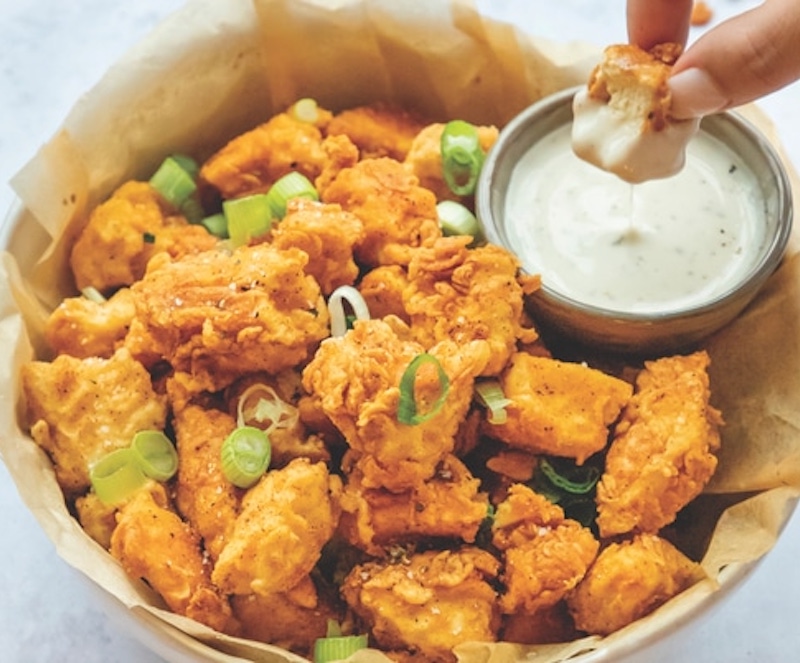 Francesca Bonadonna
1 Easy, Crispy Vegan Popcorn Chicken
When shopping for ingredients, don't settle for firm tofu—extra-firm is key to achieving that juicy, meaty bite. This recipe is as authentic as you can get, so be ready to deep fry! The result yields sixty golden pieces of seasoned, battered-and-fried tofu that will be gone in a flash.
Get the recipe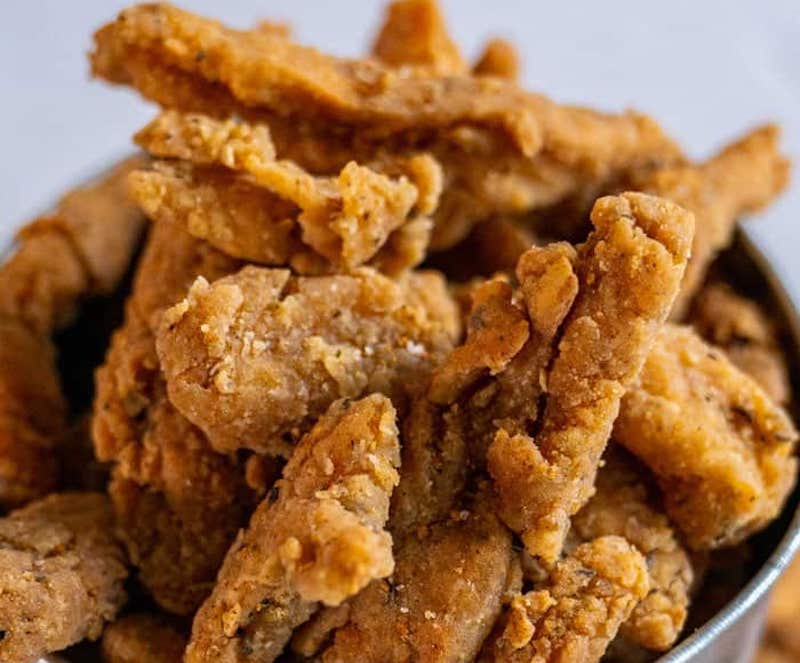 The Edgy Veg
2 KFC Popcorn 'Chicken'
The deep-fryer will earn a permanent spot on your kitchen counter after you make this recipe. Better than Bouillon No Chicken cubes (which are vegan) permeate chewy soy curls with an authentic chicken taste, imparting flavor in every single component. The curls are dunked in a seasoned batter, dropped into bubbling oil, then placed on a cooling rack to retain a crispy exterior. Allow to cool just long enough to not scorch your mouth (it's hard, we know).
Get the recipe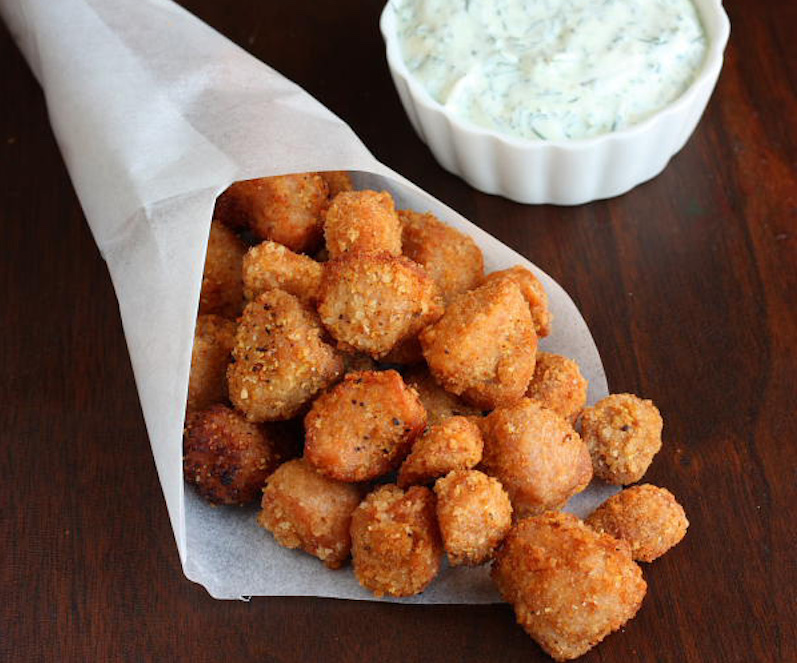 The Viet Vegan
3 Vegan Popcorn Chicken With Soy Chunks
Turn up the tunes and have some fun with this recipe—step five involves a bit of shake-and-bake! Well, technically the breaded soy chunks are fried, but you might as well have some fun shaking the Ziploc bag to coat each textured nugget. Don't skip the dip, either. This dill-infused vegan sour cream couldn't be easier to make, and it rivals any dipping sauce you'll find at a drive-thru—including a certain controversial chicken chain that's closed on Sundays.
Get the recipe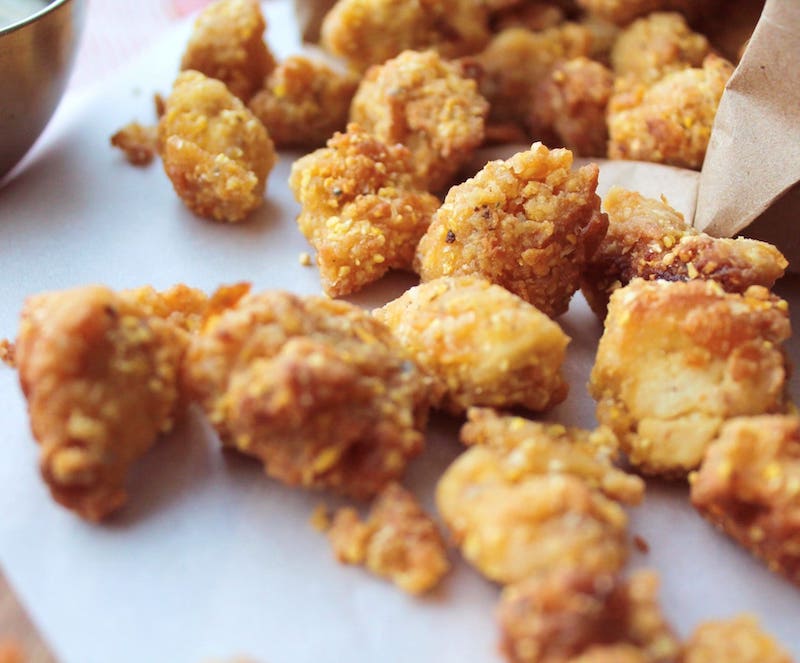 Dad Goes Vegan
4 Vegan Popcorn Chicken With Tofu
When it comes to kid-friendly finger food, dads definitely know best. This solid recipe relies on protein-packed tofu and a simple vegan buttermilk dredge to achieve a fast-food taste with vegan ingredients. The instructions include shallow fry and air-fryer cooking methods, so anyone can take this on regardless of their kitchen appliance situation.
Get the recipe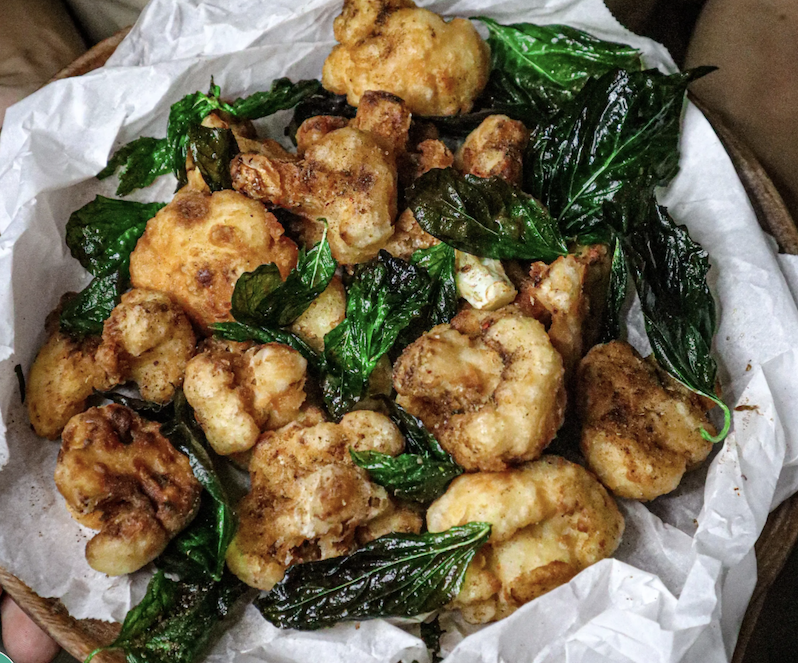 Chez Jorge
5 Vegan Taiwanese Popcorn Cauliflower
Cauliflower florets work wonders when mimicking buffalo-style chicken—it's no surprise they translate exceptionally well into popcorn chicken, too. Social media star George Lee puts a Taiwanese spin on this American classic by adding fried basil, Sichuan pepper, and ground five-spice to the mix. These simple accouterments transform your run-of-the-mill fried cauliflower from bland to bold.
Get the recipe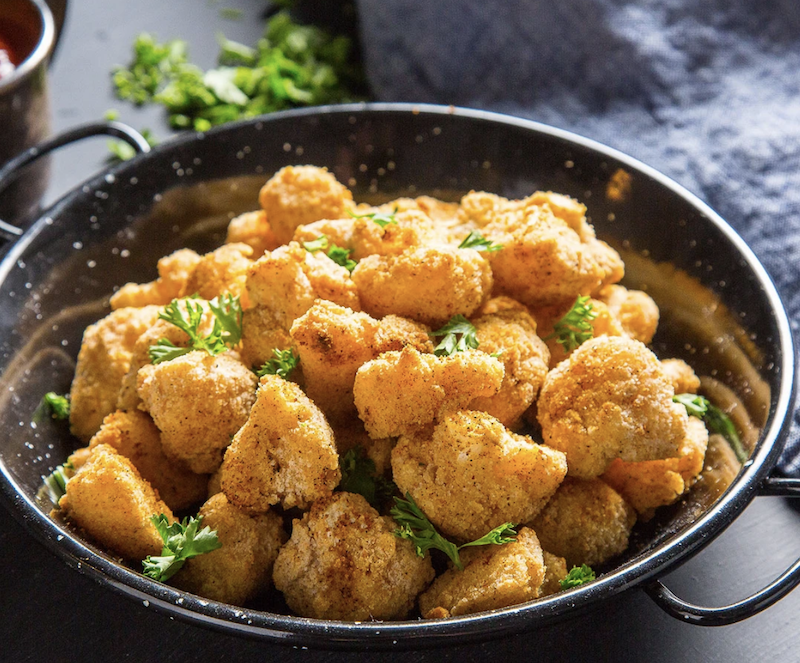 Vega
6 Cauliflower Popcorn Chicken
Can't take the spice? Revert to this tried-and-true, baked-and-breaded cauliflower popcorn chicken recipe. While deep-frying typically provides that necessary crunch, carbonated water, and coarsely ground cornflakes mimic this satisfying texture without excess oil. Enjoy these healthy bites on their own or piled on top of a deeply satiating salad drizzled with vegan ranch.
Get the recipe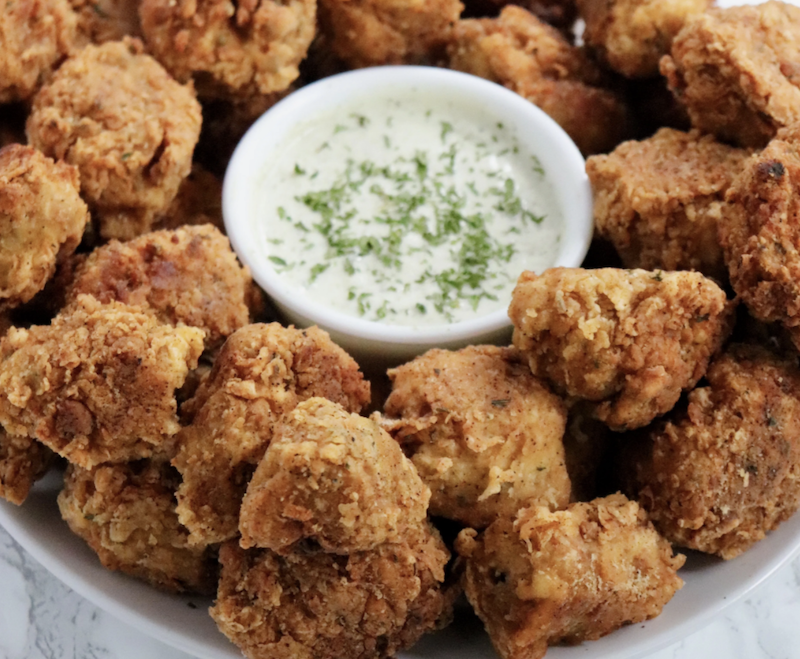 Six Vegan Sisters
7 Seitan Fried Chick'n
Seitan's dense and chewy texture makes it a perfect match for veganized popcorn chicken. While store-bought seitan is readily available in most supermarkets, it's best to make your own with this recipe to get the chicken flavor just right. If you're crunched for time, try to find chicken-seasoned seitan at the store. Once you have your base, the process is as simple as season, dredge, and fry until golden brown. "Addictive" doesn't even begin to explain the pull of this delectably savory snack.
Get the recipe
For more on vegan chicken, read: