Grocery chain Trader Joe's has long been a destination for vegan food finds and shoppers agree that one of its best plant-based products of all time is Soy Chorizo, a vegan meat alternative to pork-based chorizo. First introduced at Trader Joe's in 2008, the private-labeled vegan meat has won so many awards throughout the years that the grocery chain finally inducted it into its Product Hall of Fame.
"When the chips (or tacos, or frittatas) are down, Trader Joe's Soy Chorizo is exactly the kind of vegan protein you want to have on your team," Trader Joe's wrote about the new Hall of Fame product. "Because it's an all-around favorite among vegans, vegetarians, and omnivores alike, deploying this perfectly seasoned Soy Chorizo in your quesadillas, omelets, and breakfast hashes is always a winning play. In an increasingly competitive field of plant-based options, we're glad to see this chorizo secure its status as MVP—Magnificent Vegan Protein, that is."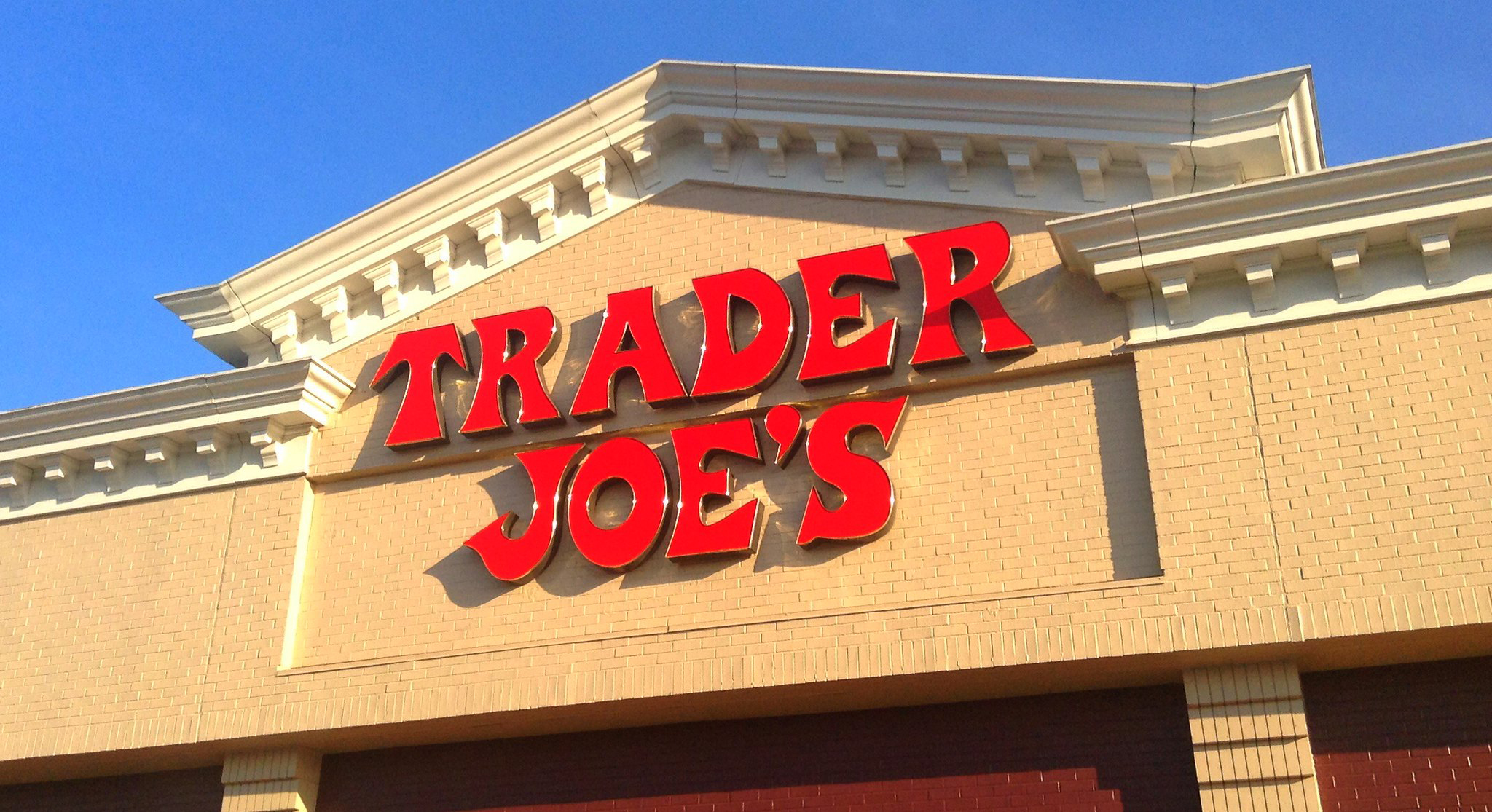 Mike Mozart/Flickr
The vegan Soyrizo is one of five new Product Hall of Fame inductees for 2023, all of which have been retired from the running for best product in Trader Joe's Customer Choice Awards—an annual poll that challenges shoppers to choose their favorite products in multiple categories and departments.
Trader Joe's award-winning vegan chorizo
For the last 15 years, Trader Joe's Soy Chorizo has become a favorite among the grocery chain's shoppers. While the vegan chorizo alternative has won multiple best product awards in the meat-free category of the Customer Choice Awards, in 2017, the product went a step further.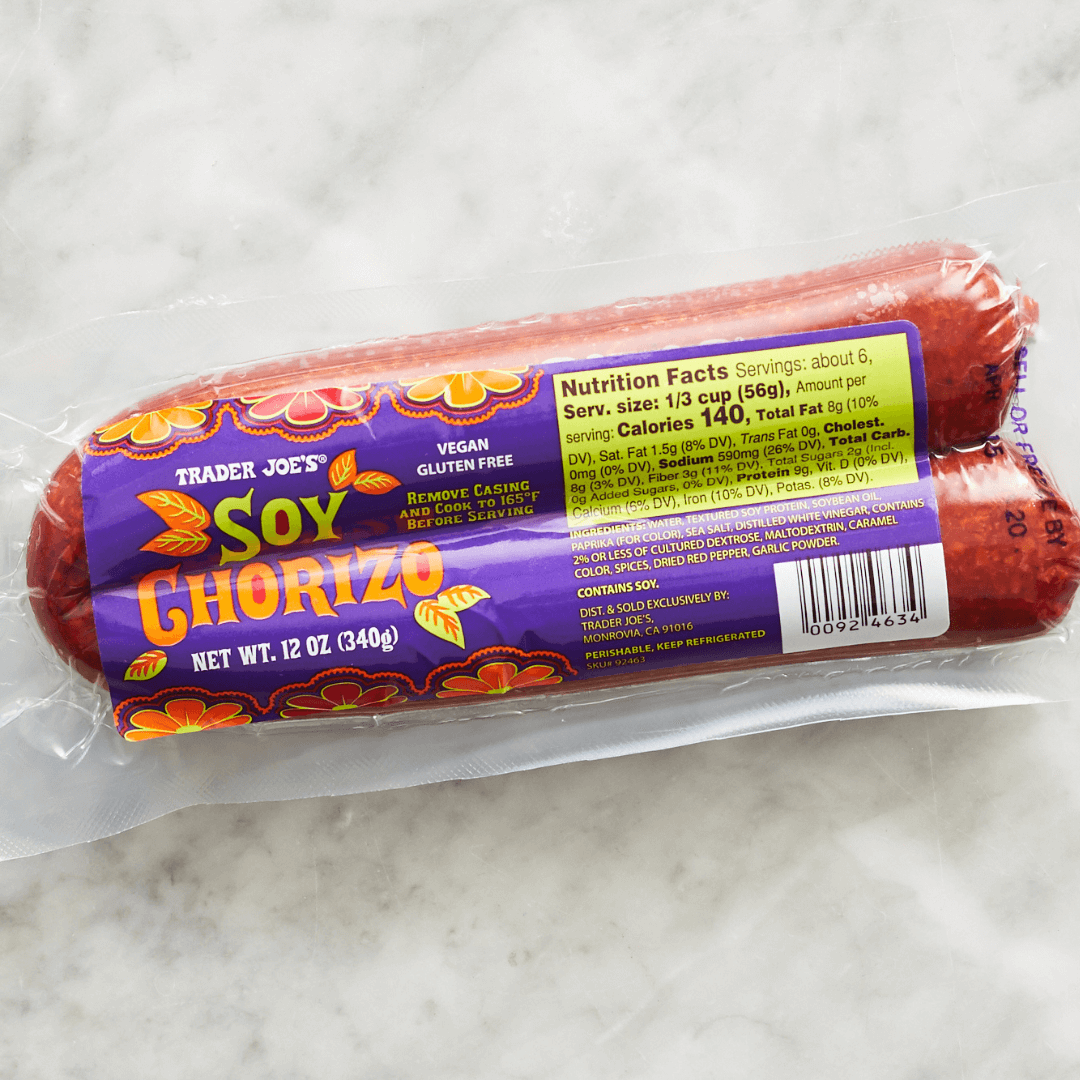 @thekitchn
That year, Soy Chorizo beat out animal-based meat products such as chicken sausage, ground turkey, and grass-fed ground angus beef to win first place in the best "Meat and Meatless" category category, followed in second place by Trader Joe's vegan meatless meatballs.
"As the years have gone on, some products have so consistently won in their category (or even multiple categories) that we felt the time was right to take them out of contention, so that other products might get their turn in the spotlight," Trader Joe's explained. "At the same time, we wanted to make sure these overachievers were given their due recognition—something permanent."
"And so now, at the start of 2023, we've created the Trader Joe's Product Hall of Fame and inducted its first class of honorees, each at least a five-time winner of their respective categories," Trader Joe's stated.
While Trader Joe's does not disclose the exact producers of its private-label products, the chain says the Soy Chorizo is made by a small company that specializes in chorizo. "They really do spend all their time focusing on chorizo, and we're pretty sure that's why this meat-free version is so authentically flavored," Trader Joe's explains. "The authenticity comes from the spices—the same spices that have made traditional pork chorizo so famous."
These spices include a blend of paprika, sea salt, vinegar, red pepper, and garlic powder which infuse the soy-based meat with a bold, recognizable flavor. Trader Joe's notes that the vegan chorizo comes with the benefit of having no cholesterol and 60 percent less fat than traditional pork-based versions, which could be an additional reason why Soy Chorizo has been a customer favorite for so long.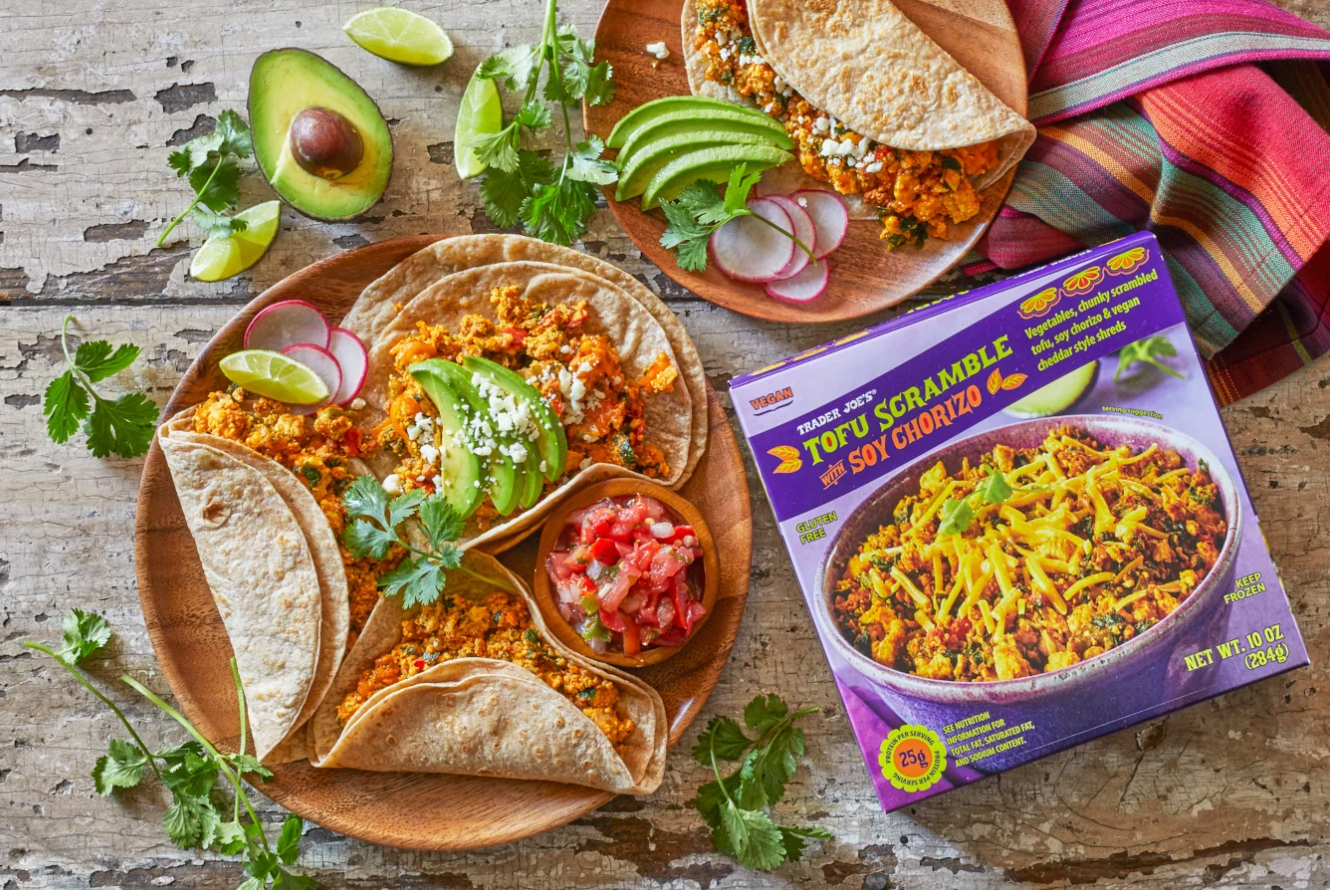 Trader Joe's
In 2021, Trader Joe's incorporated the Soy Chorizo into a new breakfast product: Tofu Scramble with Soy Chorizo, a vegan frozen meal packed with the plant-based chorizo, seasoned tofu, chopped peppers, onions, and vegan, cheddar-style shreds.
In addition to Soy Chorizo, other notable vegan products that have been punching above their weight throughout the years. One example is Speculoos Cookie Butter—a vegan spread made from crushed Belgian cookies—which won the best overall product category in the 2015 Customer Choice Awards.
Vegan at Trader Joe's
The fact that Trader Joe's has offered Soy Chorizo for 15 years shows that the grocery chain is indeed an early adopter in the plant-based meat boom. In addition to carrying popular vegan brands such as Impossible Foods, Miyoko's Creamery, and Partake Foods, in recent years, Trader Joe's has made even more progress in the plant-based direction with new items in nearly every part of the store.
In the refrigerated section, the chain stocks various vegan dips and spreads, its own line of dairy-free cheeses, and meat alternatives such as Turkeyless Ground—a vegan turkey it has been perfecting over the years.
The frozen foods section is now brimming with options such as meaty vegan pizzas, heat-and-eat entrées, and a wide variety of dairy-free ice creams in pints and novelties. When it comes to vegan snacks, Trader Joe's selection includes cookies and other mainstays along with an evolving selection of chips, pork-free rinds, and other crunchy bites.
And while Trader Joe's vegan chorizo is now in the Hall of Fame, other vegan products continue to be massively popular among shoppers.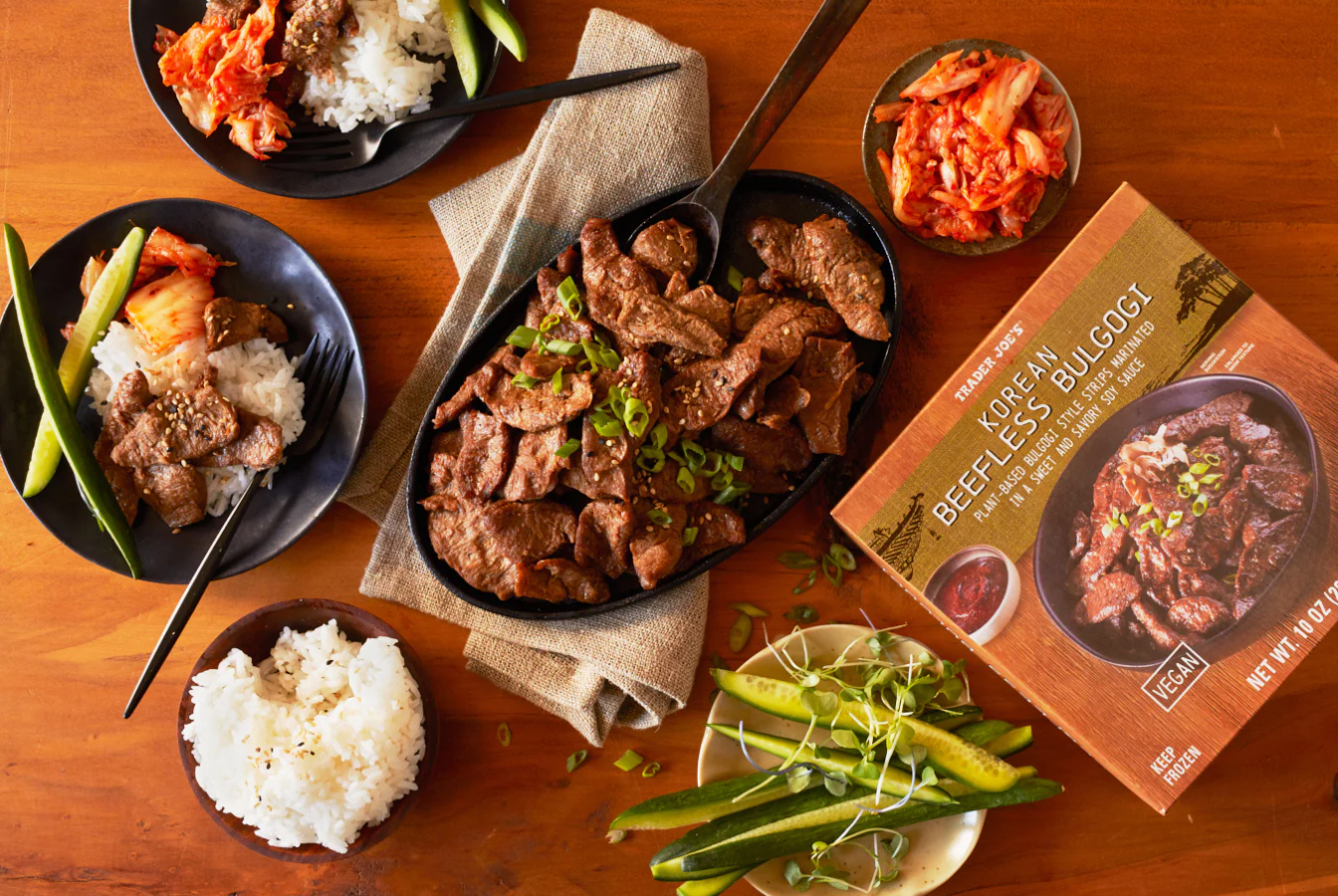 Trader Joe's
So will Korean Beefless Bulgogii take Soy Chorizo's place at the top this year? We'll find out soon enough as voting for Trader Joe's 14th annual Customer Choice Awards is now closed and Trader Joe's will reveal the winners on January 23.
For the latest vegan news, read: