This year, we resolve to try more new vegan products at Trader Joe's. Beginning this January, we're not only going to flip through the Frequent Flyer, we're going to try these products at least once and use them in a recipe, if applicable. What better way to spice up our everyday meals and snacks!
New Year's resolutions don't have to be strict, daunting, or even self-improving. It's okay to make a resolution for the fun of it, and taste-testing new vegan TJ's items is a relatively low-bar effort that can spark light-hearted conversation at the office or brewery.
Any regular TJ's shopper knows these items aren't likely to last long. The seasonality of Trader Joe's is part of the fun. Here's a taste of all the new, intriguing, and craveable vegan Trader Joe's products available this January.
Vegan at Trader Joe's
Addictive Island Soyaki sauce, vegan mac and cheese, Hold the Dairy! Chocolate Mini Cones, Dill Pickle Mini Falafel, really cheap bananas … Trader Joe's is a goldmine for runaway vegan products that entice a zealous following. This bi-coastal grocer makes shopping exciting with its new releases and continual output of intentionally plant-based fare. Customers look forward to new finds with every visit, and there are plenty of social media accounts dedicated purely to the products that line Trader Joe's shelves.
No longer a specialty store, one can reliably get all the shopping done in a single trip to this vegan-friendly retailer. The brand has become a vegan haven through its consistent new releases of vegan products and seems to have its customers' plant-based preferences in mind when developing novel concepts. It's also invited high-profile vegan brands onto its shelves for a short stint, such as Miyoko's and Impossible Foods.
Now positioned as an innovator in all-things vegan, we look to Trader Joe's for the latest in plant-based snacks, treats, and ultimately craveworthy convenience.
10 new vegan products at Trader Joe's this month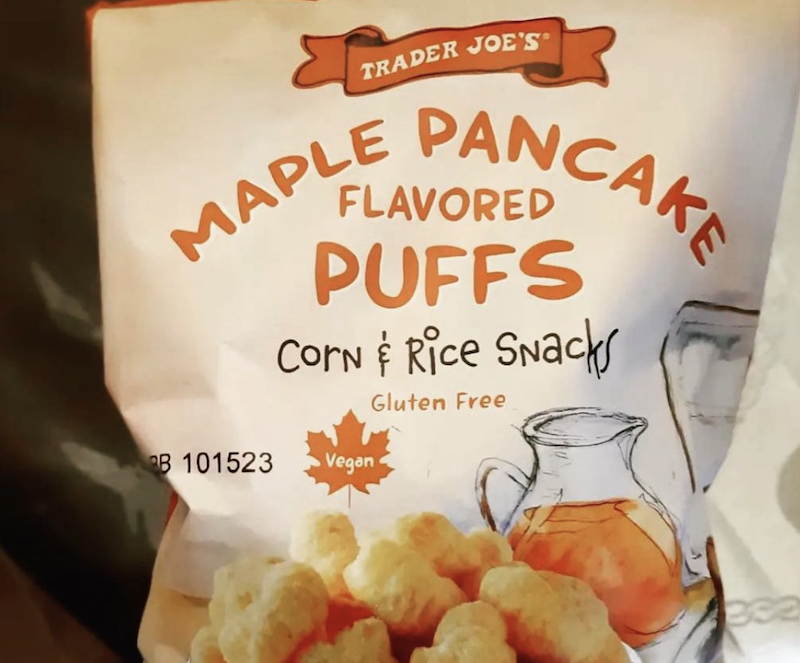 @lifts.and.eats/Instagram
1 Maple Pancake Flavored Puffs
Sweet chips aren't very common, particularly those that claim to taste like maple syrup-drizzled pancakes. The airy puffs are gluten-free and deliver a light crisp. They may be a slightly healthier alternative to anyone prone to a handful of vegan chocolate gems during the afternoon work slump.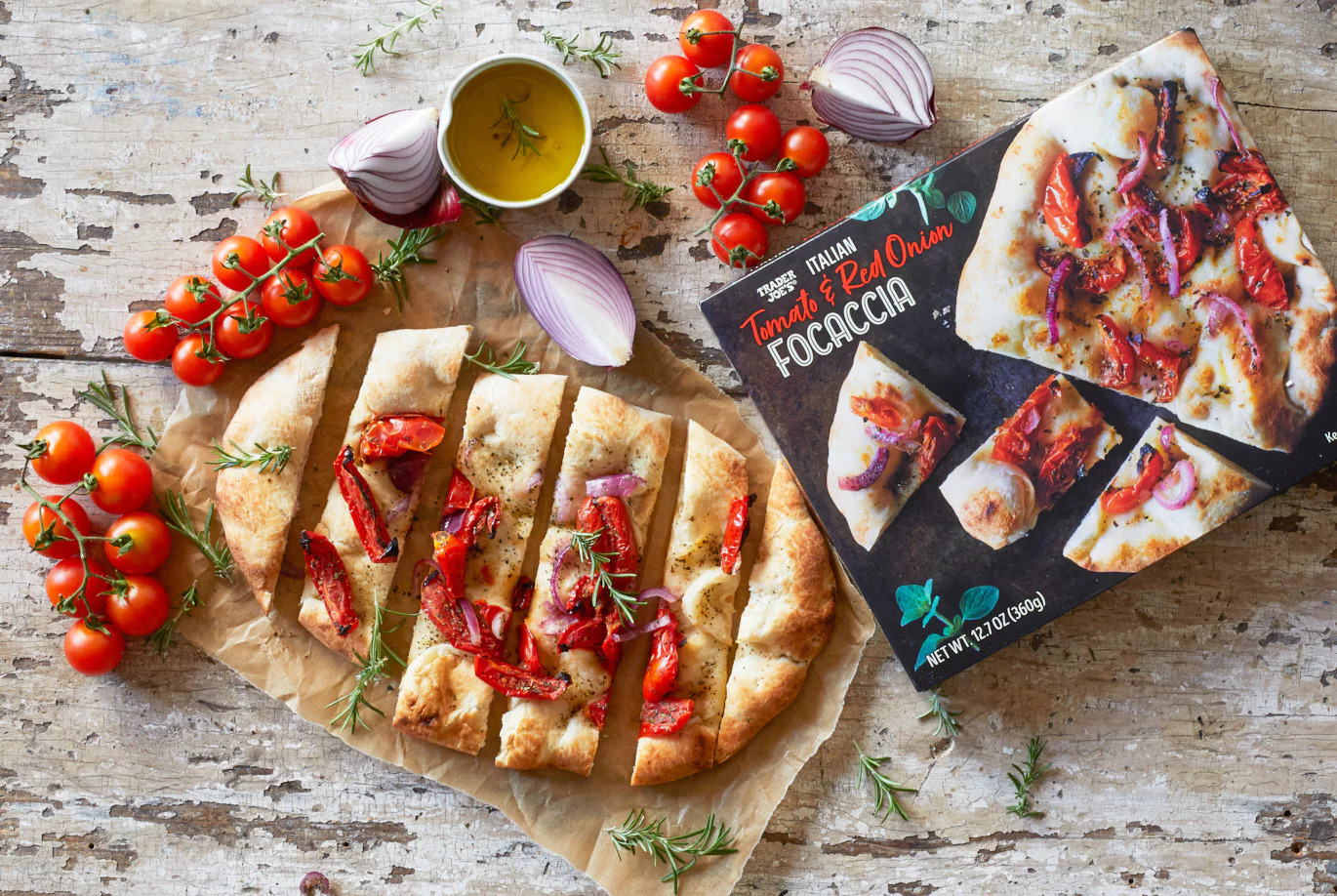 Trader Joe's
2 Tomato & Red Onion Focaccia
Not quite a pizza, this convenient frozen item is great for an appetizer or meal-for-one. Serve it with a side of TJ's Vegan Kale, Cashew & Basil Pesto, or melt on Trader Joe's Mozzarella-style Shreds while it heats in the oven.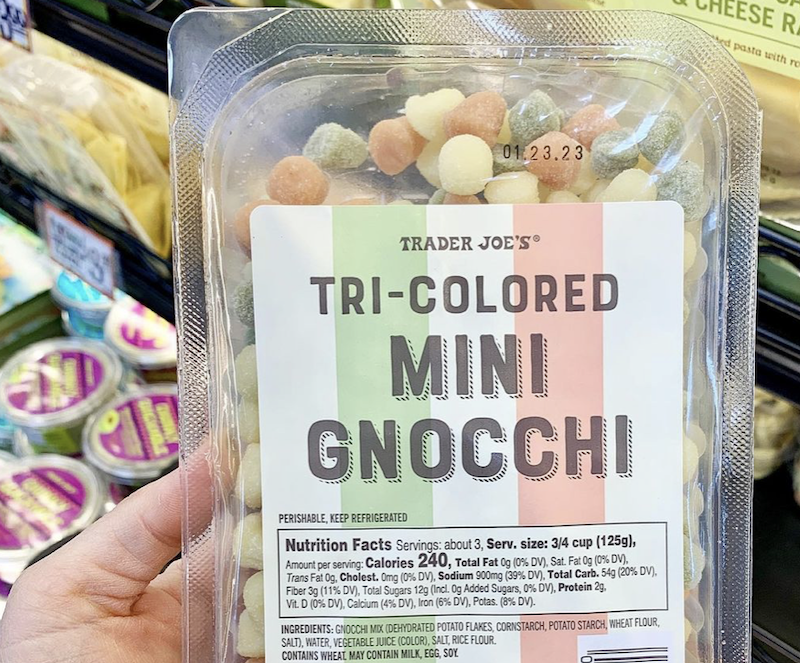 @traderjoesgeek/Instagram
3 Tri-colored Mini Gnocchi
Based off the frozen kale and cauliflower gnocchi varieties, it seems that Trader Joe's has a thing for these toothsome potato dumplings. These exceptionally bite-sized pillows of potato and rice flour get their hue from vegetable juice—it doesn't impart flavor, it's just for show. We'd pair these with a light white cream sauce, wilted spinach, and sundried tomatoes.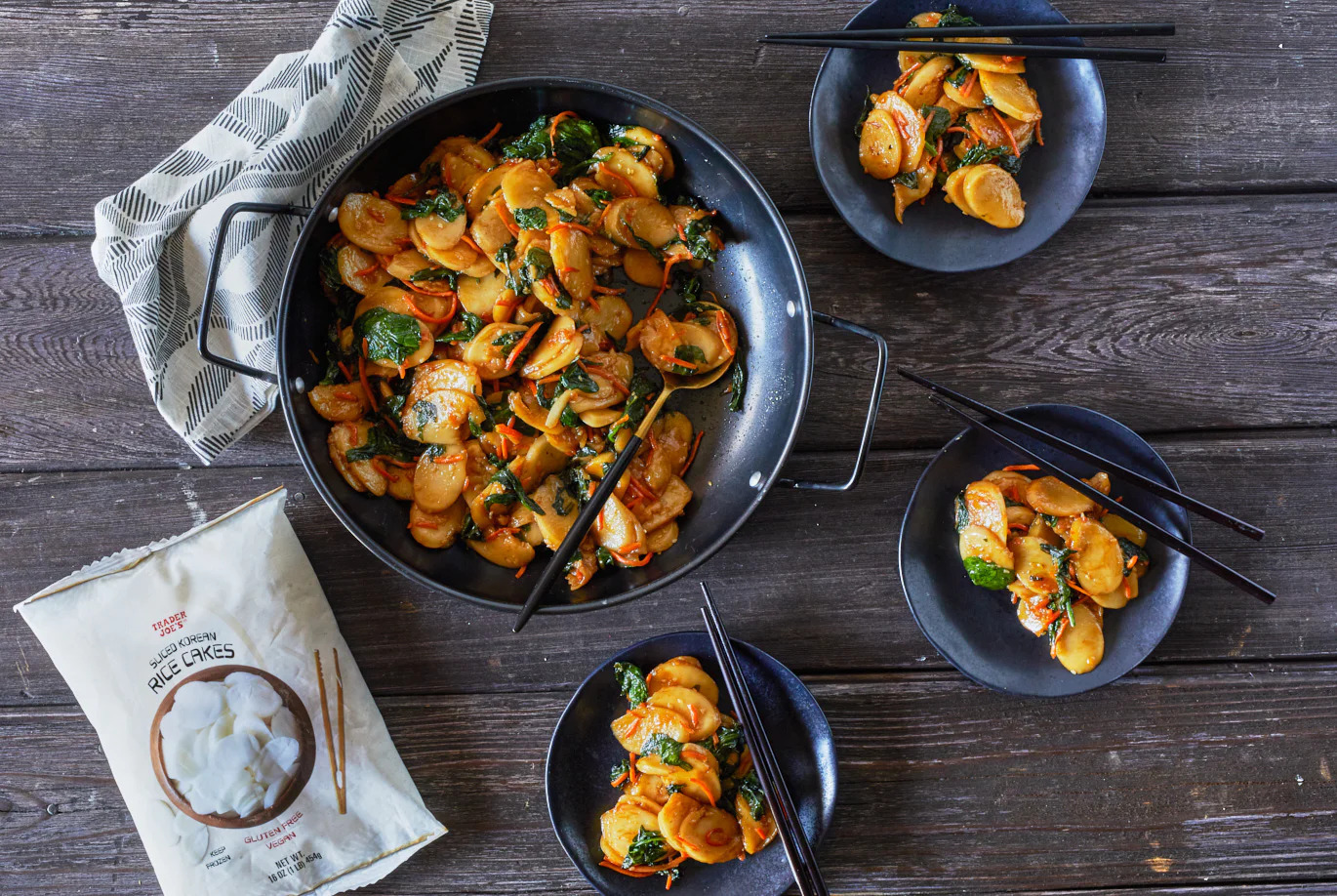 Trader Joe's
4 Sliced Korean Rice Cakes
These started appearing on the shelves of West Coast Trader Joe's in late December, but they'll be new to some locations this January. Korean-style rice cakes are often served as tteokbokki—stir-fried in a spicy, sticky red sauce. They're deliciously toothsome and chewy, picking up the flavor of whatever you pair with it. Grab a bag and get creative!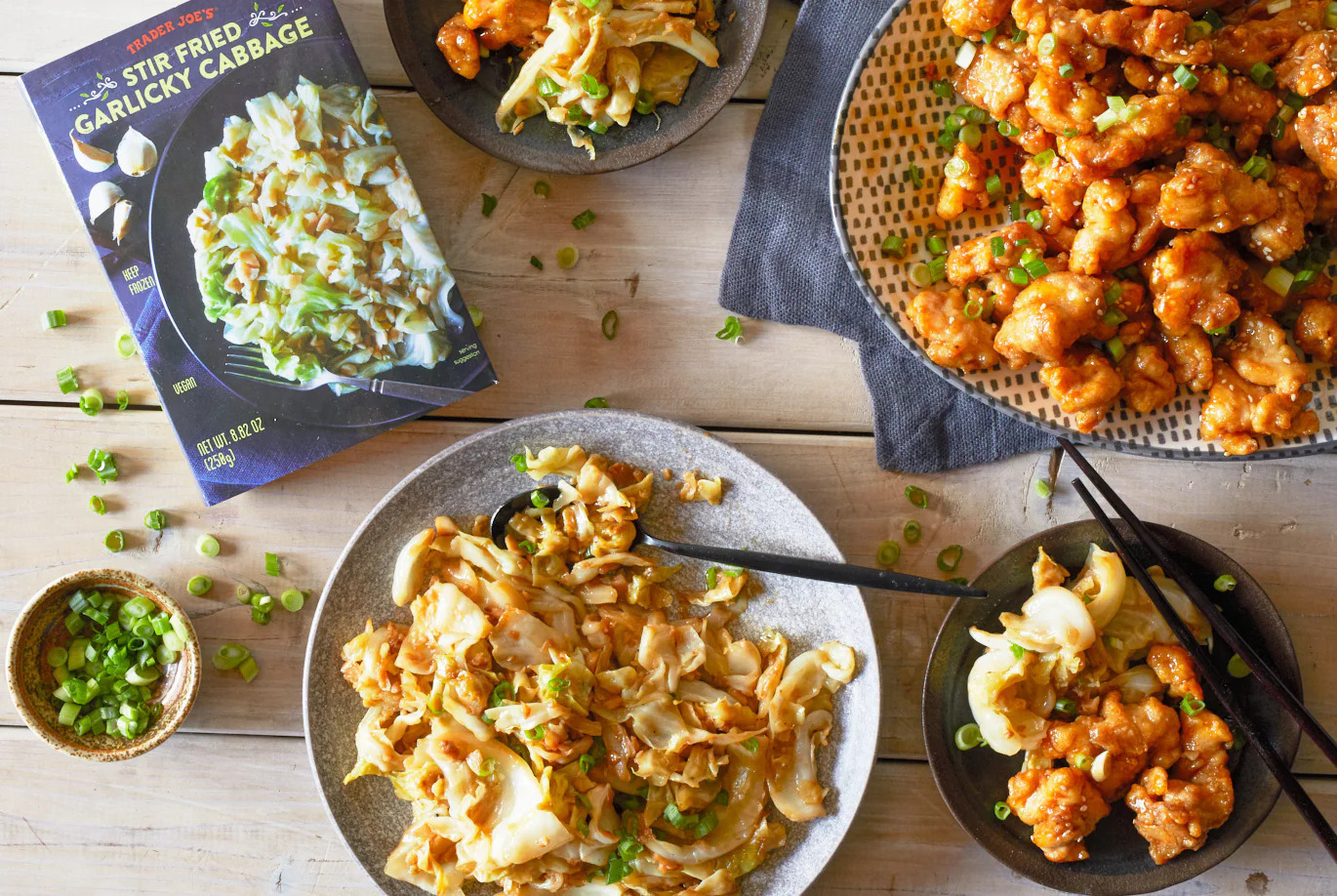 Trader Joe's
5 Stir-Fried Garlicky Cabbage
Anyone who thinks cabbage is tasteless just hasn't had it prepared properly. Cabbage is like tofu—it can take on flavors, and it's wonderful when charred or crisped in the oven or a pan. TJ's new frozen vegetable side dish would pair beautifully with crispy tofu and the new Sliced Korean Rice Cakes seasoned with a bit of gochujang or Soyaki sauce.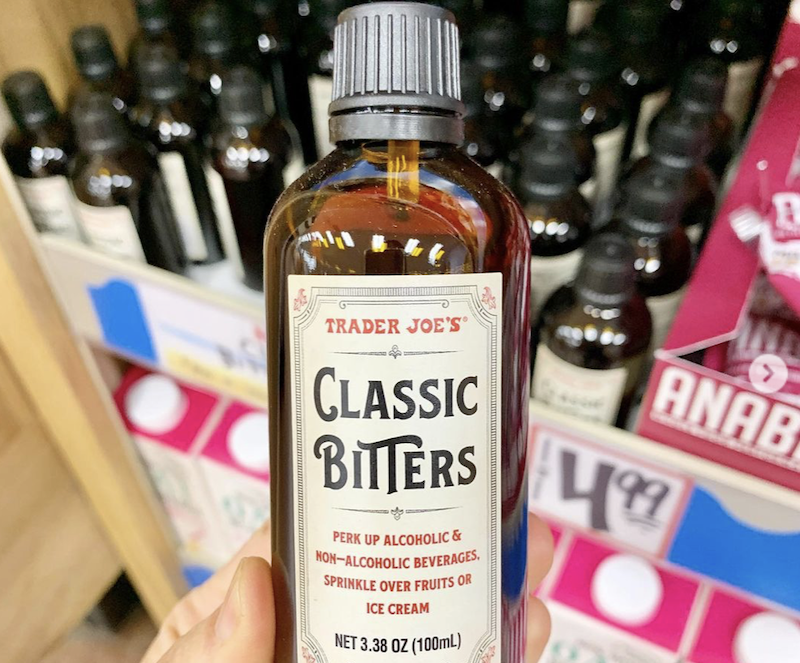 @traderjoesgeek/Instagram
6 Classic Bitters
This came out a few days before New Years—perfect timing for cocktails—but it can carry you through Dry January and beyond since it's non-alcoholic. Balance out your favorite wintertime cocktails and mocktails with just a drop or two. A little goes a long way.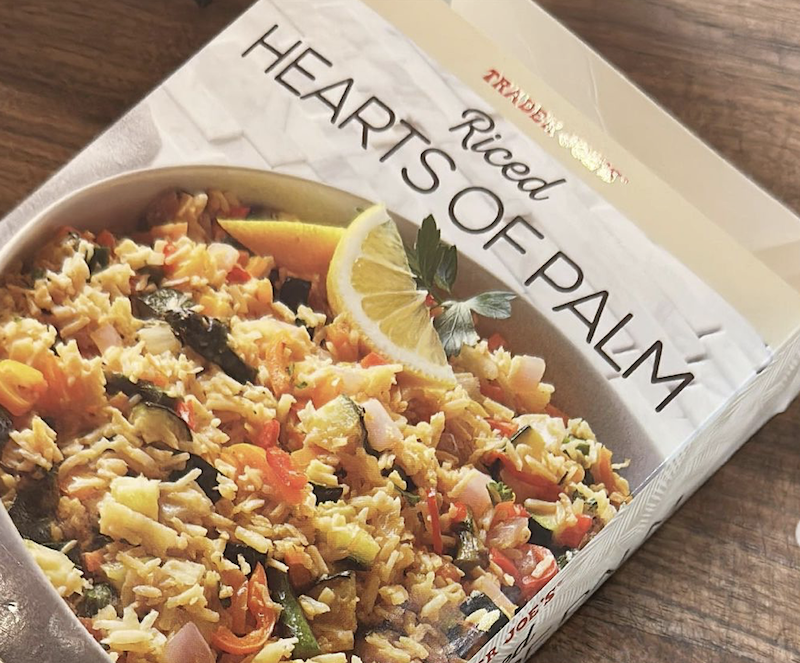 @traderjoeslist/Instagram
7 Hearts of Palm Rice
We've seen white rice, sushi rice, brown rice, forbidden rice, jasmine rice, and cauliflower rice, but this is the first hearts of palm rice we've encountered. Kudos to Trader Joe's for starting the trend instead of following it. TJ's influencer @traderjoeslist vouched for it, claiming this one-ingredient, vegetable-based rice is "a beautiful butterfly" and that it "transforms before [her] eyes into a light and fluffy 'rice'." How could you not be compelled to try it after that stunning review?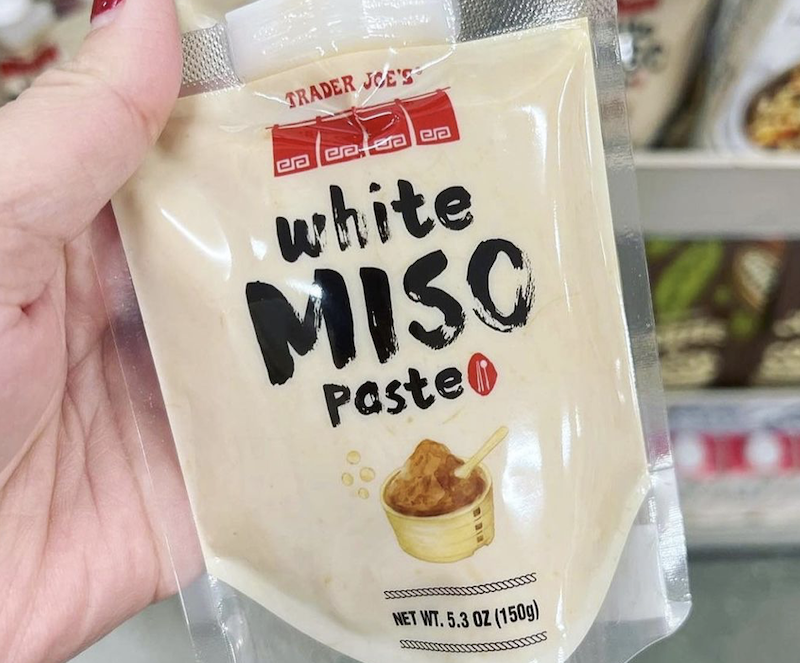 @traderjoesobsessed/Instagram
8 White Miso Paste
While white miso paste isn't exactly innovative, this new to TJ's item at least makes it easier for you to get everything you need from just one store.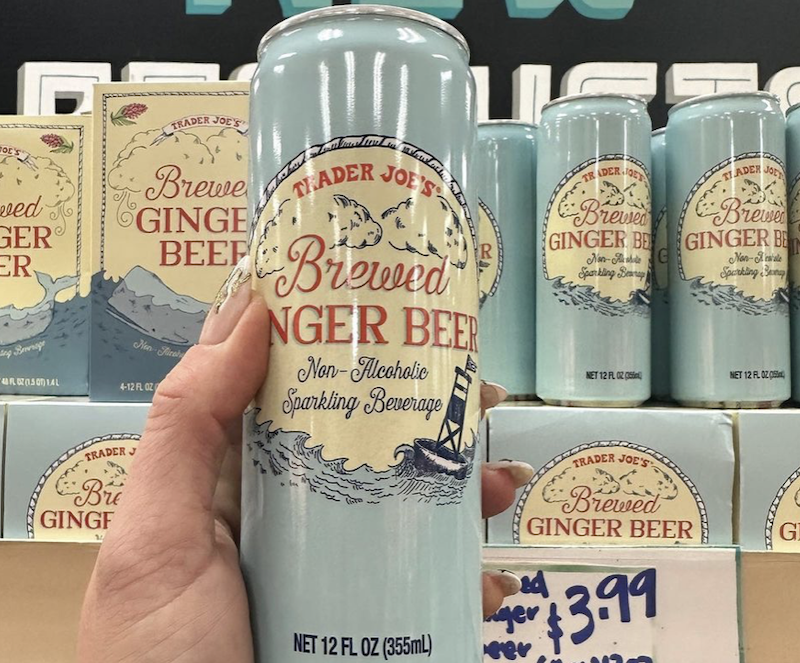 @traderjoeslist/Instagram
9 Brewed Ginger Beer
A spicy and refreshing blend of ginger, lemon, and lime juice gives this canned bubbly beverage its signature flavor (along with a heavy dose of cane sugar). Sip on its own or pair it with vodka for a traditional Moscow mule.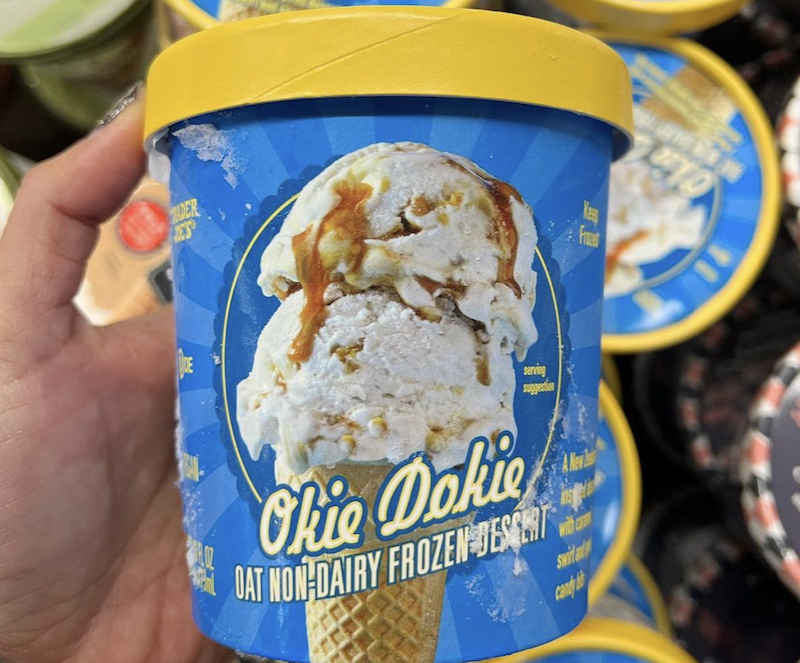 @traderjoesobsessed/Instagram
10 Okie Dokie Oat Non-Dairy Frozen Dessert
This vanilla, toffee, and caramel dessert isn't new, but it is a limited-time product making its return following an extended hiatus. The oat-based ice cream is more than just a classically hokey Trader Joe's name; it's a frozen dessert rendition of a New Zealand dessert, the Hokey Pokey—a treat made from vanilla ice cream and honeycomb. Having not tried the inspiration, we can't say how similar Okie Dokie is to Hokey Pokey, but we can say that it is very sweet. Not a big surprise given the dominant tasting notes are toffee and caramel.
For the latest vegan Trader Joe's finds, read: