Trader Joe's is a bona-fide cult-favorite grocery chain for a reason. With trendy foods, affordable products, and new launches practically monthly, what more could we ask for? As an ode to our favorite meal of the day, snacks, we've compiled our 25 favorites from Trader Joe's. Try these deliciously addictive vegan snacks next time you find yourselves in the aisles of this popular grocery destination.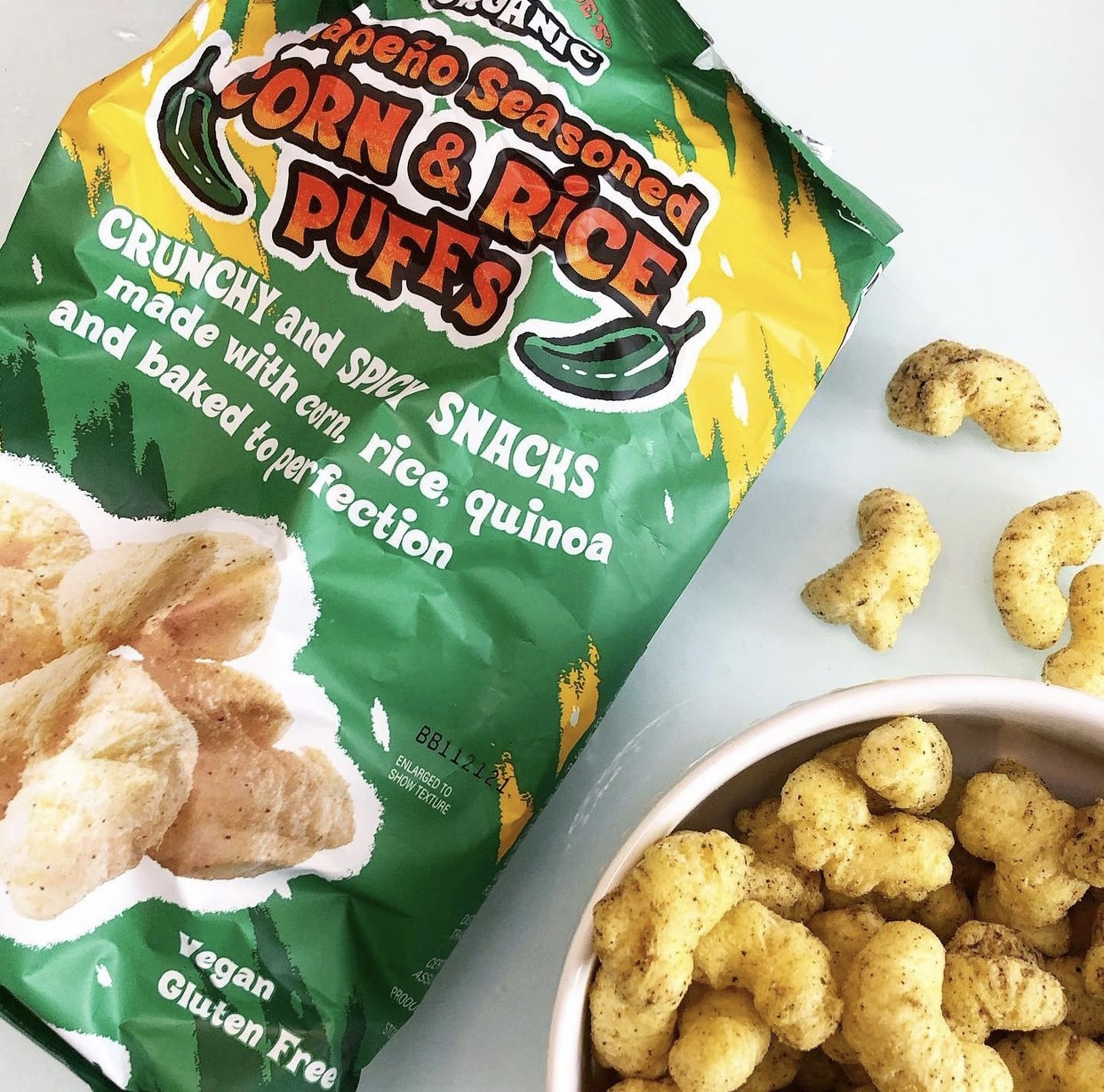 @flirtingwithvegan/Instagram
1 Jalapeño Seasoned Corn & Rice Puffs
Made with corn, rice, and quinoa, these puffy snacks are baked, not fried, and dusted with a spicy pepper mix that makes them finger lickin' good.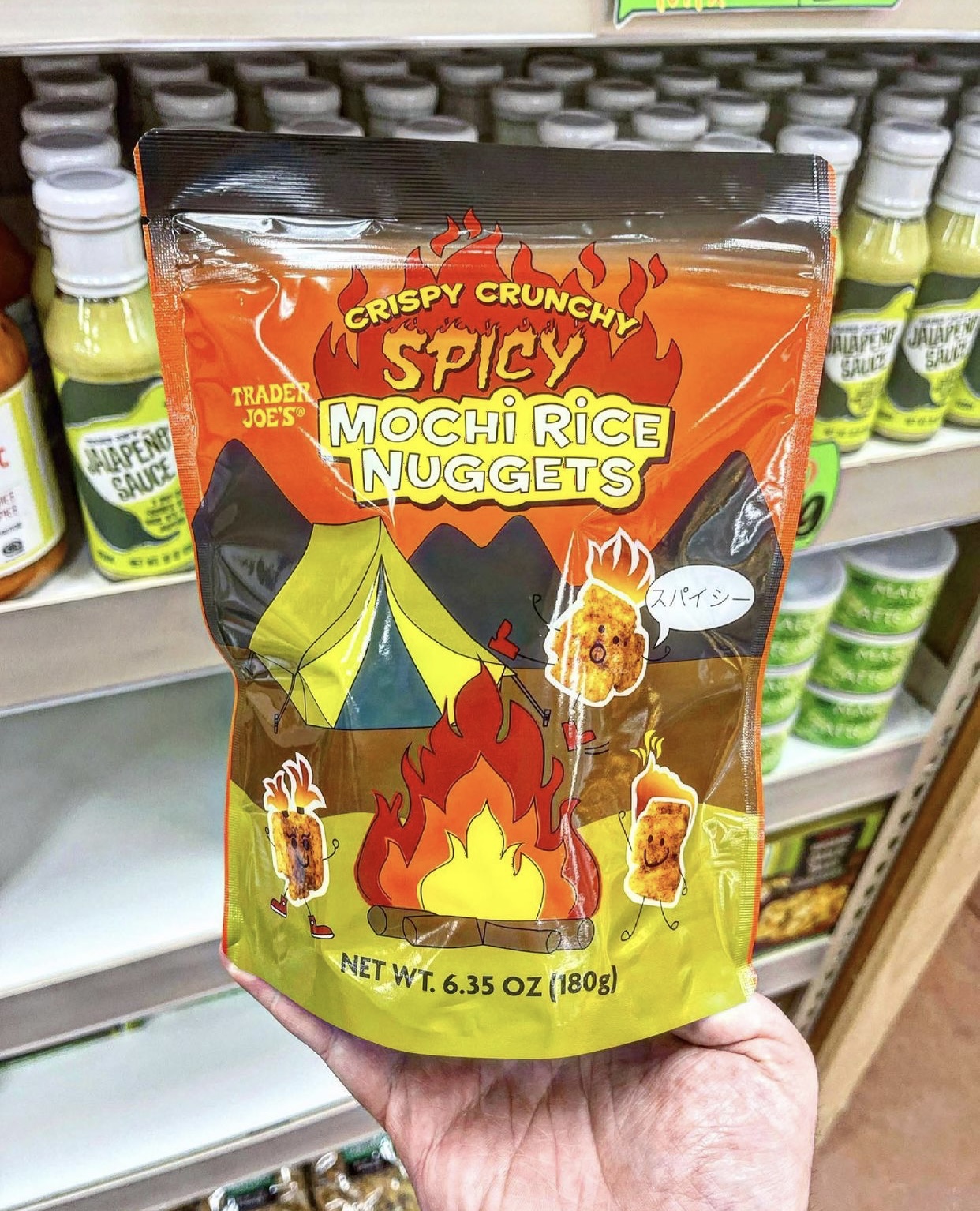 @traderjoesveganitems/Instagram
2 Spicy Mochi Rice Nuggets
These crunchy rice snacks are spiced up with a mix of chipotle, habanero, red chile pepper, ginger, and sansho pepper for a fiery, irresistible snack.
3 Spicy Porkless Plant-Based Snack Rinds
Made from a blend of seasoned rice and peas, these crispy vegan takes on pork rinds are our latest snack obsession.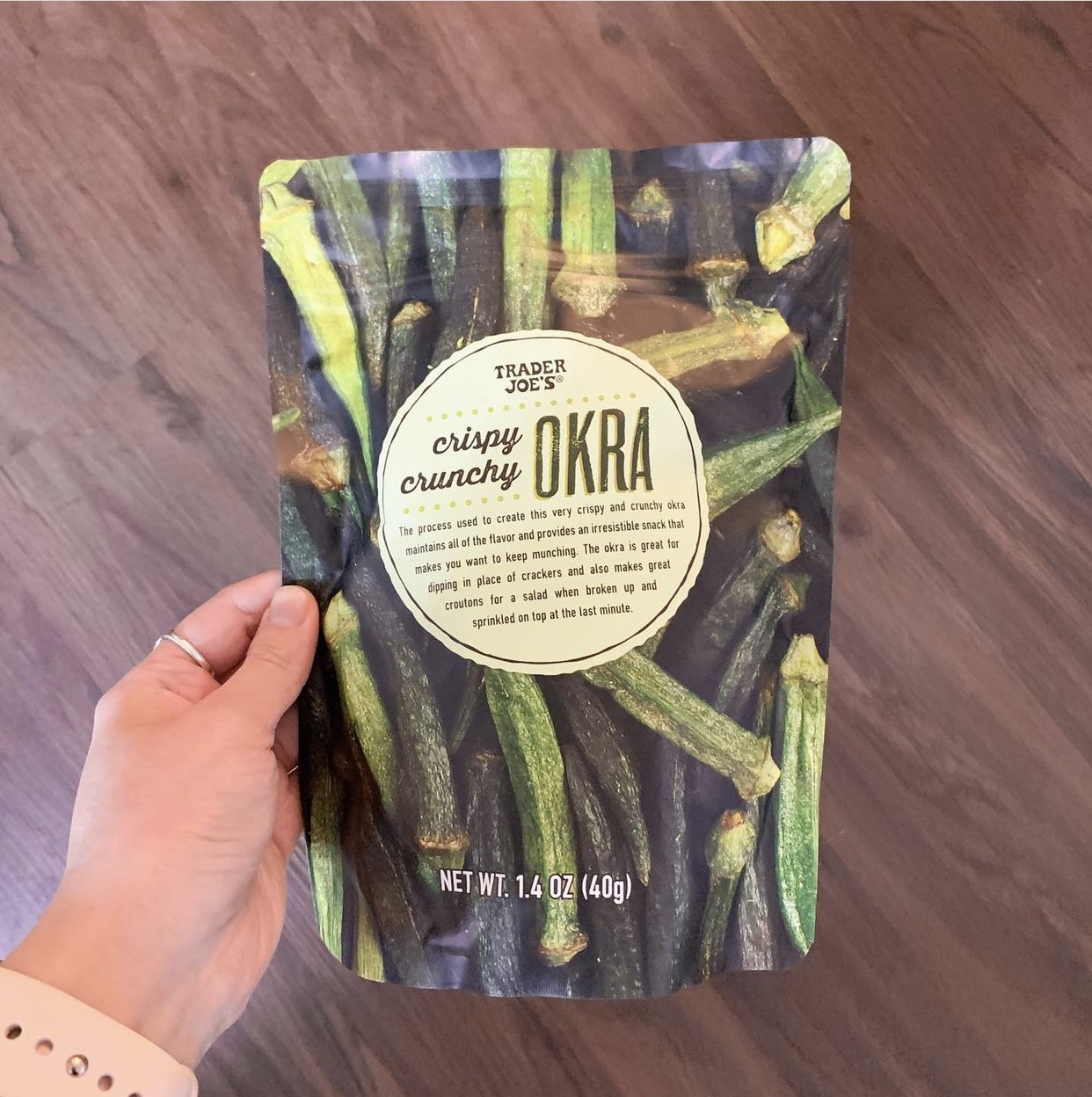 @traderjoesaustin/Instagram
4 Crispy Crunchy Okra
Okra, rice bran oil, and salt … that's all you need for crispy munching perfection. Dip it in hummus, toss it into a salad, or eat it straight from the bag for a healthy snack.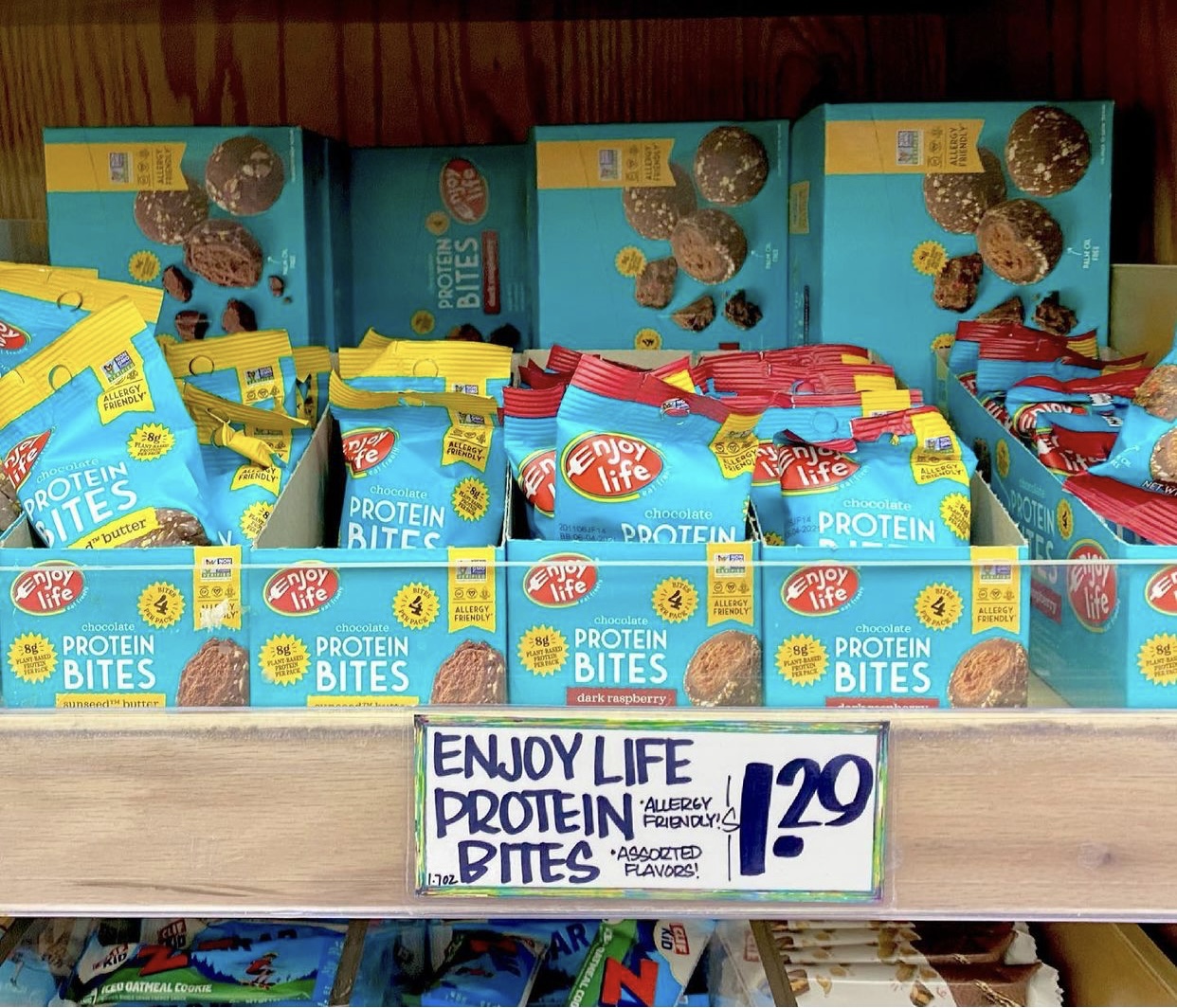 @traderjoesallergyfriendly/Instagram
5Enjoy Life Protein Bites
These chocolate-coated, allergen-friendly bites in sunseed butter and dark chocolate raspberry flavors are great for keeping in your bag for quick snacking while out and about.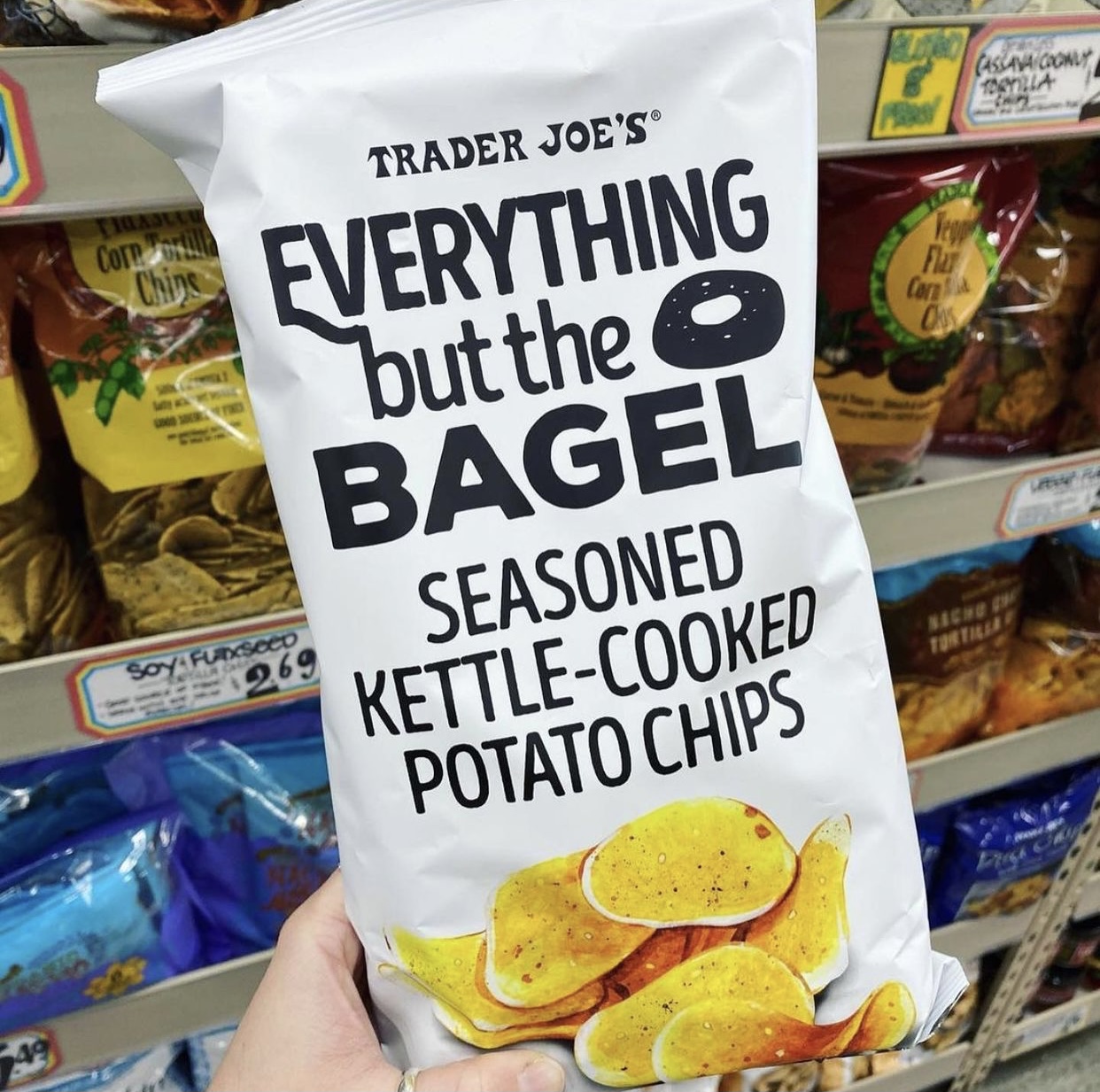 @bigboxvegan/Instagram
6 Everything But the Bagel Seasoned Kettle-Cooked Potato Chips
The cult favorite seasoning mix from TJ's gets transformed into salty, seedy potato chips for a truly winning combo.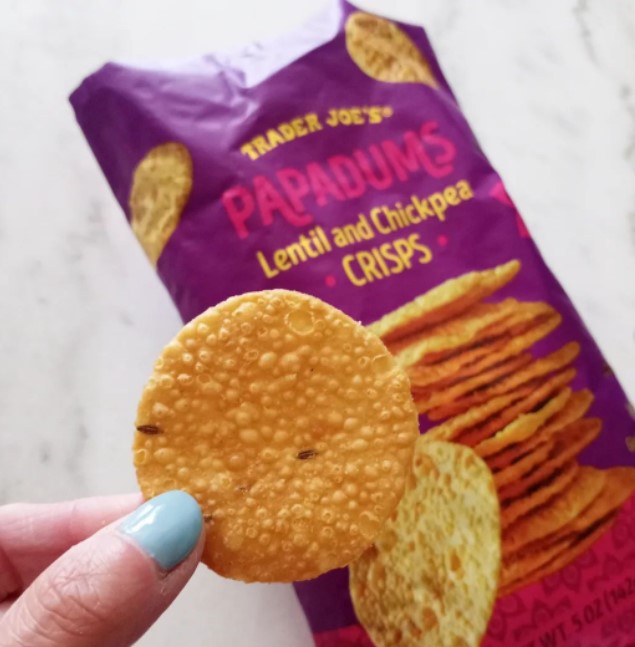 @traderjoes.and.target.finds
7 Papadums Lentil & Chickpea Crisps
A light cumin flavor infuses each bite of these melt-in-your-mouth, thin and cripsy lentil and chickpea wafers. Pair with hummus, fresh chutneys, or TJ's mango salsa for dippage.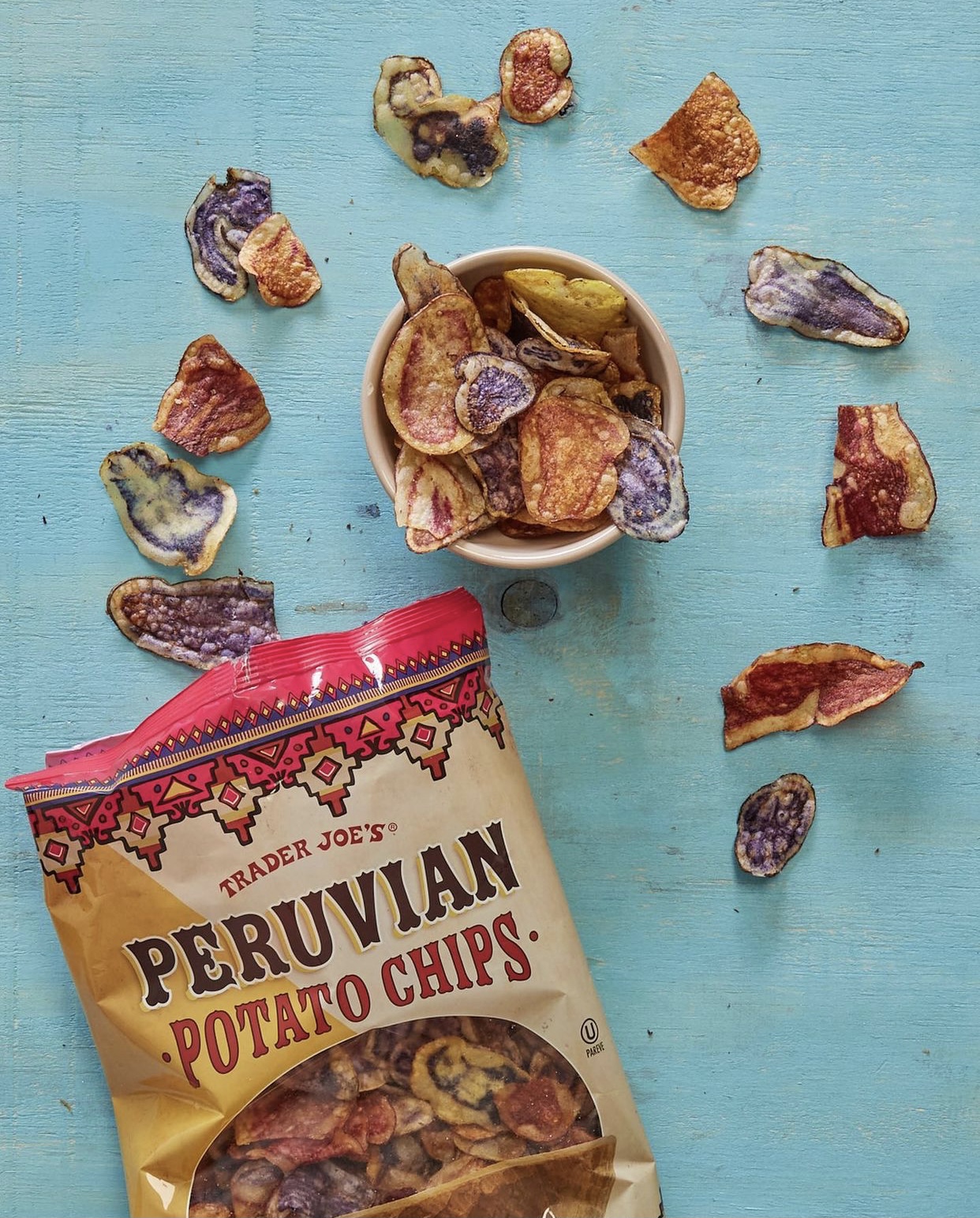 @traderjoes/Instagram
8 Peruvian Potato Chips
Wencco, Huayro Macho, Ceccaroni, and Sumac Soncco are the four potato varieties you'll find in this colorful bag of kettle potato chips. Dip in the grocer's vegan ranch sauce, hummus, or guac for the essential picnic snack.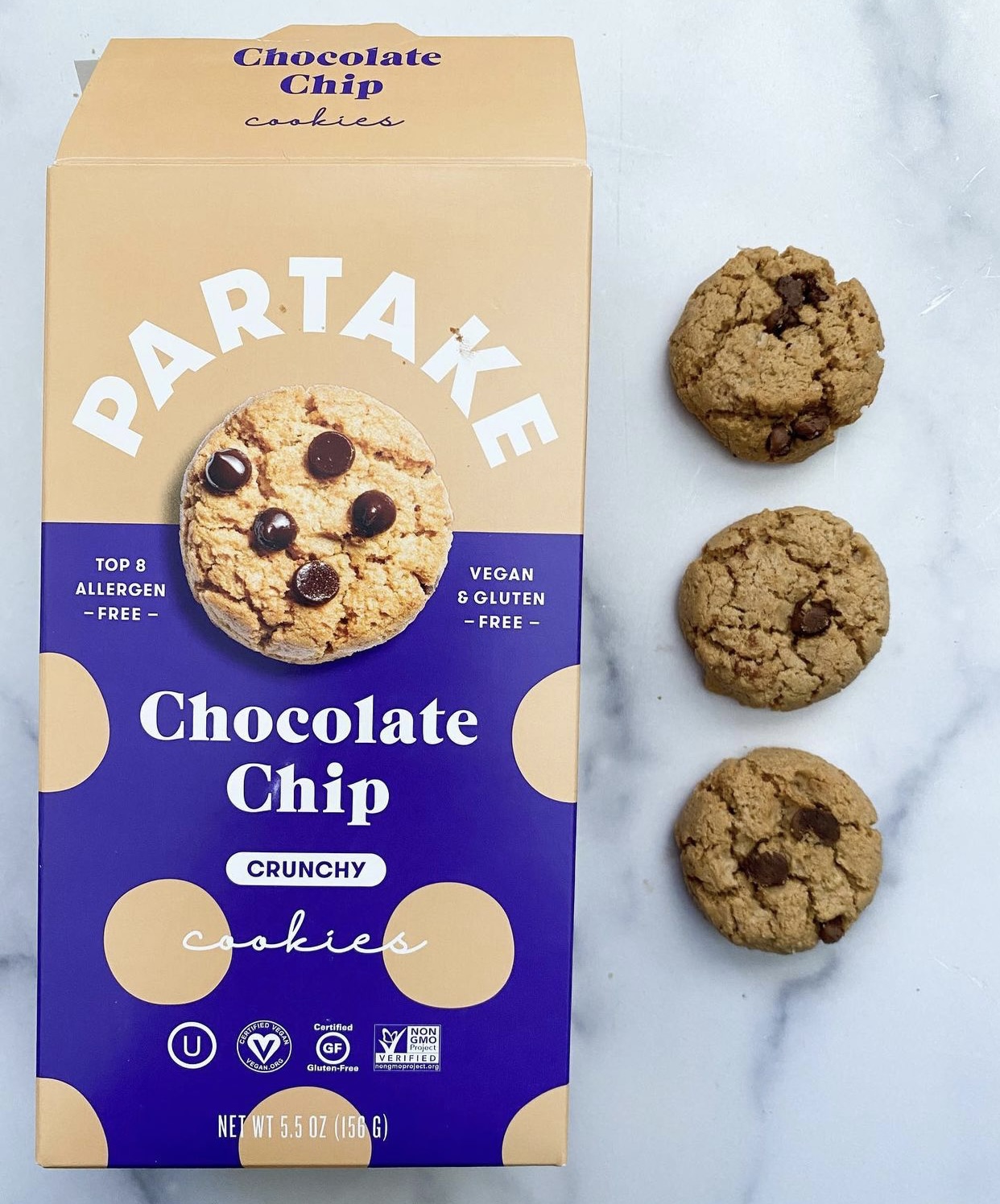 @traderjoesgoesvegan/Instagram
9 Partake Foods Cookies
These Black-owned, allergen- and gluten-free cookies are light and crunchy. Crumble over sundaes, crush and sprinkle over nice cream, blend into milkshakes, or dip straight into a tall glass of oat milk.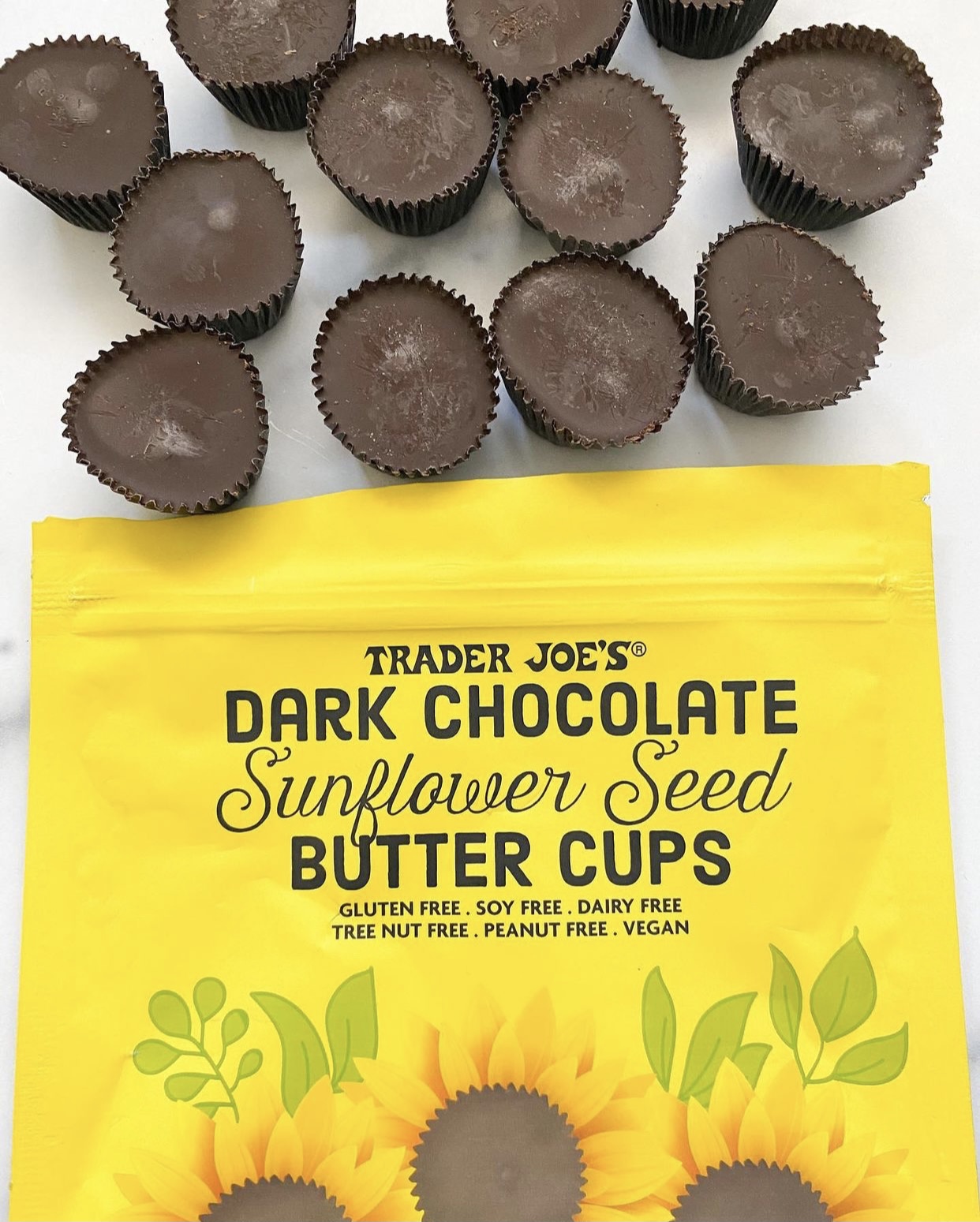 @traderjoesgoesvegan/Instagram
10 Dark Chocolate Sunflower Seed Butter Cups
We are absolutely hooked on these little cups of nut-free chocolate treats! Our recommendation? Press into a ball of chocolate chip cookie dough and then bake into a stuffed, dreamy sweet treat.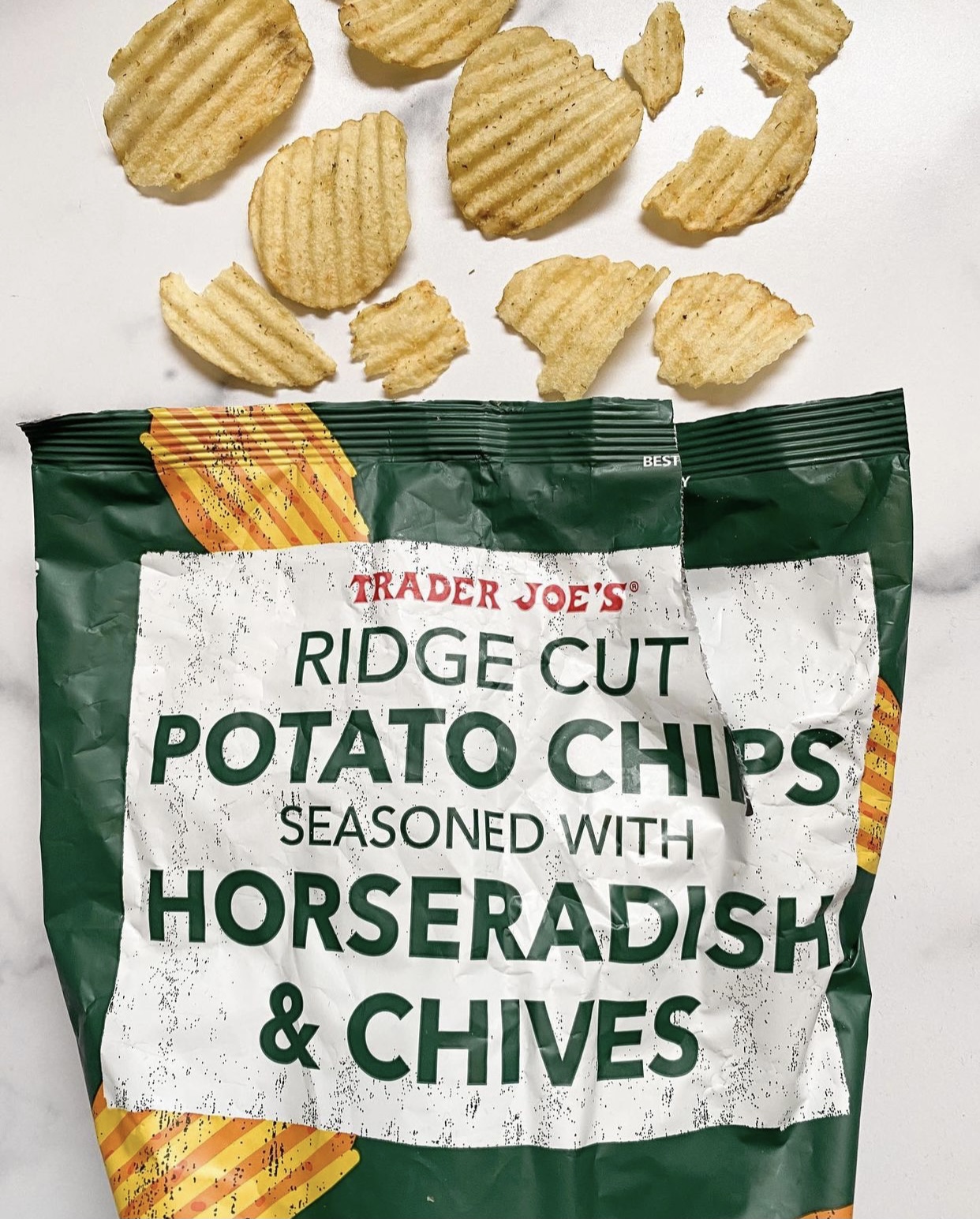 @traderjoesgoesvegan/Instagram
11 Potato Chips Seasoned with Horseradish & Chives
Reminiscent of a sour cream and onion chip, these sinus-clearing bags of seasoned up potato chips are a great snack to stock up on for road trips or movie nights.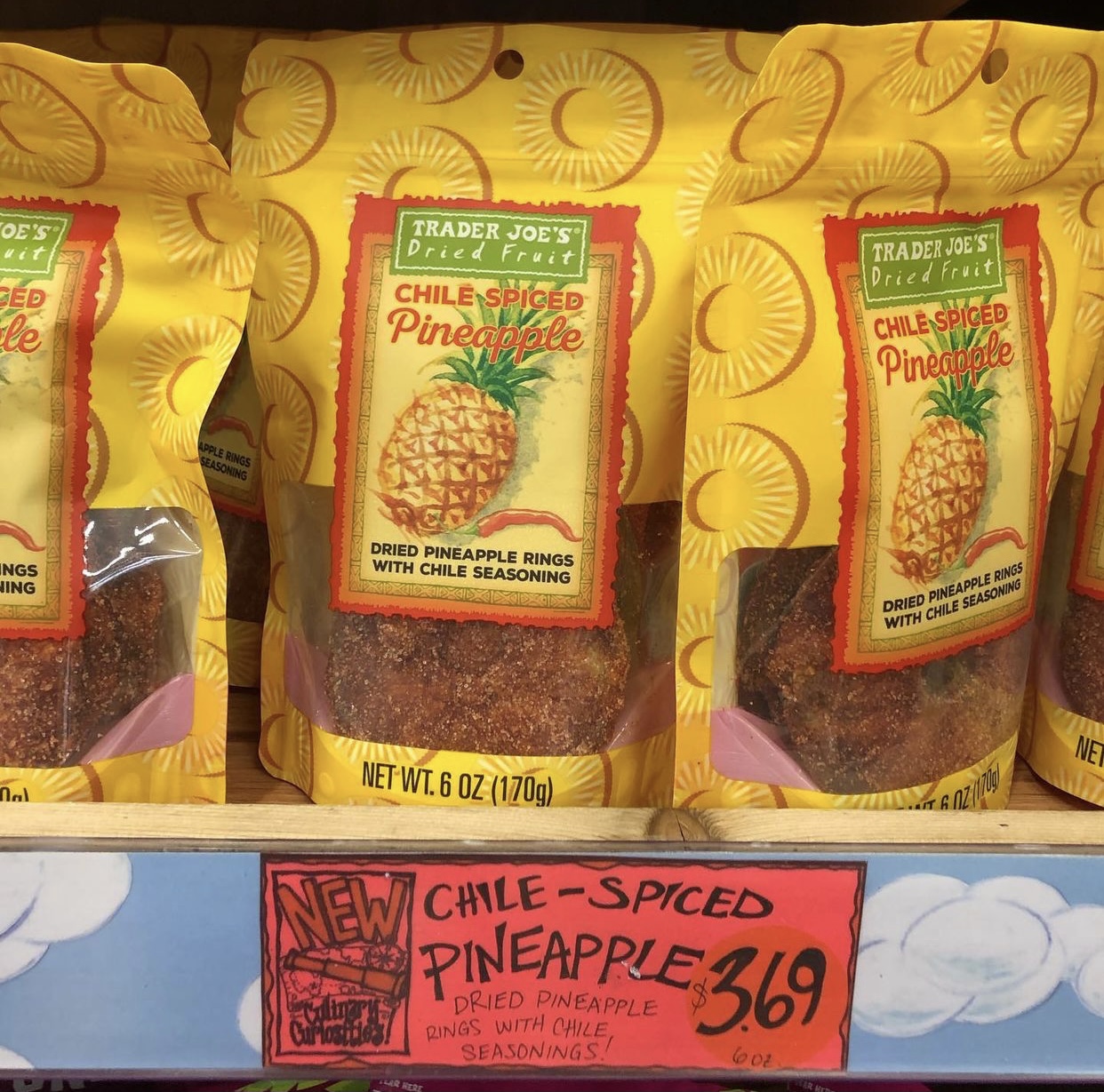 @traderjoesvegans/Instagram
12 Chile-Spiced Dried Pineapple
Sweet, succulent dried pineapple gets coated in a dusting of salty-spicy cayenne chile seasoning for a complex, tangy, fruity snack.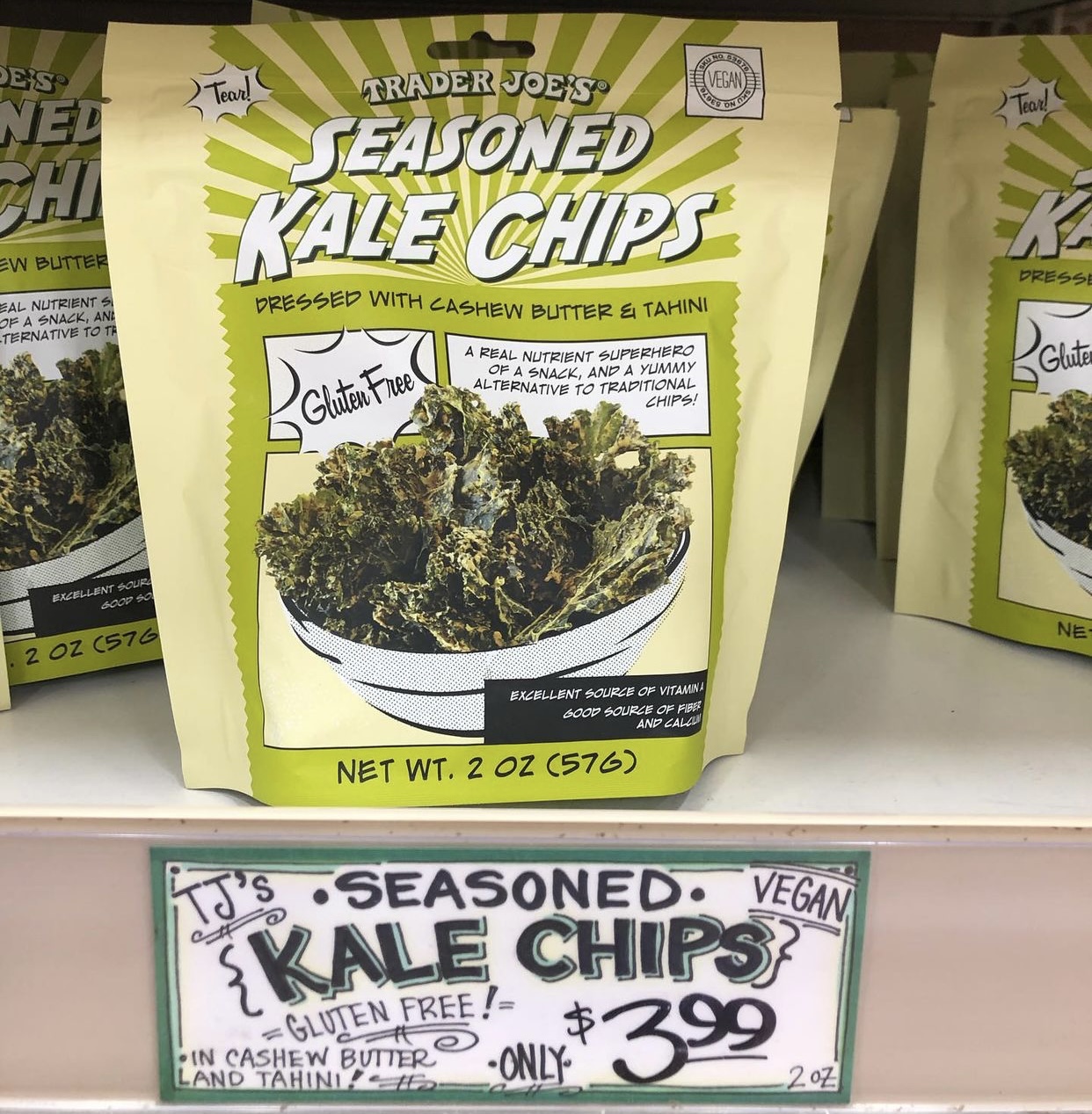 @traderjoesvegans/Instagram
13 Seasoned Kale Chips
This delicious alternative to traditional chips features crisp leaves of kale baked in a coating of tahini and cashew butter, with added zest from tangy lemons.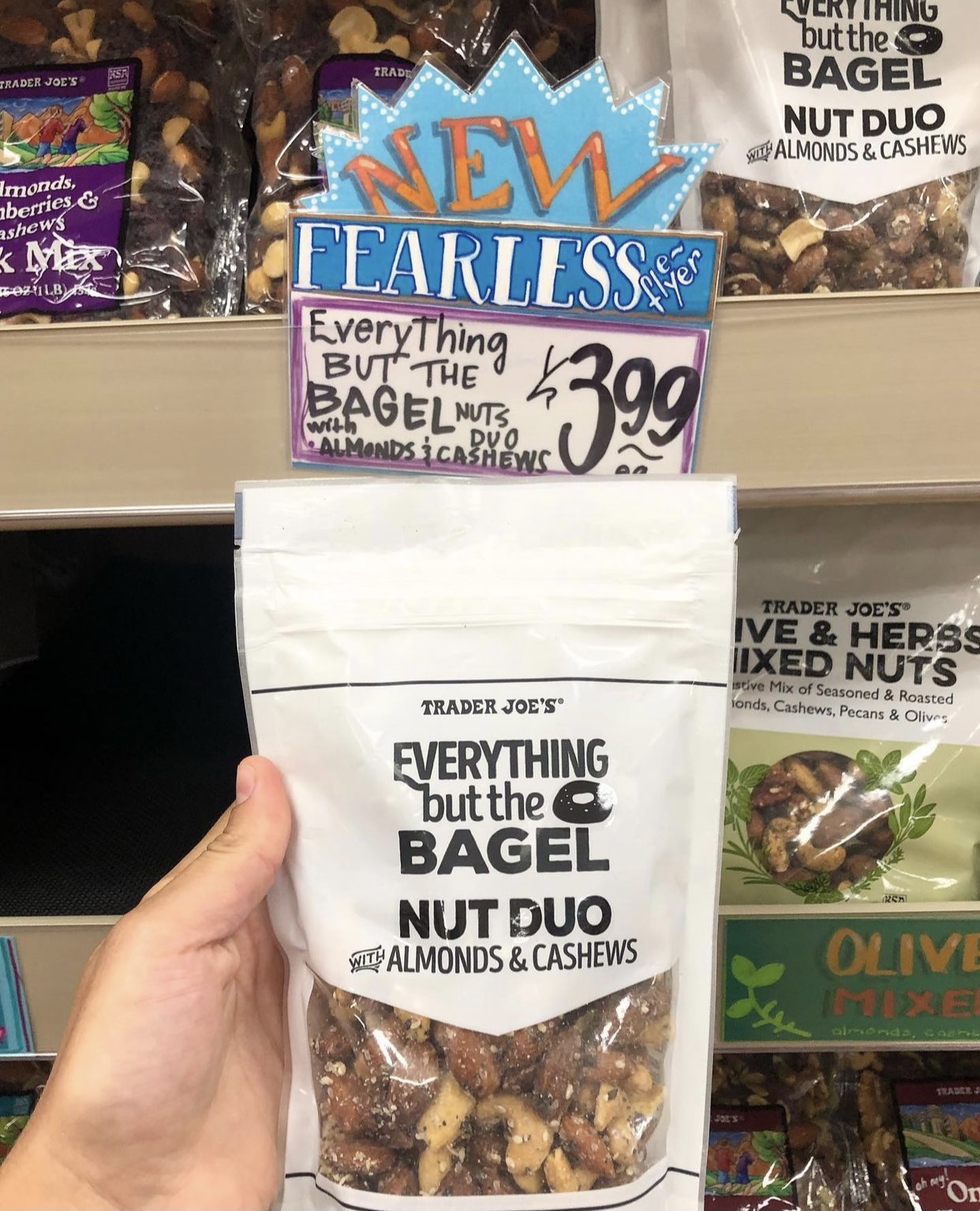 @traderjoesvegans/Instagram
14 Everything But the Bagel Nut Mix
Potato chips aren't the only snack getting the Everything But the Bagel treatment! Roasty, toasty almonds and cashews are taken to the next level with this salty seasoning.
@trader_joes_recs/Instagram
15 Organic Popcorn with Olive Oil
Stock up on a couple bags of this munch-worthy popcorn for your next movie night. Olive oil still lends a buttery flavor, while just the right touch of salt will leave you coming back for more.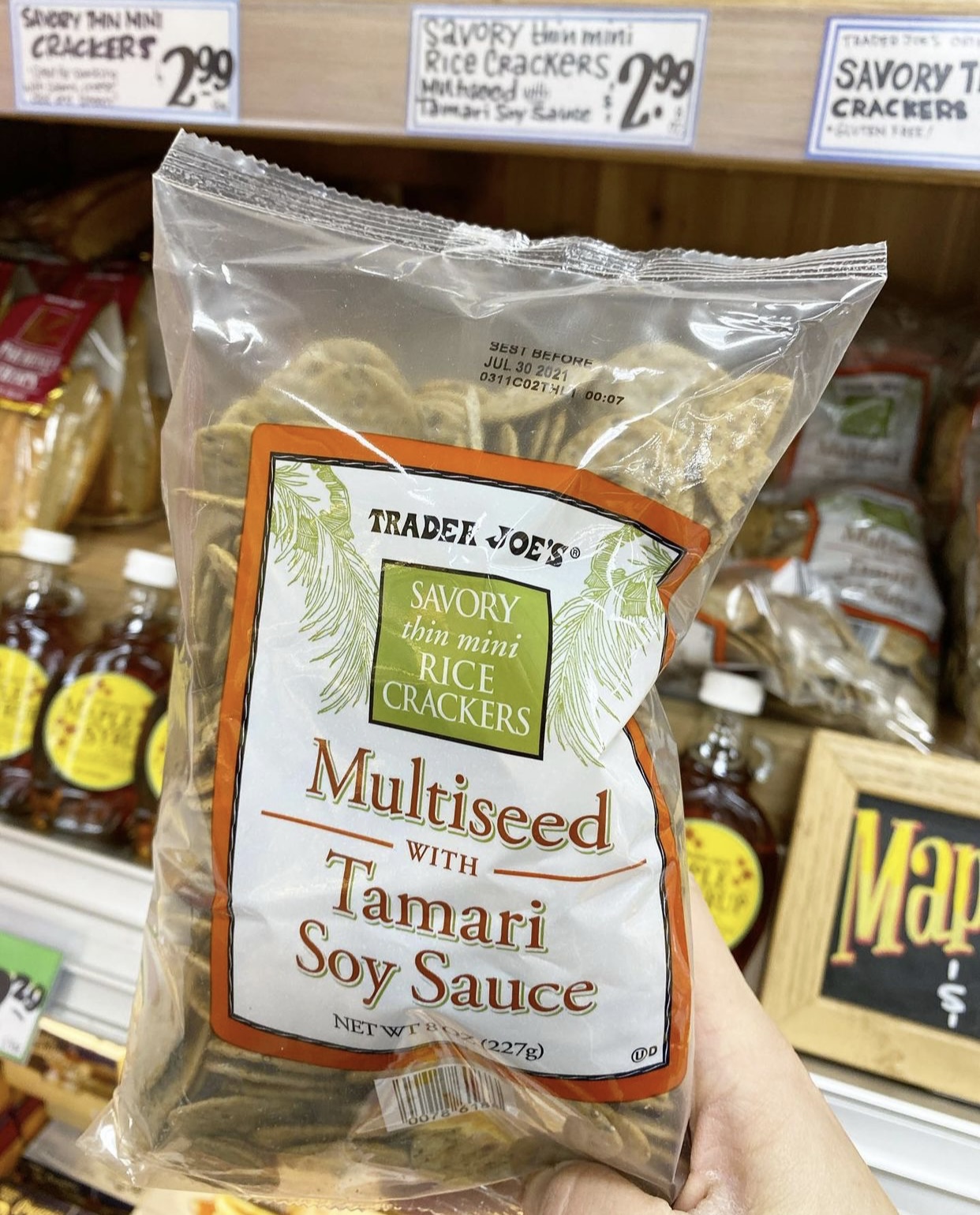 @traderjoesandme/Instagram
16 Multiseed Rice Crackers with Tamari Soy Sauce
Rice crackers have long been one of our favorite underrated snacks at this grocery chain. The slightly salty seed crackers are perfect for dipping or eating straight from the bag.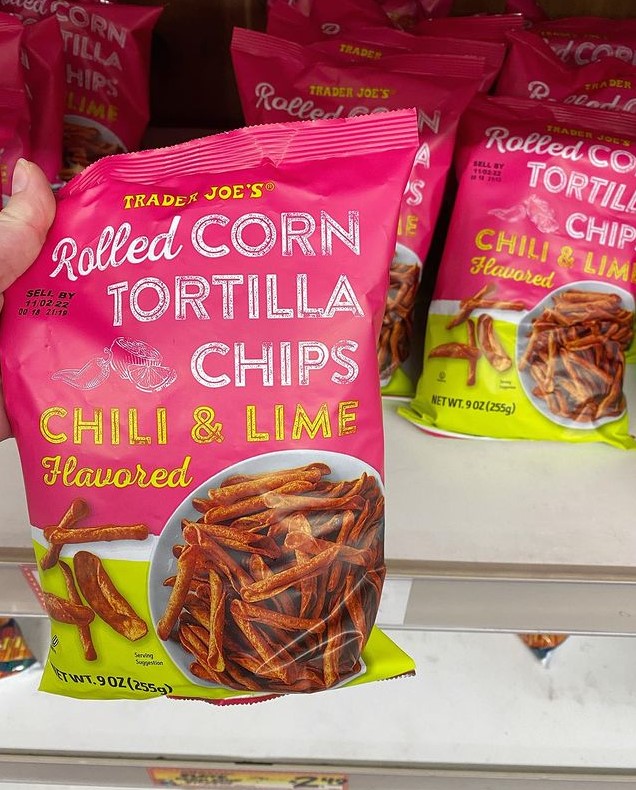 @traderjoesforcanadianhoes/Instagram
17 Rolled Corn Chile & Lime Tortilla Chips
If you love Takis, you'll love these rolled, seasoned tortilla chip snacks! Each bite will leave you coming back for more, so take our advice and buy more than one bag.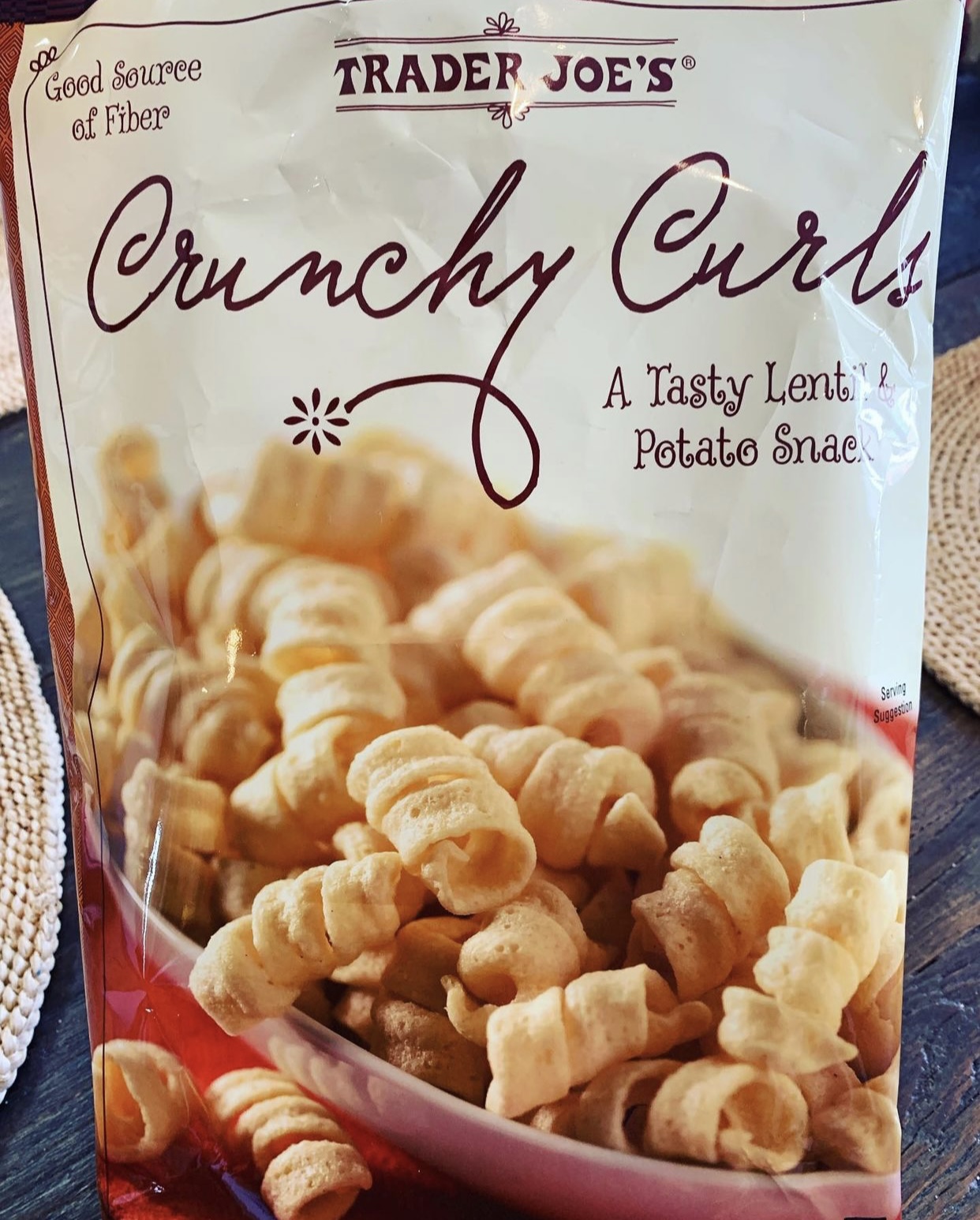 @gfdf4life/Instagram
18 Crunchy Curls
These lentil- and potato-based snacks will disappear in a flash once you crack open the bag. Dip these curls of crunchy goodness in the grocer's vegan pesto or queso dip for a winning combo.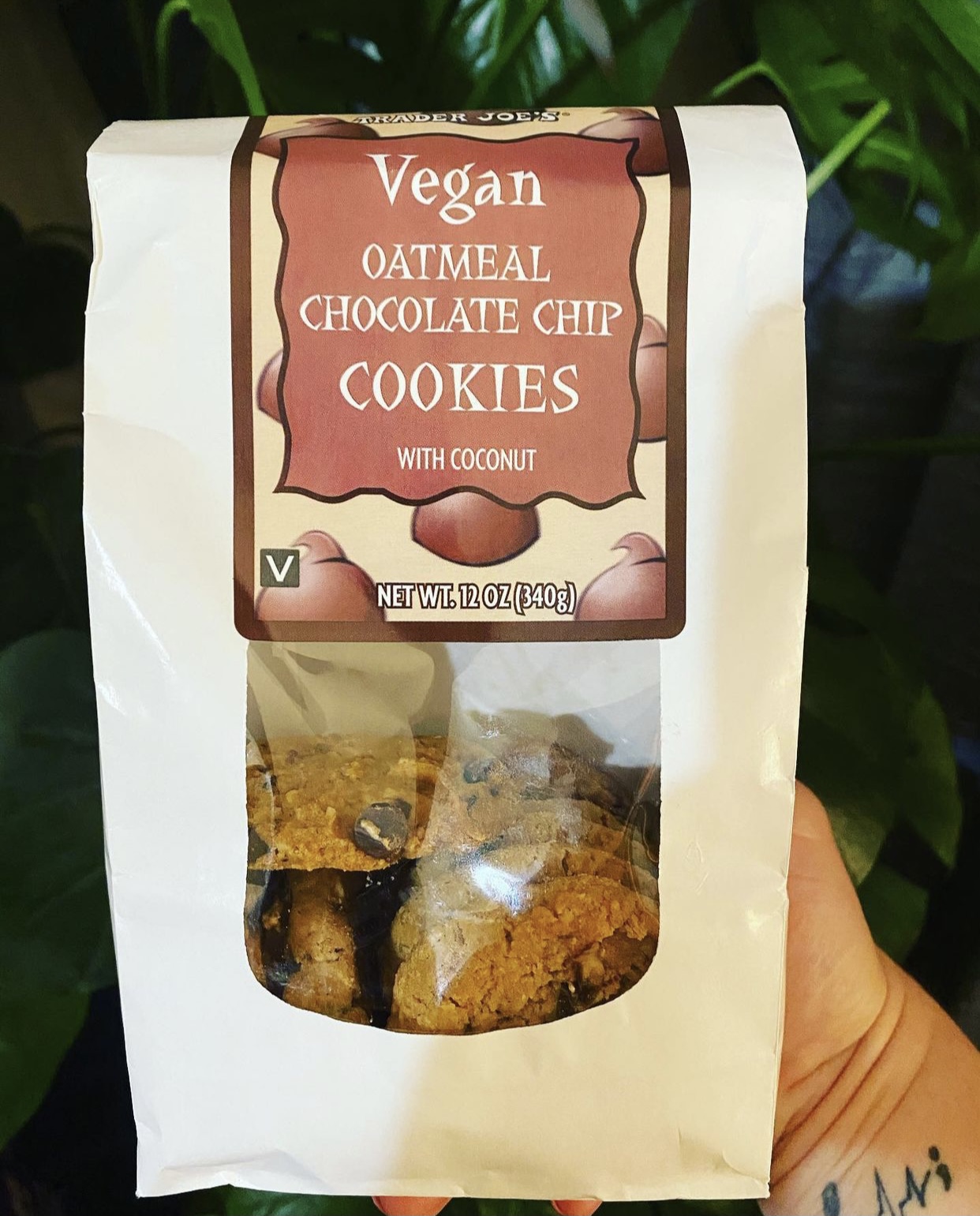 @healthyvegan_weight_loss/Instagram
19Vegan Oatmeal Chocolate Chip Cookies
Soft-baked, chewy, vegan cookies are studded with dairy-free chocolate chips and dotted with shredded coconut for this sweet, but hearty treat you'll want to have on hand for when a craving strikes.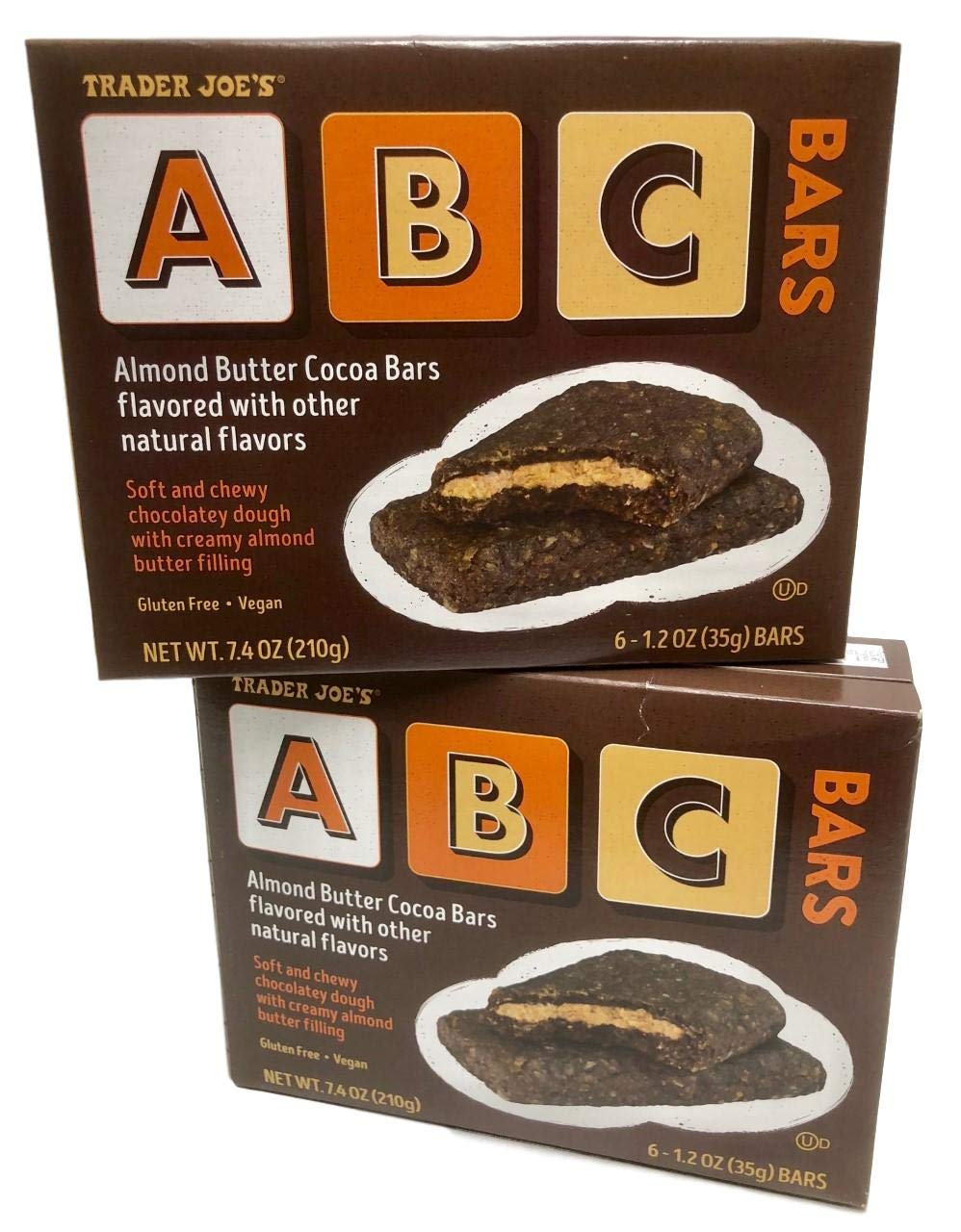 Amazon
20 Almond Butter Cacao Bars
These soft and chewy bars feature a chocolaty, baked exterior and a creamy almond butter filling for a sweet tooth satisfying, lower-sugar energy bar. Keep a couple in your purse or car for when hunger strikes.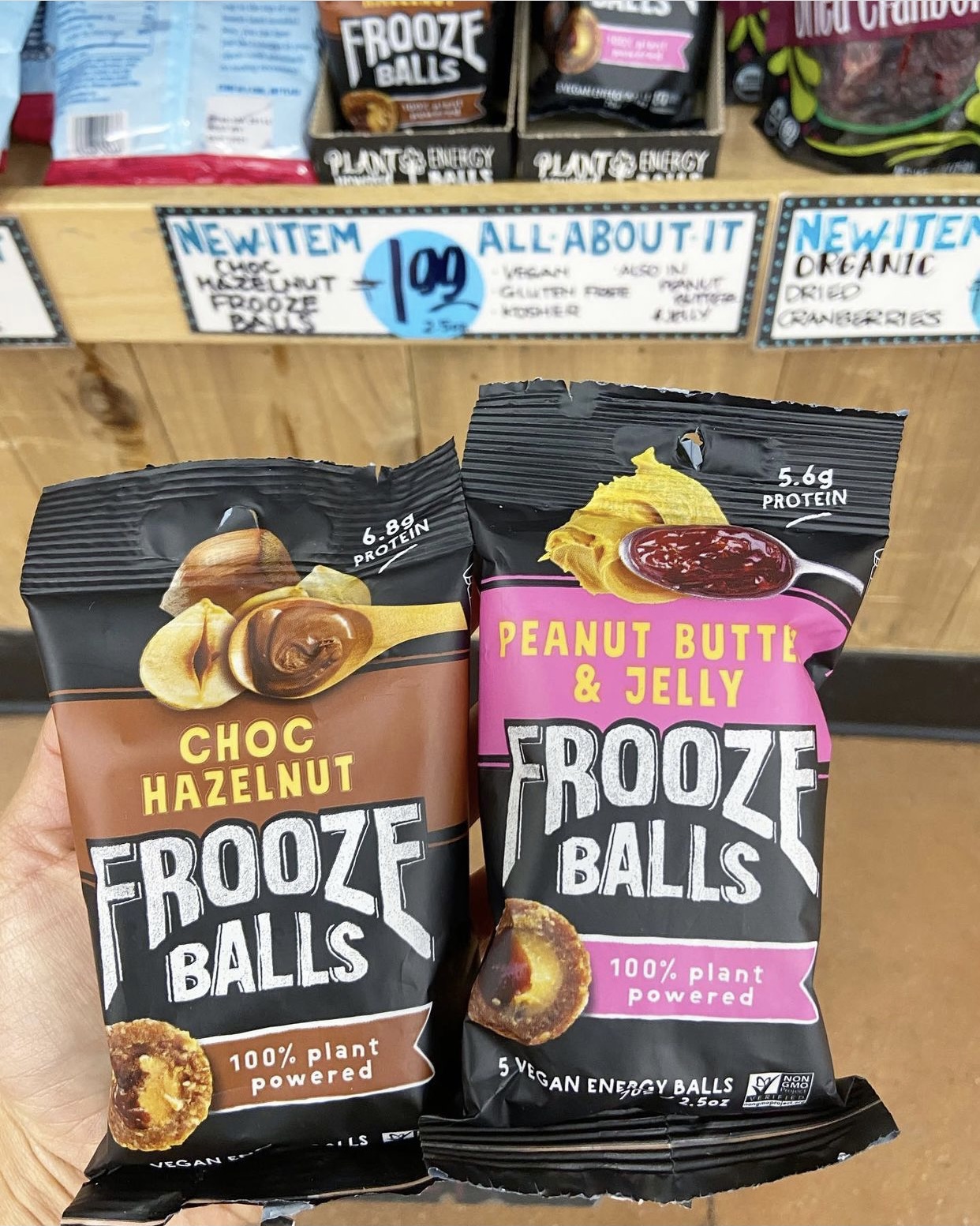 @traderjoesobsessed/Instagram
21 Frooze Balls
These energy balls are stuffed with peanut butter and jelly or a rich chocolate hazelnut filling for a tasty snack that tastes good enough to be dessert.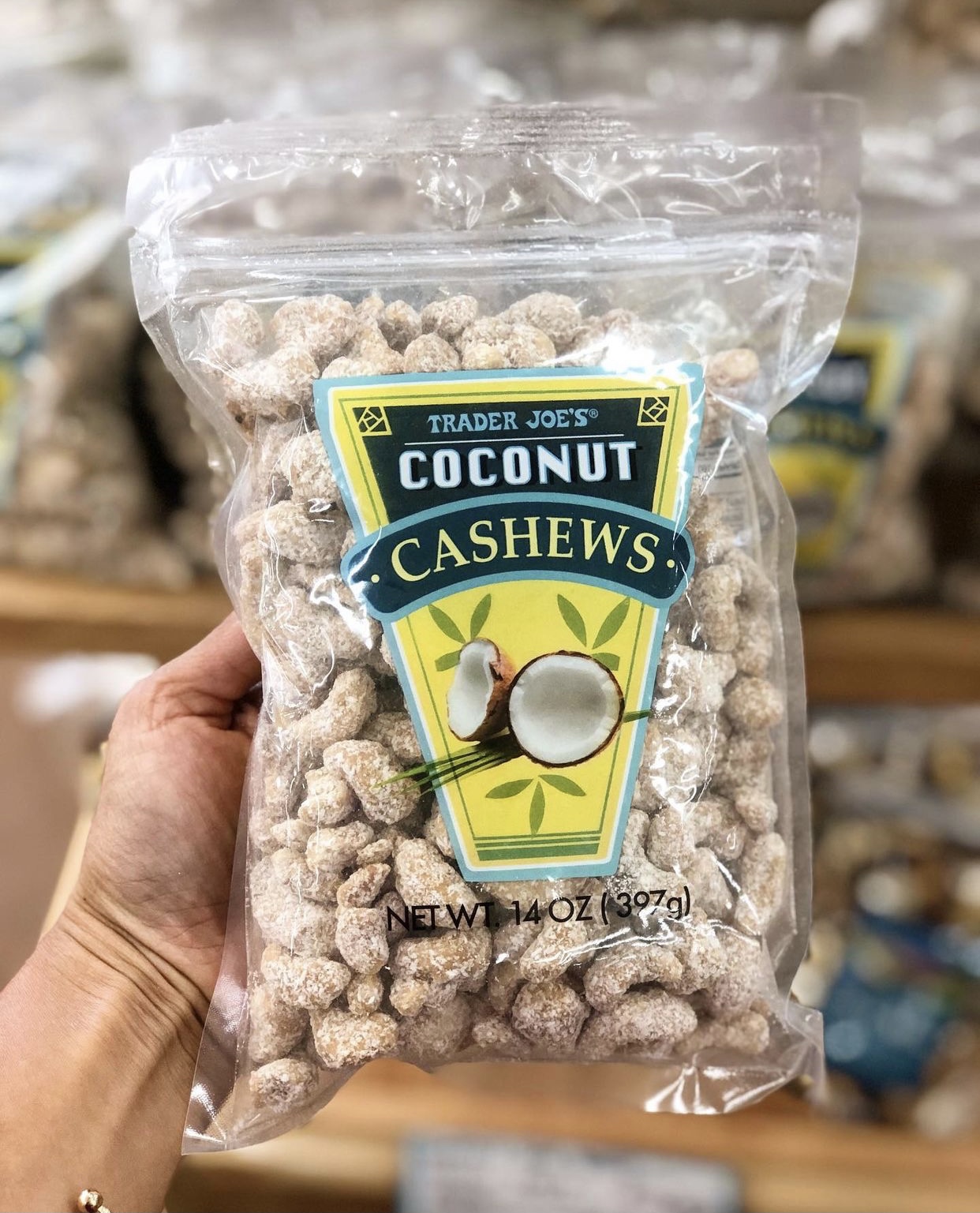 @traderjoesobsessed/Instagram
22 Coconut Cashews
With a lightly sweetened dusting of coconut milk powder and coconut, these roasted cashews make for a great energy booster during a busy work day. Keep a bag stashed at your desk for when a craving hits.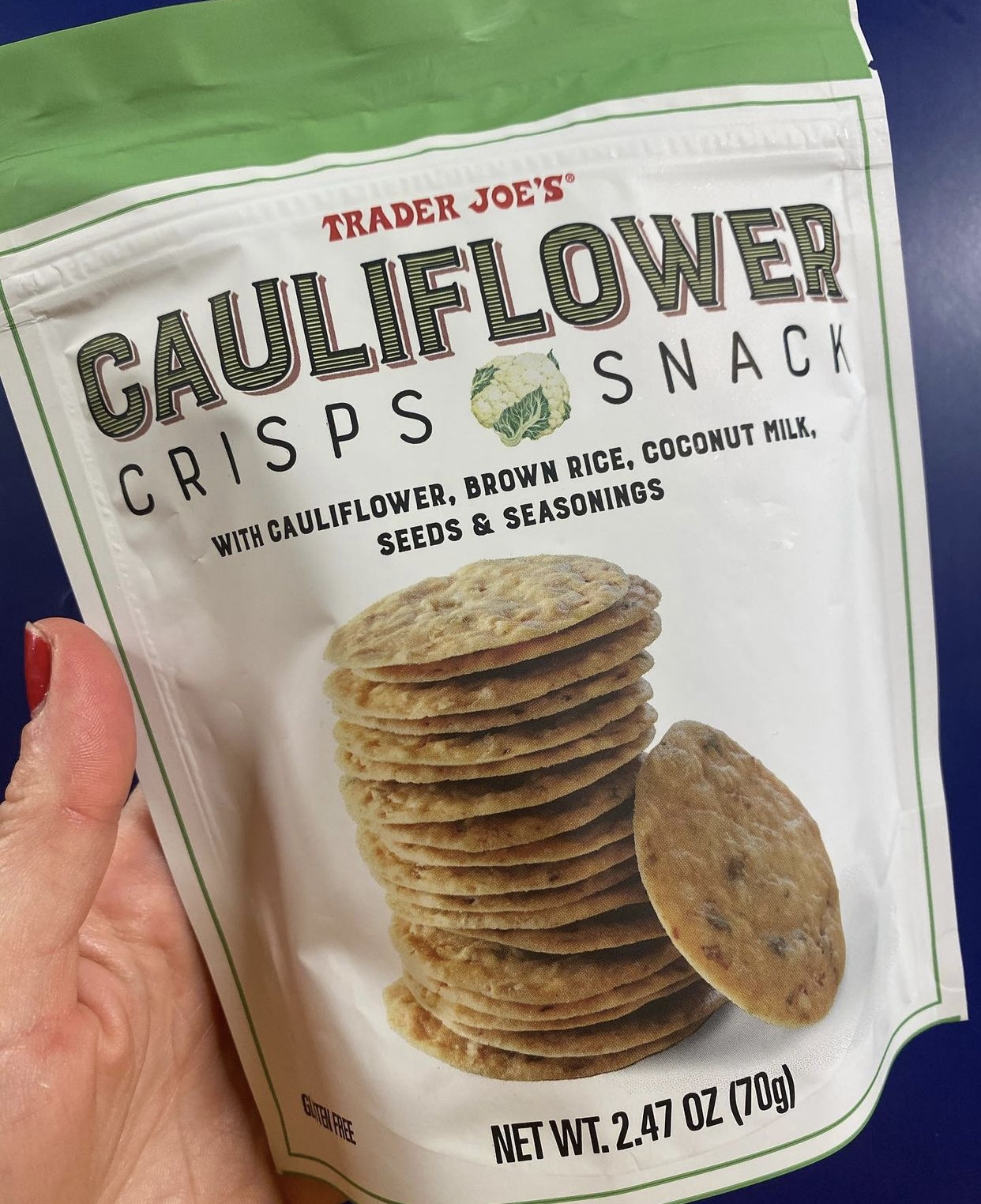 @traderjoeslist/Instagram
23 Cauliflower Crisps Snack
Made with cauliflower, brown rice, coconut milk, and sunflower, pumpkin, and sesame seeds, each of these gluten-free, thin crackers are a perfect vessel for any array of dips and spreads.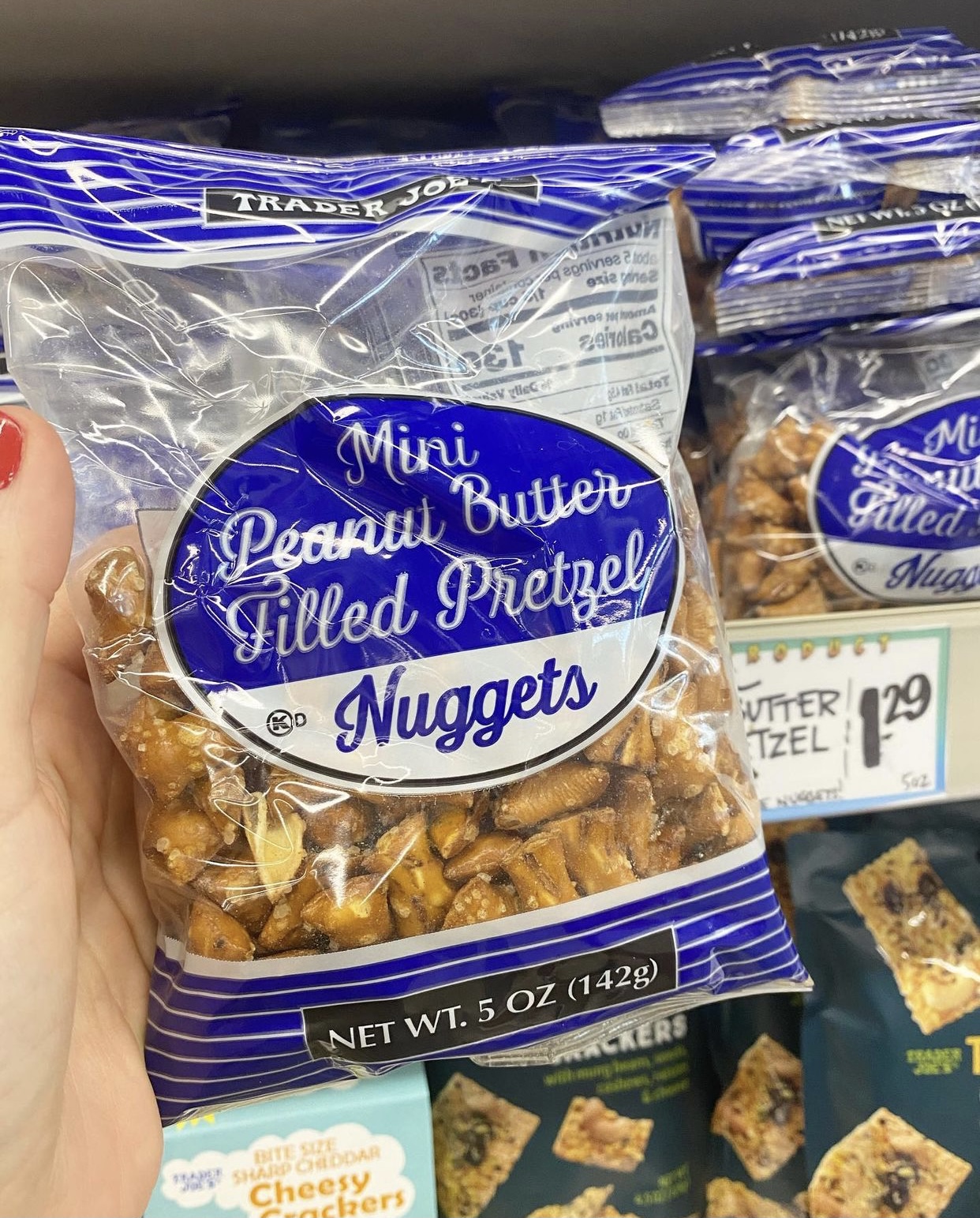 @traderjoeslist/Instagram
24 Peanut Butter-Filled Pretzel Nuggets
A longtime favorite Trader Joe's buy, these salty-sweet nuggets are almost always in our pantries or cupboards.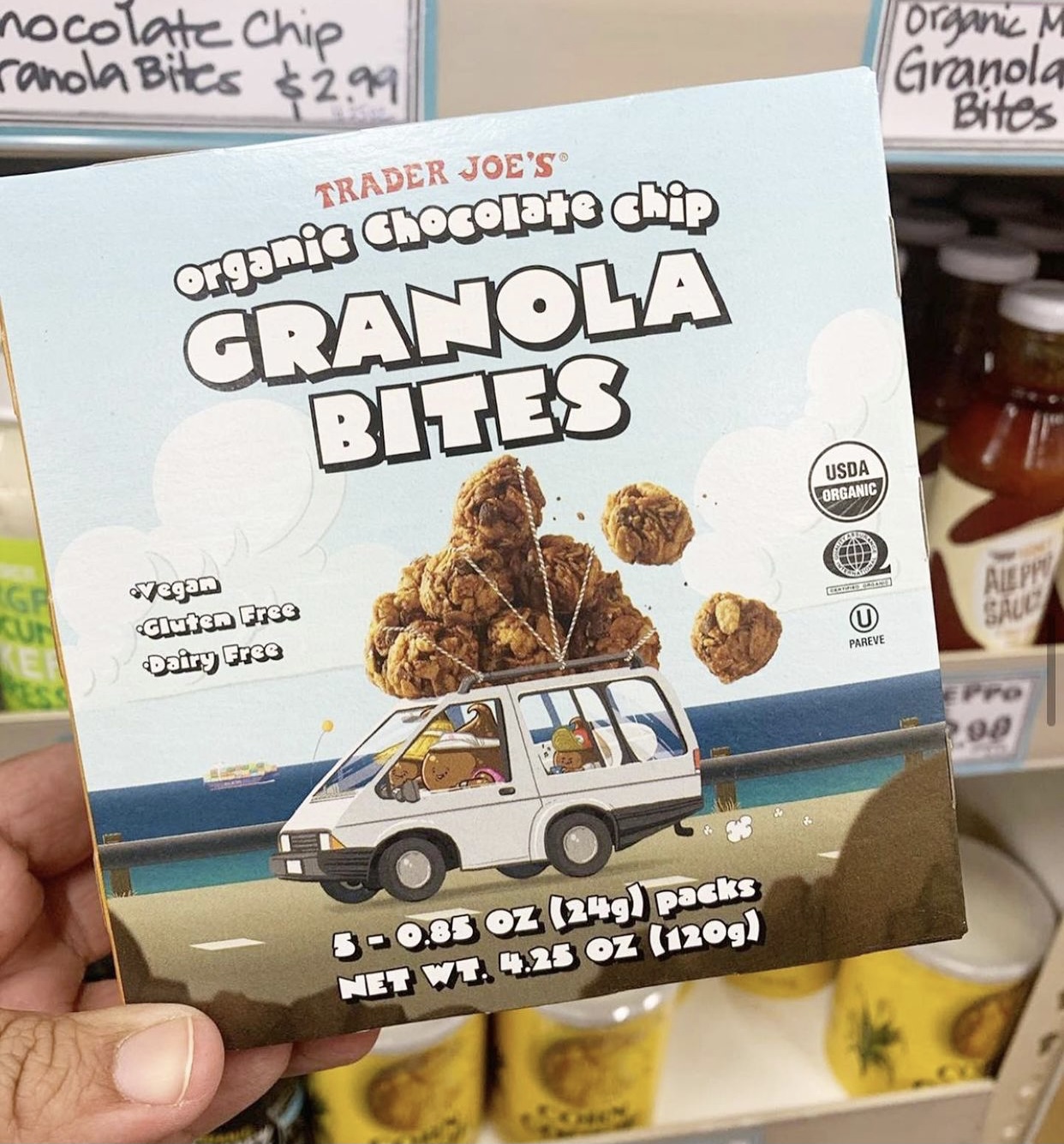 @traderjoeslist/Instagram
25 Organic Chocolate Chip Granola Bites
Hearty, oat-based, kid-friendly nuggets of goodness have chunks of chocolate chips and are lightly sweetened with agave for a perfect snack.
For more vegan snacks, read:
25 Accidentally Vegan Snacks
16 Vegan and Nut-Free Snacks for Kids
10 Vegan Jerkies for the Ultimate Protein Snack