Traditionally, many charcuterie boards are not suitable for vegans because they contain a variety of animal-based products such as meats and cheeses. With the rise in plant-based substitutes, however, sourcing ingredients and creating a fully vegan cured meat and cheese board is now more accessible than ever. Serving a plant-based charcuterie board at your next party will not only make your board more inclusive for your guests but will also present a unique opportunity to discuss your passion for veganism in a welcoming and hospitable manner. With a little planning and a well-stocked kitchen, get ready to dazzle with a curated, homemade vegan charcuterie board that will immediately trigger the nibbles.
How do you calculate portions for a charcuterie board?
Before you begin building your board, you'll want to plan how much of each food item your board will require. Maegan Brown of Beautiful Boards recommends that your board provides three to five different varieties each of vegan meats and cheeses. For small gatherings, estimate two to three ounces of plant-based meats and one ounce of vegan cheese per person. For larger, more extended gatherings, strive for three to five ounces of vegan meat and one-and-a-half ounces of vegan cheese per person.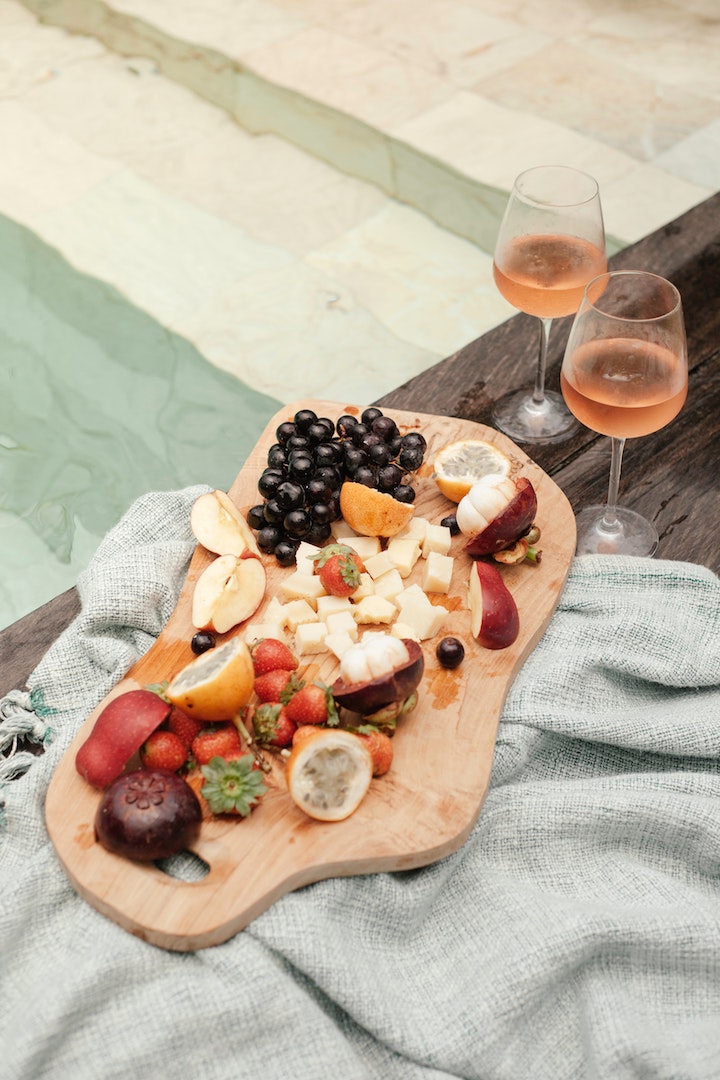 Ksu & Eli/Pexels
The amount of nuts, crackers, pickles, jams, and other accouterments varies depending on how much room you'll have on your board. The key is to fill in any gaps with these extra nibbles. Pro host tip: be sure to have a refill on hand—particularly when it comes to crackers. Keep an eye on the board throughout the night and replenish these edible vessels when they run low.
How to build a vegan charcuterie board
Having a variety of ingredients and flavors on your board is essential. Your plant-based meats and cheeses should include a selection of smoked, crumbly, firm, and soft options. Additionally, check your pantry for complementary foods such as crackers, nuts, dips, spreads (such as mustards, jams, preserves), fresh fruits, and veggies. You'll want to ensure that your complementary sides contain a mix of crunchy, salty, sweet, and tangy options. For your guests who are of legal drinking age, plan to provide at least one red and one white wine for food pairing purposes.
Vegan charcuterie board cheeses
1 Miyoko's Cheese Wheels
If you're a subscriber to VegNews magazine, then you'll recognize Miyoko's Creamery vegan cheese wheels from our 2021 holiday food issue. It's not a party without a gourmet cheese wheel, and Miyoko's is one of the most accessible brands available. With eight different varieties, you don't have to put much effort into hunting down a range of cheeses for your board. For a dash of elegance, try the Aged Black Ash Cashew Milk or the Aged Herbes De Provence wheels. If you're feeling a little less daring but seeking something equally mouthwatering, options like Sundried Tomato Garlic will certainly satisfy your guests' taste buds.
Learn more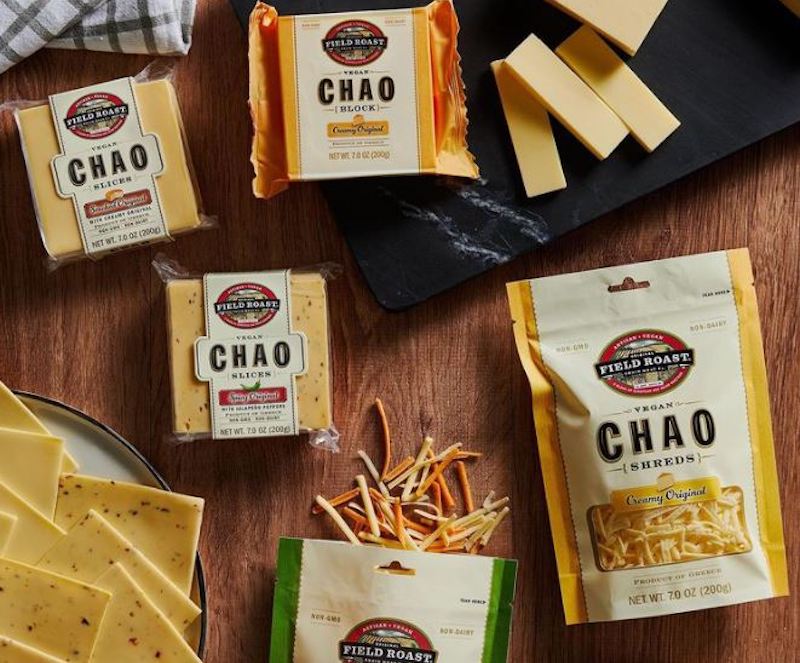 Field Roast
2
Field Roast Chao Cheese Blocks & Slices
Field Roast's sister company, Chao, makes some of the best and most wallet-friendly vegan cheeses on the market. The Creamy Original Cheese Block is a solid canvas to build strong flavors—it plays well with both sweet and savory accouterments such as dijon mustard and fig or onion jam slathered on sliced baguette. For a spicy element, check out the Tomato Cayenne, Smoked Original, or Spicy Chao slices.
Learn More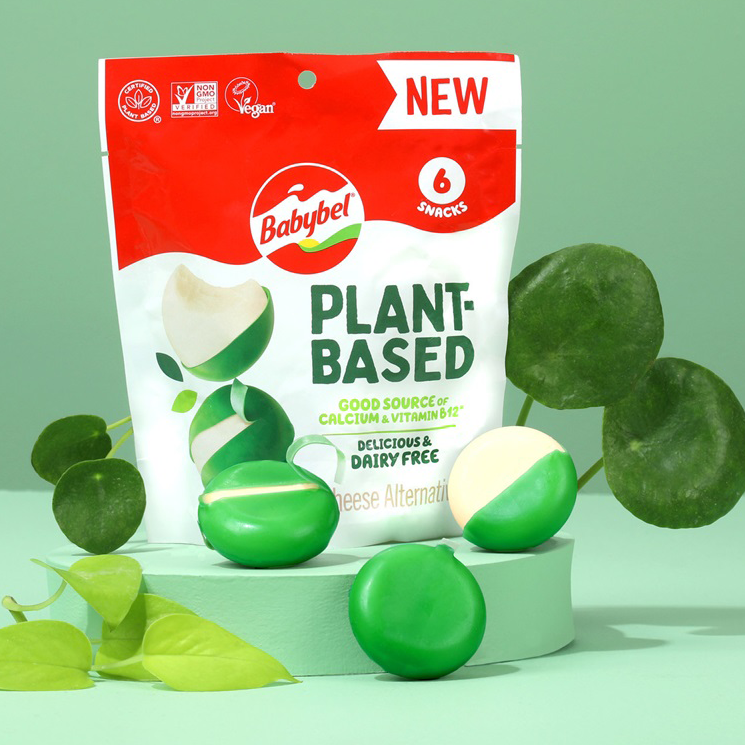 Babybel
3Babybel 100% Plant-Based Cheese Snacks
For an easy grab-and-go charcuterie board option, consider Babybel's mini vegan cheese snacks. This small plant-based cheese wheel is great for your guests who prefer a quick bite from the board. Babybel's mess-free personal cheese wheel requires no cutting and helps to add interest and variety to any vegan cheese board. For another fast option, consider adding GOOD PLANeT Foods snackable wedges to the board, too.
learn more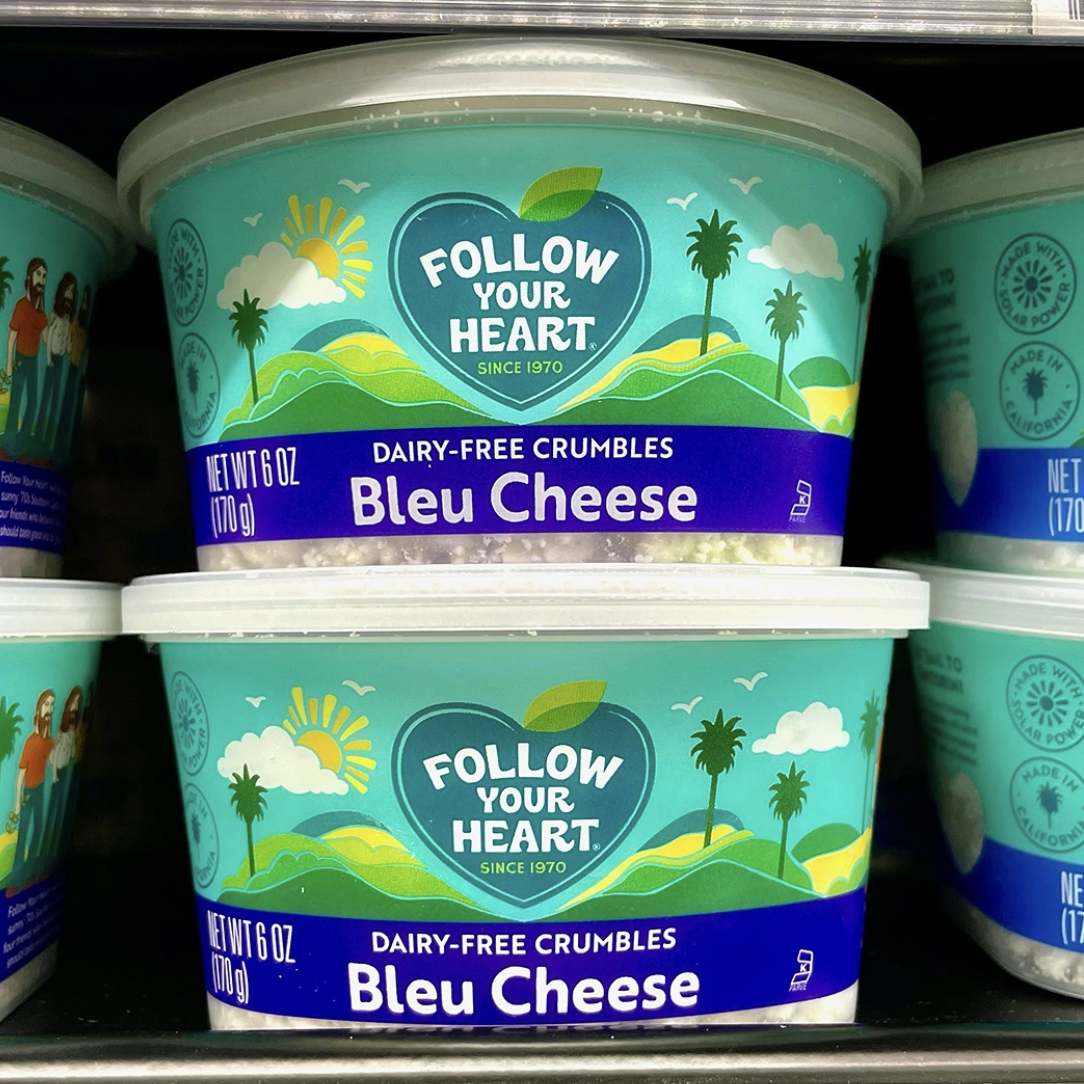 Follow Your Heart
4 Follow Your Heart Dairy-Free Feta Cheese
For a unique twist to your vegan cheese board, grab the Follow Your Heart Dairy-Free Feta crumbles. Vegan feta crumbles are a versatile way to play up your board while adding visual appeal. Top an array of plant-based dips with a pinch of feta over the top, place them in a small bowl for scooping, or sprinkle them across your entire board. Follow Your Heart has two delicious plant-based feta versions you can choose from: regular and blue cheese.
learn more
Vegan Meats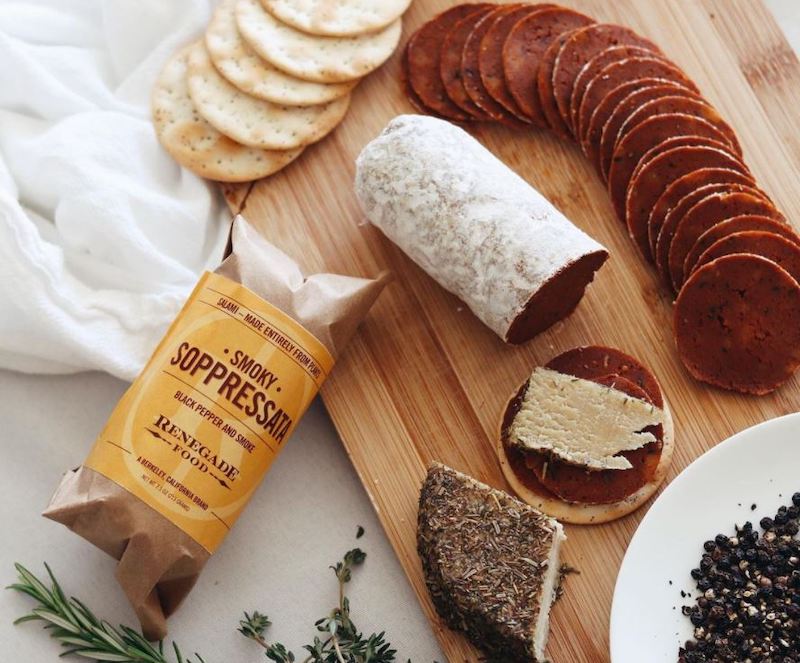 Renegade Foods
1 Renegade Foods Vegan Salami
Renegade Foods offers an exquisite vegan salami sampler pack that is a must-have for your next party platter. The vegan startup company runs a vegan subscription service (Renegade Nation) to bring its umami-packed, seitan-based salamis straight to your door. These spicy, smoked vegan meats take common cheese and crackers to a whole new level.
learn more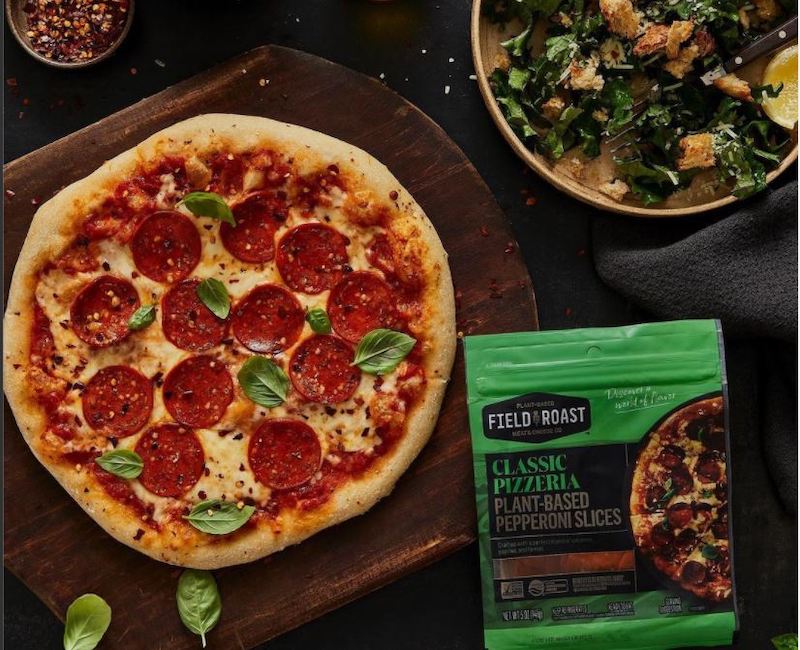 Field Roast
2 Field Roast Pepperoni
Pepperoni isn't just for pizza. Shingle these peppery rounds throughout your board for a spicy kick to complement the smoky, nutty, and sweet flavors on the table. Keep an extra package in the fridge—these slices will go fast.
learn more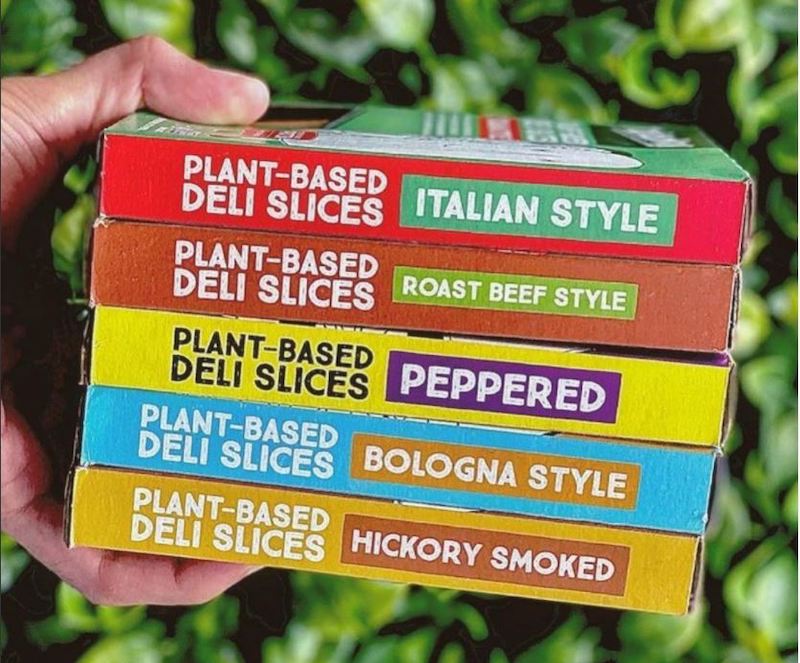 Tofurky
3 Tofurky Plant-Based Deli Slices
Tofurky makes more than just, well, Tofurkys. The old-school brand's Plant-Based Deli Slices are available year-round and come in five delicious flavors including Smoked, Oven Roasted, Peppered, Hickory Smoked, and Bologna. The affordable price point means that you can easily mix and match. Roll them, lay them flat, or ripple them to create an elegant display for your guests to enjoy.
learn more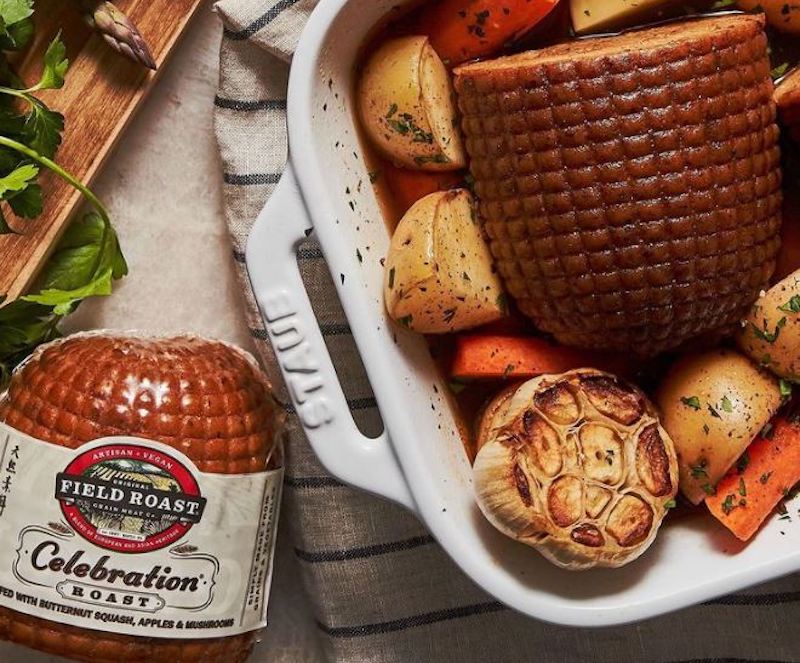 Field Roast
4 Field Roast Celebration Roast
If you're looking to take your vegan charcuterie board to the next level, consider choosing the Field Roast Celebration Roast as the centerpiece of your board. This meat-free roast should be served hot and fresh. Make serving easy on your guests by thinly slicing half of the roast on the board prior to serving. This is an excellent option when you need to provide heavy appetizers and avoid the hassle of hosting a full sit-down dinner.
learn more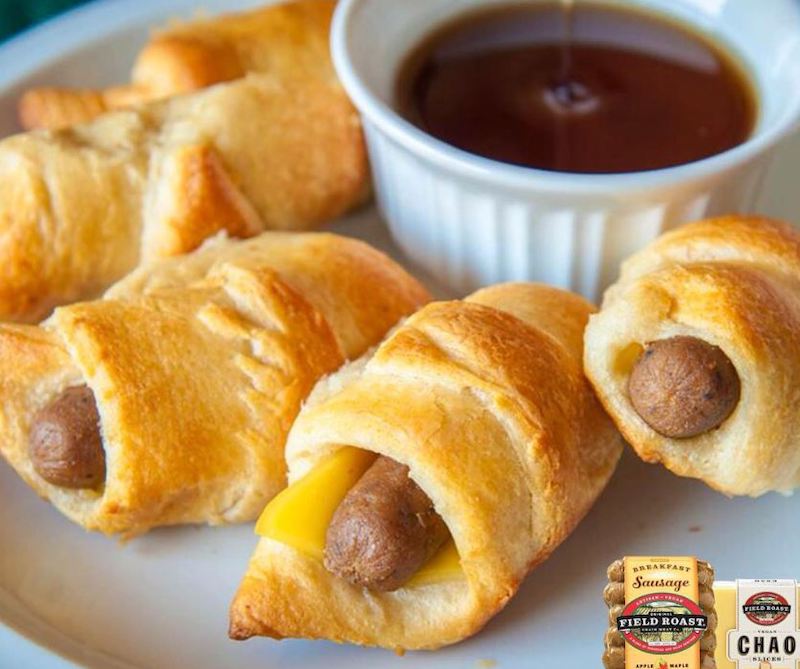 Field Roast
5 Field Roast Mini Sausages
The Field Roast mini apple and maple breakfast sausages are a versatile choice for any plant-based board. Serve these mini weenies as is with a side of spicy mustard or bake them up into tiny vegan crescent dogs.
learn more
@GoodnGreenFoods/Instagram
6 Good and Green Plant-Based Deli Slices
We first discovered this Italian company at the 2019 Expo West trade show, and we were so blown away by its savory, super-thin vegan prosciutto and carpaccio, we knew we had to give it a Best New Product Award. These slices level up any plant-based charcuterie board. If you can't find this particular brand, Mia also makes a range of Italian-style deli slices.
learn more
For more vegan hosting and product tips, read:
Here at VegNews, we live and breathe the vegan lifestyle, and only recommend products we feel make our lives amazing. Occasionally, articles may include shopping links where we might earn a small commission. In no way does this effect the editorial integrity of VegNews.