Soy and tofu are a given—you need one to make the other, just as you need cacao to make chocolate. But just as vegan innovators have made meat without animals, it is possible to create tofu without soy. While at first the concept may seem more impossible than a vegan burger that bleeds, it's been done, and it's firmly "a thing."
Whether you're avoiding soy for allergy reasons or just looking to mix up your meals, take a step into the world of soy-free tofu and discover where to buy it, how to make it, and what to do with it.
What is soy-free tofu (and how to make it)?
Soy-free tofu is not a modern product born out of the recent soy fear mongering—it's a longtime staple of Burmese cuisine. Sometimes referred to as Burmese tofu or Shan tofu (named after the region from which it originated), soy-free tofu is simply made from chickpeas and water.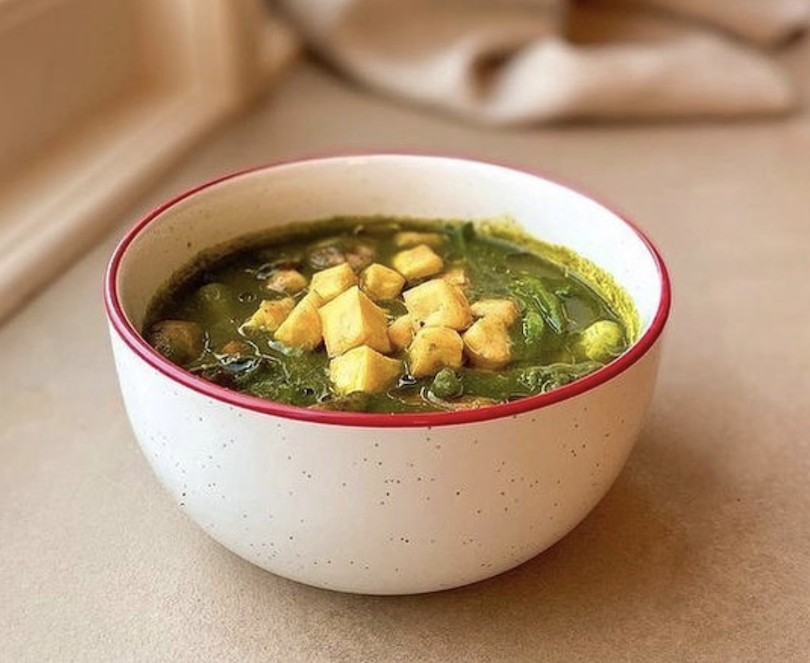 @whatthemojo/Instagram
While the traditional (and far more laborious) method calls for soaking split chickpeas and blending the beans and their liquid into a batter, the more modern method relies on chickpea flour (flour made from ground chickpeas) to hasten the process. Most preparations loosely follow the steps for making polenta—mix flour, water, and optional spices together to make a batter; cook until thickened, cool, refrigerate, and slice. Granted, you can still use chickpea flour and complicate things, depending on the texture you're after. Some cooks swear that fermenting the flour first and then resting the cooked batter a good eight hours before slicing makes for a firmer texture. It's up to you—and your schedule.
Soy-free tofu nutrition
Given that soy-free tofu is primarily made with chickpea flour and water, you can expect the nutrition to be fairly advantageous. Like soy-based tofu, this varietal is naturally gluten-free. It's also very low in total fat and contains no saturated or trans fats. Exact amounts vary based on the recipe and ratio of chickpea flour to water, but expect the fat content to hover around a mere one to two grams per serving.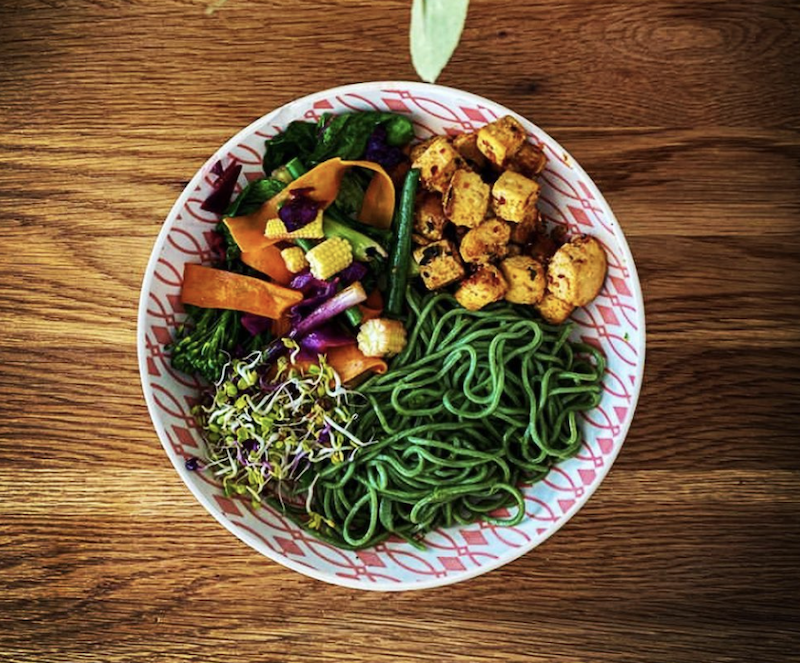 Gems Wholesome Kitchen
Burmese tofu also contains some iron and calcium and serves as a decent source of dietary fiber—around three grams per serving. While not as protein-rich as tofu, this food still provides four to six grams of protein per serving—again, depending on the recipe. The higher the chickpea flour-to-water ratio is, the more protein the resulting product will have. Calorically speaking, chickpea-based tofu generally mimics the caloric density of extra-firm tofu—about 70-80 calories per three-ounce serving.
5 reasons to try soy-free tofu
No, "soy will give you manboobs" is not a reason to give soy-free tofu a try. To hash out the great soy debate, take a look at this article. Once up to speed on why soy isn't the demonized food some make it out to be, please return to this reading, as there are other reasons to put some chickpea-based tofu on your plate.
1 You're allergic to soy
Most people can tolerate soy just fine, but it is one of the top eight most common food allergens, commonly referred to as The Big 8. According to a survey from the National Institute of Allergies and Infectious Diseases, 0.6 percent of the American adult population is allergic to soy—a percentage that is lower than any of the other Big 8.
Most food allergies—soy included—develop during infancy and often abate during childhood or adolescence. Like all food allergies, symptoms range from mild (itchiness and digestive issues) to severe (vomiting, wheezing, swelling, hives, and life-threatening anaphylaxis). If you're even mildly allergic to soy, its chickpea-based cousin is a perfect fit.
2 You're seeking your next culinary project
Making soy-free tofu at home is far easier than making soy-based tofu from scratch, but as mentioned above, it can get fairly time-intensive if that's what you're looking for. Whether you go the simple route or take the multi-day journey, there's no denying that homemade tofu tastes exponentially better than anything you could have purchased at the store. Pride really adds that extra bit of je ne sais quois flavor.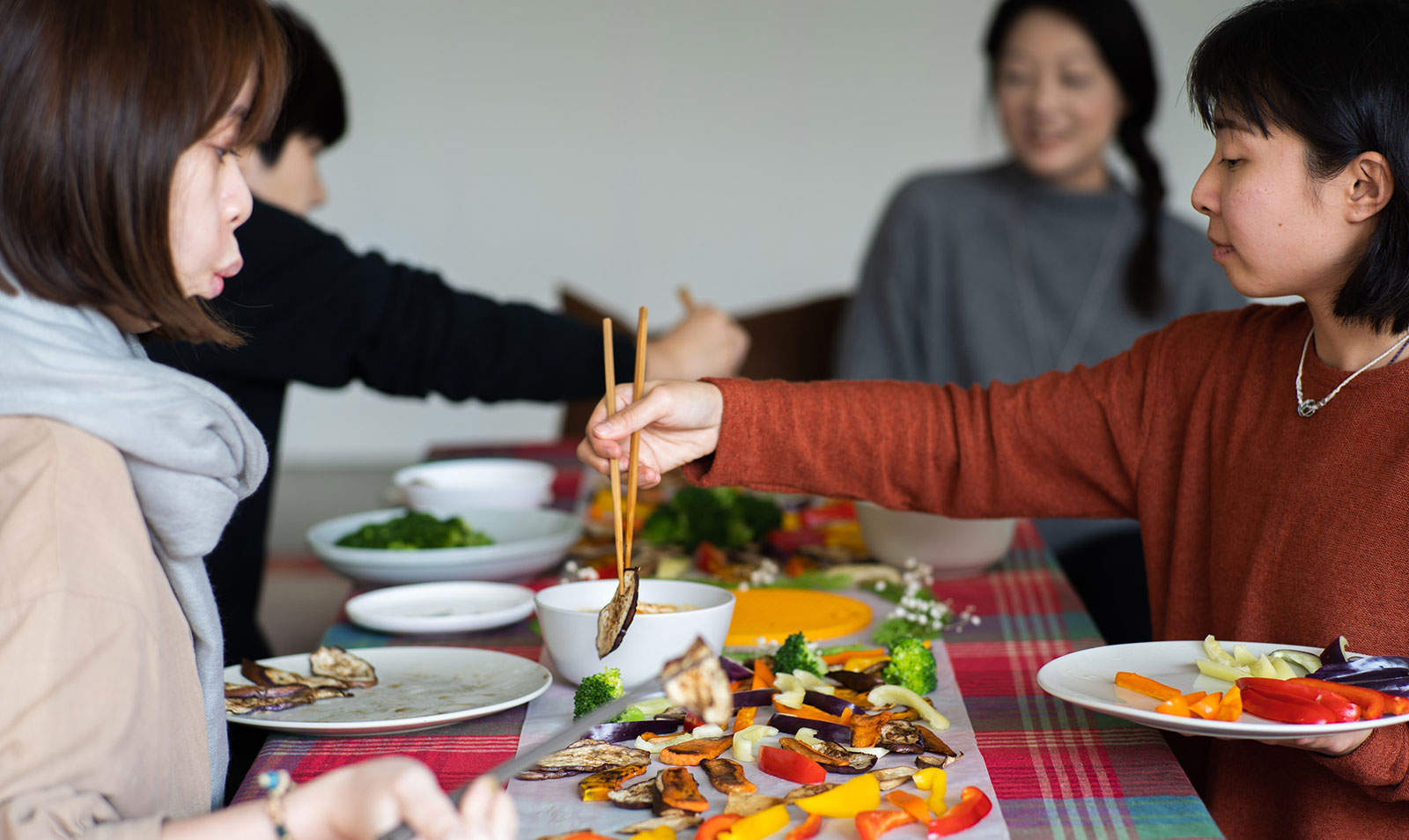 Unsplash
3 You're craving variety
While soy-free tofu can be used in a number of dishes that typically contain traditional tofu, the taste and texture are different enough to light up your taste buds and transform something old into something new. Burmese tofu isn't spongy—it's a bit more dense and has a more complex mouthfeel than its soy counterpart. If you like polenta, there's a solid chance you'll love chickpea tofu.
4 You don't have to press it
Once you've made (or purchased) Burmese tofu, you can use it right away. No need to take out the tofu press, wait 20 minutes, or settle for less-than-superb tofu because you didn't have the patience to properly press the moisture out of your store-bought soy block. Soy-free tofu is always good to go.
5 You've had soy for every meal
Soy isn't bad for you (unless you're allergic), but like any food, it's best to consume in moderation. If you had soy milk in your cereal for breakfast, a soy protein shake post-workout, a soy latte after lunch, and plan on tucking into some soy-based ice cream for dessert, you may want to consider a non-soy option for dinner. You can still have your savory scramble, just swap out the soy for chickpeas.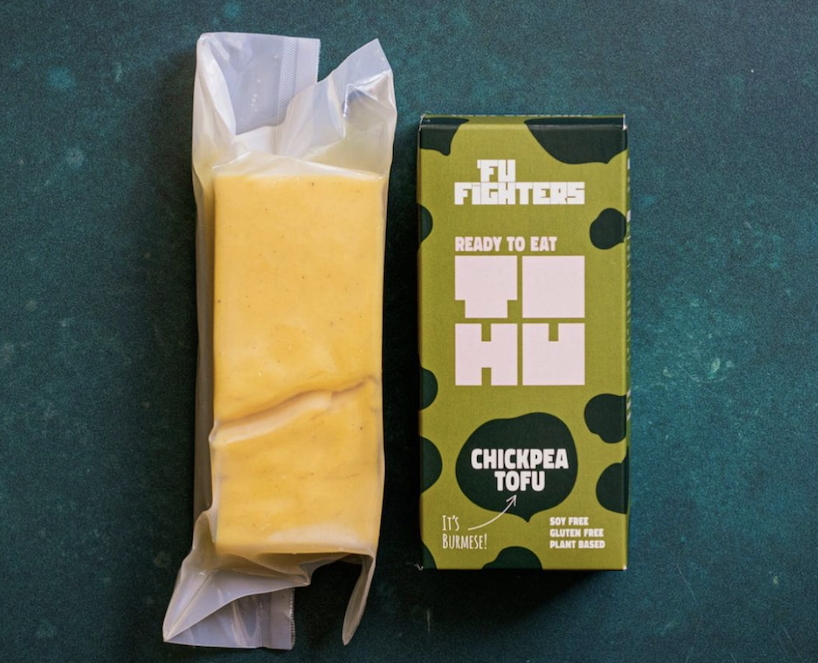 'Fu Fighters
Store-bought soy-free tofu
The average home cook can create soy-free tofu at home without too much hassle, but going store-bought is a low-barrier way to give it a try first. While not the traditional Burmese tofu, Big Mountain Foods makes two allergen-friendly options for anyone looking to try soy-free tofu without the culinary confidence to make it at home. Both the original and smoked varieties are made with Canadian fava beans. Alternatively, while not exactly tofu, PUMFU offers an Original variety of its pumpkin seed-based proteins that's a cross between seitan and tofu. For a more traditional Burmese tofu option, opt for 'Fu Fighters' TOHU.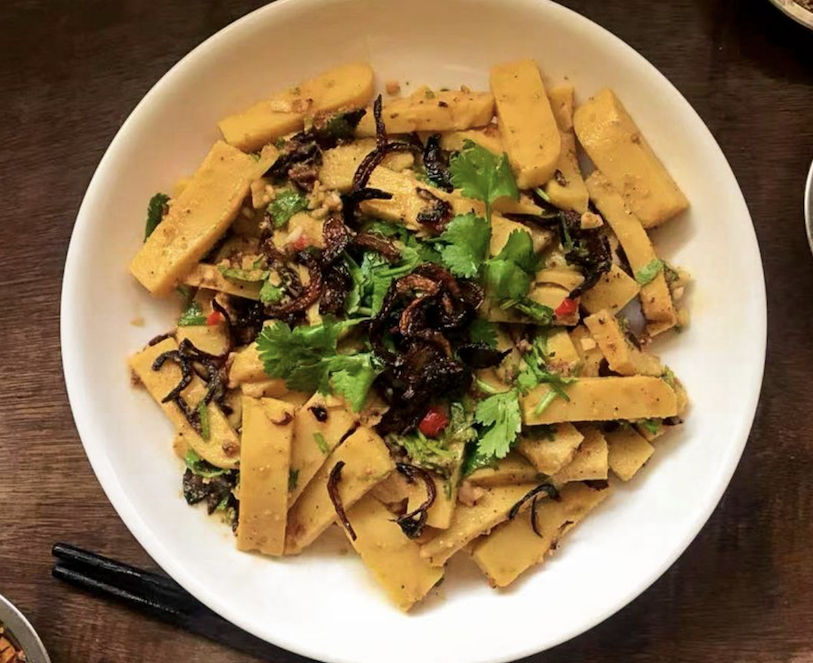 V for Veganista
5 vegan recipes with soy-free tofu
With plenty of chickpea flour and a dash of turmeric on hand, you can whip up a fresh batch of soy-free tofu with just a few basic kitchen tools. Check out the recipes below for chickpea tofu how-tos and meal inspiration.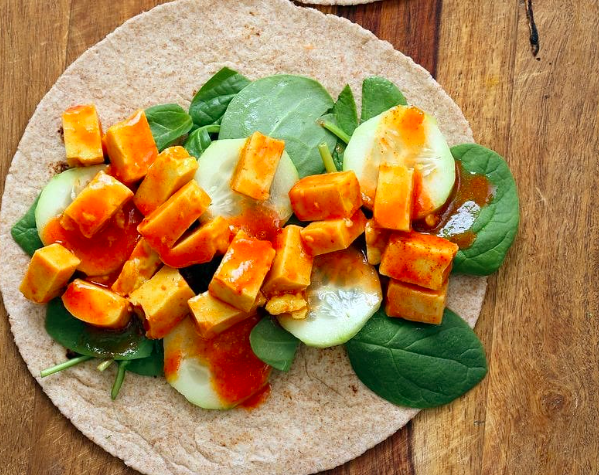 Vegan Richa
1 Vegan Richa's Chickpea Flour Tofu
Always reliable when it comes to fantastic vegan recipes, this food blogger opts for the more manageable Burmese tofu-making process. The hands-on time requires less than 20 minutes, and after the mixture has chilled in the fridge for an hour, it's ready to devour. Start here if you're looking for a basic recipe that works.
Get the recipe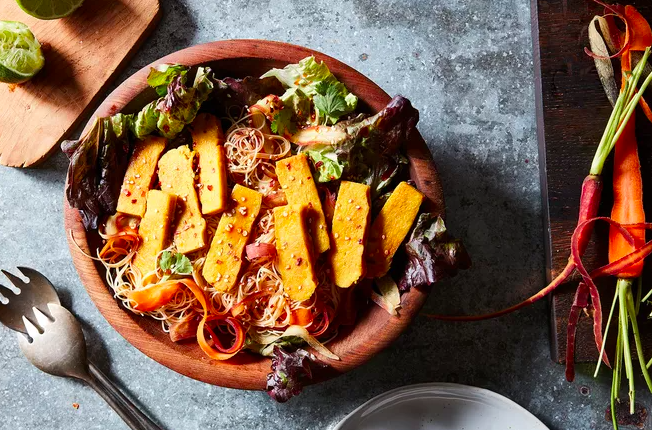 Mark Weinberg
2 Sarah Jampel's Burmese Tofu
Plan ahead, because this recipe will take you a day and a half to make. The vast majority of that is chilling time, so it's still a fairly low-key project—it just requires some patience. We advise making this recipe after you've mastered the quick version above. Compare the two and let us know if the extra time is worth it.
Get the recipe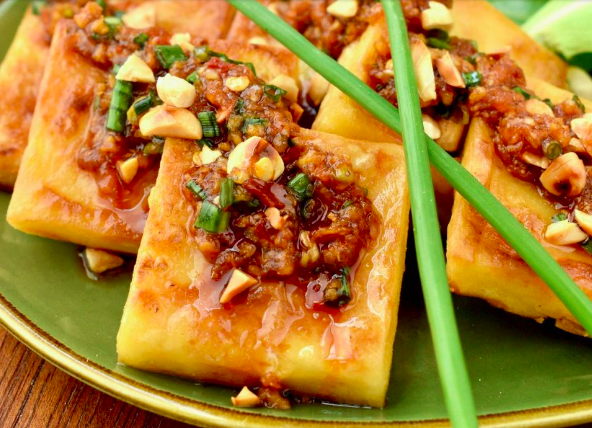 Vegan on Board
3 Vegan on Board's Burmese Tofu with Garlic, Ginger & Chili Sauce
Unlike soy-based tofu, you don't need to do much to make Burmese tofu appetizing. A quick pan fry and a spoonful of spicy sauce will do. Pro tip: the sauce is great on store-bought tofu, too!
Get the recipe
4 Mary's Test Kitchen's Burmese Tofu Crispy Dippers
Breaded, seasoned, and fried, the humble chickpea tofu can be transformed into an addictive, nugget-esque snack. Infused with tiny pieces of nori, these savory dippers are excellent served alongside vegan tartar sauce.
Get the recipe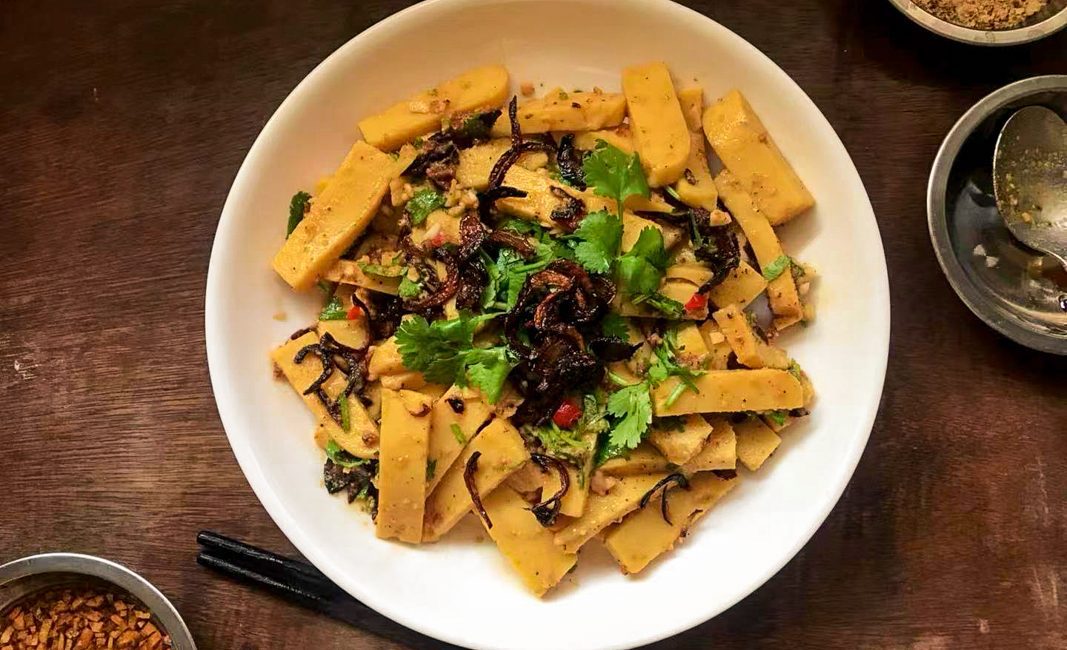 V for Veganista
5 V for Veganista's Tohu Thoke
This traditional Burmese tofu salad is more of a salad in the sense that ingredients are cooked separately and then mixed together and served in a bowl. The majority of this salad consists of pan-fried chickpea tofu that's tossed with a spicy, slightly sweet sauce, fried shallots, crushed peanuts, and fresh coriander and kaffir lime leaves. There's a lot going on, and you'll love every bite of it.
Get the recipe
For more vegan food inquiries, read: