About 32 million Americans have been diagnosed with one or more food allergies according to the nonprofit, Food Allergy Research & Education. The most common food allergens include milk, shellfish, peanut, tree nuts, eggs, wheat, and soy. A vegan diet naturally avoids three of these food categories, but navigating a vegan world without peanuts, tree nuts, wheat, and soy can sometimes be challenging. Thankfully, more brands than ever before are paying attention to these sensitivities and crafting foods everyone can enjoy, regardless of dietary restrictions. From plant-based milks to vegan meats and snack foods, here are the best and most accessible vegan staples for those with food allergies. Note: some of the items below contain coconut, a type of tree nut. These items are labeled.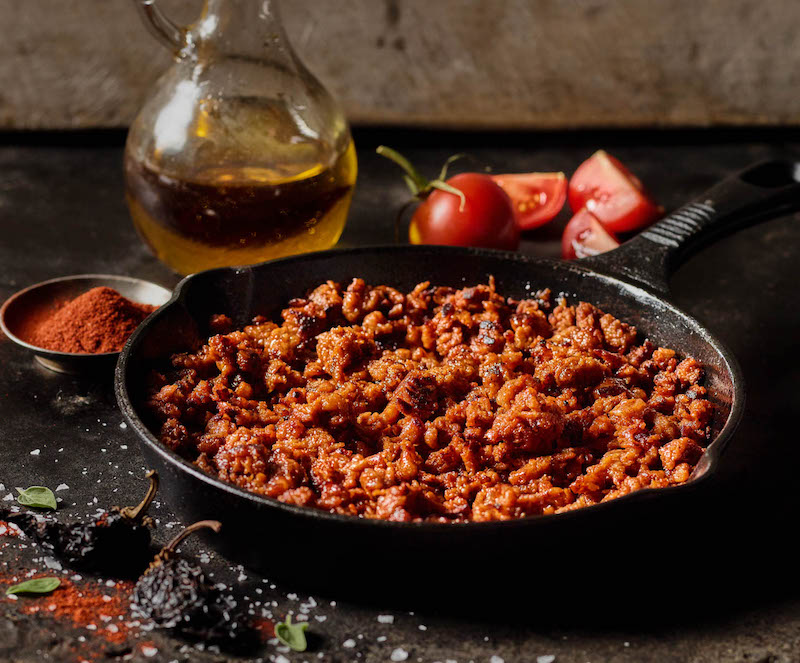 Abbot's Butcher
Allergen-friendly plant-based meats
1 Abbot's Butcher
Not only is this plant-based meat company free of the top eight allergens, it's also free of canola oil, preservatives, extracts, and artificial/natural flavors. All three products—"Chorizo," Ground "Beef," and Chopped Chick'n—are simply made with pea protein and a blend of vegetables, spices, extra virgin olive oil, and vinegar. While free of less-than-appetizing ingredients, these meats are far from flavor-free, and they don't taste like a humble veggie burger. You'll be surprised by the bold flavor and meaty chew of each incredible bite.
Find out more
2 Meati
Meati is one of the newest plant-based meats to market, and it's made mostly out of mycelium—a mushroom-related and protein-packed fungus. We were blown away by the look, taste, and texture—the Chicken Cutlets really do brown and cut just like chicken. The instructions recommend seasoning the meats, but we happily enjoyed the cutlet on its own. Meati also offers a Steak Filet and a Crispy Cutlet—and yes, even the breaded Crispy Cutlet is gluten-free. The brand is only taking a limited amount of online orders for now, so sign up for the email list to take advantage of the next product drop.
Find out more
3 Big Mountain Foods
Soy-free tofu isn't new—but Big Mountain Foods is making this niche product more accessible. In lieu of chickpea flour which is traditionally used to make soy-free tofu, this vegan meat company relies on fava beans to mimic the infinite versatility and texture of tofu. Other allergen-friendly Big Mountain Foods products include seasoned sausage links, crumbles, and patties. Note: the soy-free tofu is coconut-free, but other items such as the Breakfast Bites and Lion's Mane Crumbles contain coconut oil.
Find out more
4Plant Based Foods
Most allergen-friendly plant-based meats craft their products from pea protein, but this brand does it differently. Hemp seeds are the star of each burger, crumble, and breakfast patty item, only supported by a bit of pea protein for the sake of structural integrity. The Spicy Breakfast Sausage Patties are a rare find in the allergen-friendly market. Stock up.
Find out more
5Crave House
From sausages to meatballs and burgers to grounds, this emerging plant-based meat company offers it all. While other brands offer similar, allergen-friendly items, the meatballs are unique to Crave House. Try them out with your favorite homemade or store-bought marinara and gluten-free spaghetti. Note: contains coconut oil.
Find out more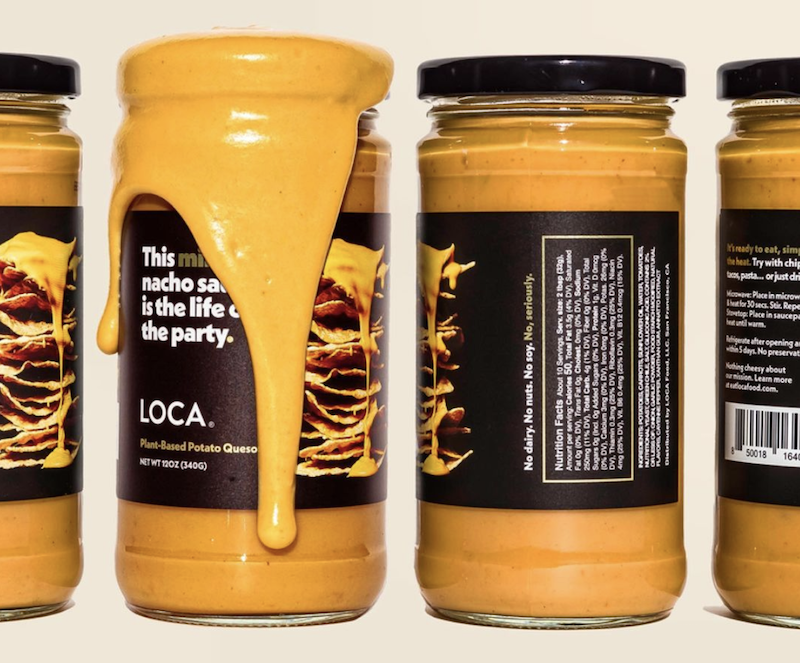 Loca
Allergen-friendly vegan dairy
6Three Trees Oat & Seed Milk
Fortunately for food allergy sufferers, oat milk is trending and it's not difficult to find a soy or nut-free milk alternative. Yes, there's Oatly, but for something with a bit more protein, try out Three Trees Oat & Seed milk. The beverage blends gluten-free oats with flax, sunflower, and pumpkin seeds to pack in six grams of protein and a healthy dose of omega-3s per one-cup serving. Unlike most oat milks, this product is also free of preservatives, natural flavors, and sugar.
Find out more
7Loca Queso
Unless you make your own, most vegan quesos you'll find online or at the grocery store will contain cashews. Loca created a queso for everyone by ditching the nuts and using vegetables as the base for its addictive, slightly spicy vegan cheese dip. You'll want to put queso on things you never have before—taco salads, roasted veggies, grain bowls, etc.—it's meant for more than chips.
Find out more
8NadaMoo!
Almond and cashew milk are common ice cream bases, but even the coconut and oat-based vegan ice creams may contain soy lecithin (a thickener). Not all of NadaMoo!'s pints are soy-free, but a few solid options are really all you need. The following flavors are gluten-, soy-, and nut-free (all contain coconut): Organic Mint Chip, Peppermint Bark (seasonal), Cookie Dough Fudge, Cookies & Creme, Birthday Cake Cookie Dough, Vanilla, and Chocolate, plus the no added sugar line which includes Mint Chip, Vanilla, Chocolate, and Strawberry.
Find out more
9Good Planet
It's not easy to find a vegan cheese free from soy and nuts. Good Planet made it possible by using chickpea protein, coconut oil, and tapioca and potato starches to create melty, gooey, cheesy shreds, wedges, and slices. No matter what cheesy creation you have in mind, there's a Good Planet cheese to bring it to life.
Find out more
10Coconut Cult
Looking for a dairy-free yogurt that isn't made of almonds and or soy? This coconut-based, clean-ingredient probiotic yogurt is your best bet. We were first drawn to this product by the fun flamingo-printed packaging, but the flavors hooked us. Choose from unsweetened Original, Chocolate, Vanilla Toffee, Mangos N Creme, or one of the seasonal offerings such as Coffee Is My Boyfriend—it's breakfast and caffeine all in one!
Find out more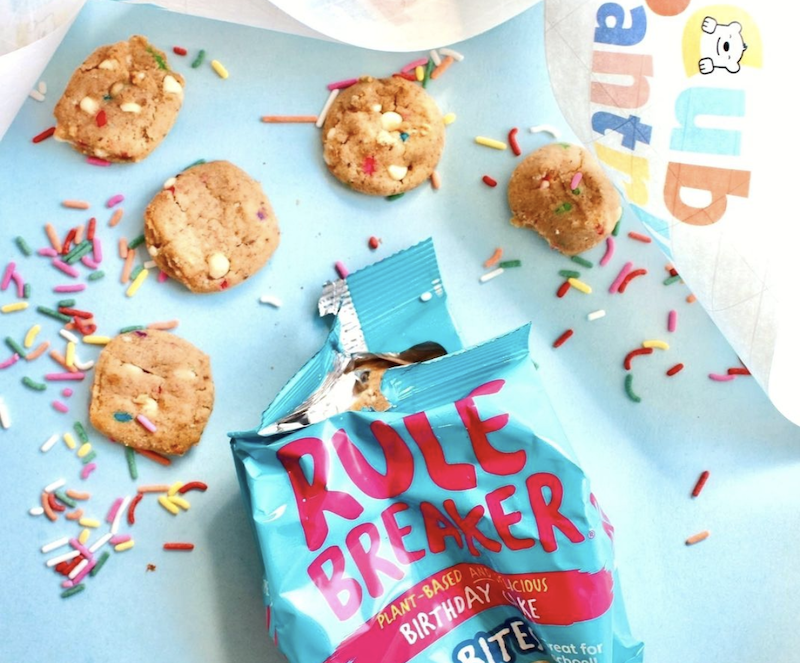 Rule Breaker
Allergen-friendly vegan desserts
11 Rule Breaker Snacks
Blondies and brownies tend to be off the table for most with food allergies, but this woman-owned company is sharing the sweet stuff with everyone. All Rule Breaker products are free of the top eight allergens and made in a certified allergen-free facility. The treats include sprinkle-studded Birthday Cake Blondies, rich Deep Chocolate Brownies, peanut-free P'Nutter Chocolate Chip Blondies, and bite-sized versions of these flavors as well. Great for kids or adults, these chickpea-based treats add a little joy to any day.
Find out more
12 Giselle's Vegan Kitchen
Ship vegan and allergen-friendly bars, macarons, and cheesecakes to your door with Giselle's delightful baked goods. Note: this bakery does use nuts, but it is safe for the gluten, soy, and corn-intolerant. All of her treats are refined sugar-free as well, so you'll feel good about enjoying them both before and after. She truly has us mystified—we'd never know the items were so clean if it we didn't look at the ingredients. Southern California residents, stop by the Laguna Niguel bakery itself or find select products at your local Erewhon or Mother's Market.
Find out more
13 Karma Baker
Like Giselle's, Karma Baker can ship its goodies nationwide. This is the place to go when you need a full-sized cake that will appease those with and without food allergies. The gorgeously decorated cakes are gluten, soy, and nut-free, but you wouldn't know it by the taste of the bright Luscious Lemon or Hostess-themed chocolate cake. The cakes themselves are denser than a traditional sponge, but that just adds to the decadence of each joyous bite. Karma Baker is where you go to celebrate with sweets.
Find out more
14 Partake cookies and baking mixes
This Black-and woman-owned vegan brand goes above and beyond when it comes to food allergy safety. Not only is it free of the eight top allergens, it's also free from sesame—an emerging food allergy becoming increasingly prevalent. The perfectly sweet, two-bite crunchy cookies are addictive and the baking mixes are foolproof from the brownie mix to the pizza crust.
Find out more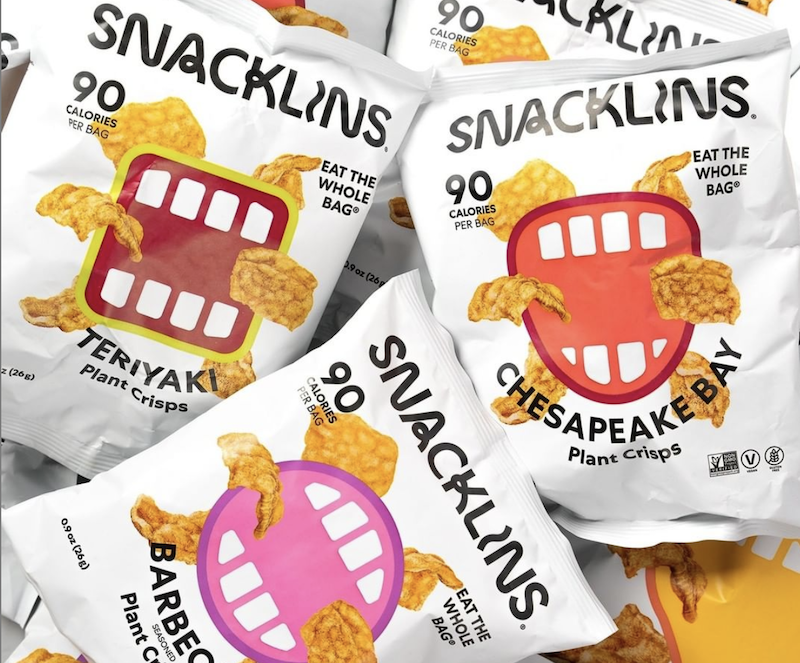 Snacklins
Allergen-friendly vegan snacks
15Sunflower Butter
Butters have been trending in recent years. We've seen everything from watermelon seed butter (hard no) to chickpea butter (love it). However, sunflower butter is the most accessible option for those shopping at conventional grocers. The flavor is mild yet still appealing and it perfectly satisfies the craving for nut butter. SunButter is our go-to brand. The range includes both creamy and crunchy options, no sugar added, and chocolate. All are free of the top eight allergens and yet they can do anything peanut butter can do.
Find out more
16Snacklins
Crackers and chips seems so harmless, but many contain gluten, corn, dairy, or a combination of these allergen-prone ingredients. Snacklins satisfy the need for a crispy, crunchy, savory snack without any harmful additives. Each flavor is made simply with yuca, mushrooms, and onions, plus some sunflower oil and seasonings. We loved the Nacho, Barbecue, and Sea Salt & Vinegar options, though really, they're all good.
Find out more
17From the Ground Up Snacks
Whether you're in the mood for crackers, chips, pretzels, or puffs, there's an allergen-friendly option from this brand. While infused with butternut, purple carrot, or cauliflower powder, each item tastes just like a crunchy, savory snack should—which is to say addictively good.
Find out more
Allergen-friendly pasta and more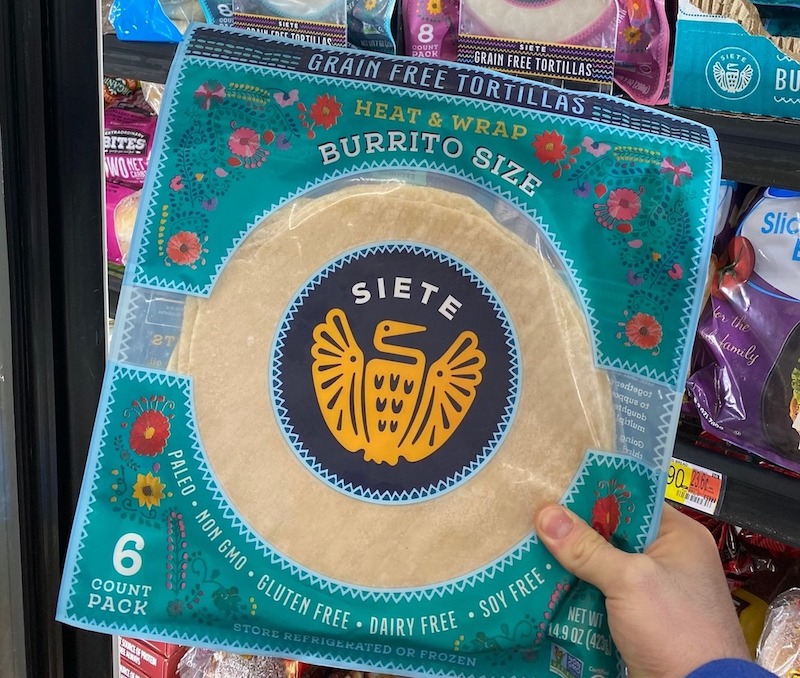 Siete
18Siete tortillas
Tired of pretending collard wraps are actually tortillas? Siete offers a solution. The Grain-Free Burrito Size, Cassava & Coconut, and Casava tortillas are all free of the top eight allergens yet still retain that soft, pliable texture every good tortilla should have. Obviously, they're great for tacos and burritos, but simply dipping them into hot Loca queso is super satisfying and extremely low-effort.
Find out more
19Banza pasta
Gluten-free pasta is nothing new, but there's something about Banza that draws us in. Recently we've been reaching for the Cascatelli box—a new pasta shape invented by a podcaster and released with Banza in 2022 (a wheat-based version of Cascatelli was released through a different brand in 2021). Banza also offers a chickpea-based vegan mac and cheese in Cheddar and White Cheddar as well as a frozen vegan pizza—both are allergen-friendly.
Find out more
20Tattoed Chef frozen pizza
Landmines await anyone with a food allergy in the frozen pizza section, but this quickly growing brand offers refuge in the form of its plant-based pizzas. Options include 2 Cheese, Pepperoni, Vegetable, and White Pizza. Note: all pizzas contain coconut.
Find out more
For more on vegan allergen-friendly finds, read:
5 Tips to Make Nut-Free Cheeses at Home
16 Vegan and Nut-Free Snacks for Kids
Vegan and Gluten-Free Sugar Cookie Bars