Fast-casual vegan restaurant Pure Grit BBQ is expanding its reach so more people in New York City can get a taste of vegan barbecue. This summer, the restaurant will be popping up all over the city, including at locations such as Fifth Hammer, Big Alice Brewery, The Taste of Stuytown, and Big Apple BBQ.
Pure Grit BBQ also recently partnered with support platform Hungry House to expand its reach, allowing the restaurant to benefit from the platform's knowledge in operations, culinary development, digital experience, and wholesale. Ultimately this will allow Pure Grit to serve more of the NYC community with a larger delivery radius, catering, and wholesale opportunities.
The partnership also means expanding into a shared kitchen concept, but Pure Grit has developed kitchen policies to ensure there is no cross-contamination. "It is important to note, while our menu remains vegan and gluten-free, we will no longer be an exclusive vegan/gluten-free kitchen," Pure Grit founder and CEO Kerry Fitzmaurice tells VegNews.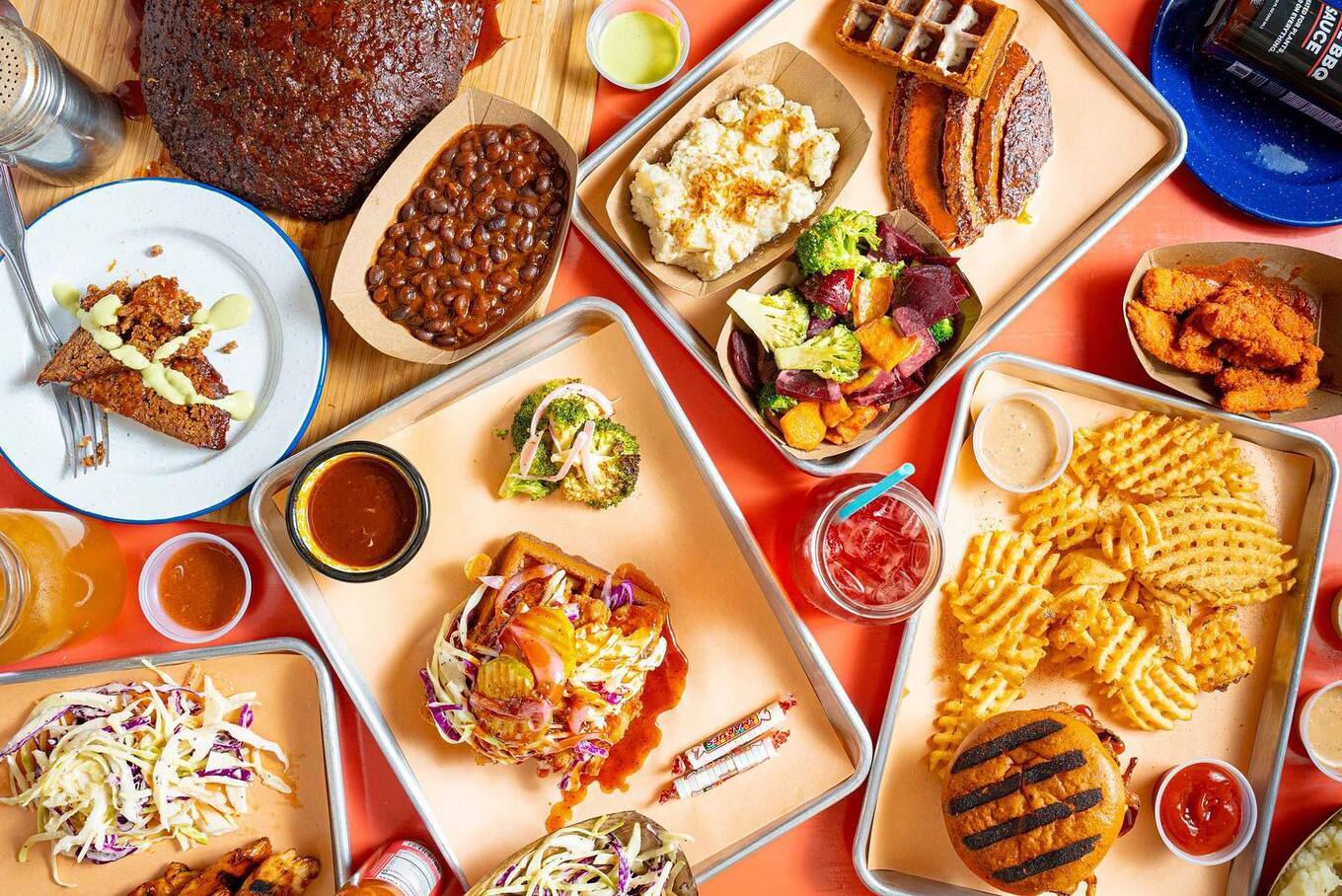 Pure Grit BBQ
The new kitchen policies include maintaining designated storage areas, prep stations, an oven, and a fryer; shared equipment will be used independently and cleaned thoroughly between uses; and Marge and Bessie, Pure Grit's smokers, will continue to exclusively smoke the signature barbecue mains.
Despite the new challenges, the partnership will ultimately allow Pure Grit to bring its vegan barbecue to more people.
"New Yorkers need more vegan barbecue because it's delicious," Fitzmaurice says. "And when it's plant-based, you can eat it everyday—after all, barbecue is about the smoke and the flavor. Pure Grit invites as many people as possible to gather around the table."
Pure Grit BBQ celebrates one year
Founded by Jenny Mauric and Kerry Fitzmaurice, the Pure Grit BBQ concept was born following a trip to Austin, TX where Fitzmaurice experienced the infamous Texas barbecue scene. When she couldn't find vegan options at local barbecue joints, she had an "aha" moment and decided to fill the void herself.
Fitzmaurice came home to NYC and partnered with Mauric to bring Pure Grit BBQ to life. They started by selling vegan barbecue essentials—a barbecue sauce, hot sauce, and a spice rub—accompanied by cooking and smoking tutorials.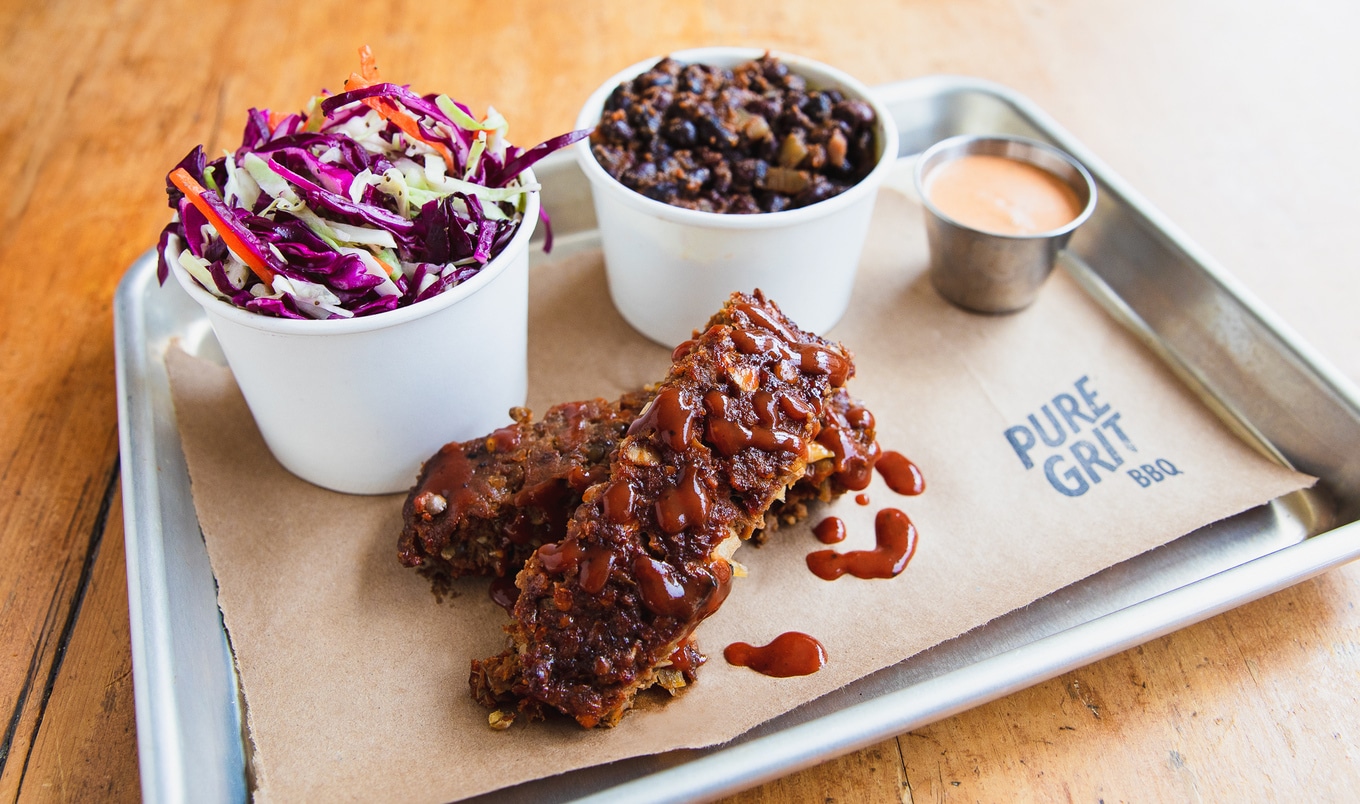 Pure Grit BBQ
Last year, Pure Grit BBQ received a cash infusion from an angel investor to not only open their flagship NYC location, but also operationalize their concept for scale and rapid growth, as well as streamline and expand their retail offerings.
The brick-and-mortar eatery offers vegan and gluten-free smoked barbecue mains such as fried chicken and waffles; pulled jackfruit Impossible burgers sandwiched between cornbread waffles; and classic sides such as coleslaw, baked beans, potato salad, and mac and cheese.
Everything is smoked in-house and prepared with the brand's signature sauces and rub, which are also available for sale along with its branded merchandise.
On May 17, the restaurant is also celebrating its one-year anniversary, when Pure Grit will be giving away free branded t-shirts with any purchase.
Vegan options at Barclays Center
Earlier this year, Pure Grit BBQ embarked on its first expansion when it became the only vegan vendor at Brooklyn, NY's famed Barclays Center, where it served its popular, award-winning house-smoked Jackfruit Nachos and two exclusive sliders (House Smoked Jackfruit Sliders and Smoked Impossible Cut Brisket) served on cornbread waffles alongside house-made barbecue chips.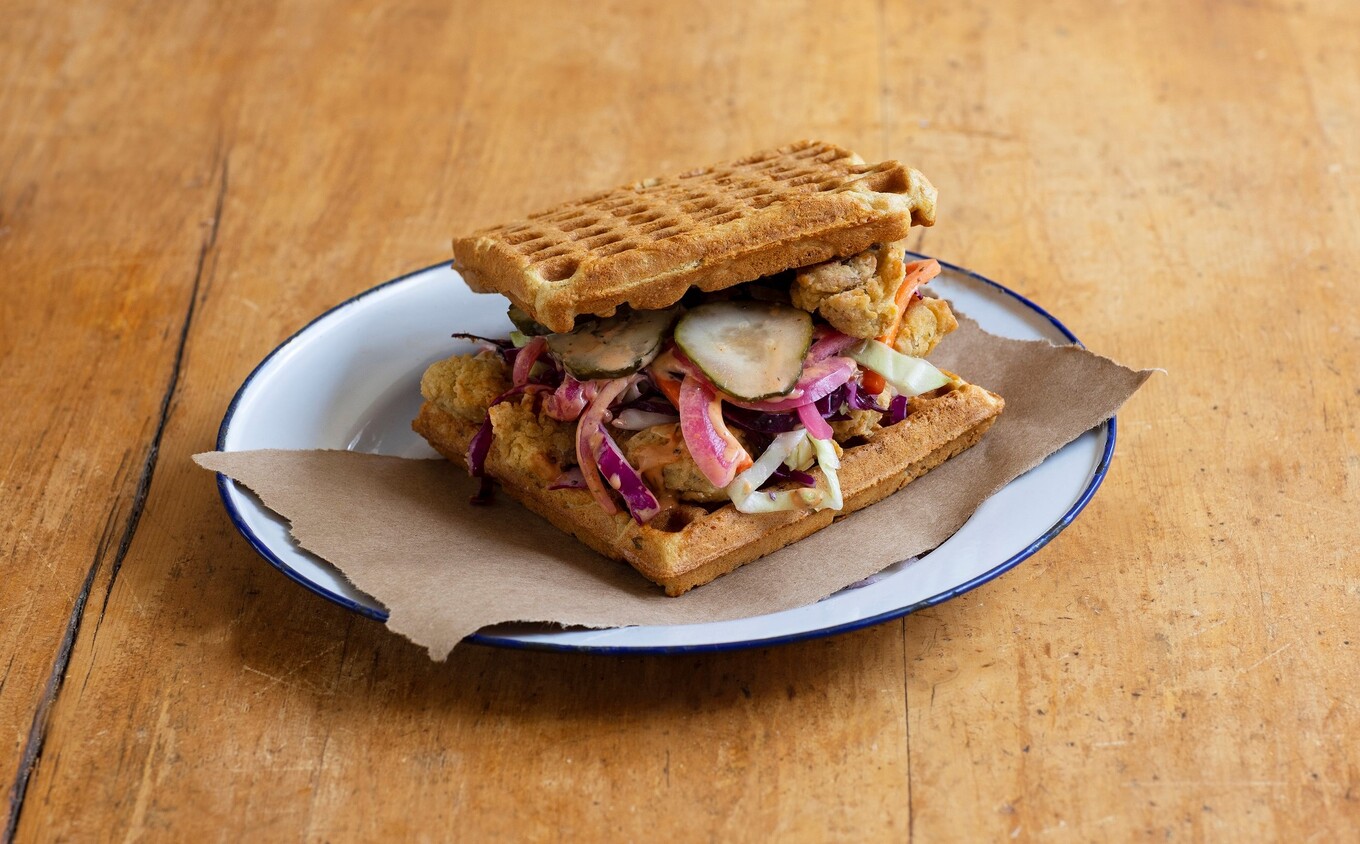 Pure Grit BBQ
For this expansion, Pure Grit BBQ was part of the Barclay Center's Brooklyn Market concept, a coveted space where three to five brands are chosen as vendors for the season. And as the only vegan vendor, Fitzmaurice says it provided an opportunity to show people what vegan food is all about.
"We were able to have so many amazing conversations about plant-based eating that challenged and changed people's perceptions about vegan food," Fitzmaurice says.
It was more than just vegans who came to buy their food. "We had an amazing season at the Barclay's Center for the Nets home games," she says. "Our regulars included extremely happy vegans but it was mostly omnivores looking for something different and delicious."
And the fact that Pure Grit is also gluten-free made their offerings even more inviting. "To see the face of someone looking for a gluten-free meal and learning that all of our food was gluten-free was priceless," she says.
Fitzmaurice hopes to continue this momentum with this summer's pop-up and Hungry House expansion. "We genuinely feel that where people gather and celebrate is where we need to be," she says.
For the latest vegan news, read: