Vegan chicken is the new beef—is seafood the next frontier? The budding industry grew 14 percent in US sales in 2021 according to SPINS data provided by the Plant Based Food Association. This growth is seminal during a year where the plant-based meat industry as a whole saw a steady return of $1.4 billion in sales—the same amount as 2020.
While the plant-based meat category has faced a plateau, there is only opportunity for growth for the vegan seafood sector, and entrepreneurs are rising to the challenge. We've observed significant growth in both the quantity and quality of vegan fish options in the last five years, and some restaurants are embracing these products in the form of a vegan fish sandwich. Could these flaky, fried handholds rise to the popularity of the vegan chicken sandwich? Here are nine vegan fish sandwiches that make a strong case. Bring on the tartar sauce!
What is vegan fish made of?
The beauty of plant-based meat and seafood alternatives is that there is so much room for innovation. Like vegan burgers or plant-based chicken, plant-based fish can be crafted with a number of different ingredients and all result in something with a fall-apart-flaky bite and a taste of the ocean (in the best way possible).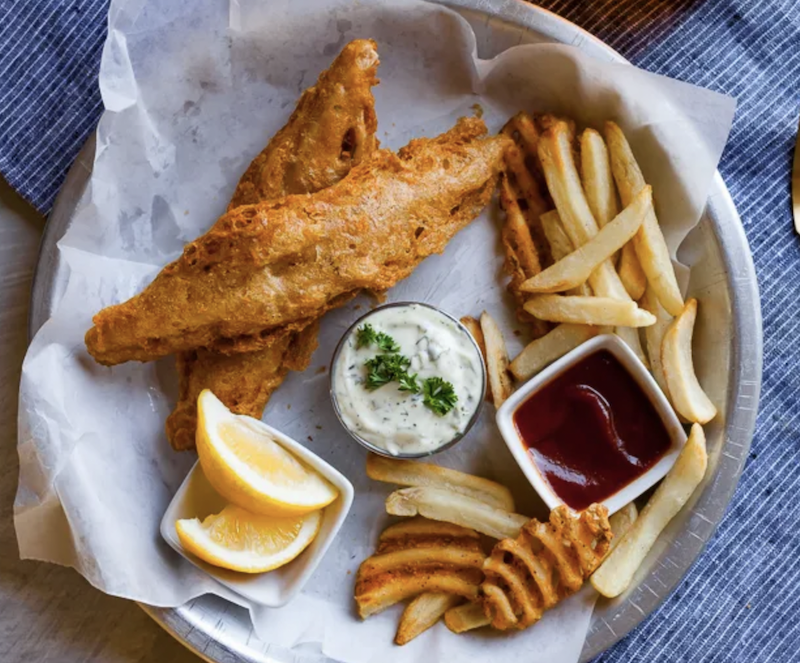 Carrots and Flowers
Many vegan fish varieties found in retailers and mass food service rely on a blend of plant-based proteins derived from soy, peas, and gluten. Methylcellulose is a common plant-based ingredient used to maintain a product's form by way of fried fish cutlets and fish sticks. Oil, seasonings, natural flavors, and plant-based starches are also found in many vegan fish products.
We have found simpler, more wholesome versions of vegan fish, and these are most often found in independent restaurants. When seasoned and fried to a gorgeous golden brown, tofu can be an excellent stand-in for white, flaky fish. Banana blossoms work in a similar way, providing a tender, layered texture that suitably mimics the texture of fish.
9 vegan fish sandwiches to try
Everyone has the power to make a decent vegan fish sandwich at home using store-bought plant-based fish filets or freshly fried tofu, but these restaurants have perfected this handhold from the vegan meat to the sauces. Here are the vegan fish sandwiches you have to try.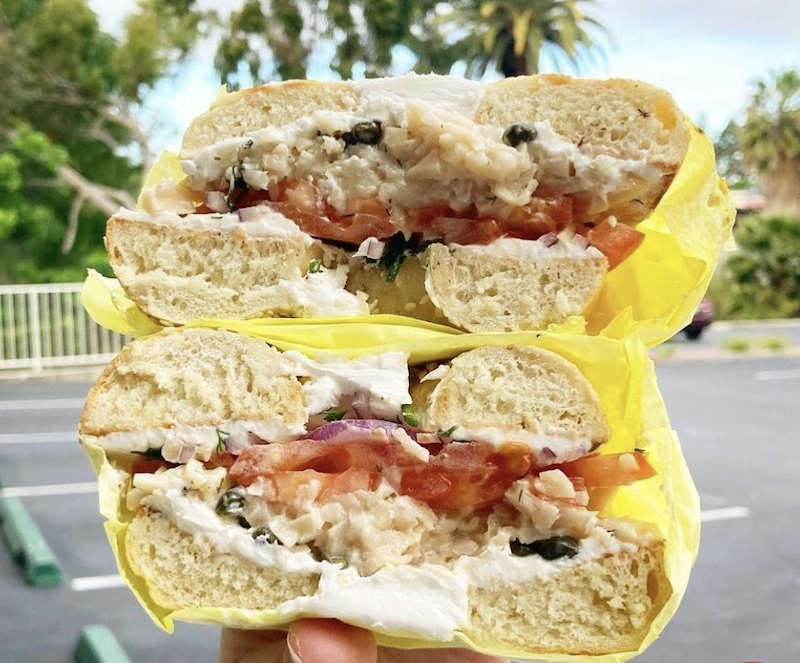 Ben & Esther's
1 Ben & Esther's
Vegan Jewish delis are following in the footsteps of vegan butchers—once unheard of, these specialty shops are slowly becoming a thing. Ben & Esther's is leading the charge with locations in San Diego, Portland, and Seattle. These delis offer a rare find: vegan whitefish sandwiched on a bagel. The fish salad is made with hearts of palm, plant-based mayo, and seasonings; it's piled high on your choice of housemade bagel with schmear, capers, tomato, red onion, and fresh dill. The menu also includes lox and a tuna melt by way of other seafood options.
FIND IT HERE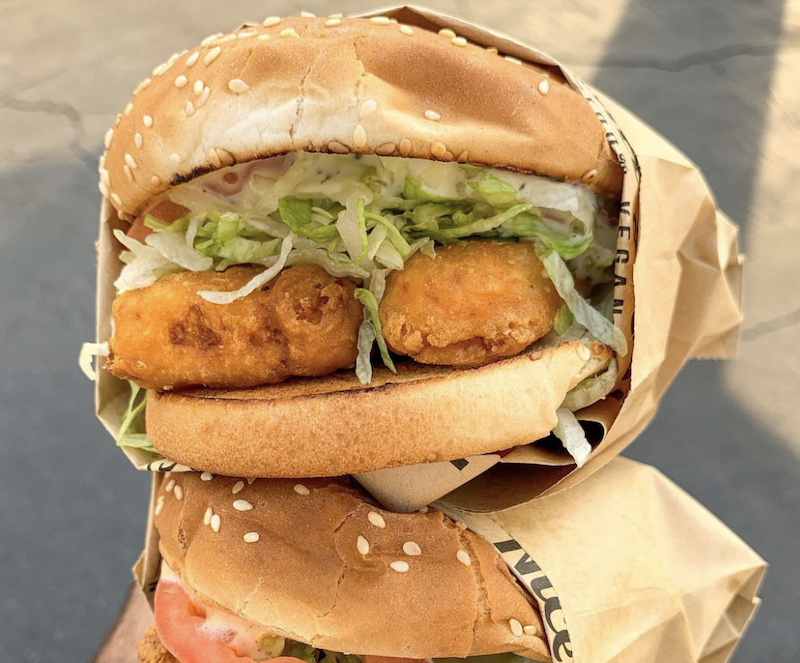 Nice Guys
2Nice Guys
If you're looking for a burger dive, Nice Guys in Costa Mesa, CA is it. This no-frills joint serves up the basics with a grill that's always hot and a deep fryer that's always bubbling. The burger options are certainly worthy of consideration, but the fish sandwich hits the spot if you're not in the mood for vegan beef. The simple sesame seed bun handhold consists of a thick, golden fish steak on a patch of lettuce, tomato, and tartar sauce. Be sure to pair it with a Nice Guys' dairy-free Mooshake in strawberry, malt, chocolate, or vanilla.
FIND IT HERE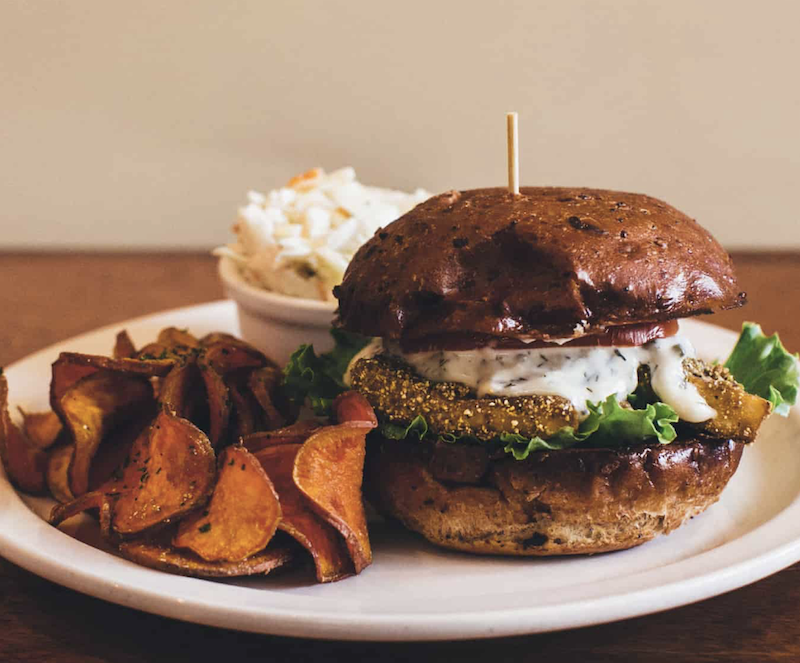 Detroit Vegan Soul
3 Detroit Vegan Soul
This isn't just a fish sandwich, it'a catfish sandwich. This women- and Black-owned vegan eatery adds a taste of the South to its plant-based fish filet by dredging tofu in a cornmeal batter and frying it until crispy. The homemade catfish is topped with lettuce, tomato, and tartar sauce—all served on a fluffy, chewy pretzel bun. One bite, and you'll agree that more sandwiches should be pretzeled.
FIND IT HERE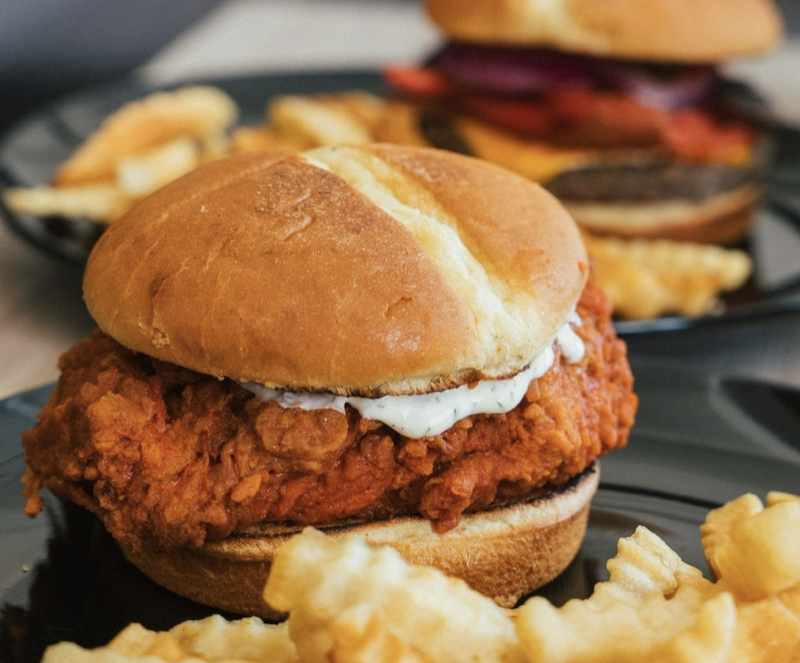 NuVegan Cafe
4 NuVegan Cafe
Visit any of the five NuVegan Cafe locations, and decision paralysis is sure to set in. To make the choice easier, opt for the vegan fish sandwich as your main (good luck trying to narrow down the sides—there's over two dozen options). This handhold is basic in its execution but plays marvelously well with a majority of the other options on the menu. Plus, when something is well done, you don't need to go wild with sauces or accouterments. Fried vegan fish, lettuce, tomato, onion, and tartar sauce—it's delightful in its simplicity. Find a storefront in Richmond, VA; Washington D.C.; Woodridge, VA, and two locations in Baltimore, MD.
FIND IT HERE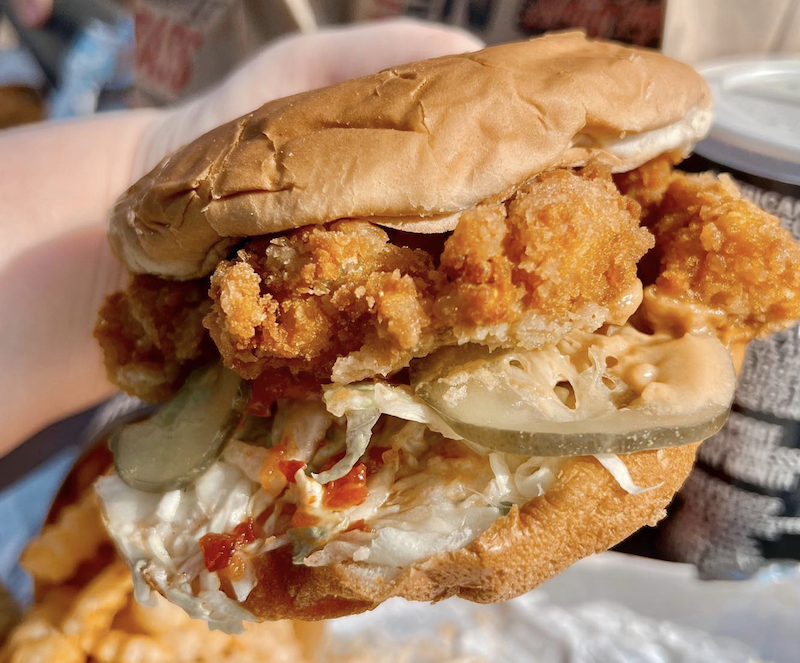 @laurengw_eats/Instagram
5 Slutty Vegan
You won't find a Filet-o-Fish or something as commonly labeled as "fish sandwich" at Slutty Vegan. Instead, scan the menu for the item called the Heaux Boy. Unorthodox in name and composition, this vegan fish sandwich is made with fried vegan shrimp in lieu of a flaky steak. The New Orleans-seasoned crescents of shrimp are piled high along with shredded lettuce, tomato, pickles, and the chain's signature Slut sauce barely contained on a sweet Hawaiian bun. Track down one of these enormously satisfying handholds at Slutty Vegan locations across Georgia, New York, Alabama, and Texas.
FIND IT HERE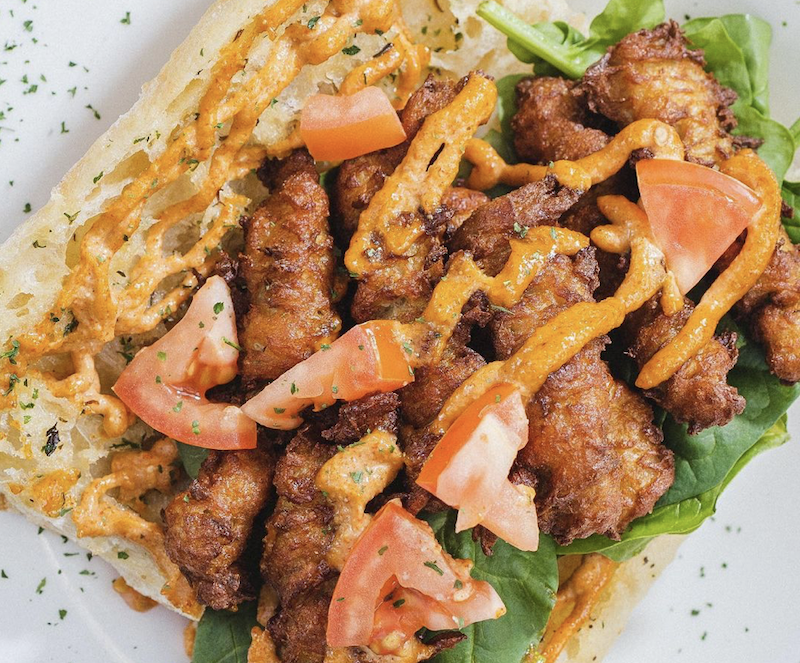 Seasoned Vegan
6Seasoned Vegan
For a taste outside of the standard filet, lettuce, and tomato, check out this family-owned spot NYC. It's BBQ "Crawfish" Sandwich is one of the most popular items on the menu—no doubt thanks to the homemade ingredients that comprise this tasty sammie. The kitchen pairs fermented soy "crawfish" with grilled burdock root and smothers it all with Bayou BBQ sauce. This handhold is one of the most original vegan fish sandwiches we've ever had the pleasure to devour. And while Seasoned Vegan's flagship Harlem, NY location is closed as the restaurant relocates, don't fret. The iconic BBQ Crawfish will remain on the restaurant's new menu. Follow Seasoned Vegan on Instagram for updates.
FIND IT HERE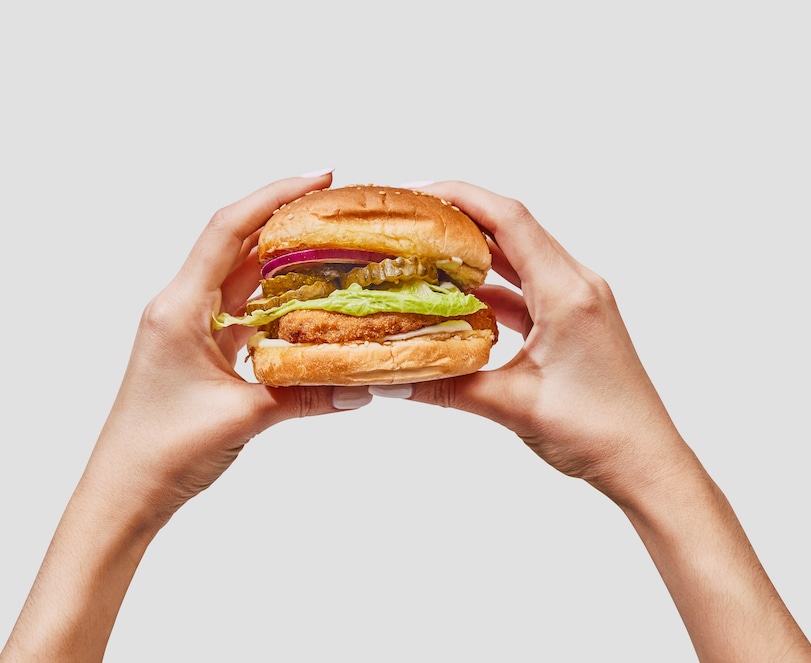 Plantega
7 Plantega
Vegan New York City Mayor Eric Adams made it a point to visit a Plantega location as one of his first acts in office, and since that iconic visit, this vegan concept has planted itself in nearly 40 bodegas across the city. Mayor Adams enjoyed breakfast here, but the all-day menu includes everything from classic Chopped Cheese to what's on our minds at the moment: a vegan fish sandwich. The Crispy Fish Filet features a Good Catch crispy patty adorned with lettuce, red onion, pickles, and mayo on a soft burger bun. You really can get everything you need at a New York bodega.
FIND IT HERE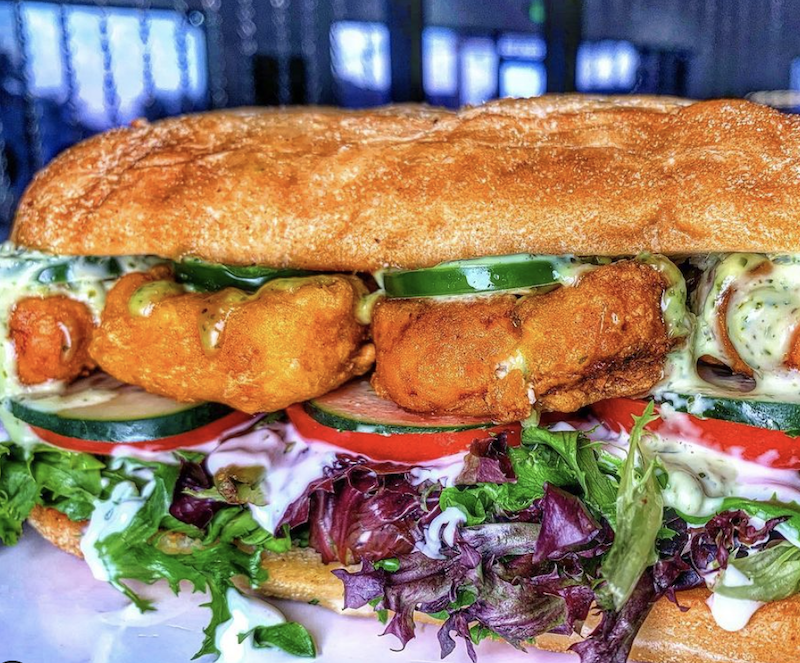 The Modern Vegan
8 The Modern Vegan
Distinctly unique from a split-top lobster roll, The Modern Vegan's Lobster Melt can only be found in Vegas. The triple-stacked sourdough sammie with Maine flair is loaded with heart of palm-based vegan lobster meat, melty plant-based cheddar, lettuce, tomato, and a swipe of pesto. If the standard fish sandwich doesn't appeal, this lobster version will peak your curiosity at the very least.
FIND IT HERE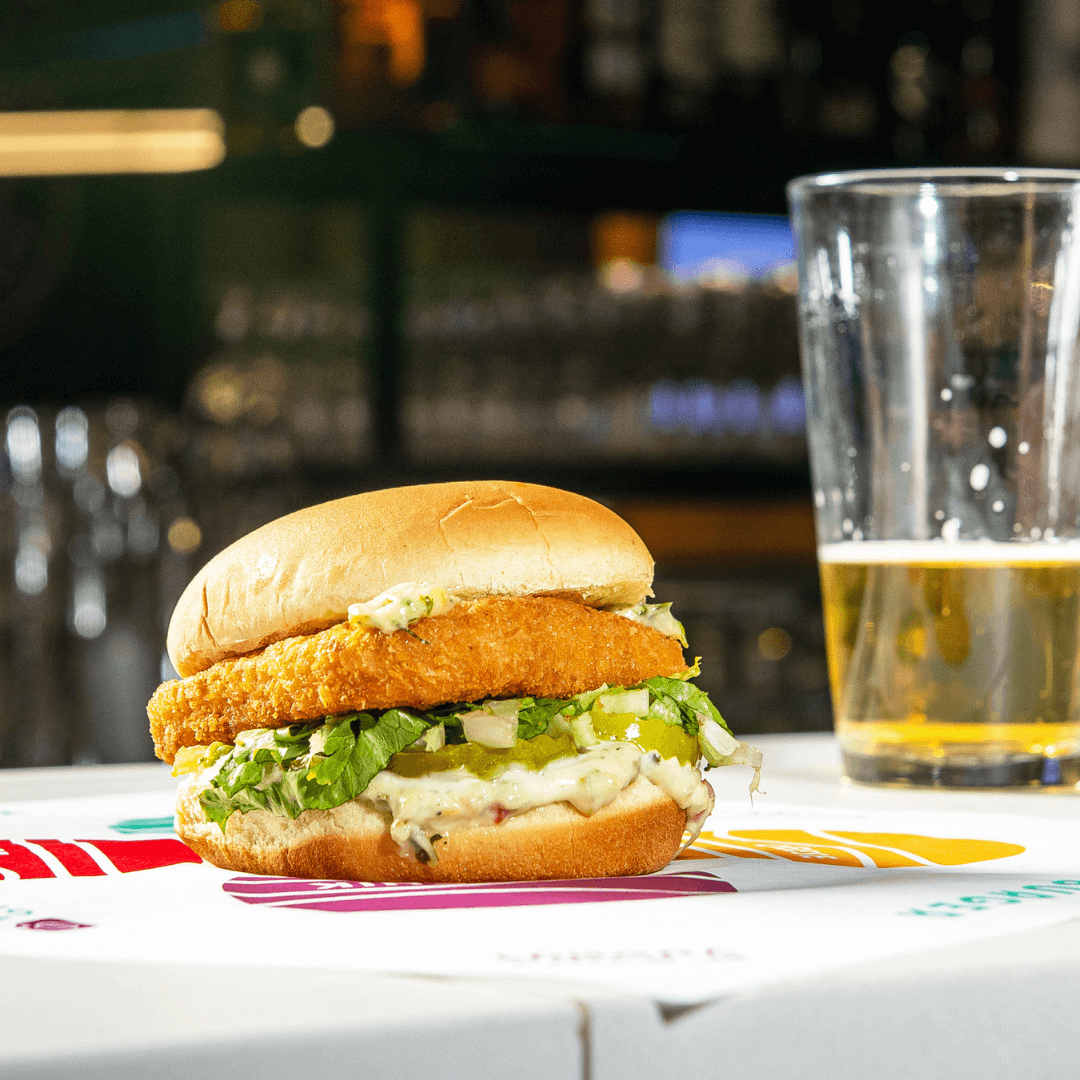 PLNT Burger
9 PLNT Burger
From classic cheeseburgers to chili bowls and elevated steakhouse burgers, this East Coast chain delivers when it comes to taste and variety. But when you're looking to get your fish fix, PLNT Burger's Save the Bay Fillet is sure to deliver. A crispy, fried fillet is topped with pickles, lettuce, and tartar sauce before its nestled between two pillowy-soft potato buns.
Find it here
For more vegan fish finds, read: