Mayonnaise has the unique ability to delight in some contexts and disgust in others. Condiments tend to carry this polarizing characteristic. For example, most would cringe at the thought of spooning mayo out of a jar, but the same people wouldn't bat an eye at licking a stray dollop from their fingers after taking a bite of a sandwich.
When used effectively, mayo can make everything better—wraps, deli salads, sandwiches, and even chocolate cake (in the batter, not as frosting). It adds a necessary moisture element and creamy texture all of these foods need. Fortunately, there is a vegan mayo, and it's championed the innovation of plant-based cuisine since the 1970s. Here is how to make your own vegan mayo, where to buy it if you don't, and what to do with it once you've got a jar.
The original vegan mayo
Independent hippie cafés and home cooks may have been whipping up vegan mayo under the radar, but the first popularized form of eggless mayo was created by the founders of Follow Your Heart Cafe in 1970. A prior product, Jack Patton's Lecinaise, claimed to be egg-free, but the founders soon discovered that the spread was mislabeled and did in fact contain eggs.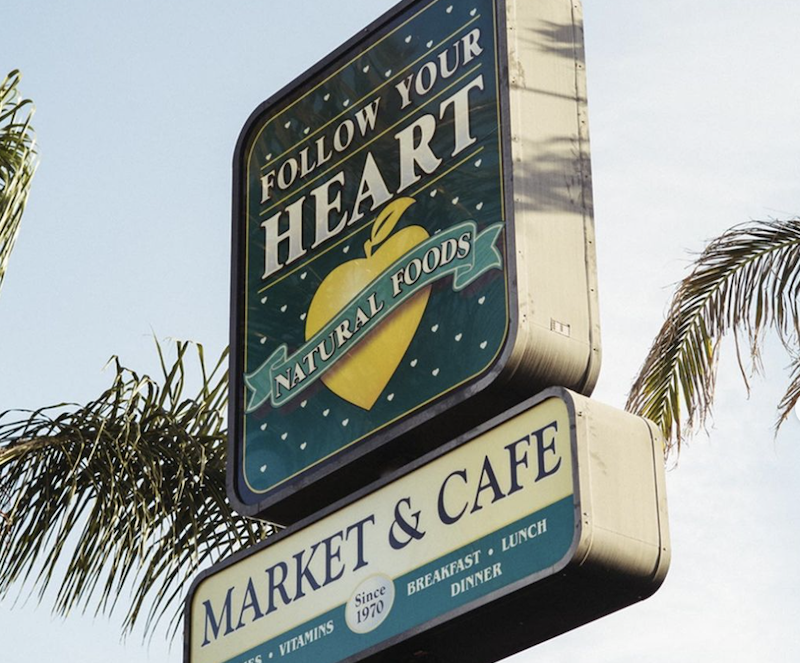 Follow Your Heart
At a loss of what condiment to pair with their café's signature sandwich—Avocado, Tomato, and Sprouts—the four founding members attempted to create a vegan mayo of their own. After several iterations, they came up with Vegenaise, and customers started asking for it by the jar. Fifty years later, the name has come to represent the entire category of egg-free mayo, much like how we refer to Kleenex when we really just mean tissue.
What is mayo?
Legally speaking, vegan mayo cannot be labeled as mayonnaise according to the Food and Drug Administration. By the FDA's definition, mayonnaise must contain at least 65-percent vegetable oil and at least one "egg yolk-containing ingredient." Other ingredients aren't upheld to these strict guidelines, but typically, mayonnaise also contains salt, acid (like lemon juice or apple cider vinegar), and mustard, along with sweeteners and stabilizers for store-bought options.
This little-known fact made national headlines when Hampton Creek—now Eat Just—launched its Just Mayo. The product was on shelves for two years until the FDA sent its first warning letter to the brand in 2015, demanding Eat Just strike mayo from its label. Following a drawn-out dispute between Eat Just, retailers, the American Egg Board, and the FDA, the vegan company prevailed with only making minor concessions to its packaging. While Eat Just has scaled back on its product range to focus exclusively on JUST Egg, it helped pave the way for other emerging brands to use the term "mayo" without fear of legal repercussions.
What is vegan mayo made from?
Vegan mayo can be made from a host of ingredients, but some sort of plant-based fat and vinegar are key. The usual items include oil, lemon juice or apple cider vinegar, mustard, salt, and aquafaba (chickpea brine). However, both brands and food bloggers have experimented heavily with this essential condiment, producing oil-free options, whipped nut-based spreads, and creamy tofu mayos. Read below to discover how it literally all comes together.
How to make vegan mayo
Vegan mayo is made in very much the same way animal-based mayo is made. It's an emulsion of fat and acid, along with a few other ingredients. Whereas mayonnaise sources its fat from both oil and egg yolks, the vegan variety relies exclusively on oil as the primary fat source. First, aquafaba (chickpea brine), mustard, vinegar, salt, and liquid sweetener (brown rice syrup works well) are combined. Next comes the crucial step: emulsification. Essentially, you're forcing two liquids that typically would not dissolve into one another (like oil and water) into a cohesive, smooth suspension. To emulsify the aquafaba mixture with the oil, it is critical to drizzle in the oil slowly yet steadily while continuing to rapidly whip the aquafaba. Thanks to science, the resulting condiment should be thick, fatty, and silky smooth.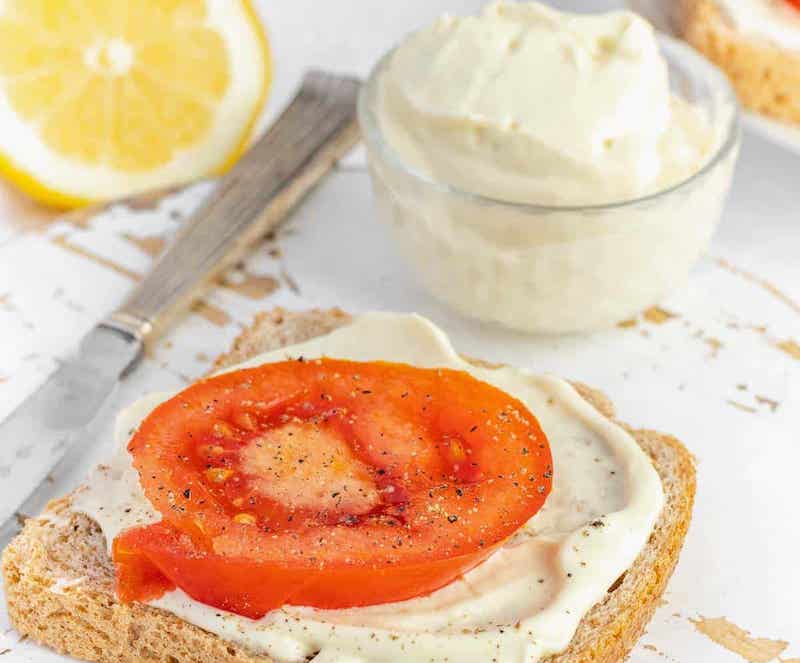 The Plant Based School
This is the most traditional method, but there are more than one ways to cut a mango, figuratively speaking. Vegan mayo can be made in a number of different ways, though the most common alternatives to aquafaba and oil call for either silken tofu and/or cashews as its base. No matter what route you choose, know that there is going to be a lot of whipping involved, so arm yourself with a trusty Vitamix or immersion blender before attempting to make your own.
Best vegan mayo brands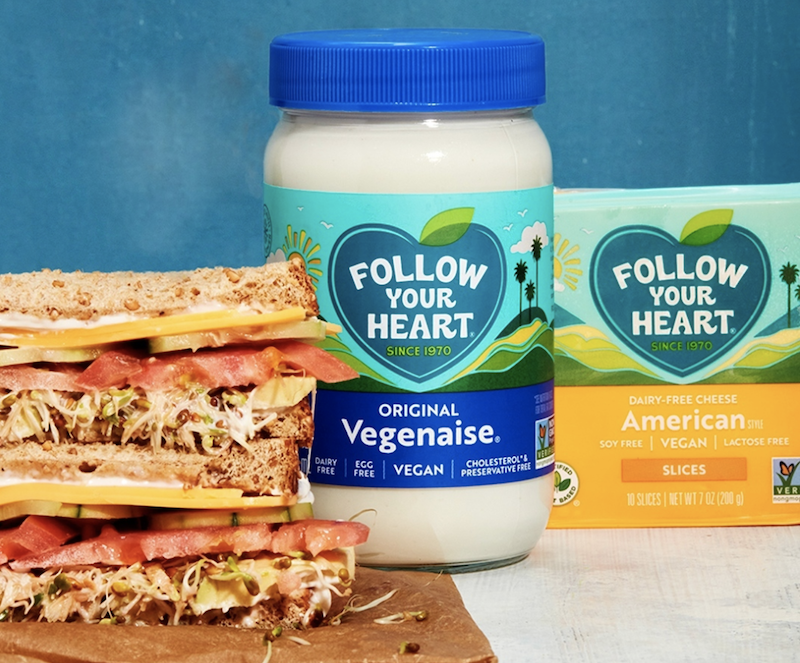 Follow Your Heart
1 Vegenaise
There's no ignoring the original. Not only was Vegenaise the first, but it also serves as the gold standard of vegan condiments. Follow Your Heart has expanded this inaugural product to include an assortment of flavors from roasted garlic to chipotle, but the OG will always have a place on our vegan deli sandwiches.
try it here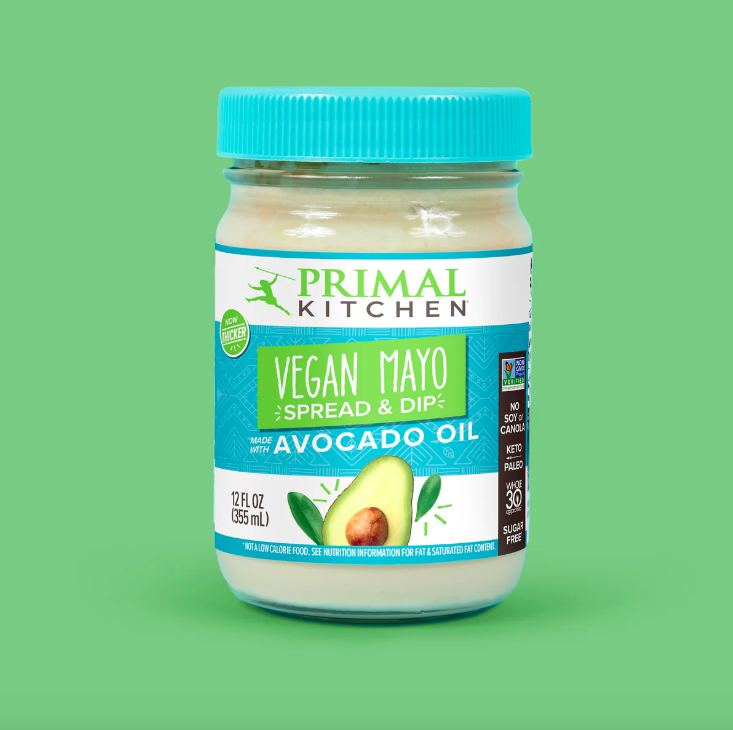 Primal Kitchen
2 Primal Kitchen
While this brand leans more paleo than vegan, it does offer an avocado oil-based plant-based spread. Just be sure to grab the jar clearly labeled "Vegan," as Primal Kitchen also makes an egg-based avocado oil mayo as well.
try it here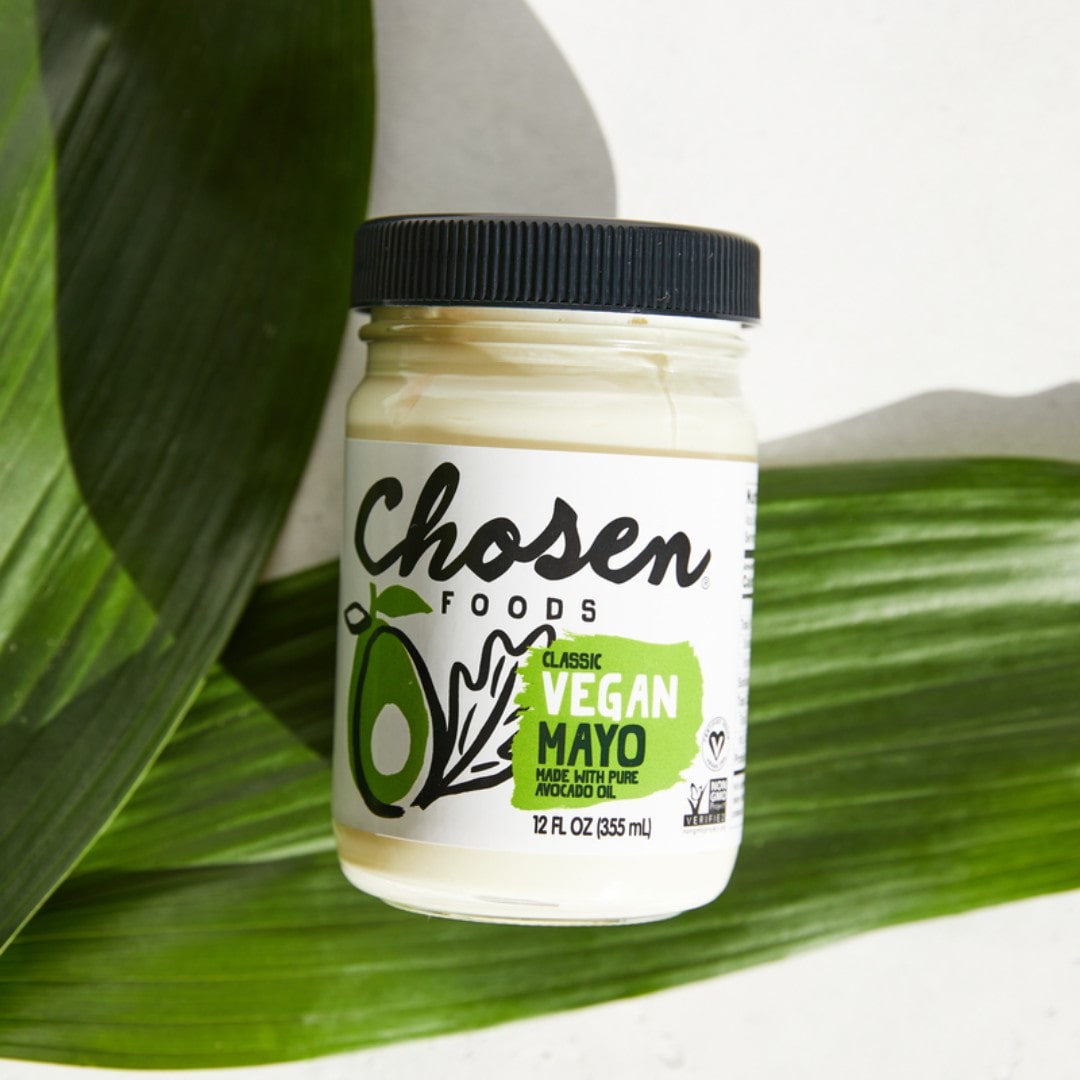 Chosen Foods
3 Chosen Foods
Like Primal Kitchen, Chosen Foods is not a vegan company, but it does make a serviceable vegan mayo. In addition to the usual suspects—avocado oil, aquafaba, sugar, and vinegar—this creamy condiment gets a boost from fava bean protein, and it definitely works.
try it here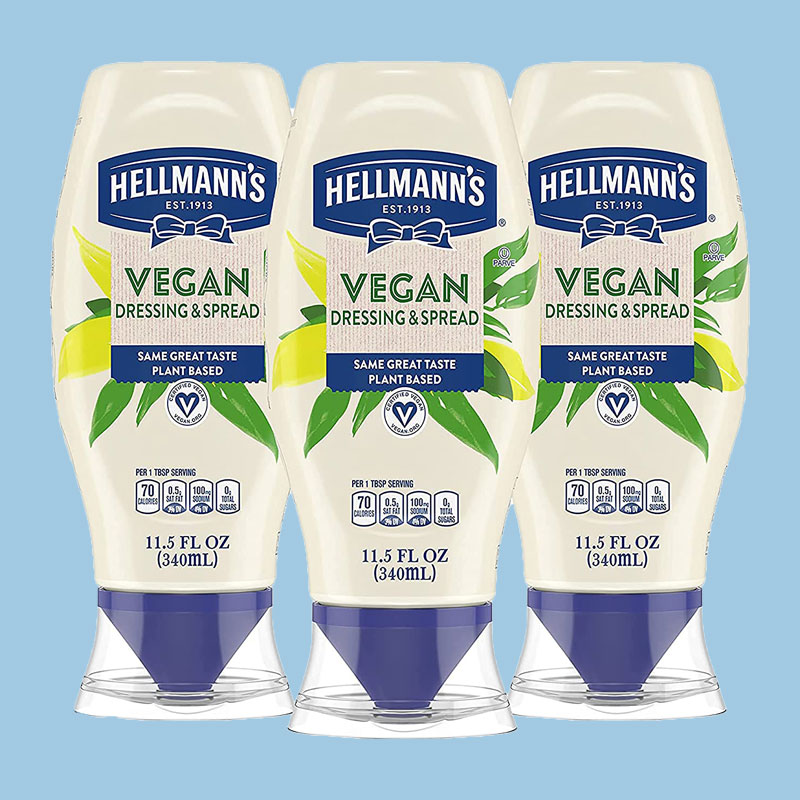 Hellmann's/Best Foods
4 Hellmann's/Best Foods
The brand from your pre-vegan years has caved into the pressure of the booming plant-based movement. Those who are brand loyalists need not step outside their comfort zone in search of an egg-free mayonnaise. Hellman's/Best Foods launched its vegan "dressing and spread" back in 2016.
try it here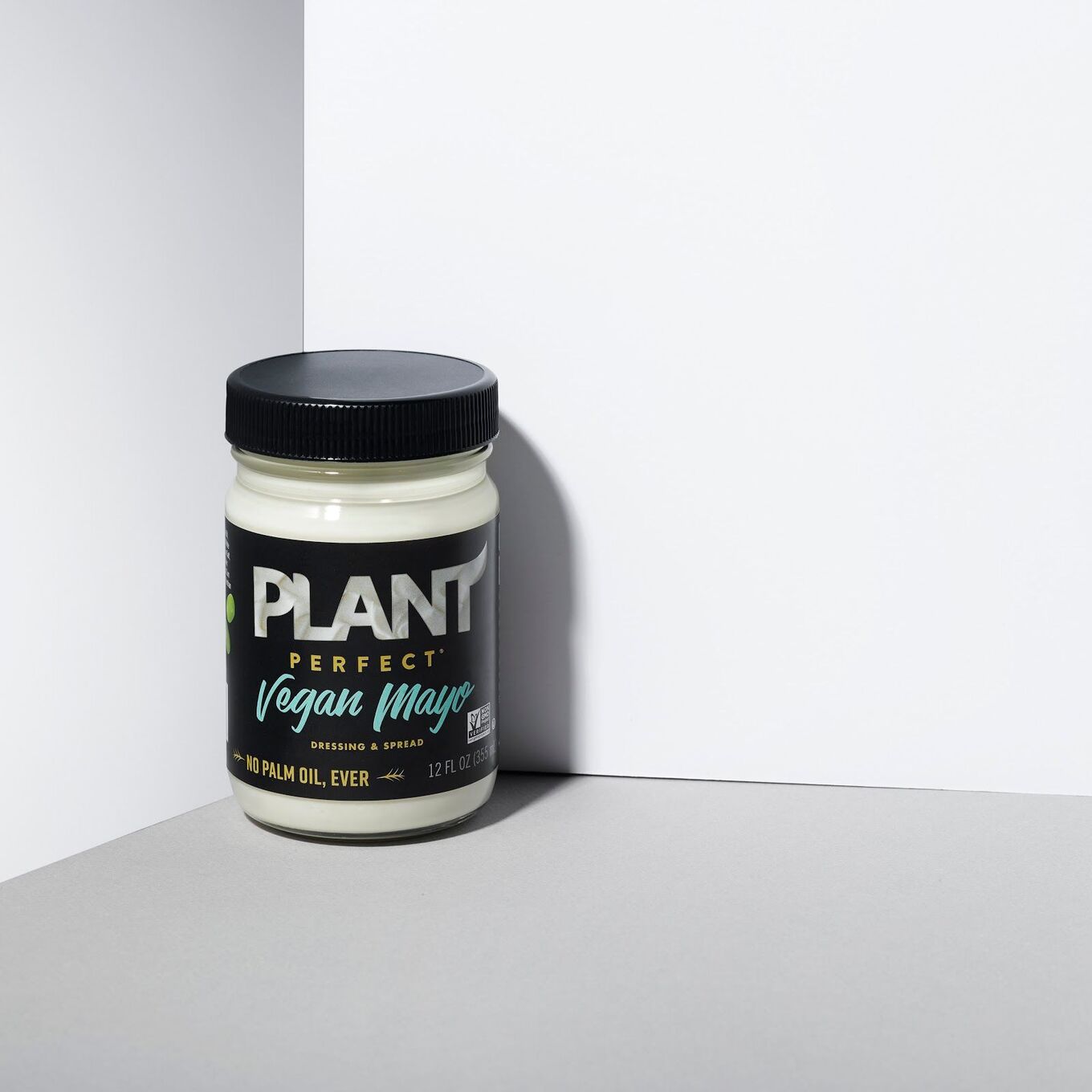 Plant Perfect
5 Plant Perfect
Relatively new to the market, this vegan company specializes in everything saucy and creamy. In addition to dressings and an upcoming non-dairy butter, Plant Perfect offers a straightforward vegan mayonnaise to round out its product line. Try it mixed into chilled pasta salads or slathered onto burger buns.
try it here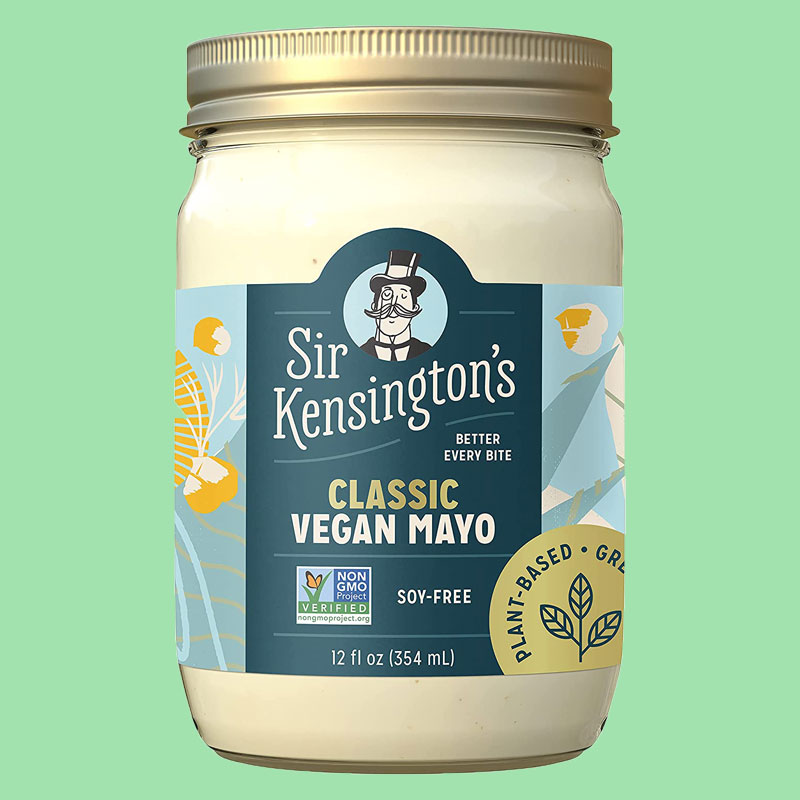 Sir Kensington's
6 Sir Kensington's
The knight of condiments, Sir Kensington's has created a cult following around its dips, spreads, and dressings. Not all options are vegan, but we do appreciate the four vegan-certified varieties of this classic spread. Flavors include classic, chipotle, Special Sauce, and Avocado Oil.
try it here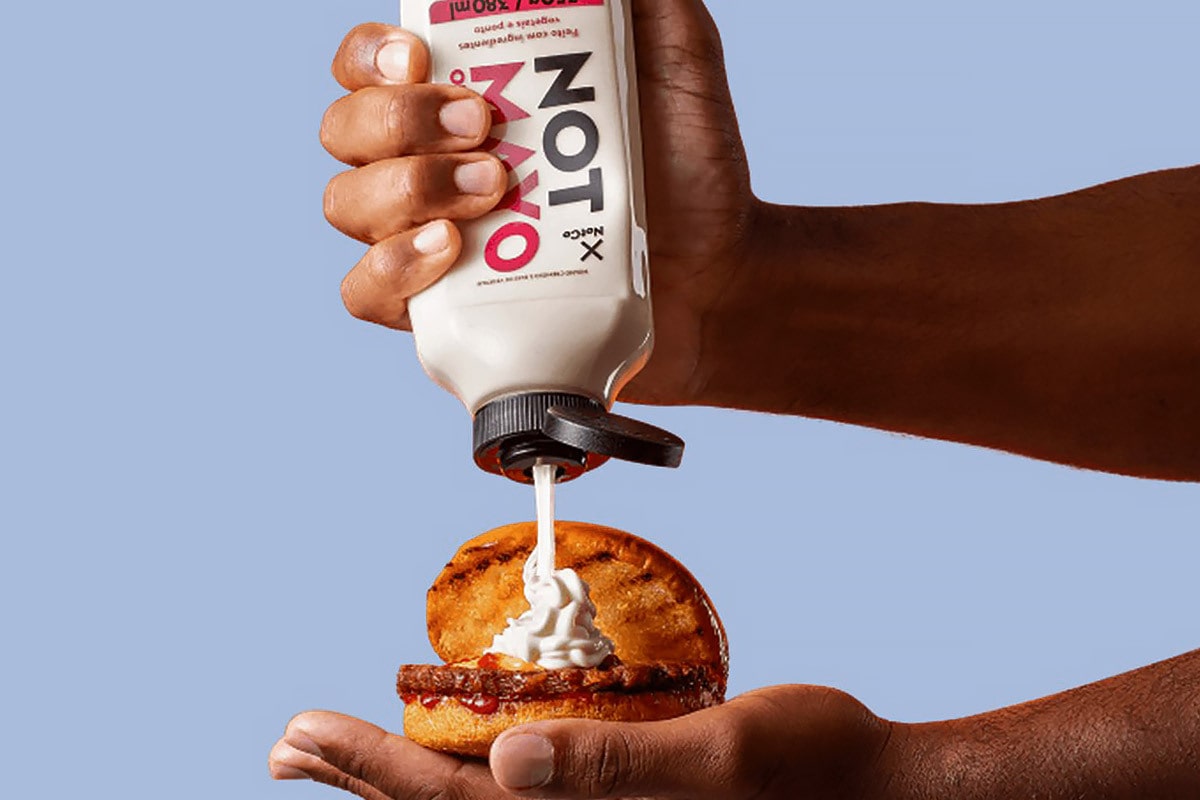 NotCo
7 NotCo
Chilean company NotCo taps into the power of artificial intelligence to create vegan mayo. The company's sandwich spread utilizes canola oil, vinegar, chickpeas, and lemon juice, among other ingredients. NotCo is working on veganizing Kraft Heinz mayonnaise as part of the two company's partnership under The Kraft Heinz Not Company.
Try it here
How to use vegan mayo
Vegan mayonnaise can be used any way one would use egg-based mayo (or even Miracle Whip). There's the obvious slathering on sandwiches and tossing with potato salad, but it can also be used in more inventive applications like creamy dips and even desserts (yes, we're going back to that chocolate mayo cake). Here are seven dreamy vegan recipes that incorporate vegan mayo in the best ways possible.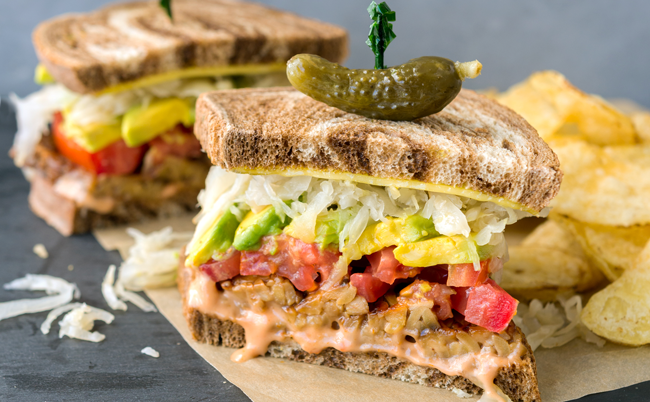 Jackie Sobon
1 New York Style Vegan Reuben
That addictive dressing so elemental to a good Reuben sandwich is fairly simple to make at home. All you need is vegan mayo and ketchup. The distinct condiments harmoniously come together to create a wonderfully tangy and complex schmear for this iconic sammie.
Get the recipe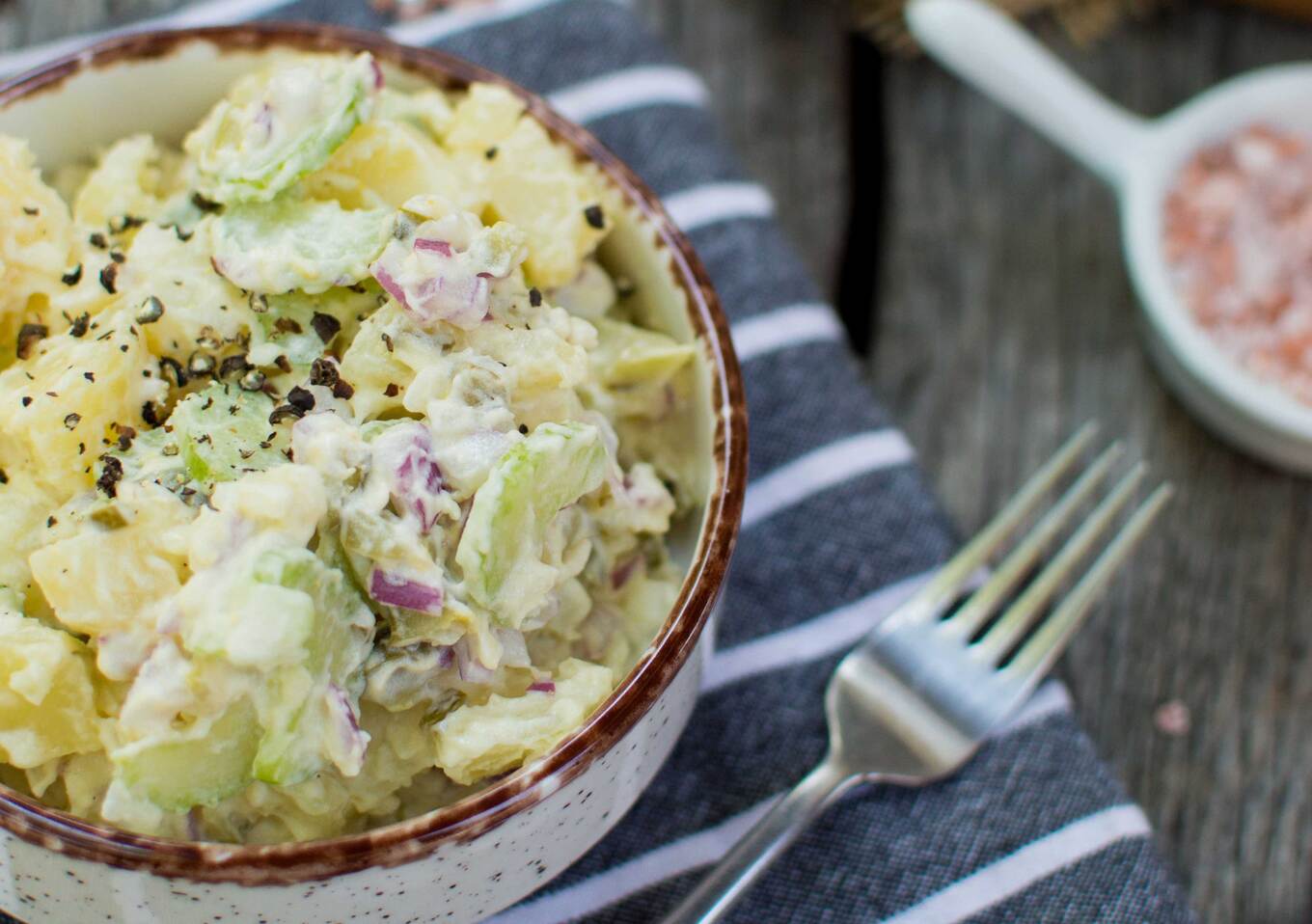 Zhoro Apostolov and Michelle Cehn
2 Vegan Picnic Potato Salad
One of the great advantages of egg-free mayonnaise is that you don't have to worry about it in the sun. Go ahead and pack a mayo-laden deli salad on even the balmiest of picnic days.
Get the recipe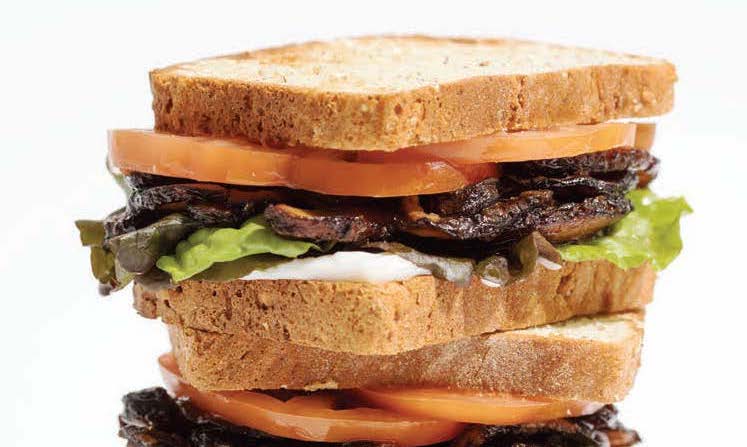 Desiree Nielsen
3 Vegan Shiitake BLT Sandwich
This humble handhold doesn't need much to satisfy. There's something about the combination of crispy vegan bacon, fresh lettuce, and juicy tomato slices that just works. A slick of vegan mayo on both sides of the bread acts both as an adhesive and a tasty moisture element.
Get the recipe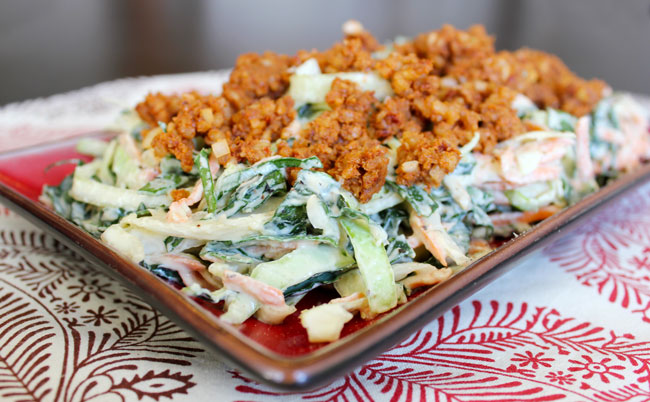 Natalie KW
4 Kale Slaw With Barbecue Walnut Crumble
It's coleslaw, but dressed up a bit. Evenly coated with homemade vegan mayo, cruciferous kale softens into a delightfully toothsome side dish. The added barbecue walnut crumble turns this side into a light meal.
Get the recipe
5 Ultra-Moist Vegan Chocolate Layer Cake
Here you have it: a foolproof recipe for mayo-infused chocolate cake. We guarantee you don't taste or see the mayo once it's beaten into the deep chocolate cake batter. This fat-forward condiment adds a heightened level of moistness and indulgence. Try it once, and you may never go back to your mayo-free cake recipe.
Get the recipe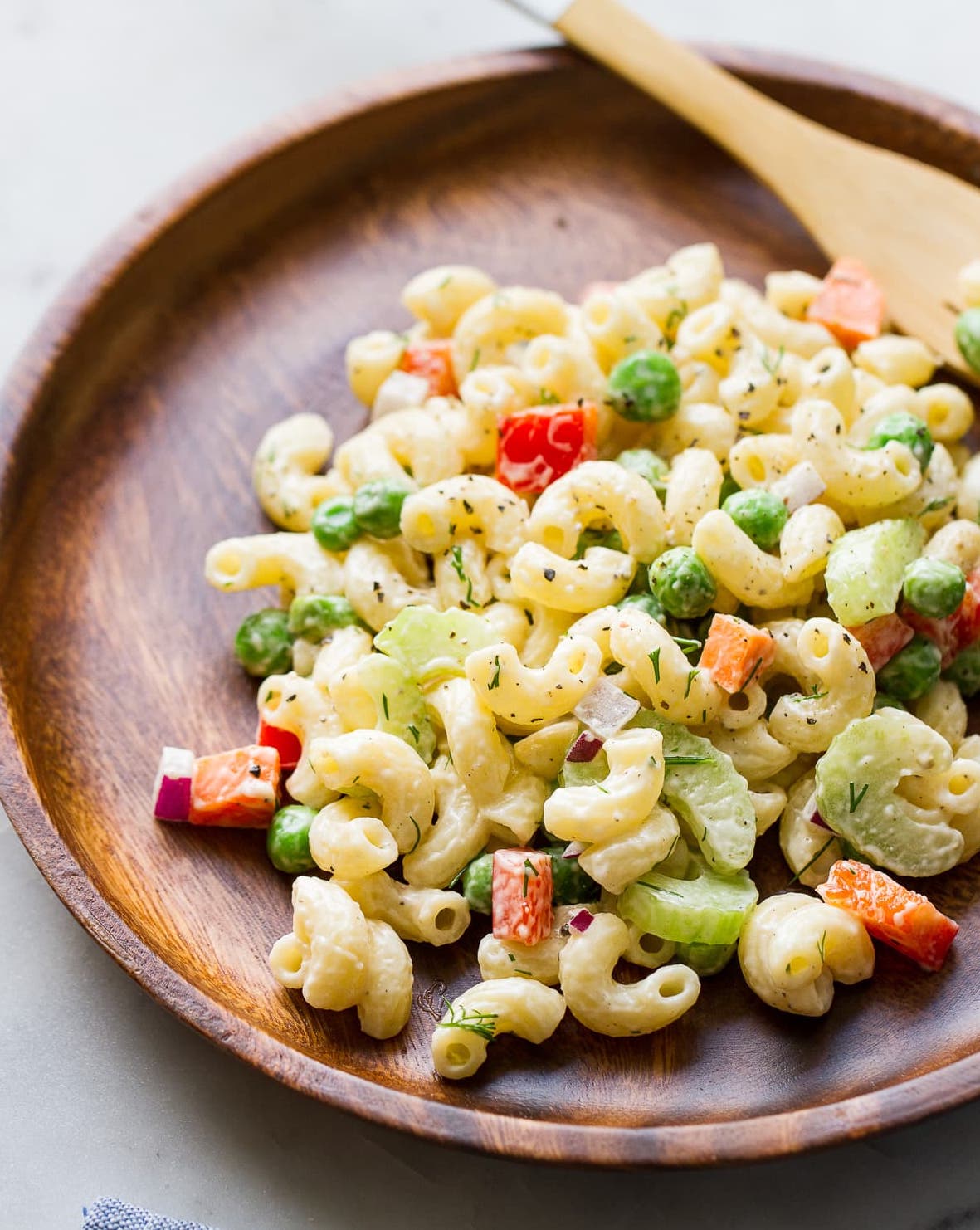 Simple Veganista
6 Vegan Macaroni Pasta Salad
Pasta salad is definitely one of those salads that aren't really salads; however, mixed in with the silky mayo-based dressing and al dente macaroni noodles, there are a few diced veggies in this recipe. You could make it a more traditional salad by adding a scoop or two to a bed of mixed greens. Just a thought.
Get the recipe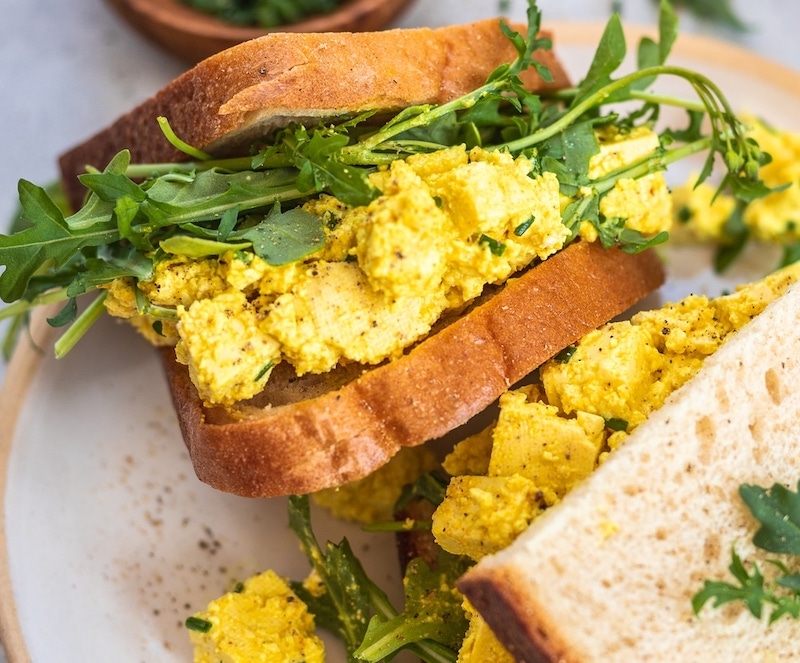 Hannah Sunderani
7 Vegan Egg Salad
Whip up this classic deli side in a matter of minutes with a few scoops of vegan mayo and a block of tofu. Season the mixture with a bit of mustard, nutritional yeast, salt, and pepper, and lunch is done.
Get the recipe
For more on vegan condiments, read:
Here at VegNews, we live and breathe the vegan lifestyle, and only recommend products we feel make our lives amazing. Occasionally, articles may include shopping links where we might earn a small commission. In no way does this effect the editorial integrity of VegNews.