As recently as 2015, the term "vegan butcher shop" was an unheard-of oxymoron. Today, with dozens popping up throughout the world, the phrase doesn't raise an eyebrow. These cleaver-slinging vegan entrepreneurs have proven that you can make meat from plants, and they're changing the definition of butcher shop for good.
What is a vegan butcher?
Until recently, the words "vegan" and "butcher" weren't often seen side-by-side. Veganism entails leading a cruelty-free lifestyle, and this means refraining from the consumption of animal-based foods and products. The word "butcher," on the contrary, refers to someone who makes a living cutting up and selling animal meat.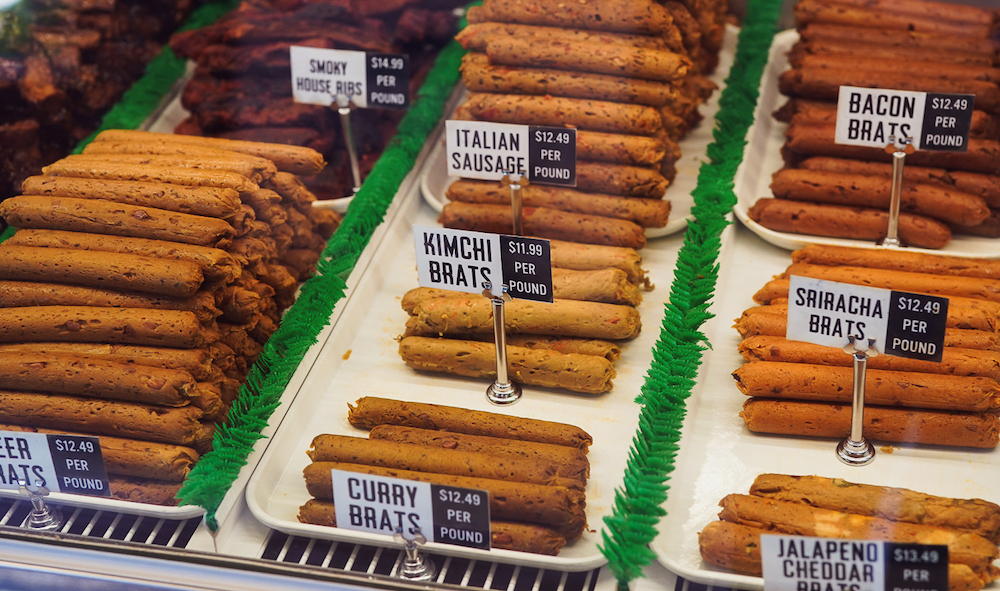 The Herbivorous Butcher
While the term "vegan butcher" may sound like a contradiction, a vegan butcher creates plant-based meat alternatives. Instead of animal flesh, vegan butchers use ingredients such as seitan, tofu, and soy to create plant-based meats.
The rise of vegan butcher shops
In January 2016, sibling duo Kale and Aubry Walch made history when they opened The Herbivorous Butcher in Minneapolis, MN—the first vegan butcher shop in the US.
The team appeared on hit Food Network show Diners, Drive-Ins, and Dives the same year they opened, pleasantly shocking celebrity chef host Guy Fieri with their Vegan Turkey and Dill Havarti Sandwich.
Since then, plant-based butcher shops have continued popping up around the country and throughout the world.
Vegan butcher shops
From California to New York here are the best vegan butcher shops that have the meats.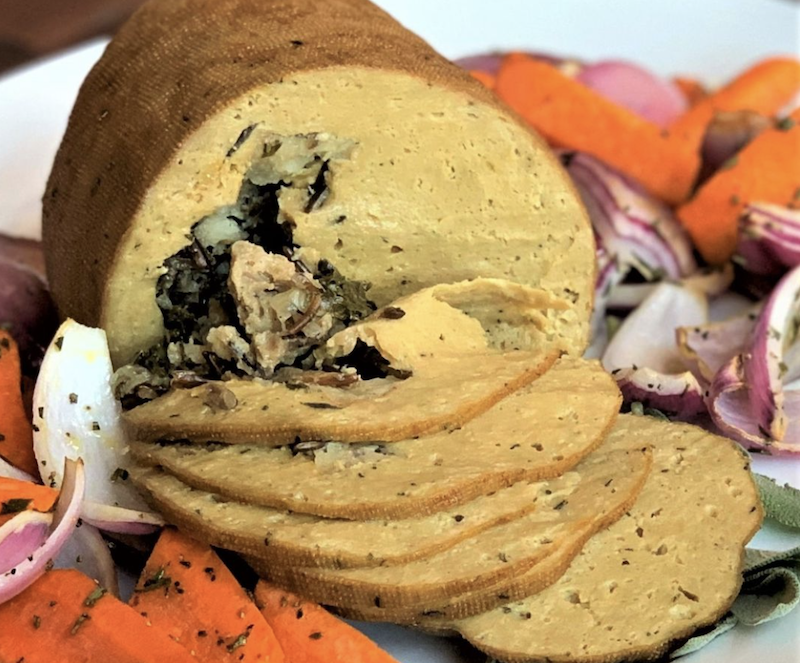 The Herbivorous Butcher
1 The Herbivorous Butcher
Minneapolis, MN
Many attribute the sister-and-brother duo behind The Herbivorous Butcher for pioneering the plant-based butcher movement. Kale and Aubry Walch opened up shop in 2016 with an extensive menu of deli meats, cheeses, steaks, sausages, and ribs. Today, they're shipping their products nationwide and educating the mainstream audience about what vegan eating can be. Plus, the siblings are keeping busy with their latest launch, vegan chicken shop Herbie Butcher's Fried Chicken.
FIND IT HERE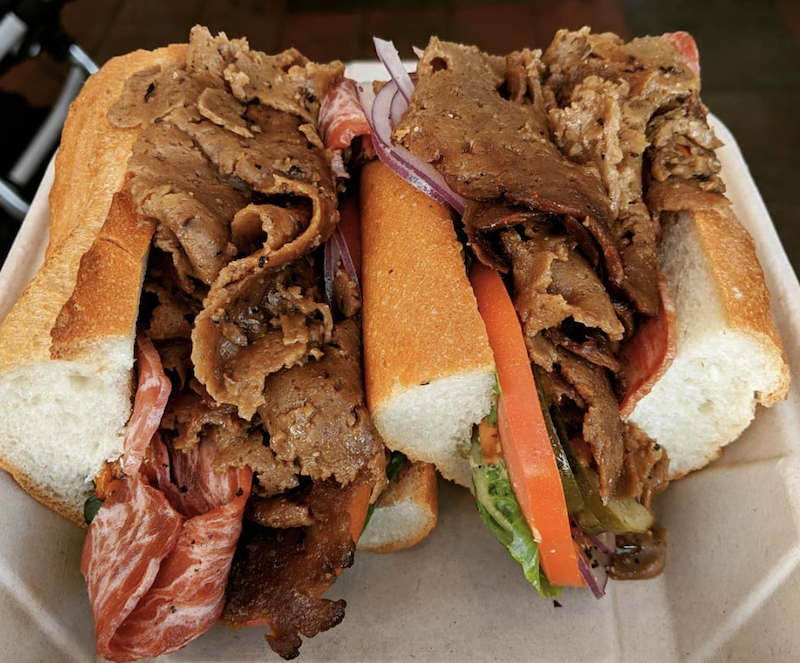 The Butcher's Son
2 The Butcher's Son
Berkeley and Los Angeles, CA
Like The Herbivorous Butcher, The Butcher's Son is way more than a vegan meat shop. This college town deli serves a full menu for lunch and brunch in addition to an extensive and mouthwatering bakery menu. However, if you're there just for the meat, they've got you covered with packaged smoked pastrami slices, seasoned steak slices, and more. SoCal residents, you're in luck: The Butcher's Son opened a ghost kitchen in Los Angeles to satisfy your cravings.
FIND IT HERE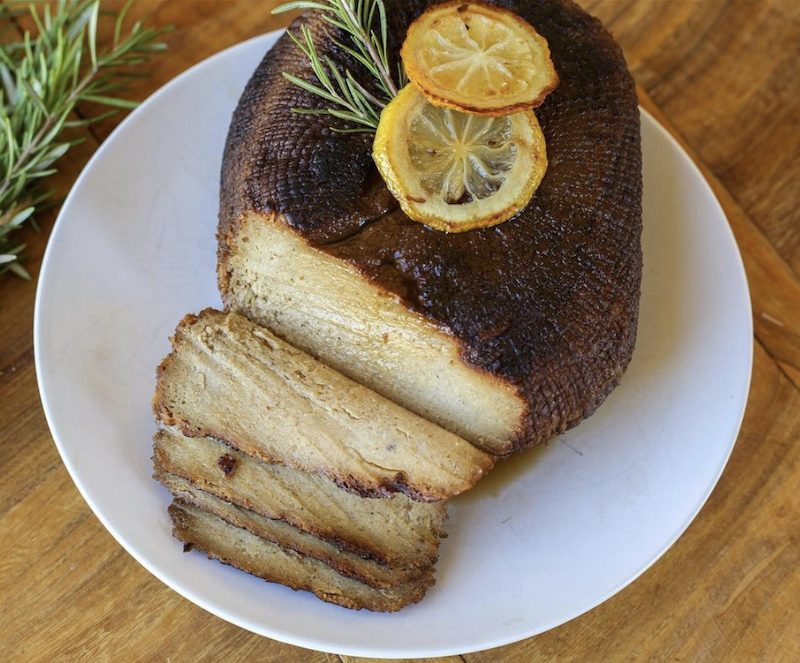 Chef Tanya's Kitchen
3 Chef Tanya's Kitchen
Palm Springs, CA
When the founder of Native Foods—Tanya Petrovna—sold the company, she set up her own quaint café in a nondescript strip mall in Palm Springs, CA. Despite the remote location and lack of foot traffic, the restaurant flourished in the hot California sun. Between carne asada, pastrami slices, and BBQ seitan, you can't go wrong.
FIND IT HERE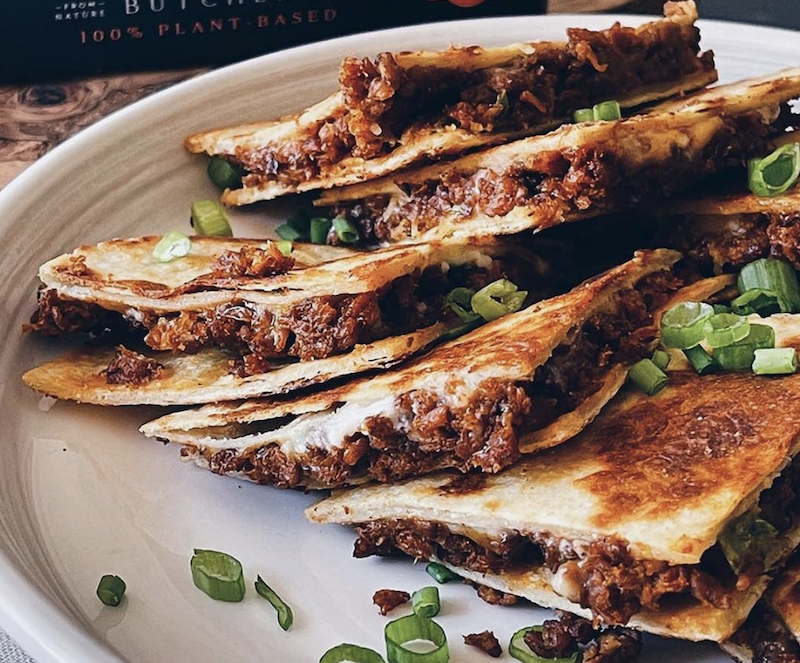 Abbot's Butcher
4 Abbot's Butcher
Select regions (plus US shipping)
This Southern California vegan meat company got its start by sampling its fantastic "Chorizo" at farmers' markets and health food stores. The selection of vegan Ground "Beef," Chopped Chick'n, and "Chorizo" can now be found at select Whole Foods and other grocers such as Fresh Thyme, The Fresh Market, and independents. Nationwide shipping is also available via online retailer GTFO It's Vegan and Hungry Root.
FIND IT HERE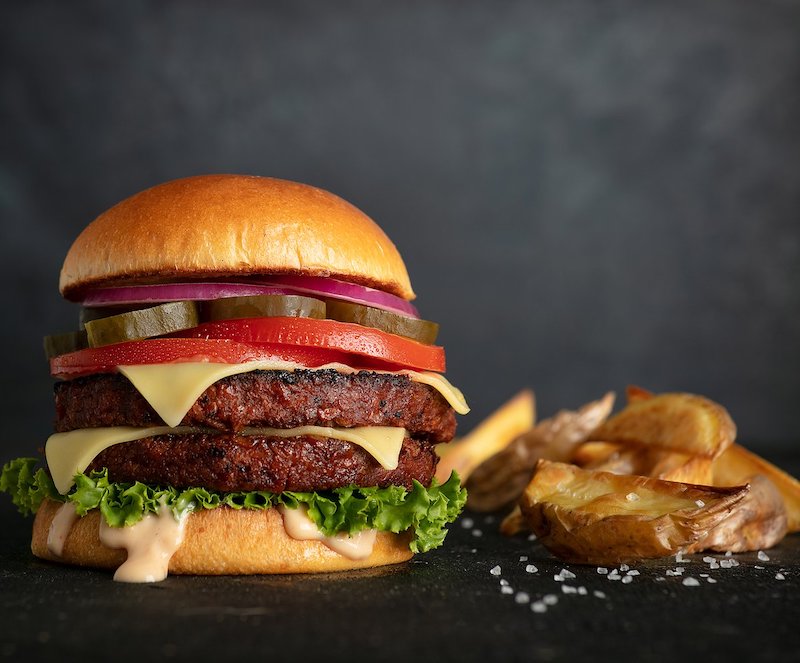 Before the Butcher
5 Before the Butcher (UNCUT)
Online shipping
Originally a wholesale distributor for food service, this Orange County, CA brand expanded into retail, beginning at a single Bristol Farms location in Yorba Linda. The plant-based butcher now has a line of meaty vegan burgers, crumbles, shreds, and chunks sold under its UNCUT brand.
FIND IT HERE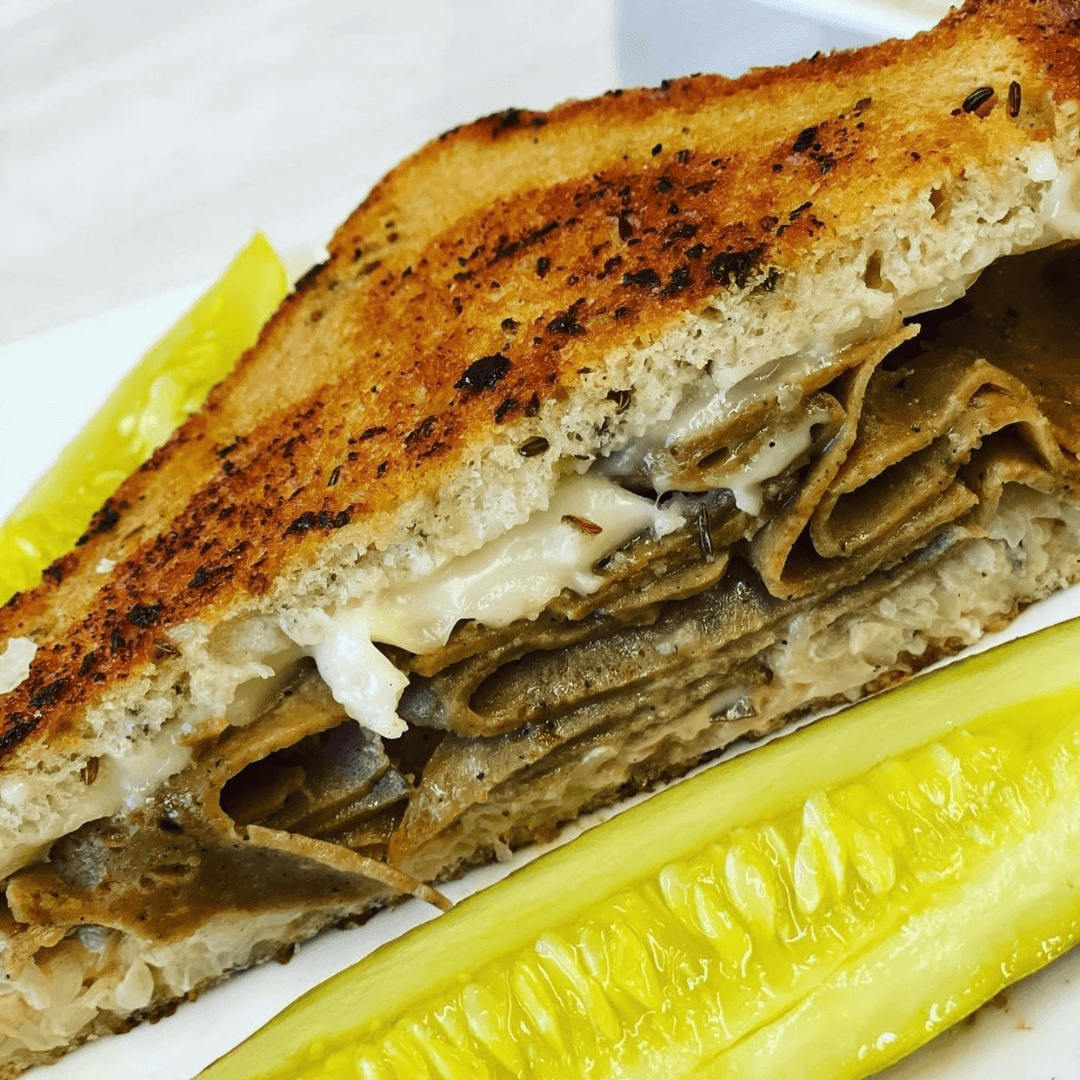 Grass Fed
6 Grass Fed
Rochester, NY
This vegan butchery got its start when its founders were gripped with an insatiable craving for a breakfast sandwich complete with the perfect meaty sausage. New vegans at the time, they took to the kitchen to develop the perfect plant-based meat. And the rest is, as they say, history. Today they're whipping up deli slices, pâté, gyro meat, and everything in between right in the heart of Rochester, NY. Plus, they're certified Kosher to boot.
FIND IT HERE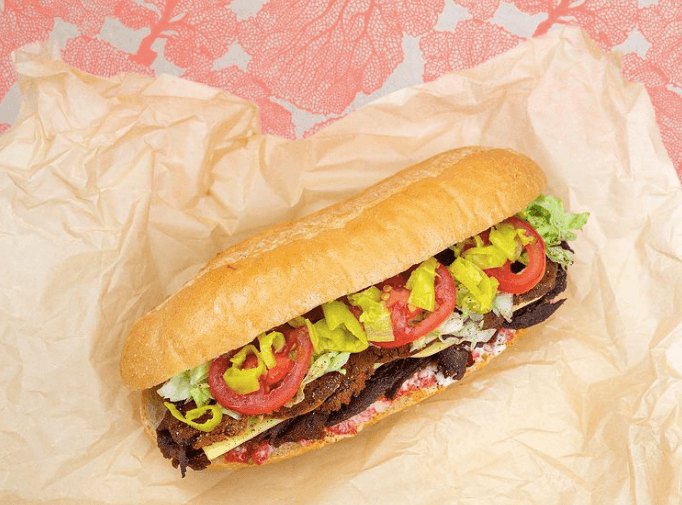 Maciel's Plant-Based Butcher & Deli
7Maciel's Plant-Based Butcher & Deli
Los Angeles, CA
The city's first full-service plant-based butcher and deli, Maciel's serves more than just turkey, bacon, and pastrami. Founder Maciel Bañales Luna draws from her Mexican heritage to create Mexican-style ribs and chorizo, winning over Angelenos in the process.
FIND IT HERE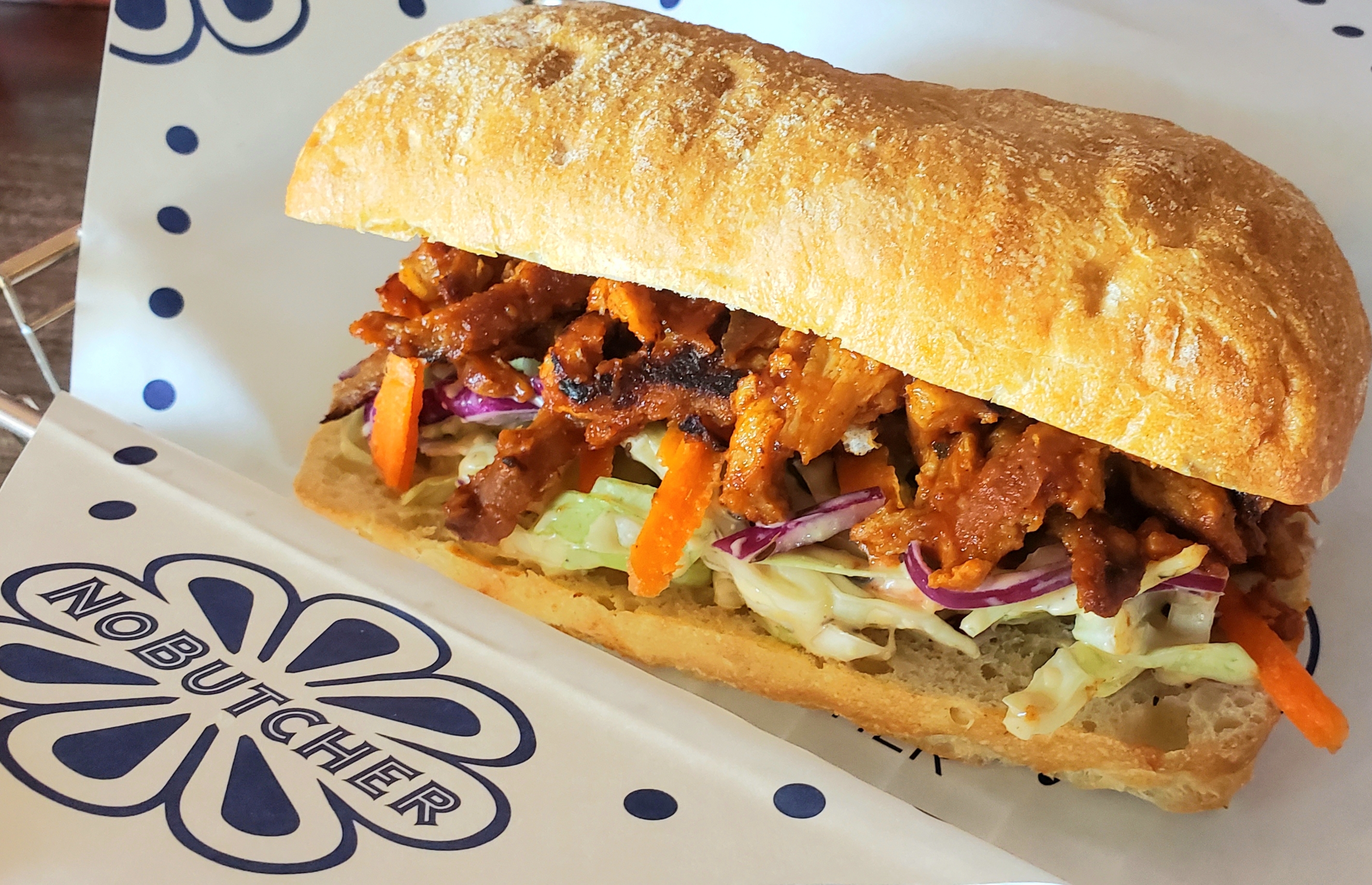 NoButcher
8NoButcher
Las Vegas, NV
Located just 10 minutes west of the famed Las Vegas Strip, this plant-based butcher and deli has earned a cult following with its extensive menu of vegan meats, housemade cheeses, and delectable sandwiches. If you're hungry for a next-level handheld, choose between Italian cold cuts, NoTuna, NoRib, NoPastrami, and more. Pick up a Beer NoBacon Cheese Ball, an order of your favorite vegan meat, and your favorite deli salad to keep the fun going at home.
FIND IT HERE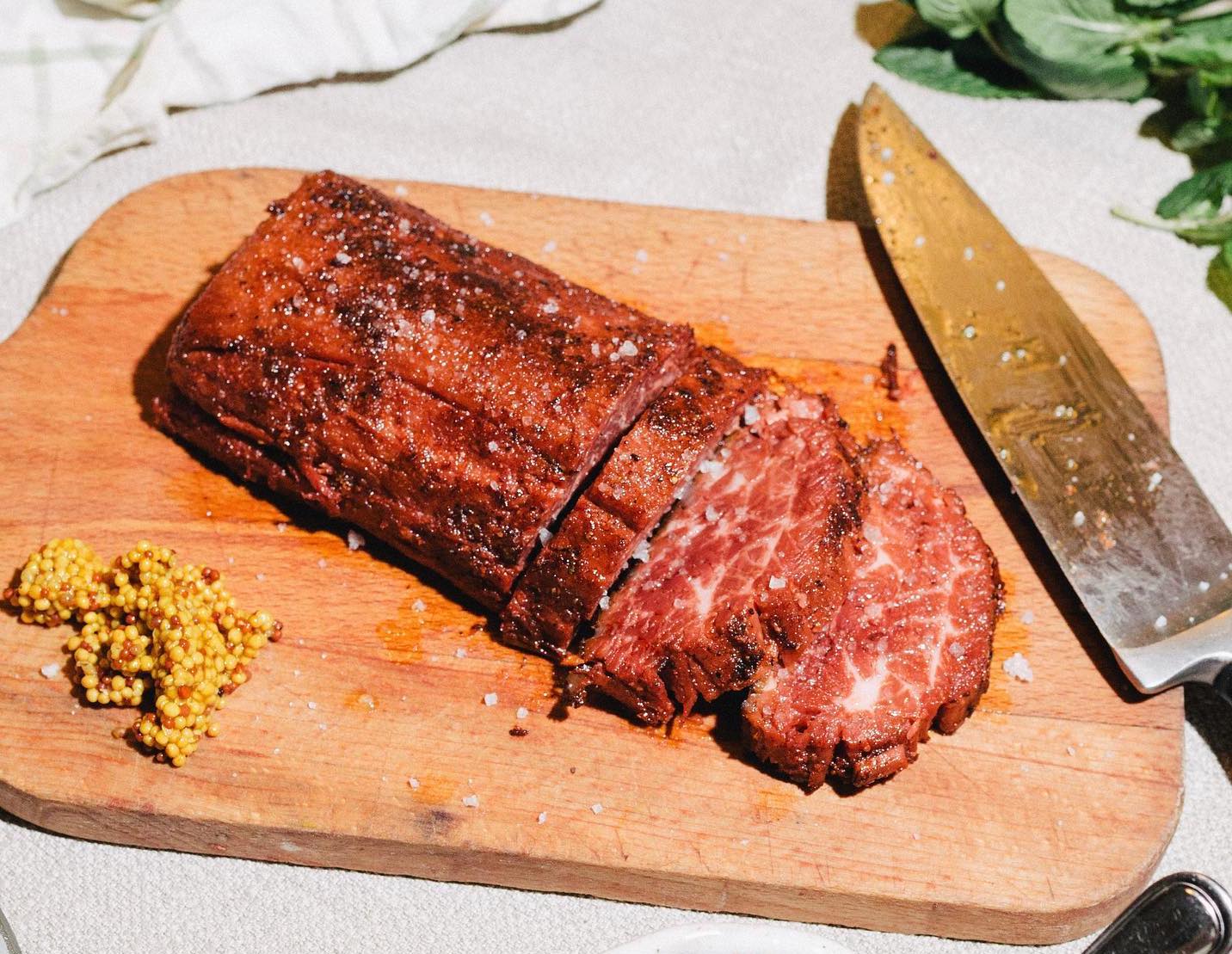 Juicy Marbles
9Juicy Marbles
Online shipping
This vegan meat company is ushering in a new era of plant-based protein. Rather than focus on staple vegan meats such as patties, crumbles, and sausages, Juicy Marbles is creating whole-cuts of meat made vegan. The company's whole-cut loins and thick-cut filets sold out rapidly. Follow Juicy Marbles on Instagram to stay in the know for their next drop and new product launches.
FIND IT HERE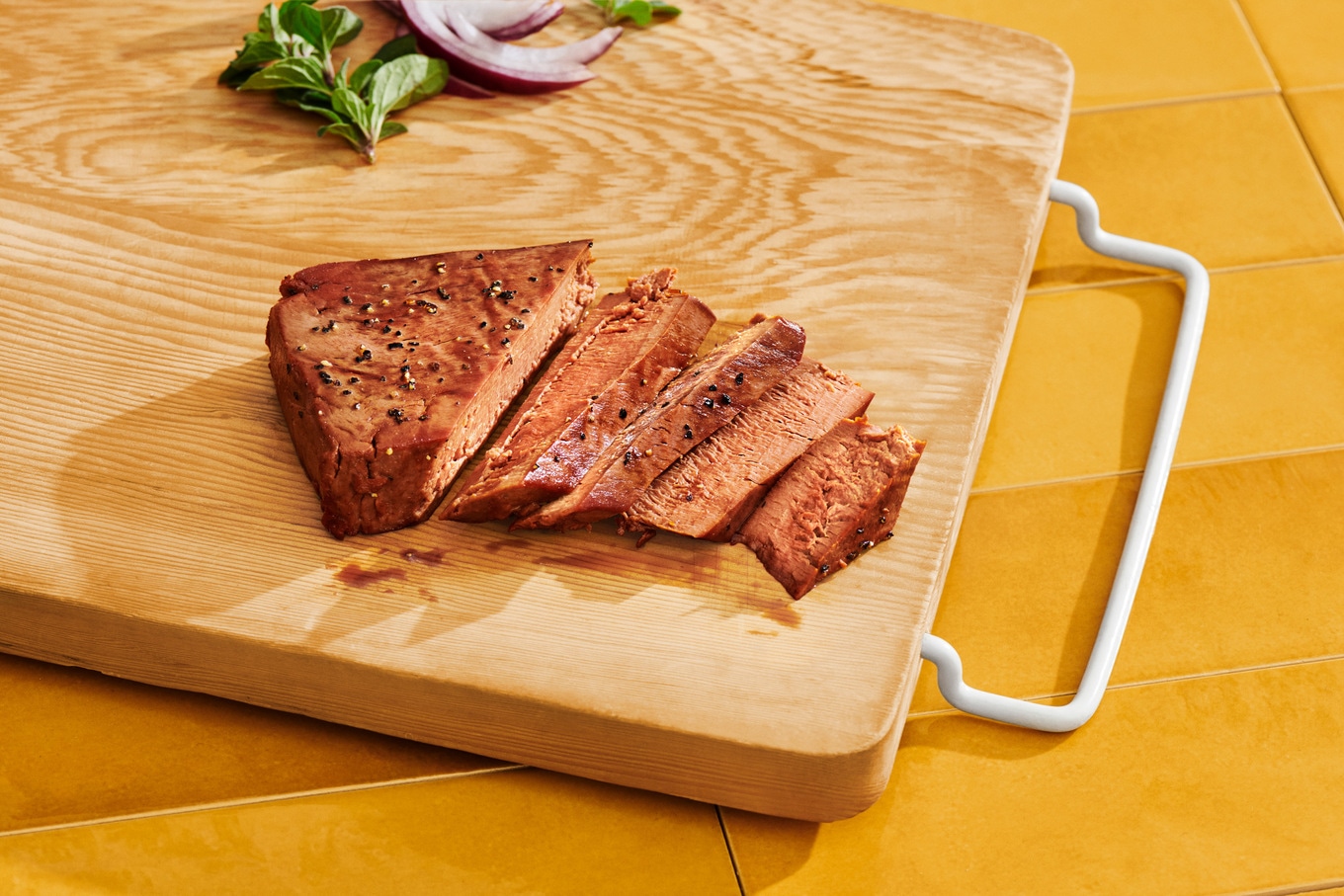 Meati
10 Meati
Nationwide
Mushrooms have long been used as a meat alternative due to their chewy, meaty texture. But now, Meati is changing the game. Made from mycelium, the fast-growing root system of mushrooms, Meati's steaks and chicken cutlets will fool even the staunchest omnivores.
FIND IT HERE
For more vegan meat options, read: