When you conjure up an image of visiting Paris, there are likely a few scenes that flood your imagination. Maybe you think of visiting Notre Dame or driving past the Arc de Triomphe. Perhaps you imagine strolling around the Louvre or gazing at the twinkling Eiffel Tower at night. But at some point, you're likely going to think about sitting outside a café, watching the world go by, while you sip on an espresso and indulge in a croissant.
Despite the fact that their origins are not actually French, croissants are undeniably synonymous with France. But you don't have to go all the way to mainland Europe to enjoy this flaky, buttery pastry. While you fantasize about visiting the French capital, you can treat yourself to croissants in most places around the world. And now, there are plenty of dairy- and egg-free versions on offer.
Here's where to buy vegan croissants right now, but first: what actually is a vegan croissant? And where did the original pastry come from?
What is a vegan croissant?
Croissants are flaky, crescent-shaped rolls. When they're baked well, they are a little crunchy and crispy on the outside, and satisfyingly soft and moist on the inside. Traditionally, because they're made with eggs, milk, and butter, croissants are not vegan.
But vegan croissants do exist—and they're just as delicious as the original. This recipe by Sarah Sullivan of Sarah's Vegan Kitchen, for example, swaps out regular butter for a few sticks of vegan butter, and instead of the usual egg wash that is brushed over croissants, it calls for a mix of vegan milk and maple syrup.
"These croissants may be vegan, but they are still so fluffy, flaky, buttery and delicious," Sullivan writes in the blog post. "They taste amazing lightly toasted and spread with fruit preserves, but I have to admit my favorite way to eat them is to make breakfast sandwiches with Just Egg, vegan sausage, and cheddar."

Where did croissants come from?
Now, croissants are a breakfast staple all over the world. As outlined by Sullivan, they can be savory or sweet, loaded with ingredients, or enjoyed with a simple spread (the latter is the most common in France, it's worth noting). But their journey likely started a good few centuries ago, not in France, but in Austria.
Croissants are descended from kipfel, a traditional Austrian bread roll also shaped like a crescent. The first documented mention of the latter was all the way back in the 1200s, but it likely made its way to France more recently, when 19th-century Viennese bakers started setting up shop in Paris. Here, the French put their own stamp on the baked treat.
"The croissant began as the Austrian kipfel but became French the moment people began to make it with puffed pastry, which is a French innovation," scholar Jim Chevallier told Smithsonian Magazine. "It has fully taken root in its adopted land."

Where to buy vegan croissants
Thank goodness for kipfel, because without it, we wouldn't have one of our favorite morning pick-me-ups. To stock up on flaky buttery goodness, here are some of the best places to buy vegan croissants right now.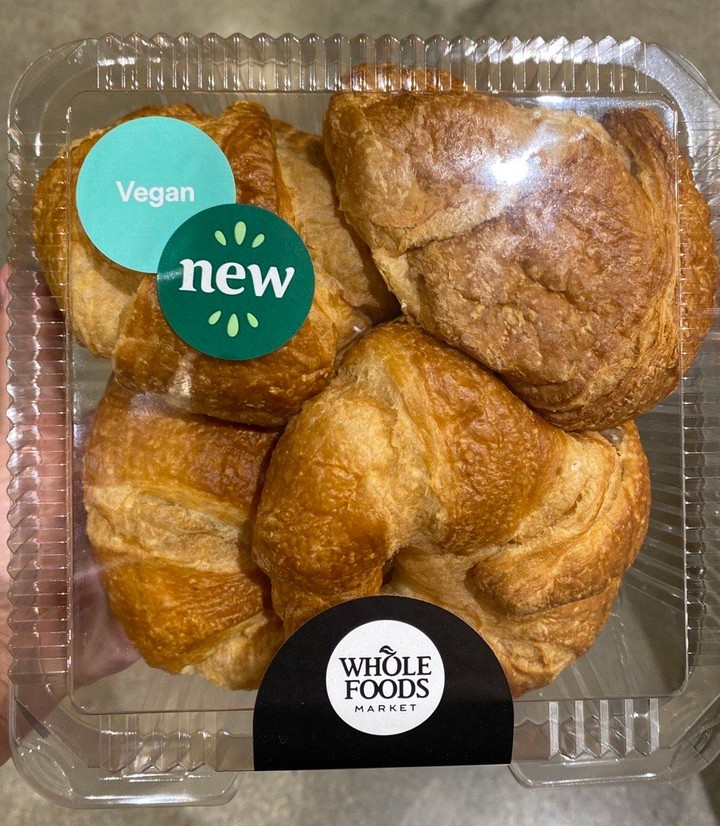 Whole Foods Market/Instagram
1Whole Foods
If you're making a trip to Whole Foods anyway, then you don't need to go out of your way to buy vegan croissants, because you can simply grab some in-store. Just like the original, Whole Foods' vegan version is deliciously buttery and flaky and perfect with a light smattering of butter and jam.
Check it out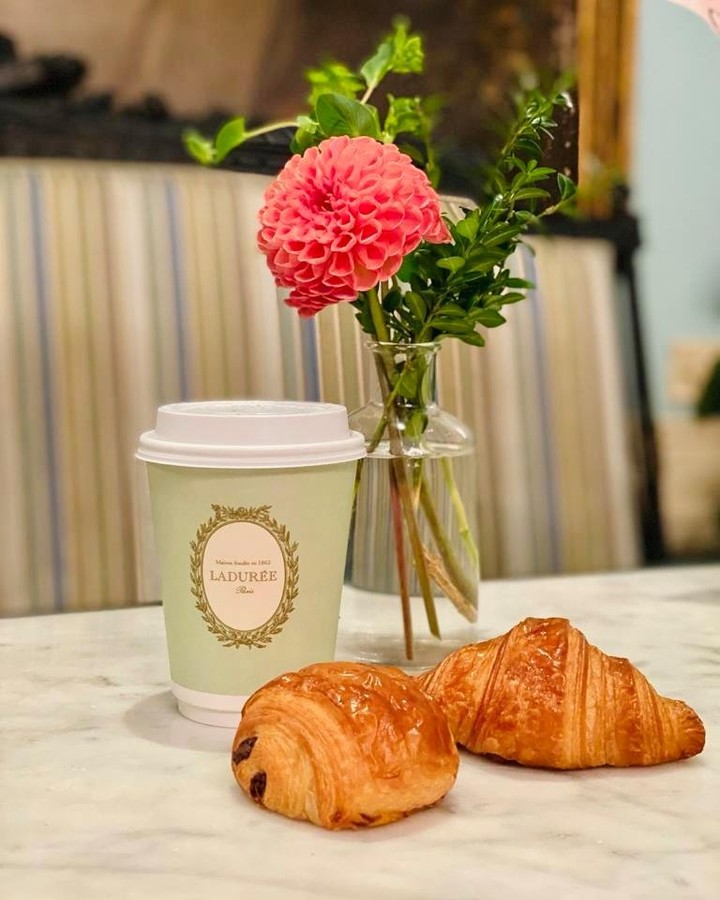 Ladurée/Instagram


2 Ladurée Beverly Hills
It may no longer have vegan chef Matthew Kenney at the helm, but Ladurée's Beverly Hills location still has some top-quality vegan options. Treat yourself to the bakery's Croissant Végétalien, which is a vegan croissant served with roasted vegetables, sun-dried tomatoes, tofu ham, and baby spinach.
Check it out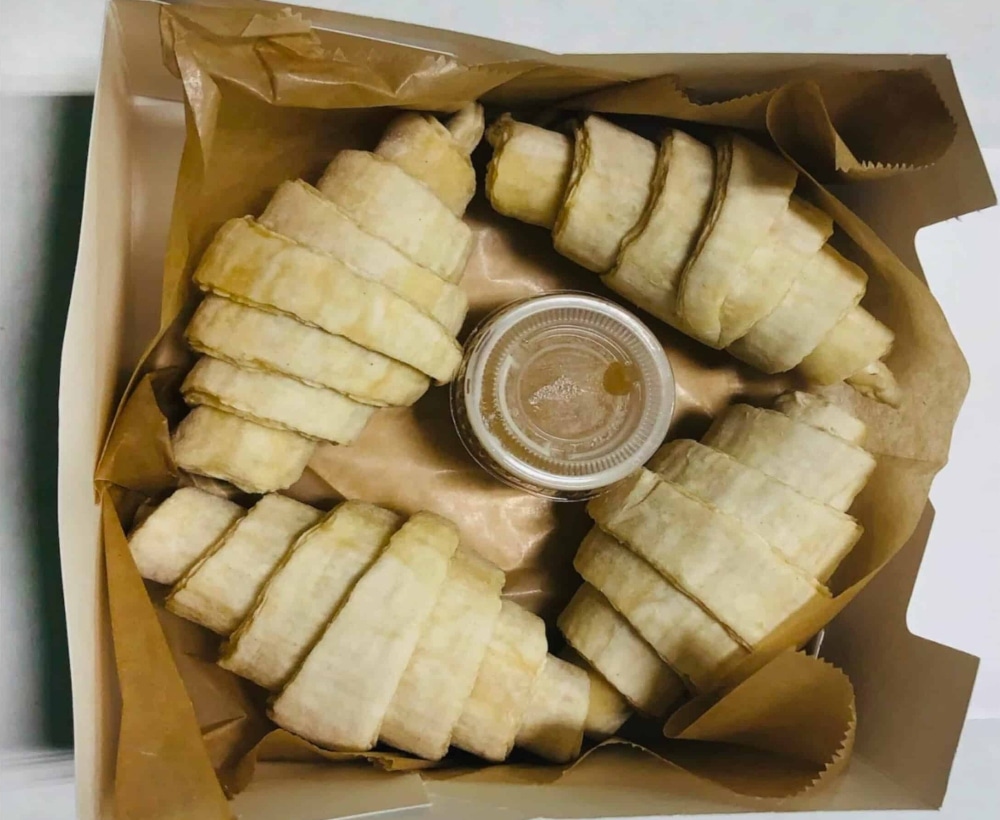 GTFO It's Vegan
3 GTFO It's Vegan
GTFO It's Vegan is on a mission to make going plant-based an easy and exciting lifestyle change. That's why its virtual shelves are stocked with vegan snacks, meat, seafood, cheese, milk, and baked goods. It has a wide selection of tasty plant-based croissants, including almond, extra large, and pain au chocolat.
Check it out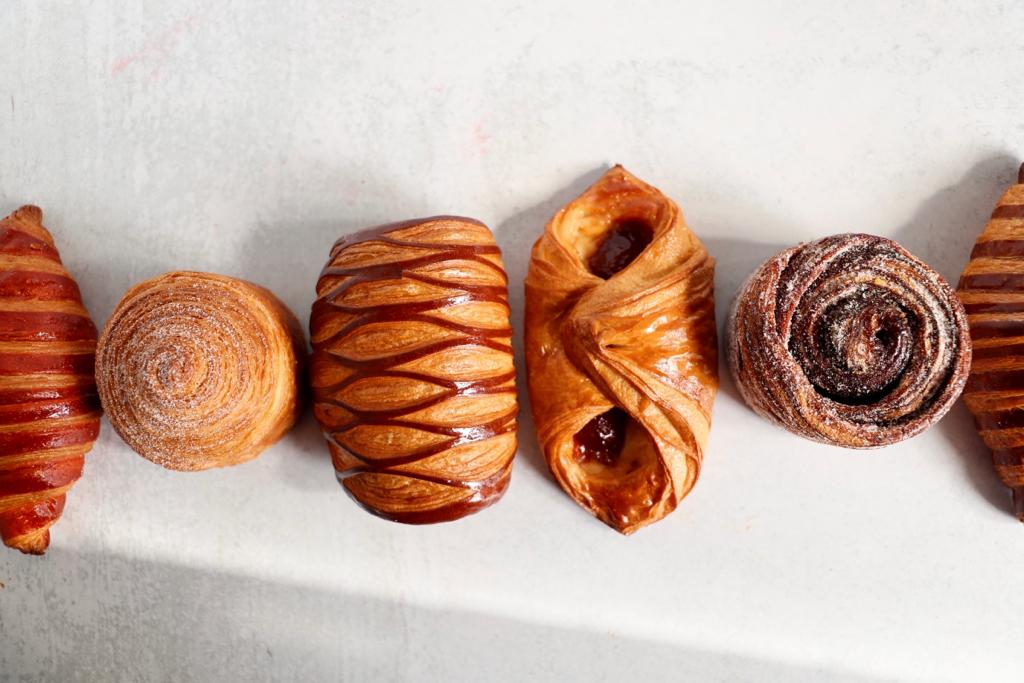 L'Artisane Creative Bakery
4 L'Artisane Creative Bakery
As one of the first vegan French bakeries in the US, L'Artisane is a master of delicious, animal-free baked goods, and croissants are no exception. Treat yourself to one of the brand's artisanal or gourmet boxes, which can be delivered nationwide and are packed full of delicious vegan croissants and pain au chocolat (which is essentially a chocolate croissant). Make sure you also stock up on espresso for the perfect European-style brunch.
Check it out
Curious Cat Bakery
5 Curious Cat Bakery
When Curious Cat Bakery's founder Natalia Lima visited Paris, she fell in love with croissants. So now, alongside many other tasty baked goods, she specializes in making vegan versions for everyone to enjoy. As well as pain au chocolat, Curious Cat Bakery delivers its Traditional Vegan Butter Croissants and Everything Croissants to households near its base in St. Petersburg, FL.
Check it out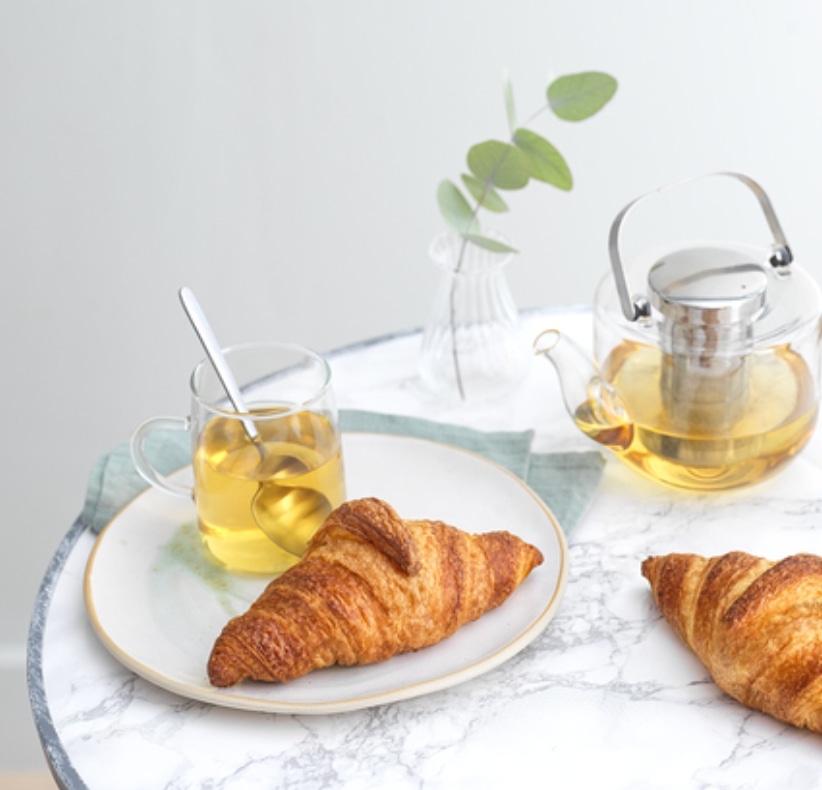 Bridor
6 Bridor
As one of the leaders of top-quality baked goods in North America, Bridor, of course, offers croissants. Two of its options are totally vegan: the Straight Vegan Croissant and the Vegan Curved & Pinched Croissant. The brand supplies coffee shops, restaurants, and hotels all over the US.
Check it out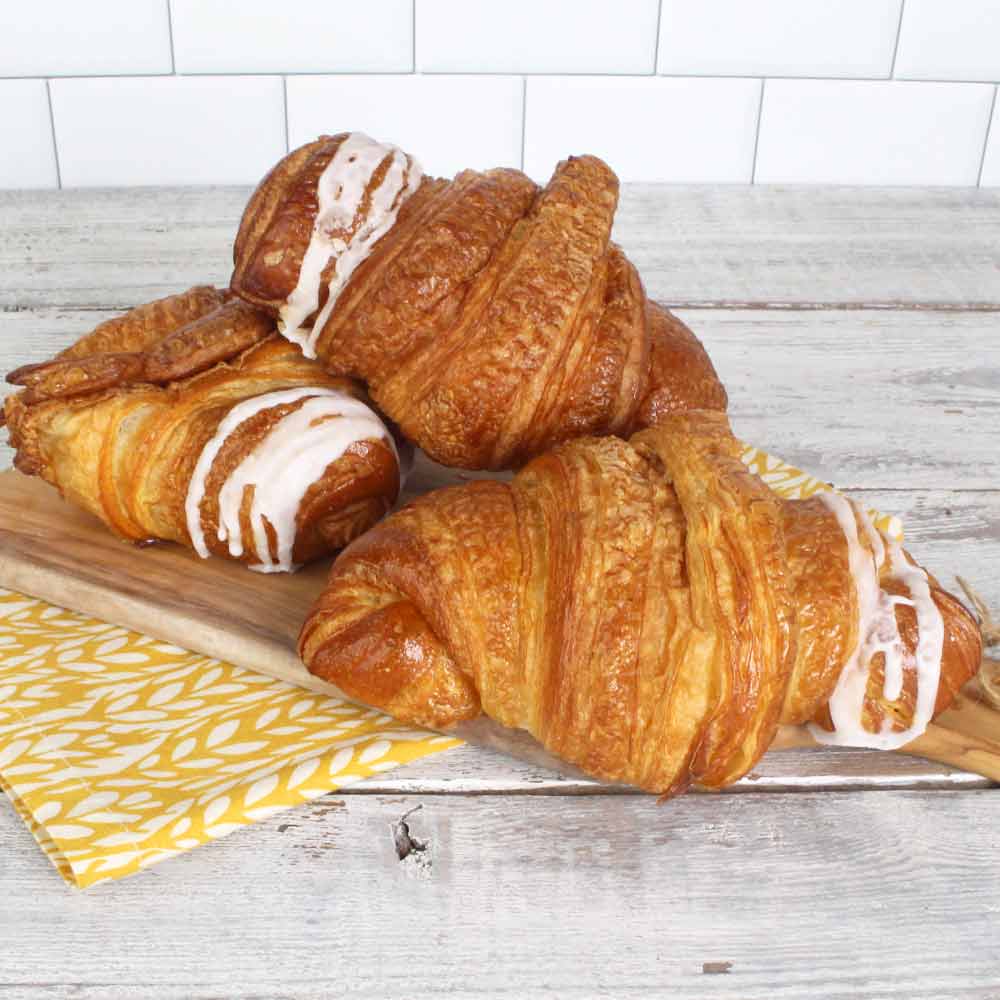 Frogs Bakery
7 Frogs Bakery
California bakery Frogs makes a wide range of French-style baked goods, including a flaky, plant-based croissant, featuring all-natural ingredients. But if you don't live near Gardena where the bakery is based, you can also order its treats online from the online delivery platform Farm Fresh to You.
Check it out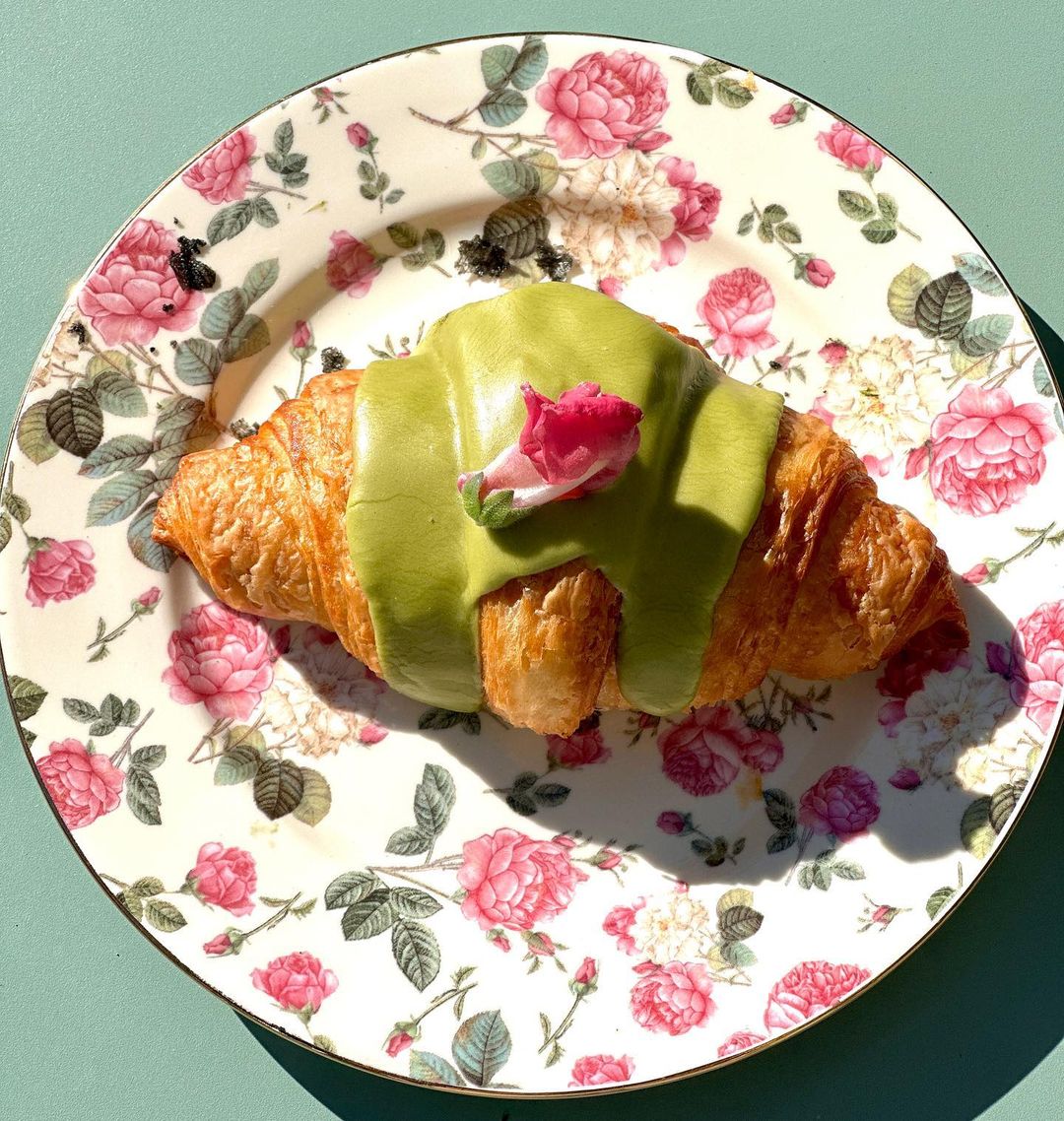 Chaumont Vegan/Instagram
8Chaumont Vegan
An offshoot of much-loved Beverly Hills spot Chaumont Bakery, Chaumont Vegan specializes in delicious, animal-free offerings, including croissants. If you're in the area, you can order the bakery's full menu from Postmates.
Check it ouT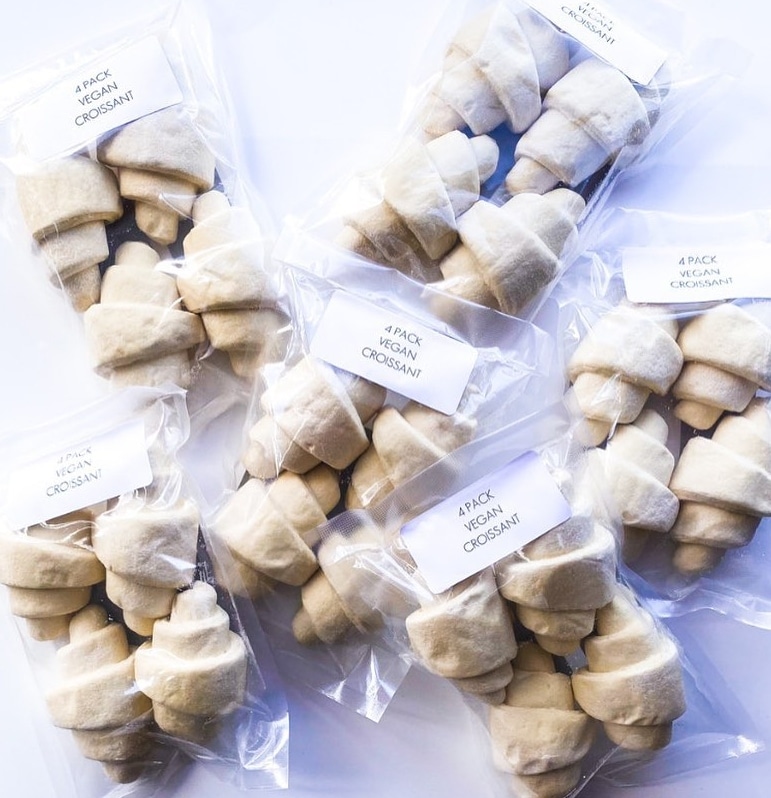 Good Rebel
9 Good Rebel
Canadian brand Good Rebel Vegan has everything a vegan food lover's heart desires. Its online shelves boast everything from vegan meat to eggs to cheese, and there are even dairy-free candy, cake, and chocolate treats. Plus, you can load up on frozen vegan croissants too. When a craving hits, all you need to do is pop them in the oven to warm up and they'll be ready for breakfast in just a few short minutes.
Check it out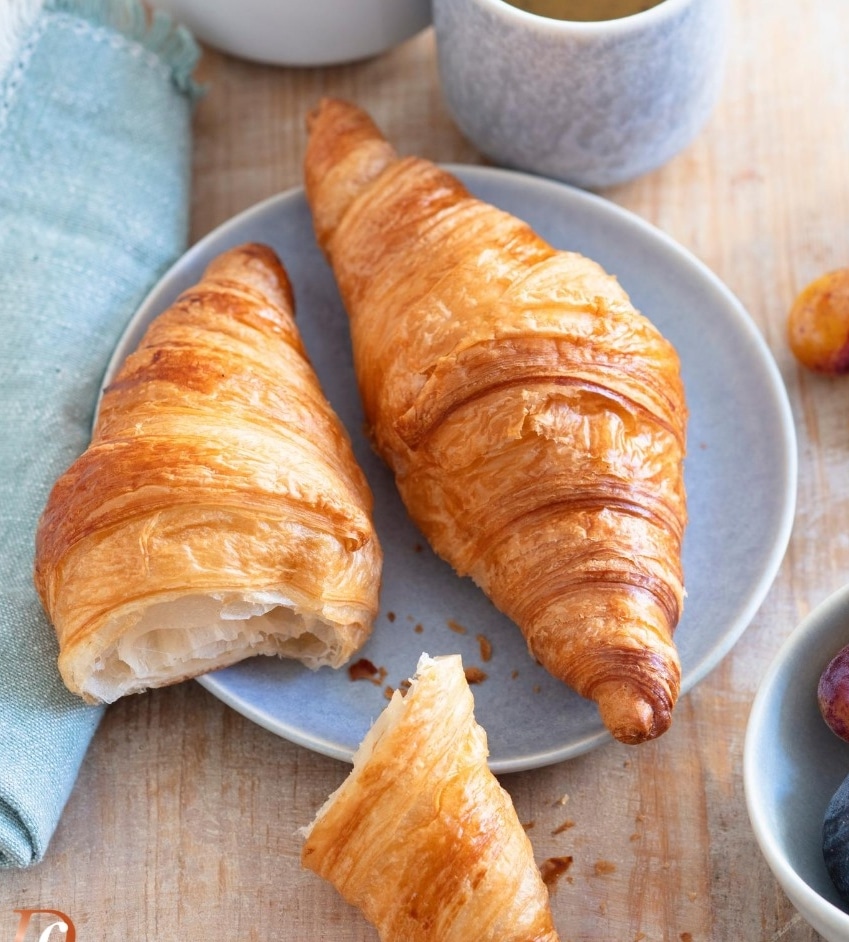 Delifrance
10Delifrance
The clue is in the name, but Delifrance specializes in French-style baked goods, so of course, it offers croissants. But in 2017, it upped its baked goods game when it started offering vegan croissants. Right now, the US' vegan version of the classic pastry is made with quinoa, spelt flour, and vegetable margarine. In the UK, Brits can also buy vegan citrus croissants, oat croissants, lemon-and-ginger croissants, and blueberry croissants from Delifrance.
Check it out
For more on vegan baked goods, read:
Here at VegNews, we live and breathe the vegan lifestyle, and only recommend products we feel make our lives amazing. Occasionally, articles may include shopping links where we might earn a small commission. In no way does this effect the editorial integrity of VegNews.