In just one week, more than 54 million Americans eat around one pound of Philadelphia cream cheese. Most will spread it on a bagel, while others will get creative and try it in soup or cheesecake (more on that later), but the fact remains, when it comes to cream cheese, for most, it has to be Philadelphia. For a long time, that was a problem for vegans. Traditional Philadelphia cream cheese is made with milk and cream, which, of course, are products of the dairy industry.
But in 2022, Philadelphia announced that, for the first time ever, it was launching a plant-based version of its iconic cream cheese in the US, and the game was permanently changed. Here's everything you need to know about vegan Philadelphia (or, as it's more colloquially known, vegan Philly), including what it's made from, how it tastes, and creative ways to use it when you're cooking.
The history of Philadelphia cream cheese
The Philadelphia brand is synonymous with cream cheese for a reason: it was the first company to bring it to market, all the way back in the late 1800s. It started when dairyman William Lawrence tried to make Neufchâtel, which is a type of soft, crumbly cheese first developed in Neufchâtel-en-bray, in Normandy, France. But because he added too much cream, he was unsuccessful.
But during the process of trying to figure out Neufchâtel, Lawrence actually managed to create a different type of cheese. It was just as delicious, but it was a little richer, and it was easier to spread. He took his creation to a cheese distributor, who advised him to name his new creamy cheesy spread after Philadelphia.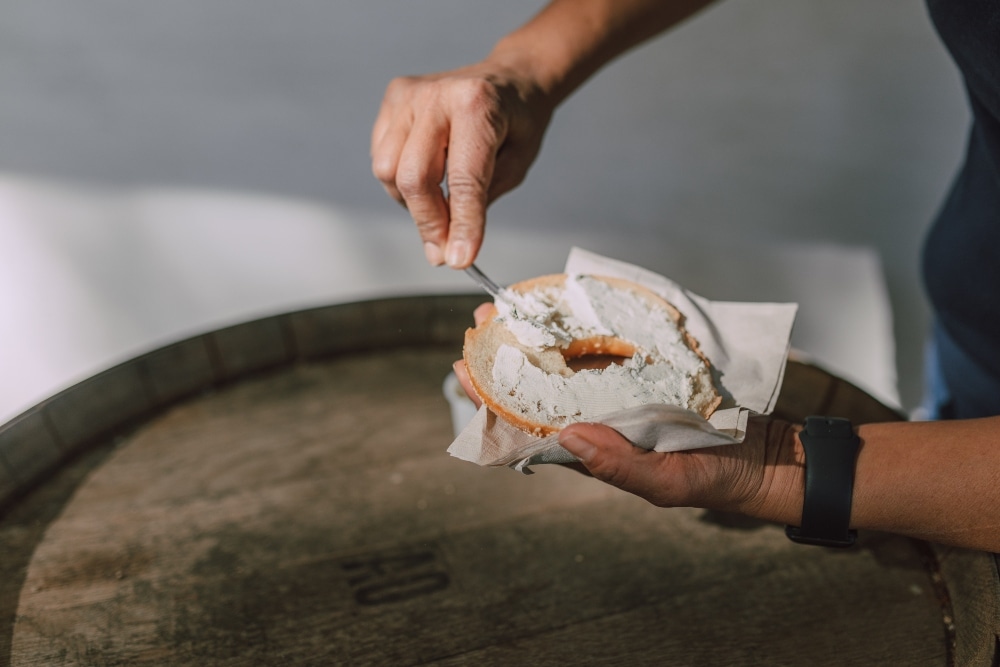 Pexels
At the time, the city in Pennsylvania was renowned for its high-quality food scene, particularly its delicious ice cream, so Lawrence took the distributor's advice, and Philadelphia Cream Cheese was born. Yep, so that means the cheese that is synonymous with Philadelphia didn't actually come from the city at all.
In the late 1920s, Kraft spotted the potential of Lawrence's product and acquired his brand, and the rest, as they say, is history. Today, the brand is the leading producer of cream cheese in the world. In fact, it accounts for nearly 70 percent of sales in the category.
What is cream cheese?
Cream cheese is a soft, spreadable cheese with a smooth, buttery texture and a mild flavor. To make it, lactic acid bacteria is added to a combination of milk and cream. After curds have formed, they are heated after the whey (the liquid remaining after milk has been curdled) has been drained away. Stabilizers (like xanthan gum) are added, and the remaining product is cream cheese.
What's in vegan Philly?
Dairy products are intrinsic to the cream cheese-making process. So how, exactly, is vegan cream cheese made? According to the Philadelphia brand, Philadelphia Plant-Based was created using a combination of coconut oil, potato starch, and fava bean protein.
"It's really about delivering that flavor and texture that you get from dairy products," Philadelphia's Senior Brand Manager Keenan White told VegNews last year. "We know that's been historically difficult not just in cream cheese but in the broader dairy sector to deliver what milk as a foundational ingredient does when it comes to delivering that multi-sensorial experience."
In the UK, where the Philadelphia brand is owned by Mondelēz International, vegan Philadelphia has been available since the beginning of 2022. There, the creamy spread is made with a combination of almonds and oats.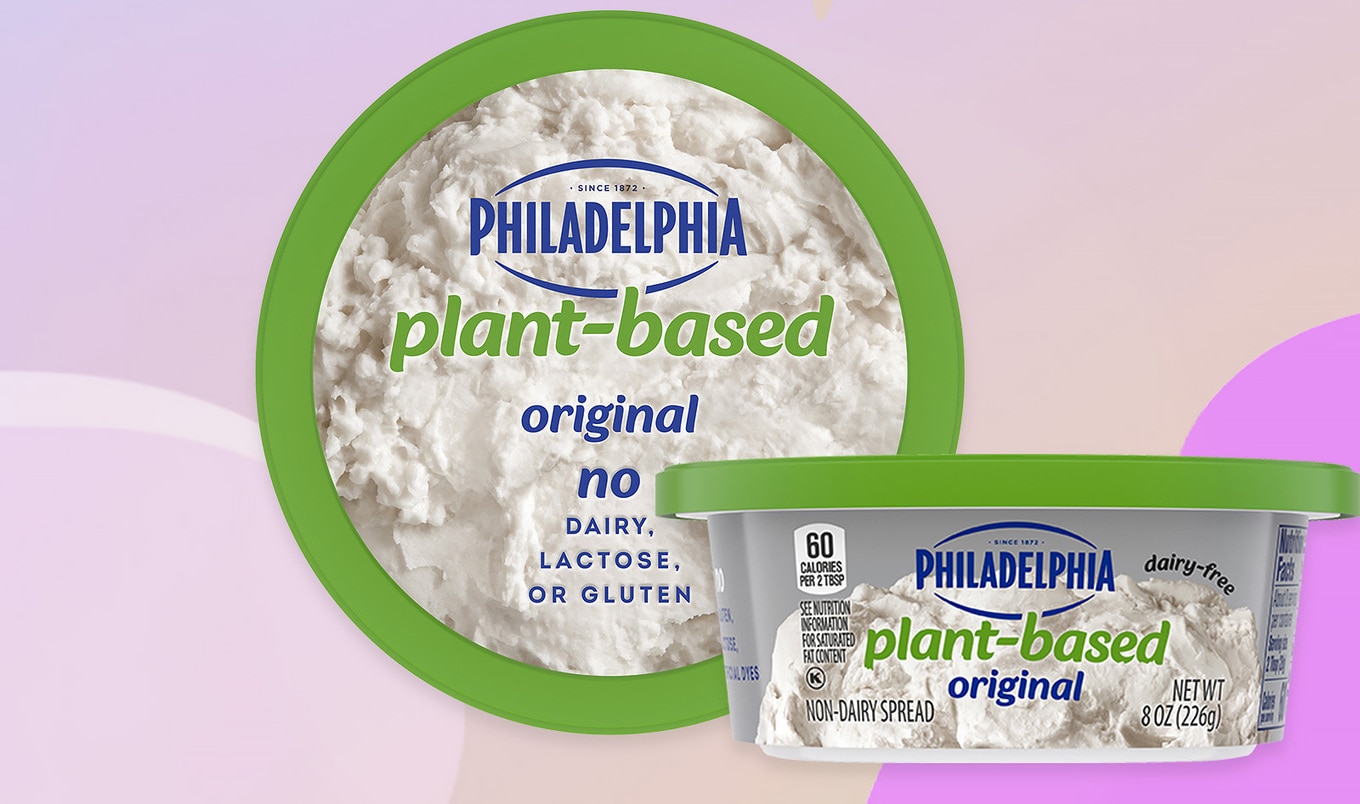 Philadelphia
How does vegan Philadelphia taste?
Both in the UK and the US, years of research and testing went into ensuring that the plant-based version of Philadelphia cream cheese was just as smooth, velvety, buttery, and, well, mildly cheesy, as the original.
At the time of the UK's launch, the UK's managing director of Mondelēz, Louise Stigant said that the plant-based alternative "delivers the same great taste and creaminess" as the original. "Not a bagel or slice of toasted sourdough ever needs to go without again," she added. Robert Scott, Kraft Heinz's president of research and development, also noted that the US version "mirrors the taste and texture" of the original Philadelphia spread.

Other vegan cream cheeses
Philadelphia may be the most popular and well-known brand that offers vegan cream cheese, but it's far from alone. Before the original pioneers of cream cheese jumped on the bandwagon with their own plant-based version, vegan brands were already offering a wide variety of cream cheese options. If you want to learn more about these, we have put together our own guide to the best dairy-free cream cheese brands. But below, we've also listed just a handful of our favorites.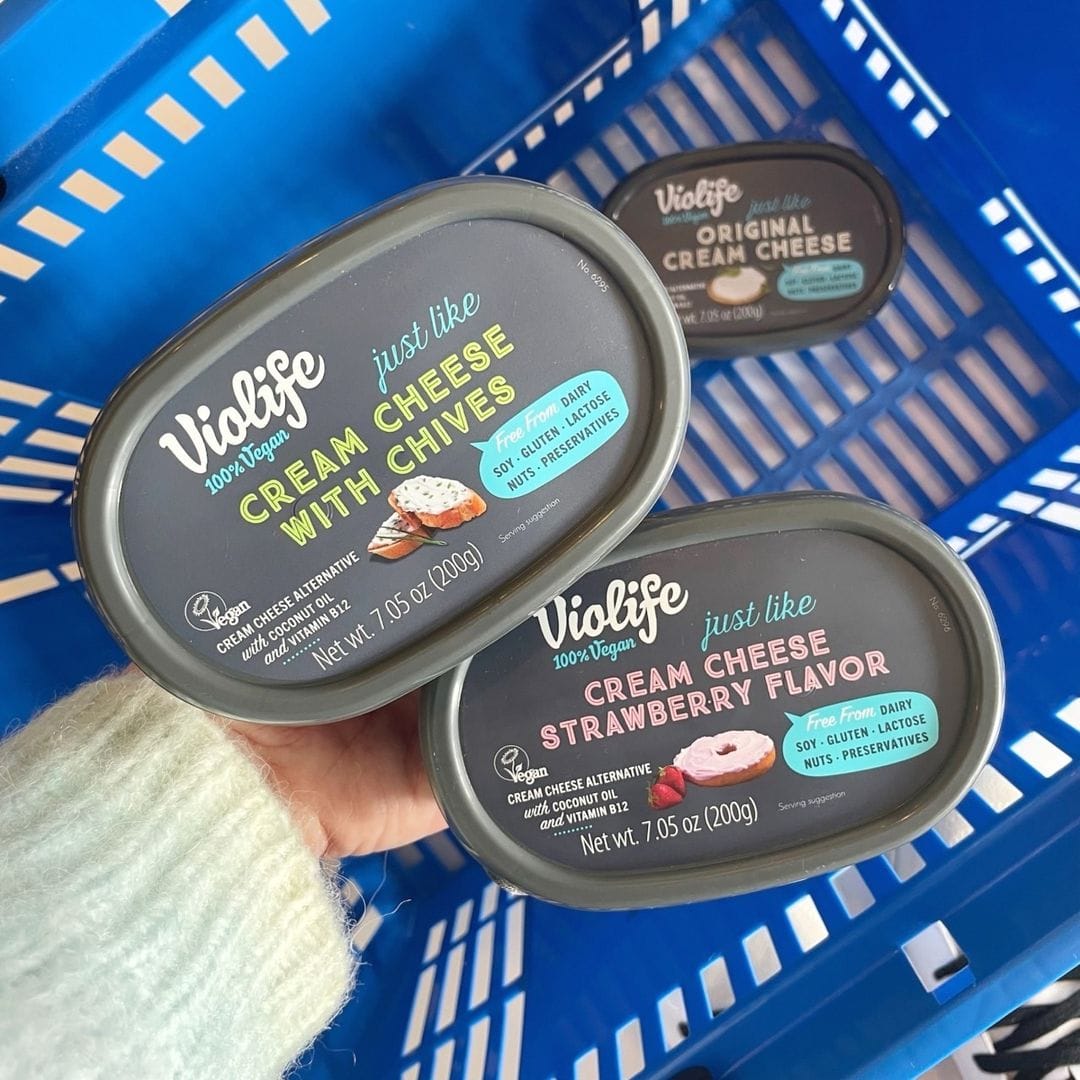 @violifeus/Instagram
1 Violife
Greek brand Violife uses coconut oil to make its creamy, thick vegan cream cheese. It has everything you would hope for from a plant-based version of the classic: it's easy to spread, the texture is velvety, and the taste is deliciously cheesy and mild.
Check it out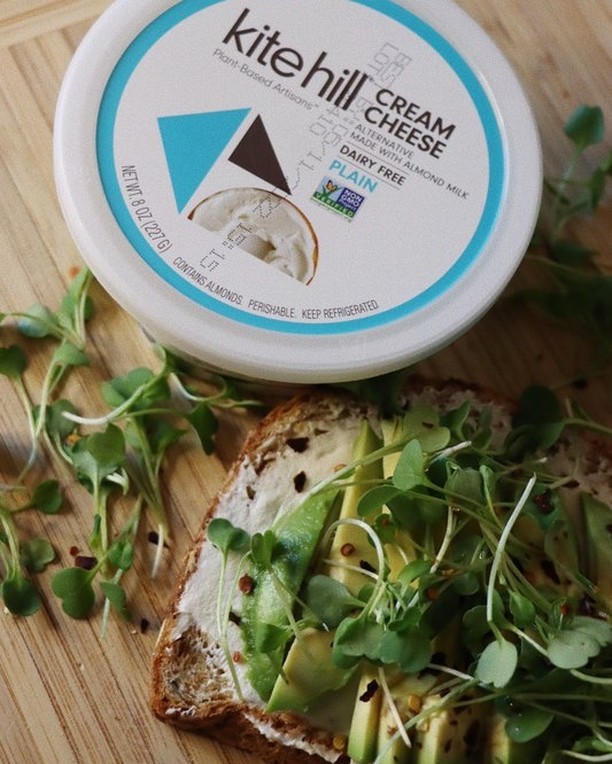 @kitehillfoods/Instagram
2 Kite Hill
To ensure its vegan alternative is spot on, Kite Hill uses lactic acid and citric acid to make sure its cream cheese has just the right amount of zing. As well as the plain version, it also offers Chive, Strawberry, Everything, and Garden Veggie flavors.
Check it out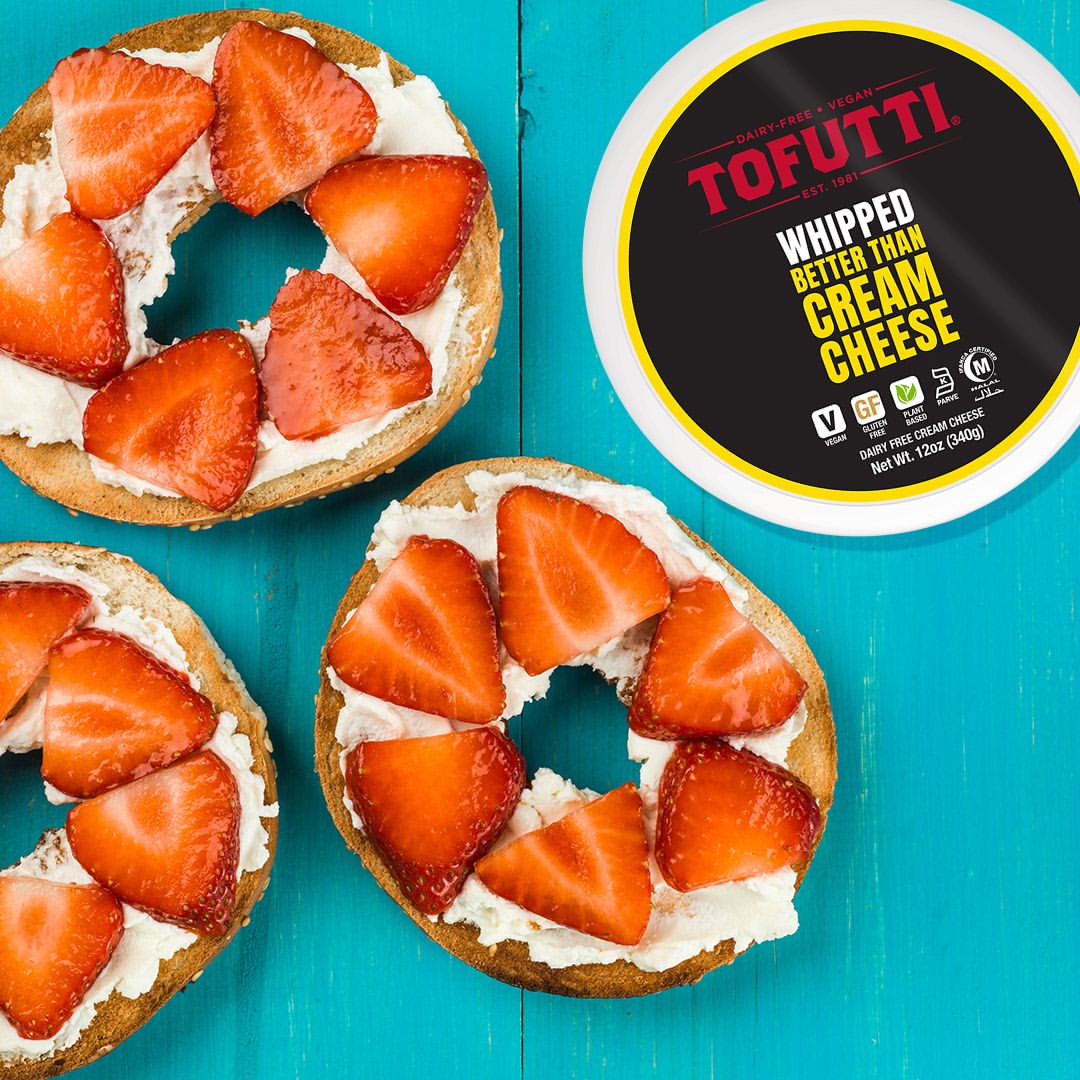 @tofuttibrands/Instagram
3 Tofutti
For all of Tofutti's products, tofu is the signature ingredient, and its range of vegan cream cheeses is no different. It looks, tastes, and feels like the real deal, and it's available in several different varieties, including Garlic & Herb.
Check it out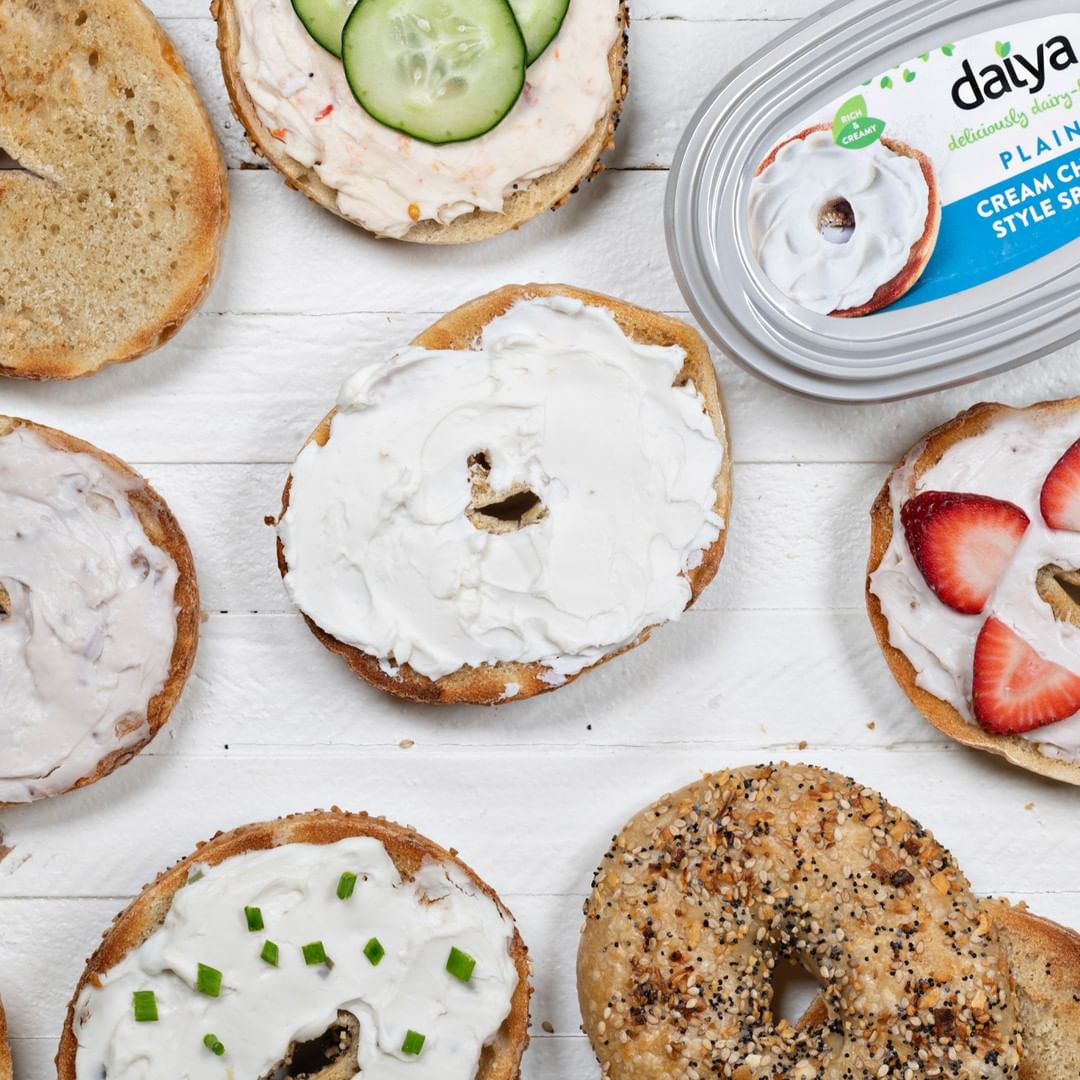 @daiyafoods/Instagram
4 Daiya
Daiya has been making dairy-free products since the aughts, so it's pretty well-skilled in the vegan cheese game. Among its range of Cheeze Sticks, Cheeze Sauces, Slices, and Shreds, you can also find three different smooth, creamy spreads: Plain, Chive & Onion, and Garlic & Herbs.
Check it out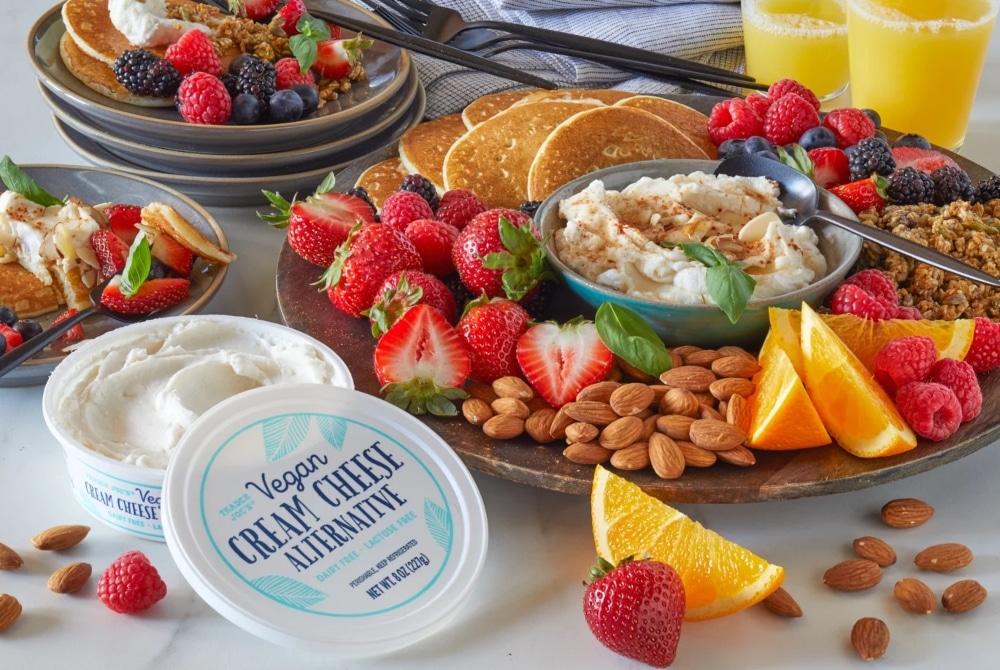 Trader Joe's
5 Trader Joe's
Trader Joe's is consistently expanding its range of vegan products, but it's had plant-based cream cheese for a while. Made with a blend of coconut oil, potato starch, and chickpea protein, Trader Joe's own Vegan Cream Cheese Alternative is super spreadable, creamy, and silky, too.
Check it out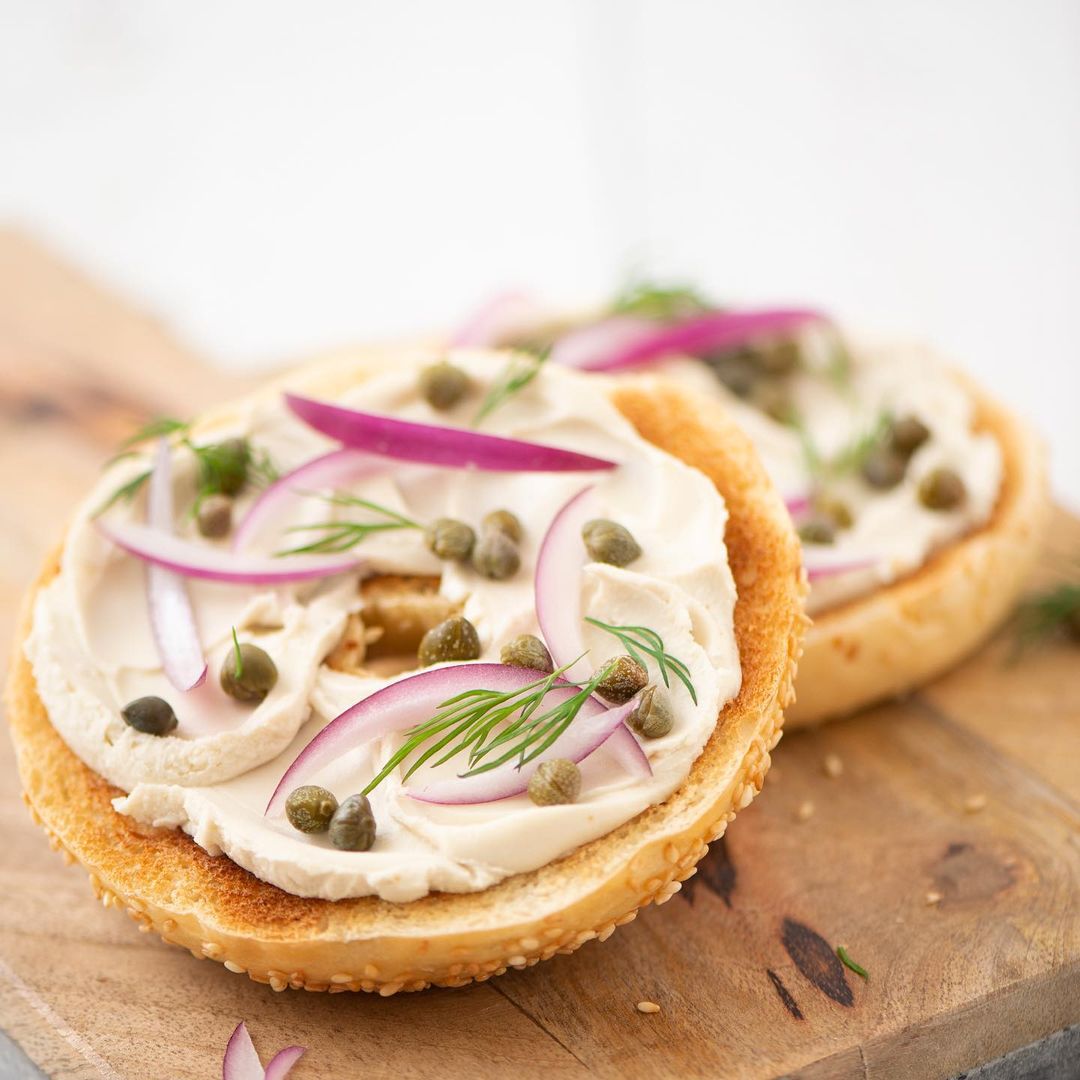 @miyokoscreamery/Instagram
6 Miyoko's
Miyoko's Creamery is the go-to destination for many when it comes to vegan cheese. And for good reason, the brand uses traditional cheesemaking techniques to make products that are just as, if not more, delicious than the dairy versions. Its cream cheese is available in Classic Plain, Savory Scallion, Everything, and Fish-Free Lox flavors.
Check it out
Beyond the bagel: other ways to use vegan cream cheese
So, arguably, there is no greater way to enjoy cream cheese than spread it on a bagel. But that is far from the only way to enjoy it. It's also a great base for desserts, frosting, icing, and even soups. If you feel like getting creative with your new plant-based Philadelphia, here are a few ideas.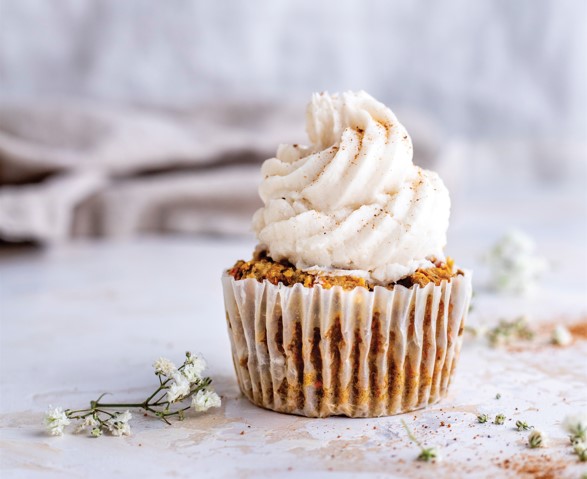 Brittany Berlin
1 Vegan Cream Cheese Frosting
First, make tasty cupcakes. Next, add delicious, creamy frosting. This simple, quick, mild frosting recipe comes together using butter, sugar, vanilla extract, and, you guessed it, vegan cream cheese.
Get the recipe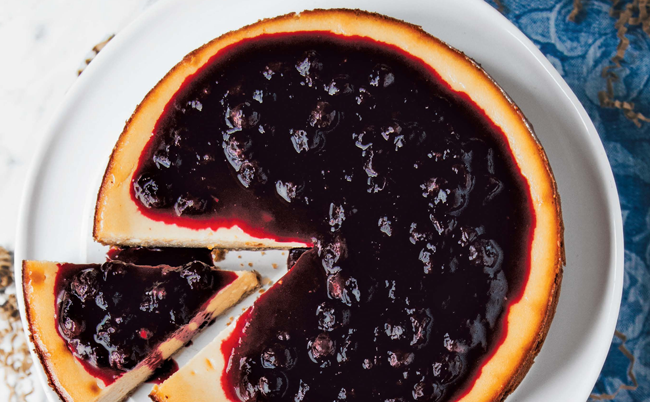 Lauren Toyota
2 Cheesecake With Blueberry Compote
There's no doubt, cheesecake is a top-tier dessert. It's tangy, but also sweet, creamy, and crunchy (thanks to the biscuit base) all at the same time. There is absolutely no reason to miss out on this treat if you're vegan, just sub in vegan cream cheese.
Get the recipe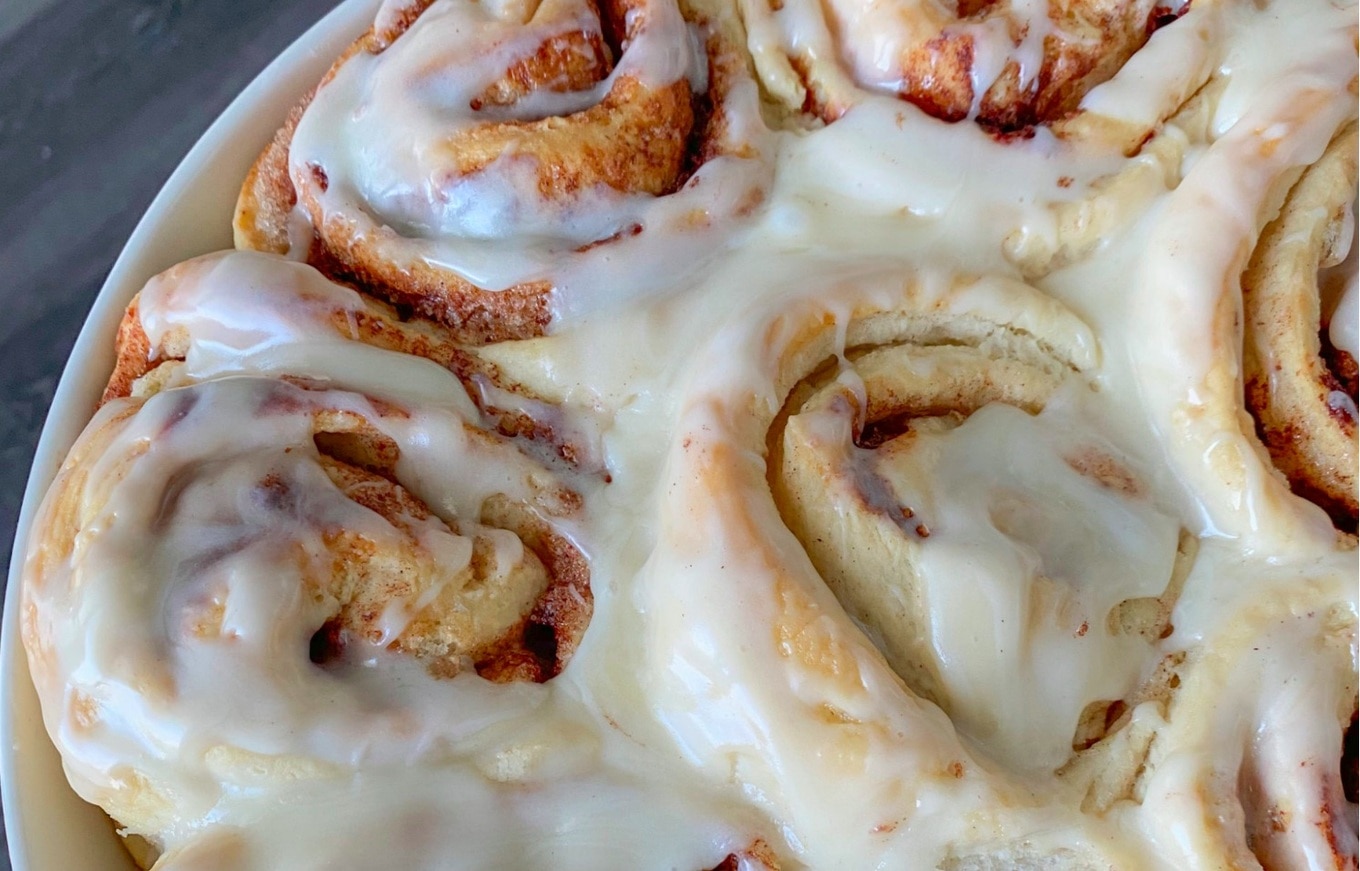 Jillian Glenn
3 Cinnamon Rolls with Cream Cheese Icing
A warm, sweet cinnamon roll is already one of the very best ways to start the day. But it's even better when it's topped with thick, velvety, indulgent cream cheese icing.
Get the recipe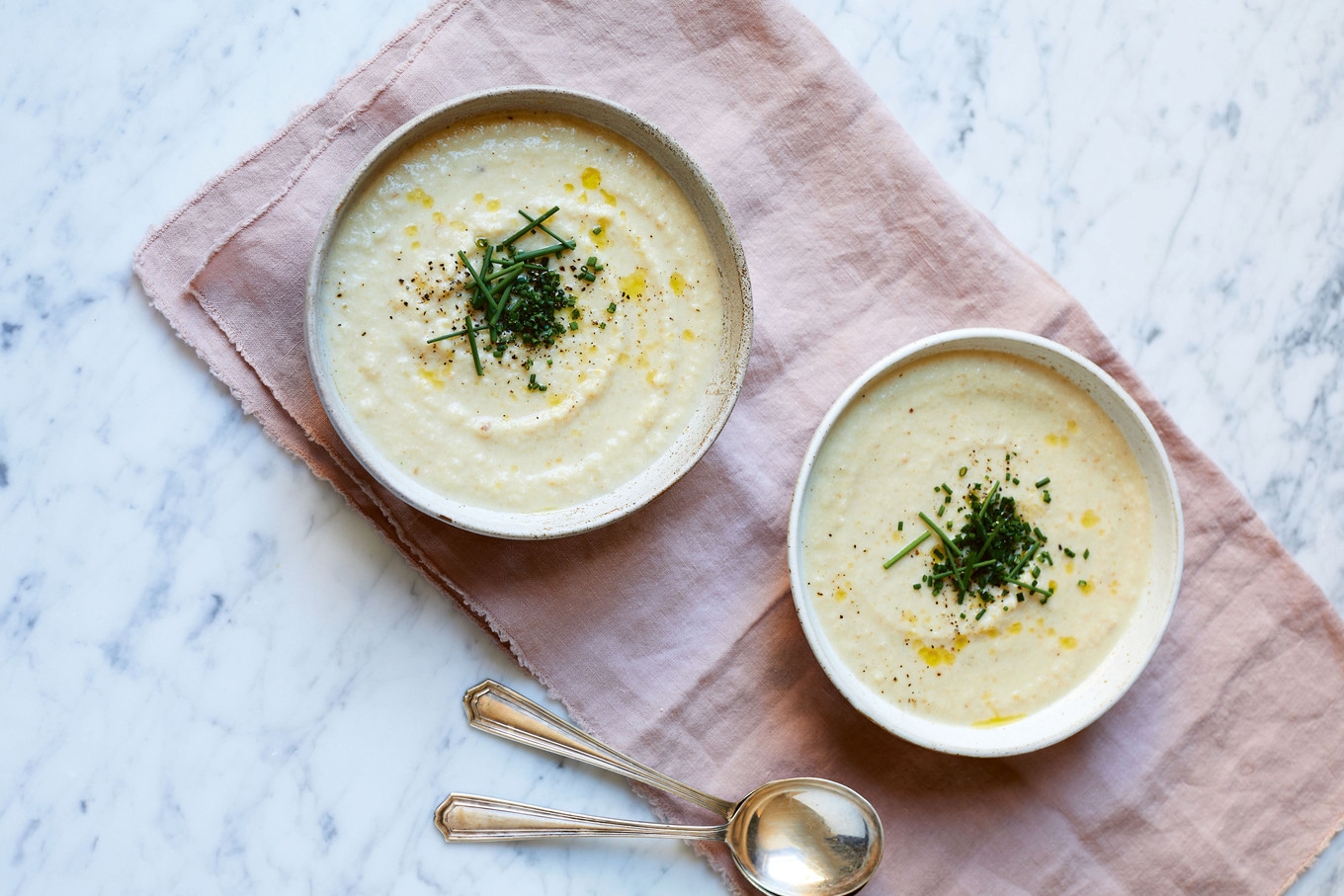 Luke Albert
4 Cauliflower Cheese Soup
A hearty bowl of soup is a great lunch option, particularly when it's cold outside. Warm up your insides with this tasty, veggie-packed cauliflower cheese soup, which is made extra creamy thanks to the addition of vegan cream cheese.
Get the recipe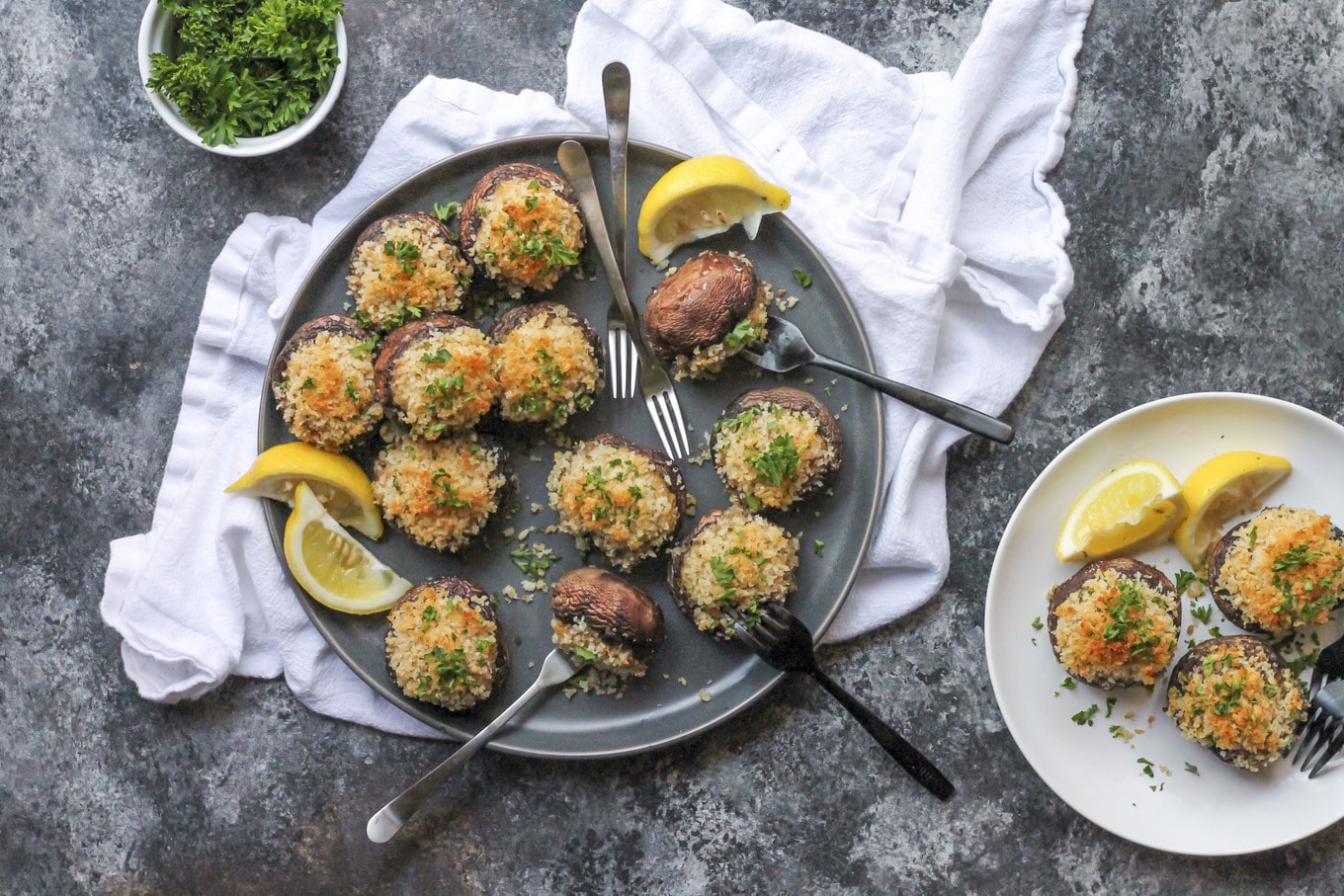 Ashley Hankins
5 Vegan Crab & Cream Cheese-Stuffed Mushrooms
If you're hosting loved ones, stuffed mushrooms make for a delicious starter. But, if you really want to wow your guests, treat them to cream cheese and crab stuffing with breadcrumbs and fresh herbs (instead of the crustacean though, this recipe actually calls for hearts of palm).
Get the recipe
For more on vegan cheese, read: