Mardi Gras—it's that other holiday in February so often overshadowed by its predecessor, Valentine's Day. We stand in defense of Mardi Gras (even on the rare occasions when it is held in early March). In fact, we will go so far as to argue that it is the superior holiday. Single or not, Mardi Gras does not discriminate—everyone is invited to the party. As far as food goes, there's a reason it's called Fat Tuesday. Here are seven vegan recipes that give Mardi Gras the respect it deserves. But first, here's a little bit of background on the festivities.
What is Mardi Gras and why is it celebrated?
From French, Mardi Gras directly translates to "Fat Tuesday." And no, it doesn't refer to eating as much as possible on that day (although that's also definitely allowed). It actually refers to the Christian custom of eating all of the fats in the house before Ash Wednesday, which marks the beginning of Lent. The latter refers to the 40 days in the run-up to Easter, during which many Christians choose to give up luxuries, including certain foods. Today, however, Mardi Gras has become more of a celebratory occasion, particularly in New Orleans.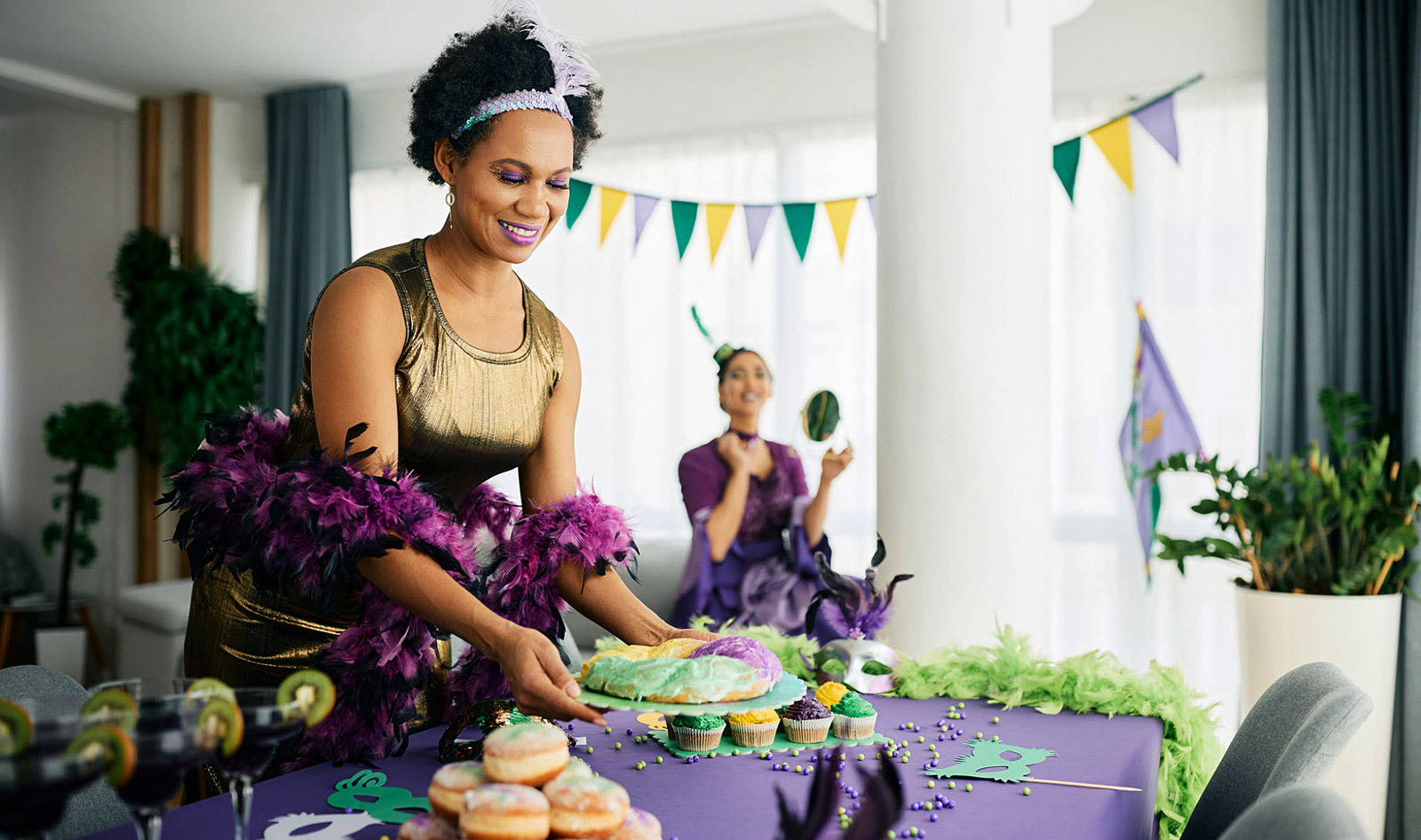 Adobe
What happens at Mardi Gras?
New Orleans celebrates Mardi Gras in a big way. (And that's likely because, in the 18th century, it was colonized by the French, who brought their Catholic traditions with them.) Today, you can find parades, picnics, music, and carnivals across New Orleans. The festivities usually start in January, on the Christian holiday "the Feast of the Epiphany," and run all the way until Mardi Gras Day, which is the day before Ash Wednesday.

What is eaten on Fat Tuesday?
You don't have to be in New Orleans to enjoy all the Mardi Gras fun. If you like, you can prepare your own Fat Tuesday feast at home. If you're not sure what to cook, or you're looking for some inspiration, here are some of our favorite Mardi Gras vegan recipes to try.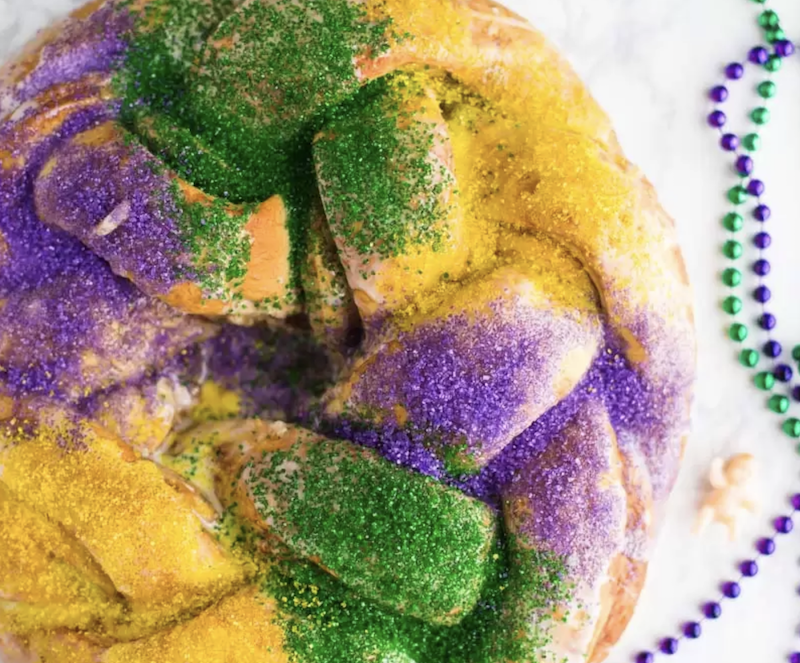 Food with Feeling
1 Vegan King Cake
This beautiful braided, brown sugar-stuffed showstopper is an essential component of any Mardi Gras celebration. Tradition dictates that the baker hide a ceramic baby figurine inside the cake, so enjoy carefully. The guest who receives the slice with the figurine is responsible for making (or buying) the king cake next year. This cake is so good, we don't care if it increases our chances—we'll take two slices, please.
Get the recipe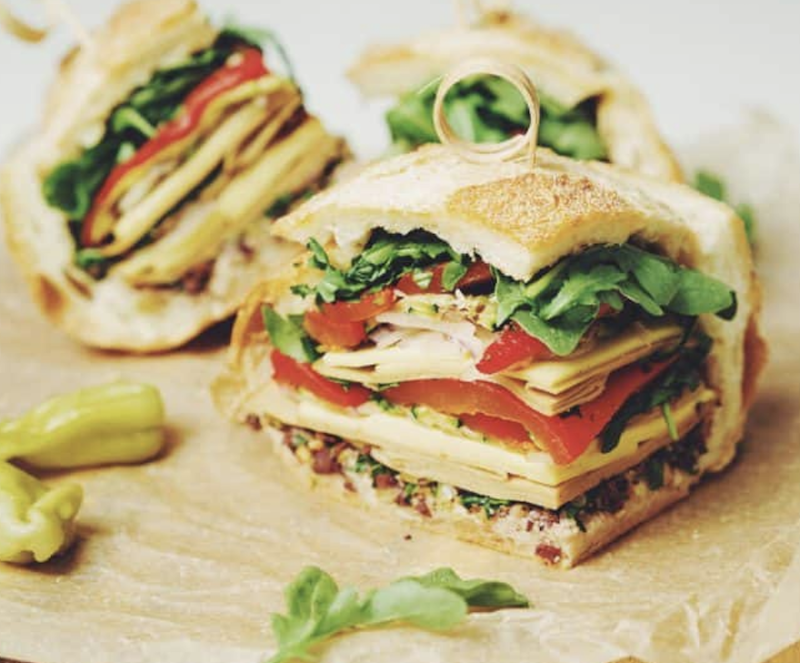 Hot for Food
2 Muffuletta
When it comes to seriously complex sandwiches, the muffuletta is a top contender. It's a perfectly engineered stack of (vegan) meat, cheese, toppings, and bread—the latter of which is ingeniously carved out in order to accommodate more sandwich filling. This one features a briny olive tapenade, seasoned sliced zucchini, roasted pepper, vegan deli meat, vegan provolone, peppery arugula, and crusty sourdough. It's a feat in itself if you can get everything in one bite.
Get the recipe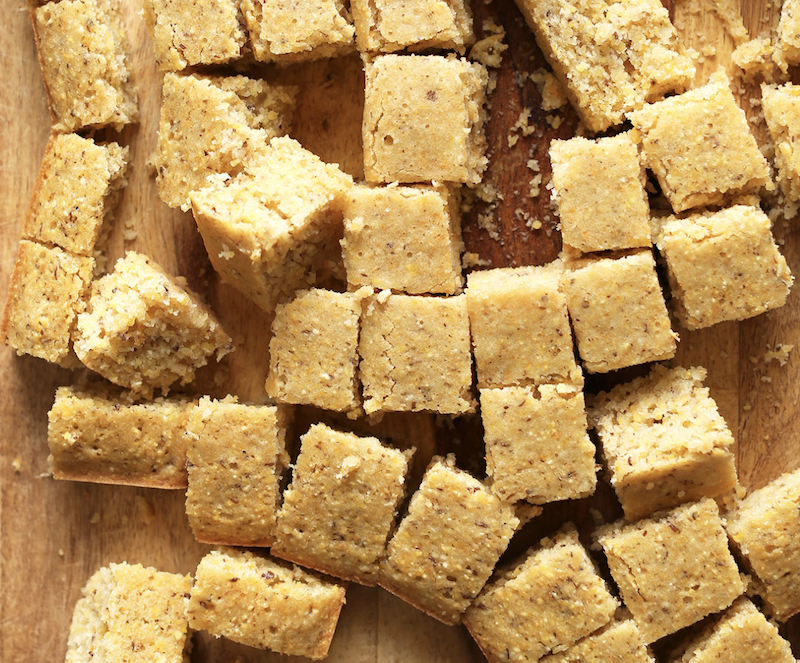 Minimalist Baker
3 Vegan Cornbread
The act of adding sugar to cornbread is divisive, and while this recipe does provide a few sweet notes, the sugar is pleasantly balanced making for a true cornbread instead of a cake that tastes like corn. It's buttery, crumbly, and so moist it nearly disappears when pressed to the roof of your mouth. Serve alone, with a swipe of vegan butter, or atop some vegan gumbo.
Get the recipe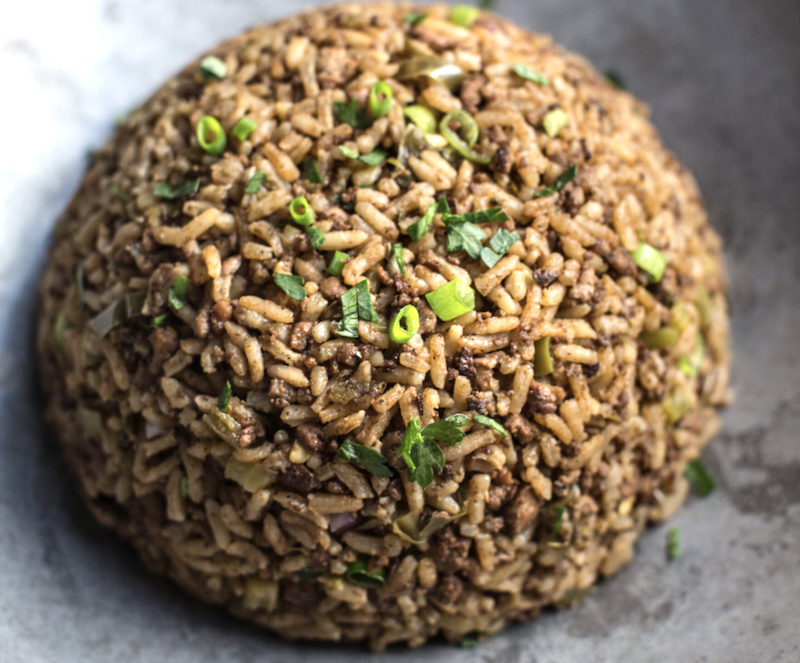 Food 52
4 Gumbo
Gumbo is a point of pride in the South, and for good reason; some take hours to prepare. Thankfully, this recipe is more manageable and still delivers on flavor. It does require quite a shopping list though, so make a big batch and use up those seasonings. The result is a thick, belly-warming stew that will turn anyone into an okra-obsessive. Serve over rice or with a side of cornbread.
Get the recipe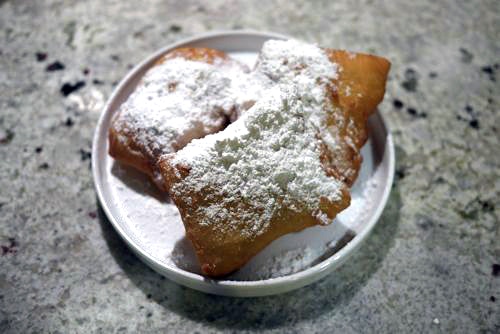 KQED
5 Beignets
Transport yourself to the French Quarter with these fluffy, powdered sugar-dusted doughnuts worthy of Cafe Du Monde. They take a little love and patience to prepare, but the final product is beyond worth it. When prepping, be aware of timing—beignets are best served piping hot.
Get the recipe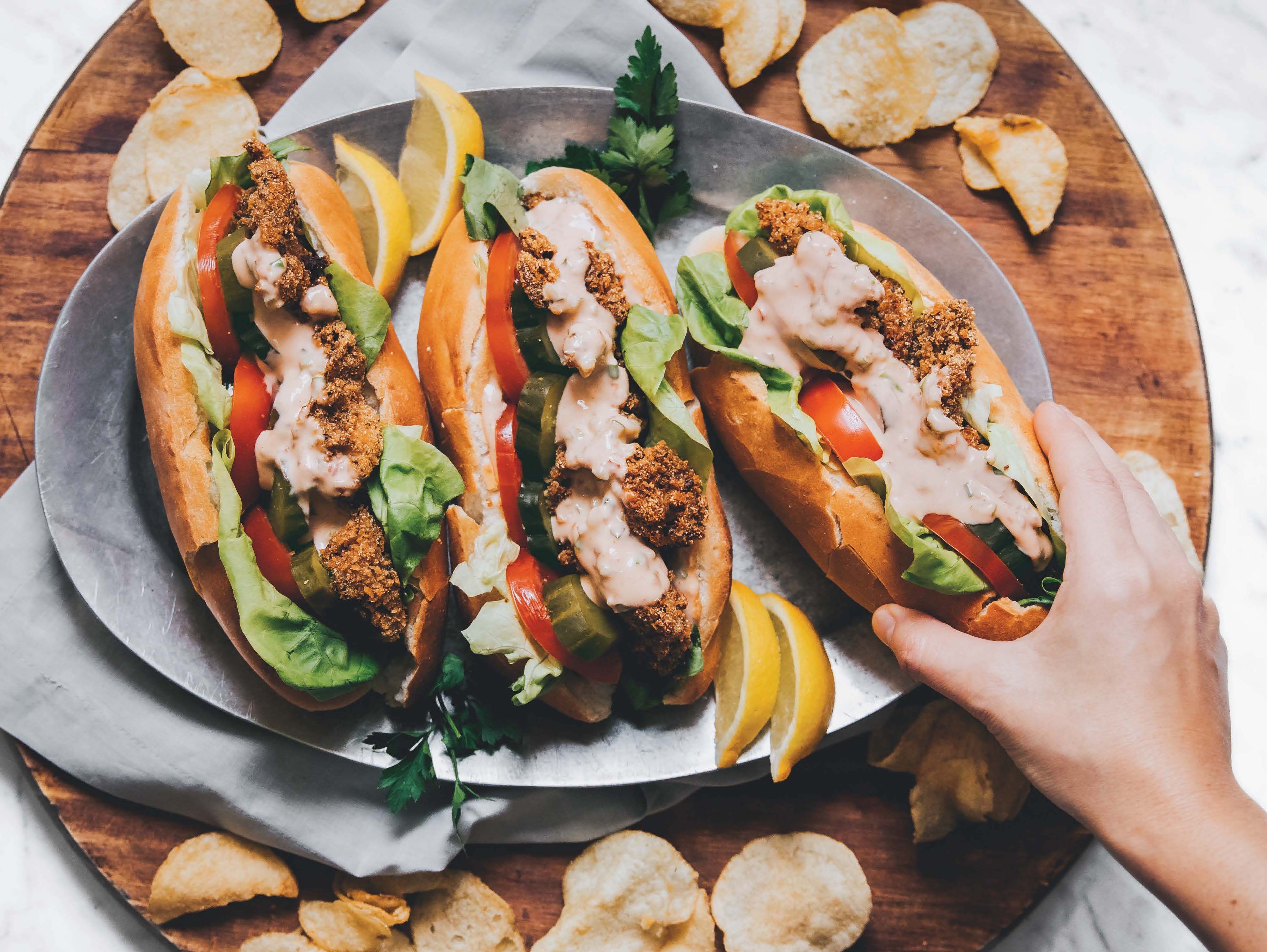 Lauren Toyota
6 Mushroom Po' Boys
Made with crispy, meaty, fried oyster mushrooms and slathered with thousand island dressing, these sandwiches expertly mimic the classic shrimp- and meat-packed po' boy. Serve on a fluffy roll and savor the simplicity of a perfectly made sandwich.
Get the recipe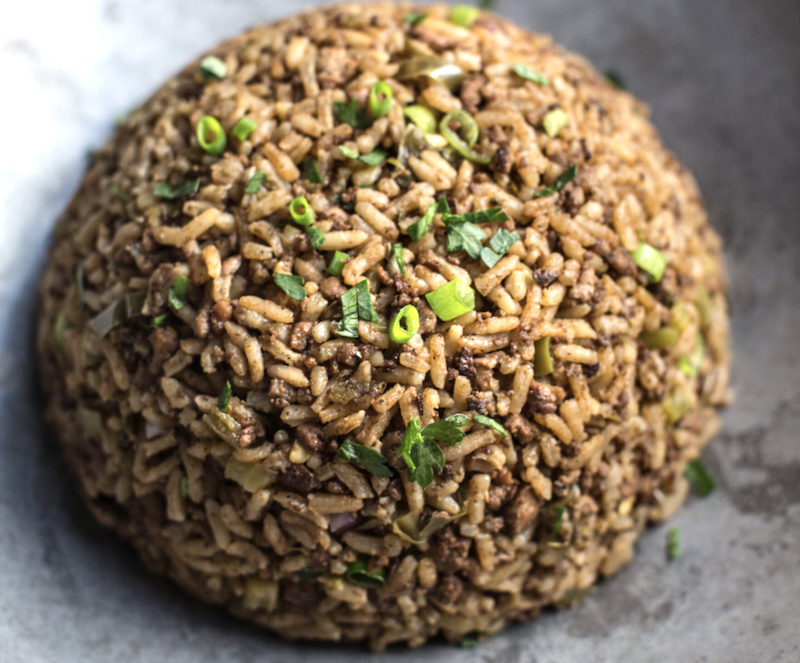 Mississippi Vegan
7 Dirty Rice
One bite of this savory, smokey, slightly spicy rice and you'll never look at minute rice again. Thanks to the addition of vegan Worchestire, red wine, liquid smoke, paprika, bay leaves, and an assortment of other flavor enhancers, this rice is unapologetically bold. Tradition often includes sausage, but this recipe relies on firm tofu for its protein pull. You can easily swap in a Beyond Brat or Field Roast link if you have some on hand.
Get the recipe
For more on vegan holidays, read: