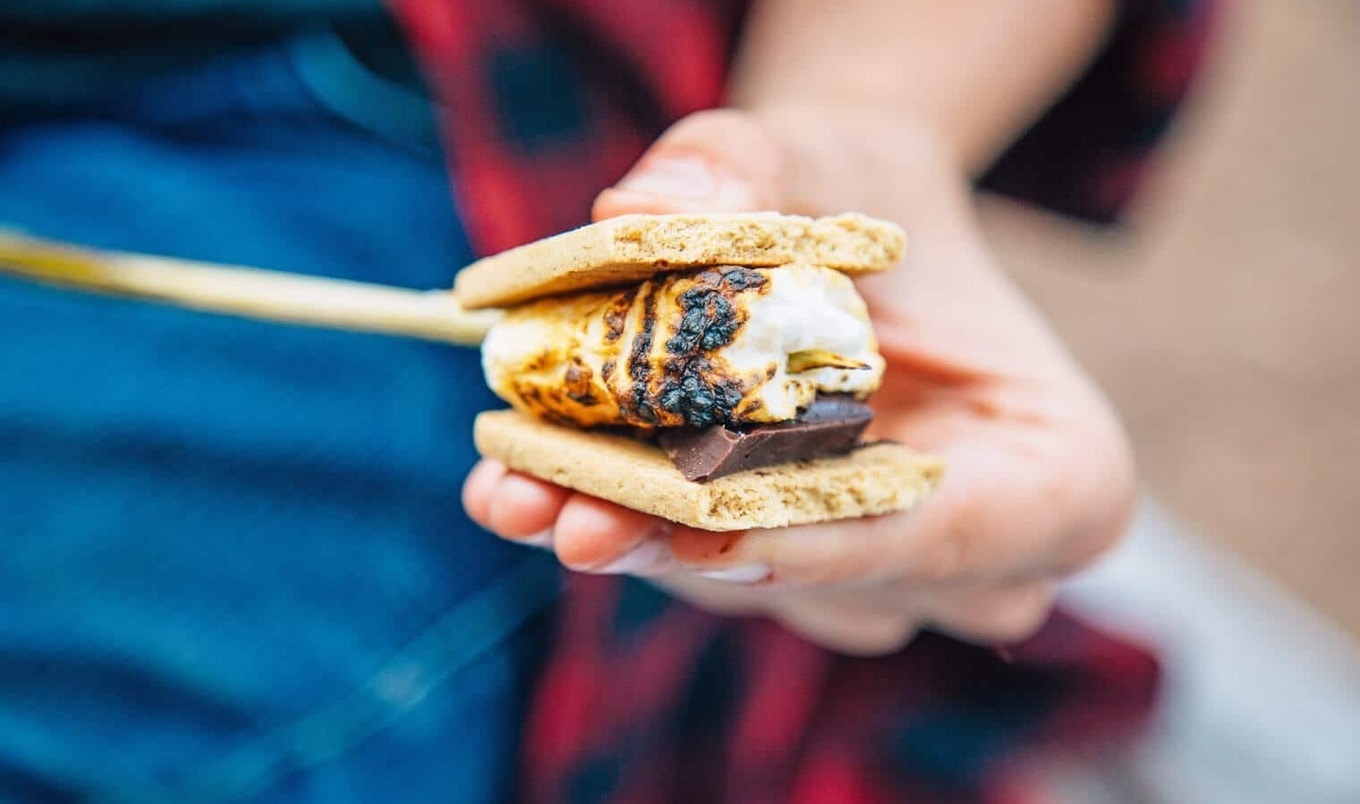 S'mores aren't just limited to the classic campfire treats. Indulge in the flavor of s'mores all summer long with these 13 recipes.
July 2, 2023
---
S'mores are a quintessential summertime treat. A popular dessert for beachside bonfires and camping trips, s'mores are quick-and-easy dessert that packs an explosion of sweetness.
You won't need a campfire to enjoy these recipes, but you'll still relish mouthfuls of rich chocolate, creamy marshmallows, and crunchy graham cracker taste. Here are 13 of our favorite recipes for whenever we feel like visiting S'mores City.
But first, let's break down traditional s'mores.
The anatomy of s'mores
Classic s'mores call for graham crackers, roasted marshmallows, and chocolate squares. Relatively easy to put together, s'mores call for roasting marshmallows—whether it's over a campfire, bonfire, or your stove. Once browned on all sides, sandwich your marshmallow between two graham crackers and a piece of chocolate. Voila! Your s'mores are ready to be enjoyed.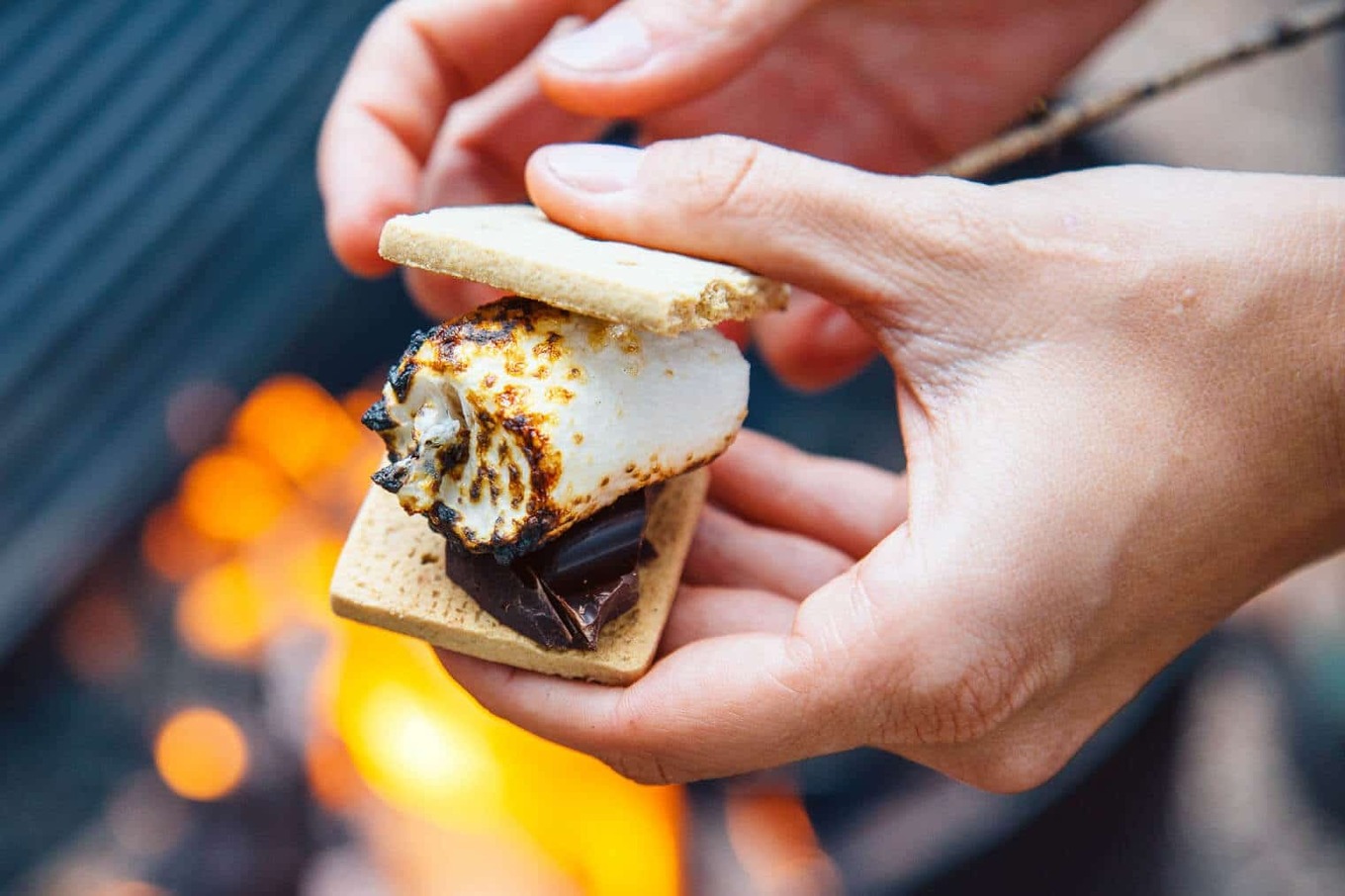 Fresh Off the Grid
For a step-by-step recipe, check out this recipe by Fresh Off the Grid.
Are s'mores vegan?
In short: not always. The three components of s'mores—graham crackers, marshmallows, and chocolate—aren't always vegan. But luckily, vegan alternatives are readily available.
Check out our guide to vegan marshmallows here and our vegan chocolate guide here. For honey-free, vegan friendly graham cracker alternatives, read our guide here.
13 vegan s'mores recipes
If you can't get enough of the classic s'mores flavors, but want to venture out into trying different treats, check out the following recipes. 'Tis the season for s'mores, after all.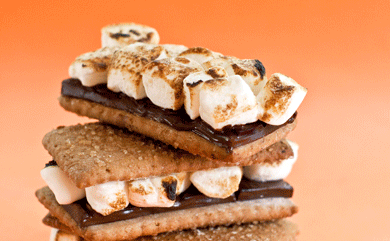 Hannah Kaminsky
1Gooey Grilled S'mores With Strawberries and Bananas
Infuse your s'mores with a burst of strawberry and banana flavors. This three-step recipe calls for grilling strawberries and bananas and layering them atop your roasted marshmallow. Finish off your s'mores filling with chocolate and sandwich between graham crackers.
Get the recipe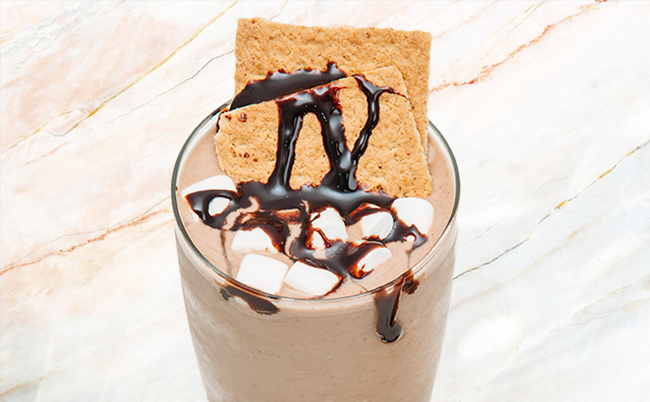 2Easy S'mores Protein Smoothie
Sip on the flavors of summer with this campfire-inspired, protein-packed smoothie. Almond butter imparts a nutty flavor while chocolate protein powder lends the ever-so-important chocolate element. Top of your smoothie with graham cracker crumbs and a toasted marshmallow once ready to serve for the ultimate s'mores-inspired treat.
Get the recipe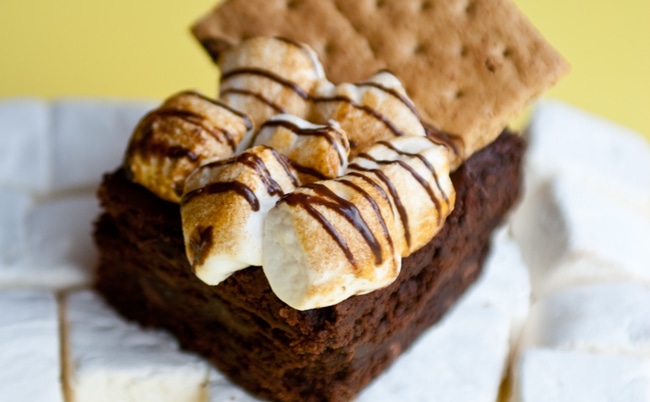 Doron Petersan
3Gooey S'mores Coffee Brownies
This simple recipe combines two of our favorites: s'mores and brownies! Plus, with the addition of brewed coffee, we could almost call this the ultimate breakfast treat. Need we say more? Enjoy for dessert or to kickstart your day—it is coffee after all.
Get the recipe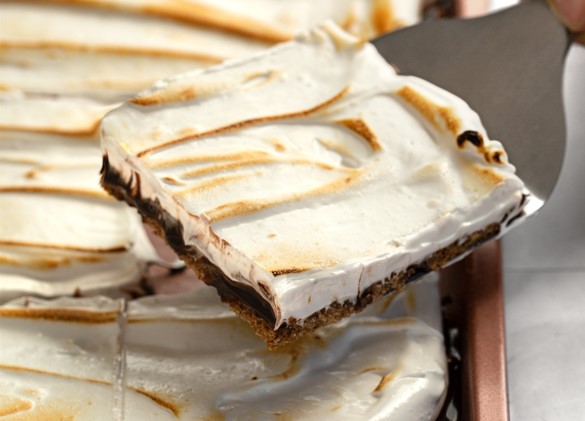 Hannah Kaminsky
4Indoor S'mores Bars With Toasted Marshmallow Topping
Transform your s'mores into marshmallow-topped bars. Start with a thick graham cracker crust, add a super gooey chocolate-ganache filling, and crown with a toasted marshmallow topping, and you have the perfect dessert.
Get the recipe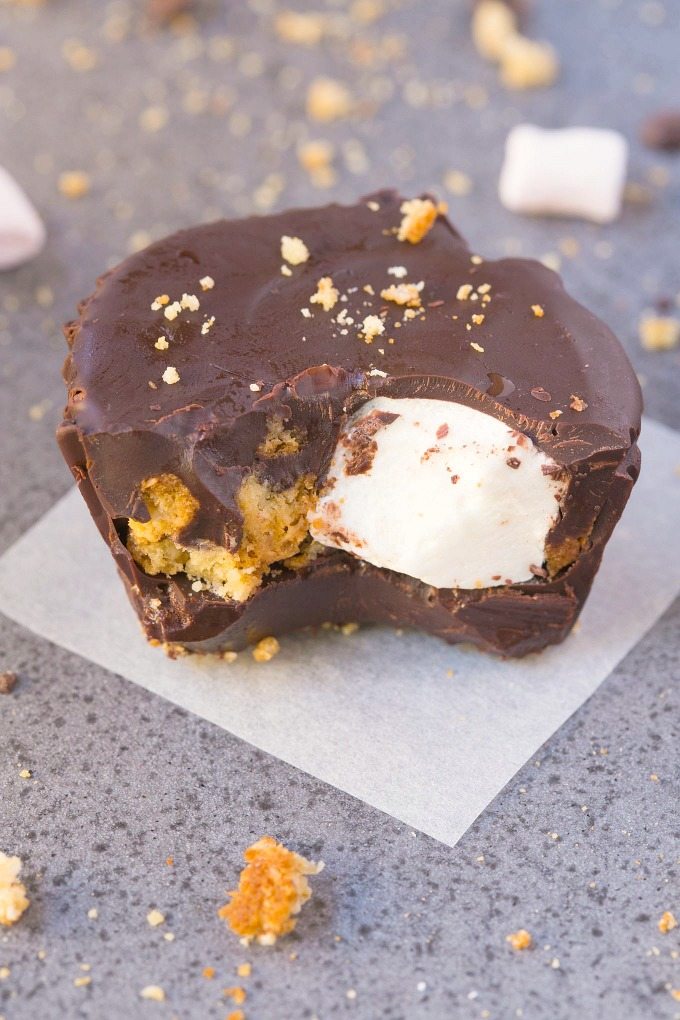 The Big Man's World
5 Healthy No Bake S'mores Cups
Peanut butter cups have some major competition thanks to these gooey, crunchy candies. These healthy, no-bake treats provide all the tastes and textures of classic s'mores, and no one will believe they are gluten-free and vegan.
Get the recipe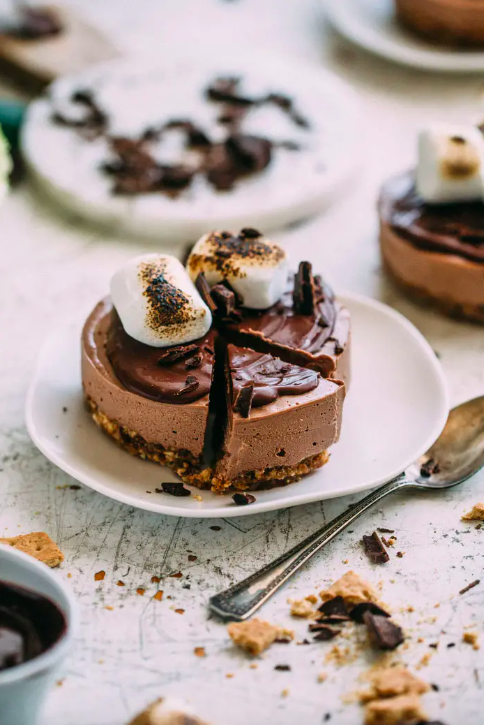 The Almond Eater
6 Mini S'mores Cheesecakes
Easily roast the marshmallows for these mini s'mores cheesecakes with a kitchen torch! Made with a graham cracker crust and cashew-based middle and topped with chocolate ganache (and, of course, a roasted marshmallow), this dessert will remind you that vegan s'mores and chocolate equals perfection.
Get the recipe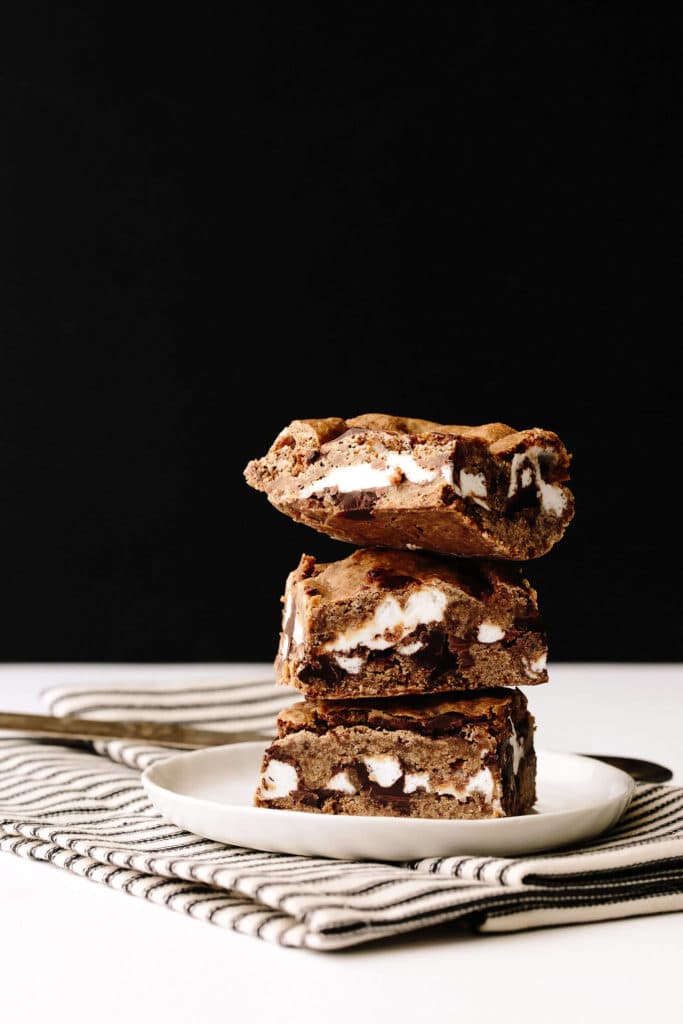 Blissful Basil
7Gluten-Free S'mores Bars
Take the traditional campfire treat to a new level with these vegan and gluten-free treats. Rich, dark chocolate and chewy marshmallows are sandwiched between layers of sweet graham-cracker-and-cookie crust in these amazing bars.
Get the recipe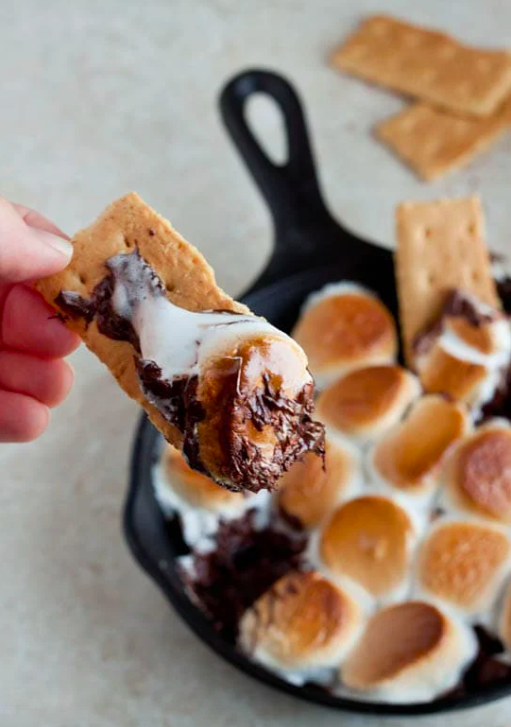 Dessert for Two
8 Indoor S'mores
All you need are two ingredients for this s'mores dip. Baked in a cast iron skillet and served with graham crackers for scooping, we guarantee this dessert dip will be devoured in minutes!
Get the recipe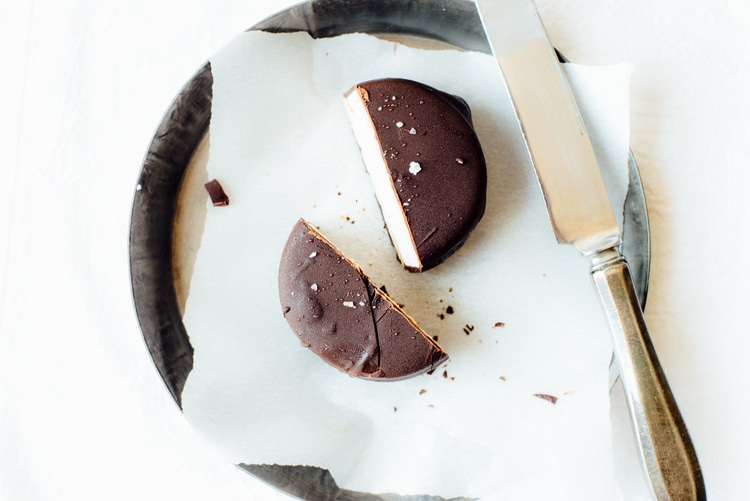 Dolly and Oatmeal
9 Frozen Salted S'mores Sandwiches

These frozen sandwiches had us at homemade toasted marshmallow ice cream. Ice cream is spread between two graham cracker cookies … and then dipped in a chocolate shell! If these indulgent sandwiches don't take you to s'mores nirvana, we don't know what will.
Get the recipe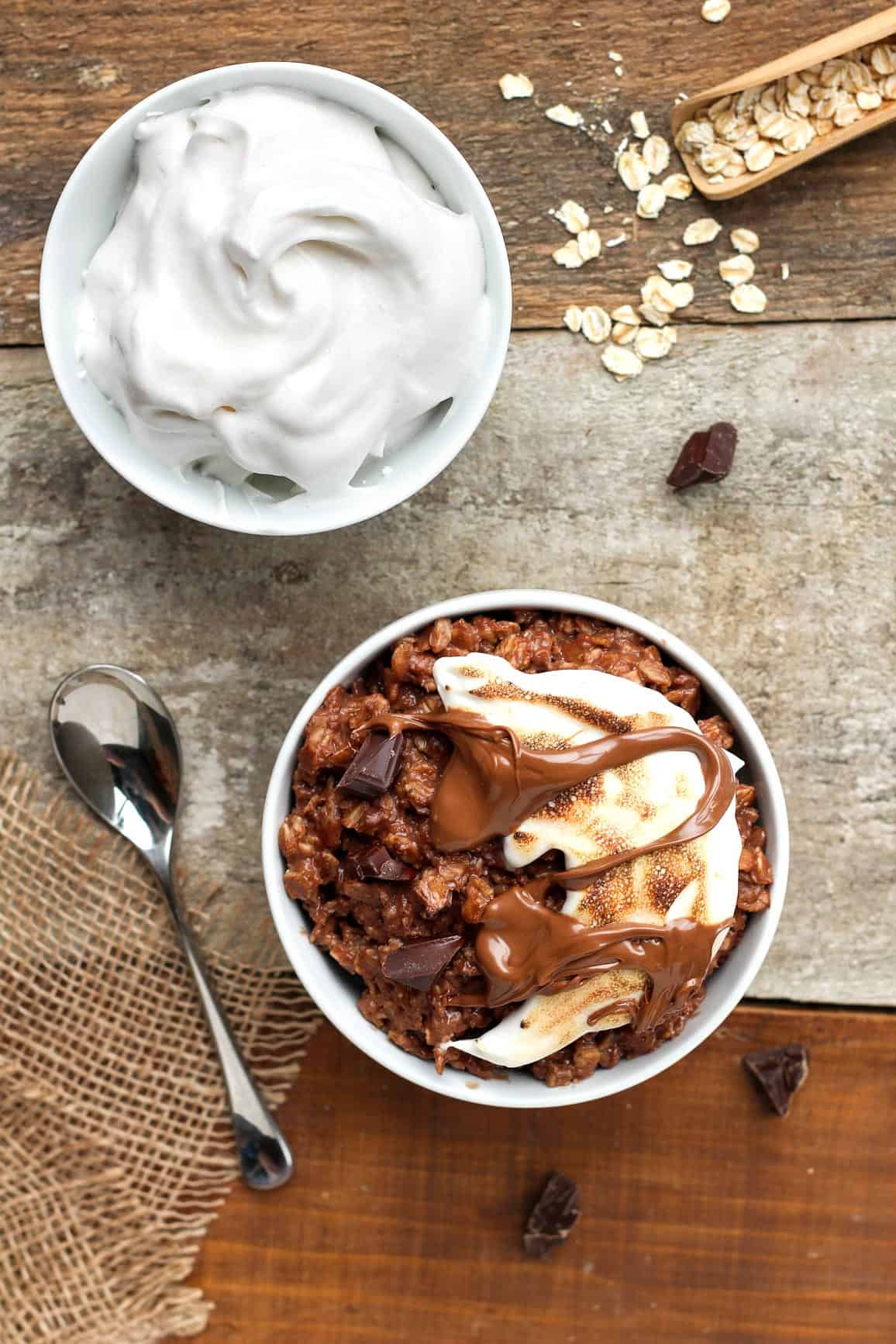 Full of Plants
10 S'mores Oatmeal
Make it a s'mores-tastic day by starting it off with this chocolate oatmeal topped off with chocolate chunks and melted chocolate. And to make this breakfast even more inspired, the recipe also includes caramelized marshmallow fluff made from aquafaba.
Get the recipe
Chocolate Covered Katie
11 Frozen S'mores on a Stick
Feel like a kid again with this new, fun way to eat s'mores. Marshmallow popsicles are dipped in melted chocolate and sprinkled with crumbled graham crackers for a carefree, tasty way to cool down on summer days.
Get the recipe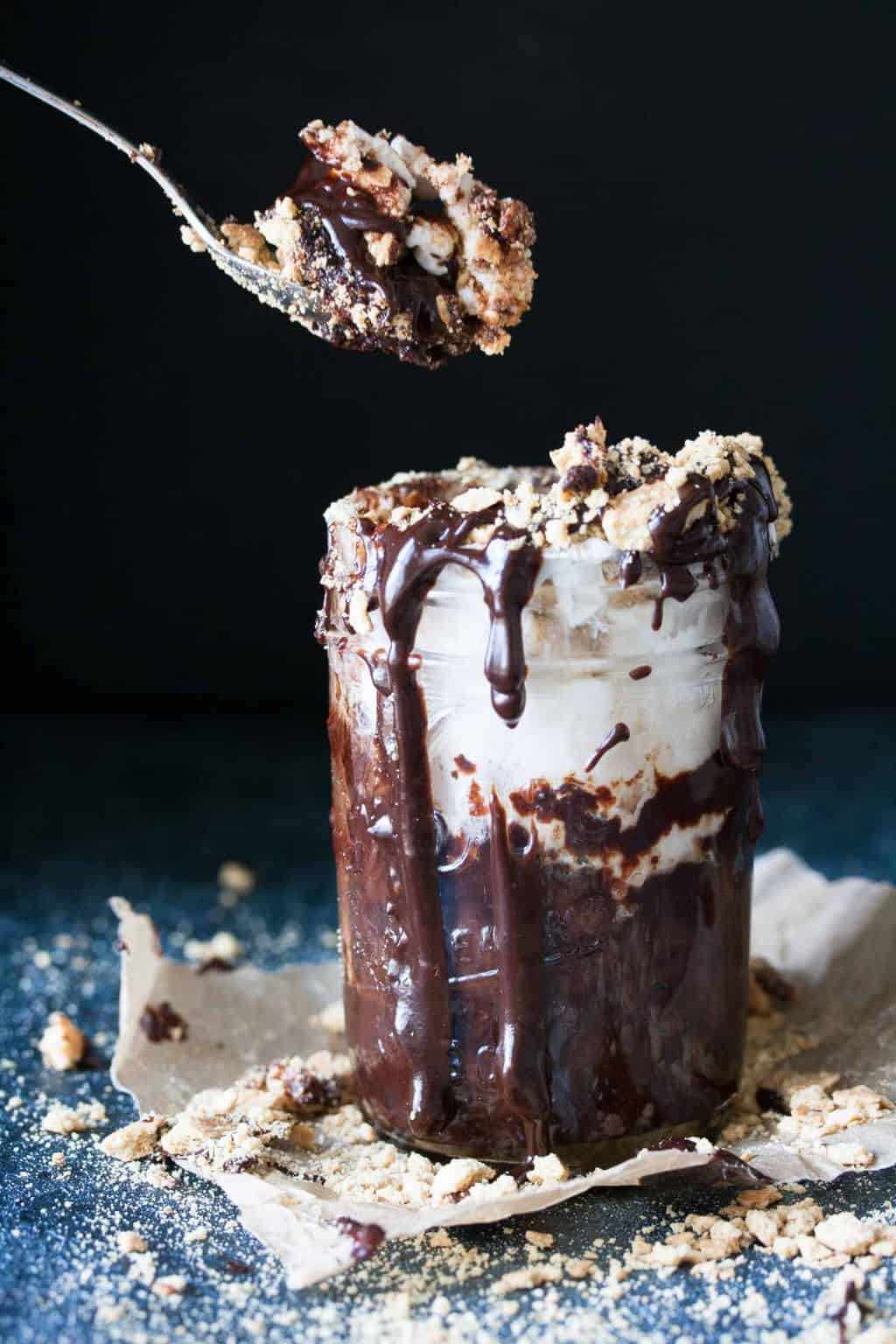 Veggies Don't Bite
12 Flourless 5 Minute S'mores Molten Lava Cake
It's just five minutes to s'mores ecstasy with this quick and easy recipe from. The dessert combines fudgy chocolate cake, a rich chocolate sauce, and melty marshmallows for a flourless lava cake that's topped with crunchy graham crackers for a treat like you've never seen before!
Get the recipe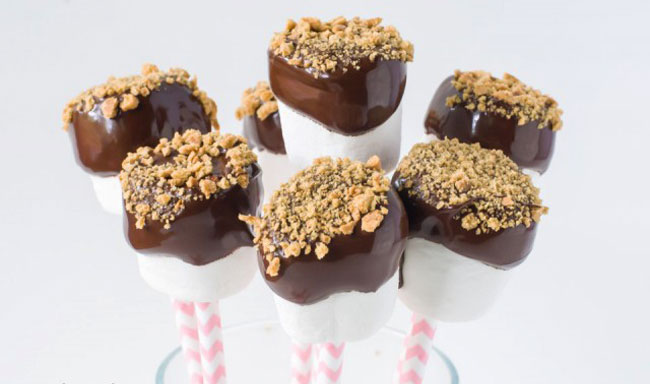 Namely Marly
13 Easy S'mores Pops

These s'mores lollipops are come together in a breeze! With only five ingredients, you can quickly whip up a batch for friends and family to enjoy all summer. Marshmallows are dipped in a homemade chocolate sauce and then rolled in graham cracker crumbs for this sweet nod to the traditional treat.
Get the recipe
Stephanie Dreyer is a freelance writer and author on a mission to help families cook and eat healthier.
For more vegan desserts, read: