Festival season is upon us, and whether you're going to Coachella, Burning Man, Lollapalooza, Bonnaroo, or one of the plethora of other weekend-long music events across the US, there's one key to having a good time: be prepared. From rocking some super cute (and comfortable) vegan leather booties to wearing and sharing all of the eco-friendly glitter, we've compiled the 14 must-have essentials for this festival season.
Vegan options at festivals
Festivals aren't just about the music anymore. In fact, many have become bonafide food festivals on the side. Take Coachella, for example. The beloved music festival boasts a robust food scene with around 40 vendors, not including beverage vendors.
Since Nic Adler took his place as Culinary Director of Coachella, the multi-weekend event has swiftly become a destination for food enthusiasts. A vegan and co-founder of Monty's Good Burger, Adler has ensured an abundance of equally exciting vegan options at Coachella. Local Los Angeles eateries such as Cena Vegan, Lettuce Feast, MANEATINGPLANT, Ramen Hood, Monty's Good Burger, and Craig's Vegan are regulars at the festival, as well as popular spots from around the US like Slutty Vegan. Last year, the festival even featured a multi-course, plant-based dinner event prepared by vegan chefs and siblings Ayindé and Makini Howell.
Beyond music festivals, exciting new vegan food festivals have popped up all across the country. Back for the first time after COVID-19 forced the festival into a two-year hiatus, Vegan SoulFest in Baltimore, MD took place last summer and was a three-day celebration of Black businesses, changemakers, and vegan living in partnership with the first annual We Give Black Fest. The festivals took place simultaneously from August 19 through August 21 at Baltimore's West Covington Park in 2022. Keep an eye out for their return this year.
When visiting Los Angeles, a trip to North Hollywood's weekly Vegan Street Fair is a must. Each Sunday, a rotating list of vegan vendors gather at the free-entry event cooking up everything from authentic street-style Chinese dumplings to Peruvian fusion banana leaf tamales. Plus, you can even find apparel, cosmetics, candles, and more at the family-friendly outdoor market.
Vegan essentials for festival season
But before you head out the door to a fest, make sure you check out our list below to keep you looking chic, cool, sustainable, and prepared for all that's coming your way.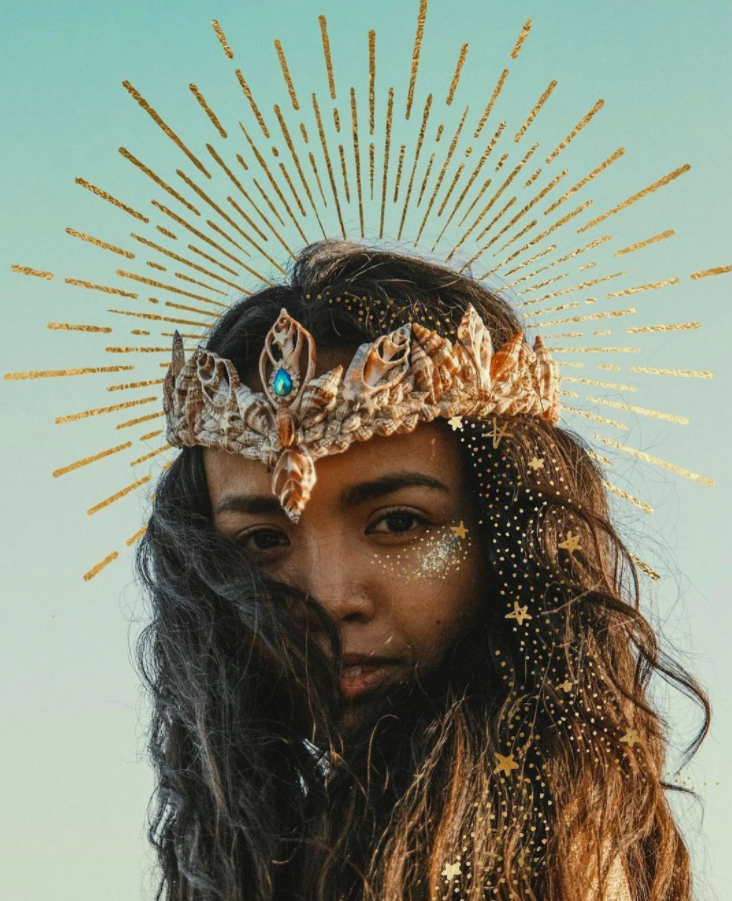 @glotatts/Instagram
1 Biodegradable Glitter
Glitter, glitter, and more glitter! Music festival attendees practically leave a trail of the shimmery stuff behind them, but did you know that normal glitter can take up to 500 years to biodegrade and often ends up in the ocean? Well, no worries! Bio Glo is coming to the rescue with 100-percent biodegradable and cruelty-free glitter so you can shine on!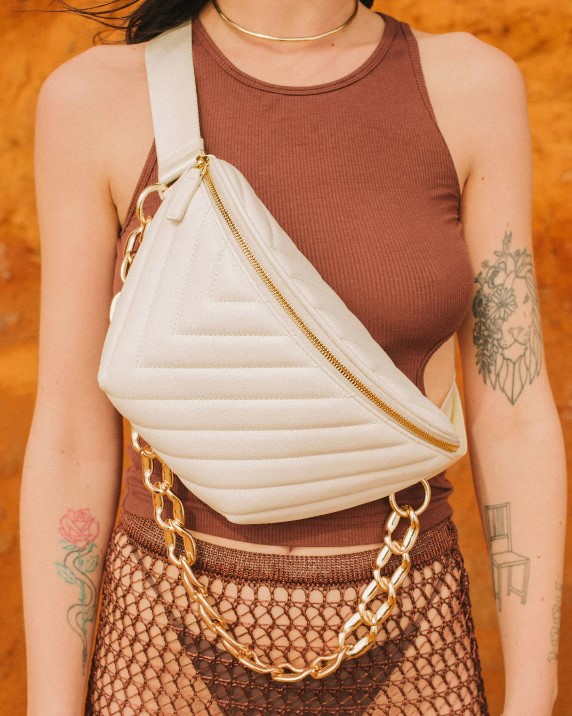 @brinn_bags/Instagram
2 Brinn Bag's Honeypie Bum Bag
Trust us: you'll regret carrying around that backpack or bulky purse when you're packed into a crowd of dancing people. Minimal, hands-free bags are the way to go, and this handcrafted vegan leather waist or shoulder sling bag is so chic that it also serves as a fashionable addition to your look. Strap it around your waist or use it as a cross body bag to store your essentials for the day.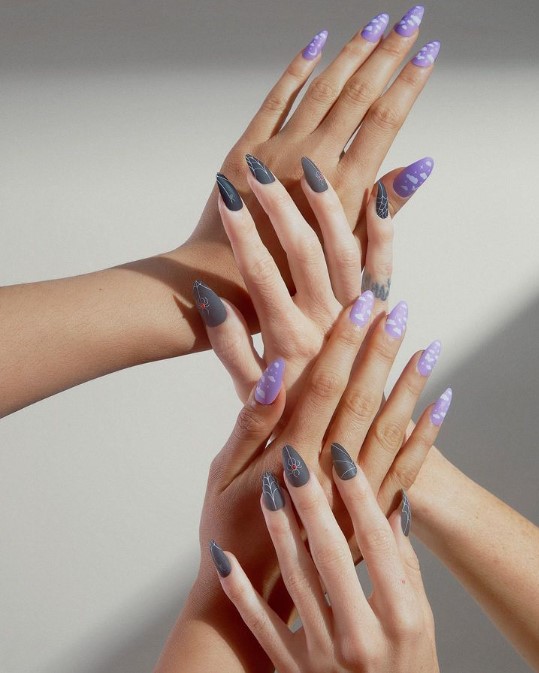 @rave_nailz/Instagram
3 Rave Nailz Press-On Nails
Make sure you carry your fun festival style over to your nails with these super easy-to-apply, cruelty-free, press-on nails. The nails are ultra-durable and can last for up to 3 weeks, which is essential for running and dancing the weekend away at a music festival. Go for dreamy purple nails with printed clouds or opt for spooky, hardcore-themed vamp nails for a darker look.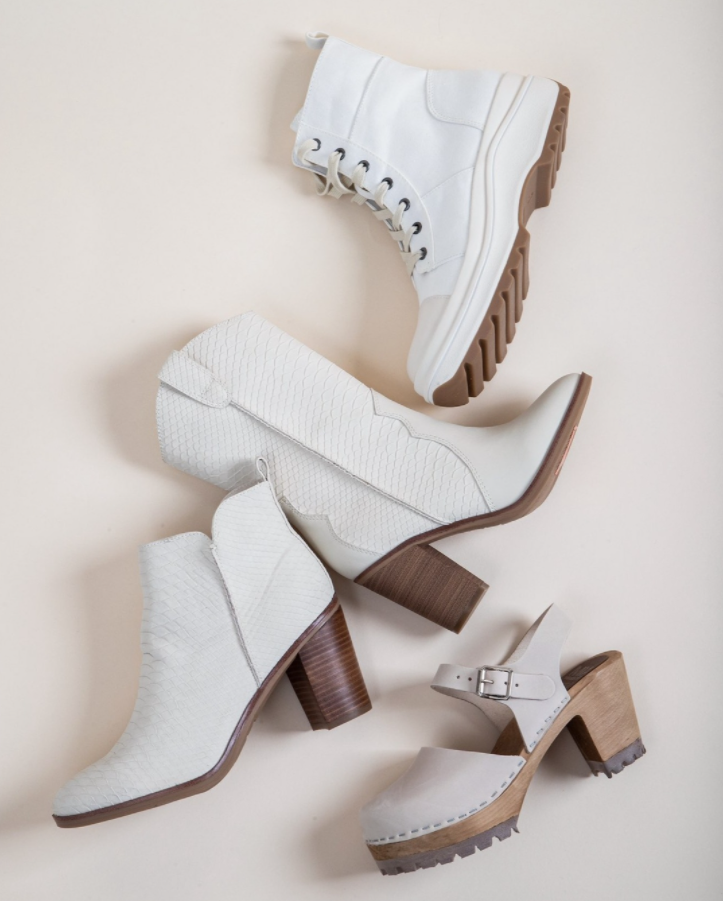 @shopmiashoes/Instagram
4 Mia Shoe's Vegan Ivory Python Boots
It may be oh-so-tempting to opt for a strappy pair of sandals or gorgeous heels to complete your festival look, but many of these festivals take place in dusty, hot, and dry places and open-toed shoes + crowds = no thanks. Instead, rock these trendy vegan leather booties that come with an anatomically contoured footbed. Your feet will thank you!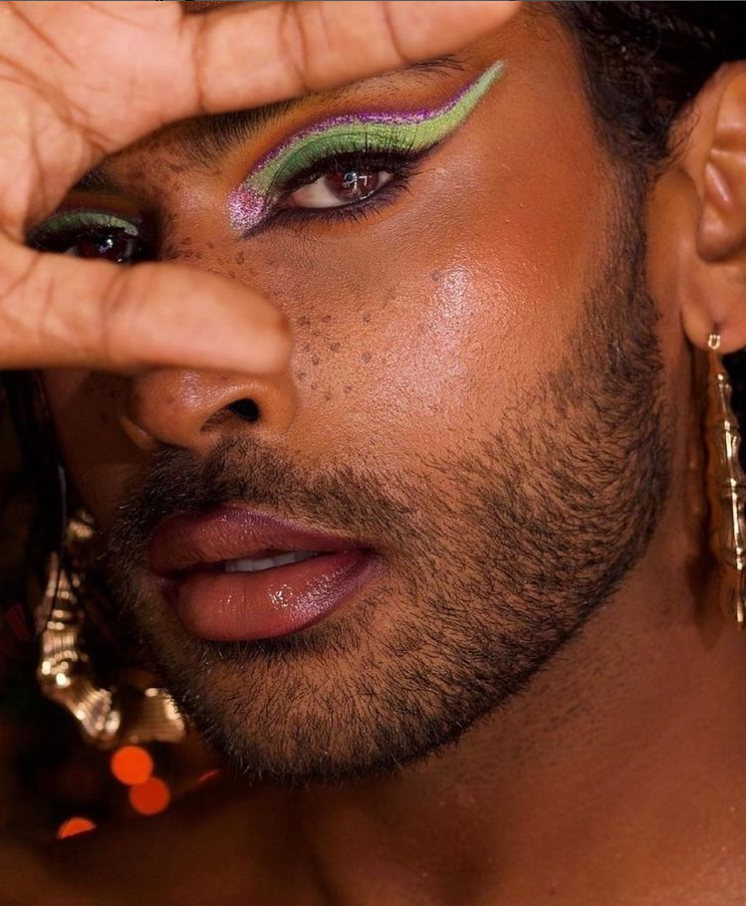 @fluidebeauty/Instagram
5 We Are Fluide's Glitter Eyeliner
If you're mapping out the perfect festival look, makeup will certainly have to play a part. This incredibly pigmented glitter liner comes in a rainbow of shades (emerald green, electric blue, retro orange, baby pink, and more) and is made to last throughout the day. No amount of dancing will smudge this shimmery look away!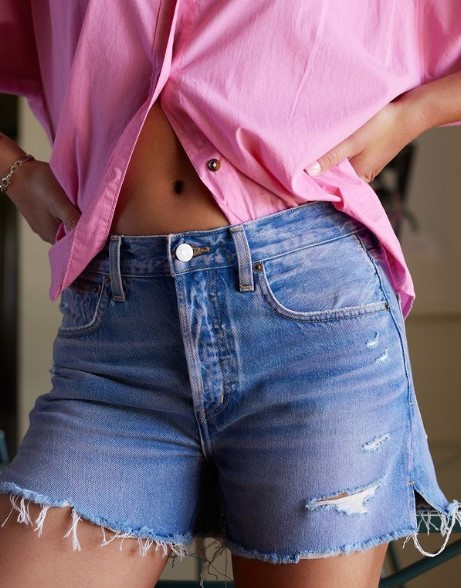 @eticadenim/Instagram
6 Etica Sustainable Denim
Prancing around in the desert heat will be super comfy, chic, and sustainable in a pair of Etica's eco-friendly, naturally dyed denim shorts. Fair labor practices, reduced energy consumption and chemical usage, and ethically sourced materials and textiles make us huge fans of this eco-chic brand.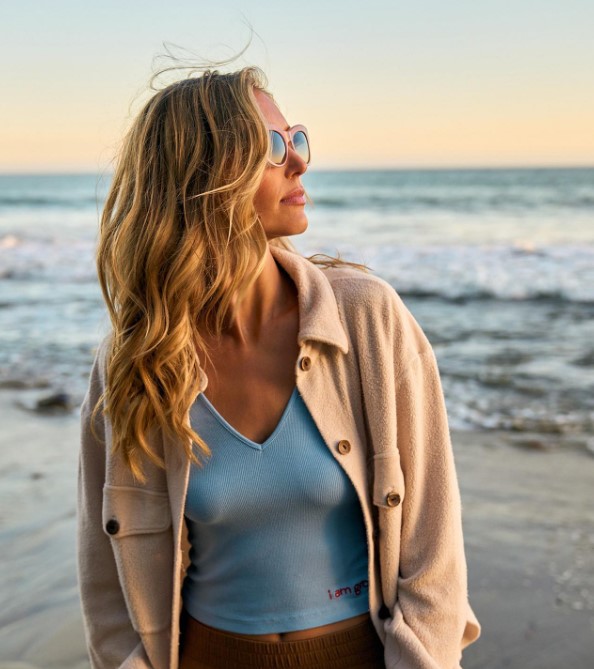 Hadobody
7 Hadobody Pink Shacket
Stay warm as the sun sets while waiting for the headliners to hit the stage in a soft, plush, cotton-fleece shacket. This version from Hadobody lists affirmations inside (a festival vibe if there ever was one!) that will ensure you have a beautiful, intentional weekend of community and music at whichever festival you chose to attend.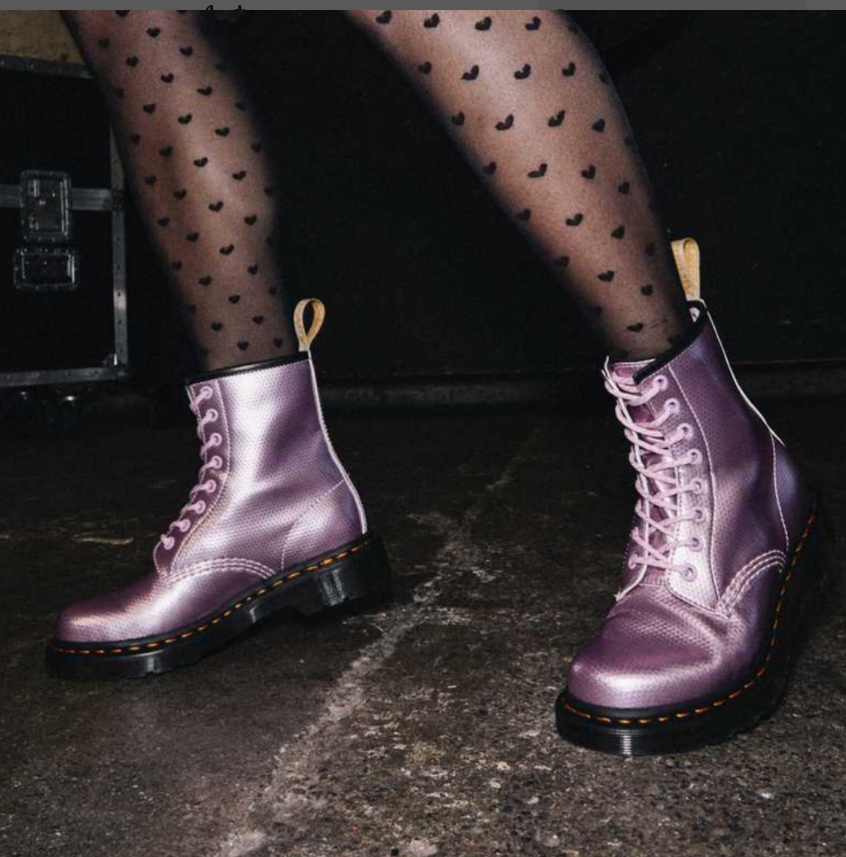 Dr. Martens
8 Dr. Martens' Metallic Vegan Leather Boots
If Western style boots aren't your thing, reach for these tough-as-nails, but still feminine pink metallic leather boots from this iconic shoe company. The embossed exterior adds a touch of chic fashion and once broken in, these boots will be comfy as can be for dancing the day (and night) away.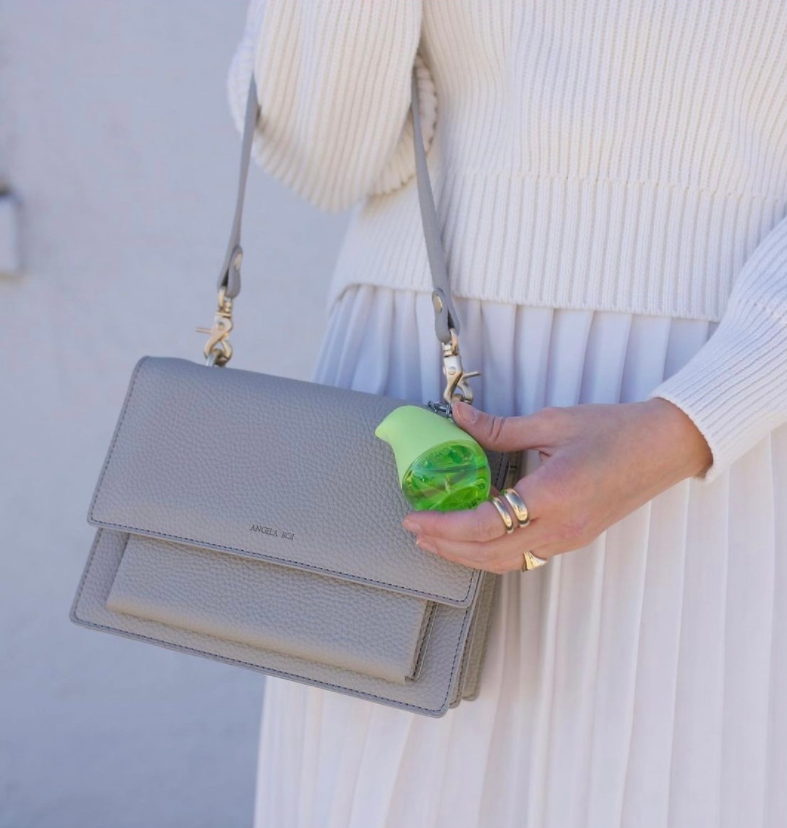 @lifedevivi/Instagram
9Olika's Hydrating Hand Sanitizer
It's no secret that the bathroom situation at large events is less than desirable. And when you're surrounded by tons of people, plus eating greasy food throughout the day, you'll want to keep your hands as clean as possible. We love how eco-friendly Olika is, with this refillable, non-toxic sanitizing spray that's made from simple ingredients, clips onto your bag, and offers 24-hour hydration via hyaluronic acid, so you can feel good about what you're putting on your skin.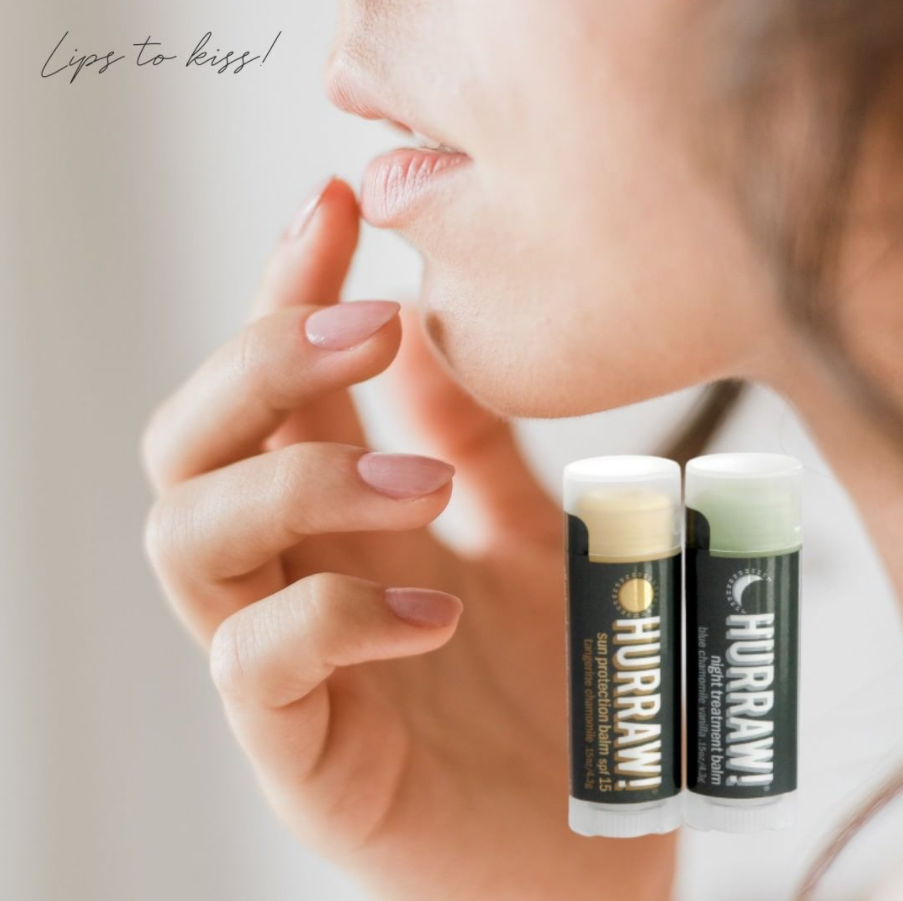 @hurrawbalm/Instagran
10 Hurraw's Sun Lip Balm

Even your lips need protection from the sun's harsh UVA and UVB rays (yes, lips can get sunburnt!). This mineral-based, protective balm has a fresh tangerine-chamomile scent and glides on super smooth and clear so you can wear it over or under your lip color. Plus, superfood oils keep your pouts moisturized and hydrated for hours on end.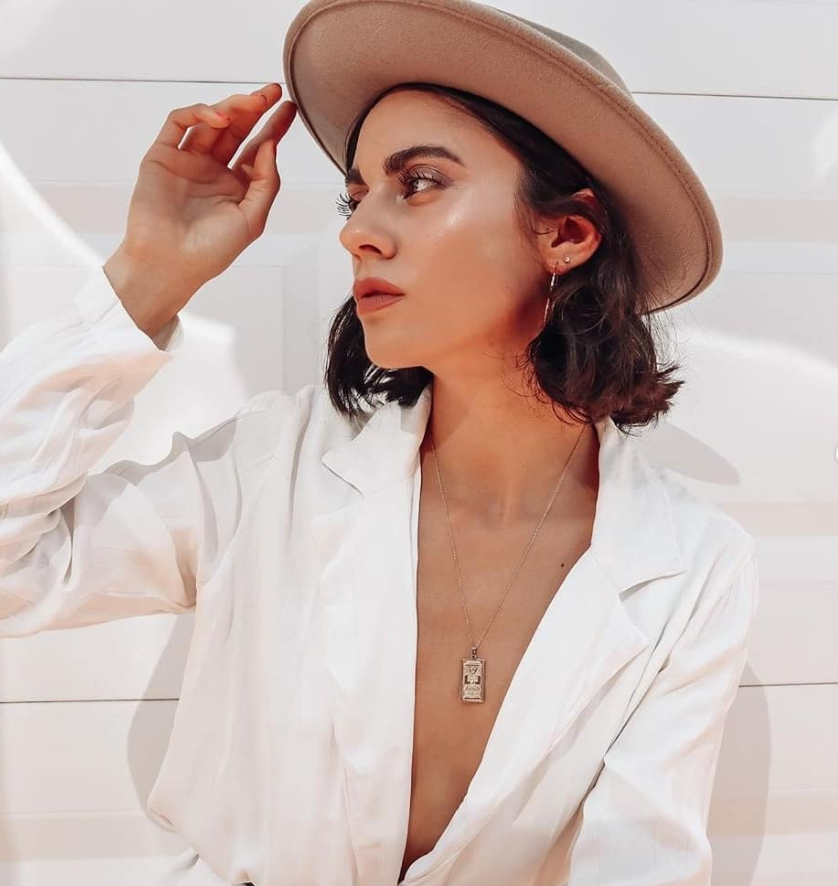 @hatsmithe/Instagram
11 Hatsmithe's Vegan Wide Brim Hats
Make a statement while keeping your face shaded from the sun with this wide-brimmed, 100-percent polyester hat. Its gorgeous, handcrafted brim will keep your head from getting sweaty and adds an extra level of protection that you'll surely be grateful for when the heat soars above 90 degrees.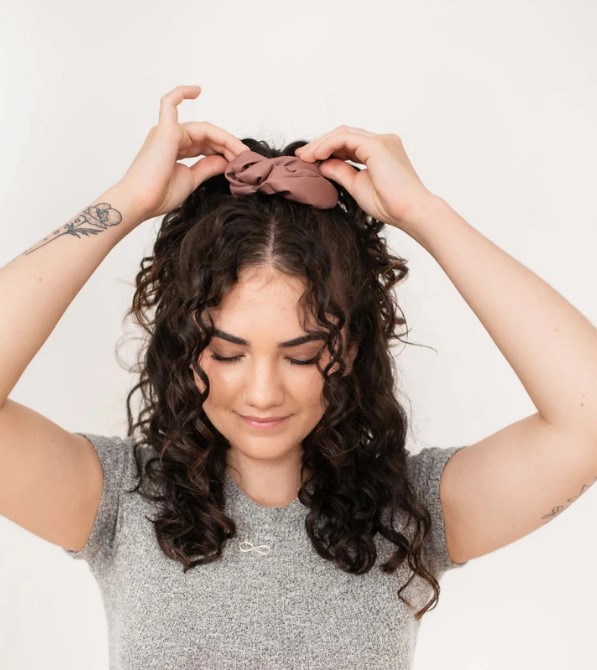 Flirty Pineapple
12Vegan Leather Scrunchies
Keep your hair out of your eyes, but swept up in a retro (yet updated) style with these faux leather scrunchies. The black vegan leather version lends itself to cut-off jeans and Dr. Martens look, while the dusty pink pairs perfectly with a breezy sun dress and cowboy boots look.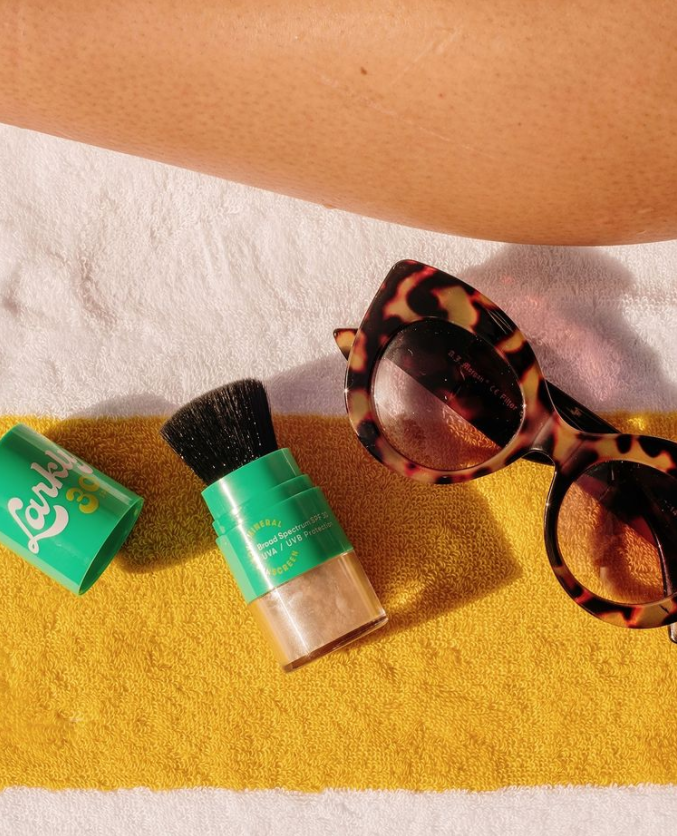 @larklysuncare/Instagram
13 Larkly's Mineral Powder Face Sunscreen

If your makeup is already applied and set to perfection, nothing is worse than realizing you forgot your SPF. This vegan and cruelty-free, no-grease, no-mess, and no-white-cast, brush-on sunscreen saves the day and is super travel-friendly if you happen to be car camping at the festival. Even better? It's sustainable, with the option to re-fill your container versus buying a new one.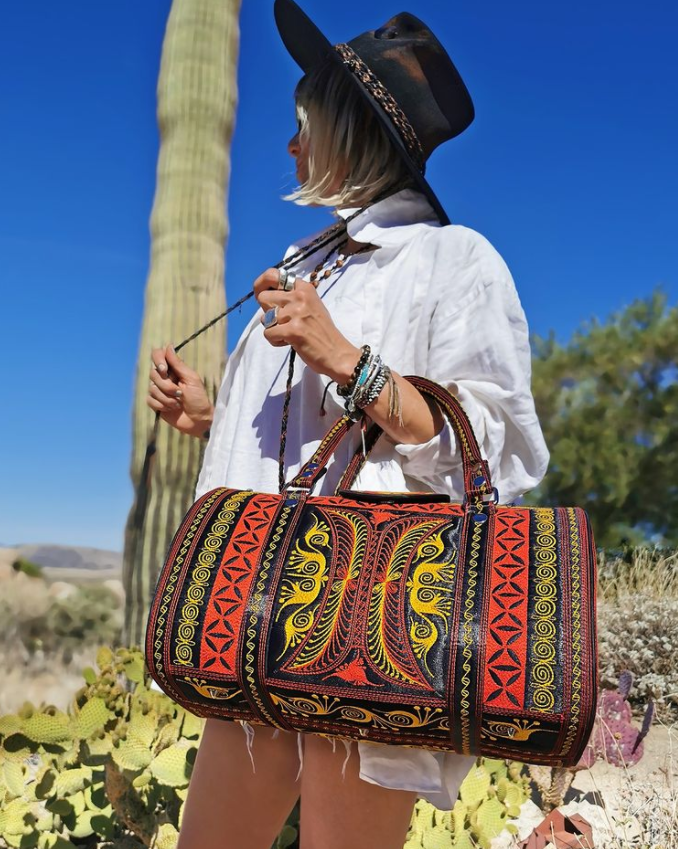 @bandabags/Instagram
14 Banda Bag's Weekender Bag
Pack for your fun weekend away in style! Stuff your festival outfits (plus all of these other essentials) inside this beautiful, spacious, handcrafted, vegan leather bag and you'll be ready to head out the door! Its sturdy nature, gorg embroidery, and dual-strap situation make it a must for us.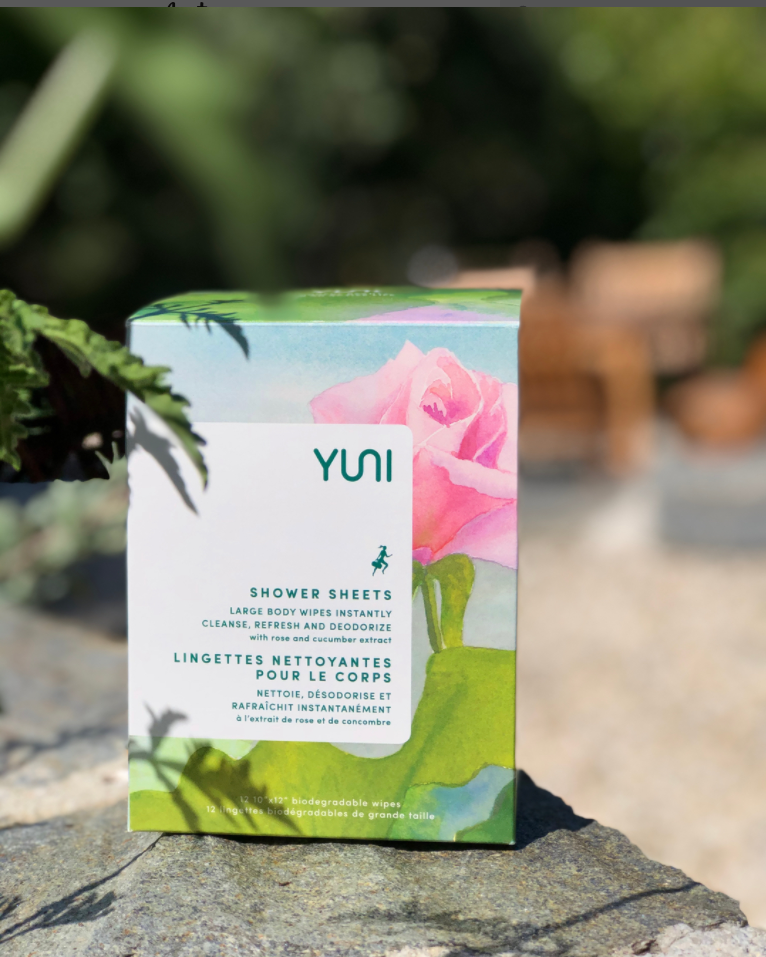 @yunibeautybrand/Instagram
15 Yuni Shower Sheets
After a day in the desert dust or a crowd of sweaty people, these cruelty-free, portable shower sheets that cleanse and remove funky smells are a life saver. Fresh rose and cucumber extract are hydrating for thirsty skin, while you wipe away all of the grime of the day.
For more festival news, read:
Here at VegNews, we live and breathe the vegan lifestyle, and only recommend products we feel make our lives amazing. Occasionally, articles may include shopping links where we might earn a small commission. In no way does this effect the editorial integrity of VegNews.