This summer, embrace the sandal tan. Whether you're heading to the beach or strutting through an outdoor mall, everyone needs a solid pair of sandals that maximize breathability without inhibiting your stride. These sandals are cool and functional, and won't make that "flap-flap" sound when fitted properly. From simple poolside kicks to head-turning heels, here is your guide to the best (and comfiest) vegan sandals for all your summer fun.
How can sandals be vegan?
Sandals are often made with leather and suede, both of which are not vegan because they are derived from animal hide (usually cows, but other animals can be used, too).
Vegan sandals, however, don't feature either of these materials. Many are made with synthetic leather, which is often petroleum-based, but increasingly, there are also more options on the market made with plant-based leathers. Piñatex, for example, is a leather alternative made with pineapple leaves, and Mylo is made with mycelium, the root system of mushrooms.
If you're in the market for some new vegan sandals this summer, there are plenty of options available to you. In fact, the vegan footwear market is growing all the time and is predicted to reach more than $300 million in market value by 2030. Check out our list below for some of the best, and most comfortable, vegan sandals available right now.
The 15 best vegan sandals (that are actually comfortable)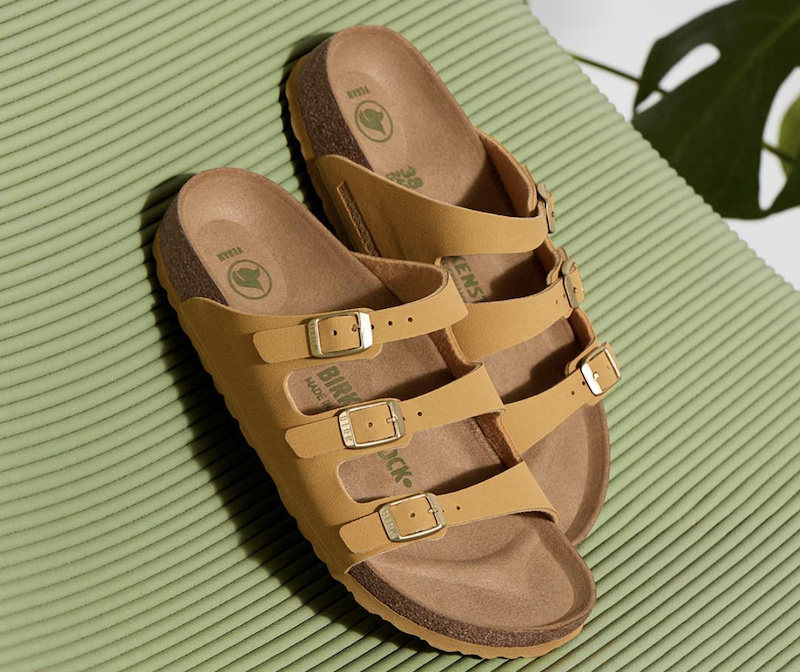 Birkenstock
1 Birkenstock
This popular outdoorsy footwear company launched its US vegan line in 2017. The pared-down selection includes some of the brand's best-sellers including the Mayari and Arizona styles. If you're looking for something comfy and fashionable, invest in a pair of vegan Birkenstocks—they're built to last.
find it here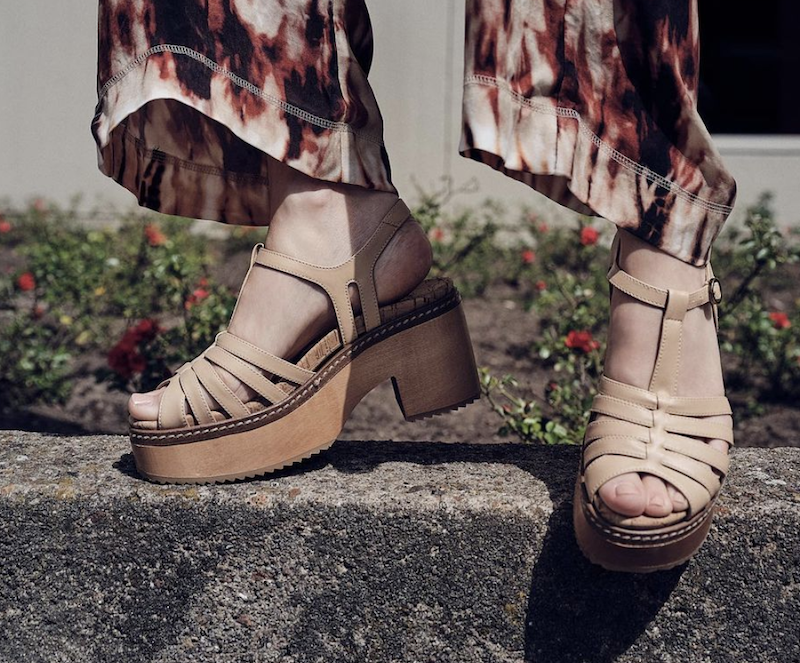 Bhava Studio
2 Bhava Studio
Bhava Studio's women's sandals are all elevated by a thick wedge or sturdy, leg-elongating heel. Get some lift from the Mina Platform Mule or dress up any sundress with the flattering Amber Strappy Heel. All styles come in a range of earthy shades—from rose gold and nude to grays and browns.
find it here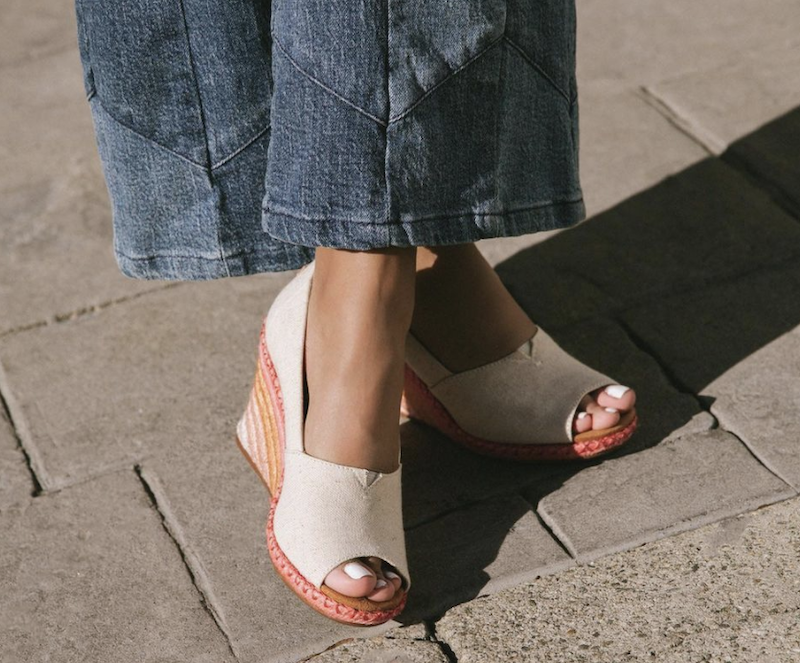 TOMS Shoes
3 TOMS
Yes, TOMS makes more than its signature alpargatas. The company still uses leather for some styles, but there are several women's sandals made with purely synthetic materials. All are labeled vegan which makes narrowing down your choices a breeze. Check out the Diana Ruched Woven Wedge Sandal available in two colors. They're great for a summer day out or dressing up for dinner.
find it here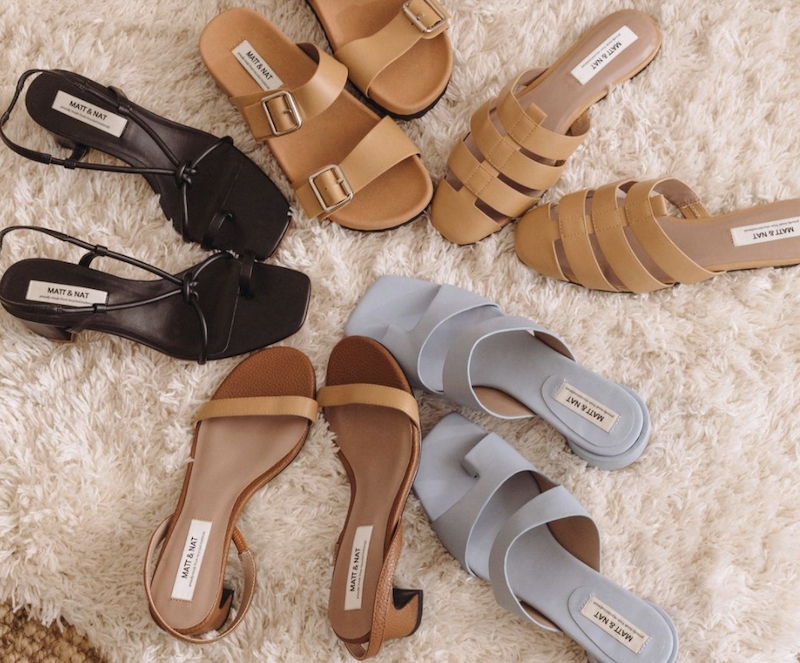 Matt and Nat
4 Matt and Nat
Those who have been vegan for a while may know of this brand for its gorgeous handbags and wallets, but it's branched out into the broader world of leather accessories in recent years. Sandal styles range from something you could wear to the office (the Elodie) to a very basic flat with a wide top foot strap (the Cyndie). We recommend the best of both worlds with the cute yet functional Artie Women's Flat—it features a thin yet supportive ankle strap to keep your foot from slipping, because this summer, we're going places!
find it here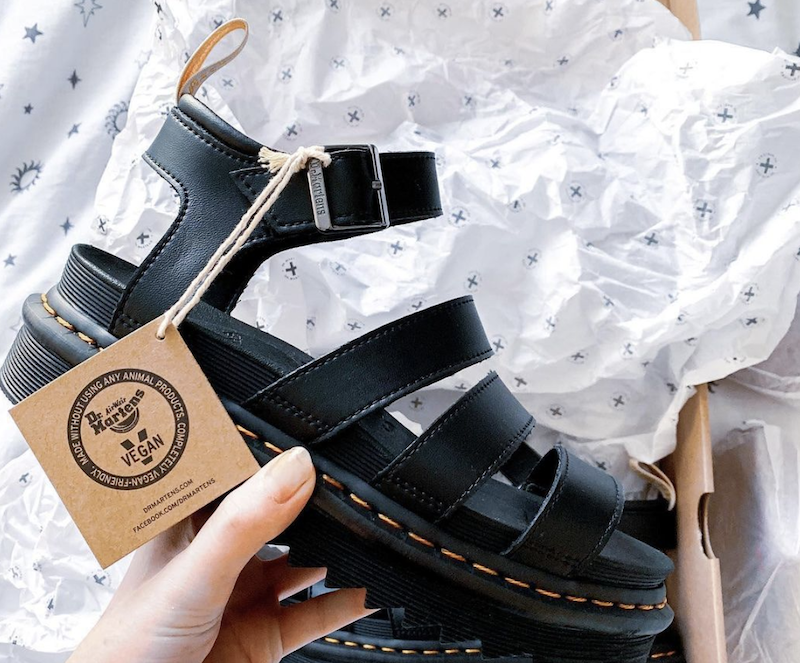 Dr. Martens
5 Dr. Martens
There comes a day near summertime when it's just too hot to sport a pair of Dr. Martens' boots. When that day comes, yank those heavy shoes off your sweltering feet and slip into an equally edgy pair of the brand's vegan sandals. The vegan line offers four gladiator-style options all in black. Dr. Martens for life.
find it here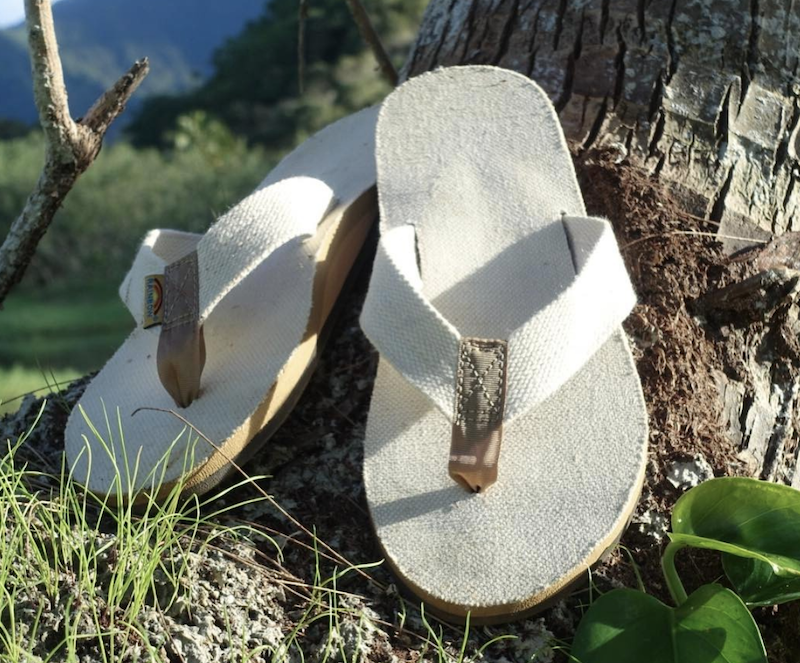 Rainbow Sandals
6 Rainbow Sandals
It's an unwritten law that Southern California residents own a pair of Rainbow Sandals. The company has been around since 1974, and even inland residents seem to own a pair of these ever-lasting beachy sandals. Originally made of leather, the brand now makes both hemp and rubber variations of its iconic sandals. Pro tip: go with the hemp option, they're comfier.
find it here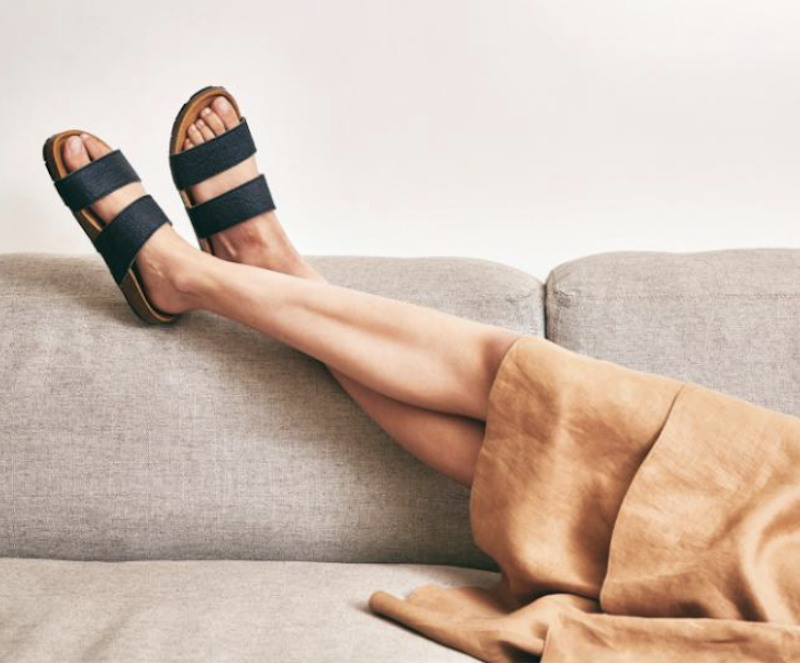 Nae Vegan Shoes
7 Nae Vegan Shoes
You won't have to worry about hidden leather soles or suede straps here—this sustainable shoe company only uses environmentally friendly textiles such as recycled plastic bottles, cork, organic cotton, and Piñatex (pineapple leather). Both men and women have a plethora of styles to choose from ranging from ultra-casual to super chic. We love the look of the Daphne Piñatex Heel Criss-Cross Sandals and the Bali Greens.
find it here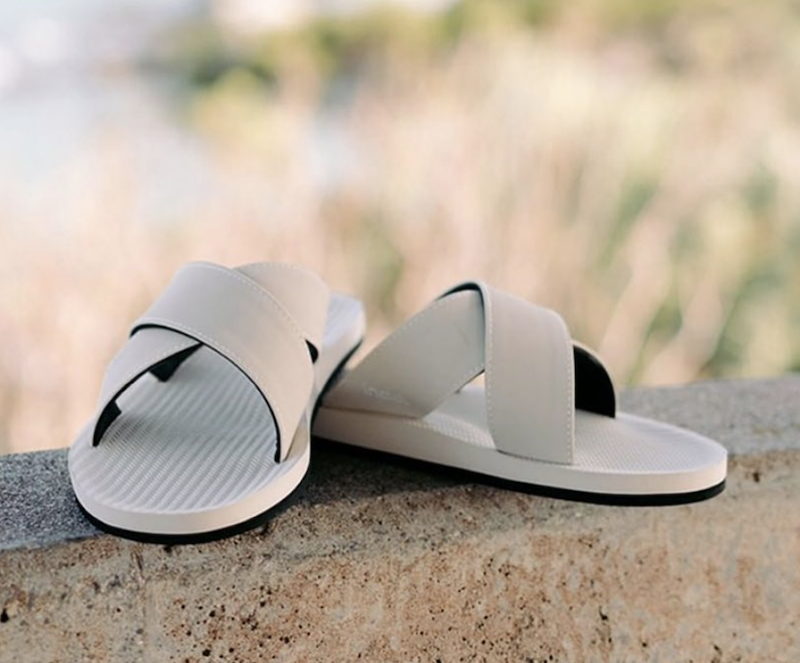 Indosole
8 Indosole
Looking for something to just get you across the blazing-hot concrete from the pool to the showers? Check out Indosole. Both its men's and women's collections are made from recycled tires. But the brand doesn't just slap a piece of rubber on a strap and call it a day. Each pair is designed to provide arch support—making them far superior to the $10 pair of flip-flops you might pick up at Target. All styles are waterproof and come in an array of colors and heel-less styles from wide-banded to criss-cross.
find it here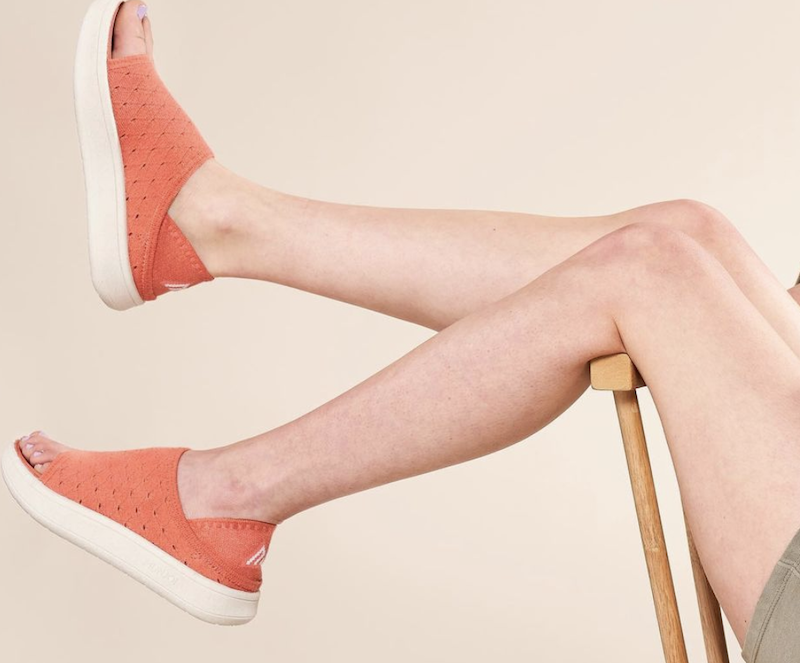 Munjoi
9 Munjoi
Remember Heelys? These shoes are cooler than that. The entirely vegan brand makes one style of shoe that can transform into a sneaker, sandal, slide, or mule by removing and collapsing the sole. They're unisex, flattering, and provide all-day comfort. We're not saying you'll never need another shoe, but one pair of Munjoi could significantly help declutter your shoe closet.
find it here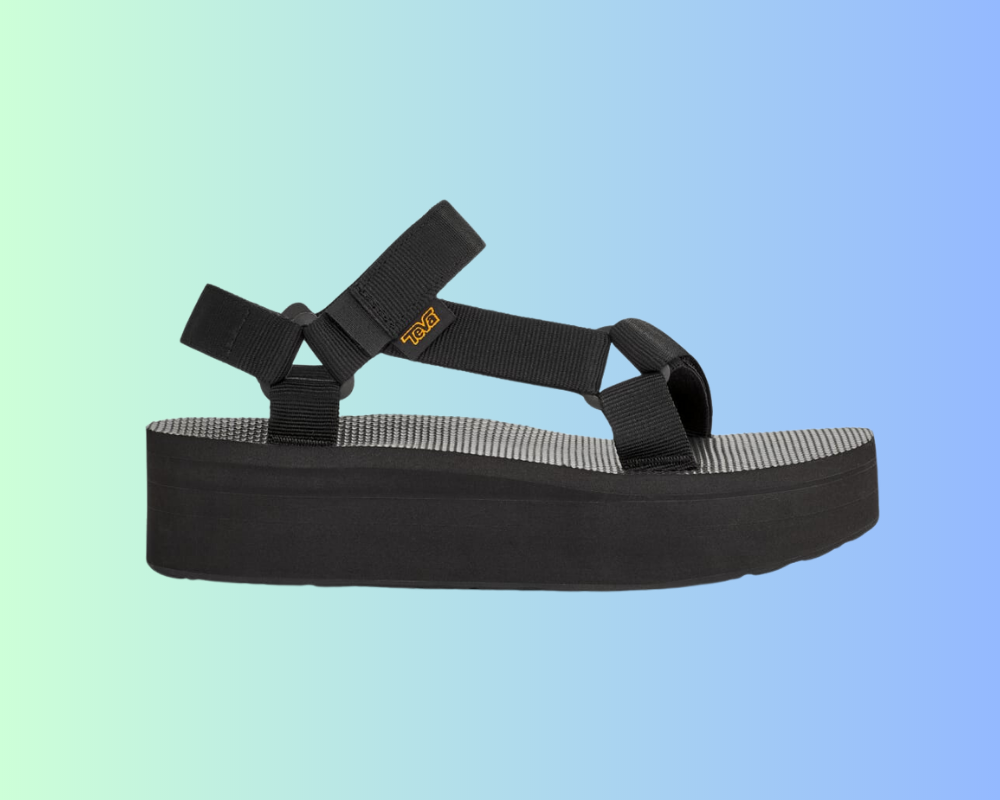 10 Teva
Renowned for their comfortable, durable sandal designs, Teva has a plethora of vegan styles to choose from. If you're after something practical with a little edge, check out the Flatform Universal, for example, which is perfect for the festival season. Or if you're someone who enjoys a little bit of light hiking and you want to keep it practical, check out the Terra Fi Lite, which is made with recycled polyester.
Find it here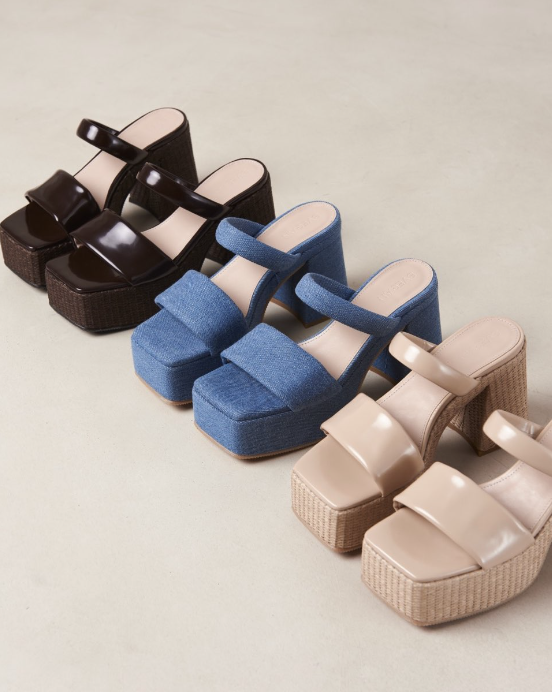 Alohas
11 Alohas
Sustainably made and with over 20 varietals of vegan sandals, this sleek and modern fashion brand is making warm weather styles a breeze. Whether you like a slight heel, a platform shoe, a flat and strappy option, or a strap-free minimalist design, Alohas has it all.
Find it here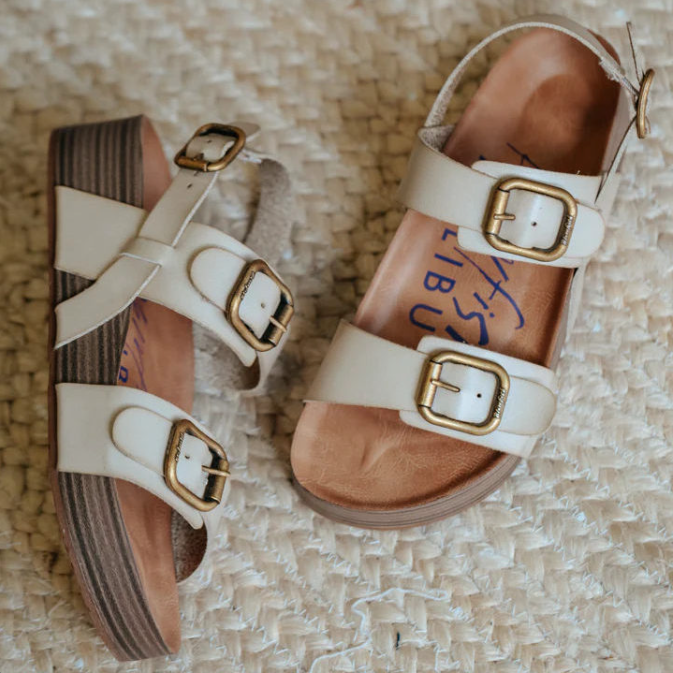 Blowfish Malibu
12 Blowfish Malibu
Keep it simple and breezy with these strappy sandals. The ankle straps adds extra security while the slight platform offers a flattering angle to show off your beautiful legs. Crafted without the use of animal products, these sandals embrace the beauty of ethical design while providing the utmost comfort for your feet.
Find it here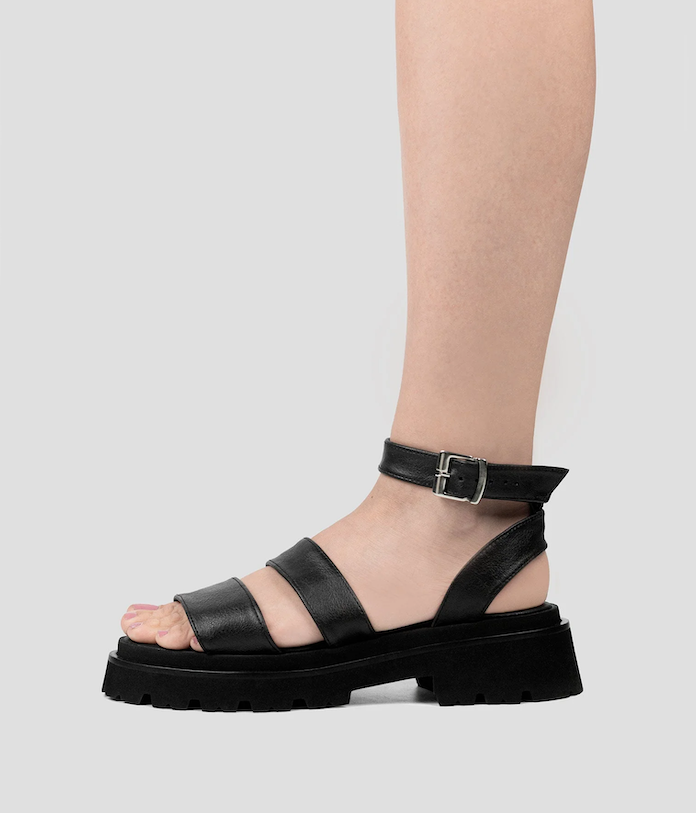 Bohema
13 Bohema
This vegan brand was the first in the world to create shoes made of cactus leather, and the first in Poland to create shoes made of vegetable leather such as Pinatex pineapple leather, apple leather, or Vegea grape leather. Its sleek and ultra-modern designs lend themselves to everyday wear or to dressing up for an evening out.
Find it here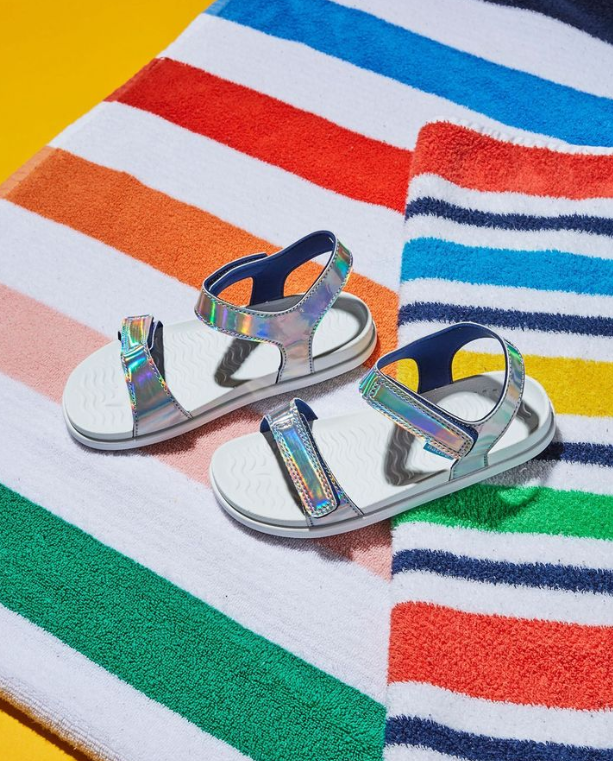 Native Shoes
14 Native Shoes
When talking about vegan fashion and sustainability, we can't forget Native Shoes. With an innovative intiative called The Native Shoes Remix Project, a recycling initiative that takes well-loved soles and gives them new life in projects across the community, this kid-friendly, alternative material shoe brand is truly living up to it's mission.
Find it here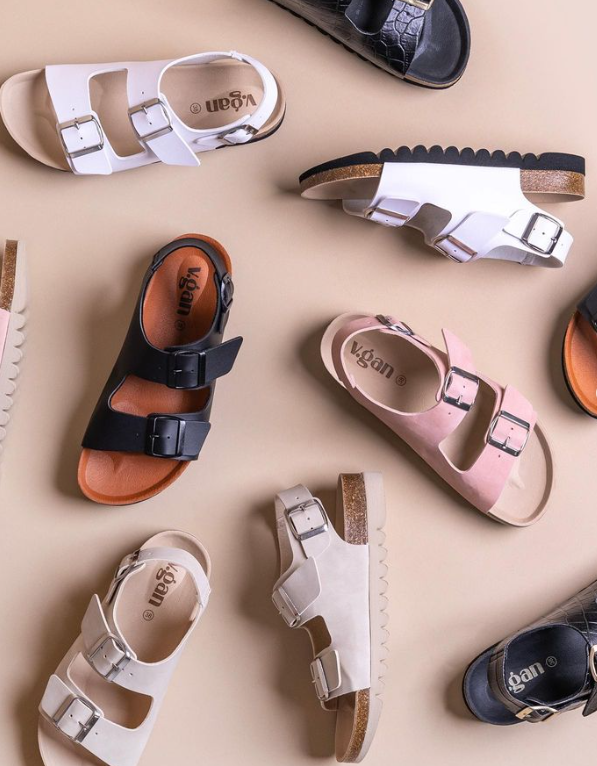 V. Gan
15 V.Gan
These sandals represent a blend of style and sustainability, crafted without the use of animal-derived materials. The brand's commitment to veganism extends beyond design, it's a statement that every step can be taken with compassion. From the choice of materials to the creation of versatile and chic designs, these sandals offer a conscious choice for those who want to make a positive impact on both the planet and the animals that inhabit it.
Find it here
For more summer fashion, read:
Here at VegNews, we live and breathe the vegan lifestyle, and only recommend products we feel make our lives amazing. Occasionally, articles may include shopping links where we might earn a small commission. In no way does this effect the editorial integrity of VegNews.