Rising temperatures just beg for an ice cream scoop or two to cool down and prep for the summer days ahead. Yes, you could buy your own vegan pints, but what about when you're craving something beyond cookies 'n' cream in Ben & Jerry's territory? Perhaps you're craving a s'mores ice cream, filled with vegan marshmallows, graham crackers, and chocolate chips swirled into a toasted marshmallow almond milk ice cream.
For essential tips on creating your own frozen indulgences, we turn to Hannah Kaminsky, the wünderkind behind the cookbooks, Vegan à la Mode and Super Vegan Scoops!. She concocts flavors that you'll wish you'd dreamed up first (Thai Iced Tea Ice Cream, we're looking at you). Kaminsky shares her best tricks for making quality homemade creations and even how to make your dessert sans an ice cream maker. Plus, there's delicious recipe inspiration, too.
How do you make vegan ice cream?
1Use the right non-dairy milk as your base
Kaminsky says that you'll get the best results from dairy-free counterparts that are higher in fat such as canned coconut milk. She typically uses almond milk as her base, but other non-dairy milks can work (steer clear of rice milk because it tends to be too watery).
2If you don't have an ice cream maker, use a baking dish
Not ready to splurge on a gadget to do the churning for you? Kaminsky shares, "Pour the base out into a rectangle baking dish and place the dish on a level surface in your freezer. Wait 45 minutes or so, and then using a fork scrape up the ice crystals forming around the edges. Put the dish back into the freezer, wait 30 minutes, and scrape again. Repeat until the entire mixture is frozen." While this technique will result in a less smooth texture than what you may be used to, a great non-dairy base will still give you a dreamy rich taste.
3Investing in an ice cream maker isn't a bad idea, though
Though Kaminsky used a pricier model to test out more than 100 recipes for her cookbook, she highly recommends the Cuisinart, which she used for years until dropping it one too many times. If you own a KitchenAid Mixer, you can buy an ice cream maker attachment. More affordable options include Hamilton Beach and Nostalgic Electric, which offer $40-and-under models, or the Play and Freeze Ice Cream Maker that literally turns ice cream making into a game; you roll it around and 10 minutes later, your ice cream is ready. Plus, after all that hard work, you deserve a scoop.
4Carefully add in your mix-ins
Now, this is when you can get crazy and be the master of innovative ice cream. Instead of tossing vegan chocolate chips into your mixer (which will result in all the chips settling at the bottom of your cherry vanilla chip), Kaminsky suggests adding your goodies in layers. "I like to put down a scoop or two of ice cream, a handful of mix-ins, another two scoops of ice cream, and then more mix-ins until everything is in the container. With a wide spatula, gently fold the mixture, stirring from the bottom to the top. This helps distribute things pretty evenly. There will always be pockets with more goodies than others, but finding them is half of the fun!"
5Get boozy
Adding a little booze can give ice cream the perfect flavor boost. In Kaminsky's Horchata Ice Cream recipe, she adds a touch of dark rum to play up the rich vanilla and almond flavors in the base. Her other flavor suggestions are happy hour-ready such as pairing Kahlua with chocolate flavors, citrusy liqueurs Limoncello or Grand Marnier with fruit-based ice cream, and bourbon with anything vanilla.
A word of warning: don't get too boozy because the more you add, the softer your ice cream will turn out. If you want your pint alcohol-free, Kaminsky recommends substituting a similar flavor extract and adding non-dairy milk to replace the amount of alcohol called for in the recipe.
6Get inspiration from other ice cream recipes
You've found the perfect ice cream recipe online, but it's not vegan. Instead of trying to replace the eggs, take the flavor profiles and play with them. Kaminsky says, "Any flavor can be created anew as a vegan recipe, so take inspiration from other recipes. When all else fails, add your own twist to a solid vanilla base."
7Give yourself time.
Kaminsky shares her secret to the perfect sweet treat: "The best frozen desserts can't be rushed." Making your own amazing vegan ice creams takes a little elbow grease. First, you'll need to freeze the ice cream maker bowl overnight. Next, you cook the base and let it cool completely before chilling it in the refrigerator for several hours. Then, you're ready to churn your desired flavor in an ice cream maker (or by hand) and freeze your treat for at least three to four hours before downing the delicious quart you've just made.
Now that you've gotten the basics, it's time to turn your kitchen into your very own vegan ice cream shop and churn out your own flavors and toppings.
The best vegan ice cream recipes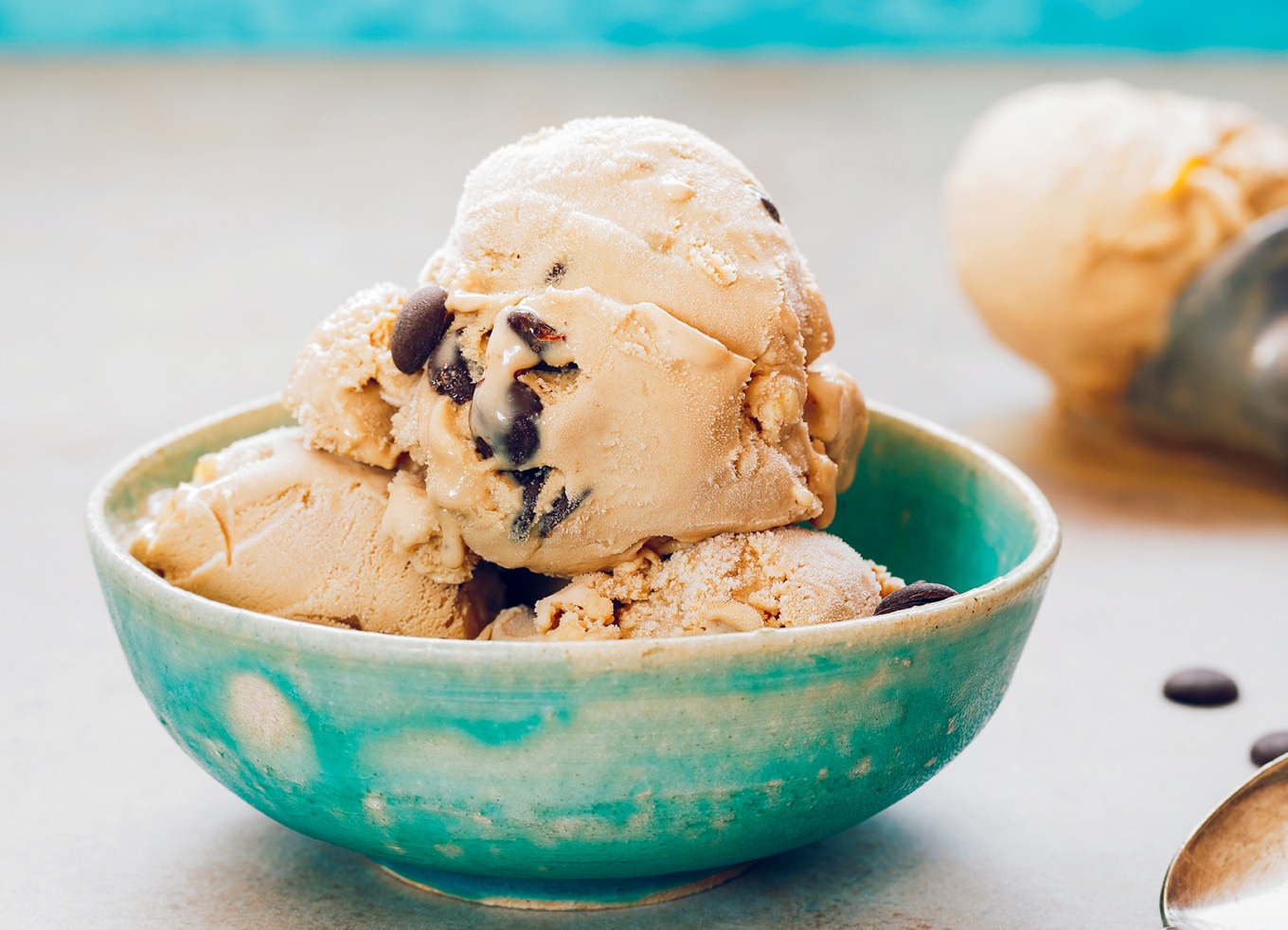 Alleko
1 Chocolate Chip Oat Milk Banana Ice Cream
Simple and delicious. All you need are bananas, vanilla extract, oat milk, and chocolate chips to create this tasty recipe.
Get the recipe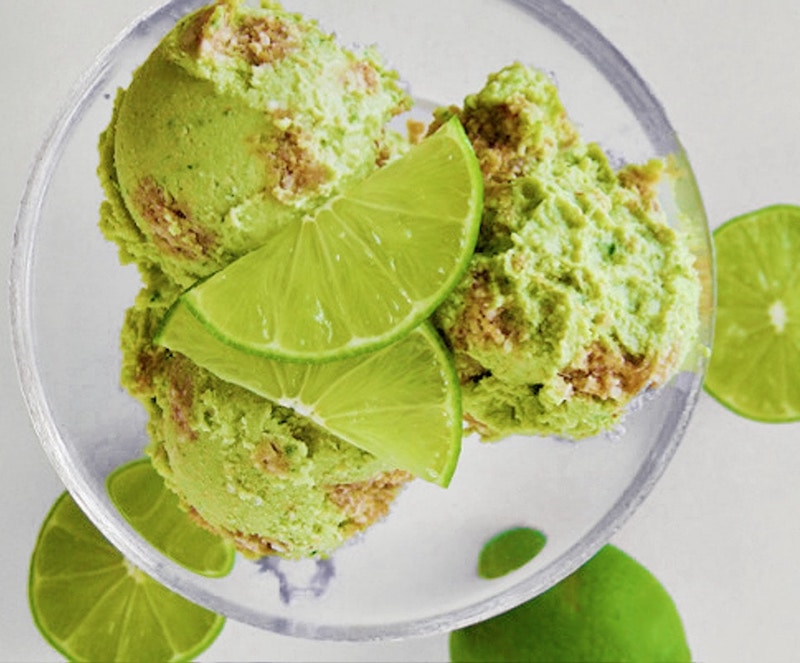 Amy Lyons
2 Key Lime Pie Ice Cream
If you love the flavors of key lime pie, you'll love this zesty dairy-free recipe. If you want to customize it even more, marshmallows are a delicious addition.
Get the recipe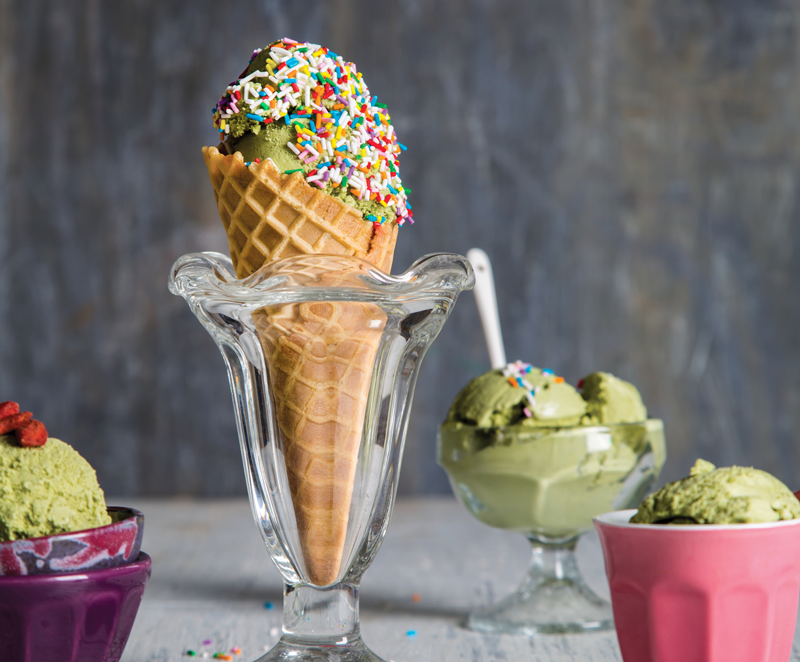 Brilynn Ferguson
3 Coconut Cashew Matcha Ice Cream
There are just two steps to this creamy matcha ice cream recipe—just don't forget to pre-soak the cashews!
Get the recipe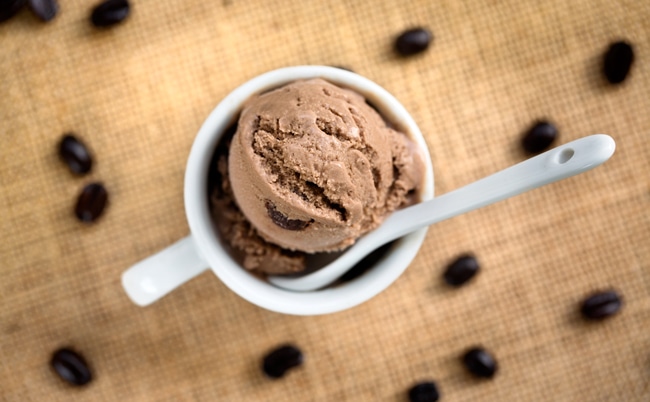 Hannah Kaminsky
4 Coffee Chip Frozen Yogurt
More of a fro-yo person than an ice cream person? We've got you covered, too. All you need for this recipe is soy yogurt, agave nectar, vanilla, coffee powder, and chocolate chips.
Get the recipe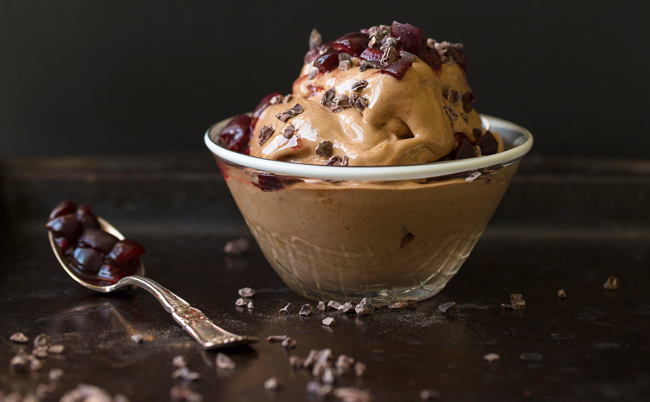 Blissful Basil


5 Double-Chocolate Cherry Chunk Ice Cream
If your bananas are on the turn, don't throw them away! Instead, use them as the base for this decadent cherry ice cream recipe.
Get the recipe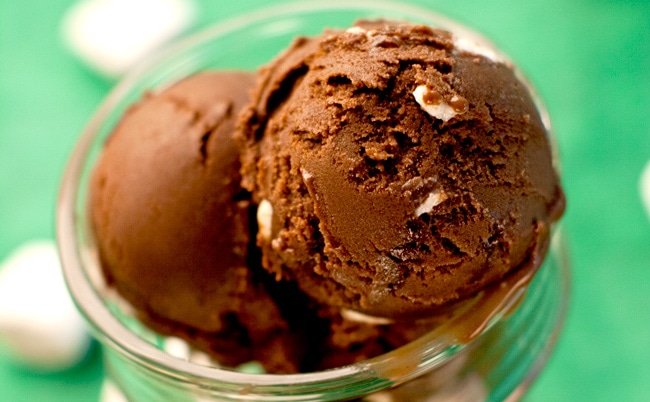 Hannah Kaminsky
6 Mexican Hot Chocolate Vegan Ice Cream
Cayenne pepper sounds like a strange ingredient for ice cream, but trust us, once you've tried it, you'll be hooked.
Get the recipe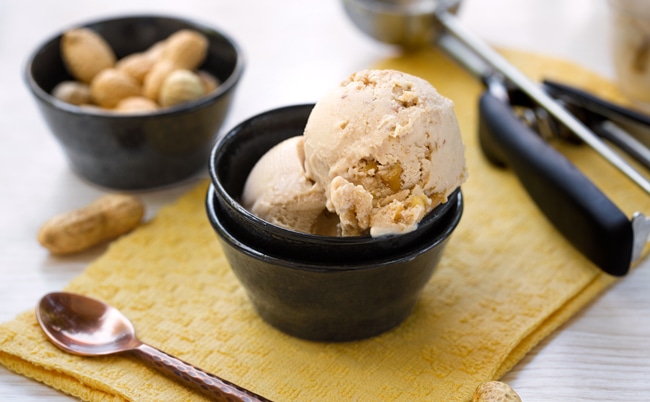 Hannah Kaminsky
7 Peanut Butter Frozen Yogurt
Peanut butter lovers won't be able to get enough of this delicious fro-yo recipe. Add real peanuts for an extra satisfying crunch!
Get the recipe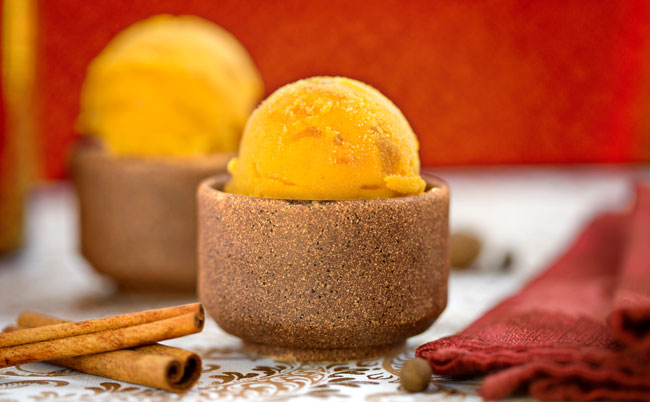 Hannah Kaminsky
8Pumpkin Spice Frozen Yogurt
Pumpkin spice isn't just for fall! Enjoy the flavors of this autumn classic and cool down in the summer, too.
Get the recipe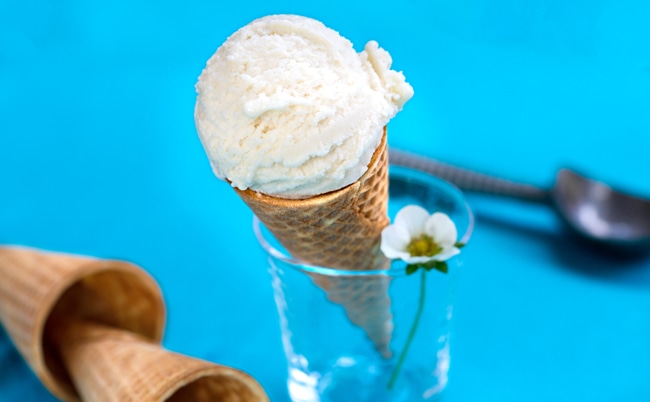 Hannah Kaminsky


9 Four-Ingredient Vanilla Ice Cream
Quick, easy, and classic. You can't go wrong with the OG.
Get the recipe
The best vegan ice cream toppings
1 Chocolate Ganache Glaze
For a little extra indulgence, whip up this ganache glaze. It involves just three ingredients: creamer, chocolate, and a pinch of sea salt.
Get the recipe


2 Coconut Whipped Cream
Cream on ice cream? We can confirm: this mix of textures is dreamy.
Get the recipe

3Mexican Hot Chocolate Syrup
The spices in this hot chocolate syrup help to balance out the sweetness of ice cream beautifully. We recommend serving with waffles, too.
Get the recipe
4Pineapple Syrup
Keep things fruity with this pineapple sauce recipe, which tastes delicious over ice cream, but also works with other dessert options like sorbet, frozen yogurt, and waffles.
Get the recipe

5Rum-Caramel Sauce
Let's be honest: Booze, caramel, and ice cream has to be the best combination of all time.
Get the recipe
For more vegan ice cream, read:
Here at VegNews, we live and breathe the vegan lifestyle, and only recommend products we feel make our lives amazing. Occasionally, articles may include shopping links where we might earn a small commission. In no way does this effect the editorial integrity of VegNews.