The plant-based meat market is having more than a moment. Every day, it feels like a new innovative, ultra-realistic form of vegan chicken, fish, or beef hits the shelves. Undeniably, there has never been more choice in the meat-free section of grocery stores. But this boom has actually been building for a while—decades in fact. Before today's plant protein giants, bleeding burgers, and modernized food tech, there was Gardein.
Back in the 1980s, Canadian entrepreneur Yves Potvin created a veggie hot dog designed specifically to fill the gap in health food stores at the time. But, after hitting $1 million in sales, in the early aughts, he decided hot dogs weren't his calling. He embarked on a new mission: making interesting and tasty meat-free entrees with a brand called Gardein.
Today, Gardein boasts one of the most diverse ranges of meaty vegan products in the plant-based industry. Seriously, there's everything from turkey-style cutlets to crabless cakes. Much of its offering is frozen, but it also sells canned soups and chilis. Its whole range is designed to be as convenient as possible, but without losing that all-important taste and quality. Want to put it to the test yourself? Here are some of our favorite products from Gardein.

Gardein's best vegan meat products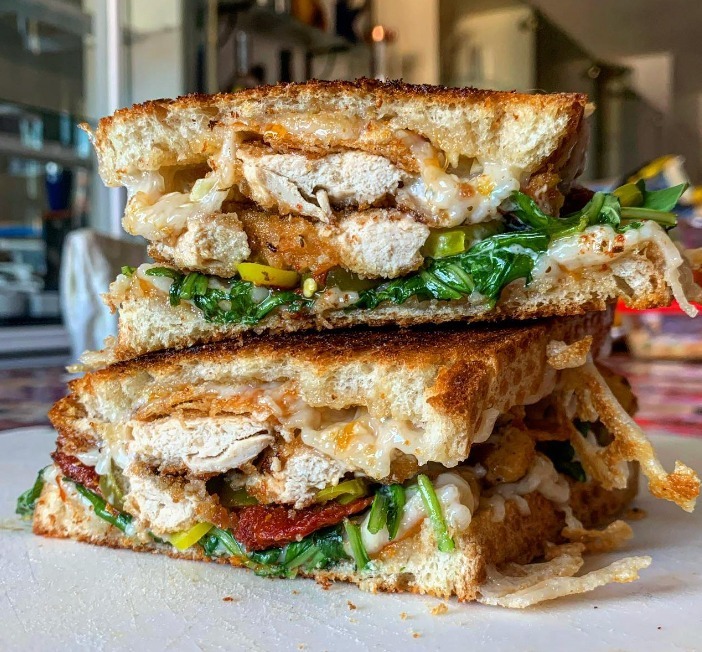 @kristoplants/Instagram
1 Turk'y Cutlets
Perfect for the holiday season, Gardein has two stuffed Turk'y roasts. But if you're not feeling festive, or you just don't fancy a whole joint of plant-based meat, the brand also offers tasty breaded Turk'y Cutlets. Just like the regular meat version, these vegan cutlets are delicious with gravy and your favorite greens.
Check it out
2 Mandarin Orange Crispy Chick'n
Fancy takeout? Why not stock up on Gardein's Mandarin Orange Crispy Chick'n instead? It's much quicker, just as delicious, and will save you dollars, too. Serve with your favorite takeout classics, like chow mein, fried rice, and spring rolls.
Check it out
3 Sweet and Tangy Barbecue Wings
Gardein's extensive range of plant-based Chick'n also includes boneless vegan wings, of course. Make sure you're ready to make a mess because they come covered in sticky, smoky, sweet barbecue sauce (if you prefer buffalo sauce, that's an option, too).
Check it out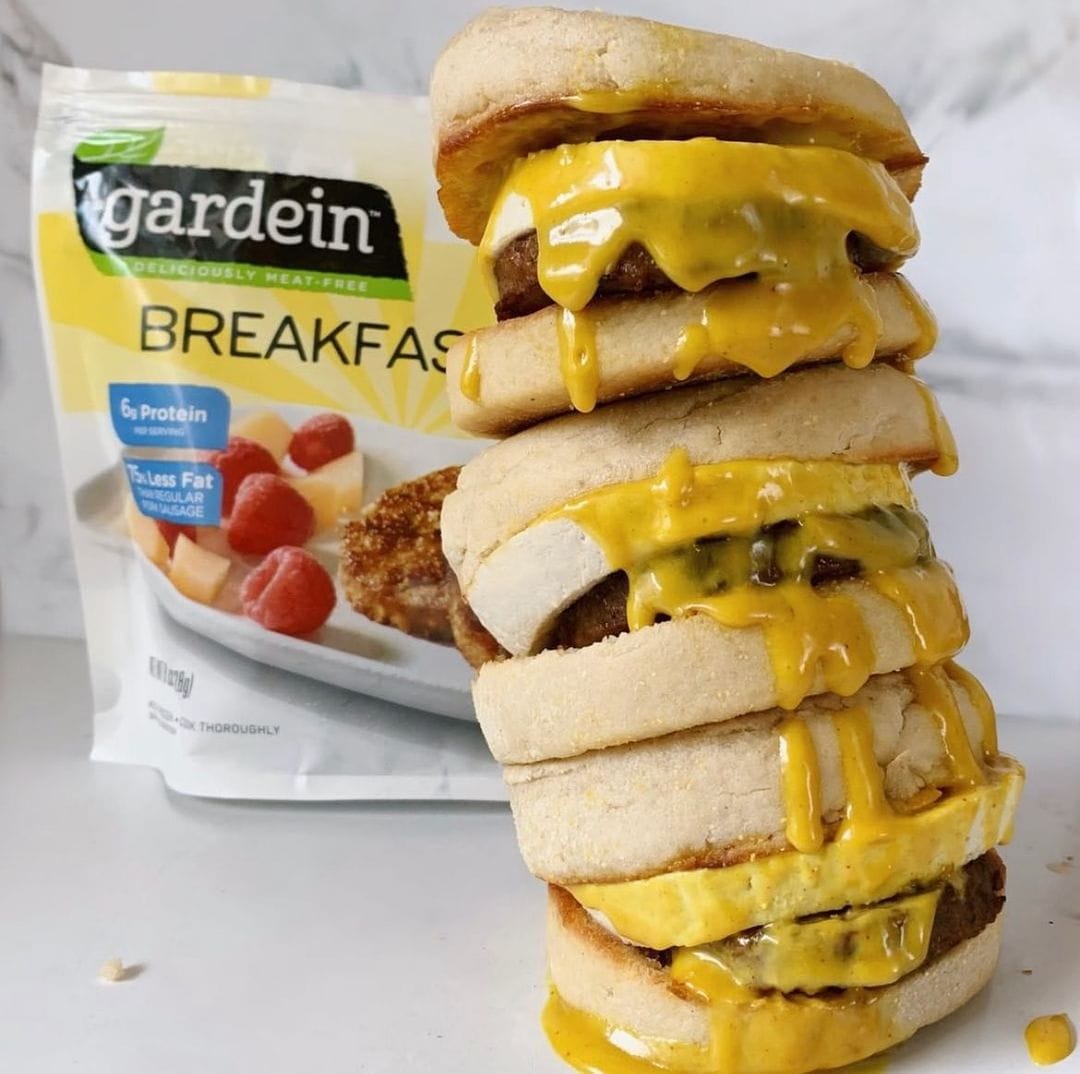 @madison_vegan.eats/Instagram
4 Spicy Plant-Based Breakfast Saus'ge
Breakfast sausage is a fast-food staple, but you don't need to eat meat, or head down to the drive-thru, to enjoy an indulgent morning sandwich. Grab some of Gardein's Spicy Plant-Based Breakfast Saus'ge, some vegan cheese, and English muffins for a tasty breakfast treat. If you'd rather enjoy your Saus'ge without spice, there's a plain option, too.
Check it out
5 Be'f Sliders
Summer is just around the corner, and that means it's nearly time for cookouts with family and friends. But grilling season doesn't have to equal meat. B'ef Sliders or Burgers from Gardein are the ultimate meat-free crowdpleaser.
Check it out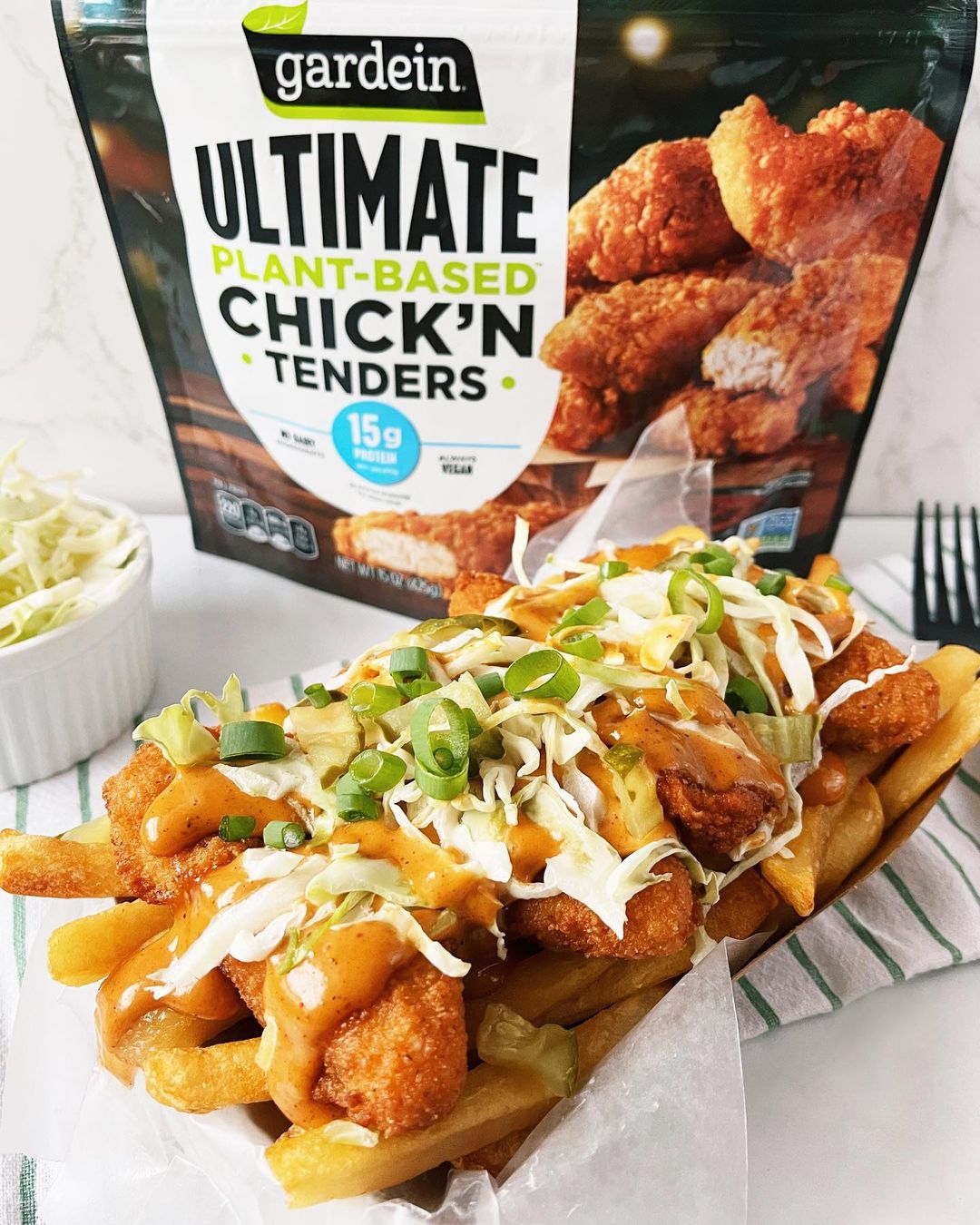 @madison_vegan.eats/Instagram
6 Ultimate Plant-Based Chick'n Tenders
These protein-packed Chick'n Tenders are ideal for popping in the air-fryer when you just want something quick, filling, and, of course, tasty. If you want the KFC experience (without, you know, the fast food or the chickens), serve with corn on the cob and fries. If you prefer your Chick'n in a burger, the brand also offers Ultimate Plant-Based Chick'n Filets, or if you are all about the bite-size pieces, try the Chick'n Nuggets.
Check it out
7 Sweet and Sour P'rk Bites
Another reason to put the takeout menu down: Gardein's Sweet and Sour P'rk Bites. They're crispy yet tender, full of flavor, and to be honest, pretty addictive. Serve with stir-fried veggies for a delicious mid-week treat.
Check it out
8 Mini Cr'b Cakes
If you're a seafood-lover who prefers their meals animal-free, Gardein's Mini Cr'b Cakes are guaranteed to become your new go-to every time you head to the grocery store. Just like regular crab cakes, they're also a source of omega-3.
Check it out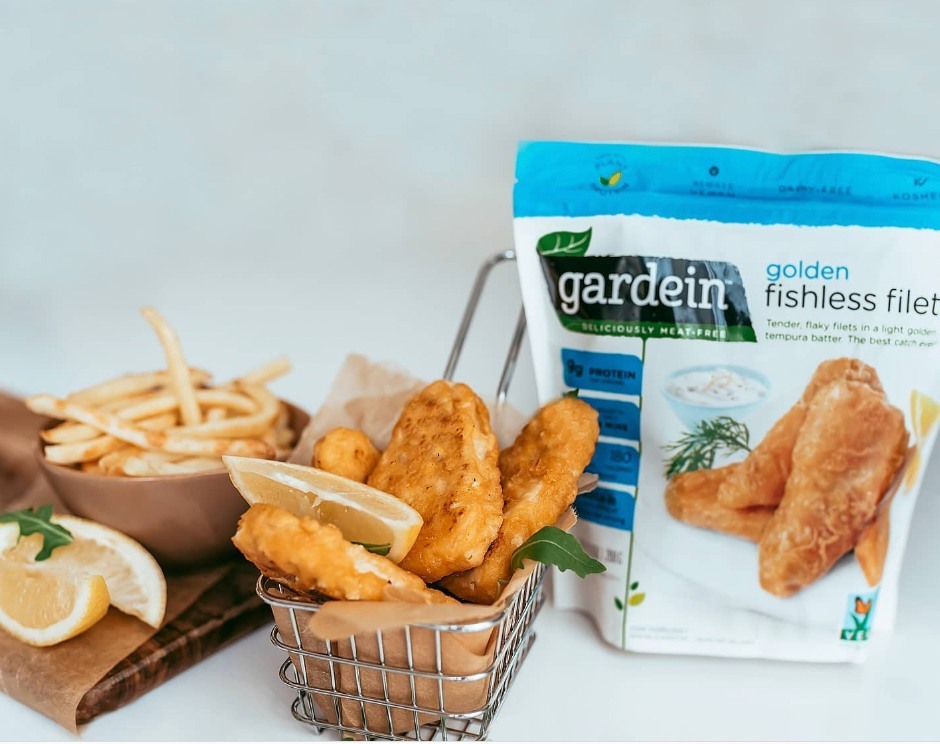 @capturingivy/Instagram
9 F'sh Filets
Transport yourself all the way to England by enjoying these crispy F'sh Filets with chip shop-style fries and mushy peas. Don't forget the salt, vinegar, and a squeeze of lemon over the fillets for extra tang!
Check it out
10 Ultimate Plant-Based Meatball Marinara
Let's be honest, some days cooking is a joy, and other days it's a chore, especially if you're running low on time or energy. To save yourself the effort, stock up on Gardein's Ultimate Plant-Based Meatball Marinara bowl, which also features rich tomato sauce, pasta, spinach, and onions. This is just one of many from Gardein's bowl range, which also includes options like Italian Saus'ge & Pasta and Plant-Based B'ef and Broccoli.
Check it out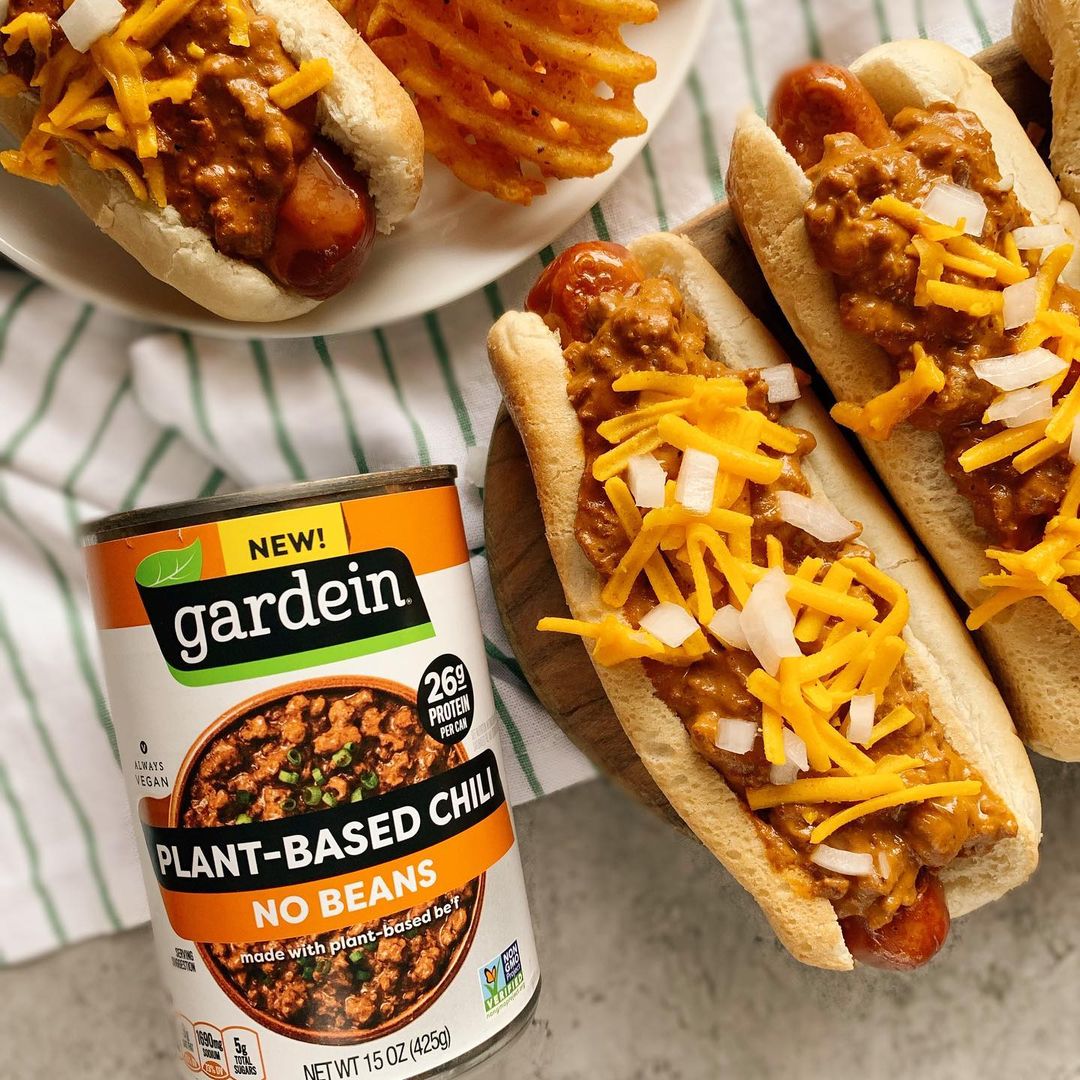 @madison_vegan.eats/Instagram
11 Plant-Based Chili No Beans
Most plant-based chilis contain beans, and there's nothing wrong with that. But if you prefer your chili to taste extra meaty, then Gardein offers a canned chili made with just B'ef Crumbles, tomatoes, and spices.
Check it out
12 Chick'n Florentino
A French classic, chicken Florentine is creamy, rich, and indulgent. But you don't need to head to a restaurant or spend ages cooking to enjoy it, because Gardein's Chick'n Florentino is ready to hit your skillet straight out of the packet.
Check it out
13 Plant-Based Saus'ge Gumbo Soup
Filled with vegan sausage, okra, rice, celery, and bell peppers, Gardein's hearty Saus'ge Gumbo Soup is the taste of Louisiana in a can. You don't have to wait long to enjoy it either, as it heats up in just a few minutes.
Check it out
For more on vegan meat, read:
Here at VegNews, we live and breathe the vegan lifestyle, and only recommend products we feel make our lives amazing. Occasionally, articles may include shopping links where we might earn a small commission. In no way does this effect the editorial integrity of VegNews.