Sure, there are vegan finds at Target and other grocers, but if you're already getting your groceries and toilet paper delivered, might as well throw in a bag (or five) of vegan Halloween candy to avoid the mad dash come October 30 (or even the morning of Halloween itself). With these unique, sweet vegan treats, you'll also establish your home as the house to haunt. Unless you live in a particularly vegan-populated neighborhood, it's likely that your candy bowl will have the best (and only) dedicated vegan candy options. Besides, kids can only eat so much candy corn and fun-sized Hershey's bars. Here are 10 vegan Halloween candies to add to your virtual shopping cart.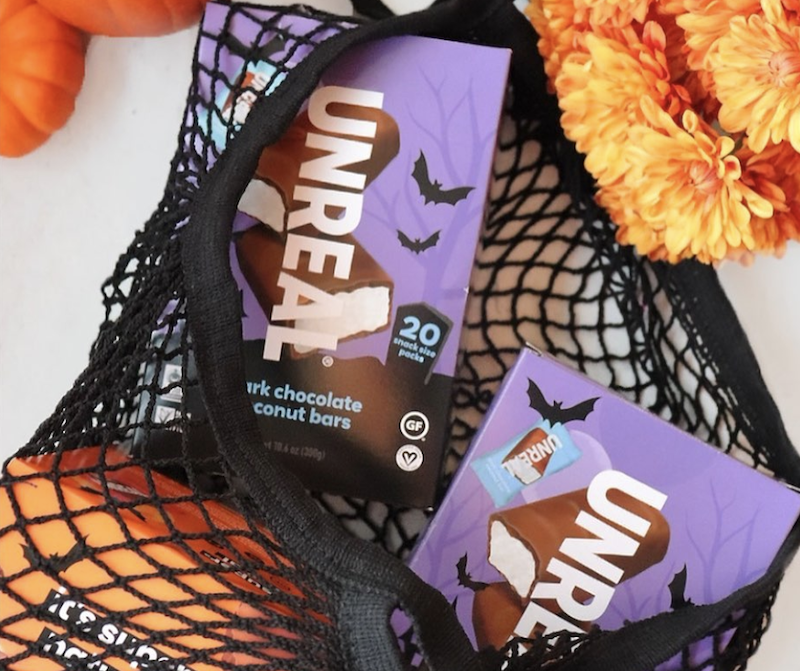 UNREAL
1 UNREAL
Jackpot. We've seen this vegan-friendly candy company lining the end-of-the-aisle displays at Whole Foods, but online, you can buy in bulk. We highly recommend the Vegan Variety pack—or maybe two of them, if you're expecting a large trick-or-treating crowd. The pack features fun-sized versions of UNREAL's nut butter cups, coconut-filled chocolate bars (such as Mounds), and two variations of chocolate gems (such as M&Ms).
Find it here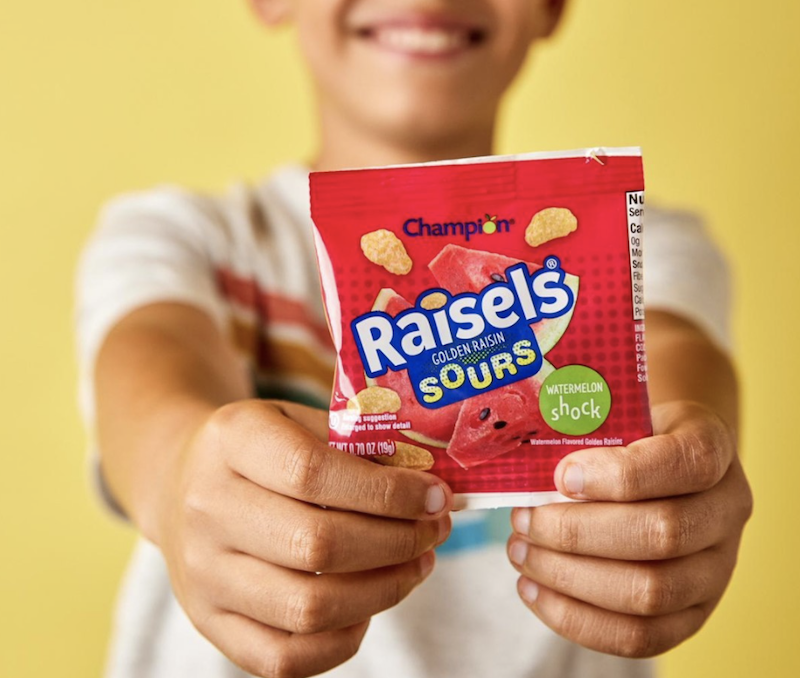 Raisels
2 Raisels
Handing out raisins on Halloween is nearly as bad as handing out pencils—unless, however, the raisins are coated in a sweet syrup or sour powder. For those who just don't believe that dried fruit is nature's candy, adding a bit of unexpected flavor is just what they need to become a raisin-lover. These mini-packages of golden raisins come in lightly sweet flavors such as Tropical and Raspberry; super sour options like Orange Burst, Lemon Blast, and Watermelon Shock; and a spicy Chili Limon Pineapple Fiesta variety. Even the raisin-averse will ask if they can take two.
Find it here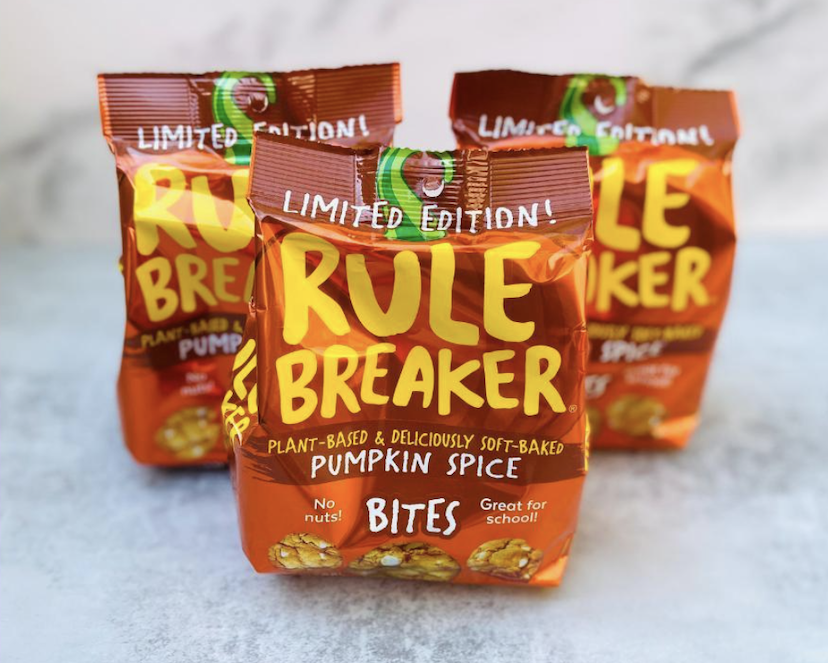 Rule Breaker
3 Rule Breaker
Some people are just not candy people. Offer up a baked good, however, and their dopamine levels rise just thinking about the joy of that first bite. These chickpea-based blondies and brownies are the equivalent of a full-sized candy bar, and thanks to the single-serve packaging, they offer a solution to passing out vegan baked goods on Halloween. Buy a box of each flavor and dole them out to the kids with the most creative costumes.
Find it here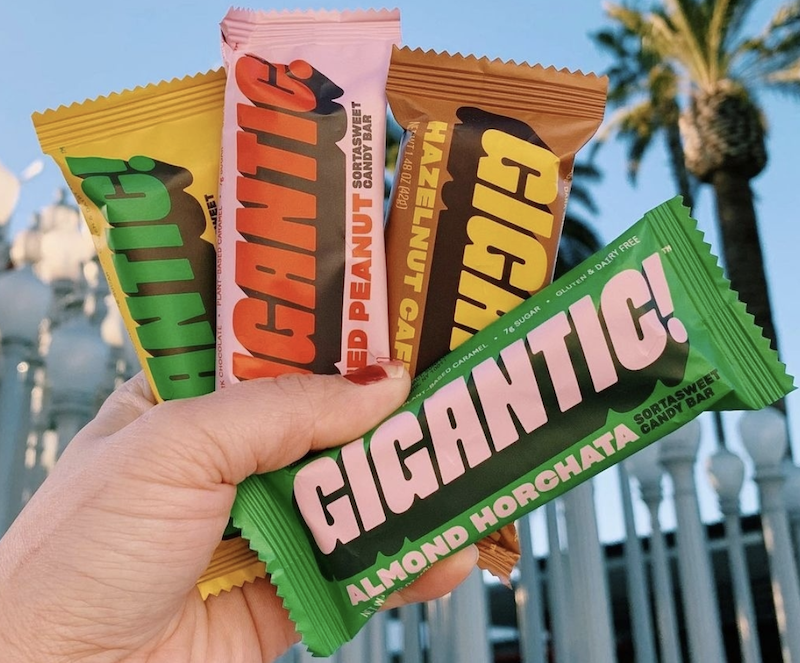 IG: @the.snackmaster
4 GIGANTIC!
If you've decided to return to the tradition of trick-or-treating by going all-out with full-sized candy bars, this vegan candy brand is a solid choice. With varieties that rival the classics like Smashing Pumpkin, Salted Peanut, and Almond Horchata, these bars will entice the older kids to trick-or-treat for one more year just so they can reap the sweet rewards at your house. Don't be surprised if the adults come knocking, too.
Find it here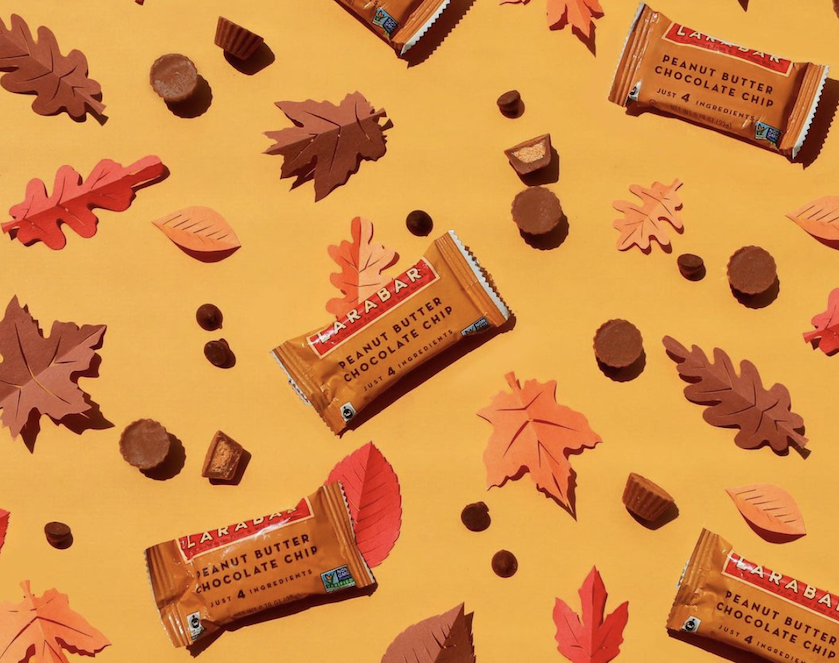 Larabar
5 Larabar Minis
Finally, "fun-sized" bars that actually satisfy instead of spiking a sugar craving. Larabar offers mini-sized versions of its two most indulgent flavors: Peanut Butter Chocolate Chip and Chocolate Chip Cookie Dough. It's a healthy treat that actually passes off as candy.
Find it here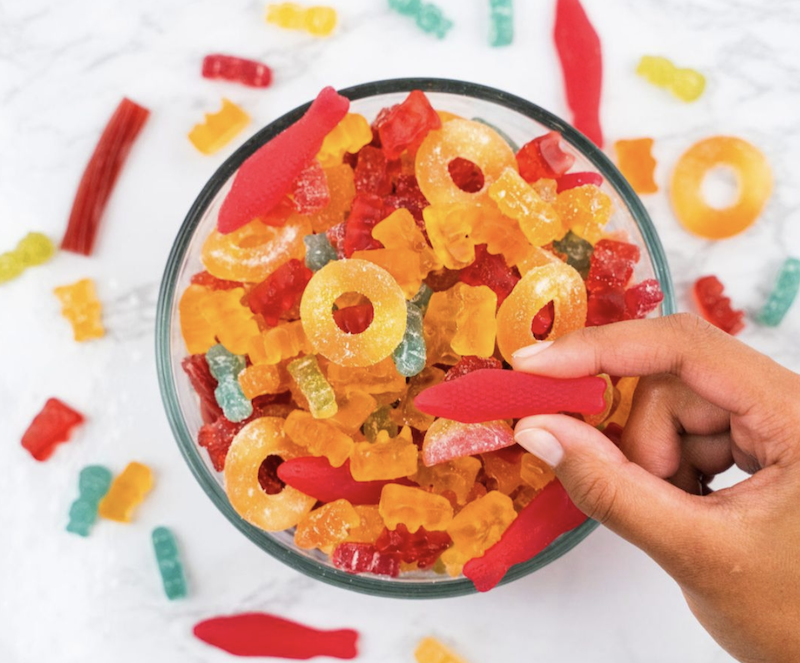 SmartSweets
6 SmartSweets
Gummy fanatic? Order up an assortment of these gelatin-free peach rings, sours, Swedish fish, and more. This vegan friendly-company carries every flavor of gummy one could crave—from Sour Patch look-a-likes to classic Cola-shaped gummies. Bonus: all SmartSweets products are low in sugar and packed with fiber. You definitely won't get that out of your traditional gummy worm.
Find it here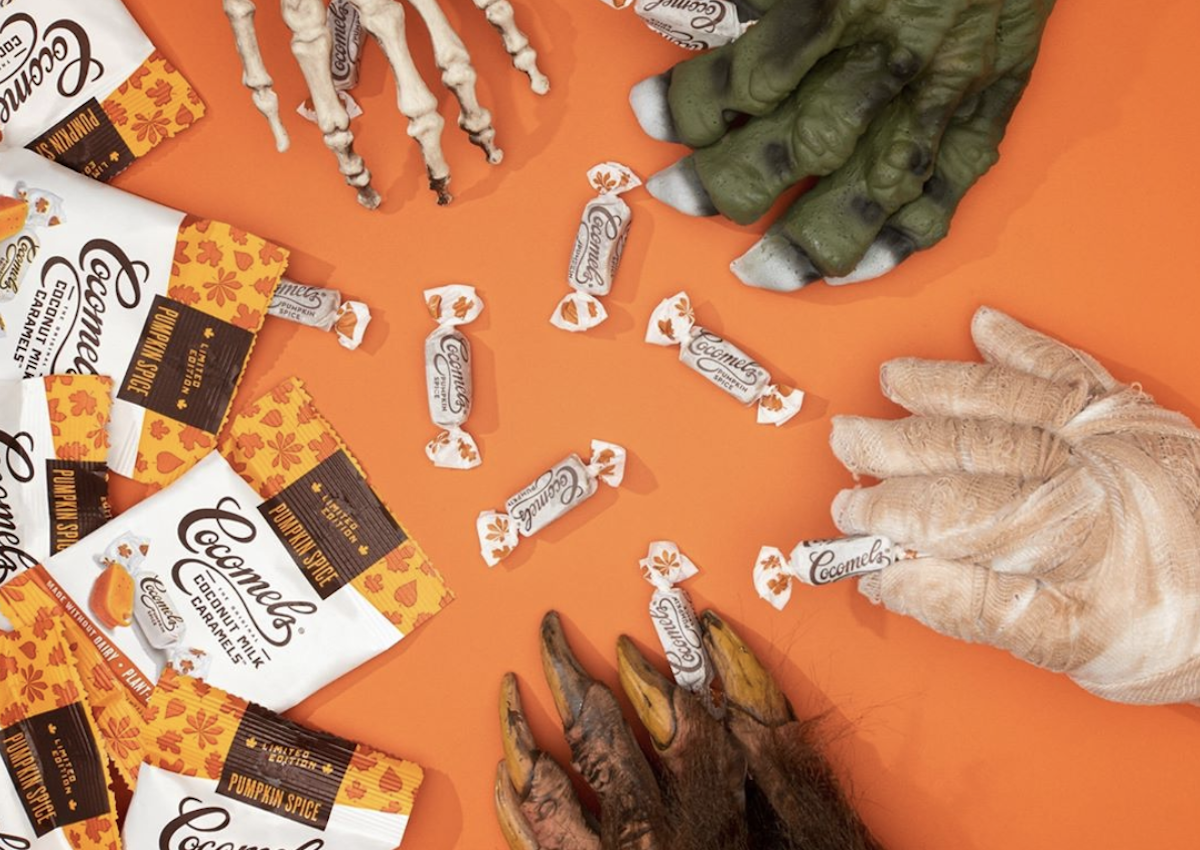 Cocomels
7 Cocomels
Not enough houses give out caramels on Halloween. These individually wrapped coconut milk caramel candies are the perfect size for tiny trick-or-treating hands. With flavors such as Sea Salt and Pumpkin Spice, parents and kids alike will be grabbing fistfuls from the candy cauldron.
Find it here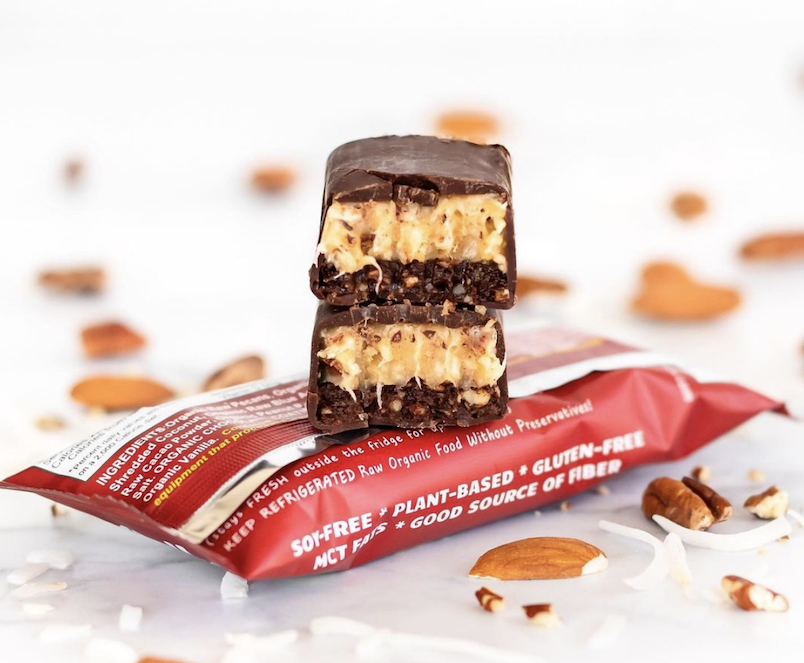 Nelly's Organics
8 Nelly's Organics
These nutty, nougatty, chocolaty candy bars rival any classic candy your neighbors may be peddling. Each bar is layered with contrasting textures and complimentary flavors that make for a divinely complex confection. From German Chocolate to Caramel Nougat, even the Salem Sisters would adore Nelly's candy.
Find it here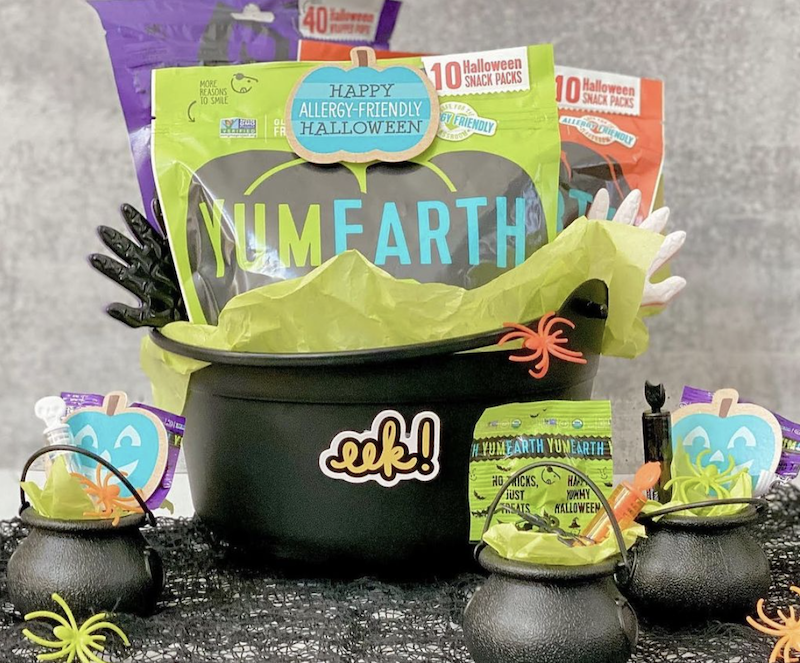 Yum Earth
9 YumEarth Organics
Not all of these fruity candies are vegan, but if you're looking for a plant-based rendition of Starbursts, you've got to try the new YumEarth Chewys. Order a few bags along with the fun Halloween-themed fruit gummies and scary-good lollipops. Dum Dums just can't compete with these organic sweets.
Find it here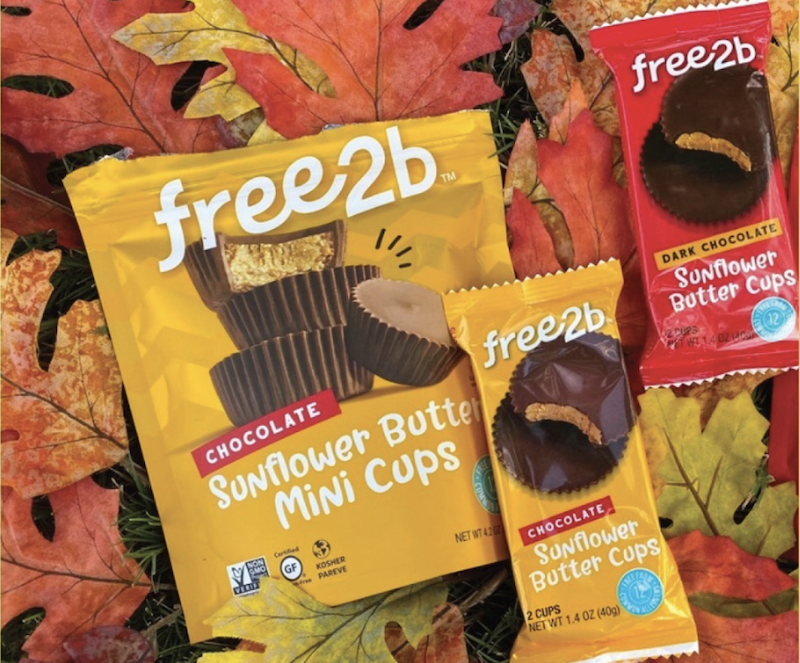 Tori Caves
10 Free2b
Kids with nut allergies have it pretty rough on Halloween—one wrong bite could turn into a truly scary situation. This year, you can create a nut-free zone while still handing out something every ghoul and goblin will enjoy. Free from the top 12 most common food allergens, Free2b's Sun Cups are a delicious, allergen-friendly recreation of the classic peanut butter cup. For the Halloween season, the company is offering an 18-pack Bag O' Treats to make candy buying affordable and accessible for all.
Find it here
For more vegan candy options, read:
The VegNews Guide to Vegan Halloween Candy 2021
35 Essential Vegan Candy Bars You Can Buy Year-Round
25 Accidentally Vegan Chocolate Bars You Need to Know About