The world is full of vegan sweets, but candy bars are the new frontier. Brownies, cakes, and cookies that ship have somewhat eclipsed the evolution of chocolate-coated nougats and caramels, but right now, we are celebrating the novelty of the candy bar. From mainstream look-a-likes to completely unique confections, these 35 vegan candy bars will delight with every nutty, nougatty, chocolate-laden bite.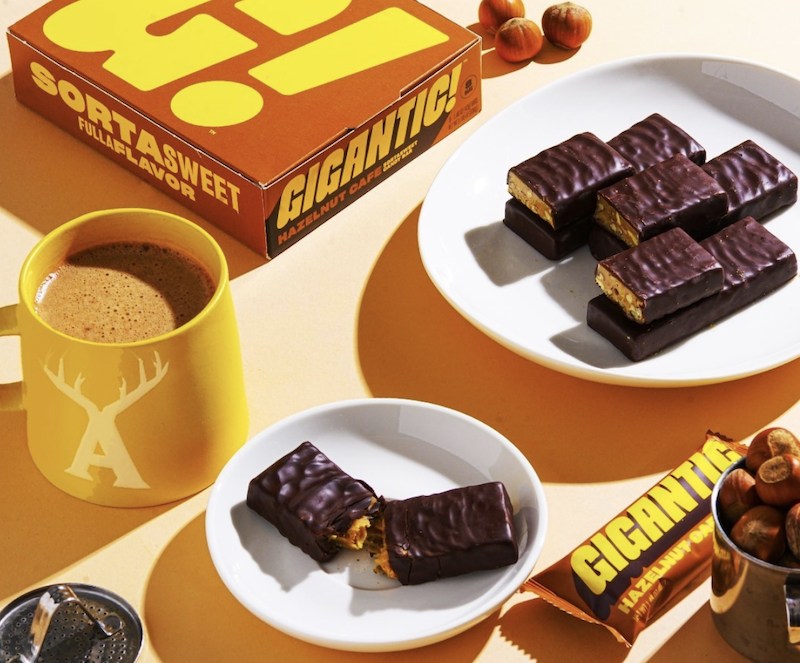 Gigantic!
1. GIGANTIC! Hazelnut Cafe
Disclaimer: these bars are actually regular-sized—the brand name is referring to the flavor. Reach for this "sorta sweet," hazelnut-studded coffee candy bar when you need more than a cup of coffee for a pick-me-up.
Try it here.
2. Go Max Go Major
Toffee fans, look no further. This thin, Heath bar-inspired candy is all toffee, almonds, and chocolate. Take a bite and find your happy place.
Try it here.
3. Unreal Snacks Dark Chocolate Almond Cups
These aren't bars, but let's not pretend they don't compete with the greatest candy bars of all time. Sweetened nut butter surrounded by uniform chocolate ridges is arguably the most iconic candy concept of the 20th century, and there's no doubt it will last the test of time.
Try it here.
4. Endangered Species Espresso Beans + Dark Chocolate
You've been warned—this is not an evening chocolate bar unless the goal is to pull an all-nighter. The 72 percent cocoa bar is pebbled with pieces of full-strength espresso beans, providing a divine hit of flavor as well as a decent dose of caffeine. Enjoy slowly to avoid jitters.
Try it here.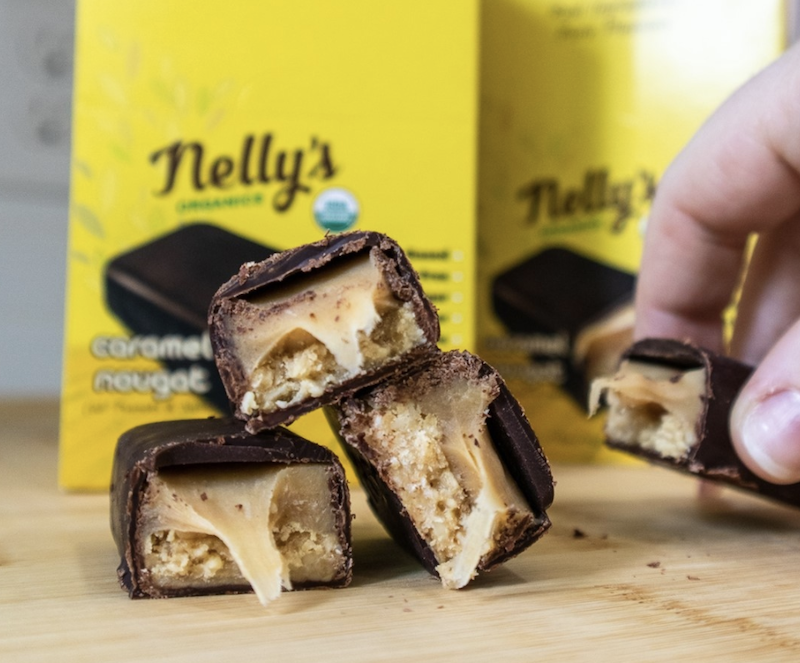 Nelly
5. Nelly's Organics Caramel Nougat
No nuts here, just smooth vegan caramel and melt-in-your-mouth nougat. This bar is perfect if you're not looking for crunch in a candy bar.
Try it here.
6. Eli Earth's Celebrate Chocolate Candy Bar
This crunchy peanut butter and caramel bar does more than the average candy bar—it gives back. Five percent of Celebrate bar sales go toward children's charities. Do something sweet for others while eating a vegan candy bar.
Try it here.
7. Go Max Go Jokerz
The Jokerz bar is Snickers reincarnated. You get roasted peanuts, caramel, peanut nougat, and a dairy-free milk chocolate coating. Snickers fans, you know who you are.
Try it here.
8. GIGANTIC! Salted Peanut
Peanuts. Caramel. Chocolate. Sold. Bonus: this bar (and all bars from this brand) only contain seven grams of sugar. For reference, a Snickers contains 25 grams of sugar. Yikes.
Try it here.
9. Beyond Good Crispy Rice
When you think of chocolate studded with crunchy puffed rice, what comes to mind? If you answered Crunch bar, you've nailed it. This vegan bar is a step up from the basic Crunch candy, swapping in single-origin, organic, Uganda cocoa. You've grown up—your candy should, too.
Try it here.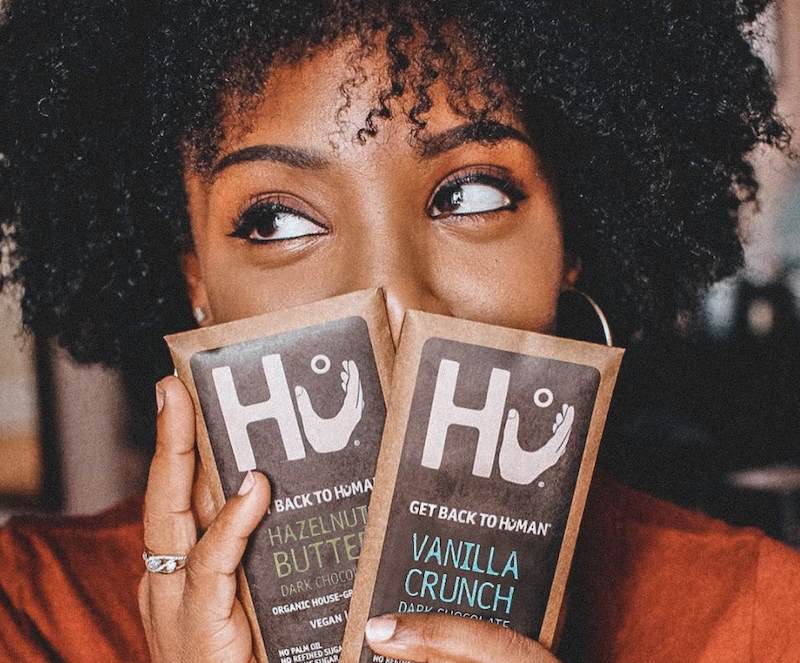 Hu Kitchen
10. Hu Vanilla Crunch
Don't knock quinoa in chocolate until you've tried it. This bar combines decadent 70 percent cacao dark chocolate with puffed quinoa for a decadent candy bar that's both silky and crunchy with a hint of vanilla bean. This is definitely our favorite way to eat quinoa.
Try it here.
11. Nelly's Organics German Chocolate Bar
More cakes should be turned into candy bars. This sweet handhold features a dense, chocolatey "cake" base topped with a thick layer of pecan pieces and sweet coconut shrouded in super soft nougat. The entire thing gets a coating of chocolate to prevent sticky packaging … and no one objects to more chocolate.
Try it here.
12. No Whey! Candy Bar
A mashup of a peanut butter cup and a Twix, this divine chocolate bar layers sweet peanut butter nougat with silky-smooth caramel. Willy Wonka himself could not improve on this wondrous combination.
Try it here.
13. Justin's Dark Chocolate Cashew Butter Cups
We thought peanut butter cups epitomized perfection until we tried these cashew-based candies. The revelation was quite mind-altering. If there is something better than a peanut butter cup, what else have we settled for? Eat a cashew butter cup while you ponder that thought.
Try it here.
14. Unreal Snacks Dark Chocolate Coconut Bar
If Mounds was your omnivore jam, this bar is your vegan jam. Like the original, it's simple—just sweetened, toothsome coconut surrounded by luscious dark chocolate. Not nuts, just pure, coconutty goodness.
Try it here.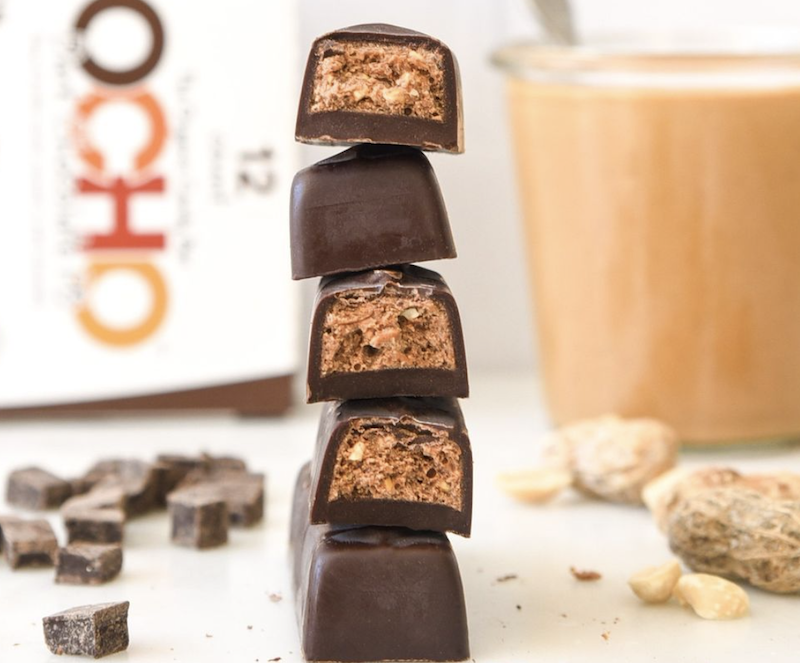 OCHO
15. OCHO Dark Peanut Butter
This vegan-friendly candy company elongated the classic peanut butter cup and transformed it into a bar. In the process, it added chopped peanuts to the velvety filling for those who crave the crunch factor. Be sure to pick up the Dark variety—the plain Peanut Butter bar contains dairy.
Try it here.
16. Go Max Go Thumbs Up
This is a vegan butterfinger. Enough said.
Try it here.
17. Chocolate Inspirations Chocolate Peanut Butter Pillows
This crispy candy is Butterfinger reincarnated as chocolate bark. It's thin, light, crunchy, and sweetly peanut buttery. Once you try it, you'll get it.
Try it here.
18. Lagusta's Luscious Bourbon Chile Bar
Leave it to this upstate New York chocolatier to create a non-traditional vegan candy. This fudgy, truffle-like bar features a bourbon-spiked chocolate center infused with pastilla chilies, covered in a salted dark chocolate. If you like boozy treats with a kick, this bar was made for you.
Try it here.
19. Nelly's Organics Double Chocolate
Not quite a health food, but not quite an indulgence, this chocolate-on-chocolate vegan candy bar is filled with a handful of raw foods including dates, cacao, and vanilla beans. When a single bar contains 20 percent of your daily fiber, you can't feel guilty about eating it.
Try it here.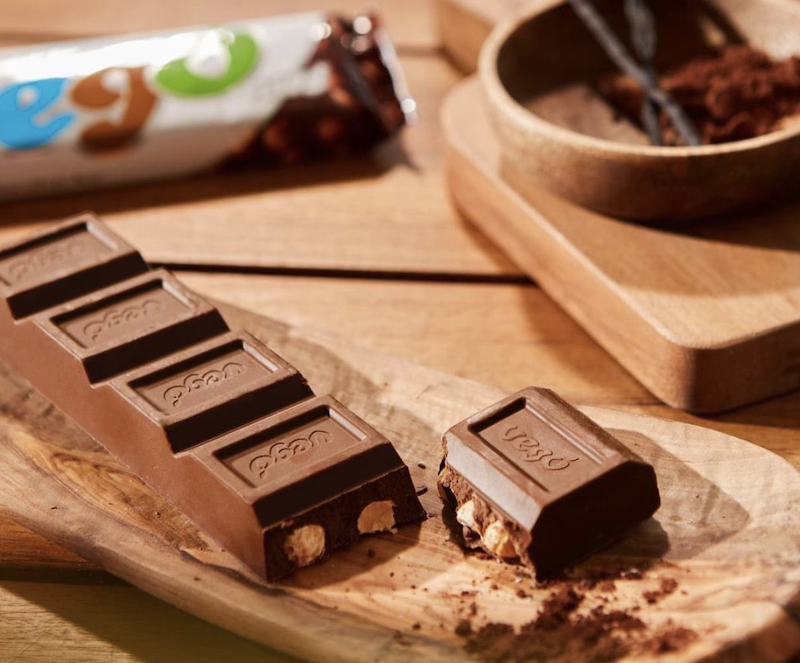 Vego
20. Vego
Nothing beats a heaping spoonful of vegan chocolate hazelnut spread—except a Vego bar. Made with smooth gianduja chocolate, hazelnut paste, and whole hazelnuts, this bar is a step up from any spread you'll find on the market.
Try it here.
21. Go Max Go Buccaneer
To get the gist of this vegan candy bar, recall a certain commercial featuring a silver-wrapped bar floating skyward. Need another hint? The mascots were three fencing friends with large hats. One more clue: it's made of a fluffy nougat filling enrobed in chocolate. Keep thinking. You'll get it.
Try it here.
22. No Whey! Polar Dream White
Debate about the authenticity of white chocolate as "real" chocolate all you want—what cannot be argued is the deliciousness of this vegan white chocolate bar. Bonus: in addition to being whey-free, it's also free of the top eight most common allergens. Vegan candy for all!
Try it here.
23. Hu Cashew Butter & Raspberry
When a cashew butter cup collides with a raspberry-studded dark chocolate bar, magic is made. It's like a gourmet nut butter and jelly sandwich … if you dunked that sandwich in chocolate. This must be what true bliss feels like.
Try it here.
24. Green & Black Organics Maya Gold Dark Chocolate
This company wants you to feel good about your chocolate purchase. The business sources its cocoa through a third-party sustainability program, Cocoa Life, to ensure workers are paid a fair wage. This specific bar is new to the lineup, and it's won us over with its subtle yet pleasant hints of citrus and spice.
Try it here.

Lagusta's Luscious
25. Lagusta's Luscious Turtle Bar
Lagusta's claims that they can't make turtles fast enough, and it's no surprise this vegan candy bar is a bestseller. It's stuffed with caramel, pecans, and chocolate nougat, all wrapped in dark chocolate speckled with fleur de sel. We're drooling.
Try it here.
26. Omnom Superchocoberrybarleynibblynuttylicious
The name makes more sense when you break it down: Super. Choco. Berry. Barley. Nibbly. Nutty. Licious. It's the supercalifragilisticexpialidocious of chocolate bars. Each dark chocolaty bite contains nibbles of cranberries, almonds, puffed barley, and cacao nibs. Just like its name, this vegan chocolate bar is a mouthful—in the best way possible.
Try it here.
27. Chocolate Inspirations Sweet Buddies Bar Salted Caramel Marshmallows & Chocolate
This bar is a mouthful—literally. The company jams vegan mini marshmallows into a dairy-free caramel center and enrobes the confection in thick dark chocolate. It's dense, gooey, chewy, and utterly fantastic.
Try it here.
28. Go Max Go 2fer
For those who simply cannot decide between Left Twix and Right Twix, there's the 2fer. This veganized version features the same buttery shortbread, soft caramel, and chocolate coating, but it comes in a single bar, so you don't have to choose.
Try it here.
29. Eli's Earth "Dream Big" Chocolate Candy Bar
Vegan chocolatier Sjaaks is responsible for a trio of chocolate-coated, caramel and nut-based candy bars under the Eli Earth brand. This sumptuous bar is filled with caramel, peanut butter, and peanuts for a Snickers-meets-Reeses vibe.
Try it here.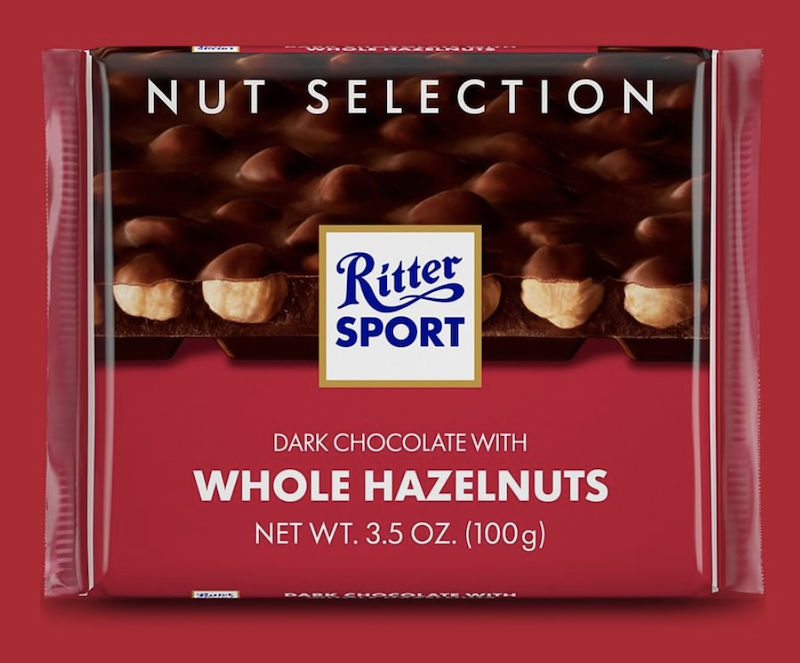 Ritter Sport USA
30. Ritter Sport Dark Chocolate with Marzipan
This German chocolate company has a dedicated vegan category on its website these days, but it's been making dairy-free chocolate for years without the label. The marzipan-filled chocolate bar never fails to quell that very specific craving for sweetened almond paste. Just try it. It's outstanding.
Try it here.
31. Trader Joe's Almond Beverage Chocolate Bar
"Almond Beverage Chocolate" translates to vegan milk chocolate, in case you were wondering. While the grocer side-steps around the labeling issue, it nails the taste and smooth consistency of milk chocolate by using almond milk instead of cow's milk. When placed in the "impulse buy" display right near the register, we can't resist.
Try it here.
32. Compartes California Love Pretzel
It's not just our sweet tooth that lures us in to the Compartes display—it's the gorgeous artistic packaging. Reach for a Compartes bar if you're in the mood for something a bit wacky. There's the Old Hollywood Smoked Sea Salt, the coconut-studded Tropical Paradise, and pink-dusted Matcha Raspberry Reishi, but there's something about that sweet-and-salty combo that always brings us back to the California Love Pretzel.
Try it here.
33. Go Max Go Mahalo
For all the nuts out there who went wild for an Almond Joy, here's your vegan equivalent. We still don't understand it, but you do you. Enjoy your coconut almond chocolate bar.
Try it here.
34. GIGANTIC! Banana Pecan
If there was a machine that transformed breakfast foods into candy bars, we're pretty sure GIGANTIC! has a hold of it. This bar tastes like pecan-studded banana pancakes coated in chocolate syrup.
Try it here.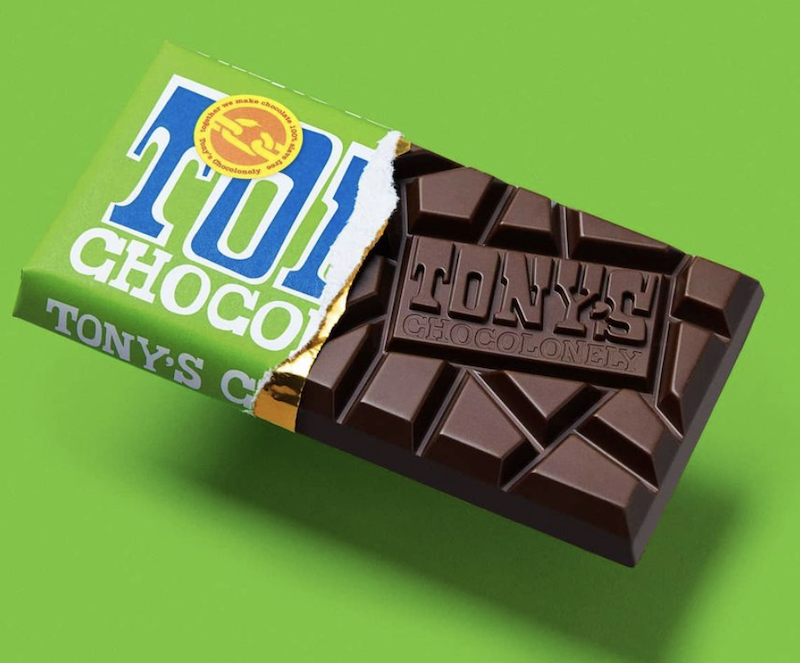 Tony's Chocolonely
35. Tony's Chocolonely Dark Pecan Coconut
Tony doesn't sell bars of chocolate—he sells bricks. These bars are massive. The Dark Pecan Coconut reminds us of German chocolate cake thanks to the shredded sweetened coconut and pecan pieces mixed straight into the 51 percent cocoa dark chocolate. Pick up a few and do some bicep curls—the bars could double as light hand weights.
Try it here.
Tanya Flink is a Digital Editor at VegNews as well as a writer and fitness enthusiast living in Orange County, CA.