In the 1930s, across the US and Europe, sports jackets were starting to become more popular in gentleman's fashion, according to the Gentleman's Gazette. Quite simply, more people had started showing an interest in sports, like cricket or golf, and this was reflected in the fashion of the time. But what relevance does this have to chocolate? In the case of Ritter Sport, actually quite a lot.
The story goes that, in the early 1930s, Ritter Sport's co-founder Clara Ritter had the idea to design a new chocolate bar in a square shape, so that it would fit neatly into the pocket of a gentleman's sport jacket without falling out. The shape became the brand's signature, and decades on, square chocolate is still one of the brand's biggest selling points (and it has won lawsuits to prove it).
But Ritter Sport is more than just about a unique shape. The German brand has also earned a reputation for its commitment to ethical and sustainable cocoa sourcing, and of course, great-tasting chocolate. Here's more about Ritter Sport, plus all of the vegan chocolate options it now sells.
What is Ritter Sport?
Ritter Sport started out back in 1912, when Clara and her husband Alfred Ritter decided to start up a chocolate factory in Stuttgart, Germany. But it wasn't until 20 years later, when Clara made the proposal for the square chocolate, that the name Ritter Sport Schokolade (which means Chocolate in German) was born, according to the brand.
Inevitably, Ritter Sport ran into hiccups throughout the Second World War but started to pick up speed again in the 1950s, when cocoa rationing came to an end. Over the years, Ritter Sport was passed down through the Ritter family and became internationally successful. It was known not only for its iconic square shape but also for its bright colors and innovative design (like its snap-open packaging).
Is Ritter Sport sustainable?
Right now, every chocolate bar sold by Ritter Sport has been certified by credible sustainability and fair trade organizations, like the Rainforest Alliance. The latter is an international nonprofit focused on protecting not just forests, but farmers and communities, too.
"One of the keys to our success has been with our value chain, and our sustainability credentials," Benedict Daniels, the managing director of Ritter Sport UK, told Confectionary Production last year.
"We own and operate our own cacao plantation in Nicaragua, called El Cacao, which is about 2,500 hectares in total, half the area is permanently protected, and the wildlife and biodiversity is incredible," he added.

Vegan options at Ritter Sport
Ritter Sport has had several vegan options on the shelves for a good few years, and it's consistently expanding its dairy-free range all the time. If you want to get your hands on one of Ritter Sport's iconic square bars, here are some of the animal-free options on the shelves right now.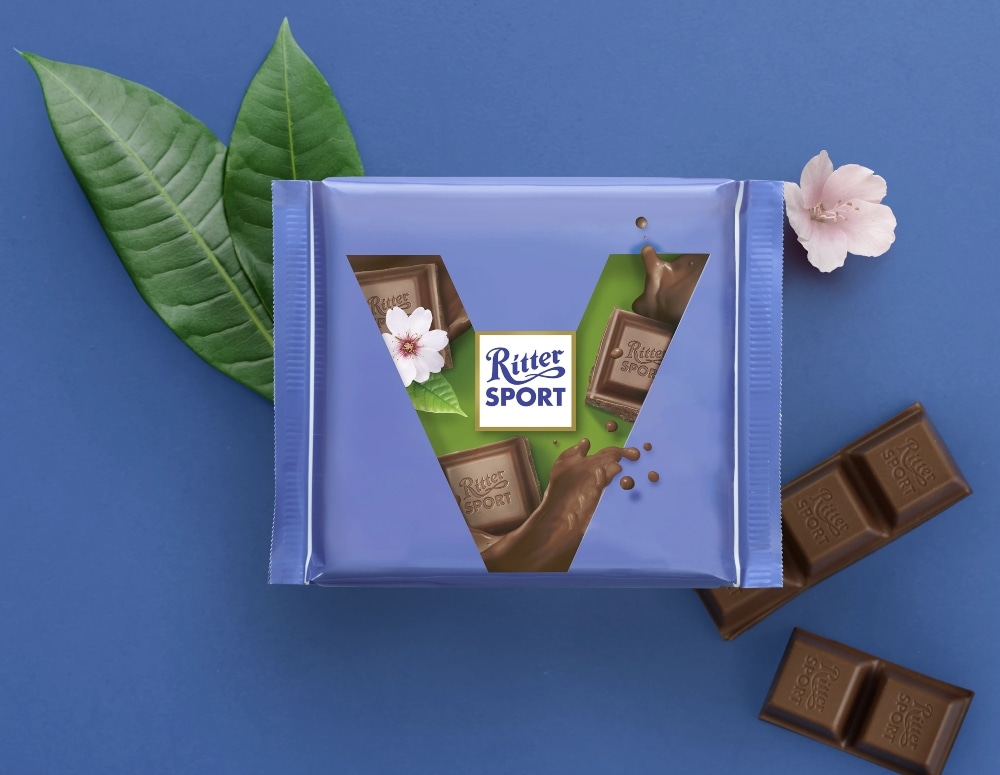 Ritter Sport
1 Vegan Pure
In 2021, Ritter Sport launched its Vegan Pure bar, which is just as creamy and indulgent as regular milk chocolate, only it's totally dairy-free. Usually, the brand's bars are made with powdered milk, but instead, this offering is made with almond flour.
Check it out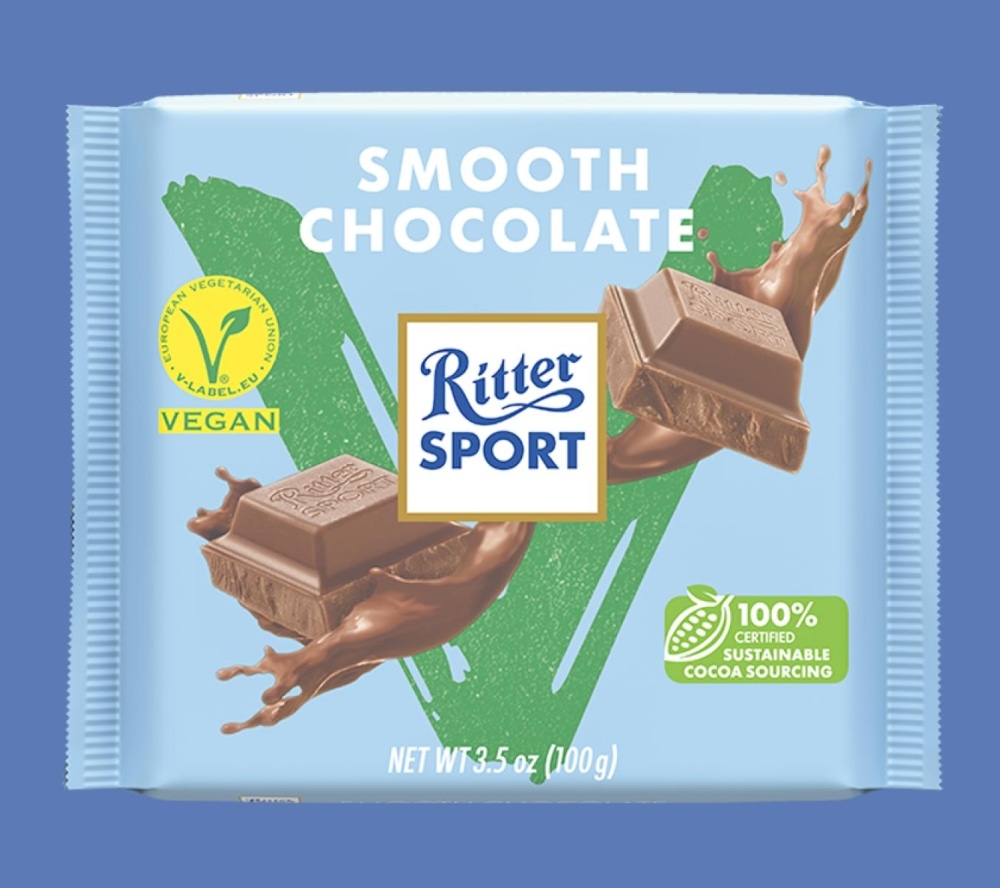 Ritter Sport
2 Vegan Smooth
Just like Vegan Pure, Vegan Smooth is made with almond paste and designed to deliver the same creaminess as traditional milk chocolate. This bar is currently available for a trial period in the UK. "It's currently available in international packaging only," notes the brand. "Show it some love and we're sure it will get its own UK pack in no time."
Check it out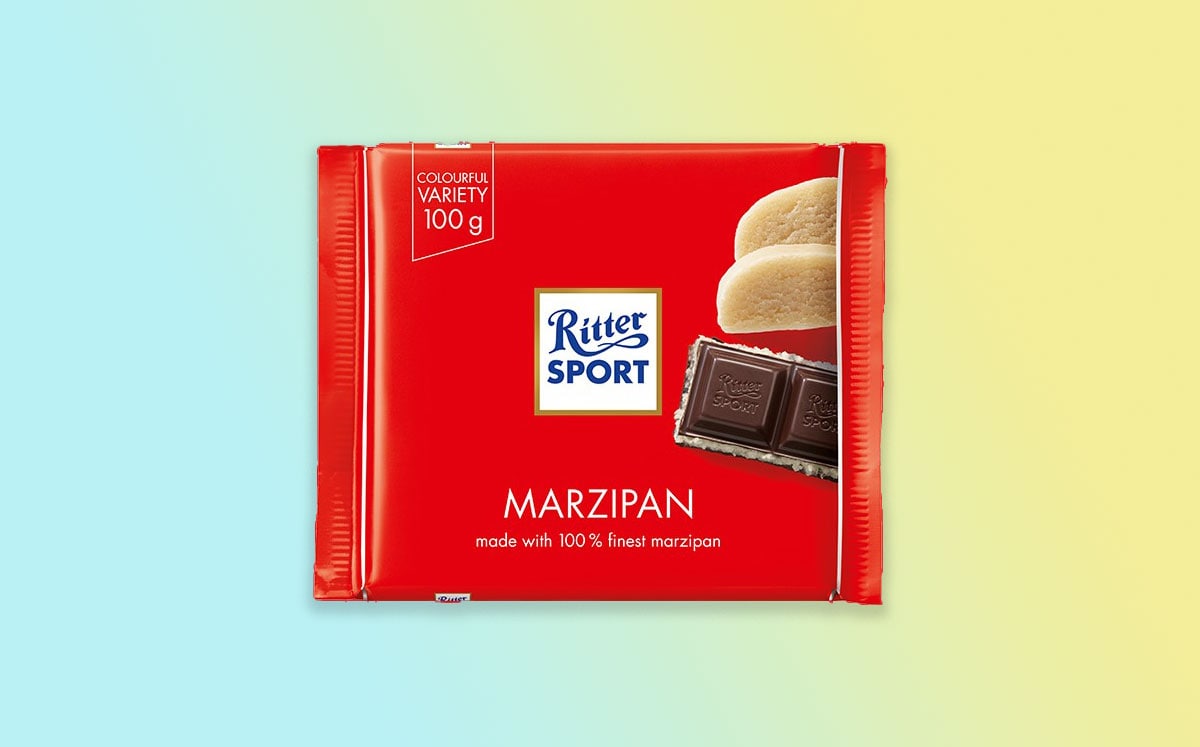 3 Marzipan
Made with deliciously sweet and nutty marzipan, this bar is part of Ritter Sport's Accidentally Vegan range, which it launched in the UK in 2021. The idea behind the range was to give people more options in Veganuary, a campaign that is designed to encourage people to go vegan for the month of January.
Check it out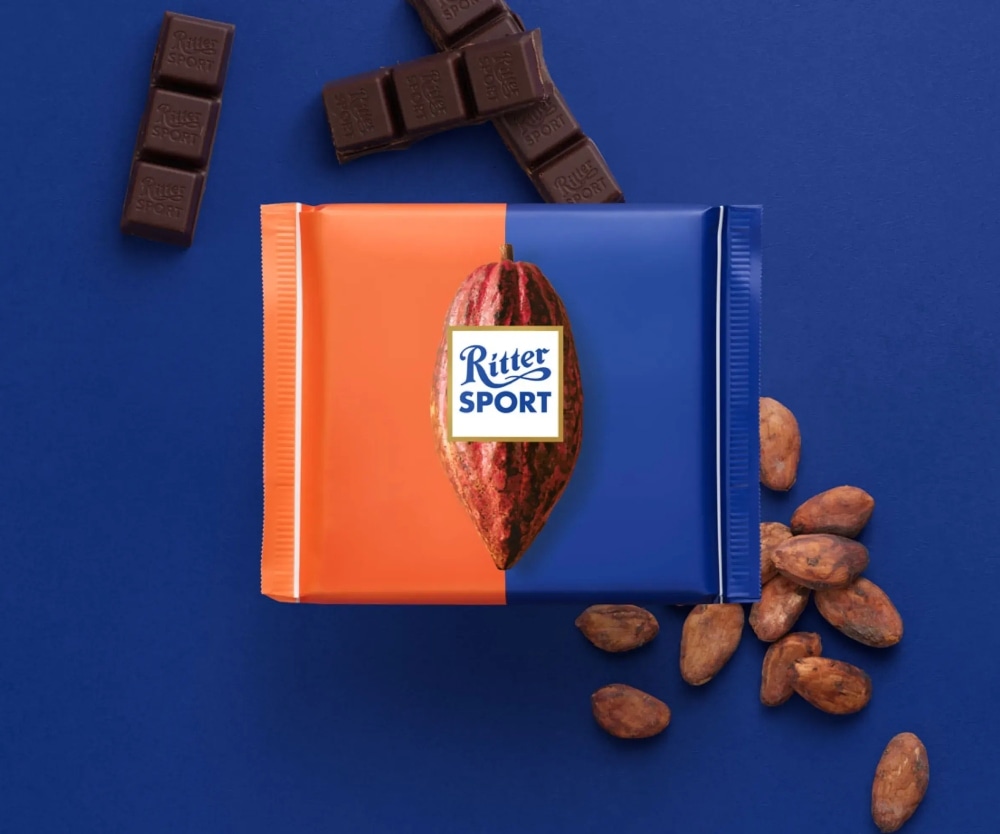 Ritter Sport
4 74% Intense
Again, this bar is part of the Accidentally Vegan range. But unlike the Marzipan option, this chocolate bar is ultra, ultra dark. So if you prefer your chocolate a little more on the bitter side, then this is the treat for you.
Check it out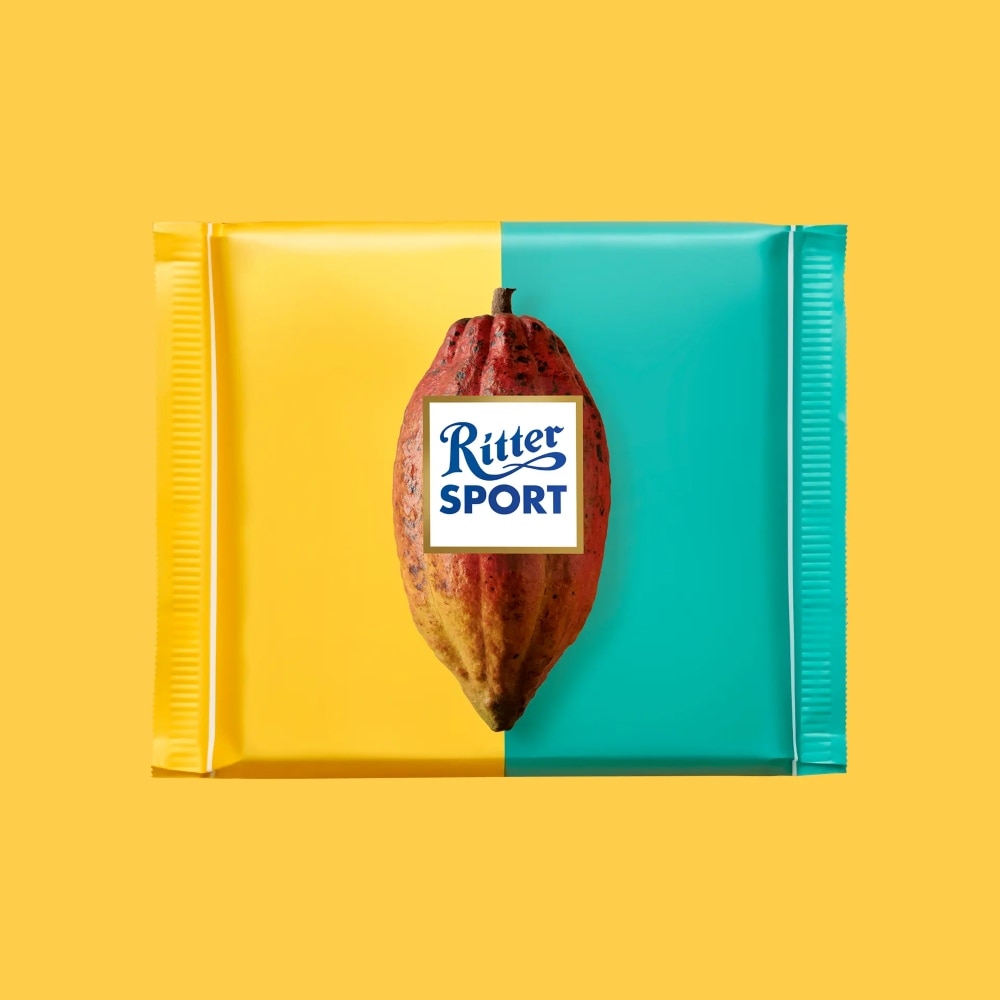 Ritter Sport
5 Single Origin Nicaragua
It's not quite as dark as the previous bar, but at 65 percent, the Single Origin Nicaragua bar is still pretty rich. As the name indicates, all of the cocoa for this chocolate is sustainably sourced from the brand's plantation in Nicaragua.
Check it out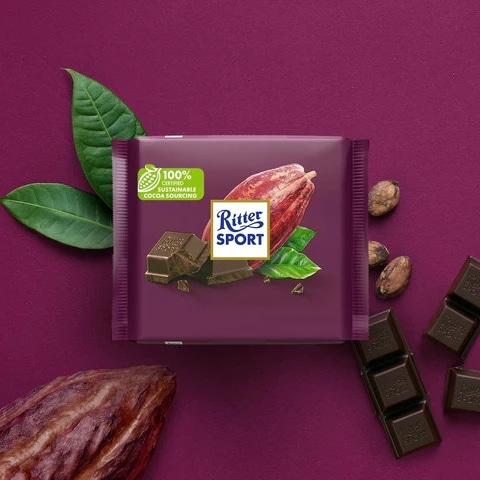 Ritter Sport
6 50% Dark Chocolate Bar
If you prefer your chocolate dark, but not so dark you start inching into seriously bitter territory, then this 50% Dark Chocolate Bar is perfect for your tastebuds. It has all the same rich flavor, but it's much more mild and creamy.
Check it out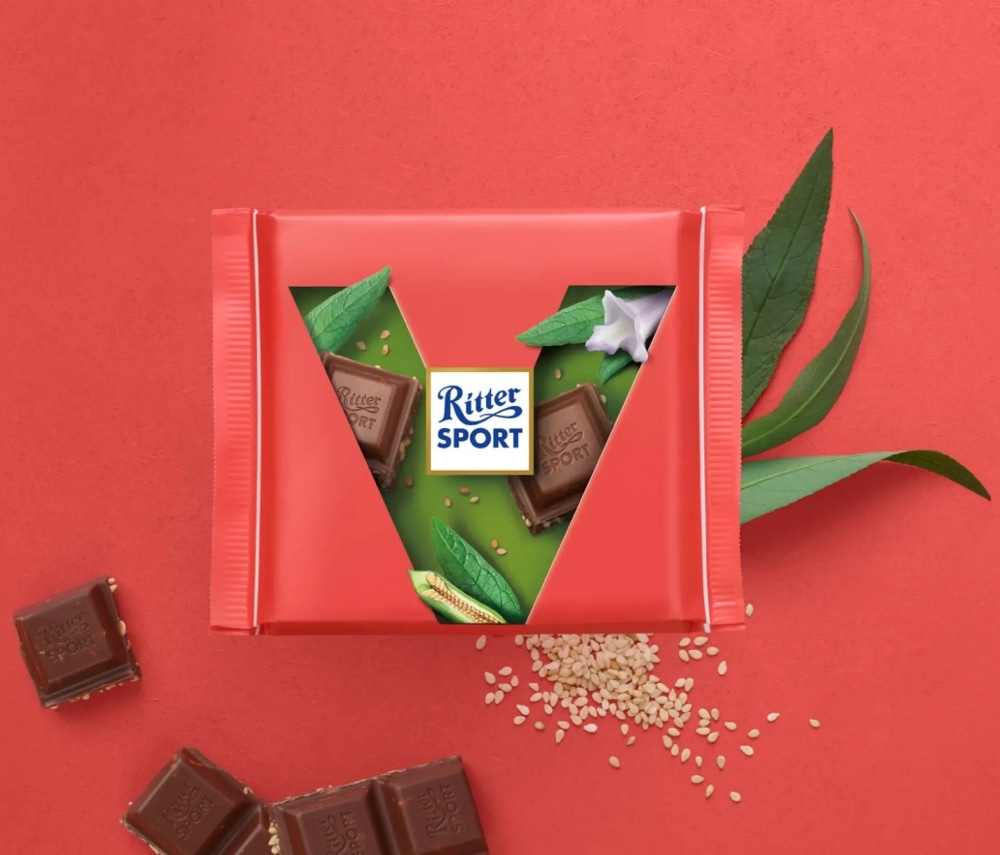 Ritter Sport
7 Sesame
It's pretty standard to find nuts in chocolate bars (hazelnut, for example, is a classic ingredient). But sesame seeds? That's unusual. But for Ritter Sport, it works. Just like the almond paste, sesame helps to make this bar deliciously creamy without the need for any dairy.
Check it out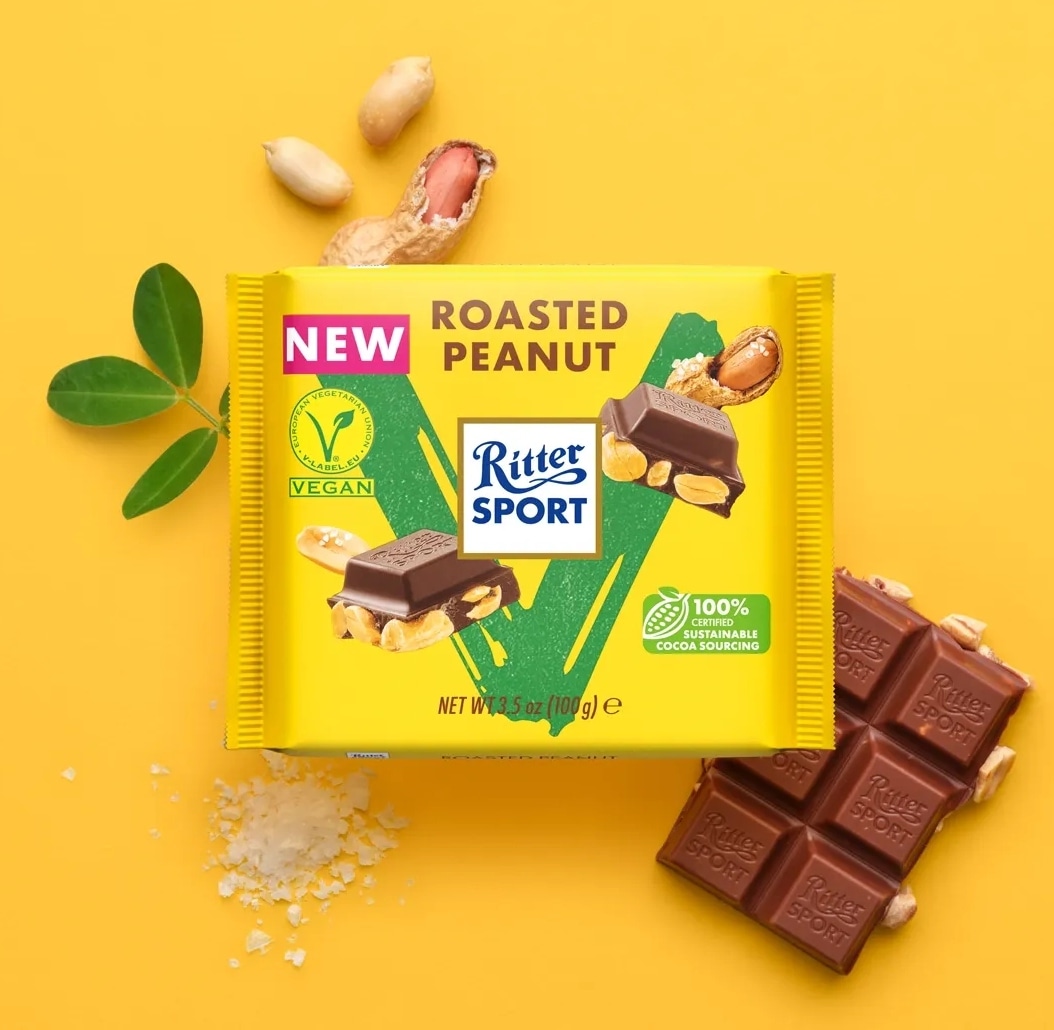 Ritter Sport
8 Roasted Peanut
If you like a bit of a crunch in your chocolate, then try Ritter Sport's vegan chocolate with big pieces of roasted, salted peanuts. Seriously, you will not be able to put this one down.
Check it out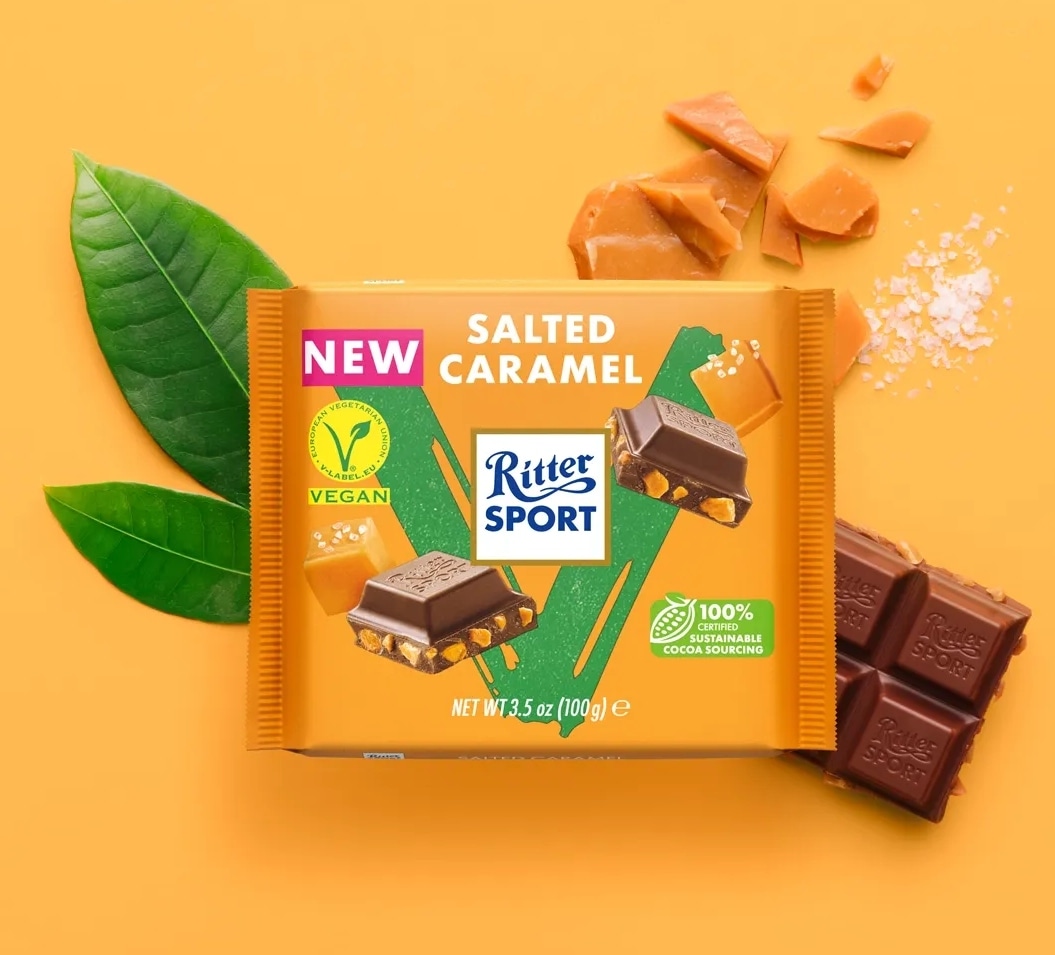 Ritter Sport
9 Salted Caramel
There isn't a chocolate bar in the world that can't be improved upon by adding caramel. There, we said it. And this Ritter Sport option is no different. But don't expect gooey caramel in the center, these pieces are hard, lightly salted, and satisfyingly crunchy.
Check it out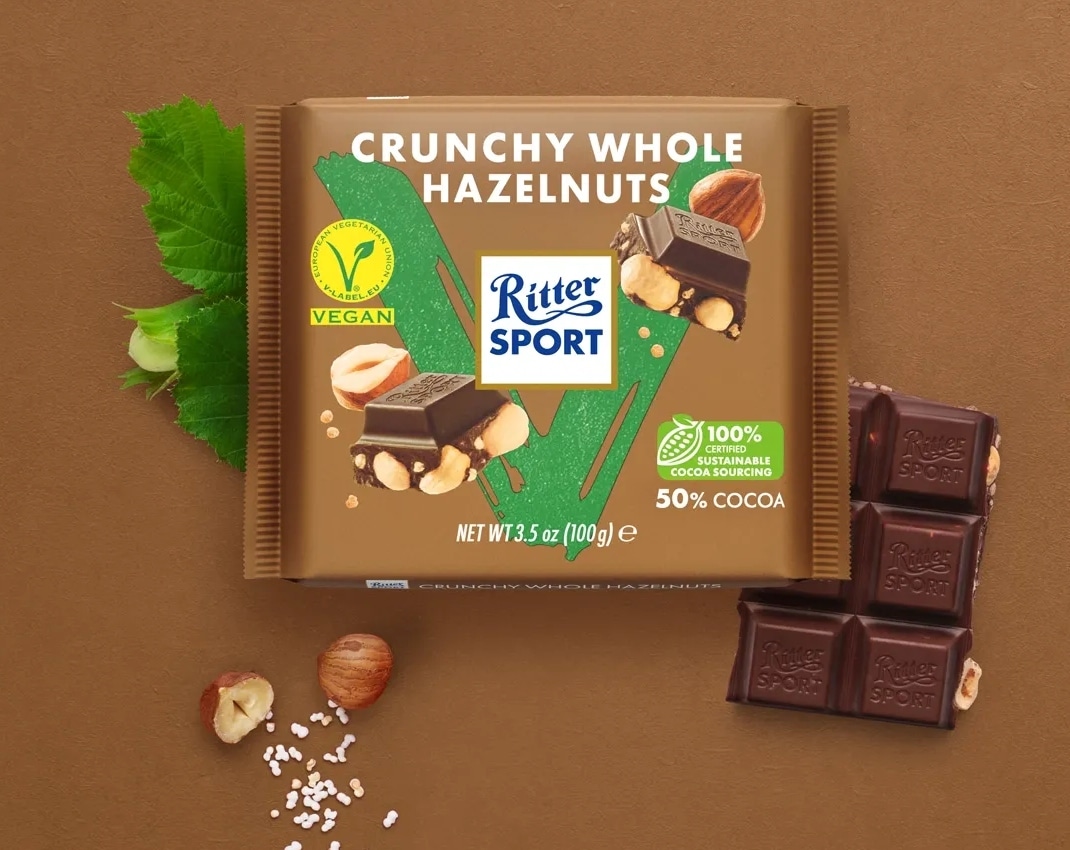 Ritter Sport
10 Crunchy Whole Hazelnuts
Not a peanut fan? Get your nut fix by opting for this version of Ritter Sport vegan chocolate, which is nice and mild and not too bitter, and packed with whole hazelnuts.
Check it out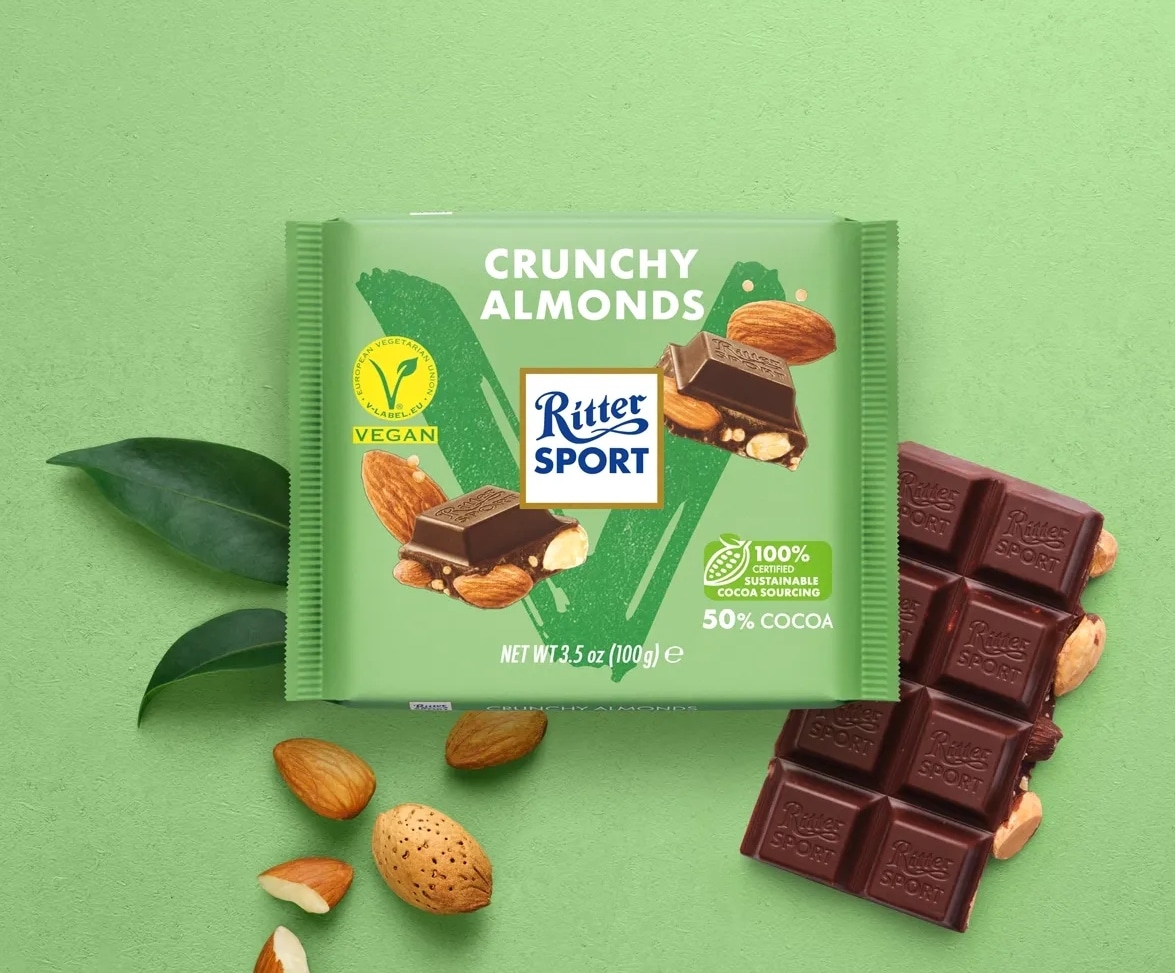 Ritter Sport
11 Crunchy Almonds
To complete the holy nut trilogy, Ritter Sport also has an almond-packed vegan chocolate bar. And as a bonus, it also contains crispy quinoa.
Check it out
For more on vegan chocolate, read:
Here at VegNews, we live and breathe the vegan lifestyle, and only recommend products we feel make our lives amazing. Occasionally, articles may include shopping links where we might earn a small commission. In no way does this effect the editorial integrity of VegNews.