From breakups to stressful workdays, ice cream has always been a reliable coping mechanism. Digging a favorite spoon into a perfectly thawed pint of vegan ice cream can't cure everything, but it can offer a moment of temporary bliss. Whether you take the time to scoop into a proper bowl or dive straight in with a spoon, quality vegan ice cream is something we can all get behind—no matter what may be going on in our lives or the world at large. And there's certainly not a lack of options, though admittedly, some are better than others. From straightforward yet sensational strawberry to indulgent cookie dough-studded joy, here are the best vegan ice cream pints to keep in rotation this summer.
Note: this list is not ranked in any particular order; it was hard enough to pick just 10!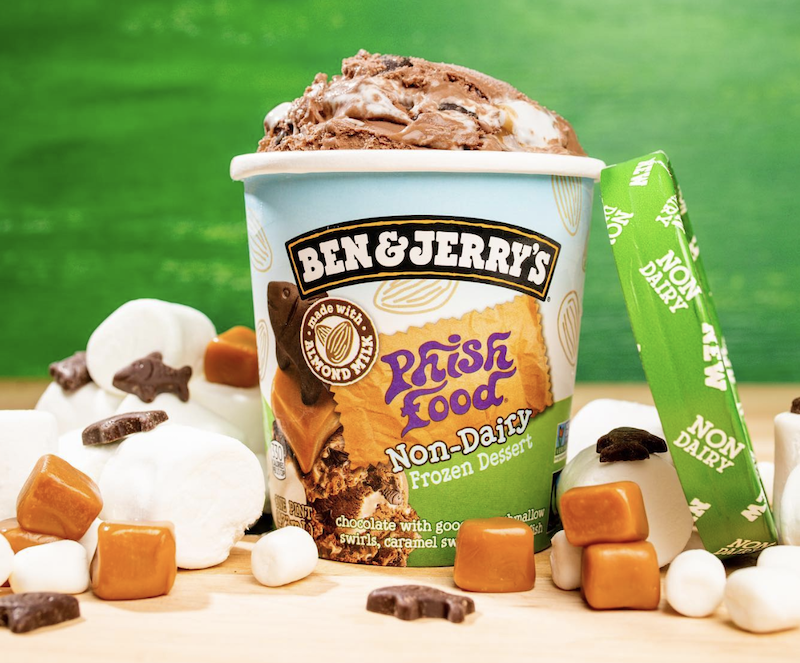 Ben & Jerry's
1 Ben & Jerry's Phish Food
The goal of Ben & Jerry's non-dairy flavors is to hit as close to the mark to its original flavors as possible, but in the case of Non-Dairy Phish Food, this do-gooder ice cream company has exceeded it. Pre-vegan days, we never understood the appeal of Phish Food. It was "fine." Now, we get it. The almond milk-based chocolate ice cream is generously studded with fudgy fish-shaped pieces and doubly swirled with vegan marshmallows and caramel ribbons. It strikes the perfect balance of offering something different in each bite without having too much going on. Non-Dairy Phish Food is the only Ben and Jerry's flavor on this list, but that's not to dismiss the other 20 fantastic vegan options. For opinions on everything from Caramel Almond Brittle to Change the Whirled, check out our ranking of all Ben and Jerry's non-dairy pints.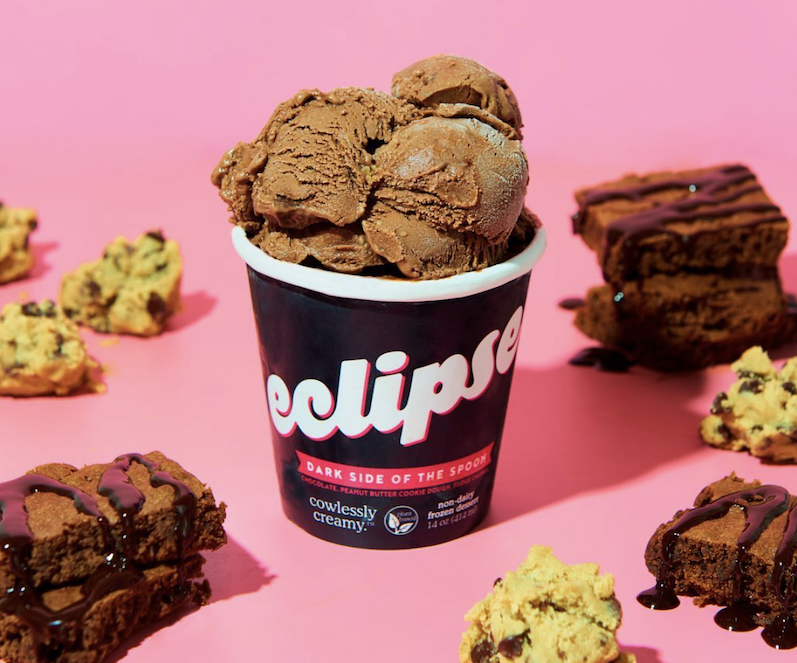 Eclipse
2 Eclipse Dark Side of the Spoon
Chocolate and peanut butter is a magnificent combination in other sweet applications, but it doesn't always translate well to ice cream. Eclipse, however, nails it. The chocolate base is richly deep and chocolaty, and the company doesn't skimp on the gobs of peanut butter cookie dough and fudge chunks. This isn't your afternoon treat kind of ice cream—it's an eat-straight-from-the-pint-while-lying-in-bed kind of decadence. Sharing is optional.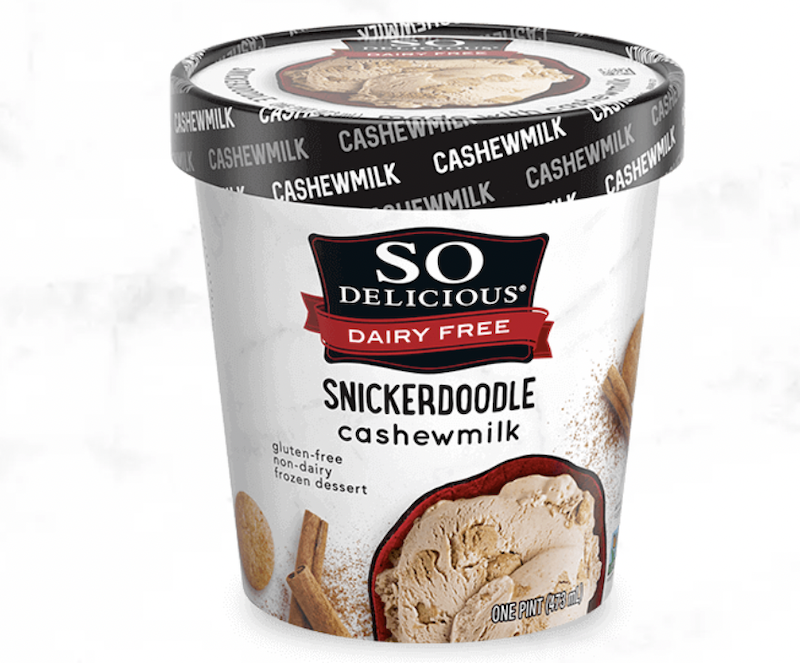 So Delicious
3 So Delicious Cashewmilk Snickerdoodle
Sweet, cinnamony, and packed with craters of tender snickerdoodle cookie dough, this pint is whimsically delicious without tasting too sugary. Consider it classic cookie dough ice cream's warm cinnamon cousin. So Delicious offers a number of vegan ice creams with different non-dairy bases, but the cashew milk reigns supreme when it comes to texture. It's thick, creamy, and fairly resistant to freezer burn. Pro tip: this flavor makes for an excellent milkshake, too!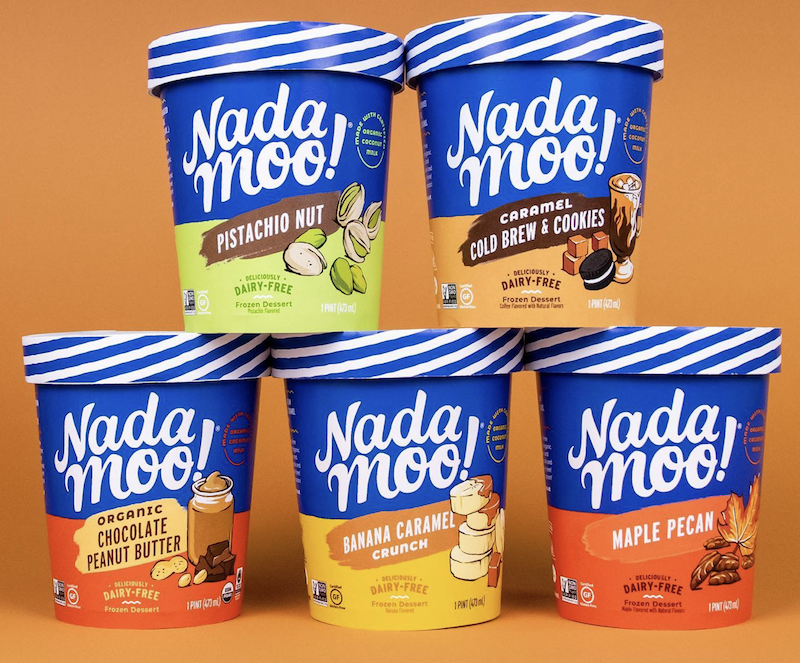 NadaMoo!
4 NadaMoo! Maple Pecan
This coconut-based ice cream currently offers 15 different flavors, and while we love the Mint Chip and Birthday Cake, the Maple Pecan offers something you can't find with other brands. It's not overly sweet yet the maple flavor is front and center. Pecans provide a nice crunch and texture contrast to the otherwise smooth ice cream. Note: NadaMoo! is best enjoyed thawed. It takes a while—about 10 minutes—but the difference is night and day.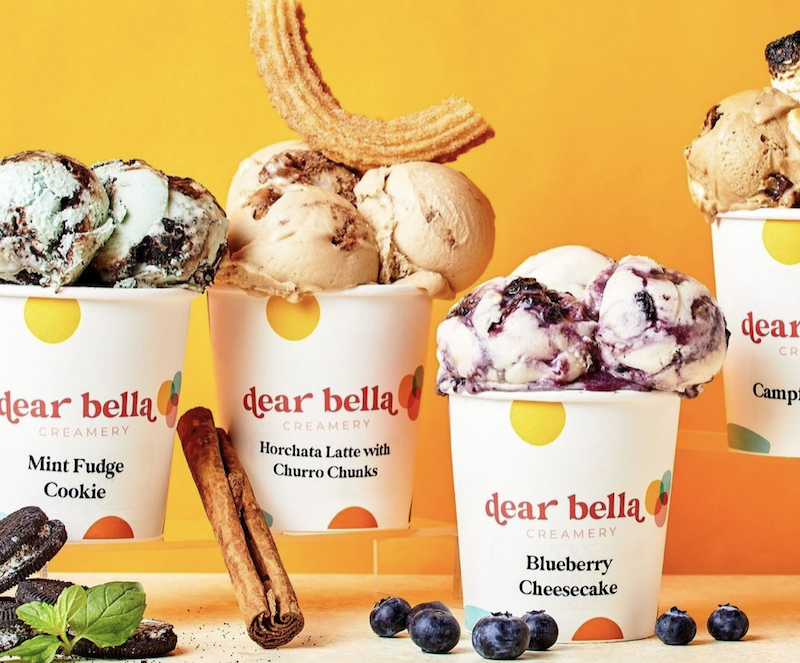 Dear Bella Creamery
5 Dear Bella Creamery Mint Fudge Cookie
If you're a mint chip purist, this may not be for you. Yes, the mint flavor is wonderfully refreshing and naturally colored. Yes, the chocolate balances harmoniously with the mint base. But no, this pint does not contain tiny flecks of chocolate that just get stuck in your teeth. In lieu of chocolate chips, Dear Bella added huge chunks of chocolate sandwich cookies. The result, we believe, is something better than the mint chip ice cream we grew up with. The cookies are soft, tender, and of course, chocolaty. Mint fan or not, everyone can get behind this upgraded flavor. Find this pint and others on the Dear Bella website.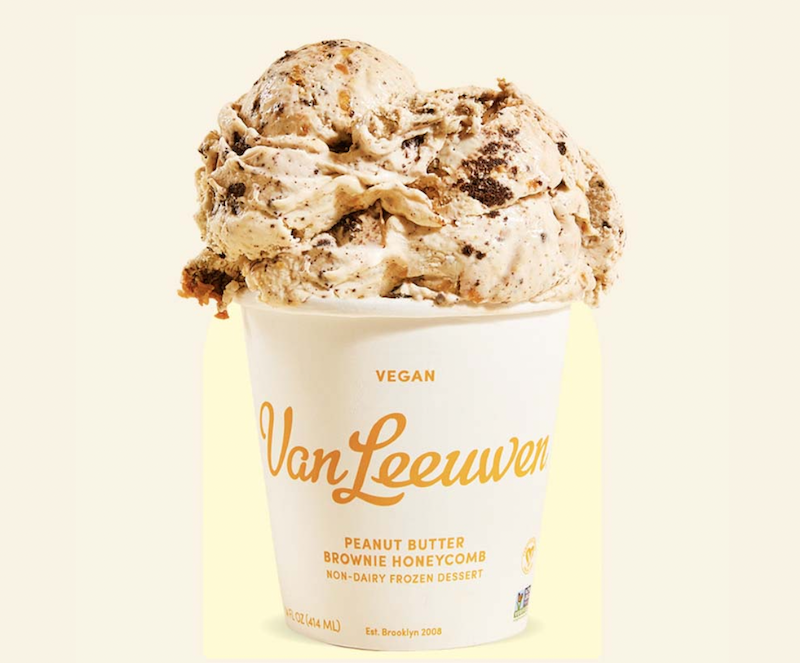 Van Leeuwen
6 Van Leeuwen Vegan Peanut Butter Brownie Honeycomb
Van Leeuwen is a Brooklyn, NY-based ice cream brand and scoop shop that jumped on the vegan train early. Since launching its first vegan flavor in 2013, the business has expanded its non-dairy line to 18 incredible flavors. While some err on the simple side like chocolate chip cookie dough and strawberry, most pints contain as many elaborate chunks and swirls as Ben and Jerry's. This particular flavor is a lot, but it works. This pint is a magical combination of peanut butter ice cream loaded with craters of chewy brownie bites and crispy, crunchy honeycomb. Quite simply, this is phenomenal ice cream.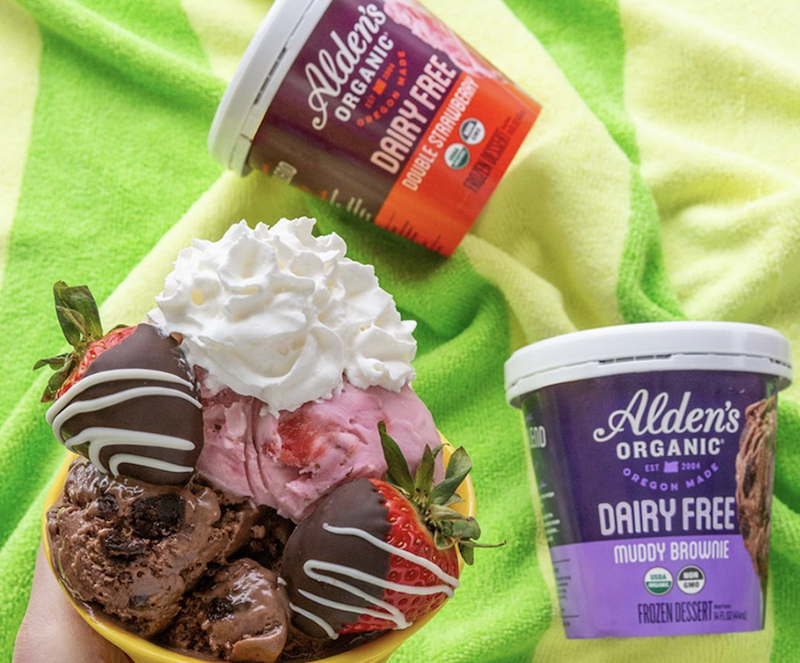 Alden's Organic
7 Alden Organic Dairy-Free Muddy Brownie
One bite and you'll be transported back to the childhood days of wolfing down Mississippi Mud from a cup or cone. True to its name, this chocolate ice cream is rich, sweet, and decadent—an experience only amplified by the chewy chunks of brownie generously spread throughout. It's borderline chocolate overload, which is exactly what we're looking for in an indulgent chocolate frozen treat. Pro tip: it's ridiculously good when topped with vegan whip and a maraschino cherry.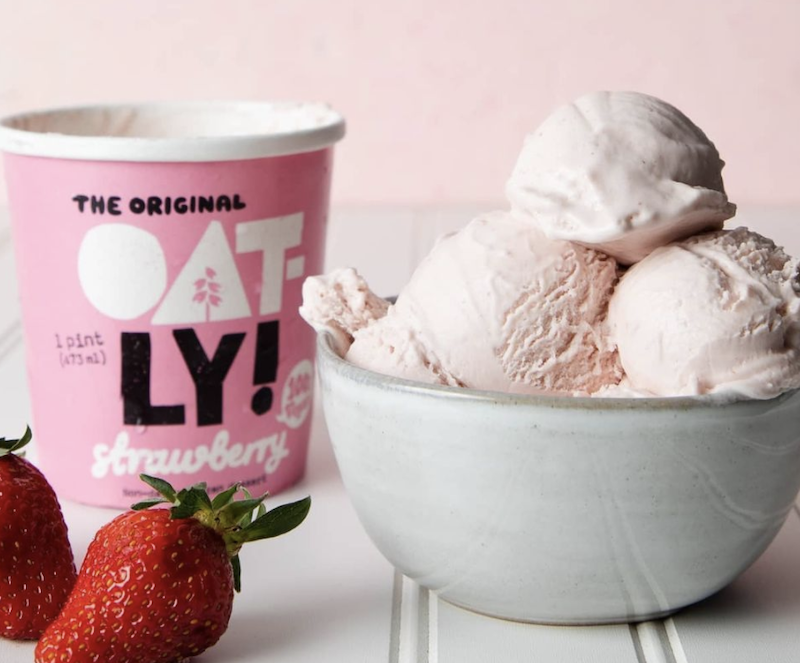 Oatly
8 Oatly Strawberry
While its marketing may be over-the-top, this ice cream is not. Oatly's strawberry is fresh, clean, and very to-the-point. There are no gobs or ribbons, just pure and natural strawberry flavor. Enjoy by the velvety spoonful or blend it up into a delightfully retro strawberry milkshake topped with a tall mountain of vegan whipped cream.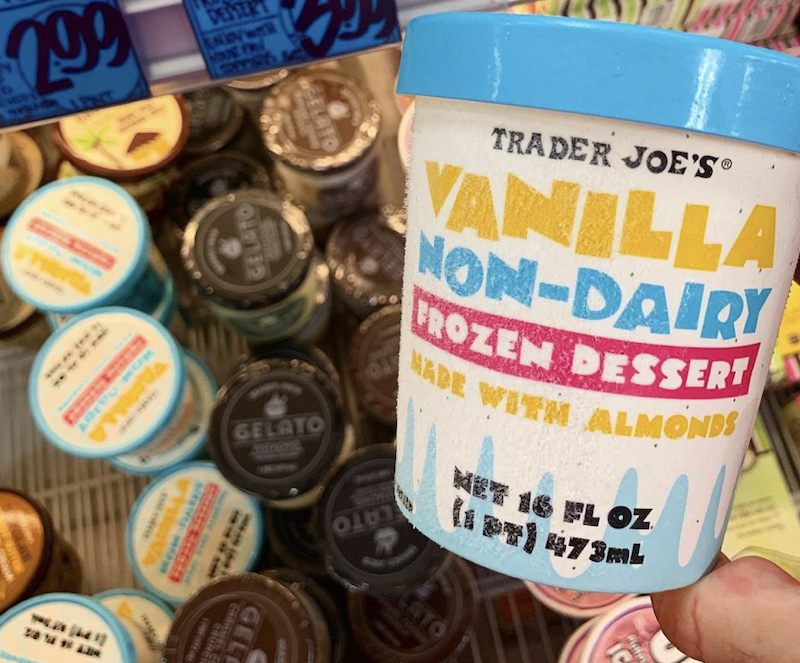 @traderjoesveganitems/Instagram
9 Trader Joe's Vanilla Non-Dairy Frozen Dessert Made with Almonds
Before you pass up "boring vanilla," hear us out. TJ's got the labeling on this one wrong. It doesn't taste like vanilla, it tastes like birthday cake. The new flavor is the grocer's first venture into almond-based frozen desserts, and while the revived Soy Creamy Cherry Chocolate Chip still holds a special place in our hearts and stomachs, this flavor takes the cake.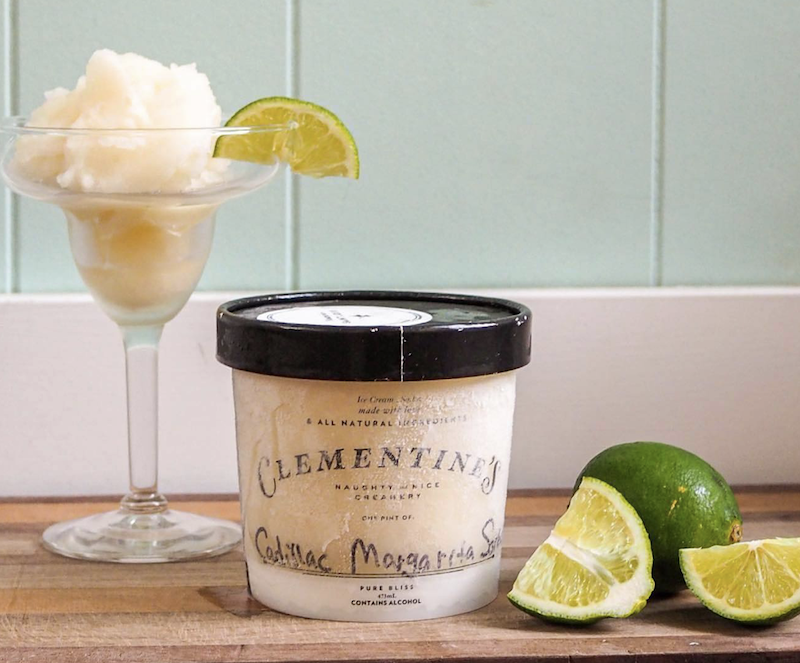 Clementine's
10 Clementine's Naughty and Nice Ice Cream
Unless you live in the Greater St. Louis, MO area, you'll need to order these pints online. They're worth the shipping cost. We couldn't settle on a particular flavor for this brand—they are all so unique and wildly different from one another. From booze-infused Vegan Aviator (Creme de Violette) to the citrusy Vegan Lady Marmalade, there's something to satisfy everyone's taste in ice cream. As of the time of writing, our Clementine's flavor of the moment is the Vegan Triple Berry Crumpet, but that could certainly change by tomorrow. Check the website often as options change with the season.
For more vegan ice cream picks, read:
All the Best Places to Get Vegan Ice Cream This Summer
The 15 Best Vegan Milkshakes in the US
10 Trendiest Vegan Ice Cream Creations