Aquafaba is trending, but what exactly is it? For a four-syllable word, it's actually quite simple. Aquafaba is bean brine that possesses very similar characteristics to egg whites. Traditionally taken from chickpeas, aquafaba whips up into a meringue-like consistency and provides a gentle, airy lift to various baked goods. Bakers have seen stunning results using aquafaba to recreate delicate pavlovas, tender cakes, and gooey vegan marshmallows, but it can be a bit more finicky to work with compared to your standard vegan egg replacer. Here is how to master the art of aquafaba and impress your co-workers, family, and friends with your newfound vegan baking prowess. They'll never guess your secret is a can of beans.
What is aquafaba?
Any pulse (edible seeds taken from the plant of the legume family) can produce aquafaba. It's merely the liquid used to cook a batch of these dried seeds. Examples of pulses include dry beans, lentils, dry peas, dry broad beans, and chickpeas, among others.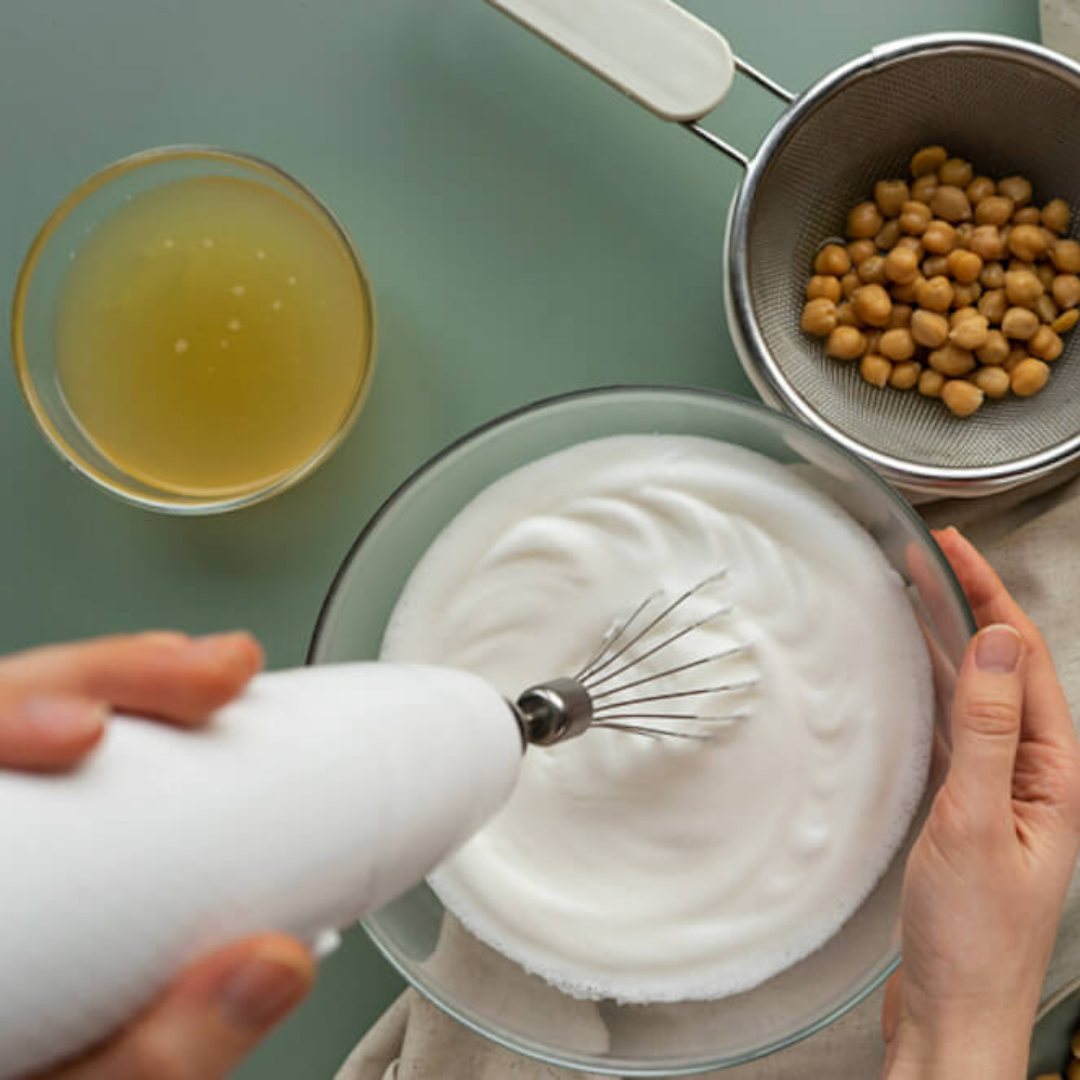 Getty
When you open a can of chickpeas, the starchy liquid you may typically discard is aquafaba. While it may seem bizarre to add bean juice to baked goods, the very light chickpea flavor is easily masked with sugar and other ingredients.
Why use aquafaba instead of eggs?
While traditional baking recipes often call for chicken eggs, many elect to use a vegan alternative, like aquafaba, because of the ethical and environmental issues associated with the egg industry.
Most chickens are raised on industrialized factory farms where the conditions are cramped, dirty, and unhygienic. The birds have little room to express their natural behaviors, or even turn around. According to many reports, most hens on factory farms have roughly the same amount of space as an A4 piece of paper. But it gets worse. When these hens have chicks, only the females are kept in the industry. As male chicks cannot lay eggs, they are deemed unprofitable and unwanted, and so they are slaughtered. In the US alone, around 260 million male chicks are killed every year.
Animal agriculture is also associated with major environmental problems, including high levels of greenhouse gas emissions and water pollution. For example, in 2020, one report concluded that ammonia air pollution from chicken farms contributes 12 million pounds of nitrogen to the Chesapeake Bay, the largest estuary in the US, every year. This not only negatively impacts underwater ecosystems but also local communities who rely on the bay for drinking water.
Is aquafaba healthier than eggs?
Many also choose to use aquafaba or other vegan eggs for health reasons. While chicken eggs contain cholesterol (high levels of which are associated with an increased risk of chronic disease) aquafaba is totally cholesterol-free. It's also low in calories and contains traces of calcium, B vitamins, folate, and iron.
While aquafaba from canned chickpeas tends to be more reliable when cooking or baking, you can make your own. If you're already comfortable with cooking your own beans from scratch, then you're set. Just be aware that the remaining liquid from the cooked beans may be a bit thin to achieve the best aquafaba results. The liquid should look syrupy and viscous like an egg white. To achieve that consistency, reduce the aquafaba in a pot over the stove until the liquid gels and thickens.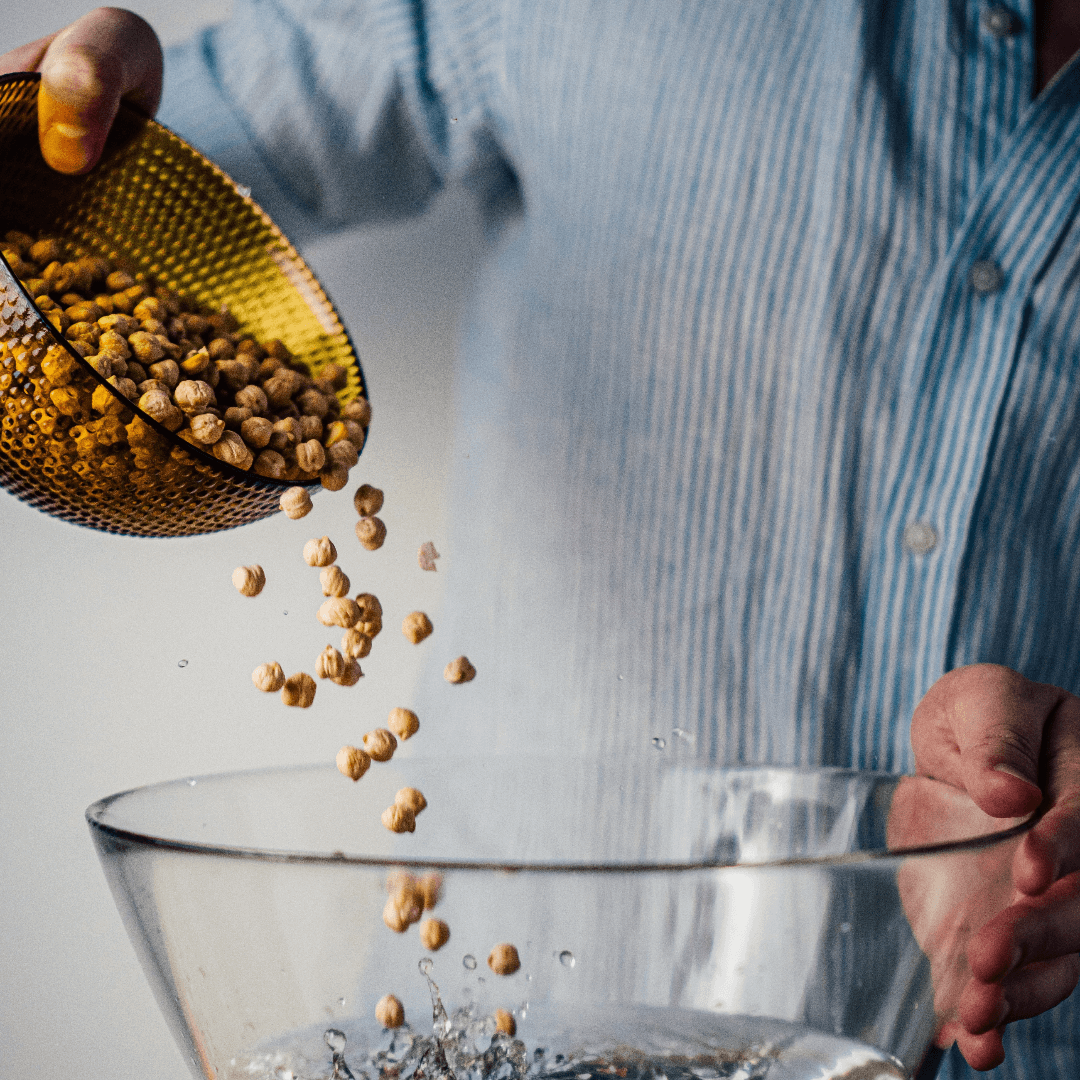 Unsplash
New to bean cooking? It's simple, though admittedly time-consuming. Soak one cup of dried chickpeas overnight. Drain and rinse the soaked beans (you don't reserve this liquid) then add them to a pressure cooker with two cups of water. Cook on high for five minutes and add on 20 minutes for the natural release. Alternatively, simmer in a pot of water over the stove for 90 minutes to two hours until the beans are tender. For both methods, allow the beans to sit in the liquid until it has cooled completely. Remove the beans with a slotted spoon, reduce the liquid to reach egg white consistency in the same pot (if needed), cool the liquid, and your aquafaba is ready to go.
In a rush? Reserve the liquid from a can of chickpeas and you're ready to bake, whip, bind, and emulsify!
How to use aquafaba
When whipped (most effectively with an electric mixer) for several minutes, aquafaba can reach the stiff peak stage. It can also be added directly into some recipes without prior beating, though this depends on what the aquafaba is used for. If the goal is to achieve lift, beating is necessary. However, it is not necessary to beat the aquafaba if it is just acting as a binder.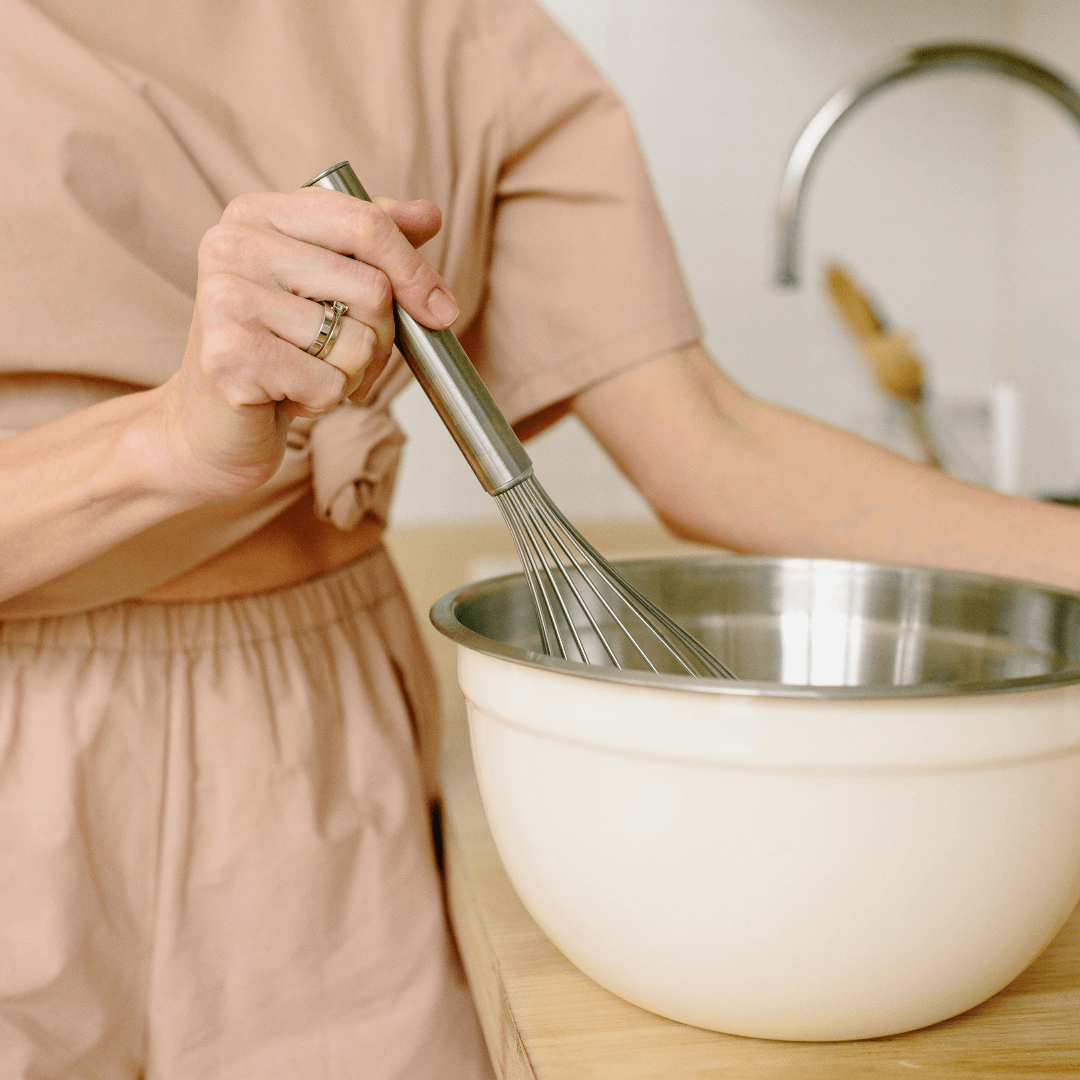 Pexels
To substitute aquafaba for a whole egg in a non-vegan recipe, use three tablespoons of aquafaba per egg. To substitute egg whites, use two tablespoons of aquafaba per egg white. Note: a standard 15-ounce can of chickpeas yields between half to three-quarters of a cup of aquafaba.
Aquafaba tips
While not as finicky as full-fat coconut milk when making vegan whipped cream from scratch (we've gone through so many "dud" cans), there are certain tips to keep in mind when working with aquafaba.
1 Pay attention to consistency and temperature
As mentioned above, the liquid should always be syrupy like an egg white. If it's too loose, reduce over the stove until this consistency is reached. Before adding aquafaba to any recipe, be sure it is either chilled or at least room temperature.
2 Whip thoroughly
Before adding sugar, whip the liquid for at least 3 minutes or until it has turned a pristine white and doubled in size. A handheld electric mixer could work in a pinch, but it truly helps to use a stand mixer when preparing aquafaba—your arms will thank you.
3 Add a stabilizer


When you add sugar as called for in your recipe, add up to a quarter teaspoon of cream of tartar. This acts as a stabilizer and will not only help the liquid whip up faster but will also prevent it from deflating. Have patience during this process—a stiff peak stage could require up to 12 minutes of a continuous beating. If you're using a trusty stand mixer, prep your other ingredients while the gadget does its thing.
4 Make enough to last
Let's say you open a can of chickpeas to add to your salad but you're not quite in the mood to whip up a cake. You can store unwhipped aquafaba in the fridge in an airtight container for up to five days. You can also freeze it for up to five months and allow it to thaw just before using it.

For those who don't know what to do with all the leftover chickpeas, we highly recommend these snackable Crispy Roasted Chickpeas and this Two-Step Vegan Chickpea Tuna Salad.
9 vegan recipes with aquafaba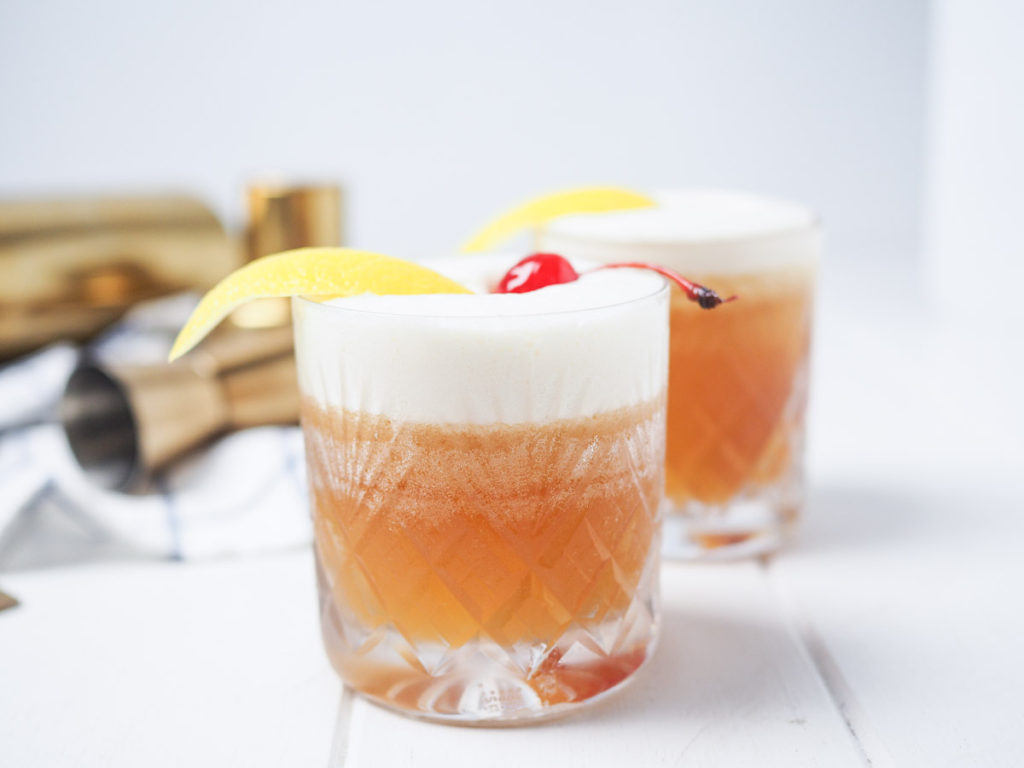 Like A Vegan
1 The Perfect Vegan Amaretto Sour
Raw egg whites in drinks never sat right with us, but a boozy cocktail topped with a cloud of spiked and sweetened aquafaba goes down easy. You'll need a cocktail shaker and some energy to create that signature foam, but the end result is well worth the effort.
Get the recipe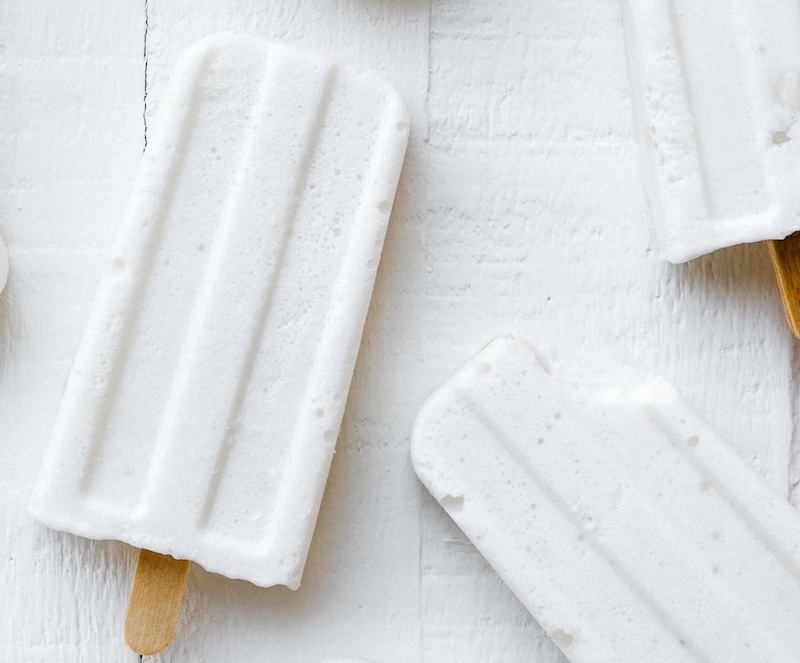 2 Vegan Marshmallow Coconut Cream Popsicles
What does a marshmallow popsicle taste like? Like chilled marshmallow fluff on a stick. These cool treats are sweet, fluffy, coconuty, and pair exceptionally well with a tipple of rum if you're making these for the 21-and-up crowd. With just five ingredients and two steps, it doesn't take much to make these delightful treats.
Get the recipe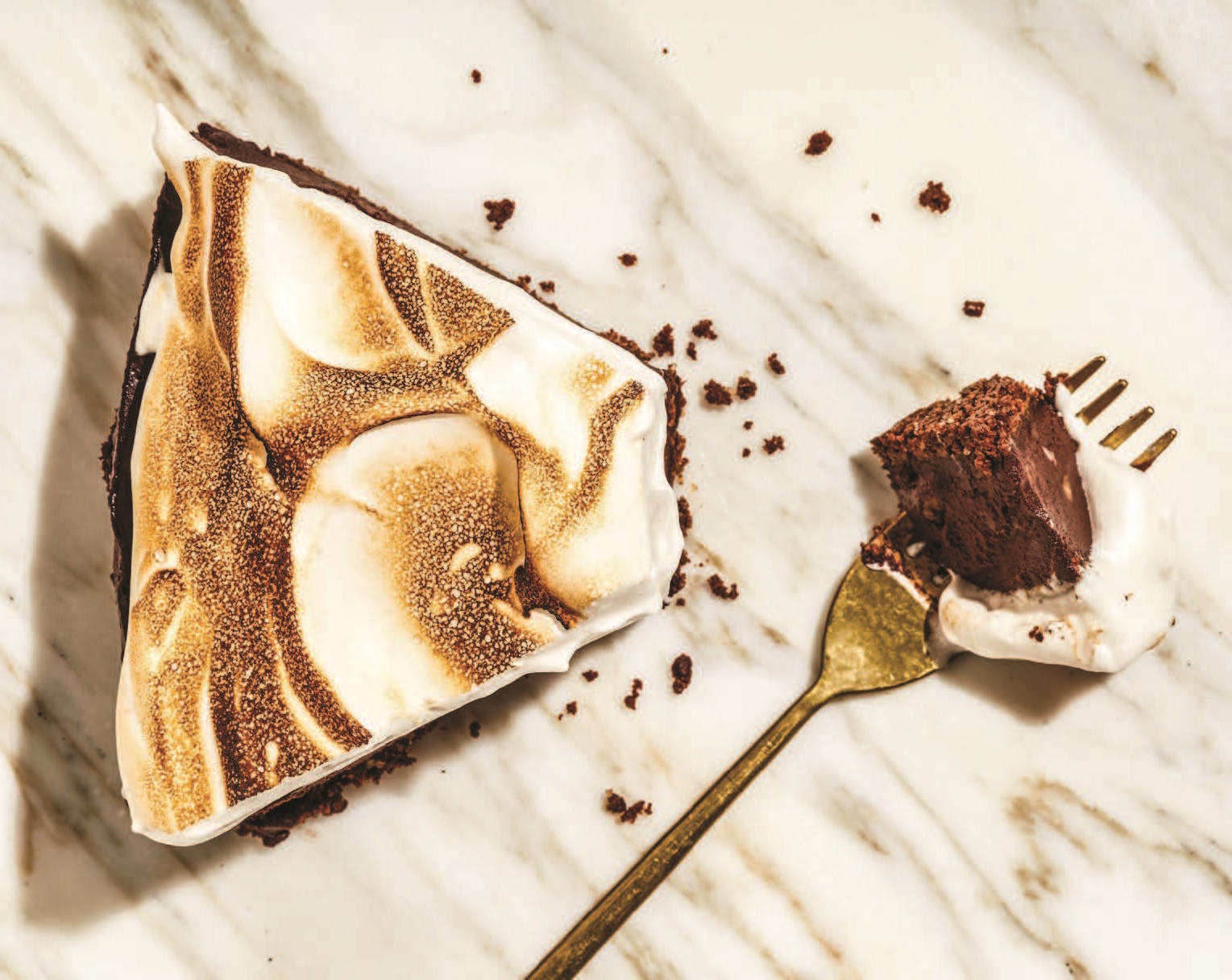 Little Pine
3 Vegan Chocolate Pecan Cheesecake With Toasted Meringue
Dust off your culinary blow torch—you'll need it for this five-star showstopper. Taken from the kitchen of Little Pine—a celebrity vegan hotspot in Los Angeles—this recipe doesn't hold back on the decadence. Aquafaba is key to creating the marshmallowy torched meringue that tops the silken chocolate filling set in a brown sugar-infused graham cracker crust.
Get the recipe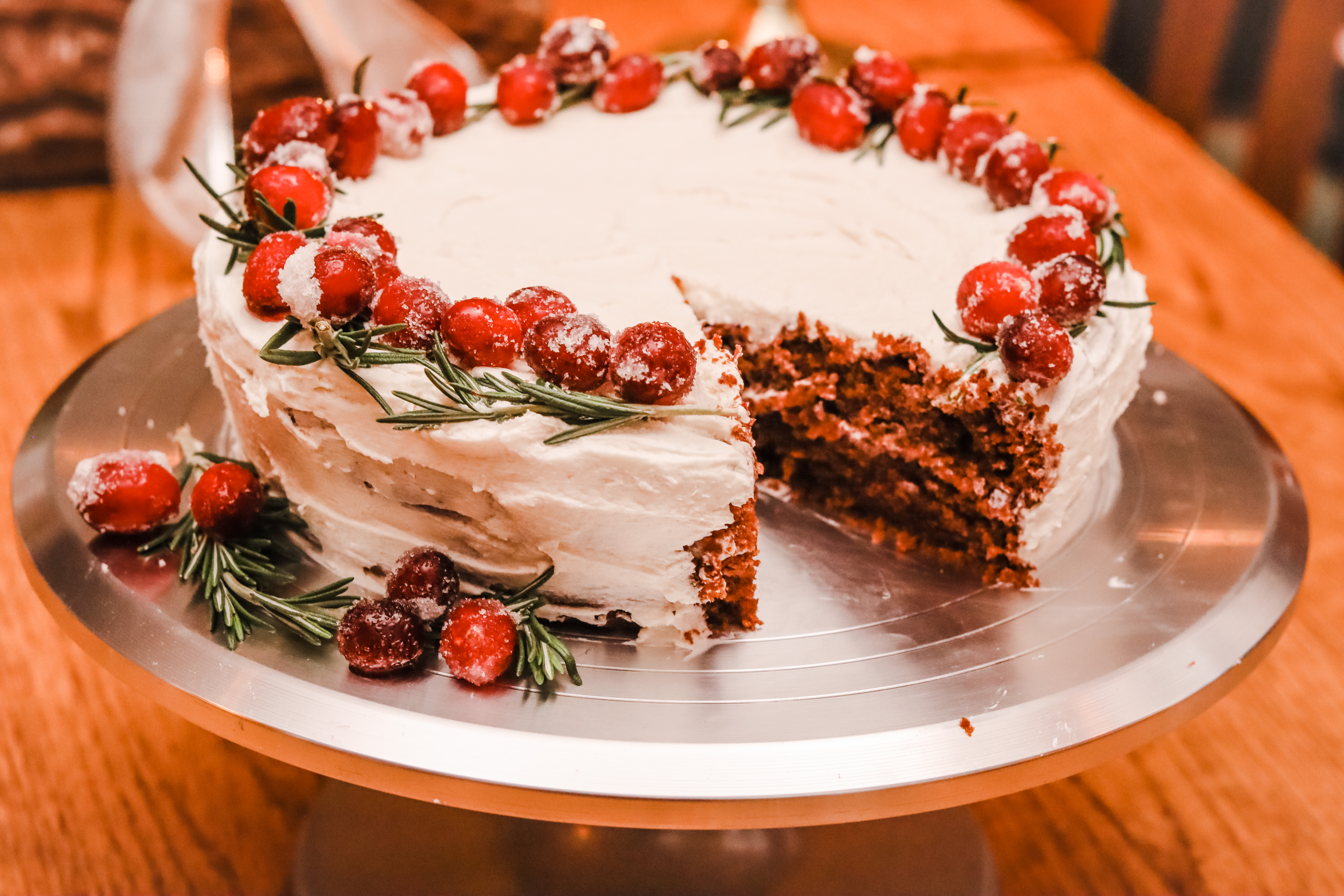 Chrissy Tracey
4 Vegan Red Velvet Cake
Developed by the first vegan chef at Bon Appétit, this moist red velvet cake relies on aquafaba to provide lift and binding properties. The original recipe calls for vanilla buttercream, but we also love it with a more traditional cream cheese frosting.
Get the recipe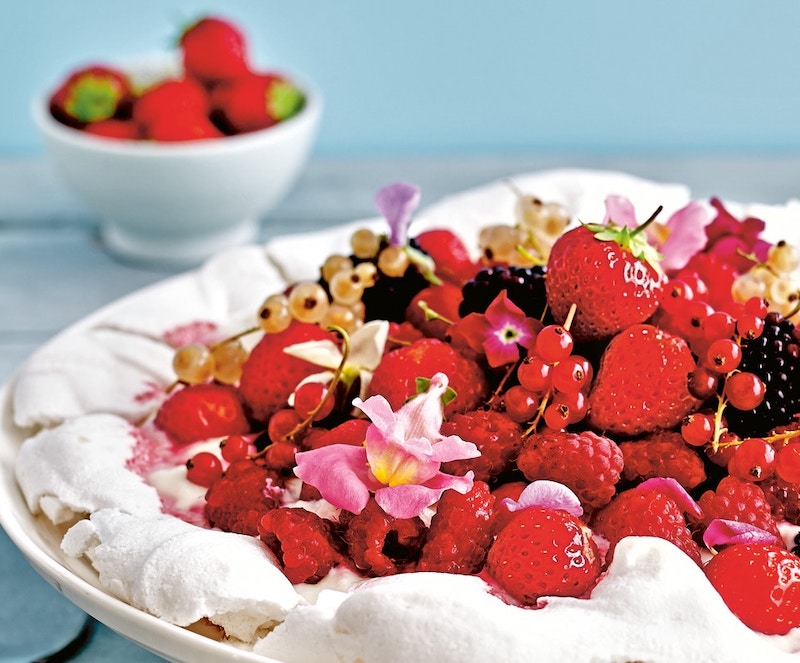 Nourish Books
5 Mixed Berry Pavlova
A pavlova is a deceptively simple Australian dessert. On the surface, it consists of a very delicate, light-and-airy meringue served with fresh berries and sometimes a simple sauce or whipped cream. But that meringue consistency is a challenge to achieve. The discovery of aquafaba has opened up the world of pavlovas to vegans thanks to its egg-white-mimicking characteristics. Just be sure to read the recipe beforehand and follow it to a tee. When it comes to pavlovas, precision pays off.
Get the recipe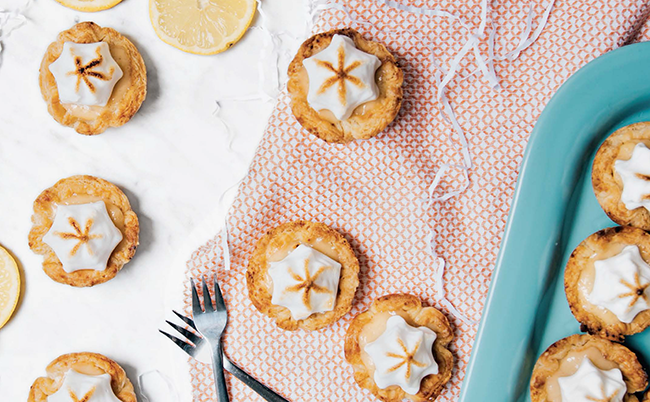 Lauren Toyota
6 Lemon Meringue Pie Tarts
This sweet-yet-tart lemon meringue from cookbook author and social media star Lauren Toyota is sure to impress guests at your next dinner party or brunch. Aquafaba is whipped to perfection to create light-as-air meringue atop smooth lemon curd-filled pastries for the most adorable mini tarts.
Get the recipe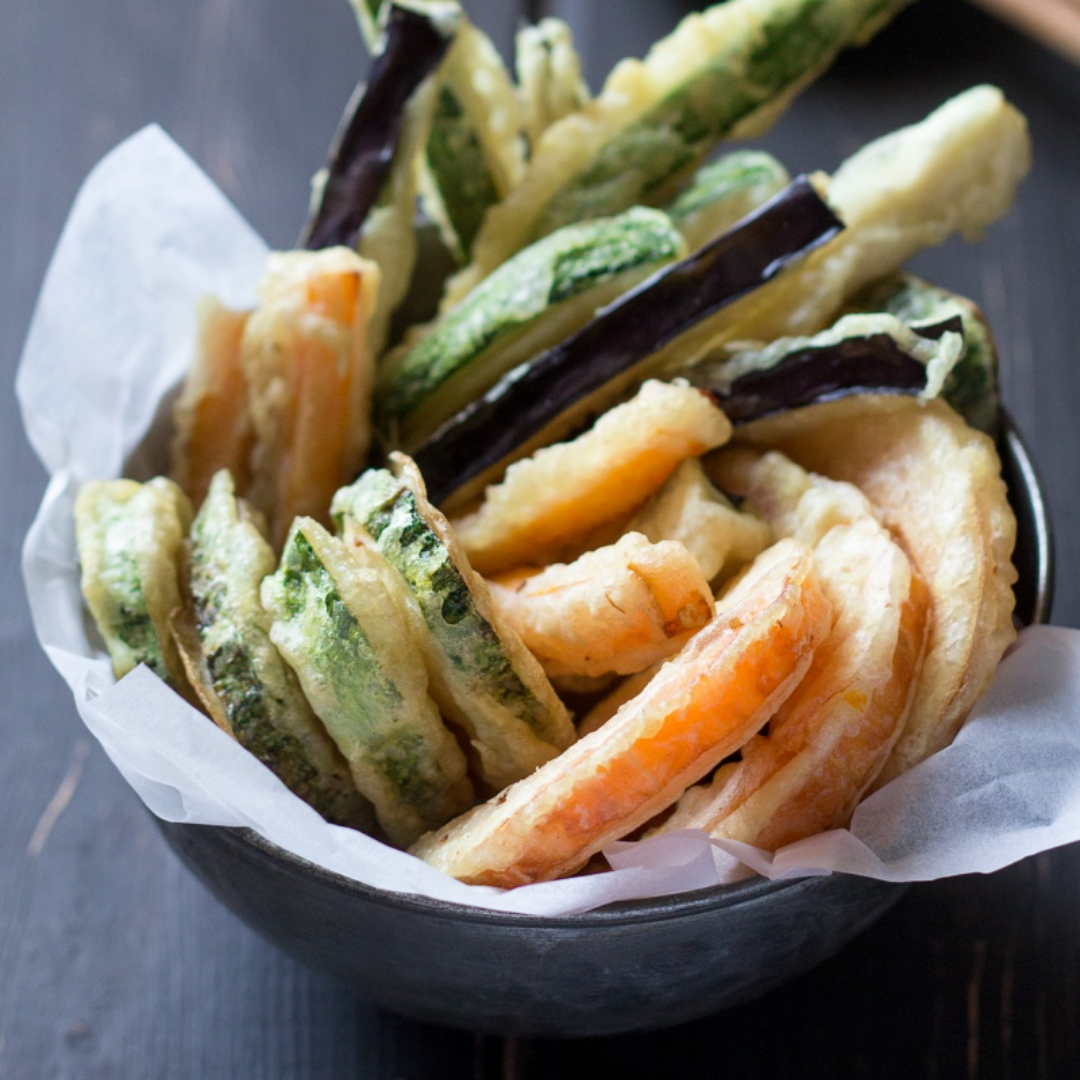 Lazy Cat Kitchen
7 Tempura veggies
Replicate your favorite tempura takeout at home with the help of aquafaba. Master the simple vegan tempura batter and use it for any veggies or plant-based protein you have on hand.
Get the recipe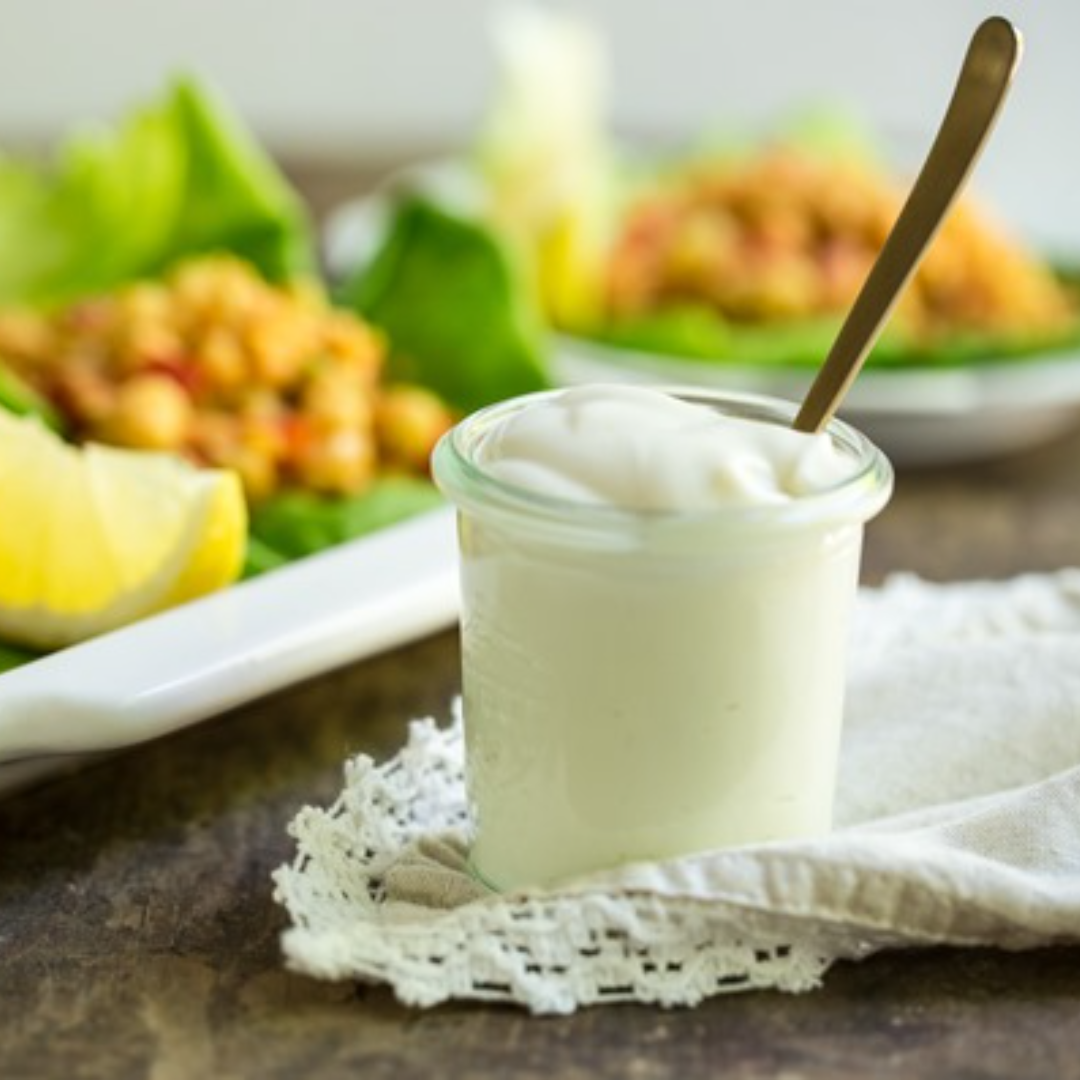 Oh She Glows
8Vegan mayonnaise
Making mayonnaise can be tricky—really, anything that involves emulsification (forcing two insoluble liquids into a soluble solution) has its pitfalls. However, a can of aquafaba and an immersion blender does away with the challenges of whipping up this creamy condiment. Make this five-minute mayo once, and you may never buy store-bought again.
Get the recipe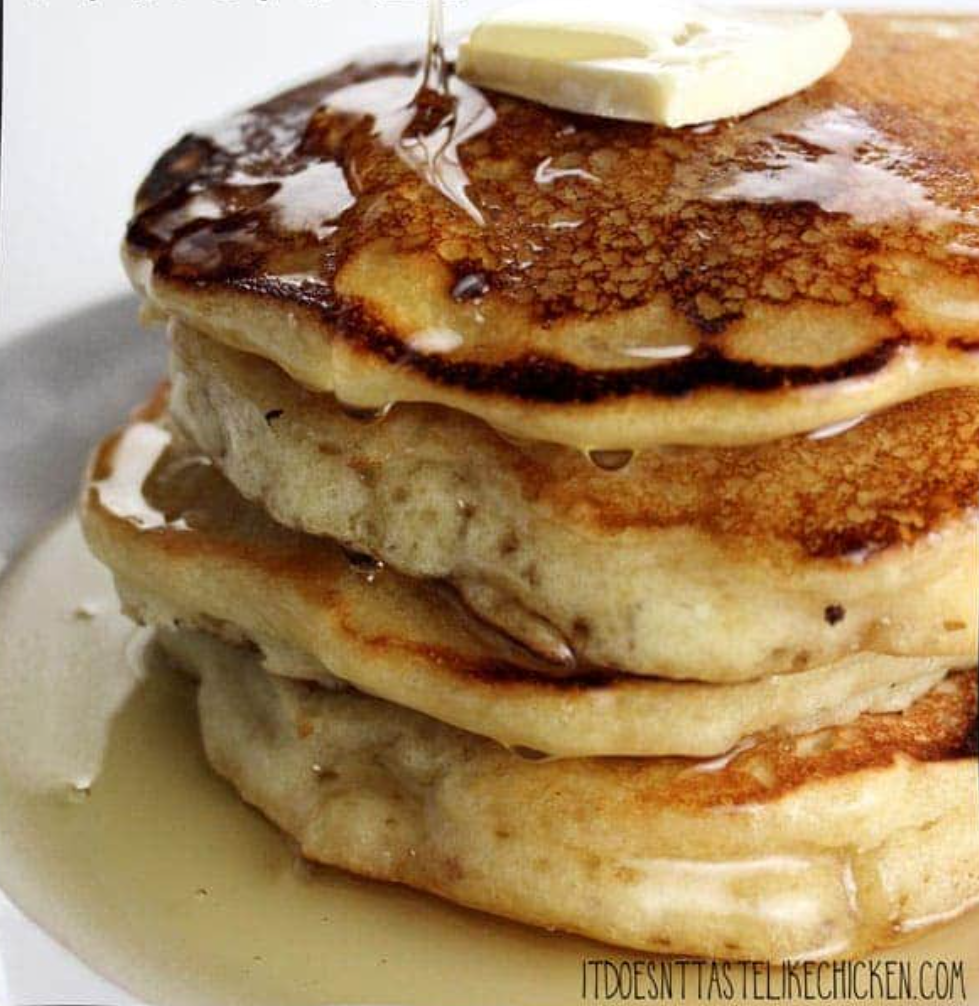 It Doesn't Taste Like Chicken
9 Vegan pancakes
For the fluffiest, pillowy pancakes that melt in your mouth, opt for a recipe that uses aquafaba. The ingredient provides a light-and-airy lift that is unmatched by other leaveners like baking soda or powder. These flapjacks are best served in their purest form—adding mix-ins such as bananas, berries, or chocolate chips could weigh them down. If you're not a plain pancake person, repurpose your go-to mix-ins as toppings instead.
Get the recipe
For more on vegan eggs and baking, read: