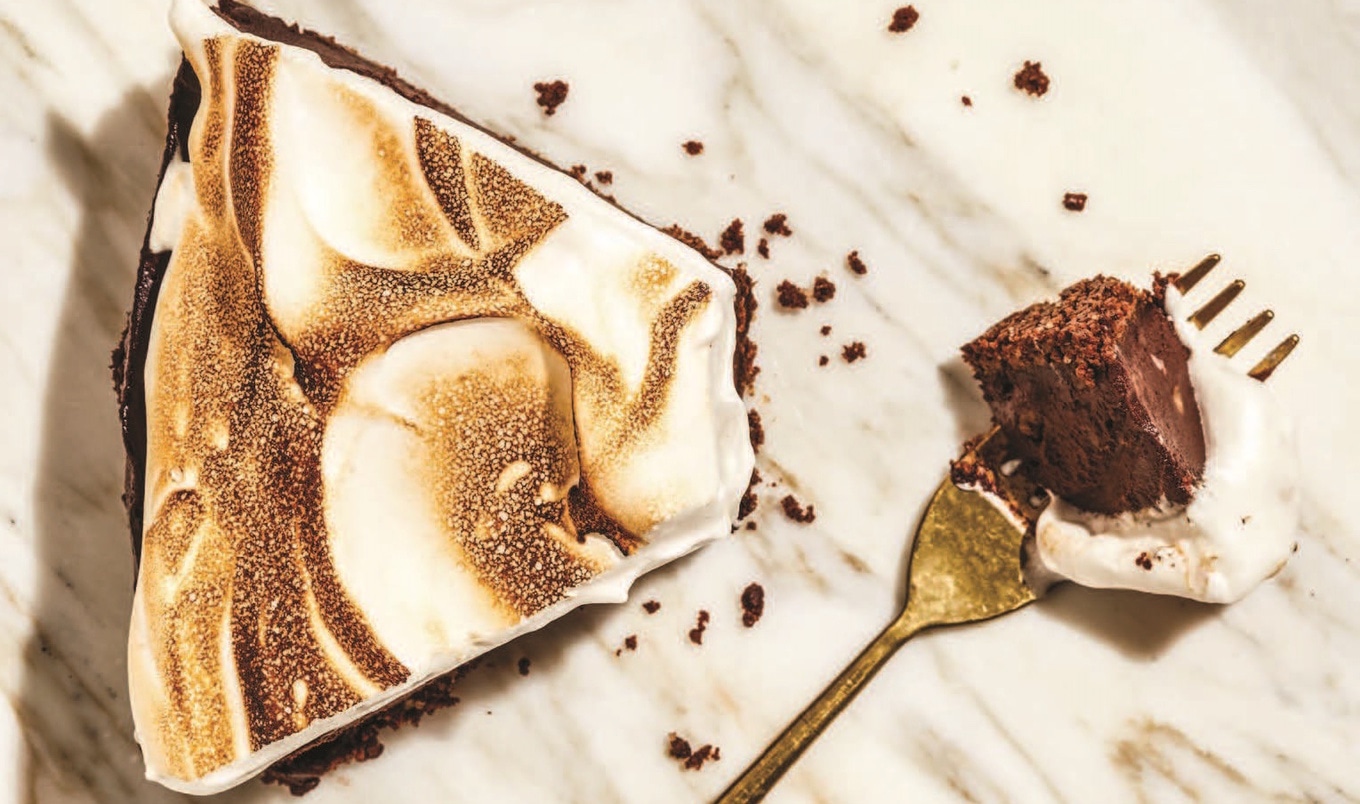 This chocolaty, nutty cheesecake will be the star of the show at your holiday celebrations.
November 18, 2022
Fluffy, marshmallow-like toasted meringue atop this decadent cheesecake in a sweet, brown sugar graham cracker crust makes for one truly show stopping dessert. This recipe from the Little Pine cookbook looks super fancy, but relies on pantry staple ingredients.
What you need:
For the Gluten-Free Graham Cracker Crust:
1½ cups gluten-free flour
½ cup plus 2 tablespoons packed light brown sugar
1 teaspoon salt
¾ teaspoon baking soda
¼ cup vegan butter, cubed and chilled
¼ cup plus 2 tablespoons vegan butter, melted
¼ cup agave nectar
3 tablespoons unsweetened soy milk
¼ teaspoon vanilla extract
Nonstick cooking spray
2 tablespoons granulated sugar
For the Fudge Sauce:
½ cup coconut cream
½ cup sugar
½ cup unsweetened cocoa powder
½ teaspoon vanilla extract
¼ teaspoon kosher salt
¼ cup vegan butter
For the cheesecake:
2 cups Gluten-Free Graham Cracker Crust Mix
2½ cups cashews, soaked overnight, and drained
1 cup maple syrup
2½ teaspoons vanilla extract, divided
1 teaspoon salt
1¼ cups unsweetened cocoa powder
2 tablespoons plus 2 teaspoons lemon juice
¾ cup water
¾ cup refined coconut oil, melted
½ cup chopped pecans
¾ cup aquafaba
¾ cup sugar
¹⁄8 teaspoon xanthan gum
1 cup Fudge Sauce
What you do:
For the crust, in bowl of a stand mixer fitted with paddle attachment, combine flour, brown sugar, salt, and baking soda and mix on low speed. With mixer running on low, slowly add chilled butter and mix until mixture is mealy. Add agave, soy milk, and vanilla and mix until all ingredients are incorporated. Shape dough into a disc, wrap tightly in plastic wrap, and refrigerate for at least 2 hours.
Preheat oven to 325 degrees. Lightly spray two pieces of parchment paper with cooking spray. Unwrap dough and roll out between parchment paper into an even layer, about ⅛-inch thick. Remove top sheet of parchment and transfer rolled-out dough on bottom sheet to a 9 × 13-inch baking sheet. Bake for about 20 minutes, until graham cracker is dark brown and firm. Remove from oven and let cool completely.
To a food processor, transfer cooled graham cracker and pulse into crumbs. Pour graham cracker crumbs into a medium bowl. Add sugar and melted butter and stir until fully incorporated.
For the fudge sauce, in a medium pot over medium heat, combine coconut cream and sugar, stirring, until sugar has dissolved. Add cocoa powder, vanilla, and salt, and stir until combined. While stirring slowly, add butter, 1 tablespoon at a time, until completely melted. Remove from heat.
For the cheesecake, preheat oven to 350 dgerees. Lightly oil a 9-inch springform pan.
Press graham cracker crust mix into an even layer over bottom of prepared pan. Bake for 12 minutes. Remove from oven and let cool completely.
In a high-speed blender, combine cashews, maple syrup, 2 teaspoons of vanilla, salt, cocoa powder, lemon juice, water, and coconut oil. Blend on high speed for about 5 minutes, until very smooth. Gently fold pecans into mixture and pour over prepared crust. Refrigerate for at least 8 hours to set completely.
In bowl of a stand mixer fitted with whisk attachment, combine aquafaba, sugar, xanthan gum, and remaining vanilla and whip on medium-high speed until light and fluffy.
To serve, remove springform pan ring from around cheesecake. Top with meringue and, using a kitchen torch, toast until golden brown. Serve slices topped with a drizzle of fudge sauce.