Finding plant-based Mexican food is not as hard as it may appear! Though many traditional restaurants may use lard in their beans or chicken broth in their rice, many also make a point to note that their beans and rice are prepared in a vegan-friendly way. But these 25 eateries go above and beyond bean and rice burritos, supplying hungry eaters with food that is comforting, familiar, and ultimately delicious.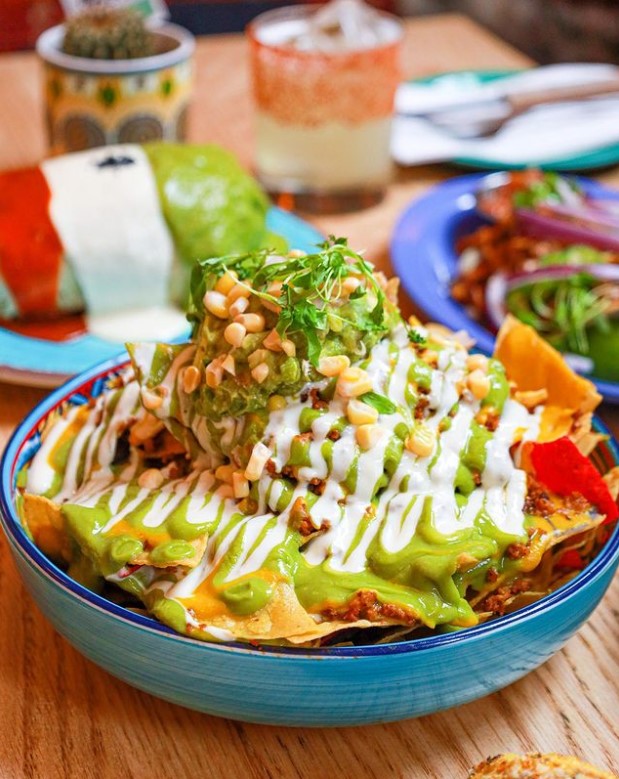 @jajaja/Instagram
1 Jajaja NYC (Various locations, NYC)
This 100-percent vegan eatery has quickly become a go-to favorite for New Yorkers. The menu features everything from Azteca Chile Rellenos with dairy-free queso and wild mushrooms to Chimichurri Eggplant Tortas with fermented black beans, pickled jalapeño, and buttery avocado.
Must-order: Nachos with chorizo, fermented black beans, turmeric-nut queso fundito, spicy vegetable relish, and sour cream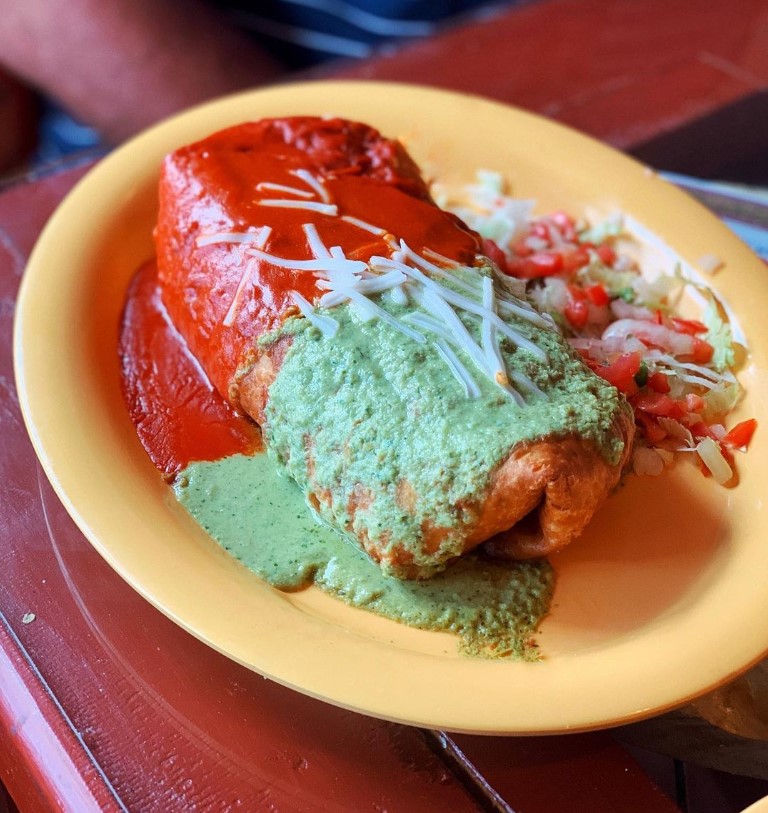 @sarahmclaughlin/Instagram
2 El Papagayo Restaurant (Carmichael, CA)
This family-owned and operated restaurant has been serving up an extensive vegan menu for nearly 10 years. Locals love its vegan Super Bowl buffet, so much that it sells out every year, and we can't resist its huge salsa bar (stock up on that avocado salsa)!
Must-order: Wet Super Burrito with rice, beans, guacamole, salsa, cheese, and potato and tofu chile colorado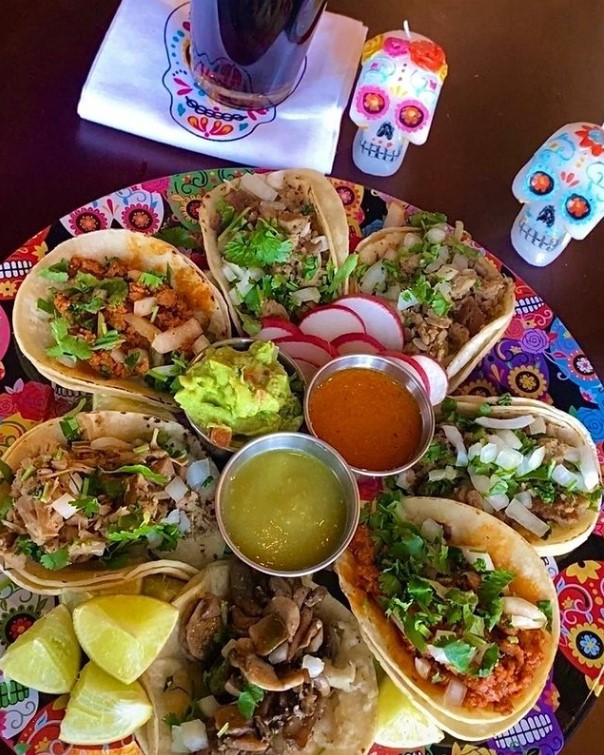 @panchosvegantacos/Instagram
3
Pancho's Vegan Tacos (Las Vegas, NV)
A fully vegan Mexican food restaurant with an expansive menu in the middle of Sin City? Yes, it's a reality! Breakfast, desserts, tacos, tortas, tostadas, enchiladas, burritos, quesadillas, chile rellenos, and so much more can be devoured at this Vegas spot!
Must-order: Tofu Rancheros with scrambled tofu, pico de gallo, potatoes, green salsa, crema, and cheese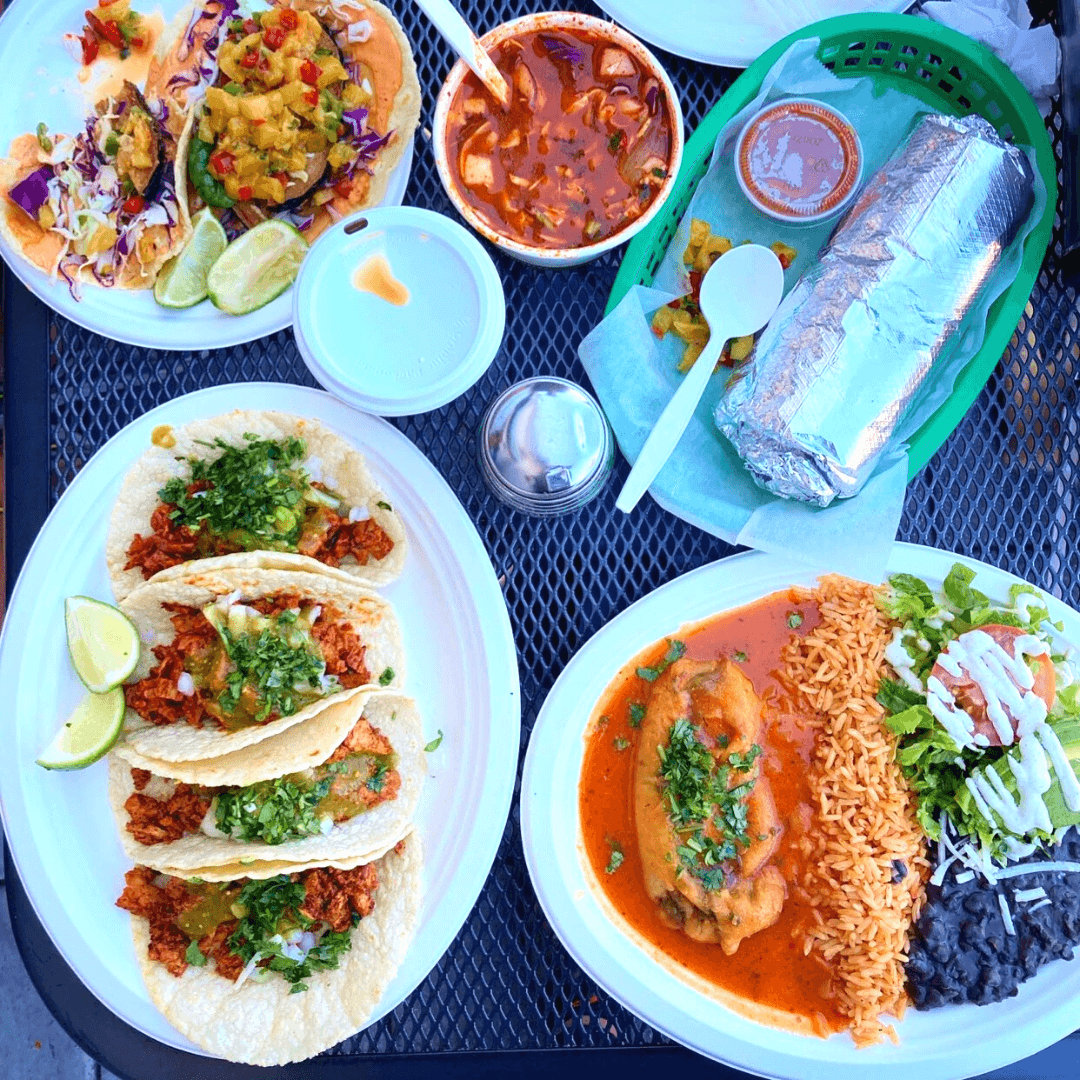 @cilantrodreams/Instagram
4
El Cantaro Vegan (Monterey, CA)
Tucked along the Central California coast, this hidden gem is an absolute treasure and overflows with Oaxacan-influenced fare. It's a family-run, casual subway shop-turned-taqueria and serves up tacos on handmade tortillas, housemade vegan meat taco fillings, and a variety of fresh juices.
Must-order: Huarache with beans, cheese, mild tahini sauce, avocado, nopales, and mushrooms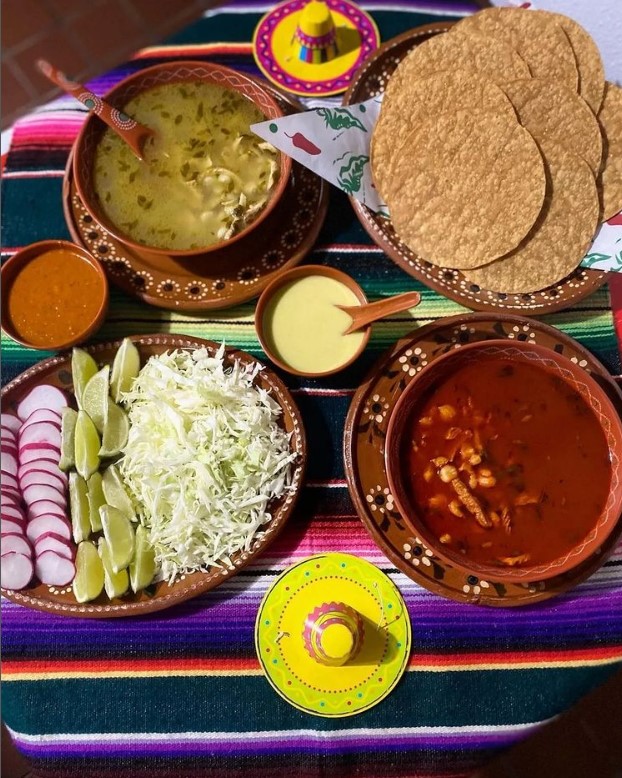 @elpalote.vegan/Instagram
5 El Palote Panadería (Pleasant Grove, TX)
Within the first year of opening its doors, this family-run panadería and taqueria made the leap and went 100-percent vegan after one of the owners suffered a health scare. Now it attracts plant-based eaters from all over the states with its authentic Mexican food.
Must-order: Menudo with fresh limes and tortillas (plus freshly baked pan dulce, of course!)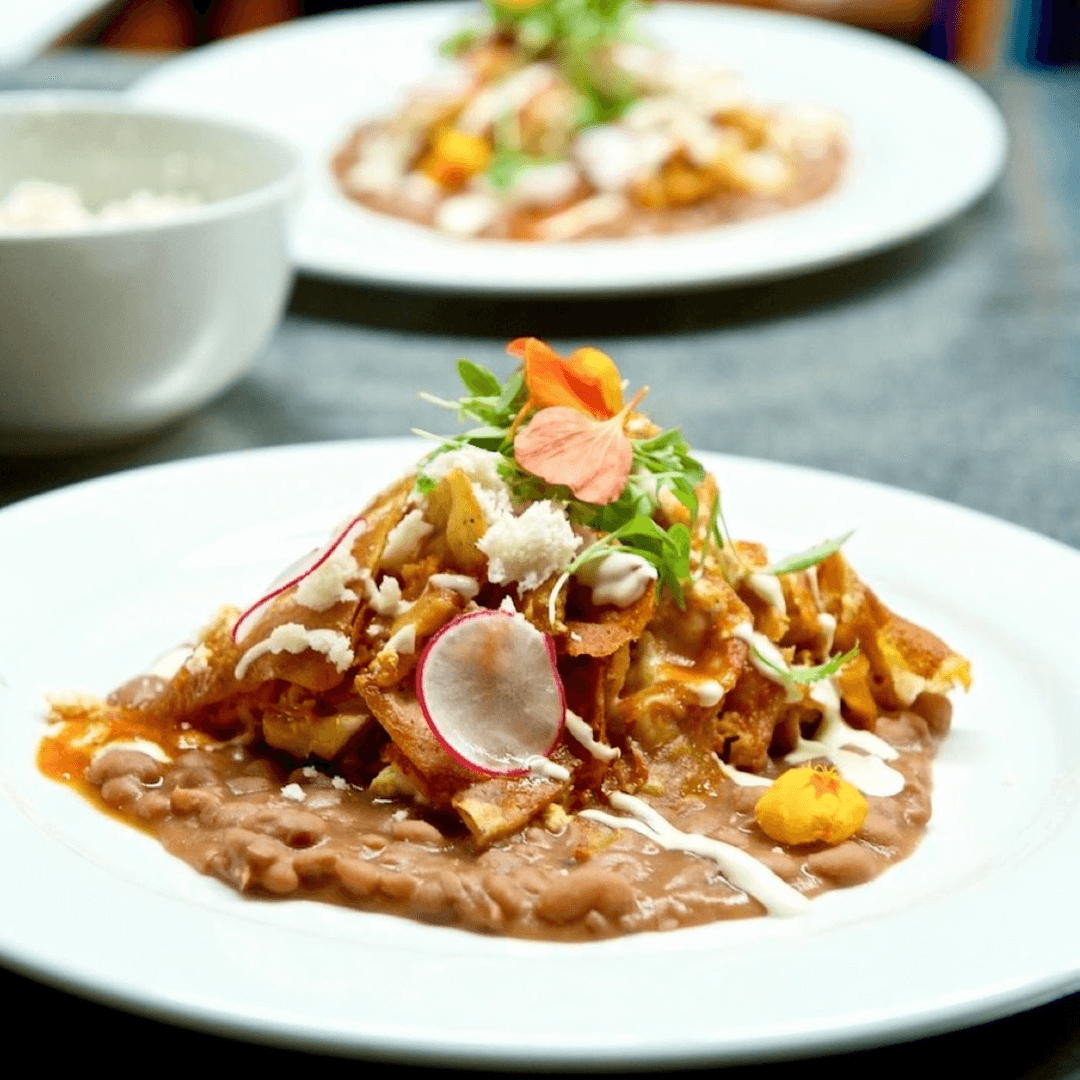 Alchemy Organica
6
Alchemy Organica (Los Angeles, CA)
This LA-based pop-up puts a spotlight on indigenous plant-based foods of Mesoamerica that pre-date colonization and industrialized farming. A quick scan of its Instagram will tell you where you can find the stand serving up delicious eats throughout the city—the vibrant, mouthwateringly good photos of all of its vegan eats doesn't hurt, either.
Must-order: Pozole Verde with organic nixtamal (hominy), king oyster and shimeji mushrooms, crispy shiitake chicharrón, radish, green chilies, tomatillos, pepitas, and ancestral medicinal herbs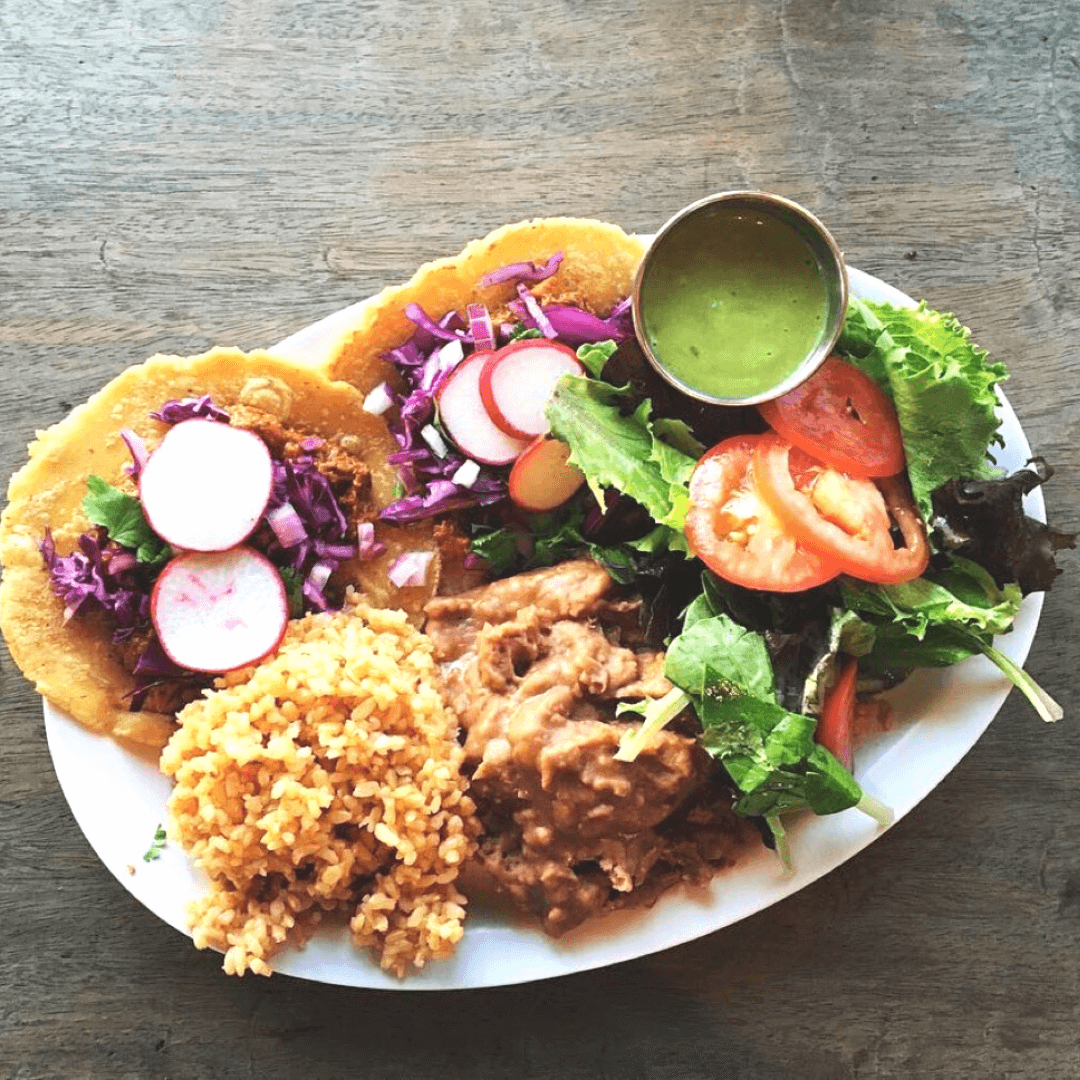 Flacos
7 Flacos (Berkeley, CA)
Ask any veg-eater from California's Bay Area for vegan Mexican food recommendations and chances are they'll suggest you head to Flacos. With nearly two decades of service under its belt, the food stand has become a local mainstay. Its crispy taquitos, savory and well-spiced tacos, and tender tamales make us want to plan a road trip right this minute.
Must-order: Taquito plate with textured soy protein, hot avocado salsa, and served with a huge scoop of refried beans and brown rice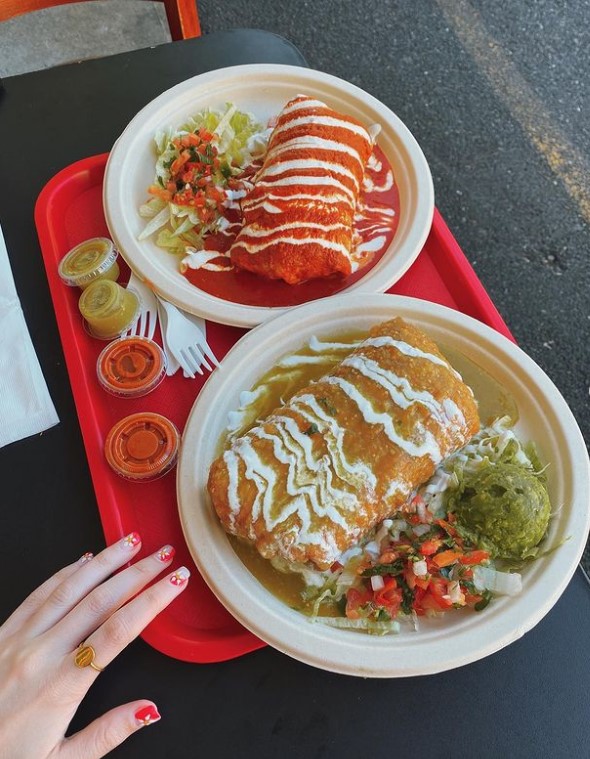 @inthewanderyears/Instagram
8 El Nutri-Taco (Portland, OR)
The vegan options are plentiful (and clearly labeled) at this omnivorous restaurant, earning it a spot on our list. They carry vegan cheese, mayo, butter, and sour cream, so no need to go without! Simply ask for the vegan options. We can't stop dreaming of this spot's crispy chimichanga and gloriously huge plates of vegan nachos.
Must-order: Chile Relleno Burrito with poblano peppers, cheese, beans, rice, lettuce, and salsa fresca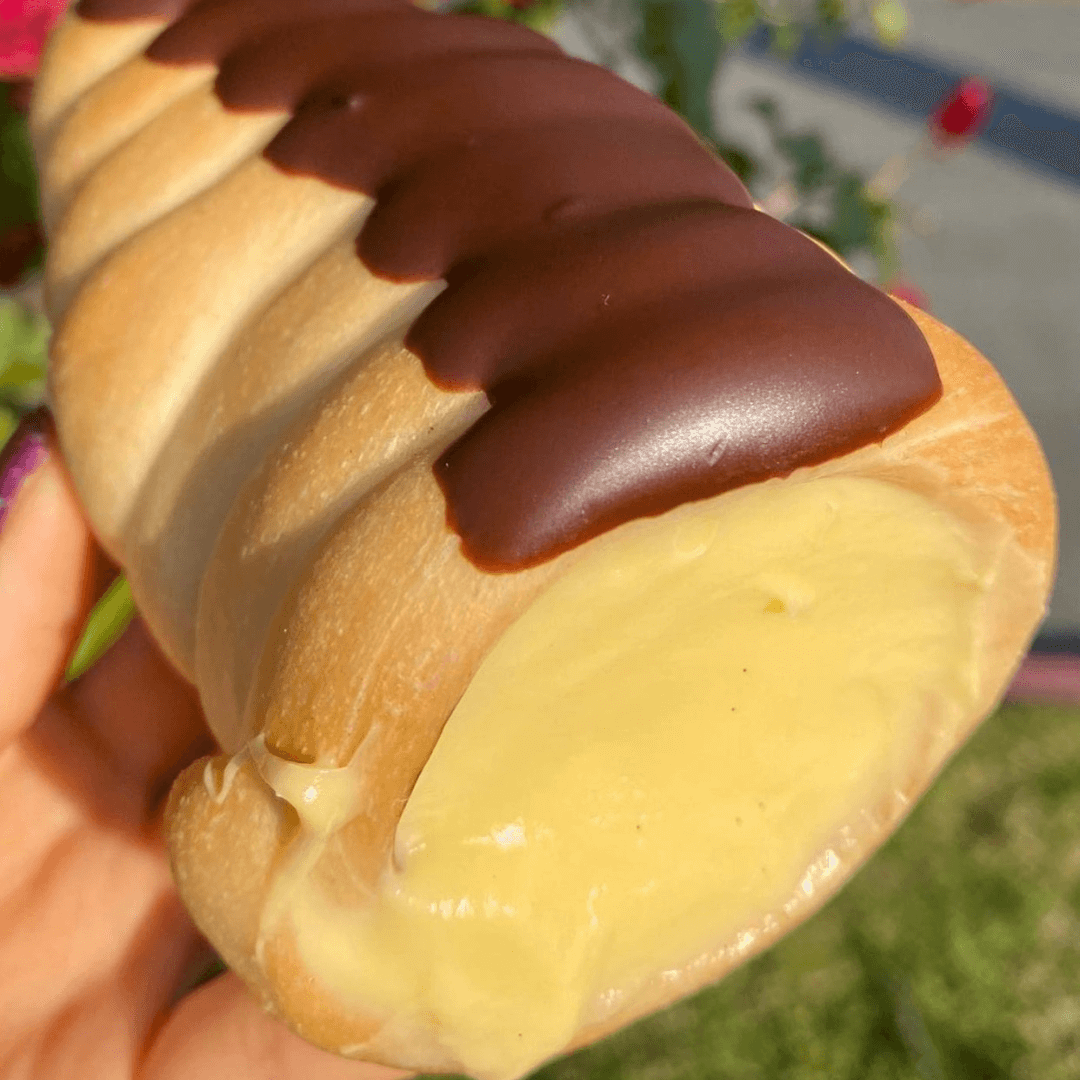 Soy Concha Bakery
9 Soy Concha Bakery (Santa Ana, CA)
A vegan-friendly panadería? Count us (more) than in! We regularly stalk its Instagram page to get glimpses of its fresh conchas, galletas, gansitos, puerquitos, cuernos, besos, and elotes. This popular Orange County-based bakery is currently working on opening an all-vegan location in East Los Angeles, as well.
Must-order: The vegan version of gansitos, a chocolate-coated Mexican snack cake with a strawberry jelly and crème filling.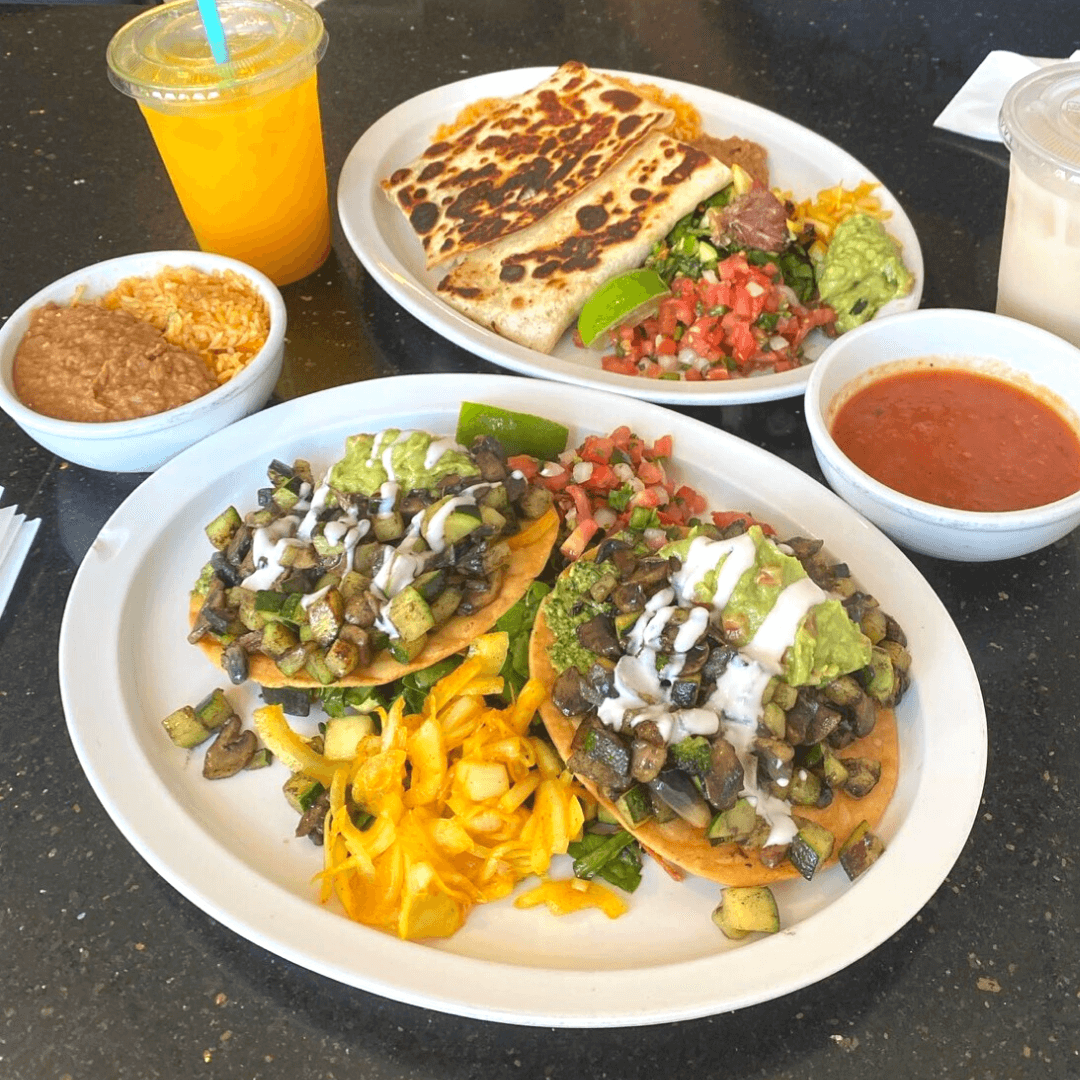 @phoenixvegancita/Instagram
10Tumerico (Tucson, AZ)
This vegan-friendly eatery in sunny Arizona puts a focus on healthy, new-age Mexican cuisine with dishes such as squash blossom tacos, quinoa tamales, and Azteca enchiladas. The wide variety of drinks on the menu (including a CBD latte) also have local customers flocking in.
Must-order: Butternut Squash Tostadas with fresh salsa and cabbage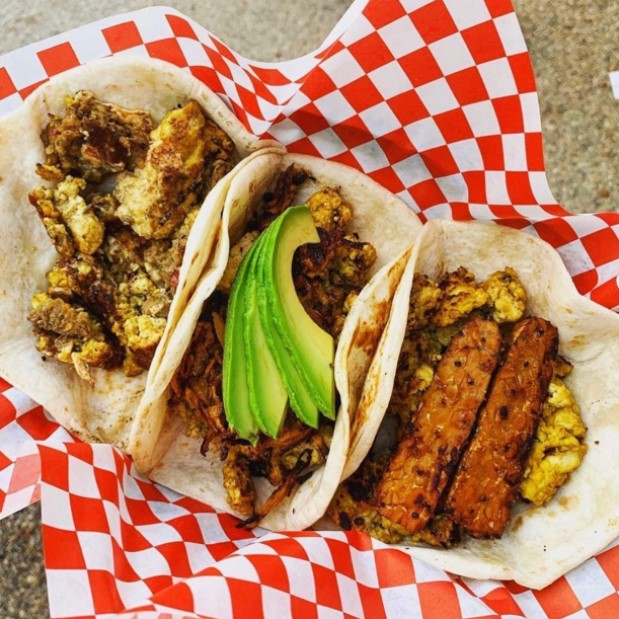 @thevegannom/Instagram
11The Vegan Nom (Austin, TX)
While this vegan taco truck ventures more into Tex-Mex style eats, its offerings are too delicious too miss. Known for its late night menu and "liquid gold" vegan queso, this Austin eatery draws a hungry, taco-craving crowd on warm summer nights.
Must-order: Birdie Sanders tacos with buffalo chicken pepper jack, onions, cabbage, crema, chipotle, and avocado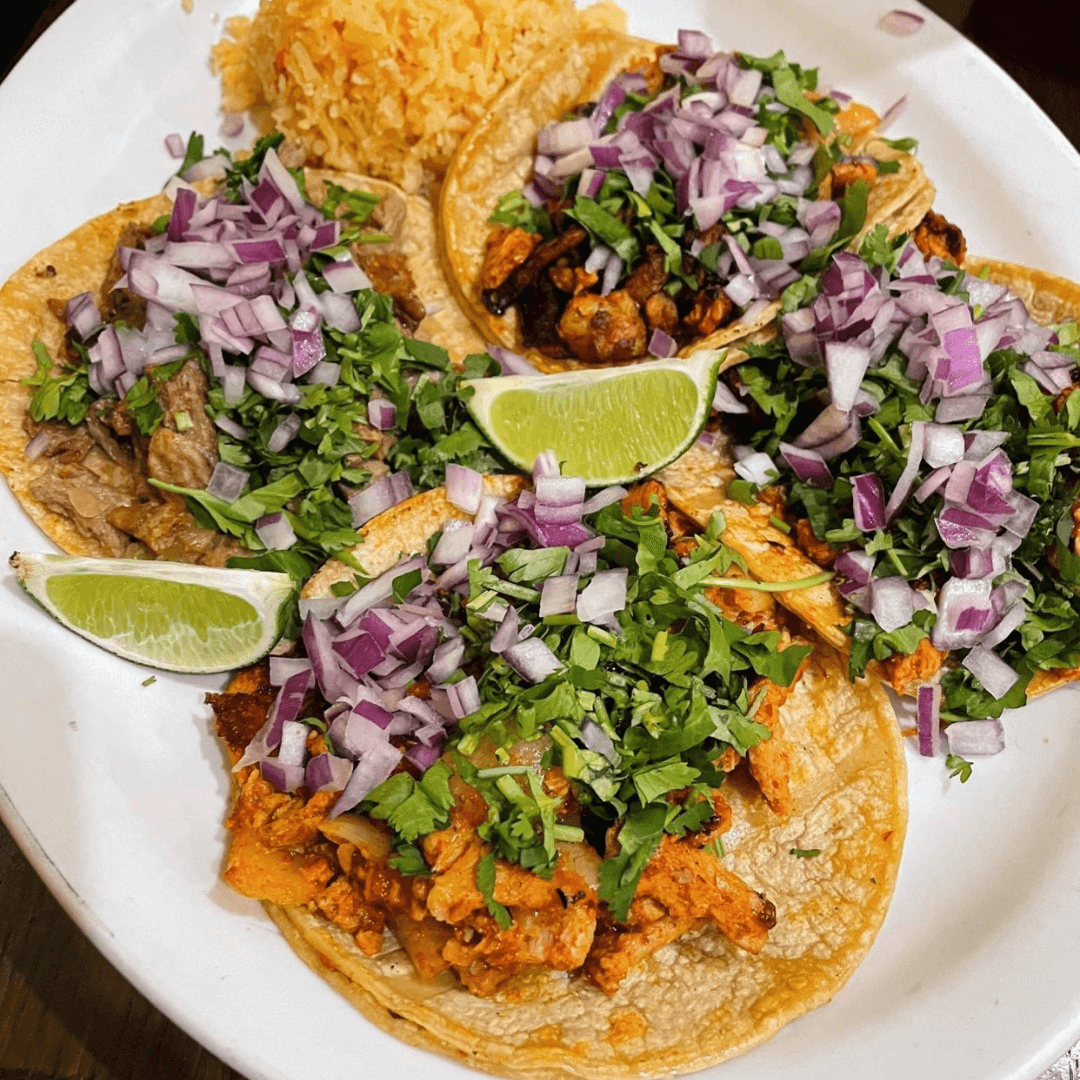 @soyvanillatte/Instagram
12Quesadilla La Reina del Sur (Chicago, IL)
Whether you opt for impossibly meaty soy-based taco fillings or more plant-forward options such as mushrooms, peppers, pumpkin flowers, and earthy huitlacoche, this family-owned restaurant is for you. Not only is the food super affordable, but the free chips and salsa are an extra bonus, as well.
Must-order: Asada de Soya Torta with grilled soy-based steak, avocado, tomato, lettuce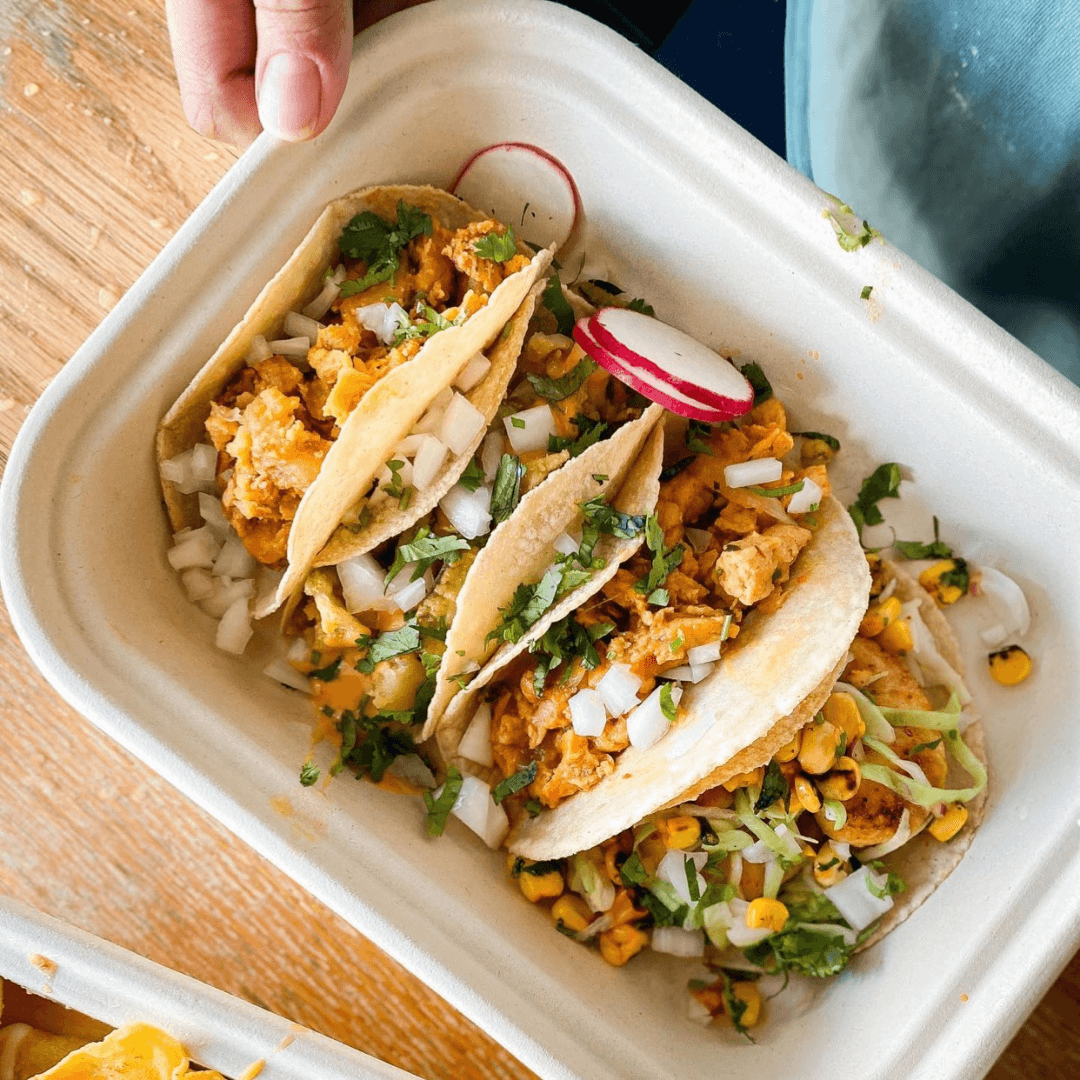 El Barracho
13El Borracho (Seattle, WA)
Nestled in Seattle's Pike Place Market, this hotspot features a fully vegan menu including vegan cheese and soy-based sausage, as well as deliciously refreshing margaritas. Plus, you can score some soyrizo and potato tacos for just $2.10, which makes it the perfect place to stop in for a good lunchtime deal.
Must-order: Nachos de Hongos with mushroom melange, queso sauce, cabbage, pico de gallo, dairy-free sour cream, refried beans, and jalapeños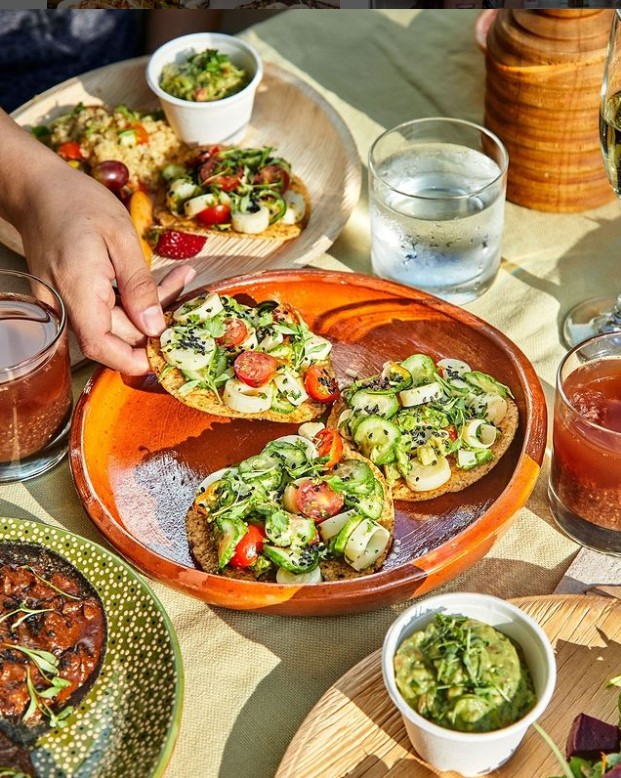 @todoverde/Instagram
14Todo Verde (Los Angeles, CA)
This woman-owned pop-up is in the process of obtaining a permanent restaurant location, but you can find them serving up mouthwatering eats weekly in Los Angeles at the outdoor Smorgasburg LA market. The eatery aims to help decolonize diets and provide an educational space to teach the local community about the benefits of plant-based nutrition.
Must-order: Ceviche de Palmitas made from marinated hearts of palm, tomato, avocado, jalapeño, cucumber, cilantro, and served with tortilla chips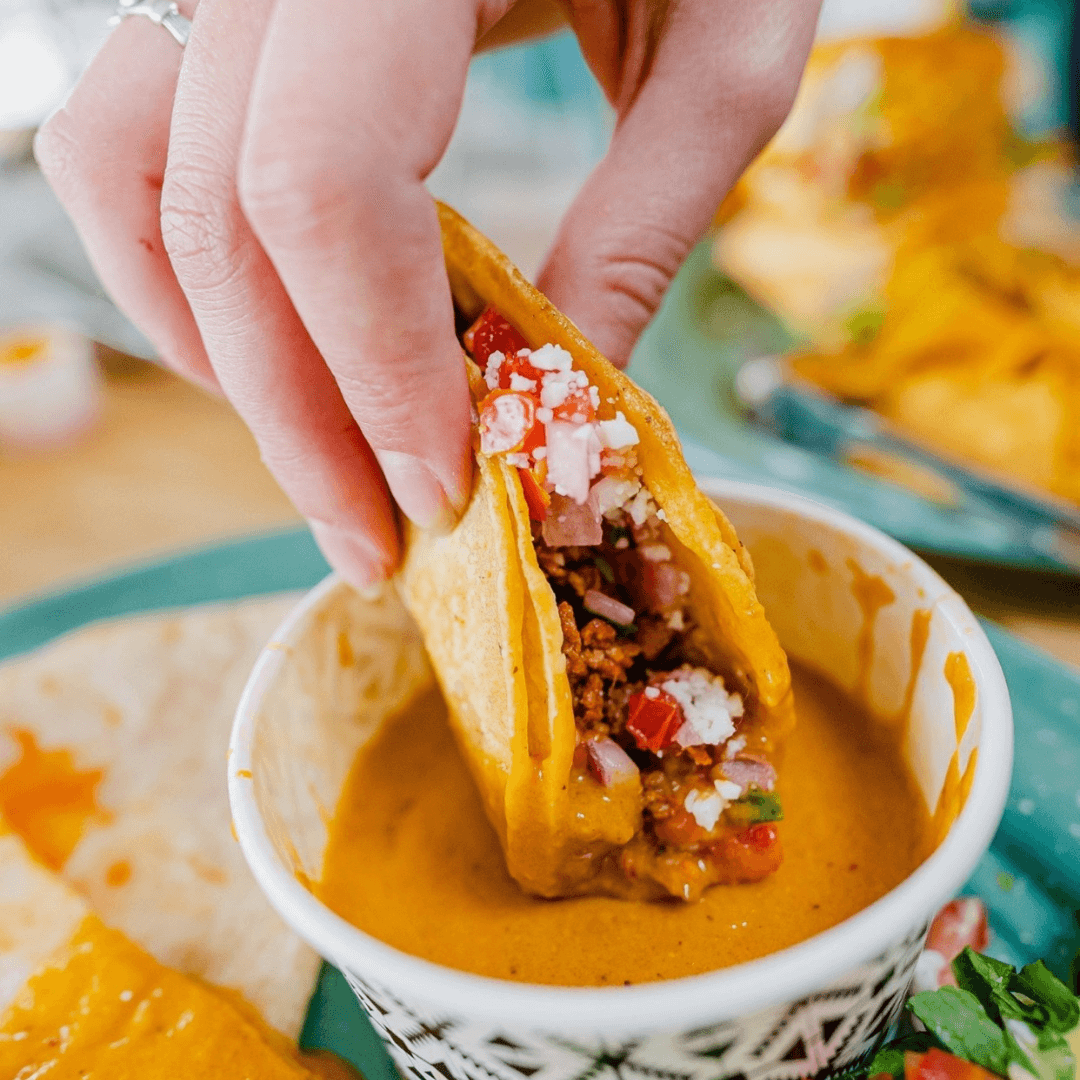 Tacotarian
15 Tacotarian (Las Vegas, NV)
With its mission of turning Las Vegas vegan one taco at a time, we already knew we'd be a fan! The expansive menu with 15 different taco fillings ranging from plantains to hibiscus flowers has given us major taco cravings, but it also offers a full range of other eats, including a brunch menu.
Must-order: Flautas with mashed potatoes, cheddar cheese, chorizo, crema, and salsa Morita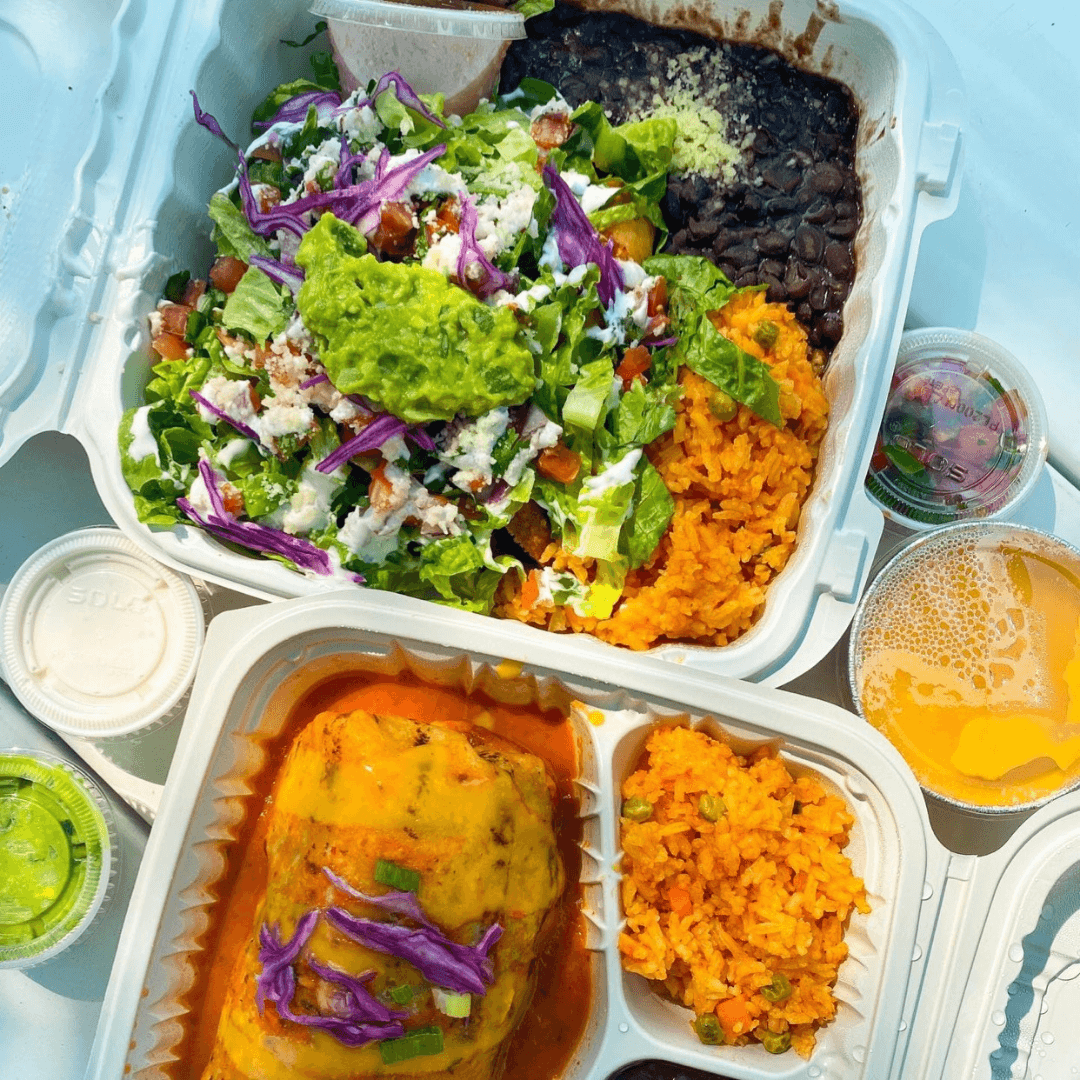 @vegancruzes/Instagram
16 Luna Verde Vegan Mexican (Bradley Beach, NJ)
Popular with the locals, this hole-in-the-wall restaurant is owned by the vegan Hidalgo family who wanted to share their love of plant-based Mexican food. The community-focused eatery also offers a community taco bowl, allowing customers to pay what they can afford, or pay more to feed future customers who may be under more financial strain.
Must-order: No Camarones a la Diabla with broccoli, cauliflower, carrots, vegan shrimp, roasted pumpkin seed and chile de arbol sauce, rice, beans, avocado, and handmade corn tortillas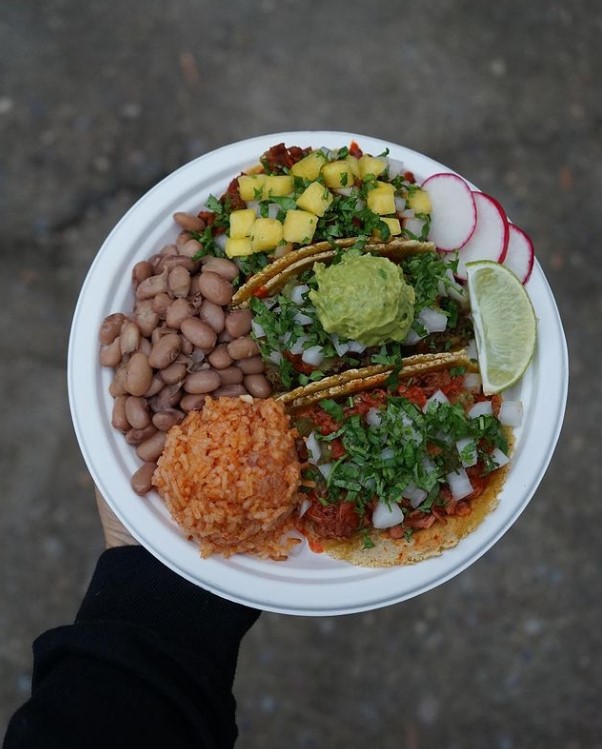 @taquizaveganapdx/Instagram
17La Taquiza Vegana (Portland, OR)
Opened in July 2020, this addition to the Portland food truck scene is making waves. With freshly grilled nopales tacos, vegan birria, and glasses full of iced horchata; this food truck is well on its way to being a Portland staple.
Must-order: The trio taco plate with birria, nopales, and Al Pastor meats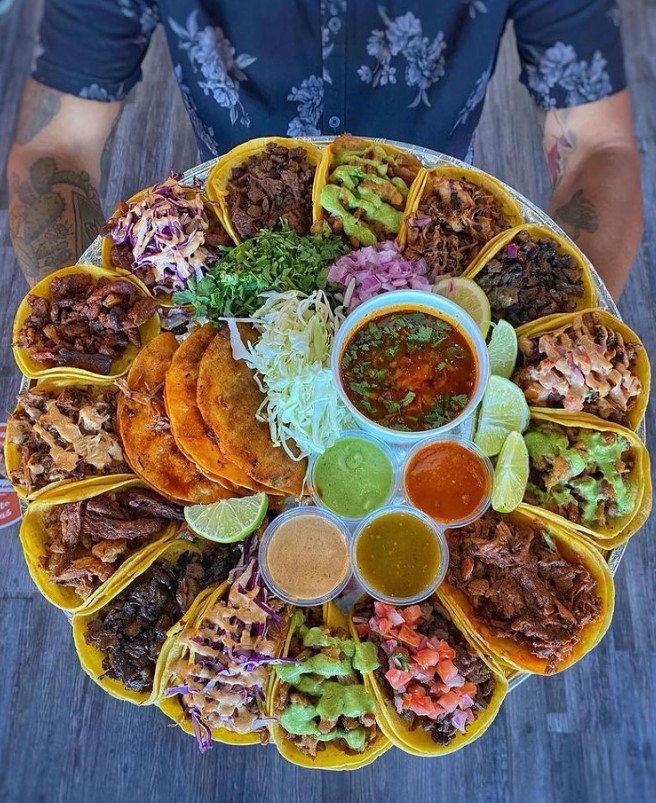 @aveganandher/Instagram
18El Cocinero Restaurant (San Fernando Valley, CA)
I might be biased, but the jackfruit torta from this pop-up turned restaurant is one of my favorite meals of all time. From creamy, custardy vegan flan to loaded up nacho boats and gigantic burritos, this restaurant is a dream come true. Come hungry!
Must-order: The jackfruit torta with shredded red cabbage, pico de gallo, chipotle mayo, and pinto beans
@sugartaco/Instagram
19Sugar Taco (Los Angeles, CA)
This women-owned restuarant has partnered with eco-friendly organizations, such as Food for Life Global, to provide plant-based meals to hungry children around the world, and 100-percent of the proceeds of their Dog Menu (yes, they have a menu for dogs!) go to a different animal welfare charity each month.
Must-order: The Ghost Taco: a black tortilla filled with Pollo Diablo and topped with diced ghost peppers. Signed waiver required.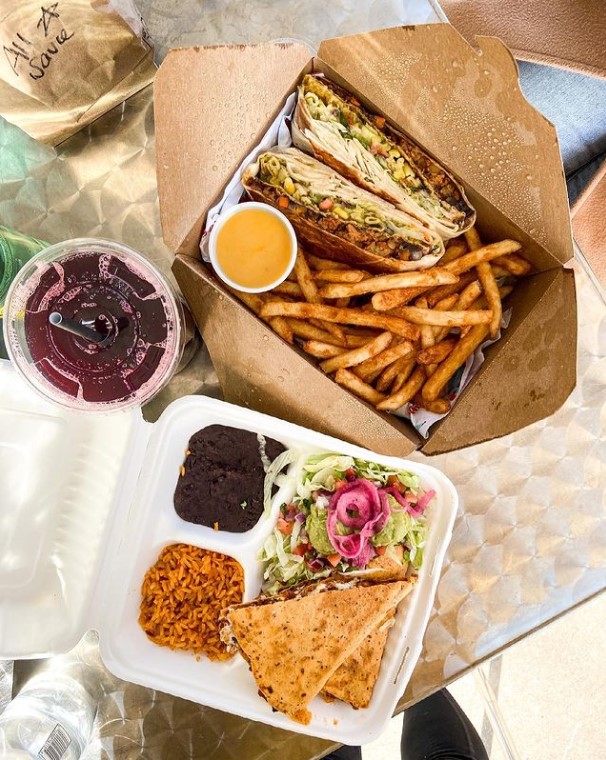 @thebakingfairy/Instagram
20Nuno's Tacos (Dallas, TX)
This restaurant takes its commitment to sustainability seriously, using no straws, no plastic bottles, and all materials used in the restaurant are 95-percent biodegradable. The food also speakes for itself, and if their pineapple upside down cake is on the menu, order yourself a slice!
Must-order: Al Pastor Quesadilla loaded with stretchy vegan mozzarella and flavorful plant-based meat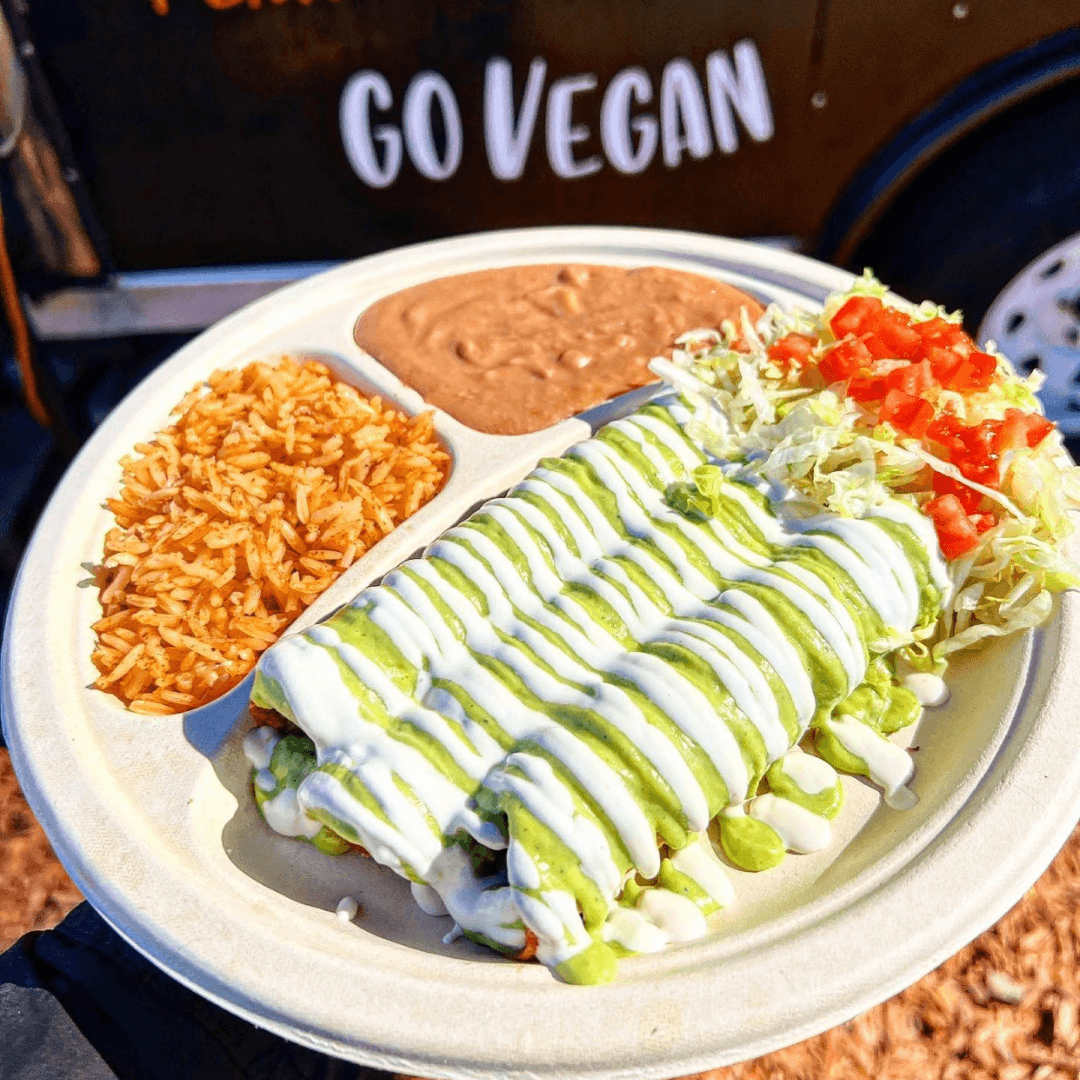 Nissi Vegmex
21Nissi Vegmex (Austin, TX)
This vegan food truck offers a variety of soy-based vegan meats, from chicken to chicharron to carne asada, that you can order by the pound, as well as get stuffed into burritos, tacos, and more. And their homemade organic hot pepper sauce is great on everything!
Must-order: Chalupa Plate with refried beans, vegan carne asada, cheese, cilantro, onion, pickled onion, and lime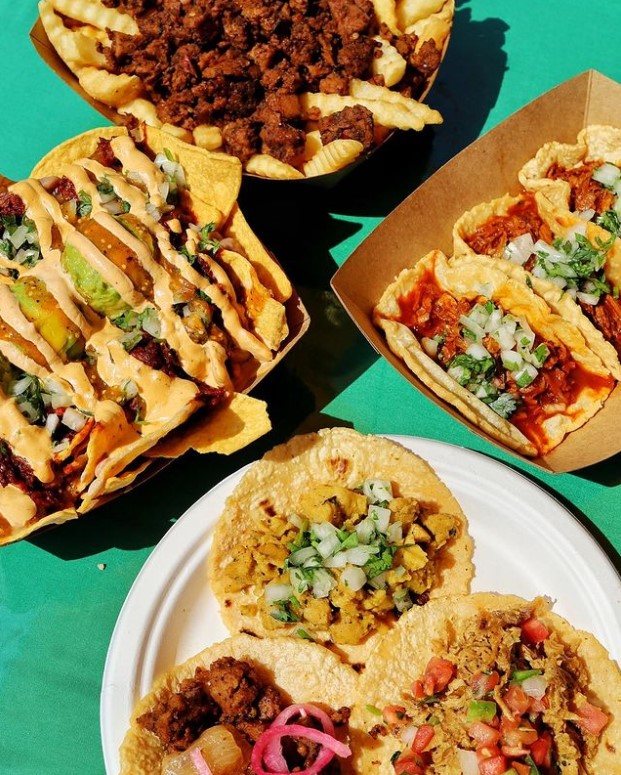 @cenavegan/Instagram
22Cena Vegan (Los Angeles, CA)
This absolute staple of the Los Angeles food scene is splashed all over IG thanks to their loaded nacho boats, perfect scoops of guac on top of flavorful tacos, and giant burritos. You can't go wrong with anything you order, but always, always add guac.
Must-order: The Big Vegan Burrito with rice, carnitas, beans, pico de gallo, guac, cashew crema, and cilantro and onions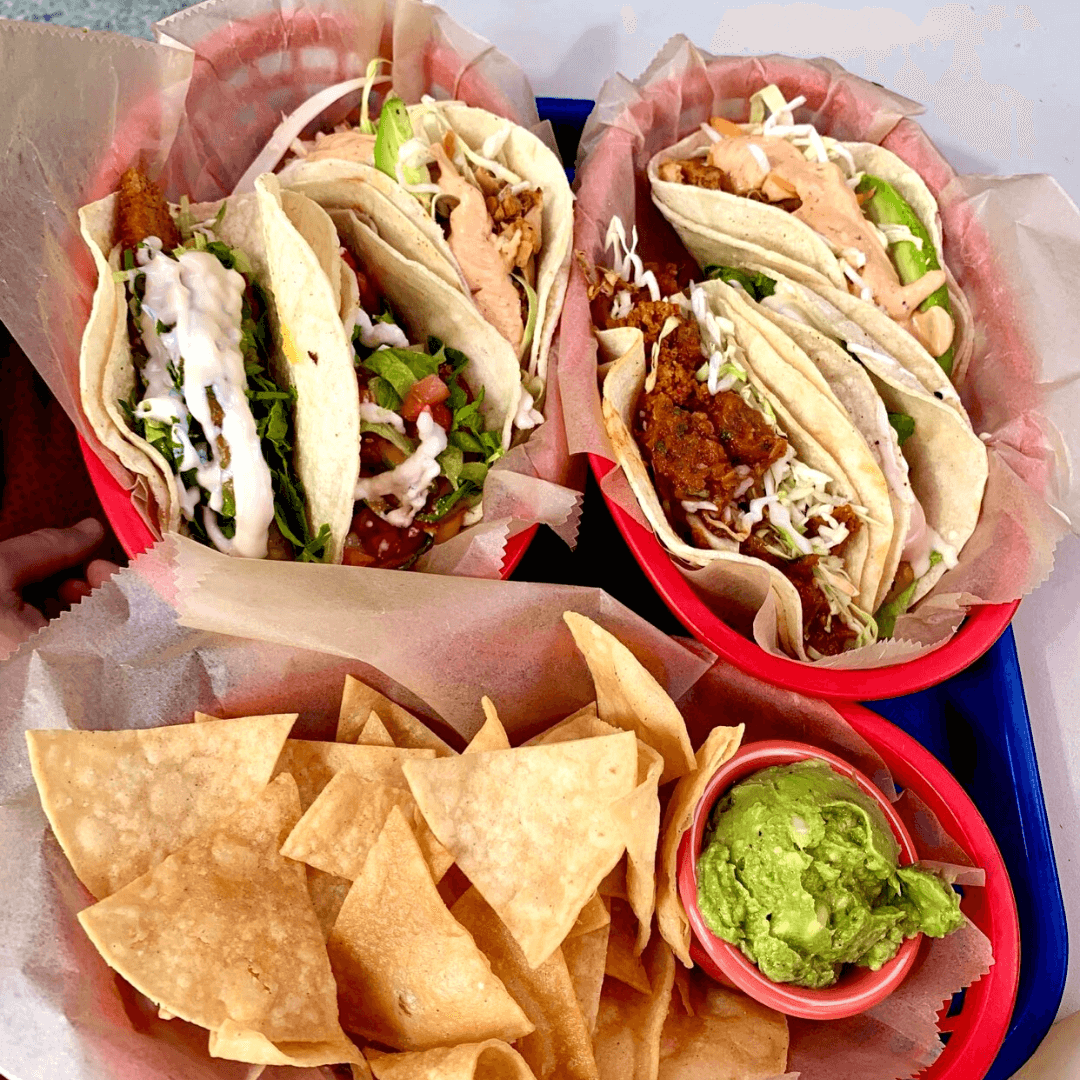 @twoveganslater/Instagram
23Taco Party Truck (Somerville, MA)
With taco fillings ranging from cornmeal-crusted mushrooms, shredded jackfruit, and spicy ground seitan; this food truck is a must-try in Massachusetts. Don't miss the crispy fried tofu torta and fresh horchata.
Must-order: Chimichurri Tempeh Taco with grilled tempeh, lettuce, chimichurri sauce, cashew crema
For more vegan restaurant guides, read: